With their simplicity and amazing flavors, these 9×13 pan dessert recipes are sure to become staples in your baking rotation.
Desserts Made in a 9×13 Pan
The 9×13 baking pan is a wonder, isn't it? It's one of my most used pan sizes, as it's great for no-fuss cakes, big pans of brownies, cheesecake bars, and so much more.
I've put together a collection of some of BoB's best and most popular 9×13 pan dessert recipes. I think you'll find something to satisfy any sweet craving!

Before we get to the good stuff, I have a few tips for choosing a pan. As is usually the case, I recommend light-colored, non-shiny, metal pans for baking recipes. Remember that dark pans will most likely cause uneven baking. I generally don't recommend glass pans for baking, but they're great choices for no-bake recipes. Also, look for pans with straight sides to get nice, straight edges.
I have a few 9×13 pans in my kitchen, including one with a snap-on lid that's great for storing and transporting baked goods. You can find some of my recommended pans in my Amazon Storefront.
Now, let's talk dessert!
9×13 Cake Recipes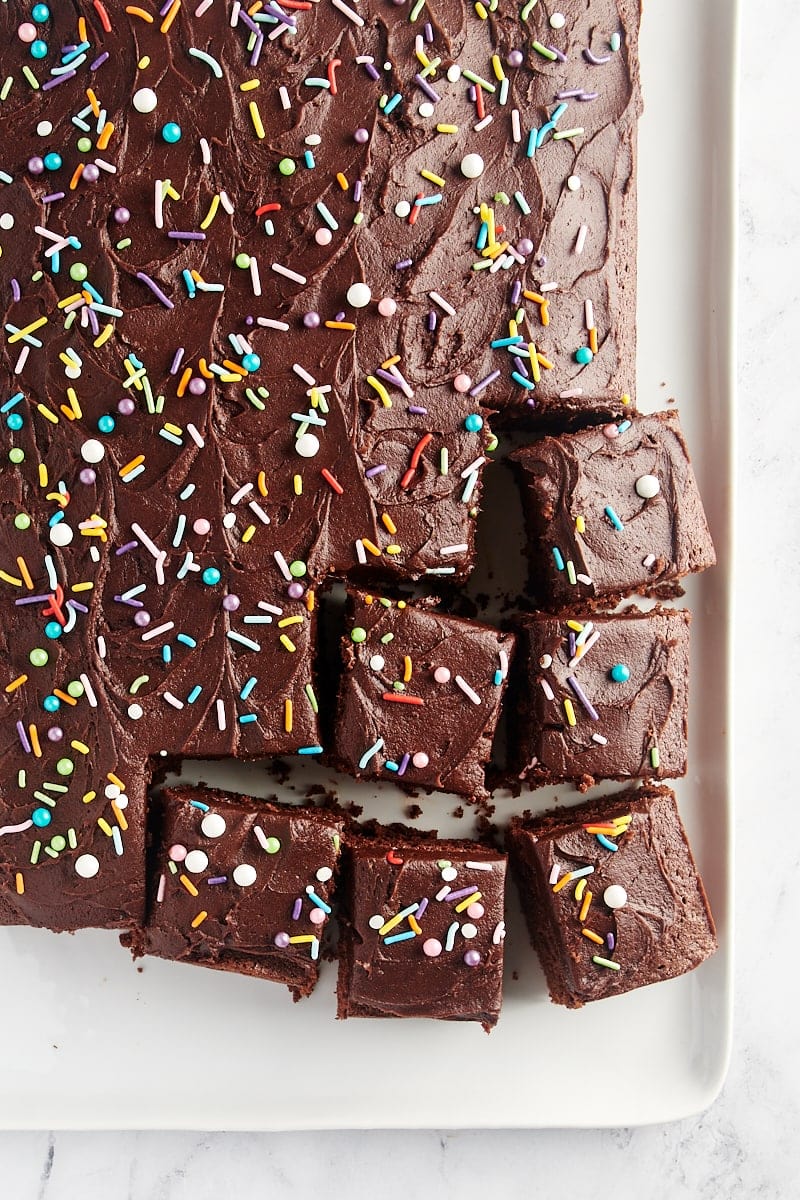 I often joke that I didn't know it was possible to make layer cakes at home because my mother so heavily favored baking them in a 9×13 pan. Honestly, I cast zero stones about that, as I'm also a fan of no-fuss cakes like those made in a rectangular pan. You can definitely cut out some of the work of frosting a multi-layer cake this way. Plus, a single-layer cake is easier to serve and definitely more portable. Try one of these beautiful and delicious cakes!
9×13 Brownie Recipes
Most brownie recipes are made in 8- or 9-inch square pans because of how brownies bake. In a large pan, it can be a little tricky to get them baked evenly. Of course, it's entirely possible to bake them in a larger pan. I mean, who's not in favor of a bigger batch of brownies? Give one of these recipes a try!
9×13 Cookie Bar Recipes
Baking cookie dough in a 9×13 pan is quite possibly the quickest route to homemade cookies. No scooping, no baking multiple batches. Just spread the dough in the pan and bake. I love the look of them, too!
9×13 Bar Recipes
From blondies to magic bars and a whole lot in between, bar recipes cover a lot of ground flavor-wise. This type of pan gives you a lot of room for creativity with easy layering, too.
9×13 Cheesecake Recipes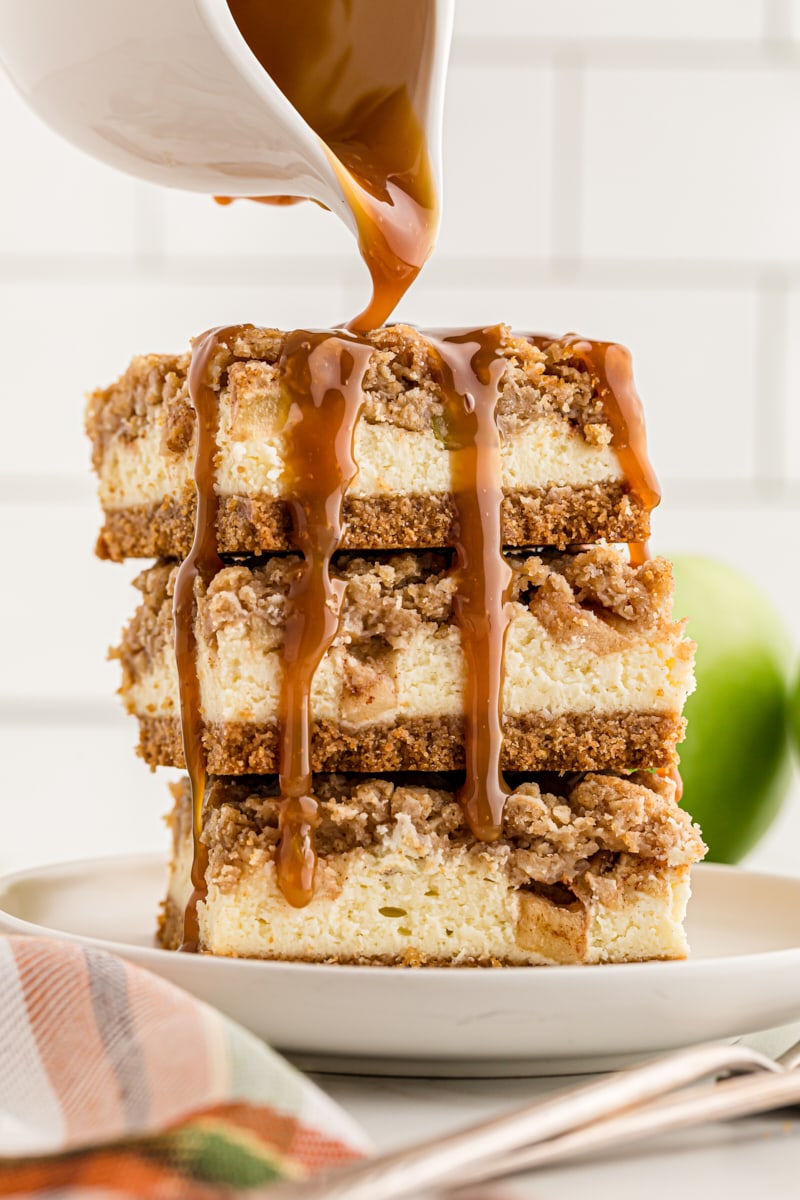 Cheesecakes are one of my favorite things to bake when I need to impress with dessert. As much as I love traditional cheesecakes, I also enjoy cheesecake bars. You usually get a little different ratio of crust to filling than with most cheesecakes. They also have a quicker baking time, making them a perfect choice when you want homemade cheesecake without a longer baking time.
9×13 No-Bake Recipes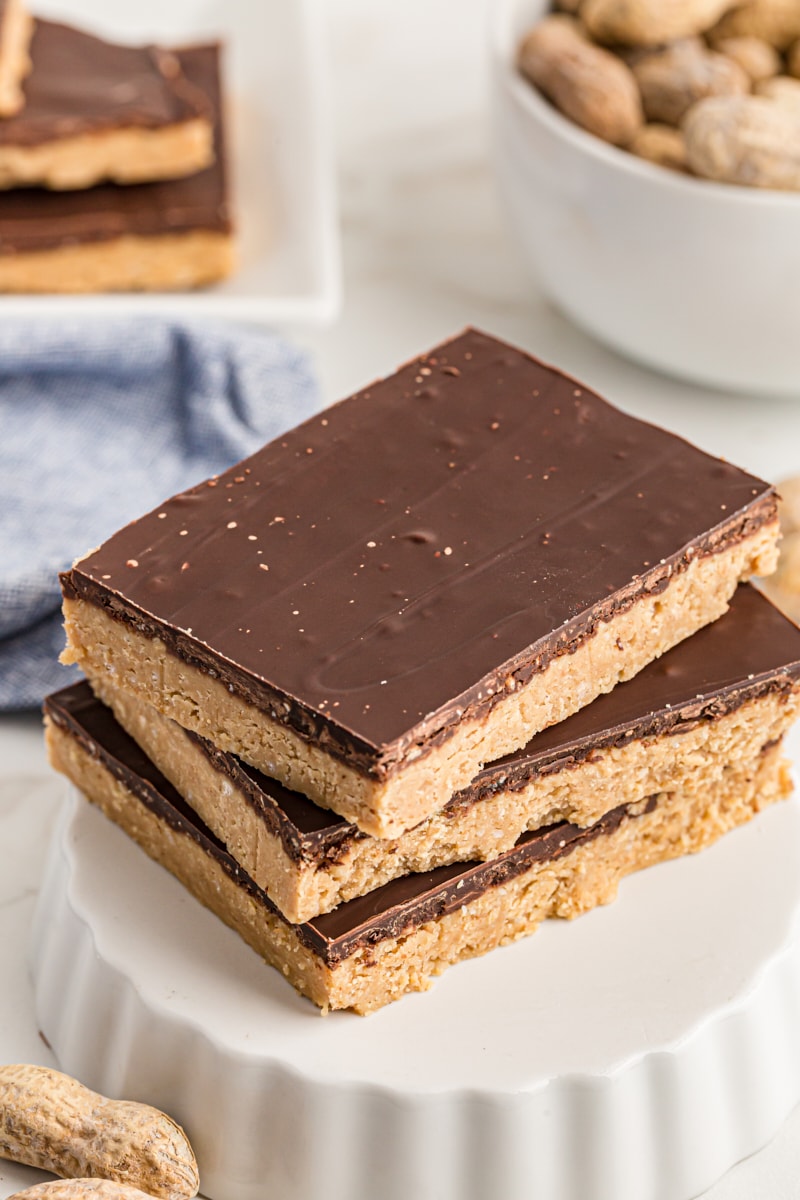 Sometimes a no-bake dessert is just the thing. Maybe it's too hot to turn on the oven. Or the oven is being used for cooking dinner. Or maybe it's just something so good that you can't resist! That's how I feel about these crave-worthy recipes.
More 9×13 Dessert Recipes
If all of that good stuff above weren't enough, there are still plenty of other irresistible desserts you can make in your reliable 9×13 pan. Pies and bread puddings and cobblers, oh my!
I hope these recipes have inspired you to get out your trusty 9×13 pan and make something delicious!
Baking Tips and Tricks
Before you get baking, check out these helpful posts to improve your baking and make you a more confident baker.
Bake or Break is a participant in the Amazon Services LLC Associates Program, an affiliate advertising program designed to provide a means for us to earn fees by linking to Amazon.com and affiliated sites.