May 1, 2014
Caramel Crunch Brownies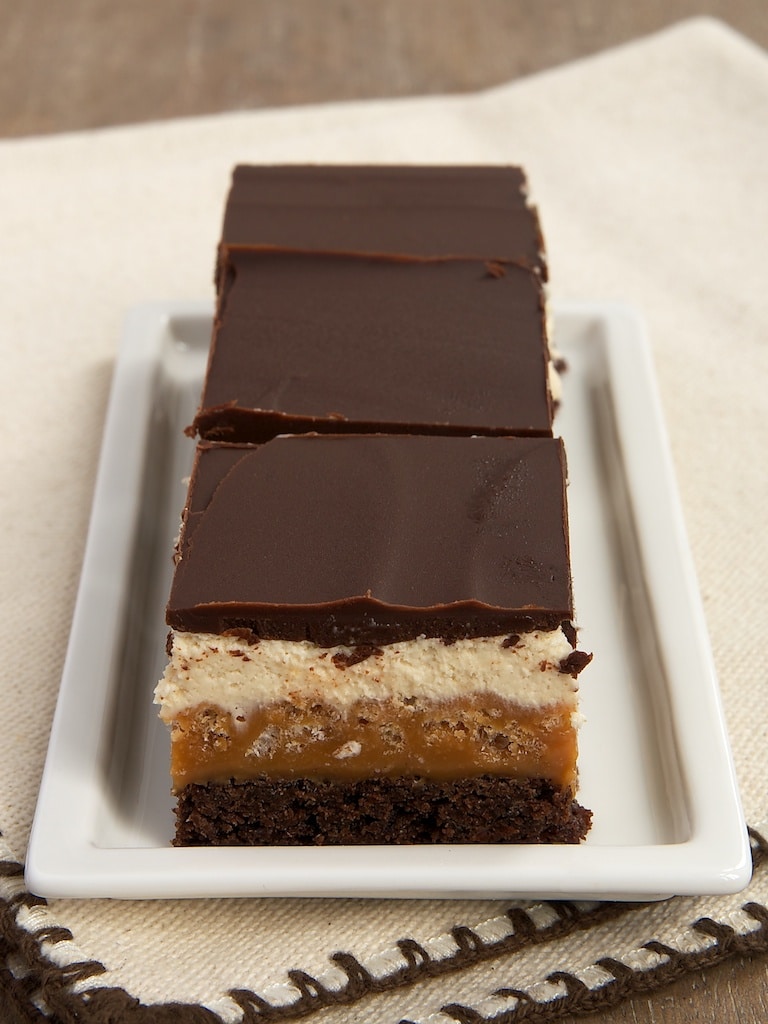 I just recently realized that I haven't baked brownies in ages. Seriously, it's been over three months since I made these guys. After that long of a brownie hiatus, I knew I had to make a comeback in a big way.
These brownies, my friends, are the perfect choice. They are so much more than brownies, though. There's caramel and nougat and even more chocolate. The finished brownies are sweet and tall and rich and absolutely gorgeous and delicious!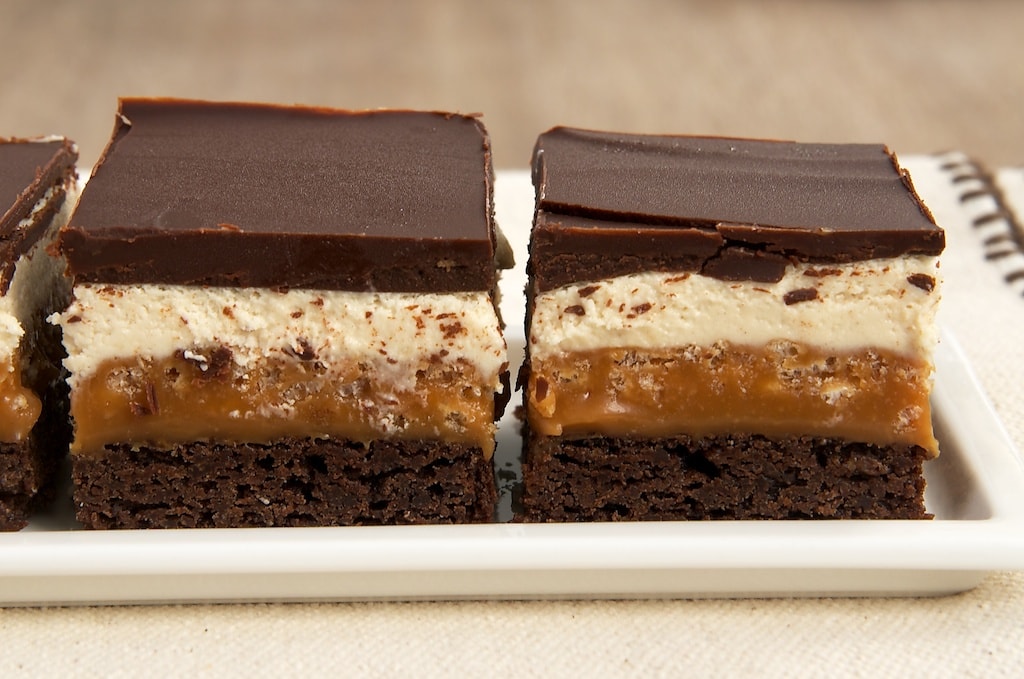 That caramel layer isn't just caramel. Oh, no. There's also some crispy rice cereal mixed right in. It gives these brownies a nice crunch and also gives a little more structure to that caramel layer.
And then there's nougat. I don't know about you, but I've never been a big fan of nougat. Of course, my experience with it is limited to mass-produced candy bars I tried in my childhood. This version is far better. It's gooey and tasty and really works well with these brownies.
I'll admit that making all these layers will create a lot of mess in the kitchen. I went through more than a few bowls and pans and measuring cups. So, you might want to start with an empty dishwasher, but it will be so worth it once you bite into one of these and embrace all that deliciousness!
Caramel Crunch Brownies
Yield: 48 1 & 1/2-inch bars*
Prep Time:45 minutes
Cook Time:25 minutes
Caramel Crunch Brownies are layer upon layer of good stuff, from caramel to chocolate to nougat.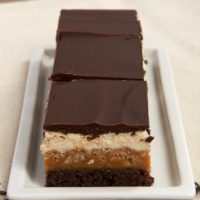 Ingredients:
For the brownie layer:
3 ounces unsweetened chocolate, coarsely chopped
1/2 cup unsalted butter
2/3 cup all-purpose flour
1/4 teaspoon baking soda
1/4 teaspoon salt
1 cup granulated sugar
2 large eggs
1 teaspoon vanilla extract
For the caramel layer:
21 ounces soft caramels, unwrapped**
2 tablespoons evaporated milk
1 tablespoon water
1 & 1/2 cups crisp rice cereal
For the nougat layer:
1 & 1/4 cups granulated sugar
1/2 cup + 2 teaspoons evaporated milk
1/3 cup unsalted butter
7 ounces marshmallow creme

1/4 cup creamy peanut butter
For the chocolate layer:
12 ounces semisweet chocolate chips
1/4 cup unsalted butter
1/4 cup heavy cream
Directions:
To make the brownies:
Place chocolate and butter in a microwave-safe bowl. Heat in microwave at half power in 30-second increments until butter has melted and chocolate melts when stirred. Transfer to a large mixing bowl if necessary and set aside to cool slightly.
Preheat oven to 350°. Line a 9″x 13″ baking pan with parchment paper or aluminum foil, leaving an overhang on two sides. Grease lining.
Whisk together flour, baking soda, and salt. Set aside.
Add sugar to chocolate mixture and stir to combine. Add eggs, one at a time, mixing well after each addition. Stir in vanilla.
Stir in flour mixture, mixing just until combined.
Transfer batter to prepared pan and spread evenly. Bake 15 minutes, or until the edges begin to pull away from the sides. Cool in pan on a wire rack.
To make the caramel layer:
Place caramels, 2 tablespoons evaporated milk, and water in a microwave-safe bowl. Heat in microwave at high power in 30-second intervals, stirring after each heating. Repeat until caramels are melted. Stir until smooth. Stir in cereal.
Spread evenly over cooled brownie layer. Place pan in freezer while you make the next layer.
To make the nougat layer:
Place sugar, evaporated milk, and butter in a medium saucepan. Bring to a boil over medium-high heat, stirring often.
Reduce heat to medium. Simmer for 5 minutes.
Remove from heat. Stir in marshmallow creme and peanut butter.
Pour over caramel layer and spread evenly to the edges. Return pan to freezer while you make the next layer.
To make the chocolate layer:
Place chocolate, butter, and cream in a small saucepan. Cook over low heat, stirring often, until chocolate is melted and mixture is smooth.
Pour over nougat layer and spread evenly to the edges.
Cover loosely and chill for at least 2 hours.
Use the overhanging lining to remove the bars to a cutting board. Use a sharp knife to cut into bars.
Keep refrigerated.
Notes:
*I usually cut 2-inch bars, but these fellas are so rich you'll probably want to go smaller.
**I used Werther's Baking Caramels and needed 2 bags plus a few more. About 65-70 caramels total.
Recipe slightly adapted from BHG.