These 3-Ingredient Peanut Butter Cookies are THE easiest peanut butter cookies you'll ever make! They're a perfect baking project when you want a no-fuss homemade cookie.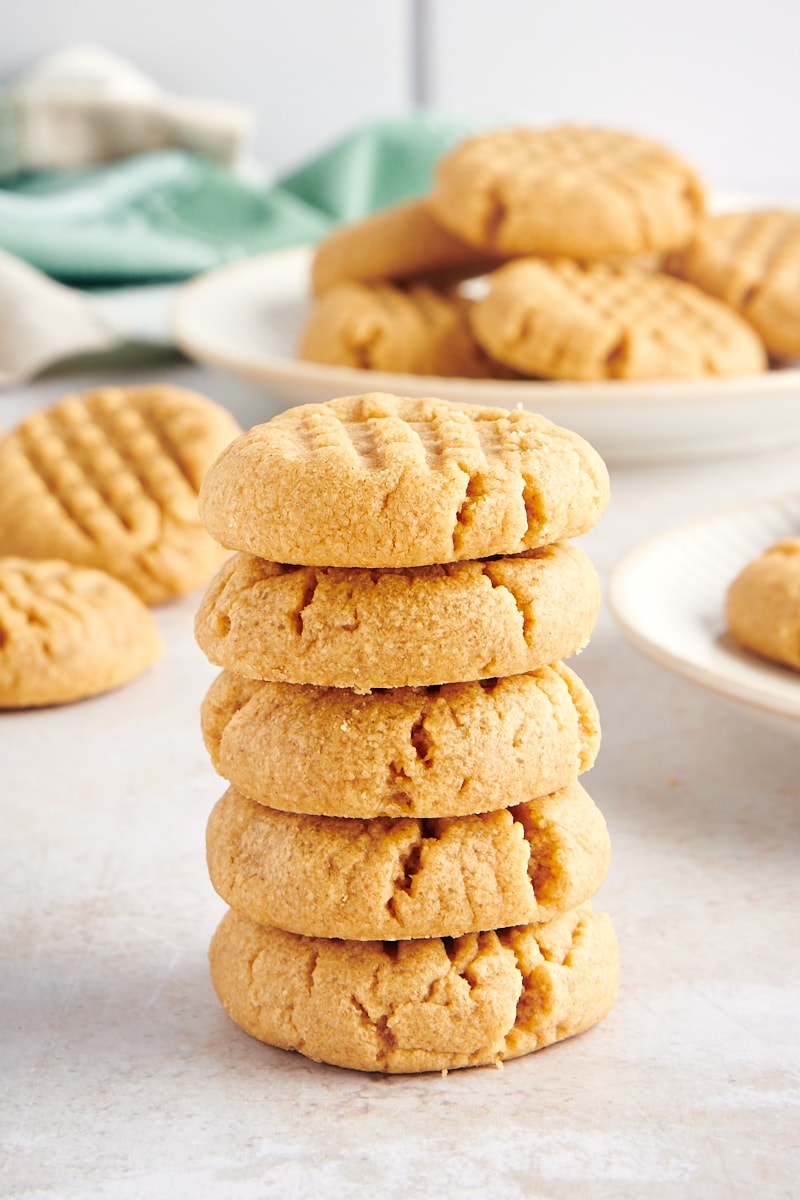 3-Ingredient Peanut Butter Cookies
Let's be honest. Being able to make homemade peanut butter cookies with just THREE ingredients is pretty magical. Add to that the fact that they taste amazing, and there's a lot to love here.
This easy peanut butter cookie recipe or some form of it has been around for ages, but it has stood the test of time for a reason! Baking doesn't get much easier than these simple cookies. You'll have those three ingredients mixed, scooped, and baking in a matter of minutes.
These cookies are super soft, chewy, and full of peanut butter flavor. When it comes to simplicity, they're one of my all-time favorite peanut butter cookie recipes. They're perfect for those times you want a homemade treat but don't want to spend much time in the kitchen. That simplicity makes them a great baking project for bakers of all skill levels.
And for those of you who are gluten-free, you'll be happy to know that there's no flour in this recipe. While the vast majority of peanut butters are gluten-free, be sure to double check the label. These cookies are also dairy-free!
If you're looking for more traditional peanut butter cookies, try my Classic Peanut Butter Cookies. For something a little different, go with Cream Cheese Peanut Butter Cookies or Peanut Butter Lovers' Cookies.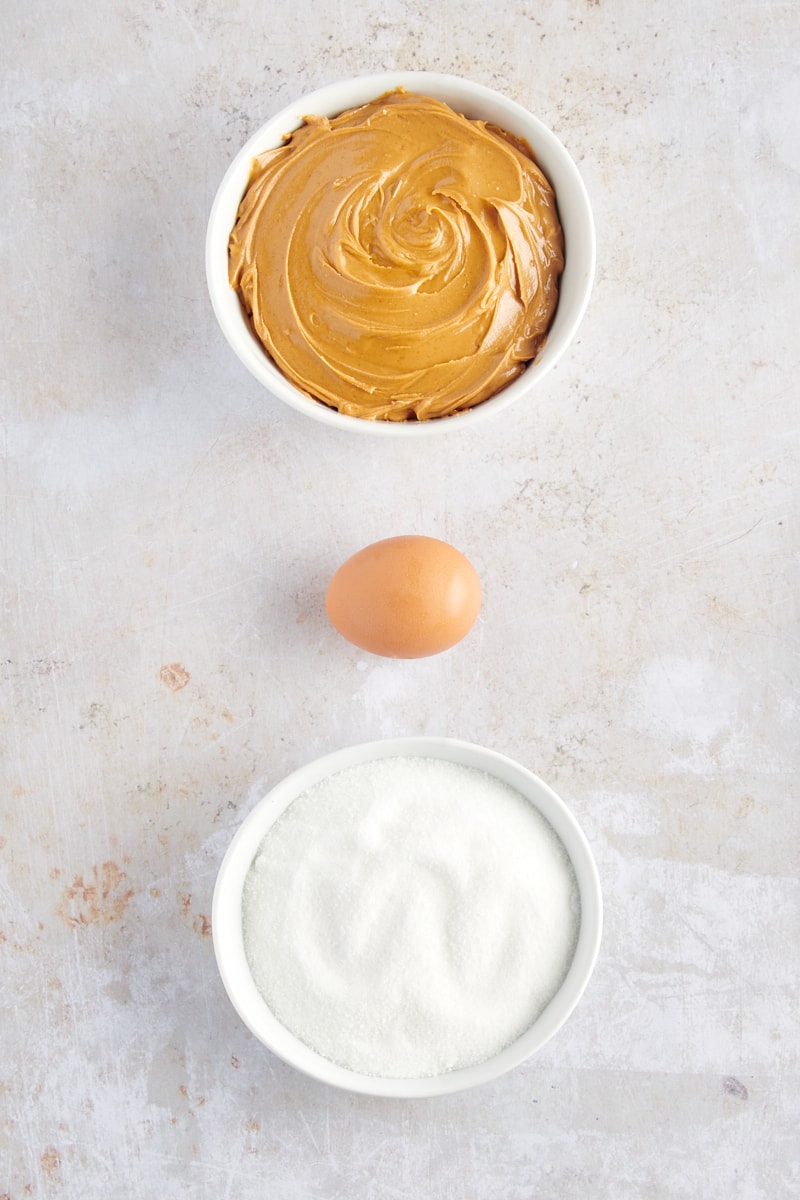 What You'll Need
No flour, no butter, no fuss! Scroll down to the recipe card at the bottom of this post for ingredient quantities and full instructions.
Peanut butter – Creamy peanut butter works best here, as it can be difficult to get crunchier varieties mixed well with the other ingredients.
Granulated sugar
Egg – Set out the egg before mixing to allow it to come to room temperature.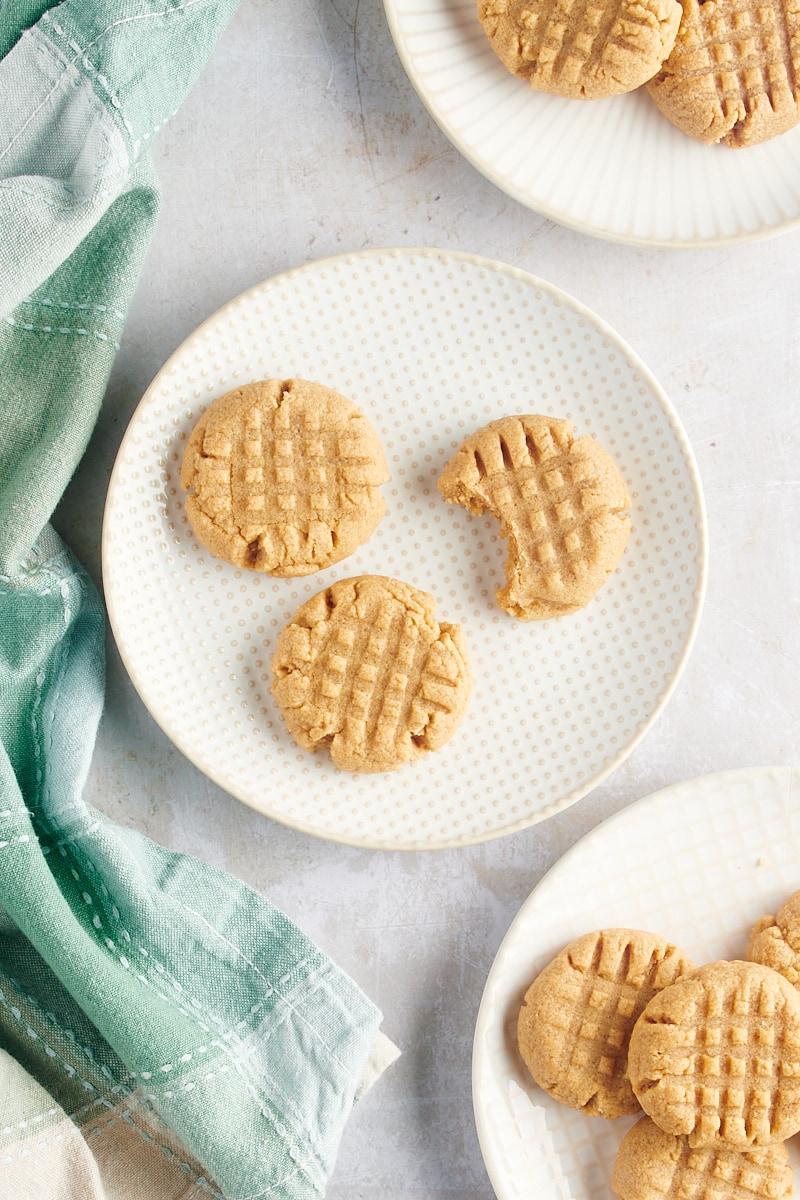 How to Make 3-Ingredient Peanut Butter Cookies
When I say these cookies are super easy to make, I'm not kidding! Just one bowl and a few minutes of mixing, and you're ready to scoop and bake!
Prepare for baking. Heat the oven to 350°F. Line baking sheets with parchment paper or silicone liners.
Mix the dough. Combine the peanut butter, sugar, and egg until mixed. You can use an electric mixer or mix by hand. If you're mixing by hand, you may want to beat the egg lightly in the bowl before adding the other ingredients so that the dough will mix more easily and thoroughly.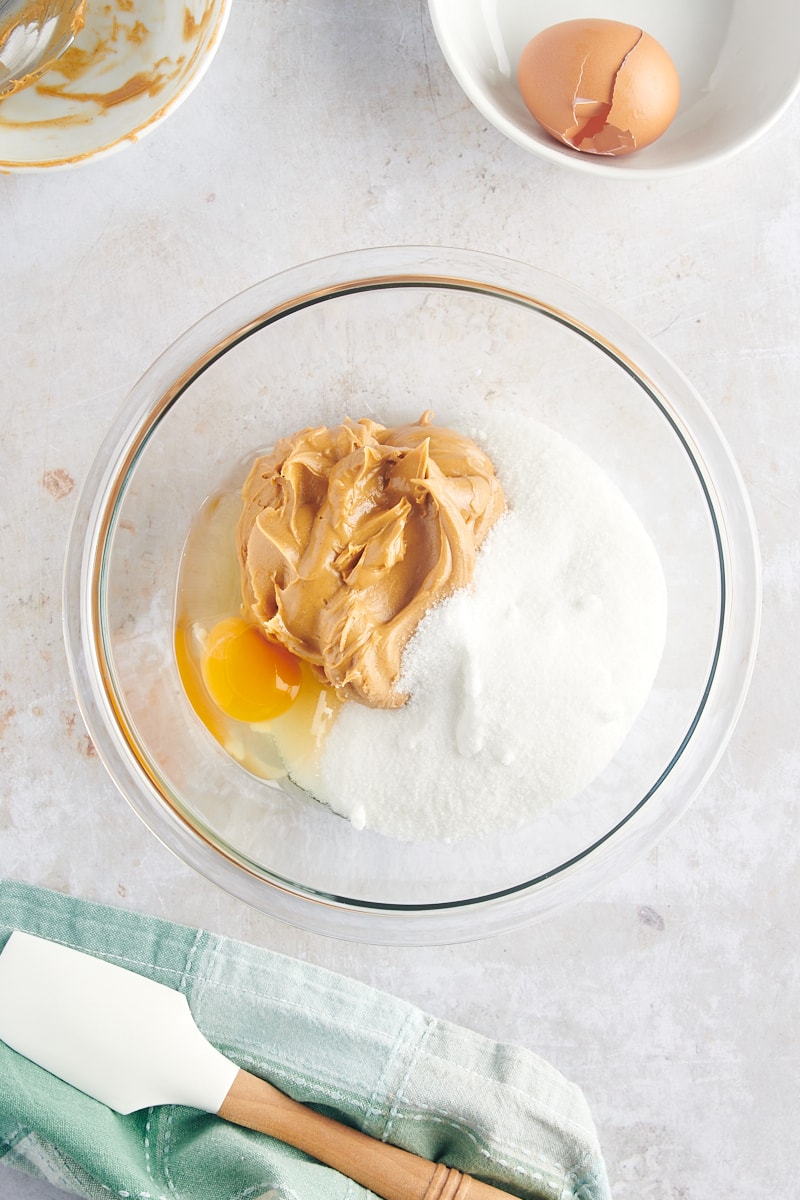 Portion. Using about a tablespoonful of dough at a time, roll the dough into balls and place on the prepared pans, leaving about 2 inches between cookies. I like to use a cookie scoop to portion the dough and then roll it between my palms to form a ball.
Flatten. Use a fork to make a criss-cross pattern on top of each ball of cookie dough. This flattens the cookies, as they won't spread much during baking.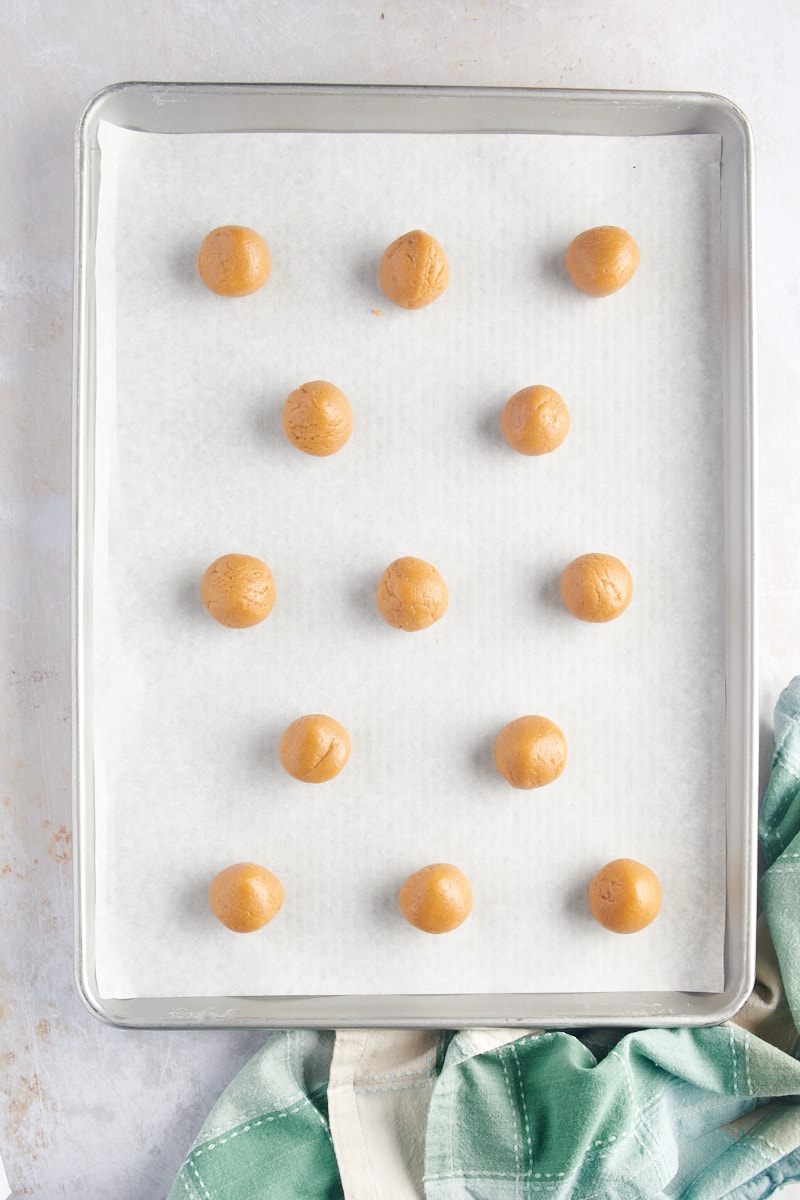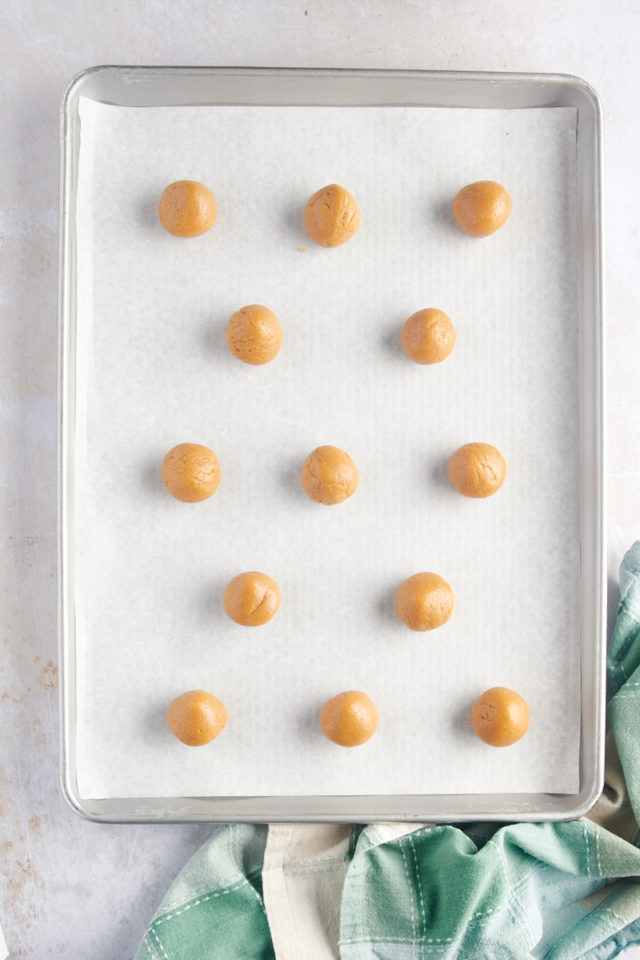 Bake. Place the cookies (one pan at a time) in the heated oven. Bake 8 to 10 minutes or until the cookies appear set.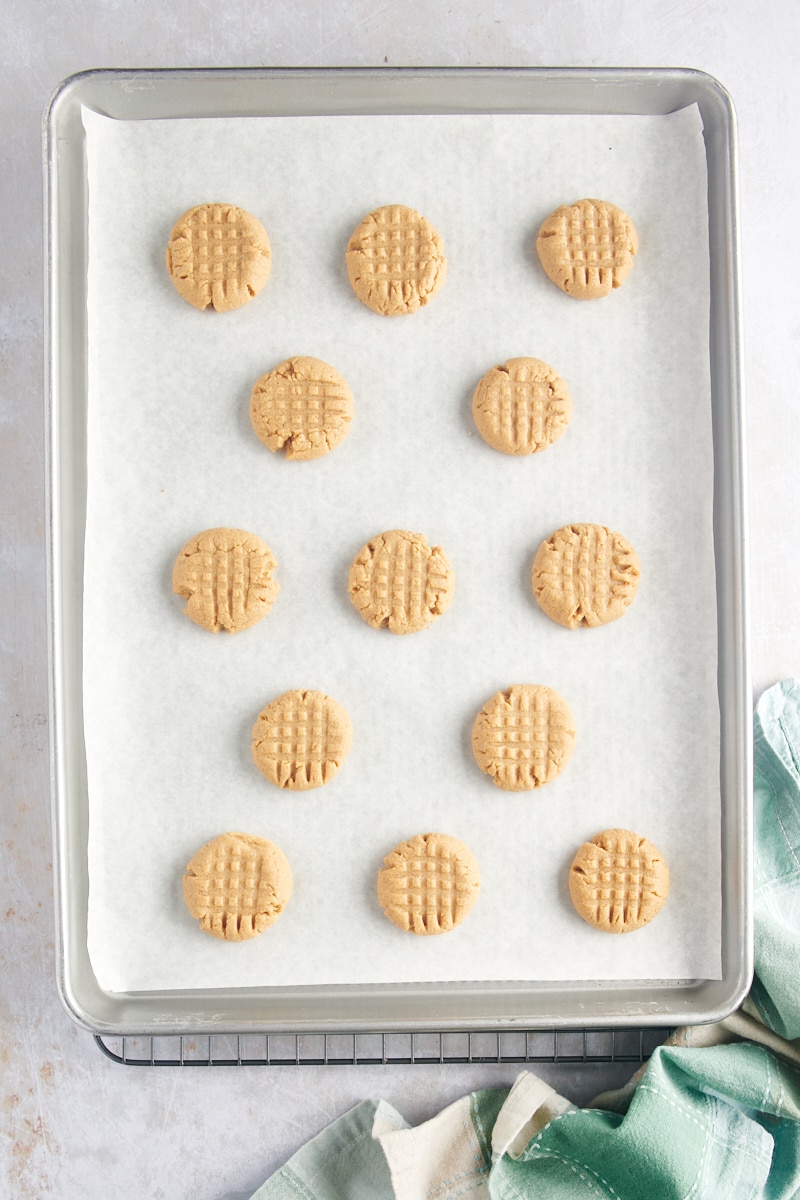 Cool. Place the pans on wire rack and allow to cool for 5 minutes. Then transfer the cookies from the pan directly onto a wire rack to cool completely.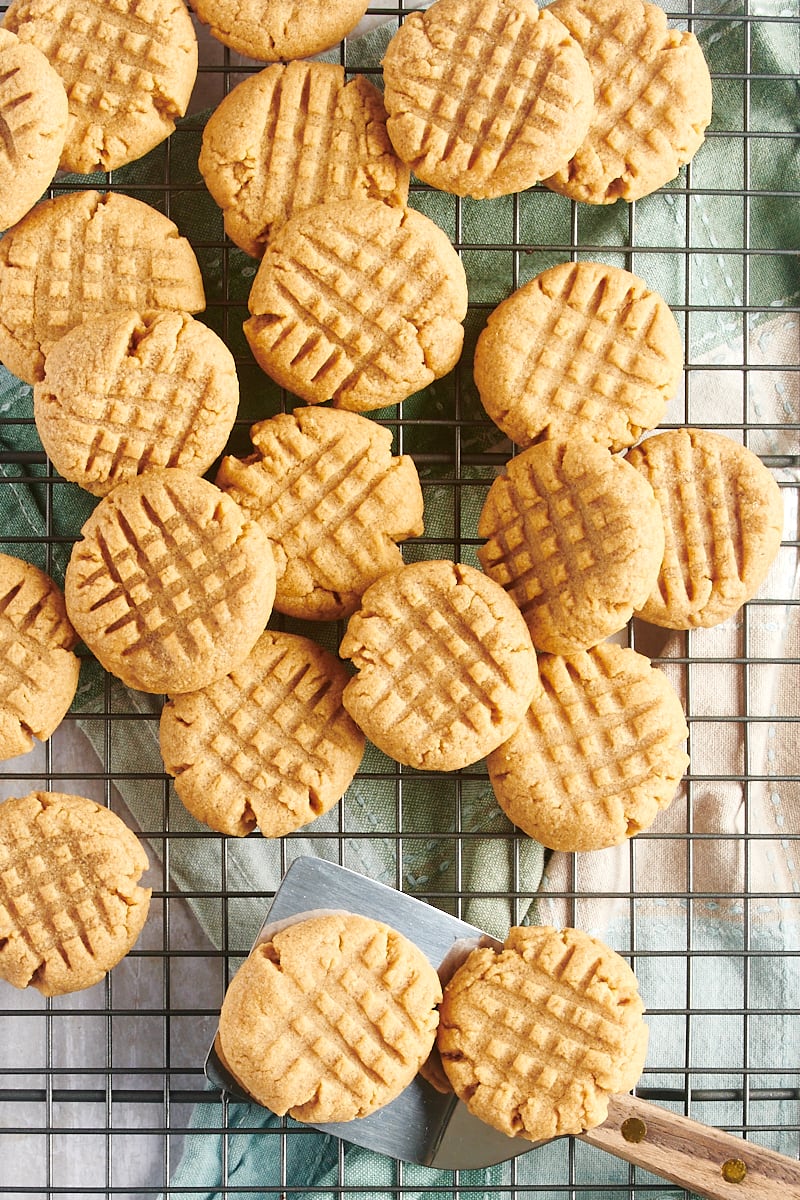 Does This Cookie Dough Need to Chill Before Baking?
You don't need to chill this peanut butter cookie dough. However, if your dough is too warm and soft to roll, refrigerate it for a few minutes to make it firmer. Just don't leave it in the refrigerator too long, or it can become dry and crumbly.
Can I Use Natural Peanut Butter?
You'll get the best results from regular peanut butters like Jif or Skippy. In general, the consistency of natural peanut butters makes using them a bit of a challenge for baking recipes not specifically designed for them. There's also a lot of variance among natural peanut butters, so your results will vary using those. If you do want to try using a natural peanut butter, be sure it's stirred very well.
Can I Use Another Nut Butter?
This recipe should work with another nut butter, like almond butter or cashew butter. I've not personally tried either of those in this recipe, but the substitution should work well enough. Of course, the flavor and consistency will be different than cookies made with peanut butter.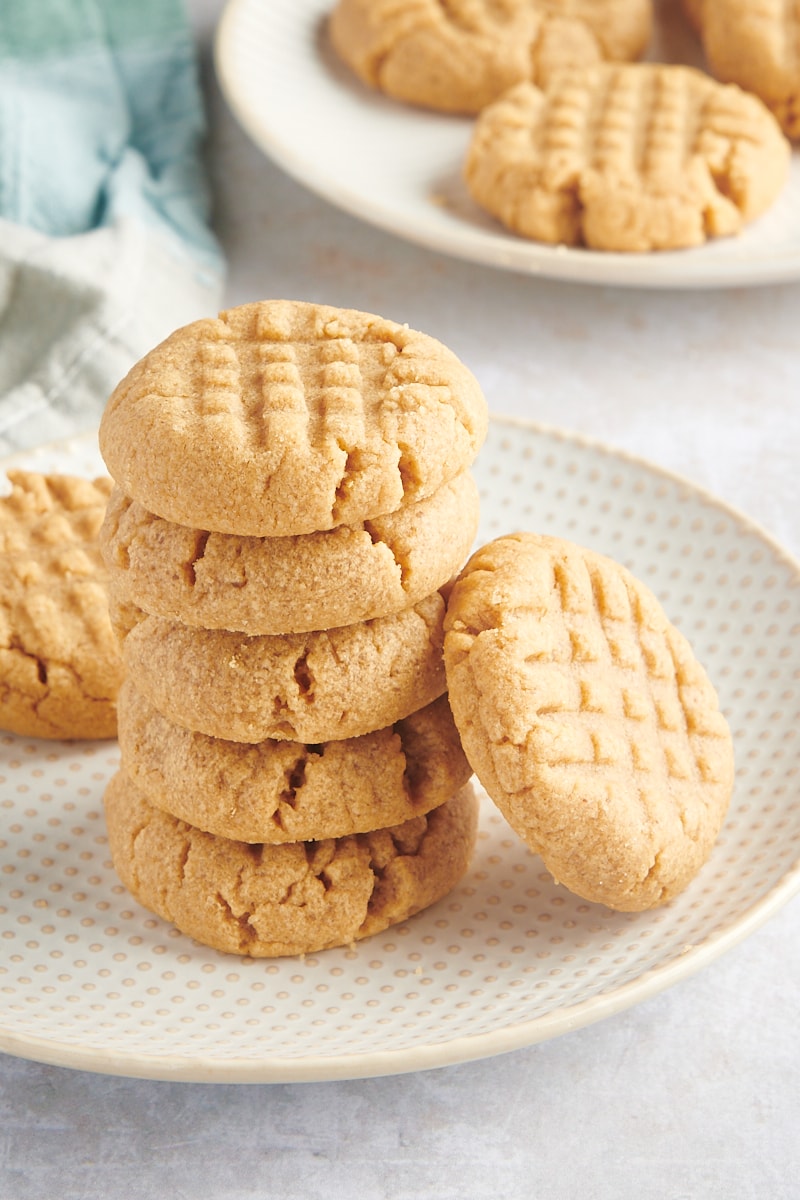 Tips for Success
This 3-Ingredient Peanut Butter Cookies recipe is the epitome of easy, but there are still some things to keep in mind to make sure yours are the best they can be.
Measure by weight. Not only is it more accurate than volume measurements, but it makes this one-bowl recipe so quick to prepare. Just measure in the mixing bowl and save some cleanup!
Use a cookie scoop. It will make quick work of portioning the dough and also help make sure your cookies are equally sized so they'll bake more thoroughly and evenly. After scooping, roll the dough between your palms to form a ball.
Don't skip the cross-hatch. Not only is that classic look pleasing to the eye, but it also serves to flatten the cookies because they won't spread much as they bake. You can also make a different pattern on top or just flatten them with no embellishment.
Don't over-bake. These cookies don't get overly browned, so look for them to appear set and mostly dry to judge their doneness. The edges should just be golden brown.
Not all peanut butters are the same. Different brands have different consistencies, so you may get a slightly different texture for your dough. If it's sticky, lightly grease your hands to make working with the dough easier.
Ideas for Variations
The beauty of these cookies is in their simplicity, but there are some easy changes and tweaks you can make to keep things interesting. Here are a few ideas:
Roll each ball of dough in sugar before baking. You can use regular granulated sugar or a coarse sugar like sanding sugar.
Sprinkle a pinch of coarse salt on top of each flattened cookie before baking.
Add some vanilla. You can mix 1/4 to 1/2 teaspoon vanilla extract with the other ingredients.
Add a handful of mini chocolate chips to the dough. Gently stir them into the dough. If you don't have mini-sized, roughly chop some chocolate instead.
Dip the baked cookies in melted chocolate after they've cooled. I recommend a dark chocolate, like semisweet or bittersweet. Take it a step further by sprinkling with chopped peanuts.
Add a hint of cinnamon. About 1/4 teaspoon ground cinnamon will add a tasty flavor twist to these cookies.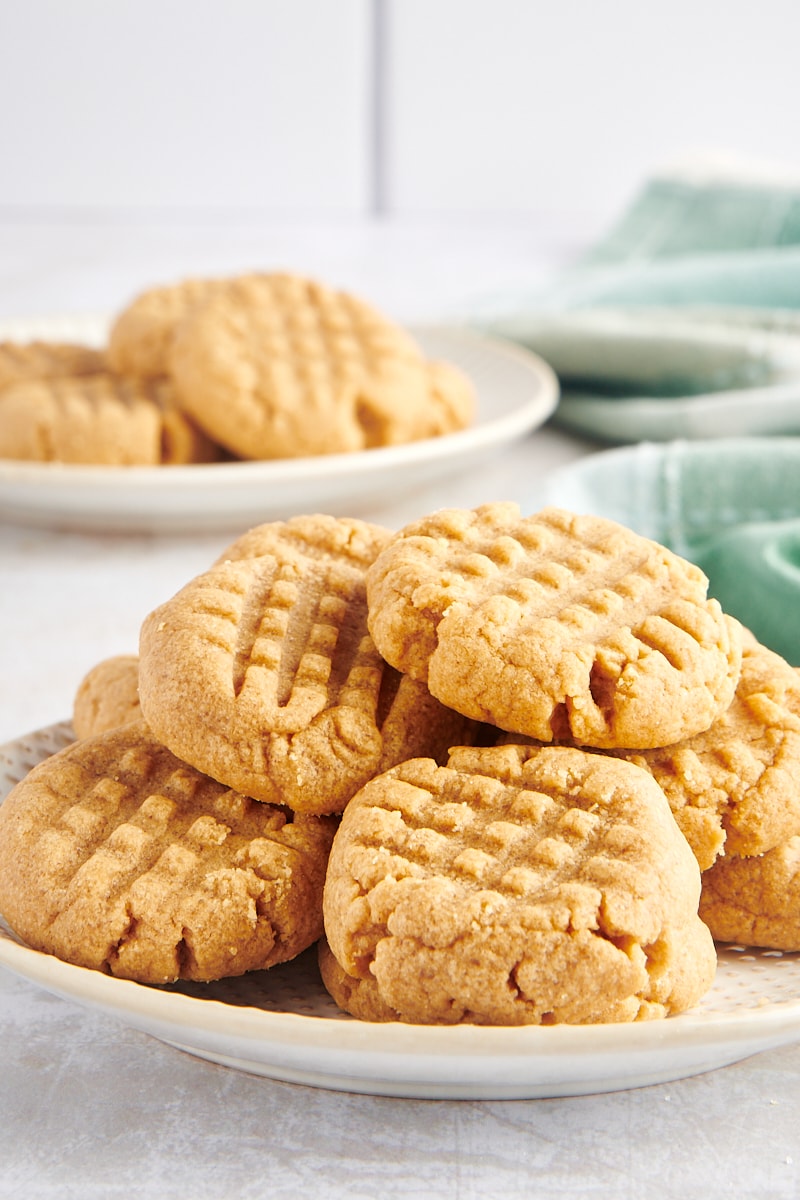 How to Store
Once the cookies have cooled, place them in an airtight container. They should keep at room temperature up to 4 or 5 days.
Can These Peanut Butter Cookies Be Frozen?
Yes, you can freeze these cookies. Place the cooled cookies in an airtight, freezer-safe container or bag. Properly stored, they should keep in the freezer up to 3 months. Thaw for an hour or so at room temperature.
You can also freeze the cookie dough. Follow the directions through portioning the dough. Place the balls of dough on a rimmed baking sheet, and freeze for a couple of hours or until frozen solid. Then transfer the frozen dough to a freezer container or bag. When you're ready to bake the cookies, there's no need to thaw. Simply follow the baking directions, adding an extra minute or two to the baking time.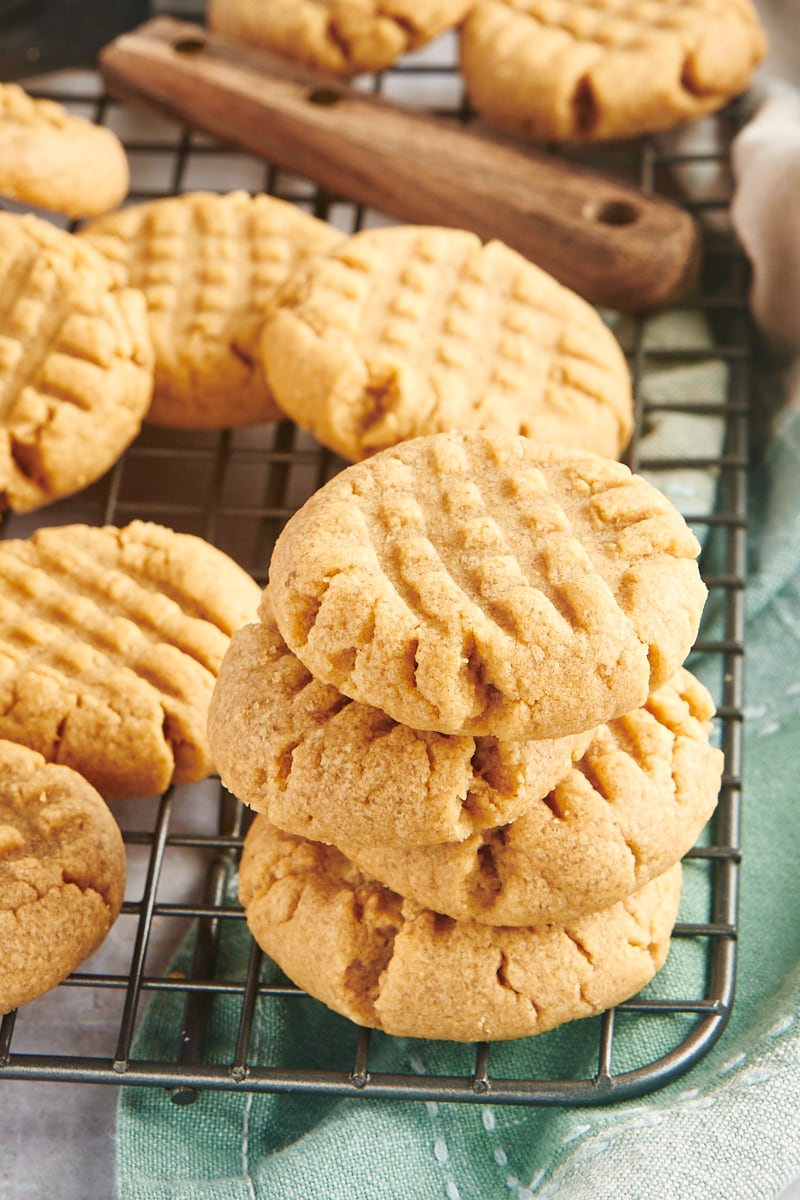 Video Tutorial: 3-Ingredient Peanut Butter Cookies