Sour Cream Coffee Cake Loaf is a simple cake with a buttery, cinnamon-y topping. Perfect for all-day sweet snacking!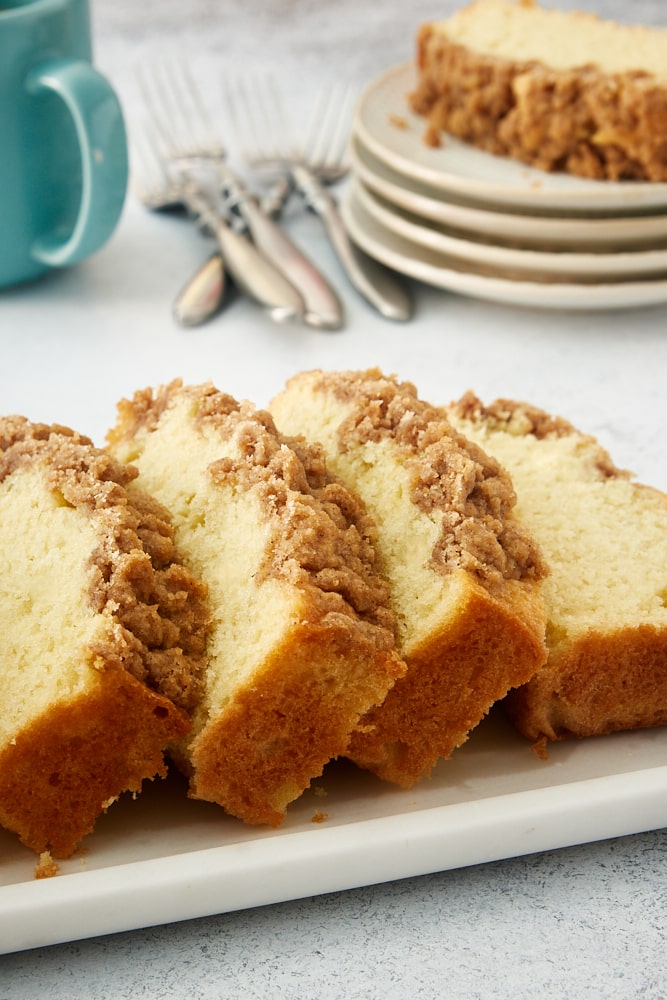 Irresistible Sour Cream Coffee Cake
One of baking's simple pleasures is coffee cake. There's just something irresistible about a soft, not-too-sweet cake topped with a cinnamon crumb that's so comforting and irresistible!
This Sour Cream Coffee Cake Loaf satisfies your coffee cake cravings while baking on a small scale. It bakes in a loaf pan for a nicely sized cake that's perfect for sharing or for grabbing a bite pretty much every time you walk by it.
Why Is It Called Coffee Cake?
Despite the word "coffee" in the name, there's not any coffee in this cake. These types of cakes are often enjoyed alongside a cup of coffee, so that led to their being called coffee cakes. You may also see them simply called crumb cakes.
No matter what you call it, this is the kind of cake you can easily enjoy for a sweet breakfast or brunch treat, with your afternoon coffee or tea, or for a simple dessert.
For more coffee cake recipes, try Classic Crumb Cake, Lemon Cream Cheese Coffee Cake, and Chocolate Swirl Coffee Cake next!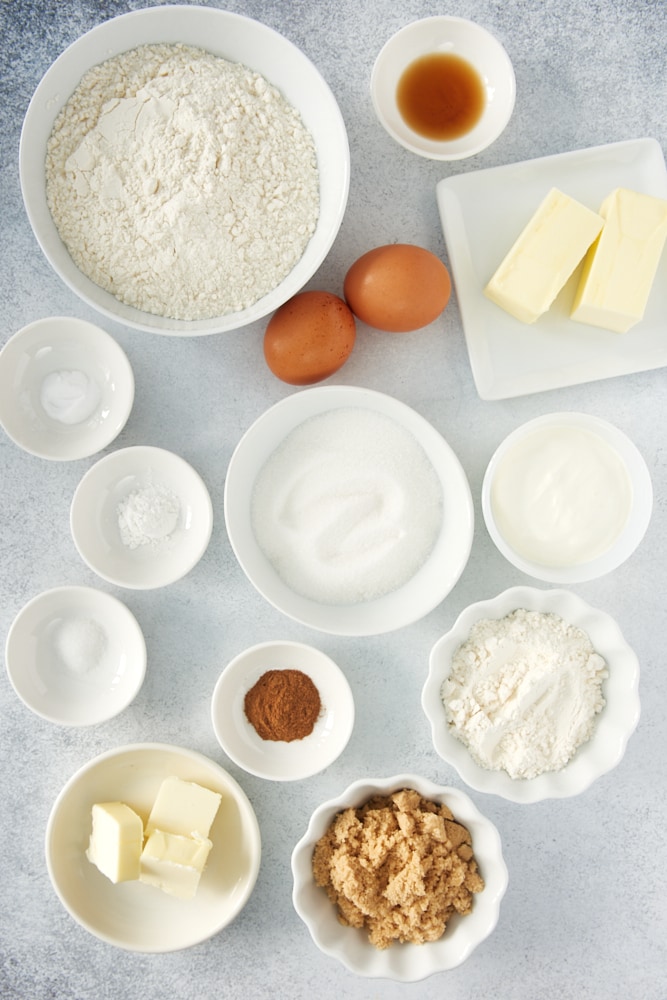 What You'll Need
You'll be making a simple crumb topping as well as a cake batter to make this coffee cake. This cake is mostly made with basic baking ingredients you're likely to have in your kitchen.
For the Crumb Topping:
Brown sugar: You can use light or dark brown sugar.
All-purpose flour
Ground cinnamon: Feel free to adjust the amount of cinnamon to suit your tastes.
Unsalted butter: You'll melt this butter before mixing with the other ingredients for a moist, buttery topping.
For the Cake:
All-purpose flour: Use your favorite standard all-purpose flour for this cake. I usually use King Arthur.
Baking powder
Baking soda
Salt
Unsalted butter: The butter will need to be softened before mixing. You can get tips for doing that here: How to Soften Butter
Granulated sugar
Eggs – I recommend baking with large eggs. Set them out to allow them to come to room temperature.
Vanilla extract: I love the addition of vanilla to this cake, but another extract (like almond extract) would work well, too.
Sour cream: Use full-fat sour cream for the best results.
What Does Adding Sour Cream Do?
"Sour cream" is cream that has been soured and thickened with lactic acid bacteria, which gives it a tangy flavor that adds depth to baked goods. The fat also adds richness and tenderness, making treats like cakes and muffins fluffier when made with sour cream. As mentioned above, I recommend using full-fat sour cream for the best coffee cake! I also use sour cream in this pound cake recipe for the same reasons.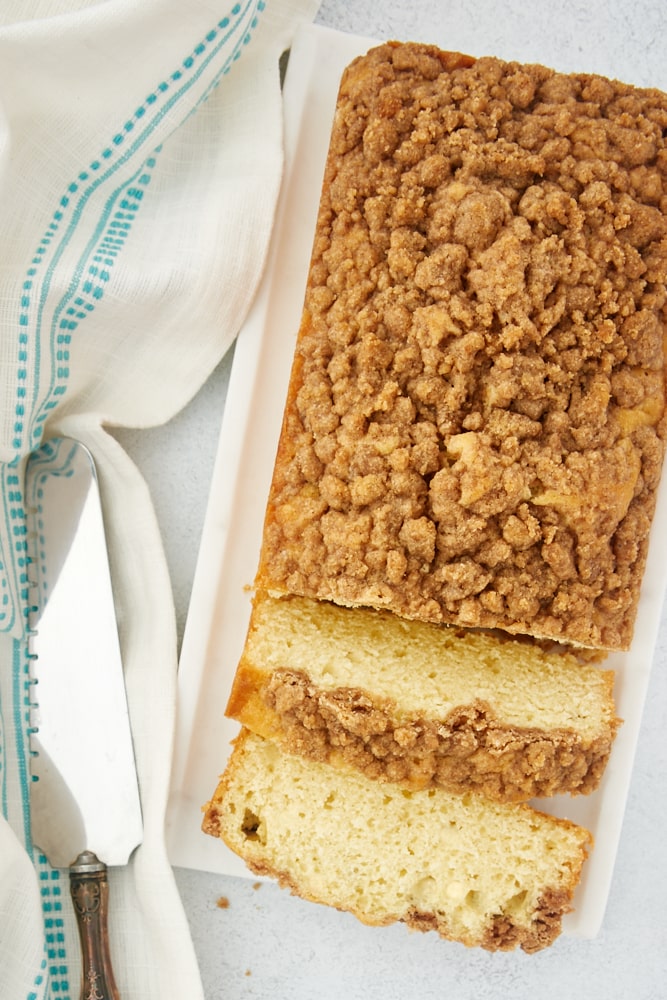 How to Make Sour Cream Coffee Cake
This Sour Cream Coffee Cake Loaf comes together quickly and easily using mostly basic ingredients and a simple mixing method. You'll need a few mixing bowls, a couple of mixing spoons, a hand or stand mixer, and a standard loaf pan.
Make the crumb topping. This is a very simple combination of just a few ingredients. After adding the melted butter, stir until the other ingredients are thoroughly moistened and the mixture forms crumbs.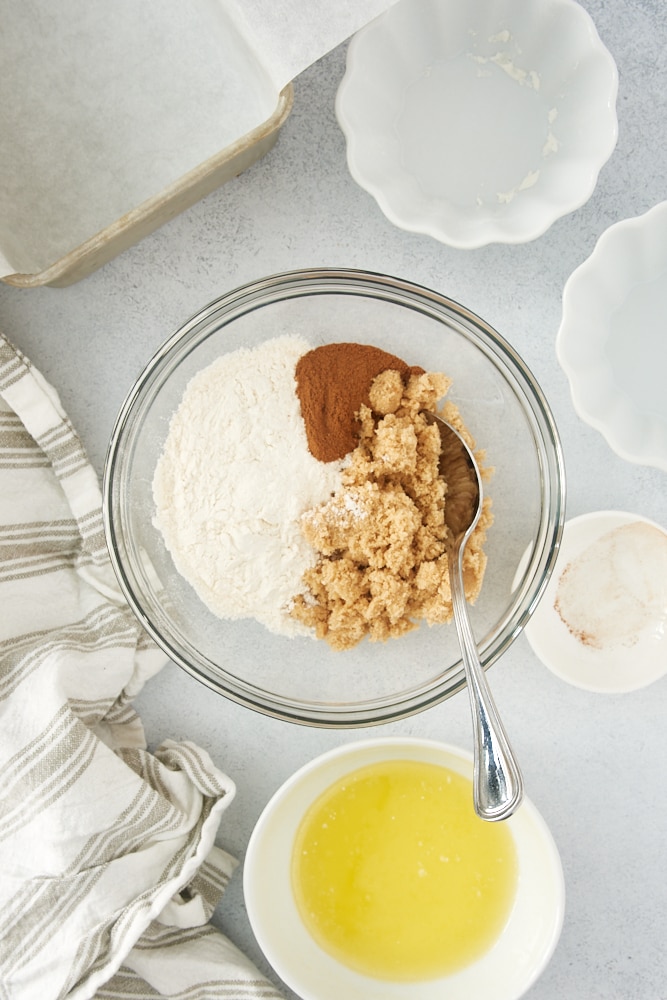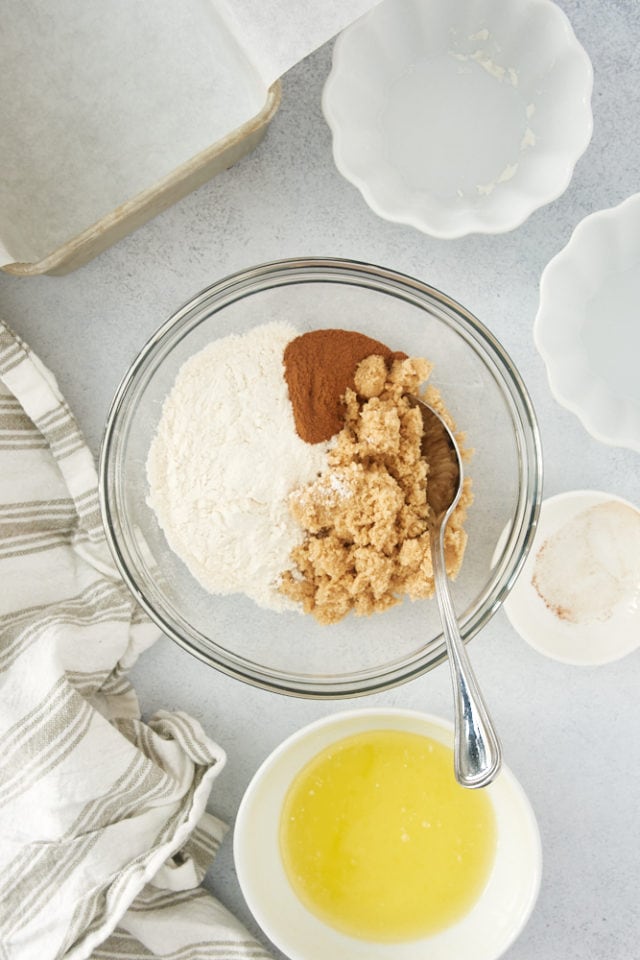 Preheat the oven and prepare the pan. Heat the oven to 350°F. To make removing the cake simpler, line the loaf pan with parchment paper to make a sling before greasing the pan. That will allow you to lift the finished cake out of the pan easily without damaging the crumb topping.
Combine the dry ingredients. Stir together the flour, baking powder, baking soda, and salt. I recommend using a whisk to help them mix thoroughly.
Mix the wet ingredients. In a separate bowl, use an electric mixer to cream the butter and sugar. (See The Creaming Method if you need any tips.) Mix in the eggs, one at a time. Then mix in the vanilla.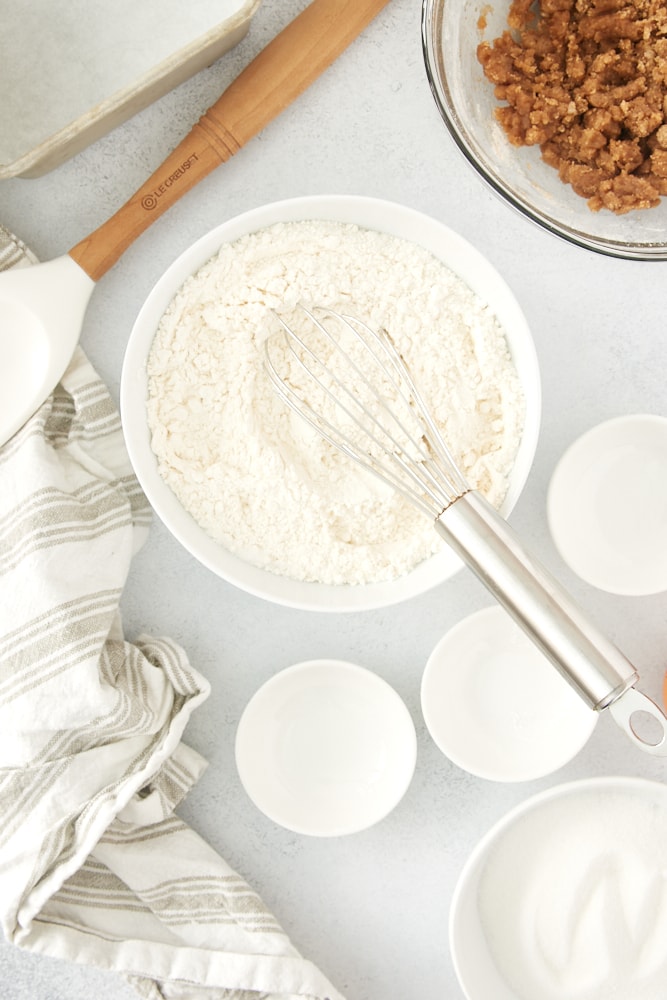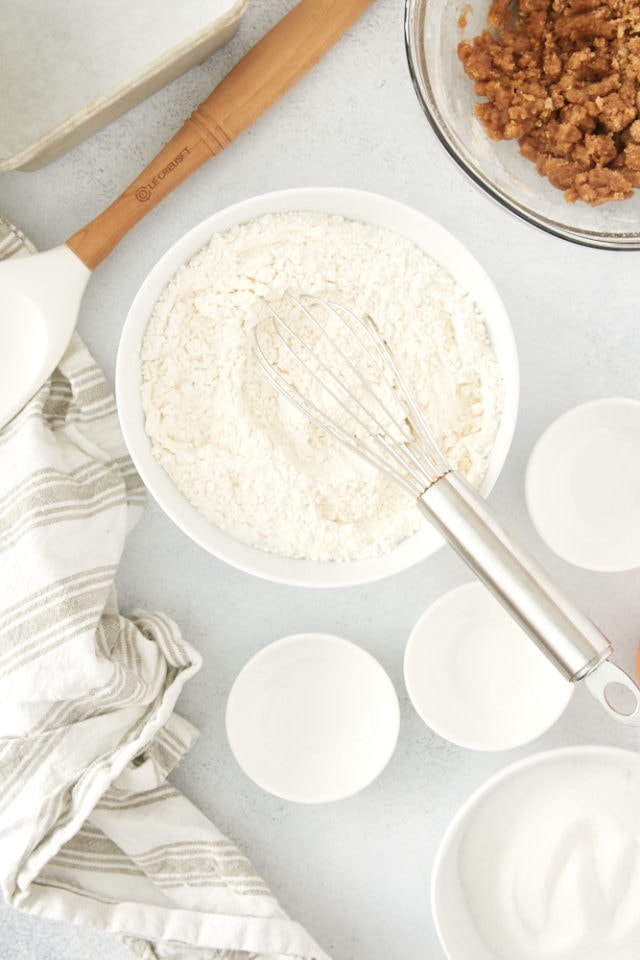 Combine the wet and dry ingredients. With mixing on low speed, add about a third of the flour mixture. Next, add about half of the sour cream. Then add half of the remaining flour mixture, followed by the rest of the sour cream and finally the rest of the flour mixture. Alternating these ingredients while mixing will help the sour cream be fully incorporated into the batter without over-mixing. Be sure to mix just until combined.
Bake the cake. Transfer the batter to the pan, and sprinkle the crumb topping evenly over the batter. Bake 30 to 35 minutes. You'll know the cake is done when it has browned and a toothpick inserted into the center comes out clean.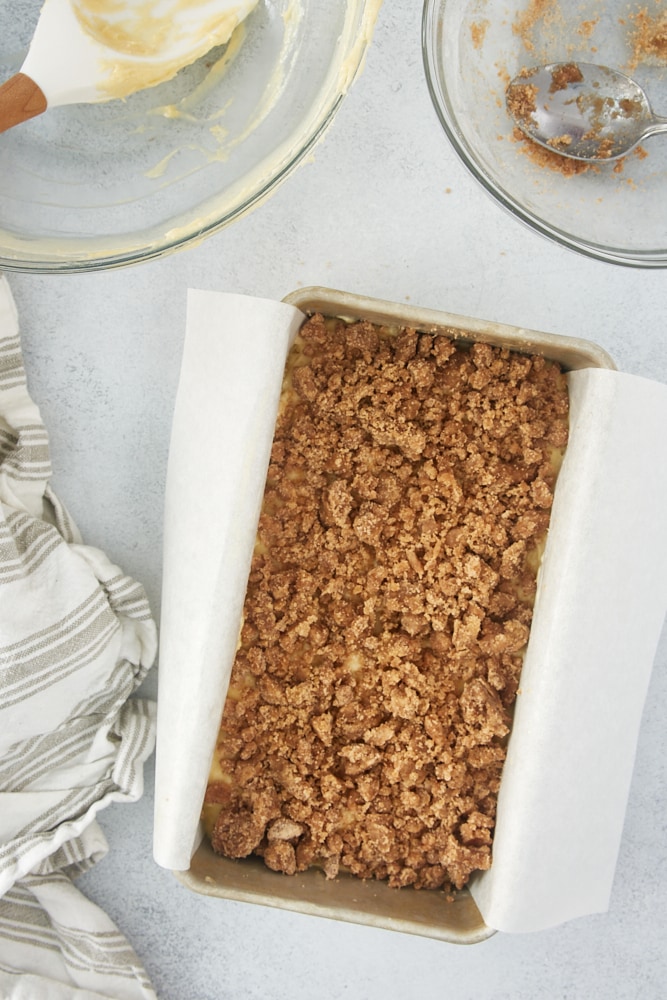 Tips for Success
While this is a simple coffee cake recipe, it never hurts to have a few tips and tricks up your sleeve for best results!
Measure accurately. Use a kitchen scale to measure by weight if possible. This is especially important with flour. Learn more: How to Measure Flour
Use a light-colored metal loaf pan. The cake will bake more evenly with this type of pan.
Line the pan with parchment paper. This will make removing the cake from the pan easier and will keep your beautiful crumb topping intact.
Don't over-mix the batter. Too much mixing leads to dry, overly dense cake.
Adjust the cinnamon to suit your tastes. Go with a little more or less than the amount in the recipe if you like.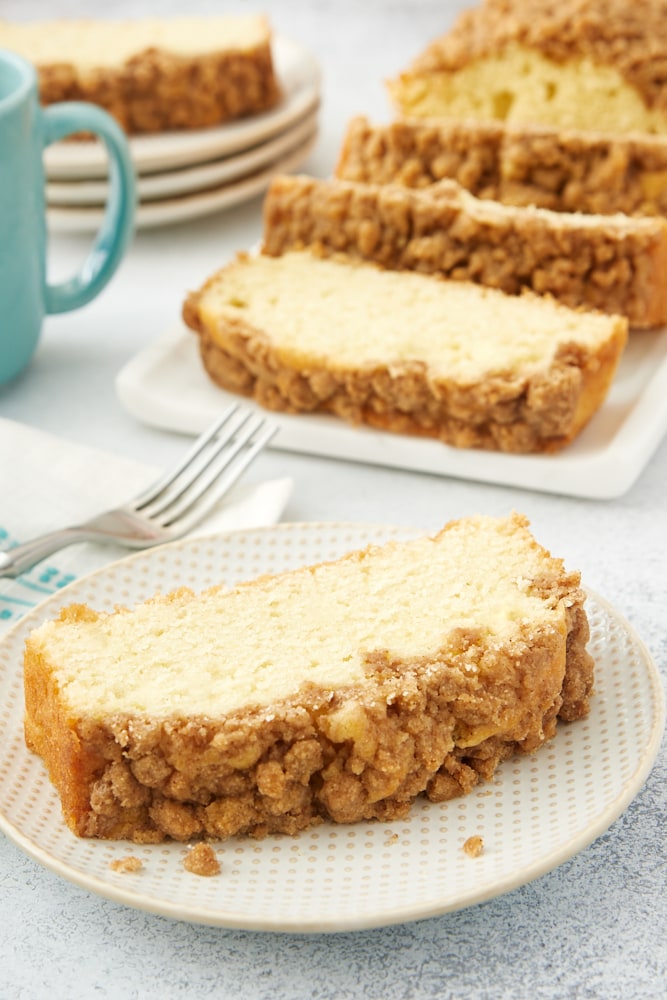 How to Store Leftovers
Store any leftover cake in an airtight container. It will keep at room temperature for about 3 days, although it will be best within a day of being baked.
Briefly warming slices of this cake will help soften and refresh it after a couple of days.
Can You Freeze Coffee Cake?
Yes! After the cake has cooled completely, either wrap individual slices or an entire loaf in plastic wrap. Place inside a freezer bag or wrap in aluminum foil. Be sure to label the packaging with the name and the date baked.
Thaw the frozen cake overnight in the refrigerator or for a few hours on your kitchen counter.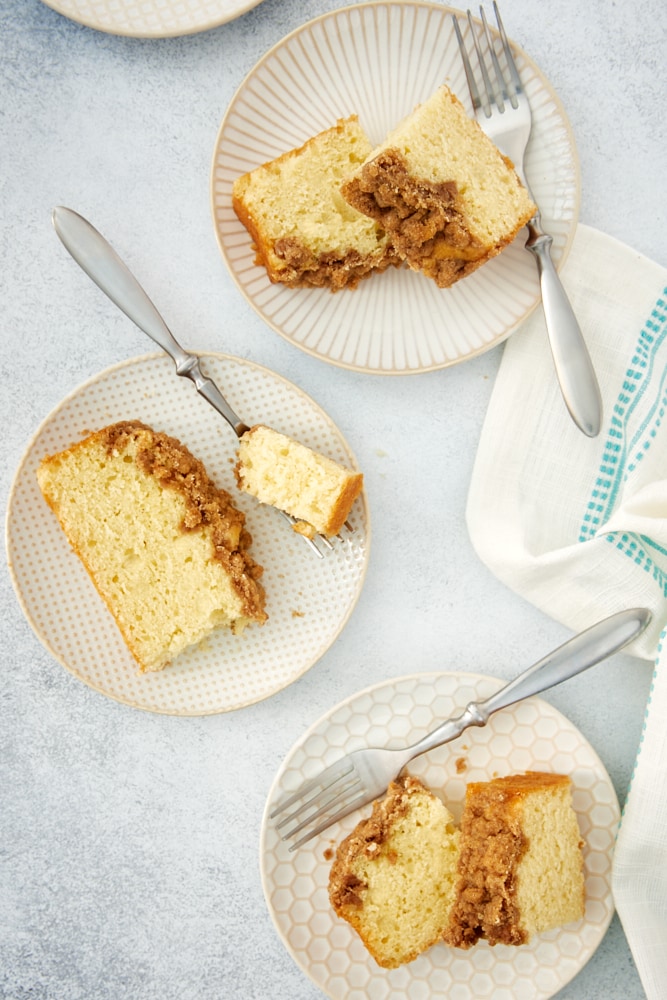 Video Tutorial: Sour Cream Coffee Cake
Find more cake recipes in the Recipe Index.