June 9, 2016
Brown Butter Almond Cake with Apricot Whipped Cream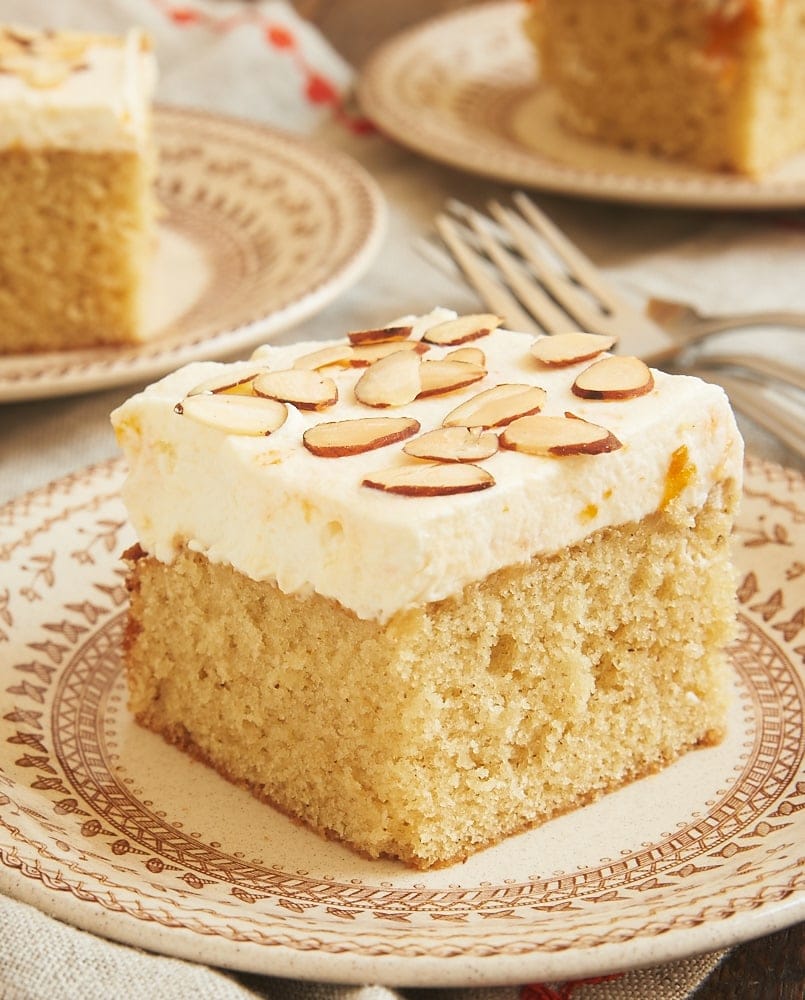 I'm so excited to share this lovely cake with you! It's a recipe that's been on my to-bake list for a while, and I finally got around to making it recently. As is often the case, it is just so good that I'm kicking myself for not making it sooner!
That title may seem like a lot is going on here. Sure, there are a few flavors represented, but they all work together so nicely that the final result is pretty fantastic. The delicate cake gives you a hint of nutty brown butter along with plenty of almond flavor. That's topped with a fruity whipped cream. It all works together so well!

The topping is simply a dressed-up sweetened whipped cream. Just stir some apricot preserves into freshly whipped cream, and you'll create an easy, irresistible topping! It's a great alternative to more traditional frostings. Its light, fluffy texture is just the thing to go with a delicate cake like this one.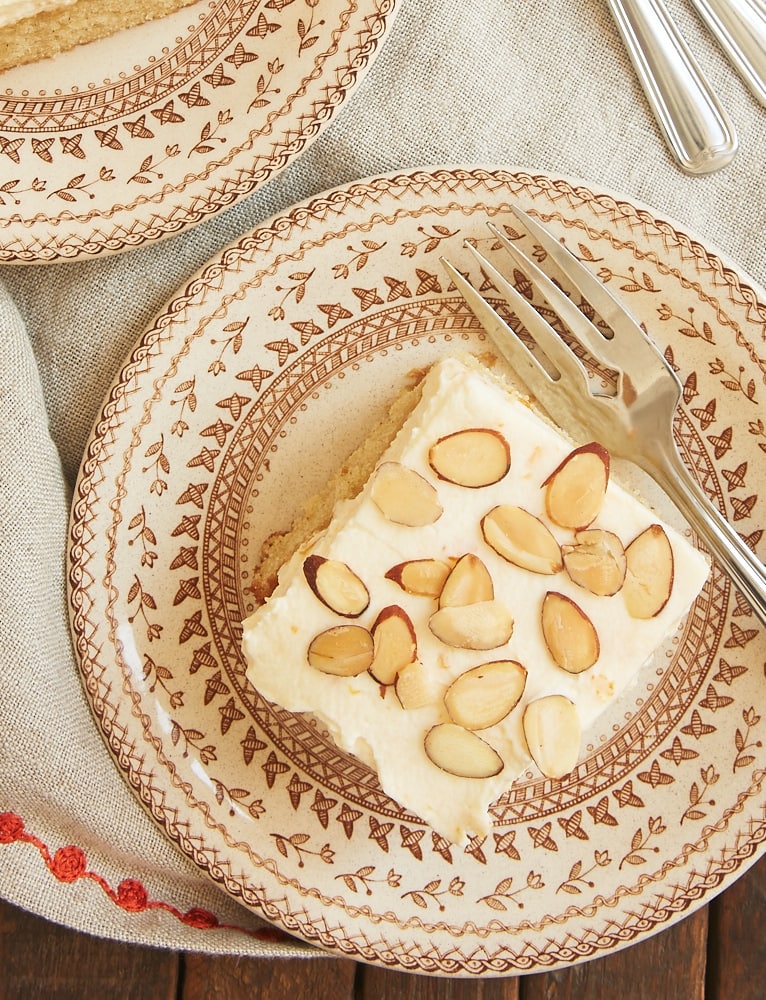 While you'll need a little extra time to brown the butter for this cake, you'll still find that this is quite a simple cake to make. It mixes quickly, and that topping takes only a few minutes. Yet the end result is pretty and delicious enough to impress!
I love one-layer cakes like this one, not only for their simplicity but also for their ease of transporting. This is a great cake for potlucks, cookouts, and most any kind of gathering. I think you'll find yourself getting requests to make this cake again and again!
Find more cake recipes in the Recipe Index.
Brown Butter Almond Cake with Apricot Whipped Cream
Yield: 24 servings
Prep Time:35 minutes
Cook Time:35 minutes
Brown Butter Almond Cake with Apricot Whipped Cream is such a lovely, nutty, sweet, and delicate cake. Such an amazing flavor combination!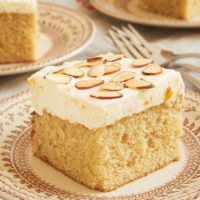 Ingredients:
For the cake:
10 tablespoons unsalted butter
2 cups all-purpose flour
3/4 cup almond meal or finely ground almonds*
1 teaspoon baking powder
1/2 teaspoon baking soda
1/2 teaspoon salt
1 cup granulated sugar
1/2 cup firmly packed light brown sugar
3 large eggs
1 tablespoon almond liqueur, such as Amaretto
1 teaspoon almond extract
1 cup milk
For the whipped cream:
2 cups heavy cream
3 to 4 tablespoons granulated sugar, to taste
3/4 cup apricot preserves
1/2 cup sliced almonds, toasted
Directions:
To make the cake:
Place the butter in a medium saucepan or skillet. Cook over medium heat until the butter melts and begins to foam.
Continue cooking, stirring occasionally, until brown specks begin to form at the bottom of the pan and the butter has a nutty aroma.
Transfer the butter (including the browned bits) to a large mixing bowl to allow it to cool for about 10 minutes.
Preheat oven to 350°F. Grease a 9″x 13″x 2″ baking pan.
Whisk together the flour, almond meal, baking powder, baking soda, and salt. Set aside.
Using an electric mixer on medium speed, beat the brown butter, sugar, and brown sugar until thoroughly combined.
Add the eggs, one at a time, mixing well after each addition. Mix in the liqueur and extract.
Reduce the mixer speed to low. Add the flour mixture in three portions, alternating with two portions of milk. Mix just until combined.
Spread the cake batter evenly in the prepared pan. Bake 30 to 35 minutes, or until a pick inserted into the center comes out clean.
Cool completely in the pan.
To make the whipped cream:
Place the cream in a large, cold mixing bowl. Using an electric mixer with a whisk attachment, beat at medium-high speed until the cream begins to thicken.
Sprinkle the desired amount of sugar over the cream. Whisk until combined.
Continue beating until you can lift the whisk out of the whipped cream and a peak that curves downward forms in the cream. This should take 4 to 5 minutes.
Stir the preserves to break up any large lumps. Gently fold the preserves into the whipped cream. Be sure not to stir too much and deflate your whipped cream. Don't try to get a uniform distribution of preserves. You should see streaks of preserves in the whipped cream.
Spread the whipped cream evenly over the cooled cake. Top with toasted almonds before serving.
This post contains affiliate links.