October 19, 2015
Dulce de Leche Cheesecake Brownies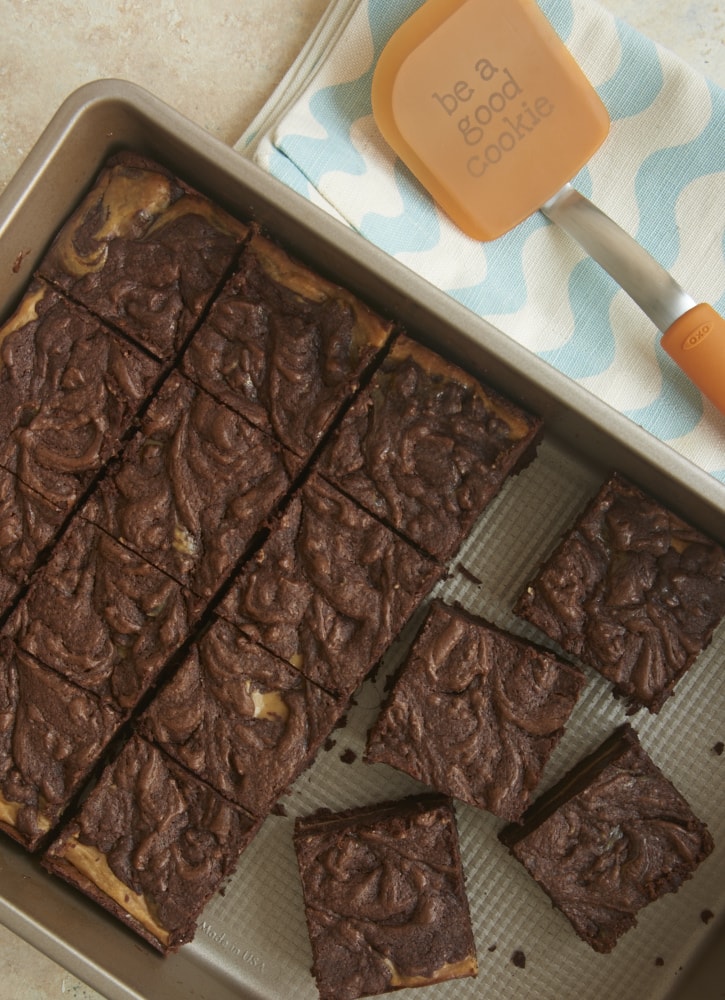 In the last few years, I've become a fan of plain brownies. I hesitate to use the word "plain," as they are anything but that. I simply mean that I like to whip up a batch of fudgy brownies with no nuts or other additions whenever I get a big chocolate craving.
But there are times when I really want to go all out and make some over the top brownies. That's when things like Dulce de Leche Cheesecake Brownies happen.
It all starts with an extra fudgy brownie. That's then topped with a sweet cheesecake filling flavored with dulce de leche. Then top that with even more brownie batter, and give it a swirl before baking. They are, in a word, amazing!


I don't really need an excuse to bake brownies, but I made these brownies for a very good reason. This year, I am once again participating in OXO's campaign for Cookies for Kids' Cancer.
Be on the lookout this month for cookies, brownies, and cupcakes from my fellow food bloggers. OXO is donating $100 for each food blogger who posts a recipe for the campaign this month. If you use social media, look for #OXOGoodCookies to see everyone's sweet creations. And also look for OXO products marked with special Cookies for Kids' Cancer stickers, as they will donate a portion of the proceeds for each product sold. All together, OXO will donate up to $100,000 through product proceeds, bake sale matches, and other fundraising efforts.
Great brownies and a great cause!
Dulce de Leche Cheesecake Brownies
Yield: 24 2-inch brownies
Prep Time:25 minutes
Cook Time:40 minutes
Dulce de Leche Cheesecake Brownies are extra fudgy brownies with a swirl of cheesecake filling flavored with dulce de leche.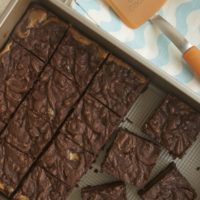 Ingredients:
For the brownies:
12 ounces bittersweet chocolate, roughly chopped
1 cup unsalted butter
1 cup granulated sugar
3/4 cup firmly packed light brown sugar
4 large eggs
1 tablespoon vanilla extract
2 cups all-purpose flour
1 teaspoon salt
For the filling:
8 ounces cream cheese, softened
1/3 cup dulce de leche
1 large egg
Directions:
To make the brownies:
Preheat oven to 350°F. Grease a 9″x 13″x 2″ baking pan.
Place the chocolate and butter in a microwave-safe bowl. Heat at half power in 30-second increments until the butter has melted and the chocolate melts when stirred. Set aside to cool slightly.
In a large bowl, combine the sugar, brown sugar, eggs, and vanilla. Add the cooled chocolate mixture, and mix until thoroughly combined. Add the flour and salt, and mix just until combined.
Transfer about half of the brownie batter to the prepared pan and spread evenly.
To make the filling:
Using an electric mixer on medium speed, beat the cream cheese, dulce de leche, and egg until thoroughly combined and smooth. Pour on top the brownie batter in the pan. Spread evenly, leaving about 1/4″ margin around the edges.
Drop the remaining brownie batter over the filling. Use a thin knife to swirl the batter into the filling. Or just gently spread the brownie batter over the top of the filling to cover it as much as possible.*
Bake for 35 to 40 minutes, or until a pick inserted into the center comes out with moist crumbs. Cool in the pan before cutting into bars.
Notes:
*The brownie batter is a bit on the thick side, so you won't get an elaborate swirl effect. I find that the thin knife swirling technique does help spread the top layer of brownie batter quite well, although an offset spatula will work if you want to skip the swirling.
OXO was kind enough to send some brownie baking tools my way, including a Non-Stick Pro 9×13 Cake Pan, Brownie Spatula, and Baker's Dusting Wand. All opinions written are my own.