My spice drawer really gets a workout in the fall. I happily start adding cinnamon, nutmeg, allspice, and more to as much of my baking as possible. The combination of all those flavors just says "FALL!" to me in a big way.
With fall baking occupying my brain, I really wanted to make a spice cake, but I thought to make it a bit different than the traditional. Enter butterscotch. And to make it a bit more fun, let's poke holes in the cake and let the butterscotch work its way down into the cake. Sound good? Oh, yeah.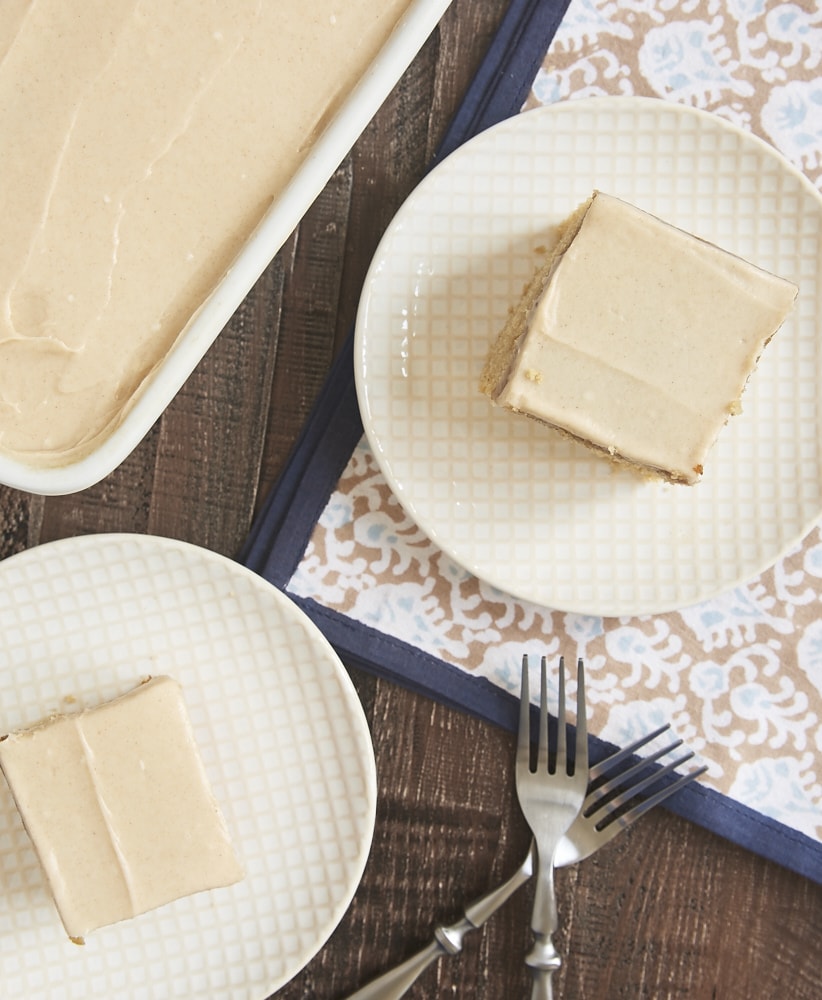 If you aren't familiar with poke cakes, it's pretty much just what I described above. It's a great way to pack a lot of extra flavor into a cake. Most of the time, I use the end of one of my hand mixer beaters to poke holes in the baked cake. For something thicker like butterscotch sauce, you'll need to make bigger holes to make sure plenty of the butterscotch gets into the cake. The end of a wooden spoon works well, but anything with a 1/4- to 3/8-inch diameter will be fine.
I am a big cinnamon fan, so I couldn't resist adding a bit of cinnamon to the frosting. But if you prefer, just omit the cinnamon for a classic cream cheese frosting. If you're feeling extra fancy, sprinkle some toasted pecans or some other nuts on top of the frosted cake.
At first glance, this probably looks like an involved recipe. I promise you it isn't. The long list of ingredients for the cake is mostly due to all the spices. The butterscotch will take you 10 minutes to make. And the frosting even less than that. Then you'll have a beautiful, delicious cake that's a perfect way to celebrate fall spices!
Want to try more poke cakes? Try Butterfinger Cake and Lemon Poke Cake, too!
Find more cake recipes in the Recipe Index!