What do you get when you combine a nostalgic treat with decadent flavors? You get scotcheroos! With peanut butter, crispy rice cereal, chocolate, and butterscotch, these scotcheroos are guaranteed to disappear fast.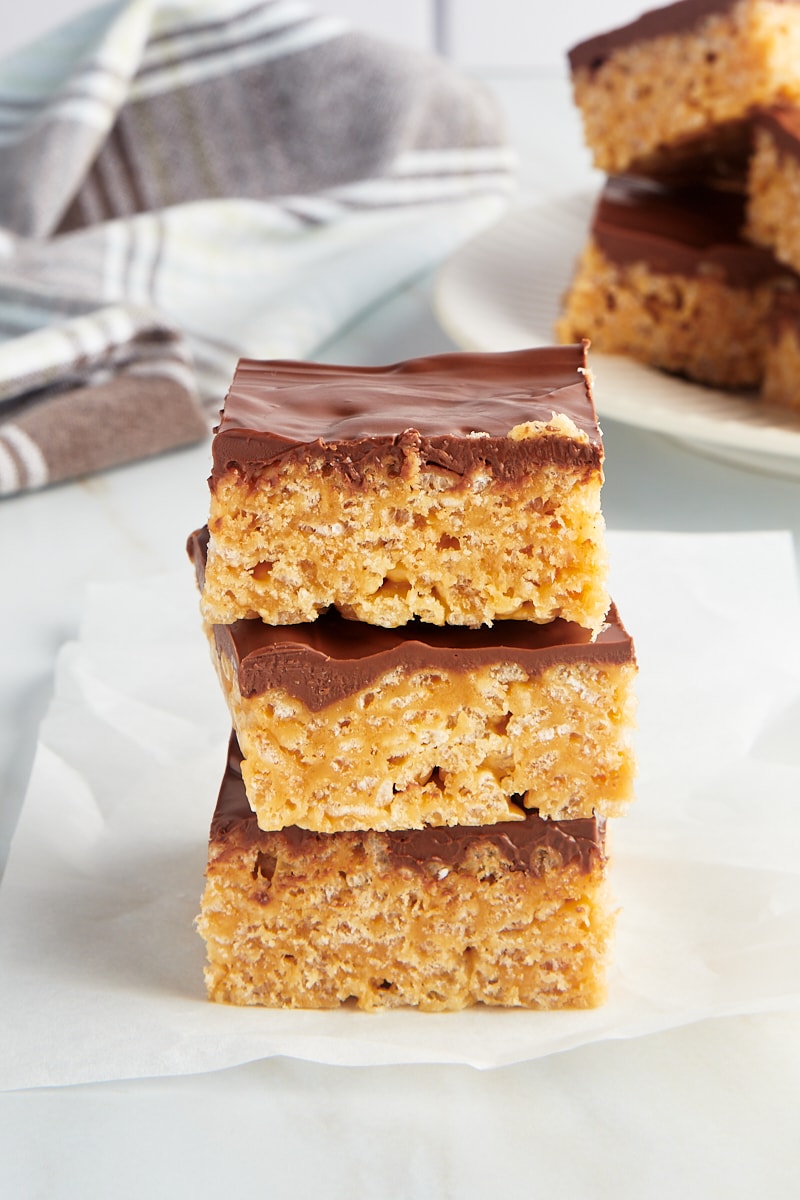 Classic Scotcheroos Recipe
Scotcheroos are a delicious, easy dessert that both kids and adults adore. Like my salted chocolate brown butter crispy treats, crispy chocolate squares, and cinnamon bun crispy treats, they have a crispy rice base that definitely brings the nostalgia factor.
But unlike traditional crispy rice treats, scotcheroos use peanut butter and corn syrup instead of marshmallows to bind everything together. This adds another layer of flavor and gives scotcheroos a different (and less sticky!) texture.
Then, the whole thing is covered in melted chocolate and butterscotch chips for a decadent finishing touch. Once you give them a try—and see how easy it is to make them!—scotcheroos will quickly end up in your regular dessert rotation.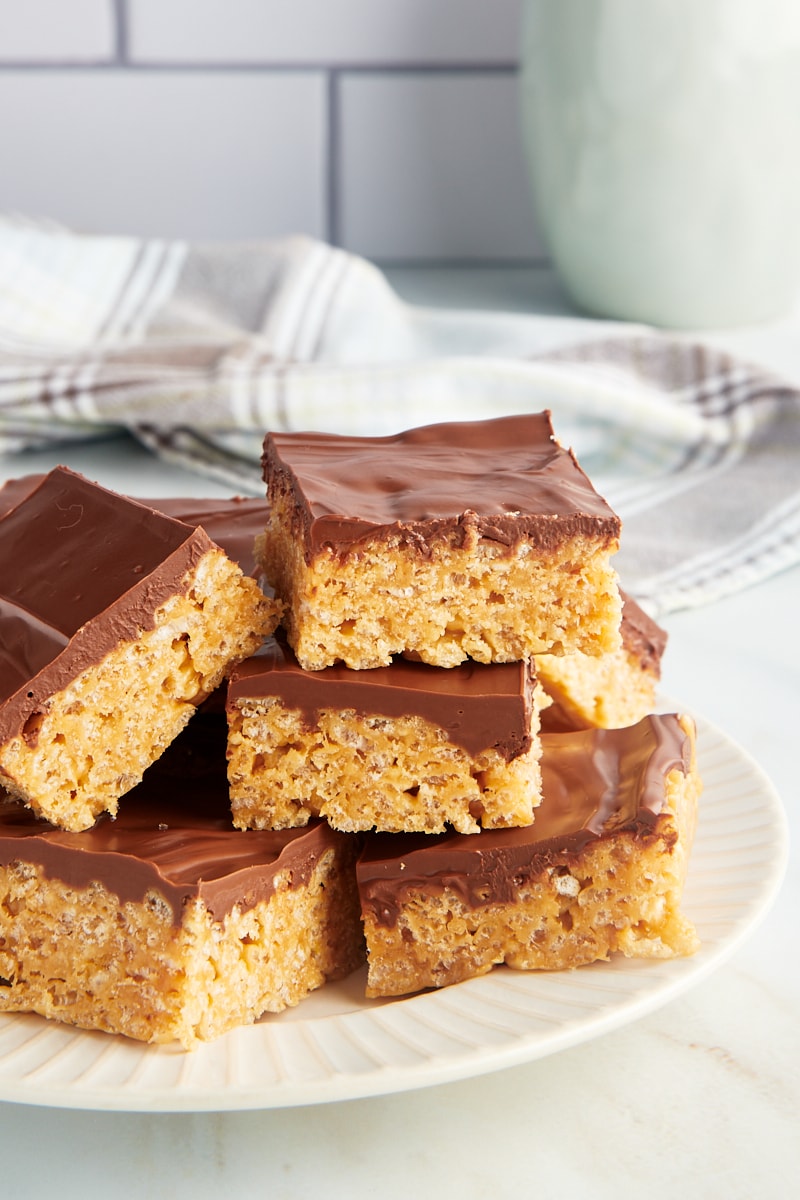 Why You'll Love This Scotcheroos Recipe
Here's why scotcheroos are a timeless favorite you'll make again and again:
Peanut butter and chocolate. The classic duo! I love peanut butter and chocolate in no-bake peanut butter chocolate bars, and adding butterscotch makes for a trifecta of deliciousness.
Easy and fast. This recipe only takes minutes to make—it's just like making crispy rice treats, with the (simple!) added step of making the chocolate-butterscotch topping.
Perfect for a crowd. Make a big batch and everyone will love them! Scotcheroos are great for potlucks or dessert tables for parties. That said, they're also easy enough to whip up for a weeknight dessert.
No oven required. All you need is a stovetop or microwave to melt the ingredients.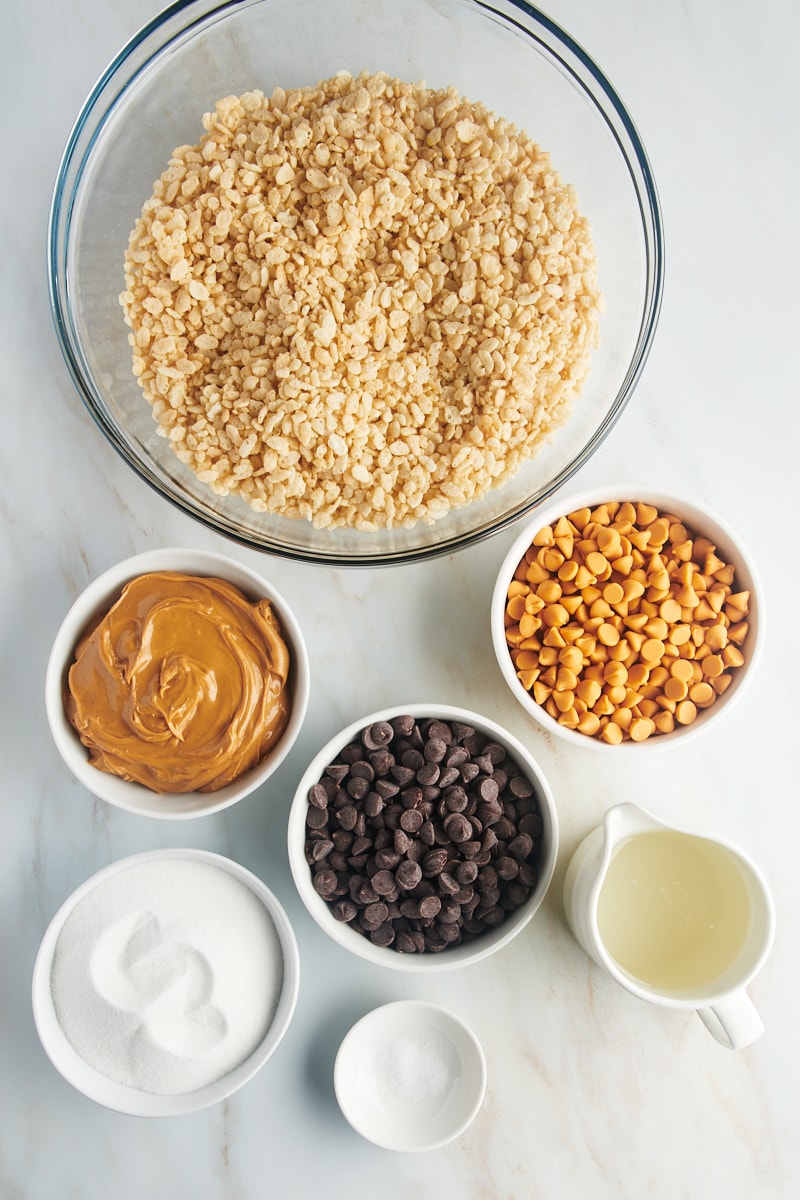 What You'll Need
Scroll down to the recipe card to find the ingredient quantities and recipe instructions.
Granulated sugar
Light corn syrup – Light corn syrup has a vanilla flavor that adds an extra layer of flavor to the recipe. Don't substitute another variety.
Creamy peanut butter – Use regular, shelf-stable peanut butter here (like Jif or Skippy), not the natural kind that needs to be stirred before using.
Salt
Crisp rice cereal – Like Rice Krispies. Some store brands have a slightly different shape and/or texture, so I recommend using the name brand.
Semisweet chocolate chips
Butterscotch chips – You'll find these in the baking section, usually near the chocolate chips.
Is Butterscotch the Same as Caramel?
No, butterscotch and caramel are not the same. Butterscotch is made with brown sugar and it's heated to a lower temperature. Caramel is cooked to a higher temperature and it's made with white sugar; it's thicker and darker in color.
Butterscotch has a deep, rich flavor that's different from the taste of caramel thanks to the molasses in the brown sugar and the addition of butter.
How to Make Scotcheroos
There's nothing fussy or complicated when it comes to making scotcheroos. Here's what you'll need to do.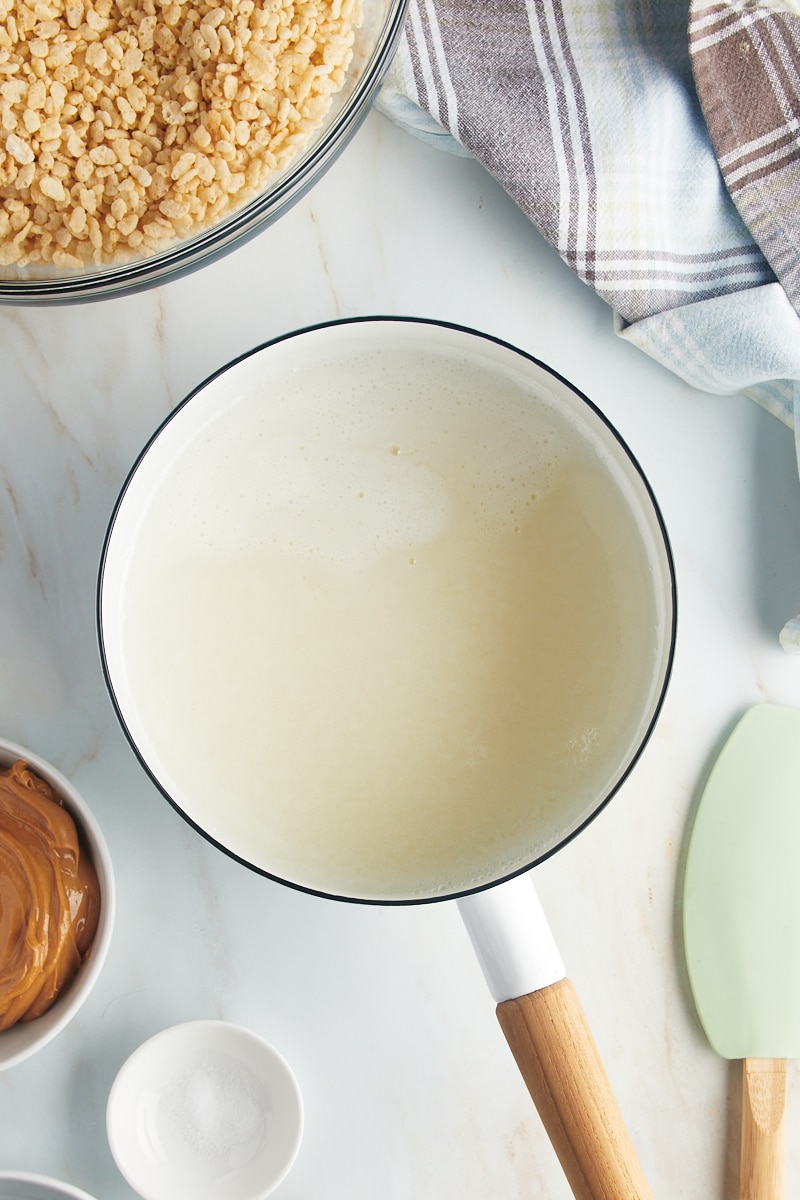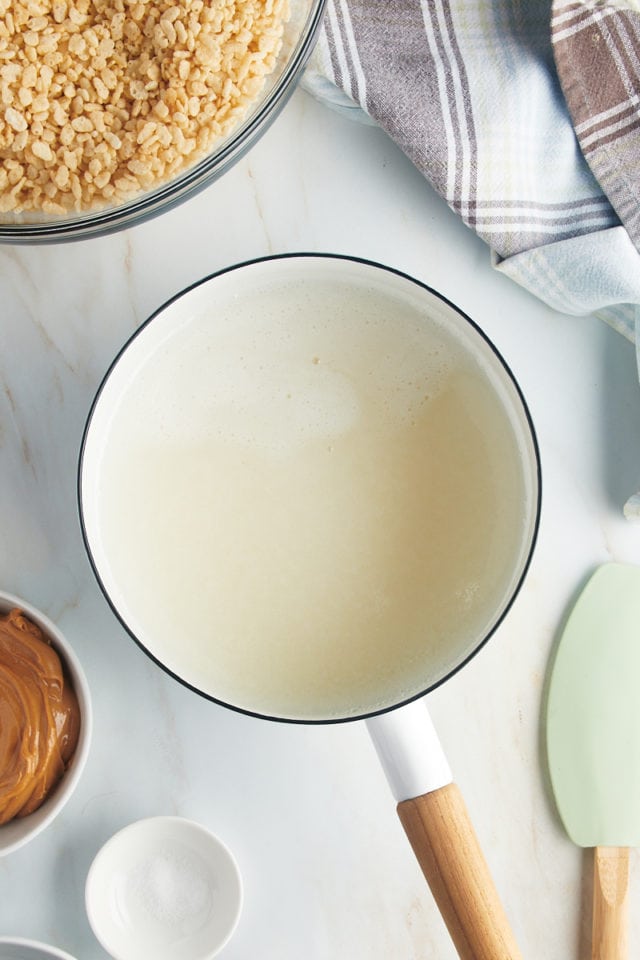 Prepare. Grease or line and grease a 9" x 13" x 2" pan and pour the cereal into a large bowl.
Make the syrup mixture. Stir together the sugar and corn syrup in a large saucepan set over medium heat. Continue to stir frequently until the mixture comes to a low boil and the sugar dissolves.
Mix the base ingredients. Remove the syrup from the heat and stir in the peanut butter and salt. Pour the peanut butter mixture into the bowl with the cereal and stir to combine.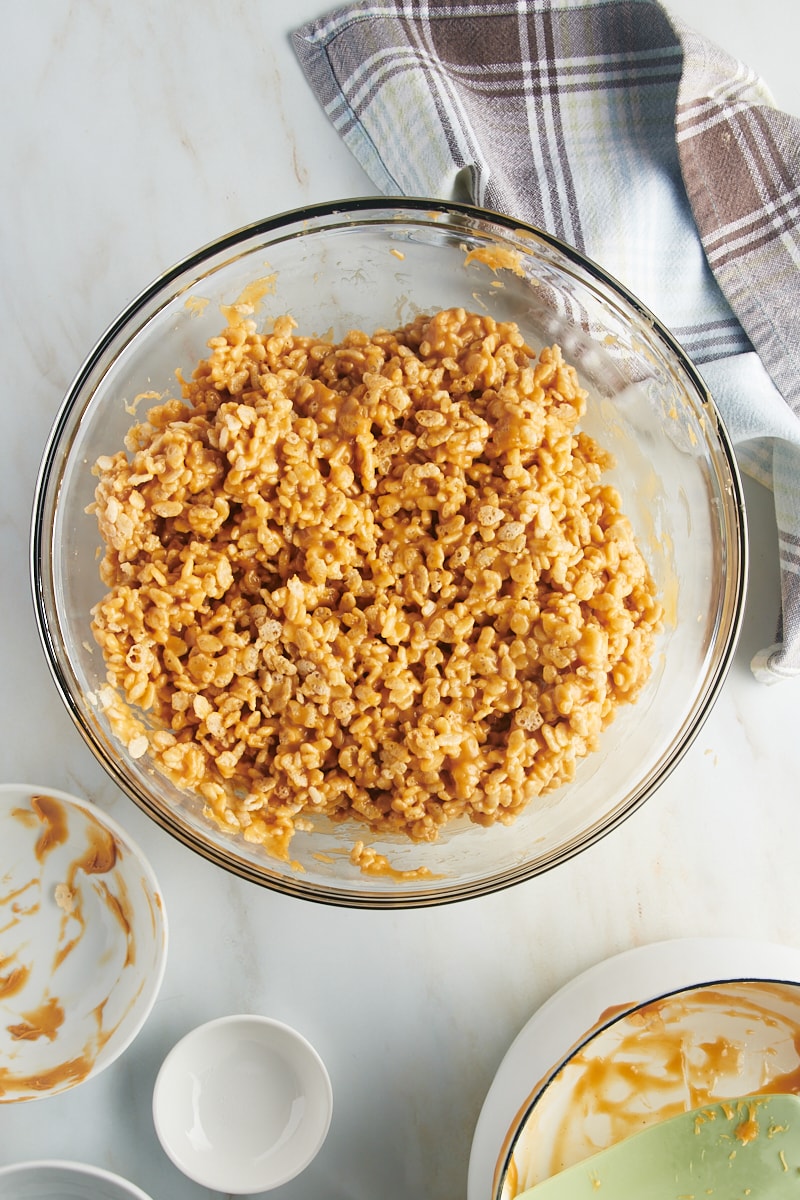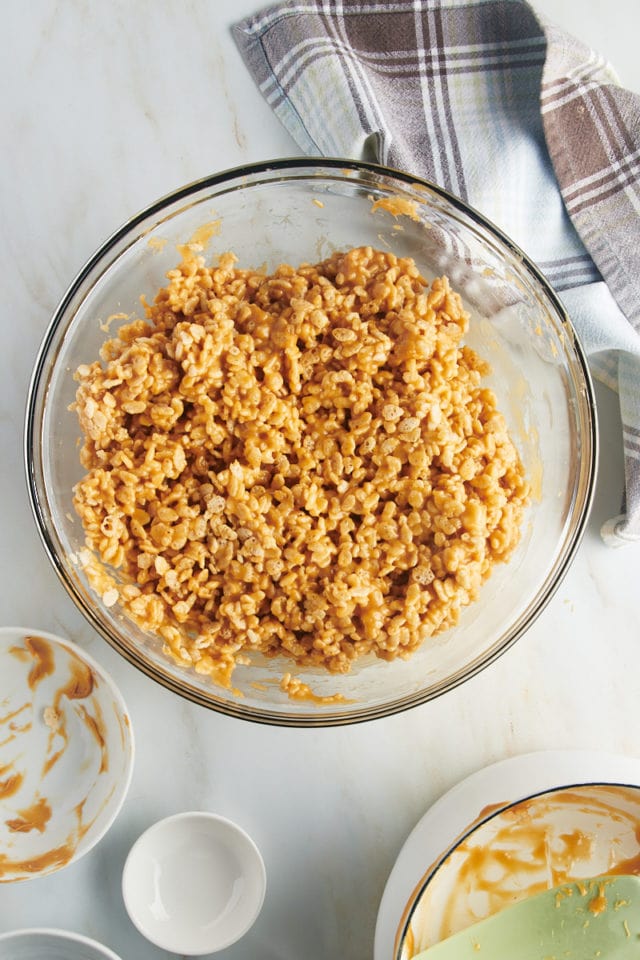 Transfer to the pan. Press the crispy rice base into the prepared pan using a rubber spatula coated with cooking spray.
Melt the chips. Place the chocolate and butterscotch chips in a microwave-safe bowl, then heat at half power in 30-second increments until the chips melt smoothly when stirred.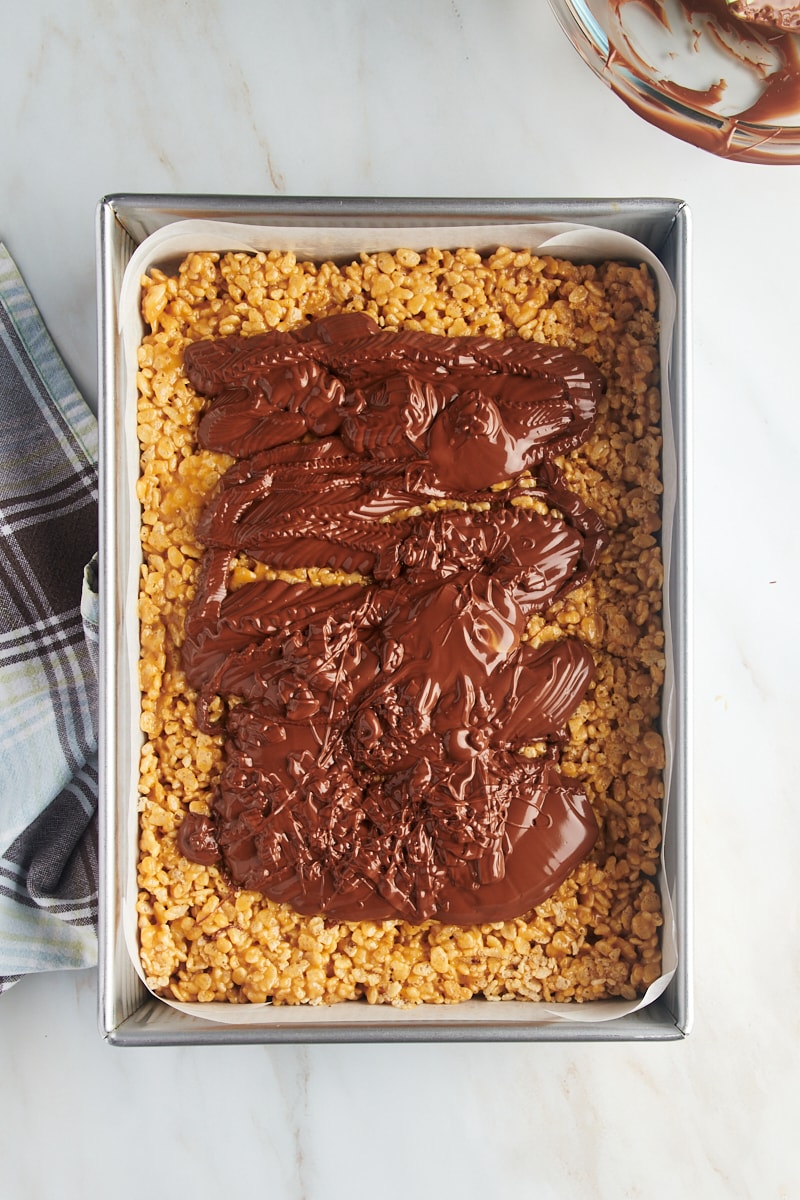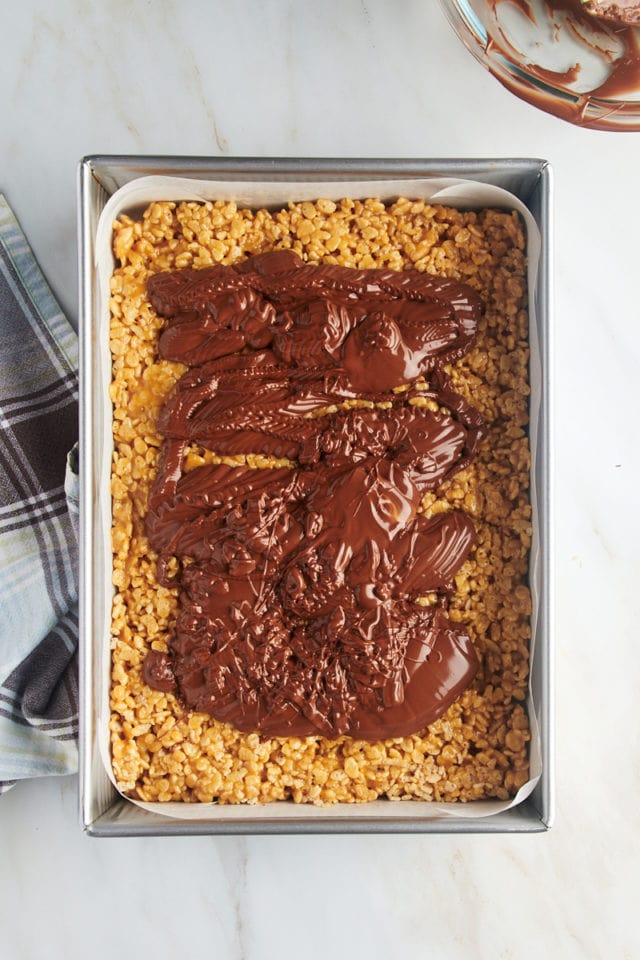 Finish. Spread the chocolate mixture over the bars, then cool completely before slicing.
Tips for Success
These pointers will help you make sure your scotcheroos turn out perfect.
Don't over-cook the syrup mixture. If you do, your bars will turn out hard instead of soft and chewy.
Use gentle pressure when pressing the rice crispy mixture into the pan. If you press too hard, you'll crush the cereal; this, too, will result in scotcheroos that are harder than you'd like.
Give your scotcheroos plenty of time to cool before cutting them. This will help them hold their shape and make the cutting process much easier.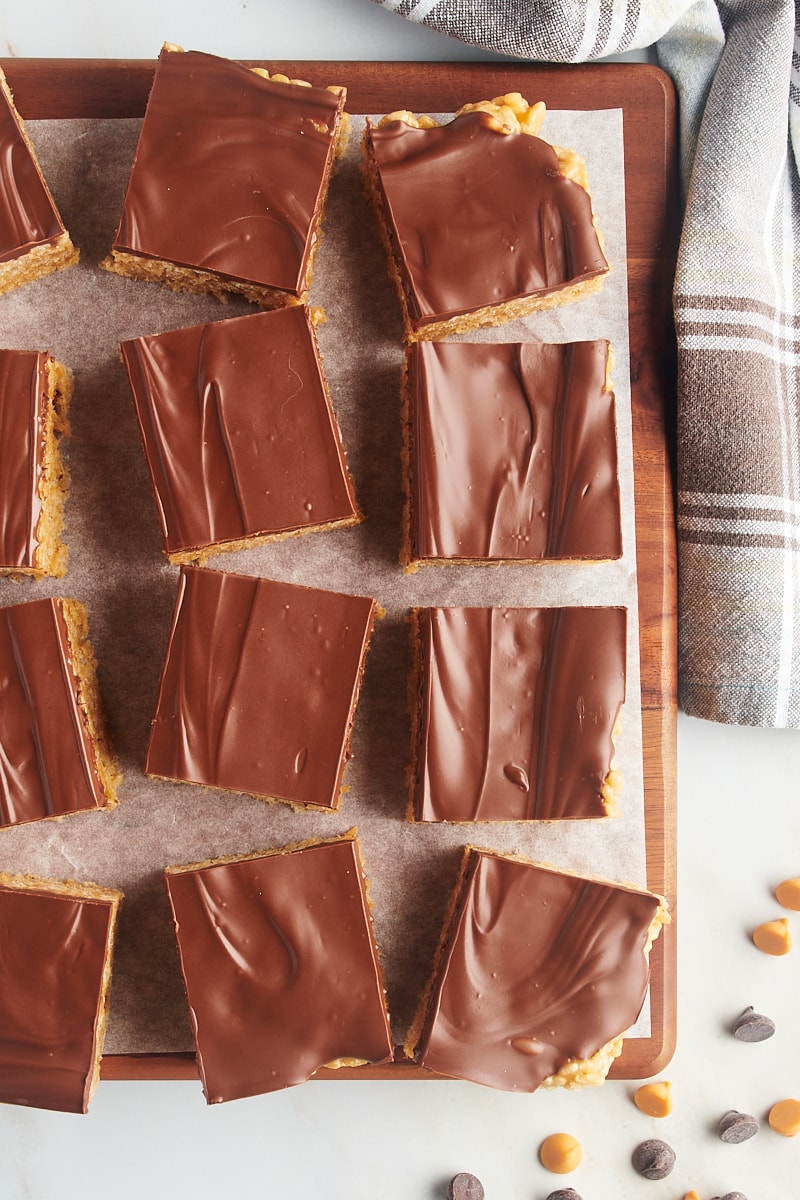 Variations
Sprinkle flaky fleur de sel or Maldon sea salt over the top of the scotcheroos after adding the topping for a sophisticated touch. If peanut allergies are a concern, you can use almond butter; if you need to avoid all nuts, try sunflower seed butter.
You can also sprinkle toasted chopped nuts over the chocolate topping if you'd like. It's not the traditional recipe, but it's certainly delicious!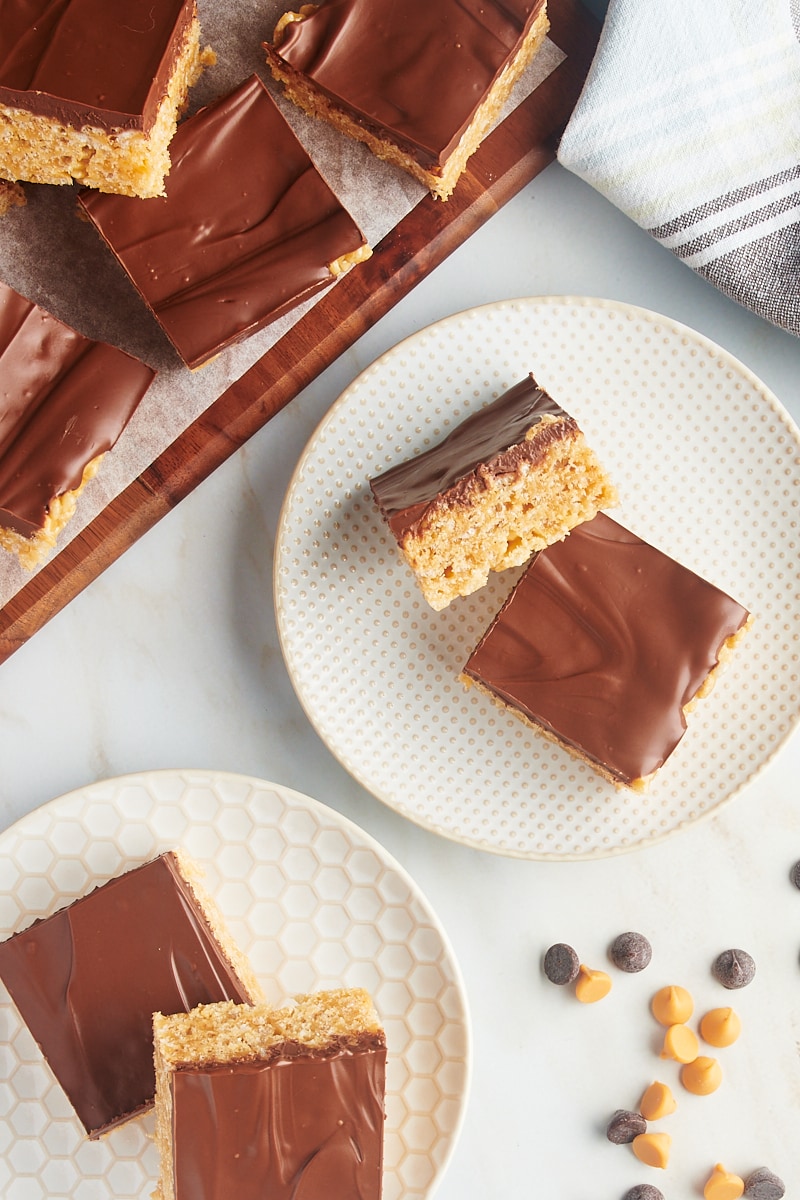 How to Store
Store scotcheroos in an airtight container at room temperature for up to 5 days. If needed, you can place parchment paper between the layers to keep them from sticking.
Can I Freeze This Recipe?
For longer storage, you can freeze scotcheroos in an airtight container for up to 3 months. Thaw them at room temperature before serving.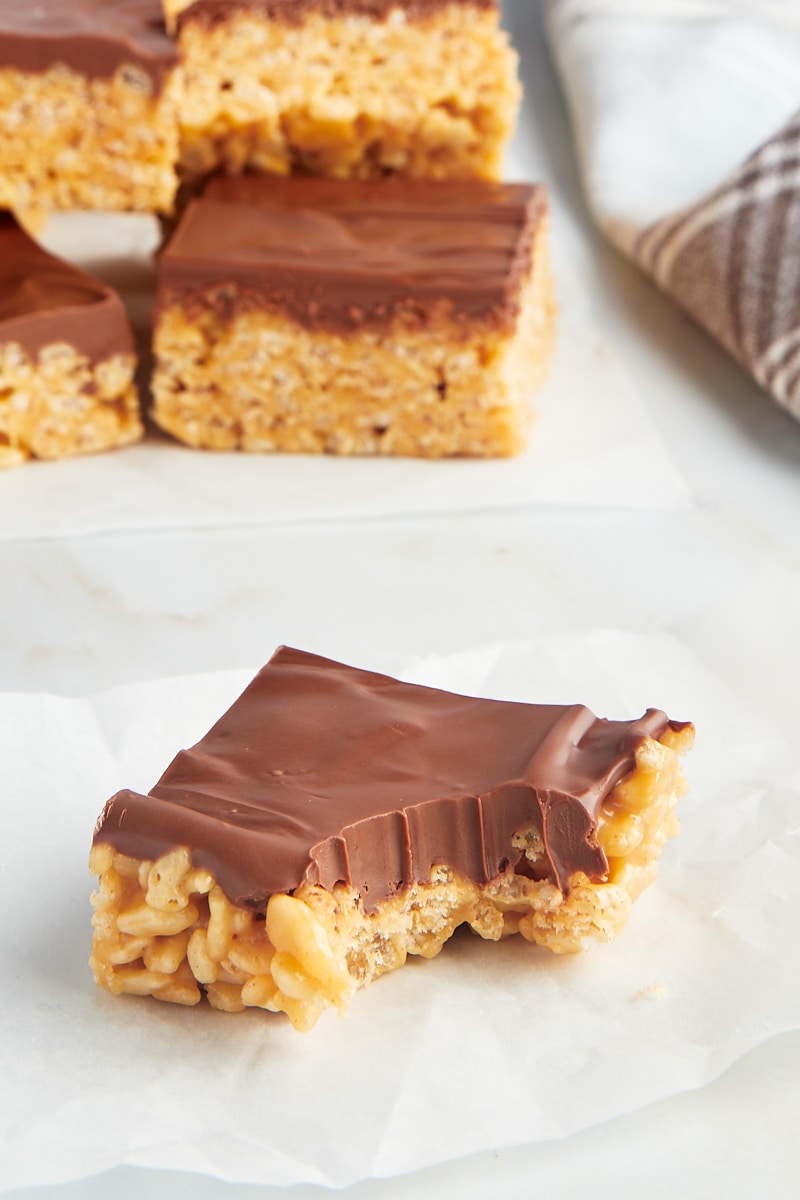 More Dessert Bar Recipes