Sometimes you just can't beat a classic! This Vanilla Cake with Vanilla Frosting is simply delicious, and when you add some sprinkles, it's perfect for a celebration!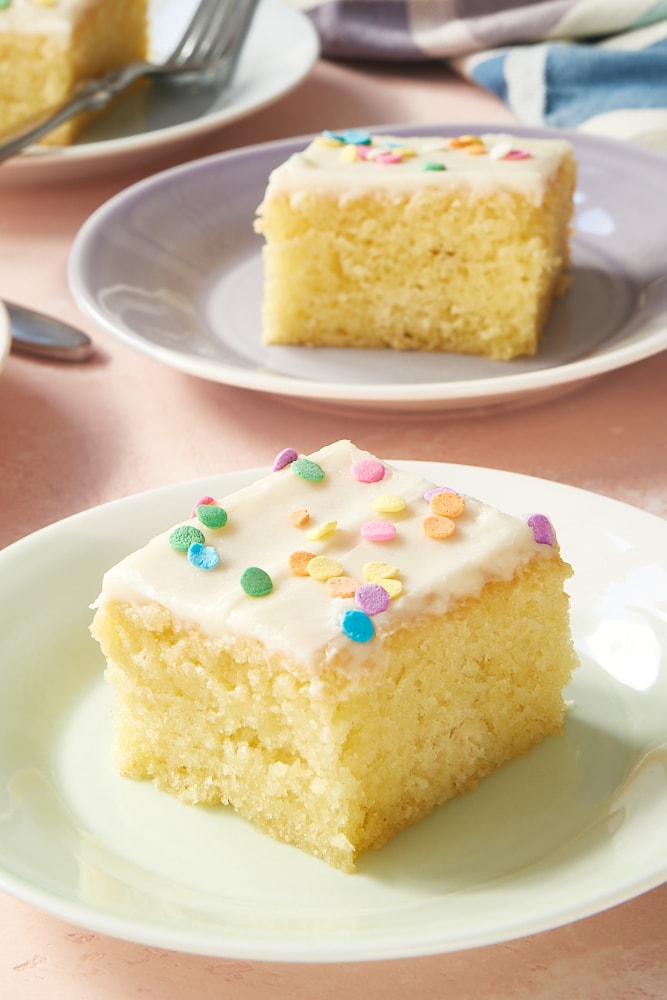 Classic Vanilla Cake from Scratch
Vanilla is often overlooked in the baking world, but a good vanilla has just as much flavor and aroma as the best chocolates and caramels. When vanilla is the star of the show and not competing with a bunch of other flavors, you can really appreciate its nuances and depth. This simple vanilla cake recipe is a great way to enjoy vanilla in all its delicious glory!
We're also awarding bonus points here for how wonderfully quick and easy it is to make this cake. The ingredients are everyday pantry staples, and the cake is baked in a rectangular pan, which makes it easy to decorate, serve, store, and transport.
I like to add sprinkles for some color and fun, but you can leave your cake unadorned for a more classic presentation. Alternatively, for a bigger splash of color, you can add a little food coloring to the frosting, which makes this the perfect celebration cake for birthdays, holidays, and other special occasions!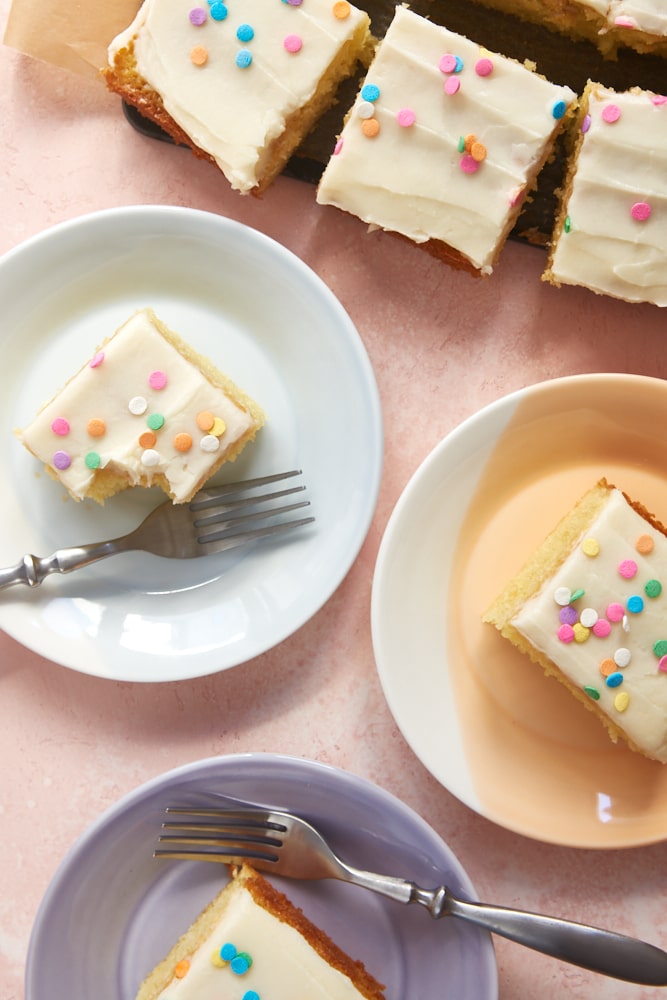 What You'll Need
This cake is made with basic baking ingredients that you likely have on hand if you bake frequently. That makes it one of my go-to dessert recipes!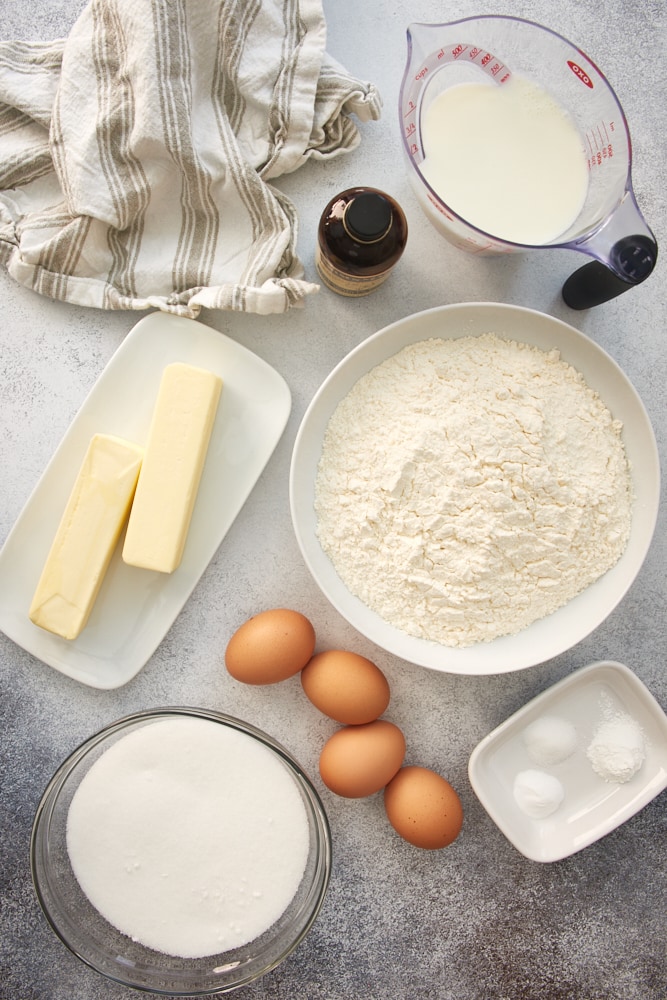 For the cake:
Cake flour – Learn more: A Baker's Guide to Wheat Flours
Baking powder
Baking soda
Salt
Unsalted butter – The butter needs to be softened, so let it sit at room temperature for about half an hour before you start the recipe.
Granulated sugar
Eggs – Your eggs should be room temperature for best results. There are 4 in this recipe, which means you get a super fluffy, light cake.
Vanilla extract – With a vanilla cake, the vanilla you use is important! Choose a high-quality, real vanilla, not imitation.
Milk – I recommend baking with whole milk, but reduced-fat (2%) milk will do in a pinch.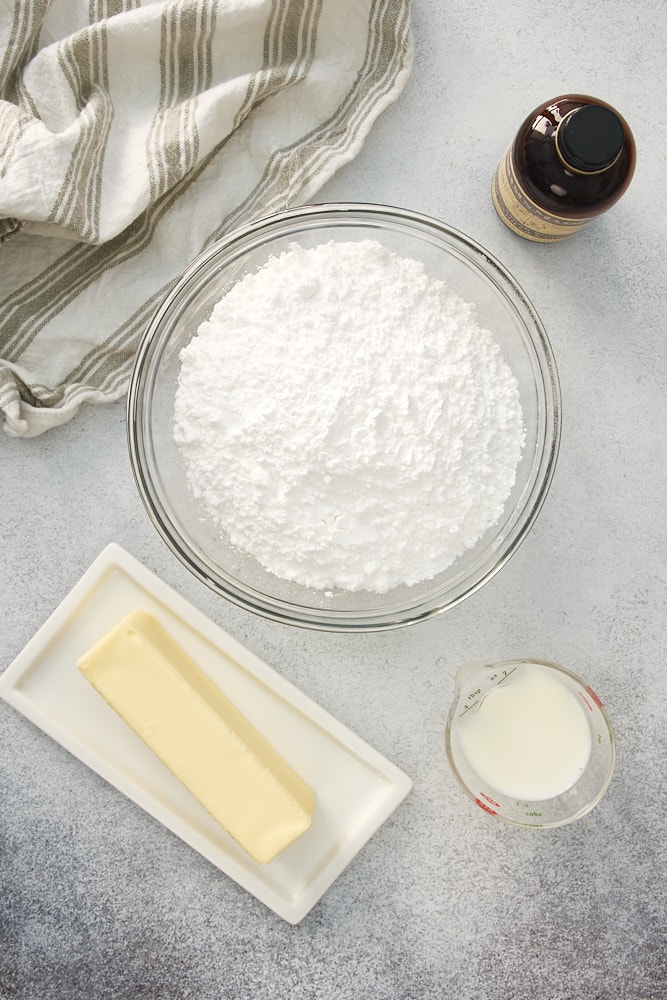 For the frosting:
Confectioners' sugar
Unsalted butter – This butter will also need to be softened.
Milk
Vanilla extract or vanilla bean paste
Sprinkles – These are optional!
How to Make Vanilla Cake With Vanilla Frosting
Here's what you'll need to do to make this quick, simple cake.
To make the cake:
Prepare. Preheat your oven to 350°F and line a 9″x 13″x 2″ baking pan with parchment paper, then grease the paper and any exposed areas of the inside of the pan.
Mix dry ingredients. Whisk together the flour, baking powder, baking soda, and salt in a large bowl.
Mix wet ingredients. Use an electric mixer on medium speed to cream the butter and sugar until it's light and fluffy. Beat in the eggs one at a time, followed by the vanilla.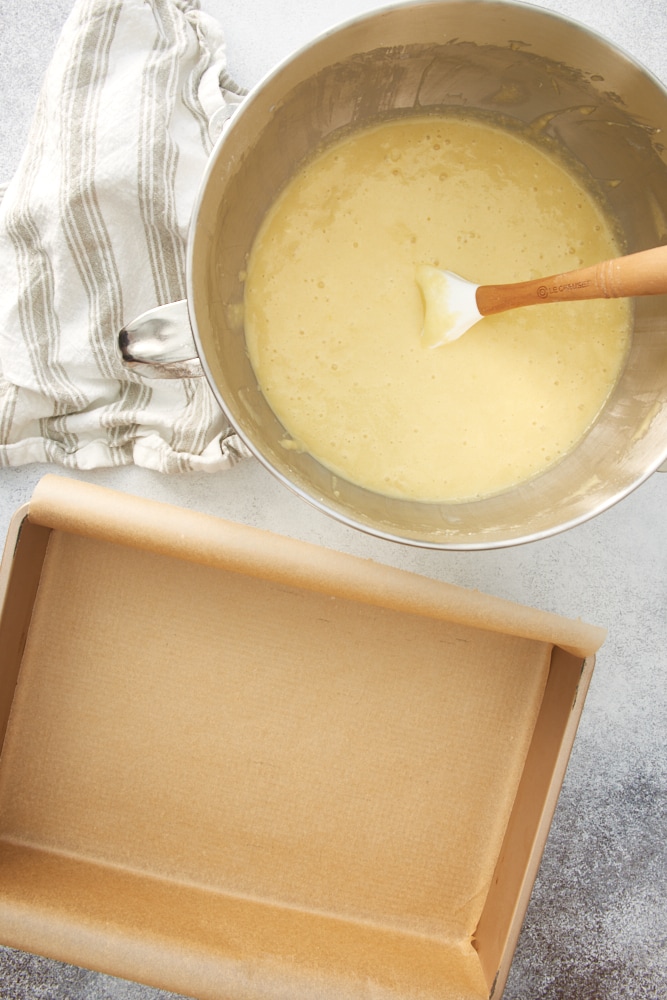 Combine wet and dry ingredients. Reduce the mixer speed to low and add the dry mixture in 3 portions, alternating with 2 portions of the milk. Continue to mix until just combined.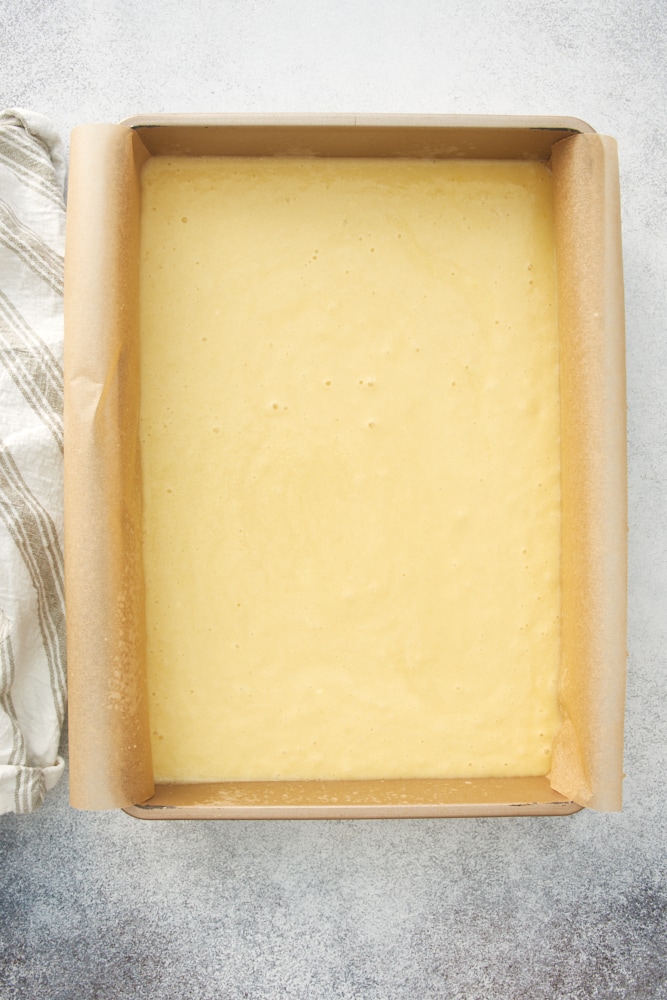 Bake. Pour the batter into the prepared pan and use a spatula to make sure it's distributed evenly. Tap the pan on the counter a few times to eliminate any air pockets, then bake for 35 to 40 minutes, or until the cake is golden brown and a toothpick inserted into the center comes out clean.
Cool. Place the cake pan on a wire rack to cool.
To make the frosting:
Cream the butter and sugar. In a mixing bowl, beat the confectioners' sugar and butter with an electric mixer until thoroughly combined.
Finish the frosting. Beat in 2 tablespoons of milk and the vanilla. Continue beating, adding more milk if needed to reach your desired thickness.
Decorate. Spread the frosting onto the cooled cake and top with sprinkles, if you're using them.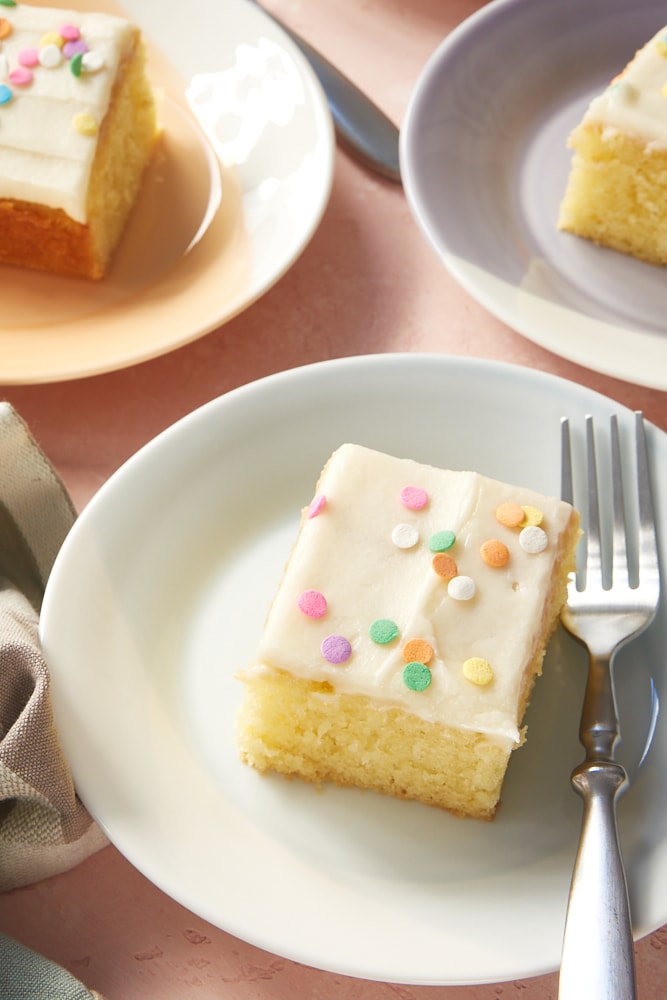 Tips for Success
Here are some hints to help you along the way with this recipe:
Making a layer cake. The recipe will also make two 9-inch round cake layers if you'd prefer to make a layer cake.
Lining the pan. The parchment is used to make a "sling" that you can use later to remove the cooled cake from the pan. This makes it easy to cut the cake into nice, clean slices! If you're not as concerned about aesthetics, you can just grease the pan and pour the batter in directly.
About the frosting. I find that this is plenty of frosting for the cake. It adds sweetness without being overwhelming. As is the case with many frostings, this one is pretty sweet, so a thicker layer might be too much for a lot of people. But feel free to scale the recipe to make more if you'd like an extra kick of sweetness. You can also switch things up with a different frosting! Vanilla cake pairs well with just about any flavor.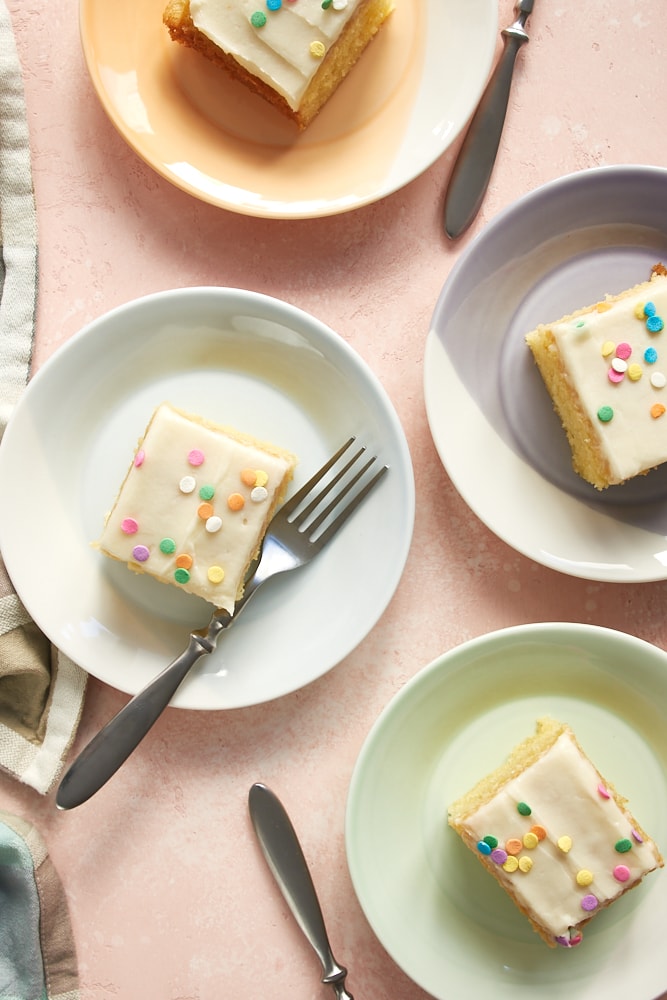 How to Store
Keep leftover vanilla cake in the refrigerator, either covered in the baking pan or transferred to an airtight container. It will last for up to 5 days in the fridge. I recommend letting the slices sit on the counter to come to room temperature before serving.
Can This Recipe Be Frozen?
Yes, like most cake recipes, this one freezes beautifully! To keep the frosting looking perfect, pop your vanilla cake in the freezer uncovered just until the frosting is frozen solid. At this point, you can wrap the cake and freeze it for up to 2 months. Let it thaw in the refrigerator before serving, loosening the wrap so it's not in direct contact with the frosting as it thaws.
Video Tutorial: Vanilla Cake with Vanilla Frosting
More Vanilla Dessert Recipes