February 13, 2014
No-Bake Peanut Butter Chocolate Bars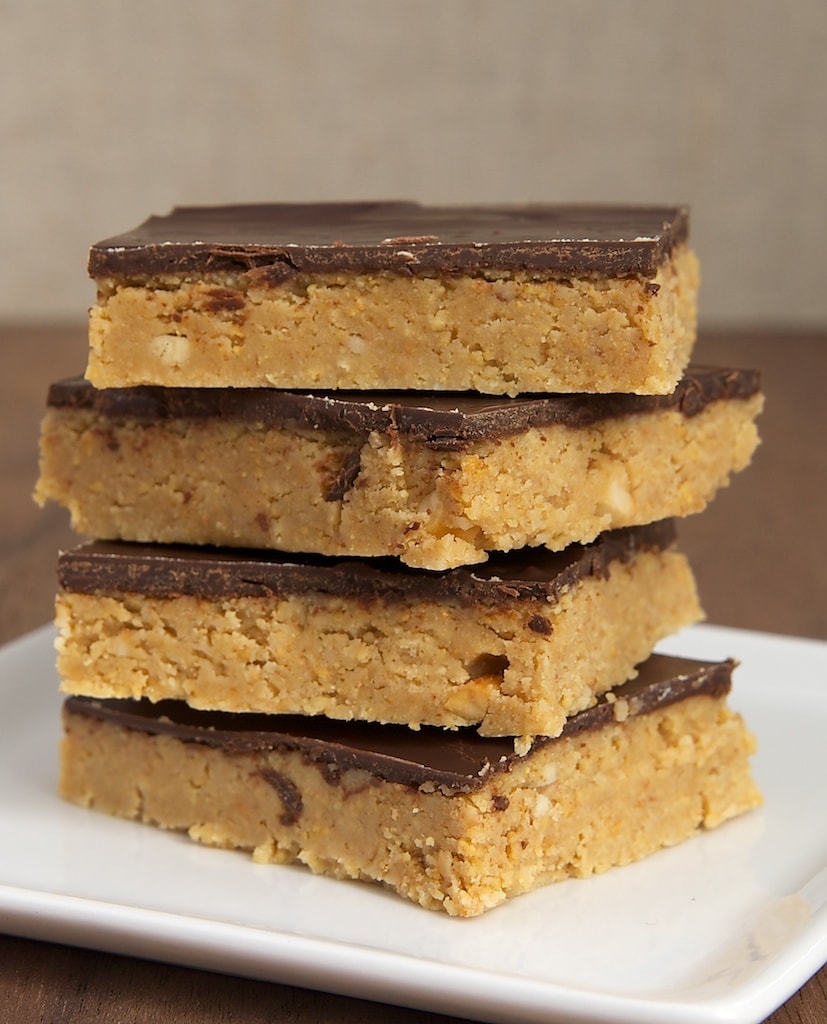 No-Bake Peanut Butter Chocolate Bars are just the thing when you're craving a quick and easy treat made with the ever-popular combination of chocolate and peanut butter!
I'm pretty sure this recipe for No-Bake Peanut Butter Bars or some version of it has been around for a very long time. There are usually at least a couple of good reasons that a recipe has that kind of staying power. In the case of these bars, it's not only that they're delicious, but they are also ridiculously simple to make.
These bars are often touted as tasting like peanut butter cups. The texture is very much like that. But, Quinn and I both think that they have more of a Butterfinger taste. Either way, you can't go wrong. They're surprisingly good for the tiny amount of effort involved in making them.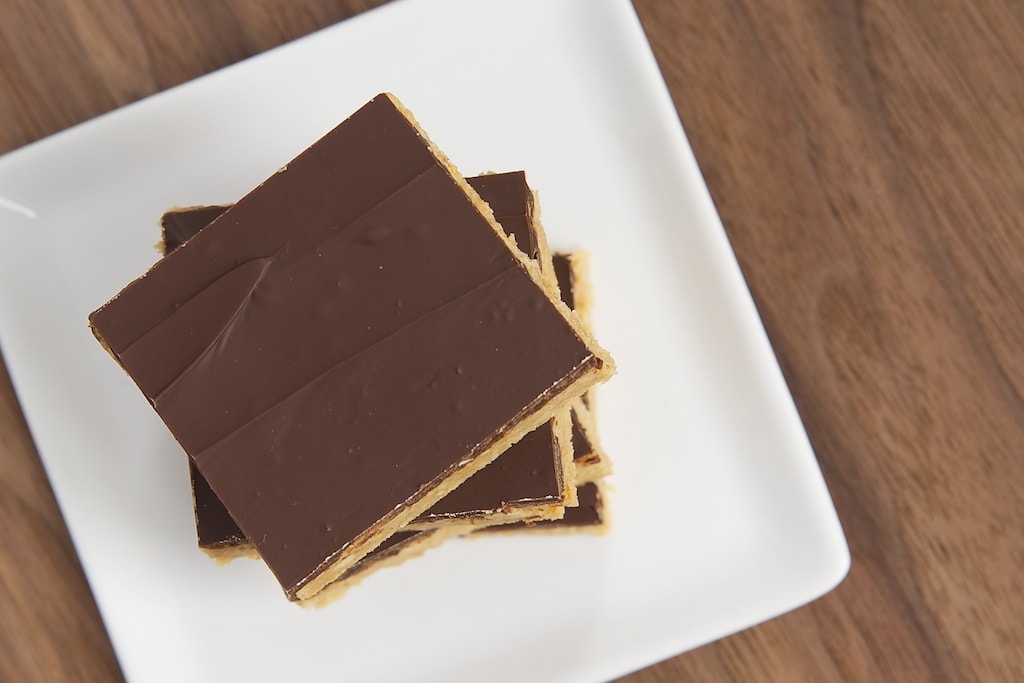 How great is it that you only need a handful of ingredients to create these beauties? And, even better, you probably have those ingredients in your kitchen right now! That's winning in a big, big way!
I so should have timed the process, but I had these made and chilling in about 10 minutes. One bowl, a few measuring cups, and no oven time at all. The hardest part of making these may be waiting on them to chill.
These peanut butter bars are an ideal quick dessert for chocolate and peanut butter fans. They offer that often elusive dessert trifecta – simple, quick, delicious. This is the kind of recipe that you'll find yourself making over and over. They're great for sharing, but don't be ashamed to stick them in the refrigerator and grab one whenever you need a sweet fix.
Find more no-bake recipes in the Recipe Index!
Try these other chocolate peanut butter bars
No-Bake Peanut Butter Chocolate Bars
Yield: 24 2-inch bars
Prep Time:10 minutes
No-Bake Peanut Butter Chocolate Bars are simple, quick, and delicious. And they're made with just a handful of ingredients!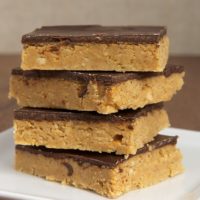 Ingredients:
2 & 1/2 cups confectioners' sugar
1 & 1/2 cups graham cracker crumbs
1 cup peanut butter (creamy or crunchy)
1 cup unsalted butter, melted
1/4 to 1/2 teaspoon salt, optional*
1 & 1/3 cups (8 ounces) semisweet chocolate chips
Directions:
Lightly grease a 9 x 13″x 2″ pan.
Combine the confectioners' sugar, graham cracker crumbs, peanut butter, and melted butter until well-mixed.
Spread the mixture evenly in prepared pan. Place in the refrigerator for 10 minutes.
Place the chocolate chips in a microwave-safe bowl. Heat in the microwave at half-power in 30-second intervals until the chocolate melts when stirred.
Spread the melted chocolate over the chilled peanut butter layer. Place the pan in the refrigerator for at least an hour.
After the bars have chilled, let them sit at room temperature for about 10 minutes before cutting into bars.
Notes:
*I like to add some salt to these. Adjust the amount to your taste, considering how salty your peanut butter is.