This easy recipe for no-bake peanut butter chocolate bars is just the thing when you're craving a quick treat made with the irresistible combination of chocolate and peanut butter!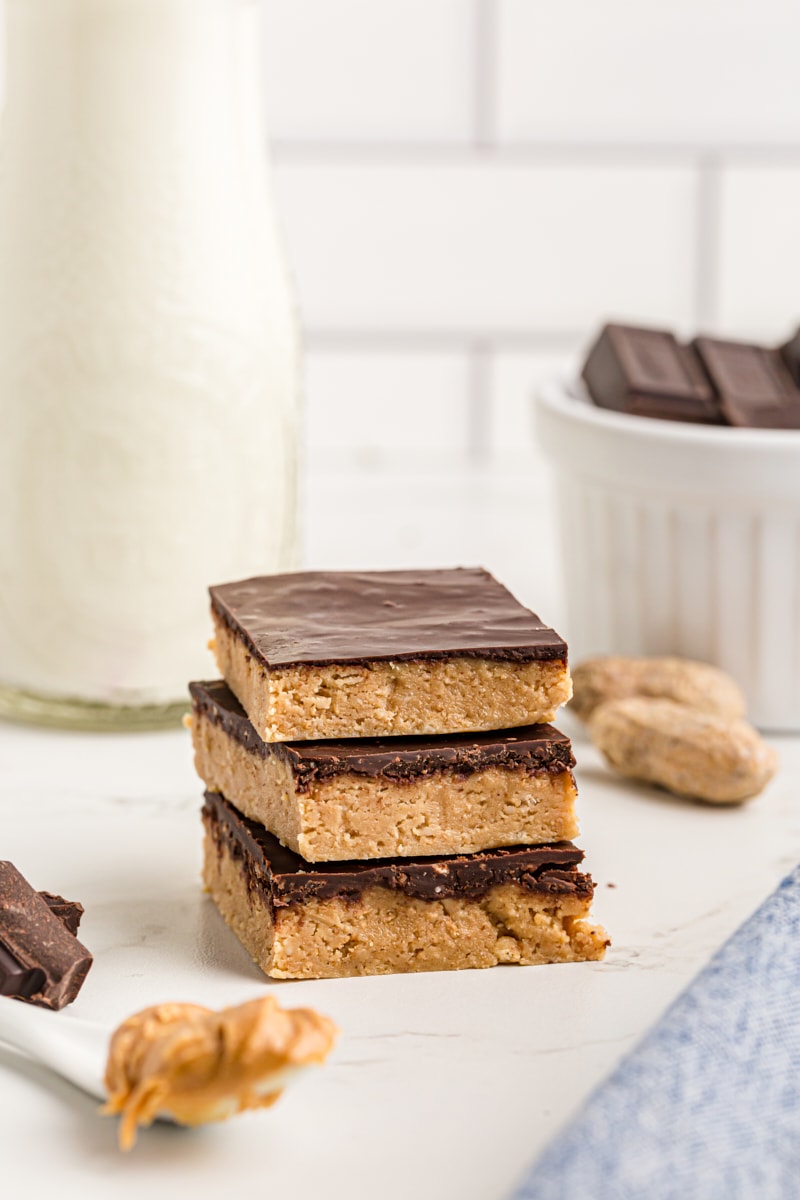 Classic Peanut Butter Bars
This recipe for no-bake peanut butter bars or some version of it has been around for a very long time. There are usually at least a couple of good reasons that a recipe has that kind of staying power. In the case of these bars, it's not only that they're delicious, but they are also ridiculously simple to make.
Now, you've probably had these bars before, but if you haven't, you can expect a texture similar to peanut butter cups, but a taste reminiscent of Butterfinger bars. They're surprisingly delicious for the tiny amount of effort (and handful of ingredients) involved in making them. The hardest part of making these may be waiting on them to chill!
These peanut butter bars offer that often elusive dessert trifecta—simple, quick, and delicious. It's the kind of recipe that you'll find yourself making over and over because they're great for sharing, but also easy enough to whip up whenever you're craving some chocolate and peanut butter goodness.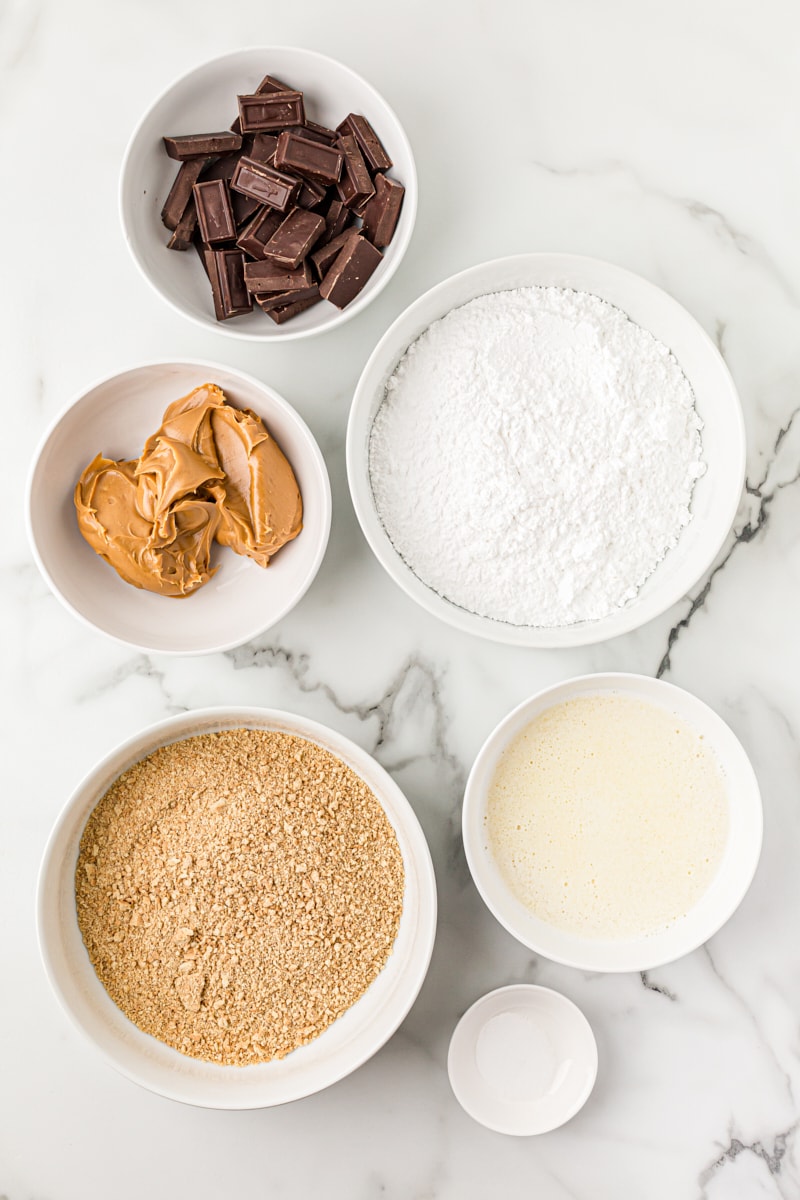 What You'll Need
Scroll down to the recipe card to find the ingredient quantities and recipe instructions. Here are some notes about the ingredients you'll need to make these no bake peanut butter bars.
Confectioners' sugar – Also known as powdered sugar.
Graham cracker crumbs
Peanut butter – You can use creamy or crunchy, but either way, use the shelf-stable kind, not the natural varieties that need to be stirred.
Unsalted butter – Learn more: Unsalted or Salted Butter: Which is Better for Baking?
Salt – This is optional, but highly recommended. Even just a pinch of salt will add a bit more interest to this flavor party.
Semisweet chocolate – Use chocolate bars or discs if you can, because they will melt better than chocolate chips.
How Do You Make Graham Cracker Crumbs?
You can find boxes of graham cracker crumbs in the baking aisle at the grocery store, but you can also make your own by pulsing graham crackers in a food processor until they're finely ground. If you buy the kind that have 4 graham crackers per sheet, you'll need approximately 12 sheets for 1 1/2 cups of crumbs.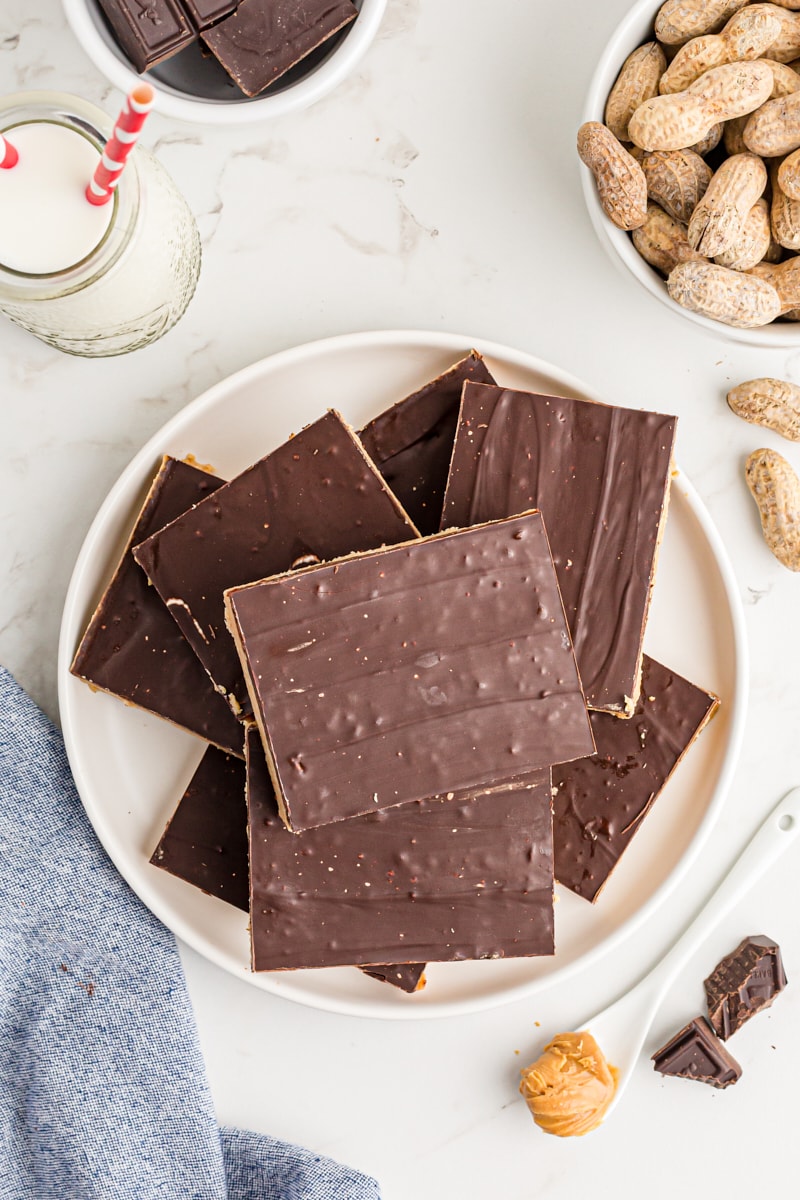 How to Make No-Bake Peanut Butter Chocolate Bars
You're just a few minutes away from the best peanut butter bars ever! Here's what you'll need to do.
Prepare. Lightly grease a 9 x 13″x 2″ pan. For easier removal, you can line the pan with parchment paper and then grease the paper.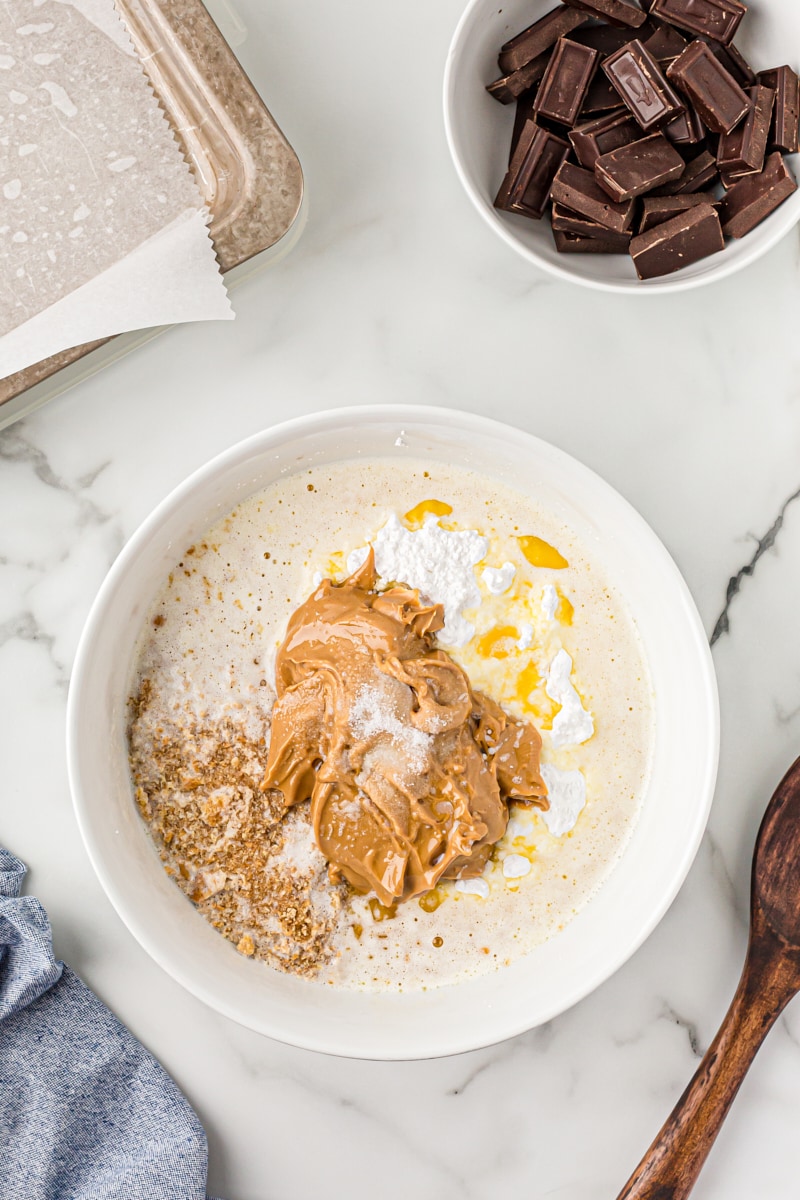 Make the peanut butter layer. In a large mixing bowl, stir together the confectioners' sugar, graham cracker crumbs, peanut butter, and melted butter until well-combined.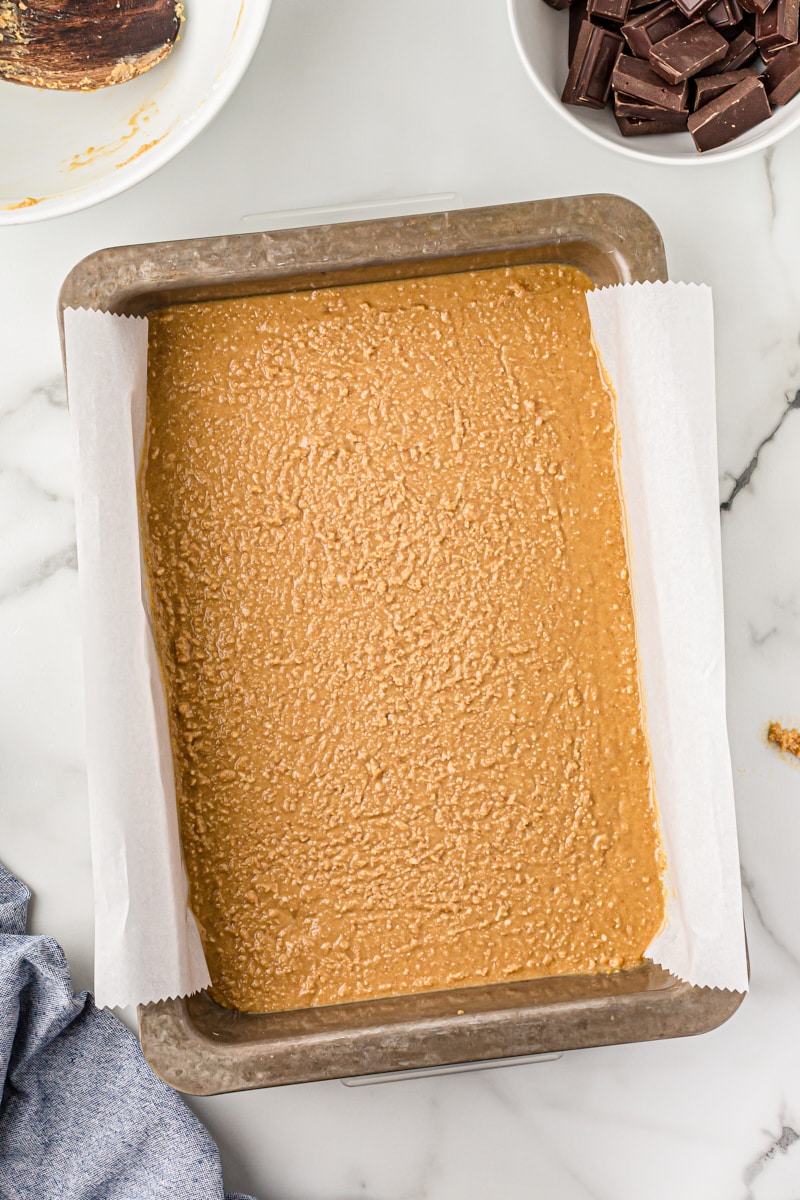 Chill. Spread the peanut butter mixture into the bottom of the prepared pan. Refrigerate for 10 minutes.
Melt the chocolate. Place the chocolate in a microwave-safe bowl. Microwave at half-power in 30-second intervals until the chocolate is completely melted and smooth when stirred.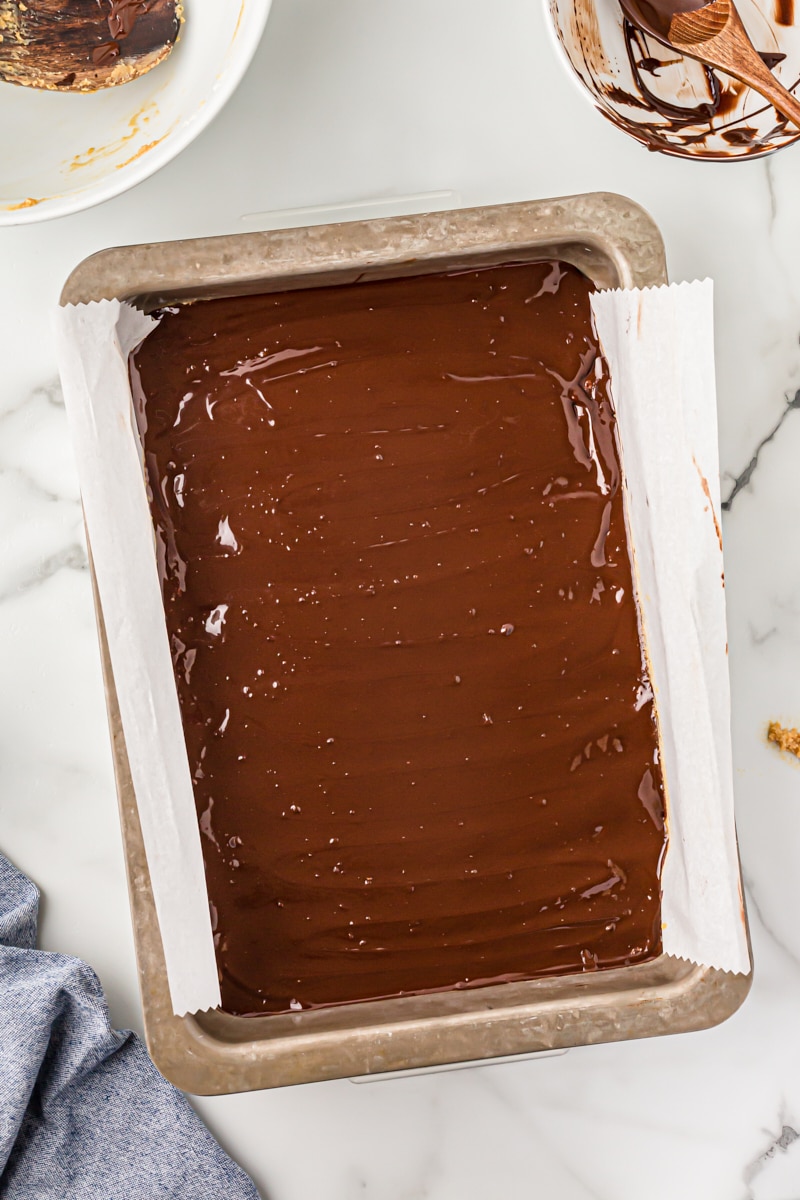 Add the chocolate layer. Use a rubber spatula or offset spatula to spread the melted chocolate over the chilled peanut butter layer.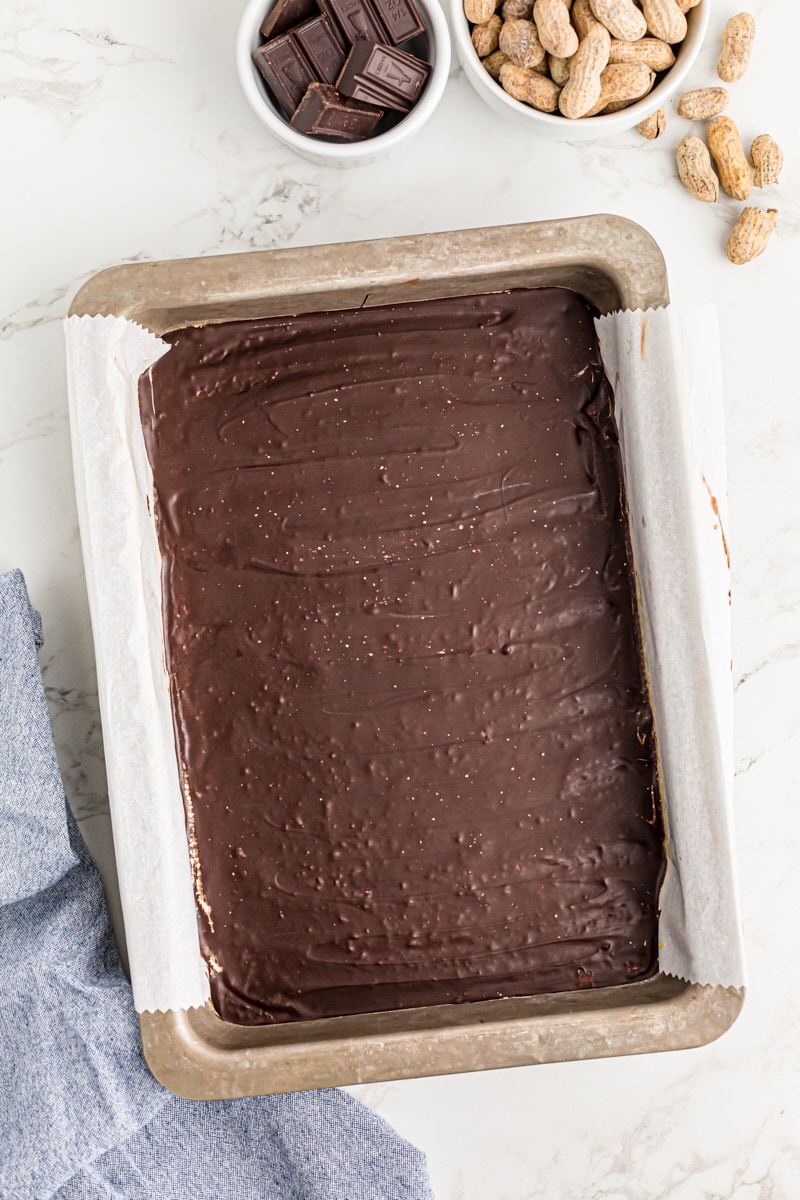 Chill again, then serve. Place the pan in the refrigerator for at least an hour; when you're ready to serve, let the bars sit at room temperature for about 10 minutes before cutting.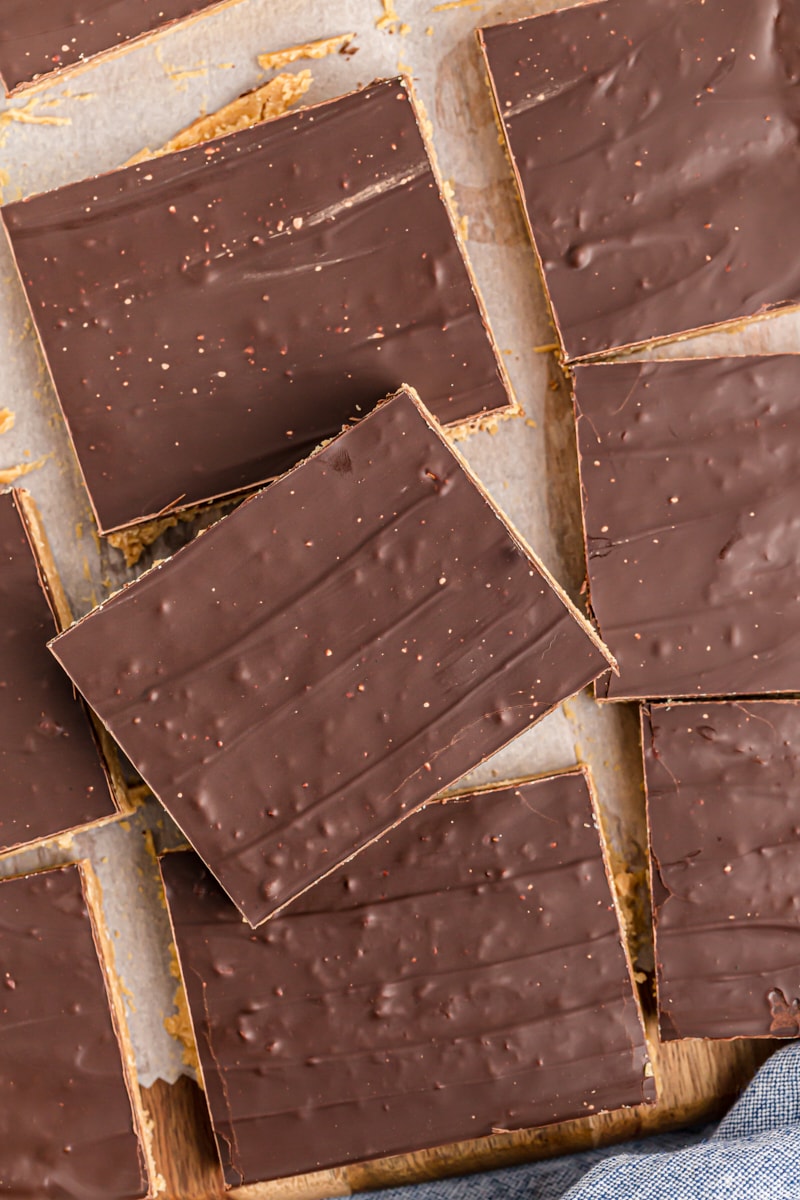 Tips for Success
There's really not much to this recipe, but these additional tips will help you achieve peanut butter chocolate bar perfection.
Don't skip the chilling. If you spread the warm chocolate over the peanut butter layer without chilling it first, your layers will mix together.
Add some salt. The salt is optional, but it takes these no-bake peanut butter chocolate bars to the next level. You can add salt to the peanut butter, or even sprinkle some flaky Maldon salt or fleur de sel over the chocolate before it sets.
Make perfect squares. Let the bars sit at room temperature for at least 10 minutes to keep the chocolate layer from cracking when cut. Get out a ruler and make small notches in the bars to mark where you want to cut. Then, use a large chef's knife to make quick, confident cuts through the bars.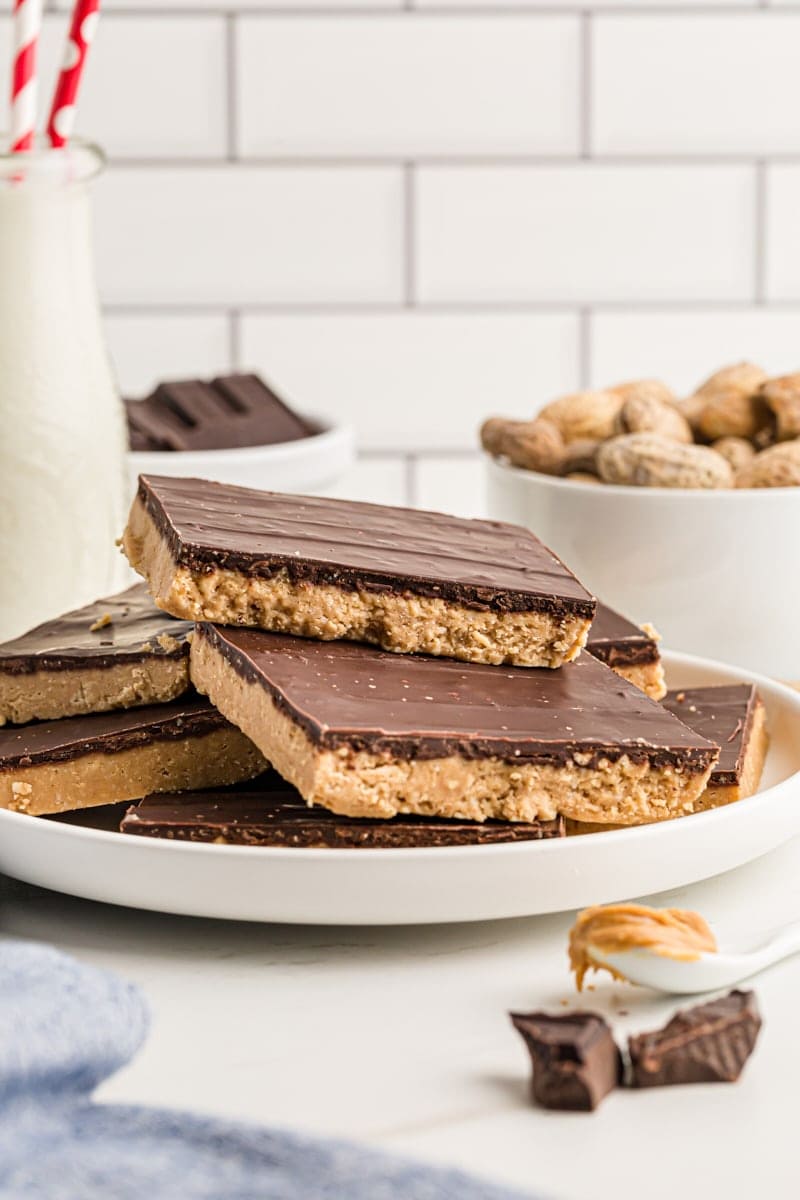 Variations
This is the kind of recipe that's quite amenable to tweaks and changes. You can add chopped peanuts, Reese's Pieces, or chopped candy bars in the peanut butter layer or over the chocolate layer.
If you'd like to make these bars for someone with peanut allergies, sunflower seed butter works well as a substitute.
How to Store
Store no-bake peanut butter chocolate bars in an airtight container in the refrigerator for up to 5 days.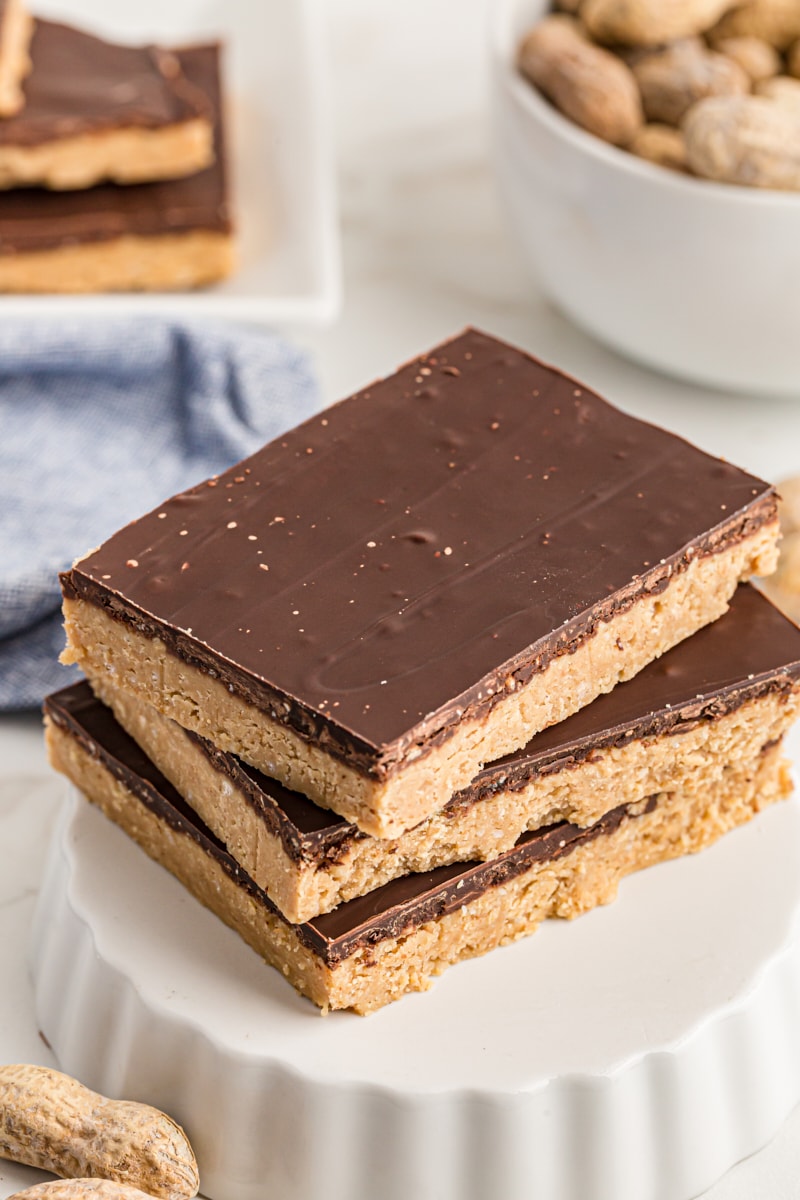 Can This Recipe Be Frozen?
Yes, these peanut butter bars can be frozen. Place them in a single layer in an airtight container (or separate the layers with parchment paper) and freeze for up to two months. Let the bars thaw overnight in the refrigerator before enjoying.
Try these other chocolate peanut butter bars