These Double Delicious Cookie Bars are going to be your new go-to cookie bar recipe. Just 5 ingredients for rich, chewy bars loaded with chocolate and peanut butter in every bite!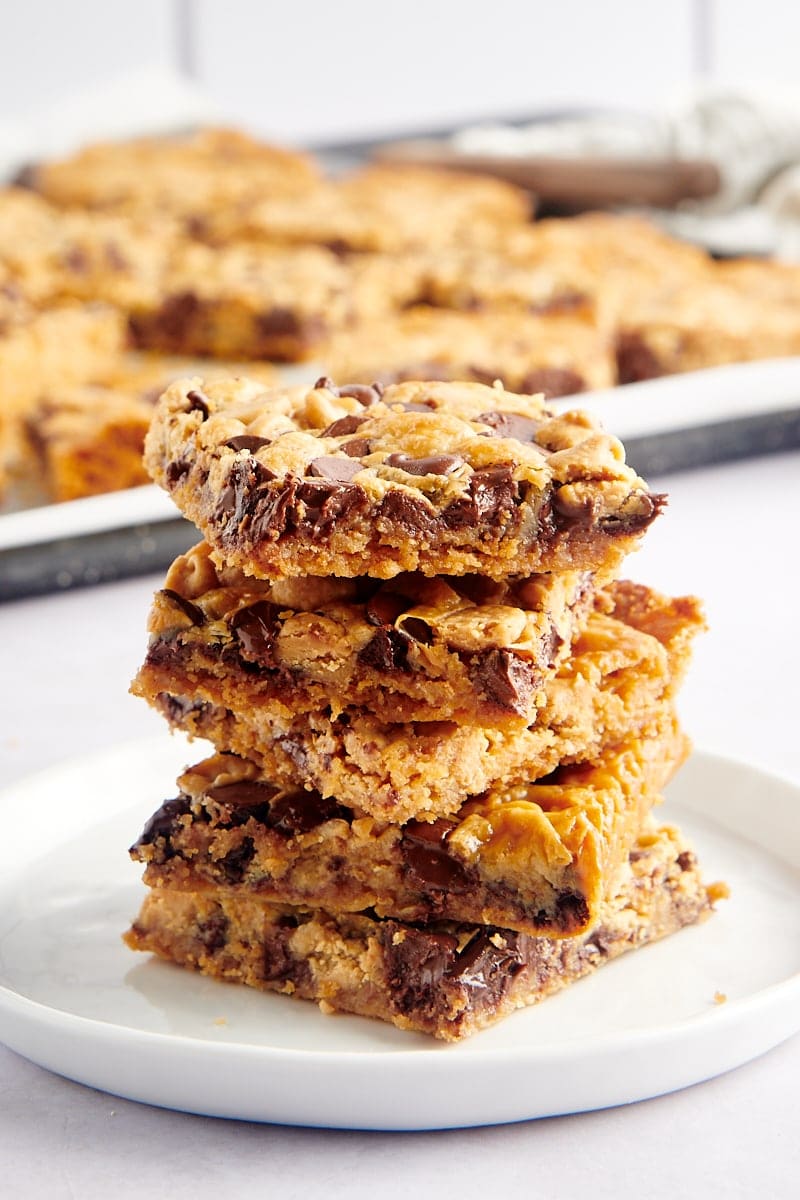 Magic Cookie Bars With Chocolate and Peanut Butter
I think most of us have those recipes that we rely on for those times when we need something quick and easy. For me, it's these Double Delicious Cookie Bars. I've made the recipe countless times and it always gets rave reviews.
These cookie bars are almost embarrassingly simple. Butter, graham cracker crumbs, condensed milk, peanut butter chips, and chocolate chips. Variety is good, too. Use different chips. Add nuts and/or coconut. Pretty much anything goes.
But remember, the best tasting things are not necessarily the most complex. Sometimes five little ingredients can make something that will please most everyone!
(If you love cookies in bar form, be sure to try my Loaded Chocolate Chip Cookie Bars, M&M Sugar Cookie Bars, and Black and White Cookie Bars, too!)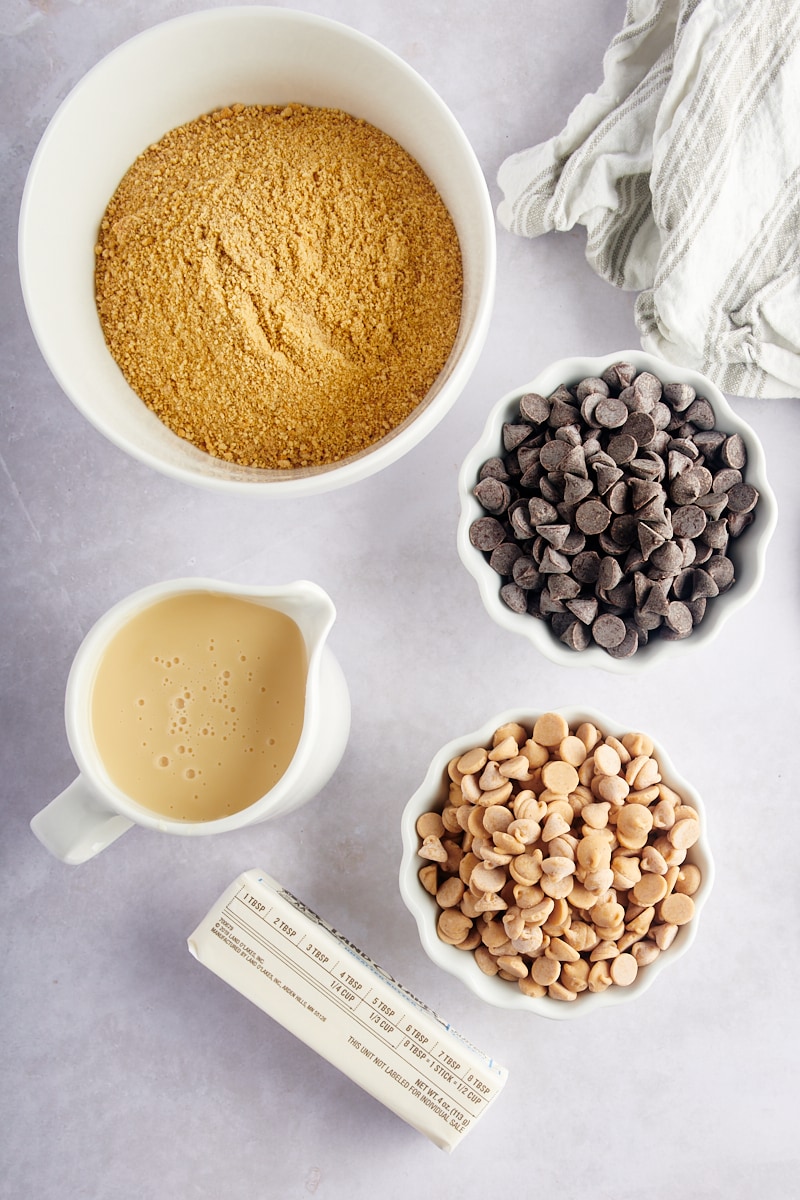 What You'll Need
Scroll down to the recipe card below this post for ingredient quantities and full instructions.
Graham cracker crumbs – You can purchase these, or make your own by pulsing graham crackers in a food processor or placing them in a zip-top bag and hitting them with a rolling pin.
Unsalted butter – Learn more: Unsalted or Salted Butter: Which is Better for Baking?
Sweetened condensed milk
Semi-sweet chocolate chips
Peanut butter chips
What Is the Difference Between Condensed Milk and Evaporated Milk?
Condensed milk is sweetened (which is why it's often referred to as "sweetened condensed milk"), while evaporated milk is not. You wouldn't want to use evaporated milk in this cookie bar recipe because it relies upon the condensed milk for sweetness.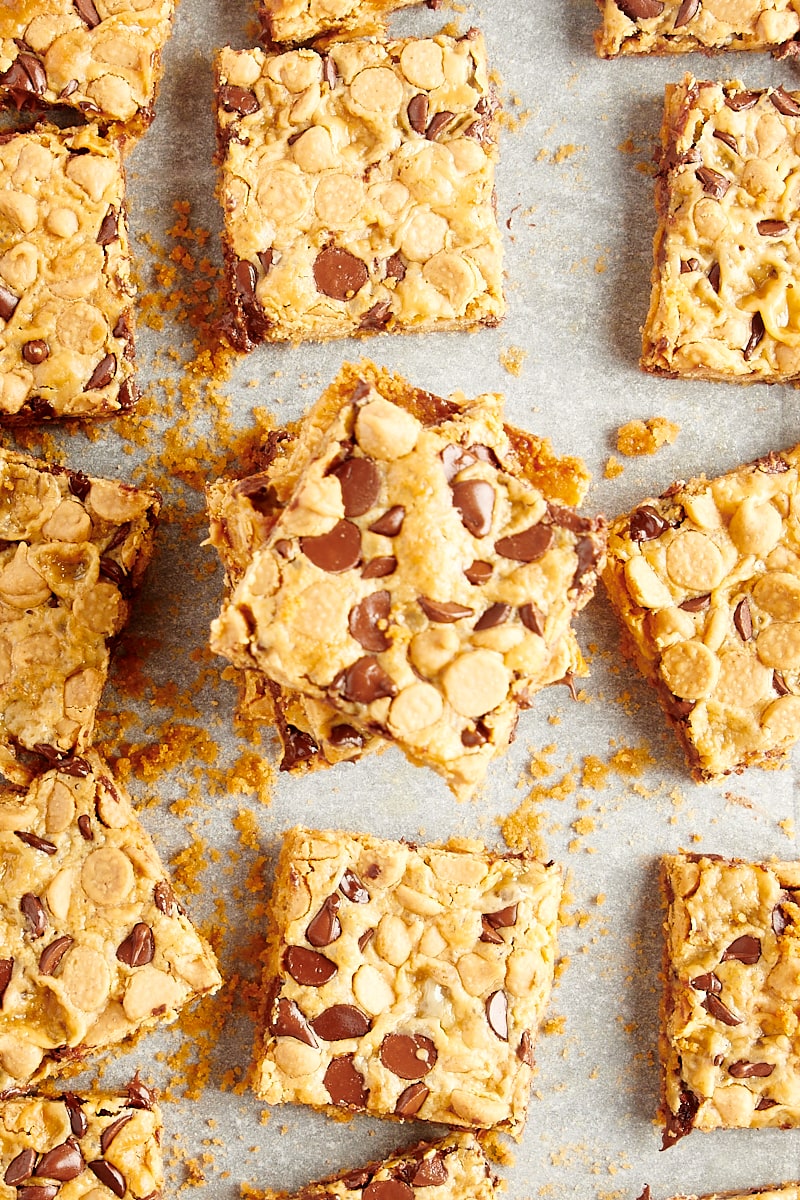 How to Make Double Delicious Cookie Bars
In addition to only needing 5 ingredients to make these cookie bars, you only need about 5 minutes to put them together! Here's what you'll need to do.
Prepare. Preheat your oven to 350F°. For easy cookie bar removal, line a 9×13-inch baking pan with parchment paper.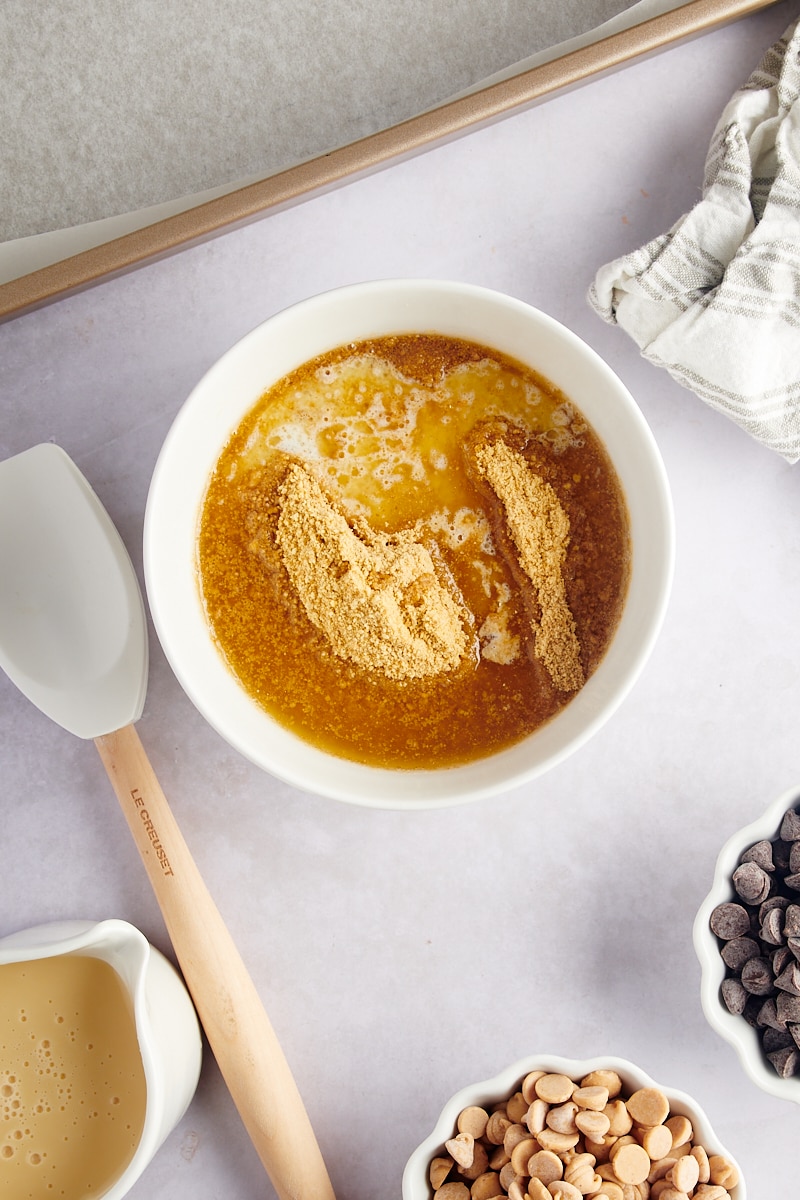 Form the crust. Stir together the graham cracker crumbs and butter in a medium bowl. Press the crumb mixture into the bottom of the prepared pan.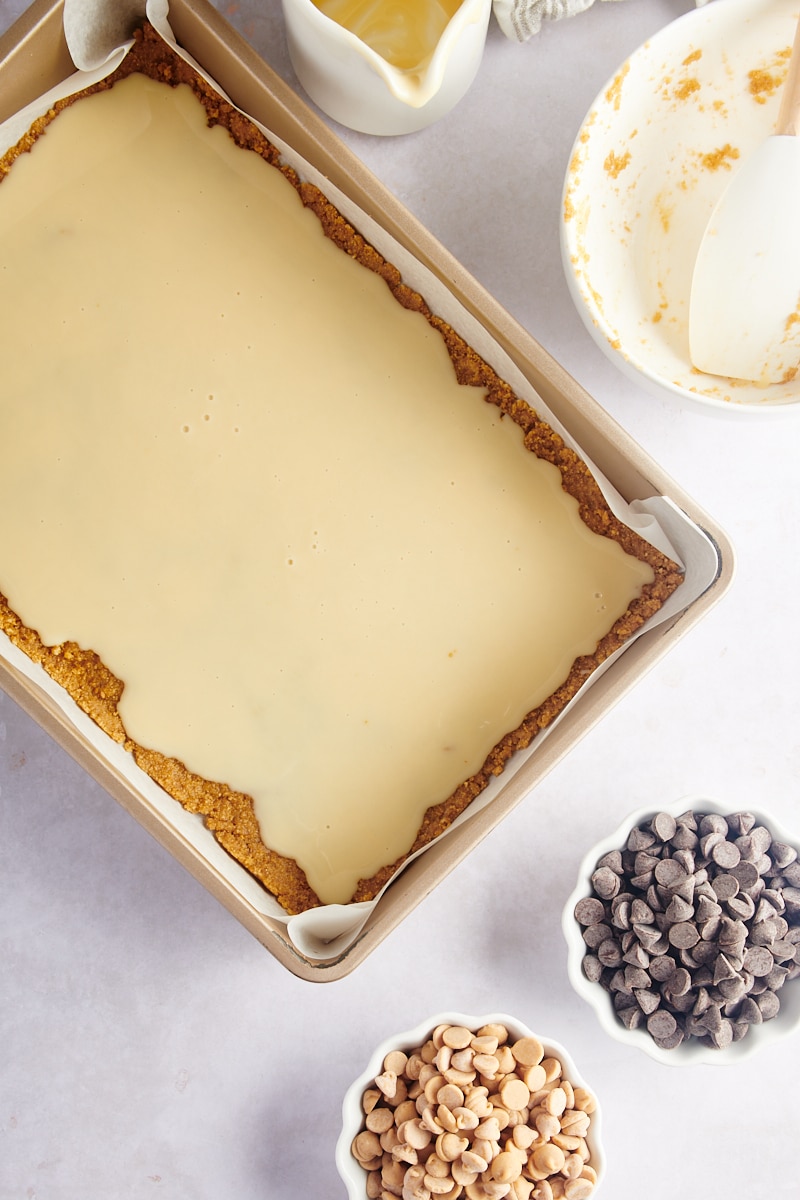 Finish assembling. Pour the condensed milk over the crust, then top this with the chocolate and peanut butter chips.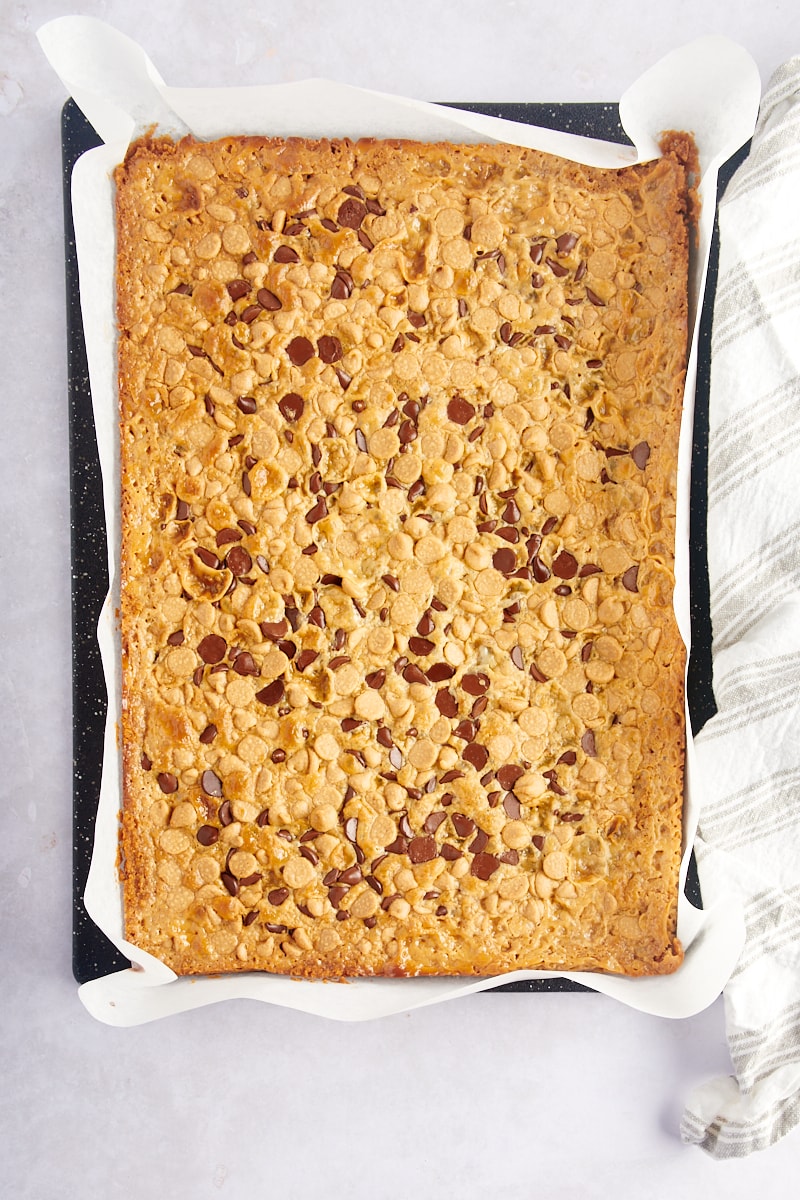 Bake. Place the pan in the oven and bake for about 25 minutes, or until the bars are lightly browned on top.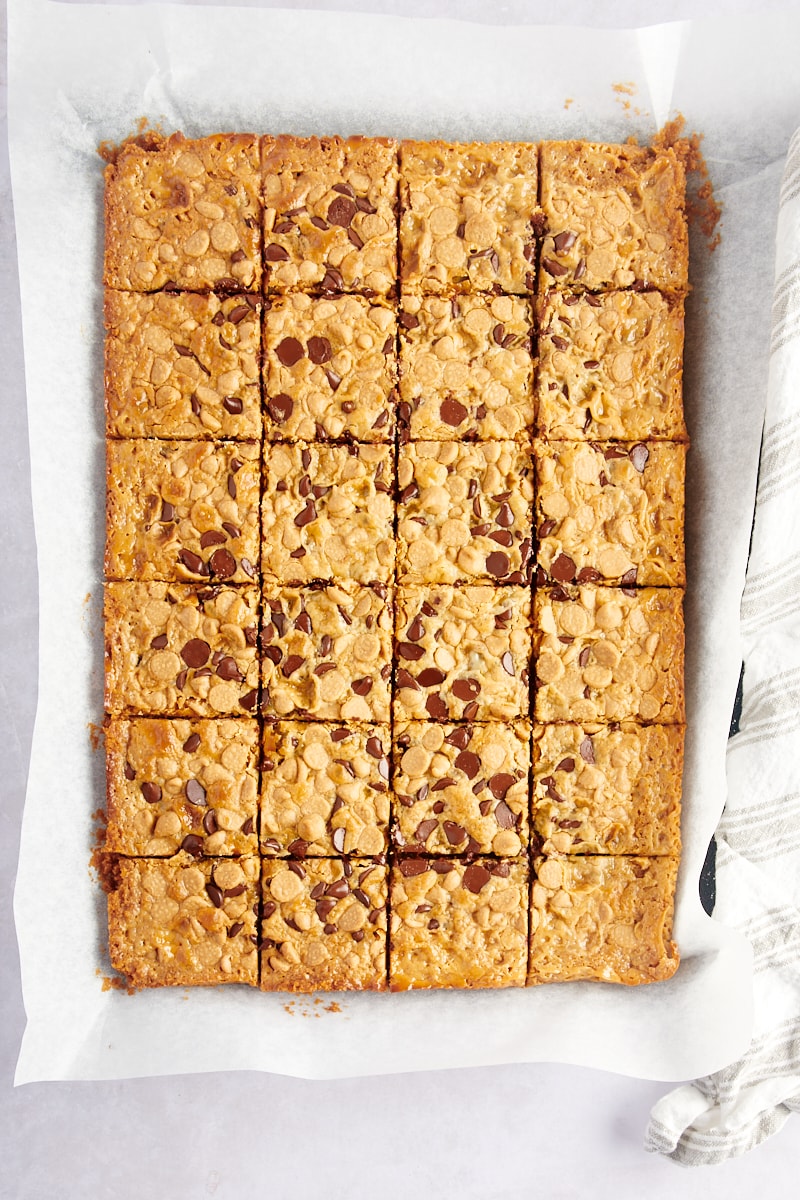 Cool and serve. Let the bars cool completely in the pan on a wire rack before cutting and serving. (Learn more: Why Every Baker Needs Wire Cooling Racks)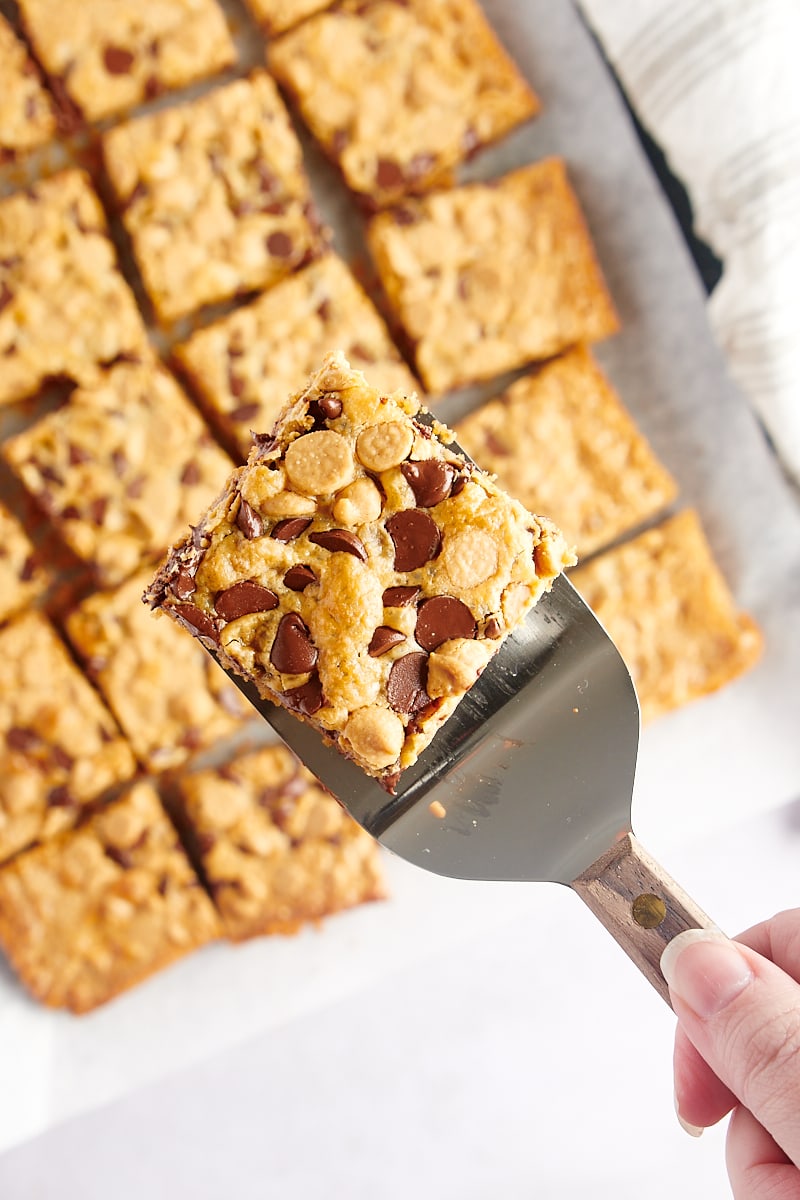 Tips for Success
While these Double Delicious Cookie Bars are incredibly easy, here are a few pointers to help you make sure they turn out perfect.
Press in the crust. Use your hands to really press the crust into the pan and compact the crumbs. This keeps it from crumbling when you cut the bars.
Make sure the crust is even. Another tip for the crust is to make sure it's the same thickness throughout the pan. Instead of dumping all the crumbs into the middle of the pan and then spreading them, you can evenly distribute spoonfuls of the mixture into the pan to make sure the center isn't thicker than the edges.
Let the bars cool completely. It's hard to resist an ooey, gooey cookie bar, but they'll hold together much better if you wait for them to cool before cutting.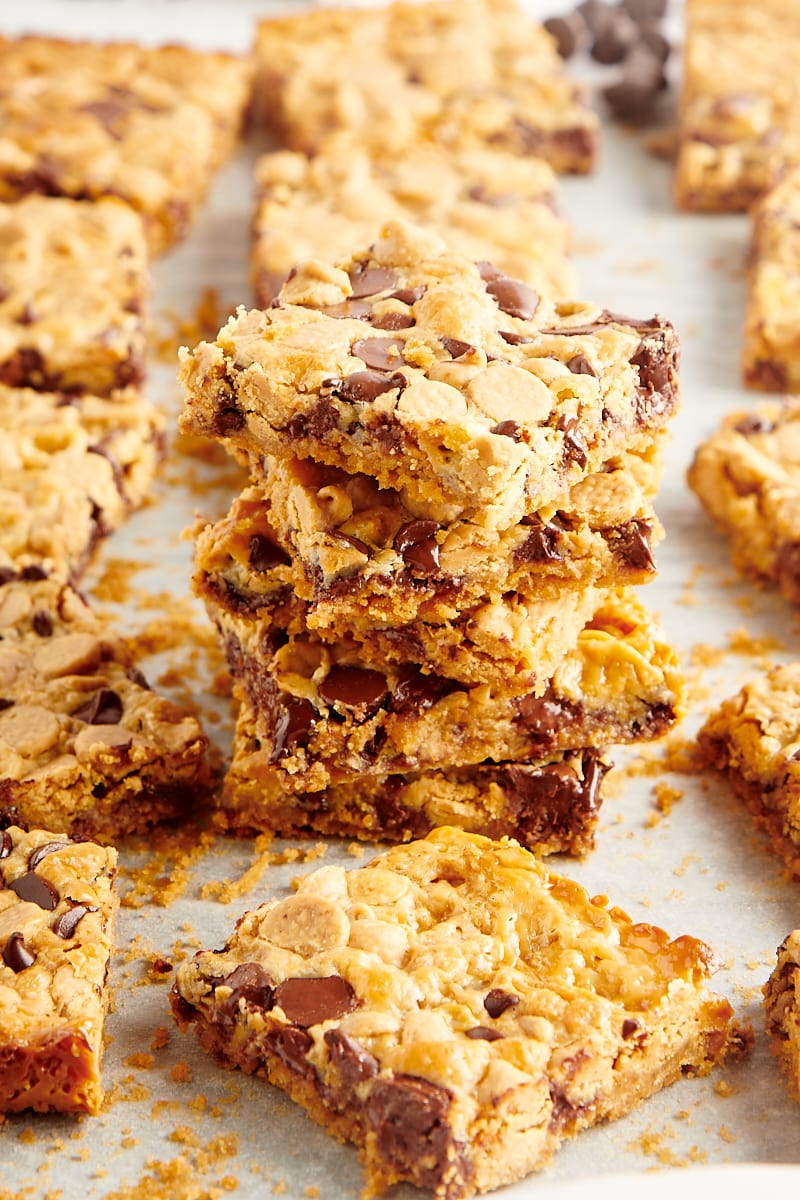 Variations
As I mentioned above, this recipe is highly customizable, with lots of room to try out other flavor combinations. Here are some ideas:
Use Oreo or chocolate wafer crumbs instead of graham crackers.
Instead of chocolate chips, layer on your favorite chopped candy bars.
Swap the peanut butter chips for walnuts, pecans, or shredded coconut.
Top the bars with a drizzle of melted chocolate.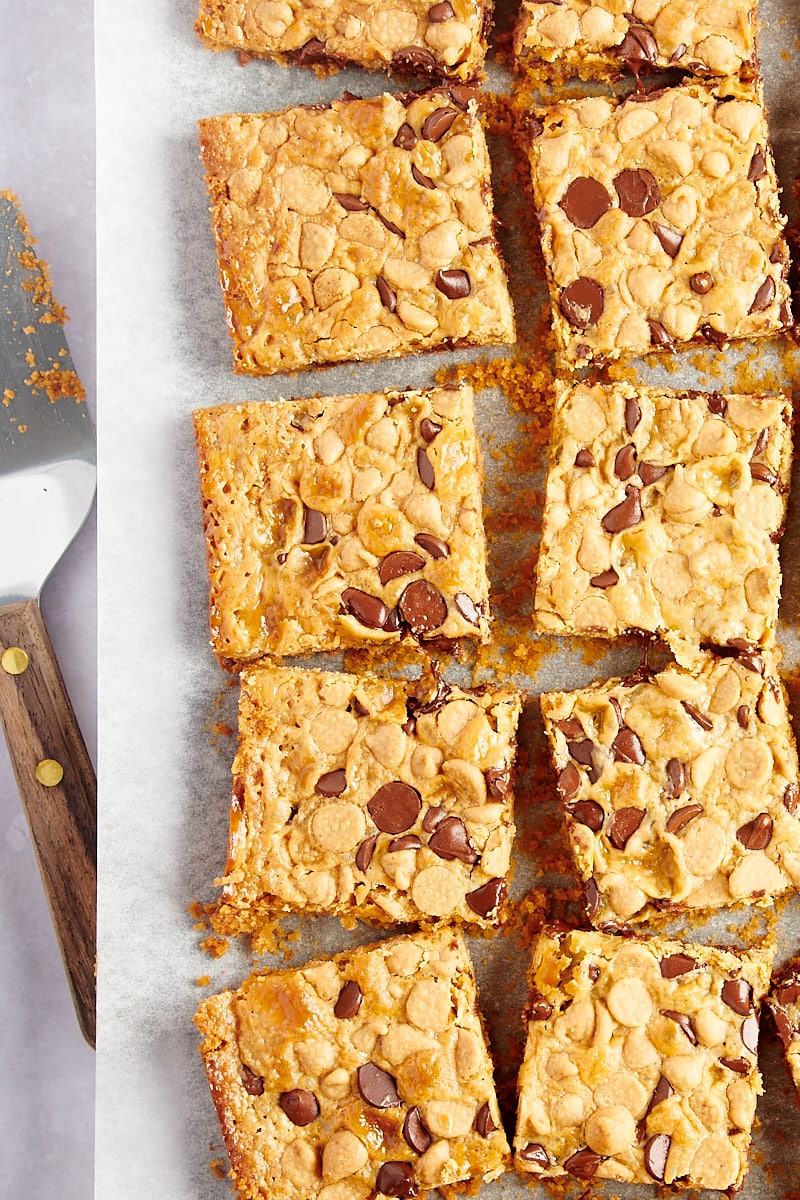 How to Store
Wrap the bars in the pan or transfer them to an airtight container. They'll keep at room temperature for up to 5 days.
Can This Recipe Be Frozen?
You can freeze your Double Delicious Cookie Bars for up to 3 months. Wrap them individually or store them in an airtight container; let them thaw at room temperature before serving.
More Easy Bar Recipes