This Spice Cake with Brown Butter Frosting features the coziest blend of warm spices and a sweet, rich frosting. It's the perfect dessert for your fall and winter celebrations!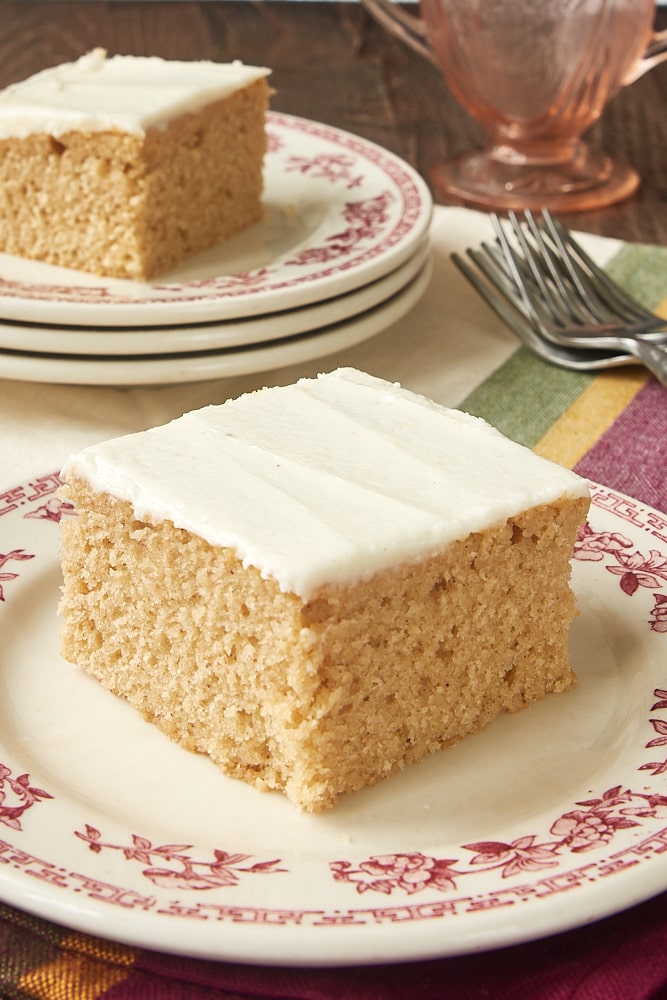 Homemade Spice Cake Recipe
I love all kinds of cakes, from Chocolate Chip Cake to Vanilla Cake and even Graham Cracker Cake, but I have a bit of a weakness for old-fashioned spice cake. Its simplicity and bold flavor never fail to please. Plus, it's comfort food in a big, big way. A recent (and persistent) craving led me to this Spice Cake with Brown Butter Frosting. And boy, am I glad it did!
It all begins with a simple yellow cake that's augmented with a bit of brown sugar and lots of spices. It's amazing how easily those simple additions transform everyday cake into an irresistible dessert!
The cake is soft and moist, with plenty of flavor all on its own, but what's cake without frosting? Many traditional spice cakes have cream cheese frosting, but I wanted to change things up this time around. I settled on a fairly standard frosting recipe with one little change that makes it amazing. Brown butter! It gives it a rich, nutty flavor and aroma that perfectly complements the spices in this cake.
(If you're a traditionalist, though, try using the cream cheese frosting in this recipe: Hummingbird Cupcakes.)
This is the kind of cake that's a perfect ending to a meal with family and friends. And with just one layer, it's easy to transport and serve. I'll happily eat this spice cake year-round, but it's an especially good choice for Thanksgiving, Christmas, or most any fall or winter gathering.
For a scaled-down version, try my 6-Inch Spice Cake with Cinnamon Cream Cheese Frosting!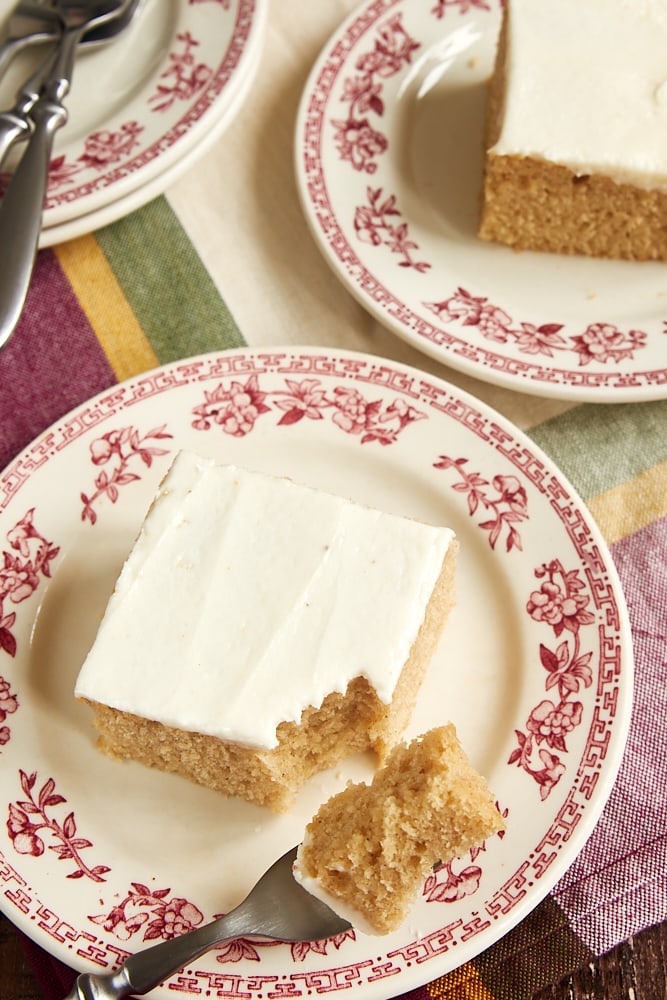 What Is the Difference Between Spice Cake and Carrot Cake?
Carrot cake is a type of spice cake—and, naturally, it has carrots added to the batter! This gives carrot cake a denser texture than spice cake. Carrot cake may also have pineapple, raisins, coconut, and nuts added to the batter, while a classic spice cake usually doesn't have any mix-ins.
What You'll Need
Don't be put off by the long ingredient list! Most of these items are pantry staples.
For the spice cake:
All-purpose flour – Here's how to measure flour for baking.
Baking powder
Ground cinnamon
Salt
Ginger
Allspice
Cardamom
Nutmeg
Unsalted butter – This should be softened before mixing. Don't bring it all the way to room temperature, as that's likely too warm to work well.
Granulated sugar
Light brown sugar – Light brown sugar is best for this recipe because it doesn't have as strong of a flavor as dark brown sugar.
Eggs – Let these come to room temperature. Warm eggs yield a fluffier cake.
Vanilla extract
Milk – I recommend using whole or 2% milk when baking.
For the brown butter frosting:
Unsalted butter
Confectioners' sugar – Sift this before making the frosting to prevent lumps from forming.
Vanilla extract
Milk
Can I Brown Salted Butter?
Technically speaking, you can brown salted butter, but as the water evaporates from the butter, the salt will become concentrated in the milk solids that are left behind. In other words, brown butter made from salted butter will be salty, which may work fine in a savory recipe, but it can be noticeable in a sweet recipe like frosting.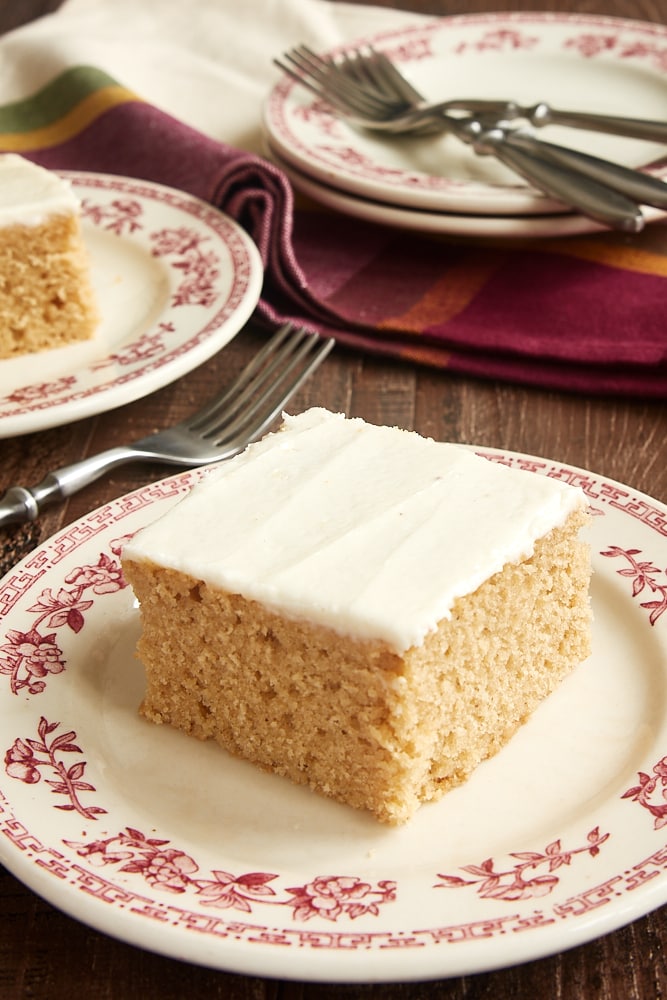 How to Make Spice Cake With Brown Butter Frosting
This is a simple snack cake type of recipe, so there's no need to fuss with layering! Here's what you'll need to do.
To make the cake:
Prepare. Preheat oven to 350°F and grease a 9″x 13″x 2″ baking pan.
Mix the dry ingredients. Whisk together the flour, baking powder, cinnamon, salt, ginger, allspice, cardamom, and nutmeg in a large bowl.
Mix the wet ingredients. Use an electric mixer on medium speed to cream the butter and sugars until they're light and fluffy. Beat in the eggs one at a time, followed by the vanilla.
Combine the wet and dry ingredients. Reduce the mixer speed to low. Add the dry ingredients to the wet ingredients in three portions, alternating with two portions of the milk. Mix until just combined.
Bake. Pour the batter into the prepared pan and use a spatula to spread it evenly. Bake for 35 to 40 minutes, or until a toothpick inserted into the center comes out clean. Cool the cake completely in the pan on a wire rack before adding the frosting. (Learn more: Why Every Baker Needs Wire Cooling Racks)
To make the frosting:
Make the brown butter. Place the butter in a medium saucepan or skillet set over medium heat. The butter will melt and begin to foam; continue cooking until brown specks form at the bottom of the pan and the butter has a nutty aroma. Pour the brown butter into a large mixing bowl and let it cool for an hour.
Finish the frosting. Use an electric mixer on medium speed to beat the butter for about a minute. Slowly add the confectioners' sugar, mixing until thoroughly combined, then add the vanilla and 2 tablespoons of milk. Beat until smooth, adding more milk if necessary.
Frost the cake. Use an offset spatula to spread the frosting onto the cooled spice cake.
How Long Should a Cake Sit Before Frosting?
I recommend letting this cake cool for 2 to 3 hours before adding the frosting. Even cake that's just a touch warm can melt the frosting or crumble when you're spreading the frosting onto it.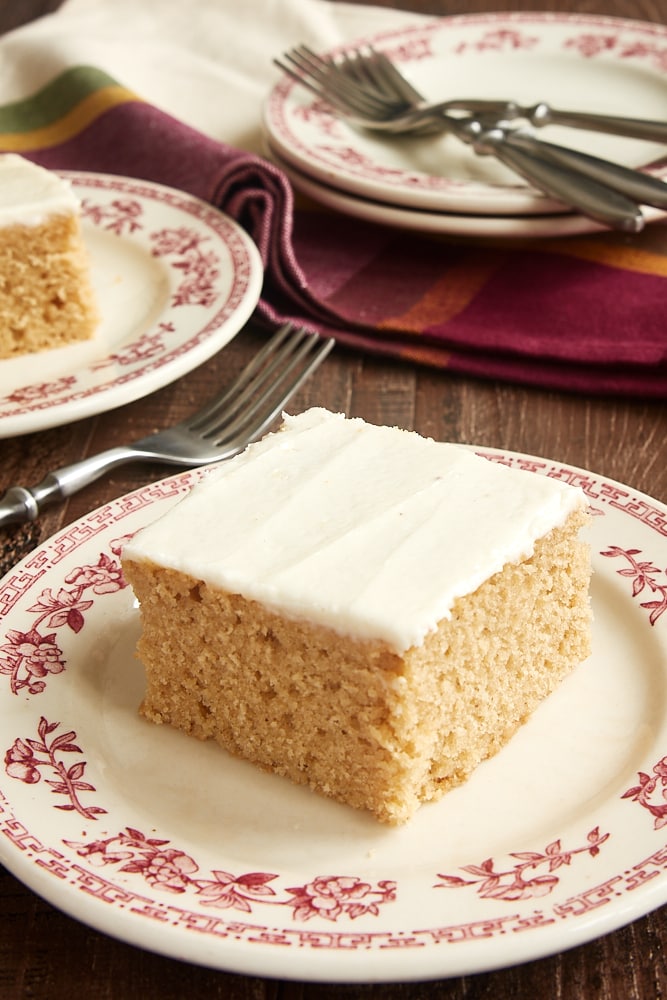 Tips for Success
This is a simple spice cake recipe, but these tips will help make sure it turns out perfect!
Use a light-colored metal pan. Your cake will bake more evenly and thoroughly than if you use a dark-colored pan. Learn more: How to Choose Baking Pans
Adjust the spices if you like. Dial them up or down according to your tastes. You can even use a spice blend if you prefer.
Want more frosting? A little of this flavorful frosting goes a long way, but the recipe will easily scale up if you've got a hankering for more.
How to Store
Store this cake covered in the refrigerator for 4 to 5 days. I recommend letting it sit on the counter a bit so it can come to room temperature before serving.
Can This Recipe Be Frozen?
You can freeze this cake for up to 3 months. Wrap it well and when you're ready to serve it, let it thaw in the refrigerator.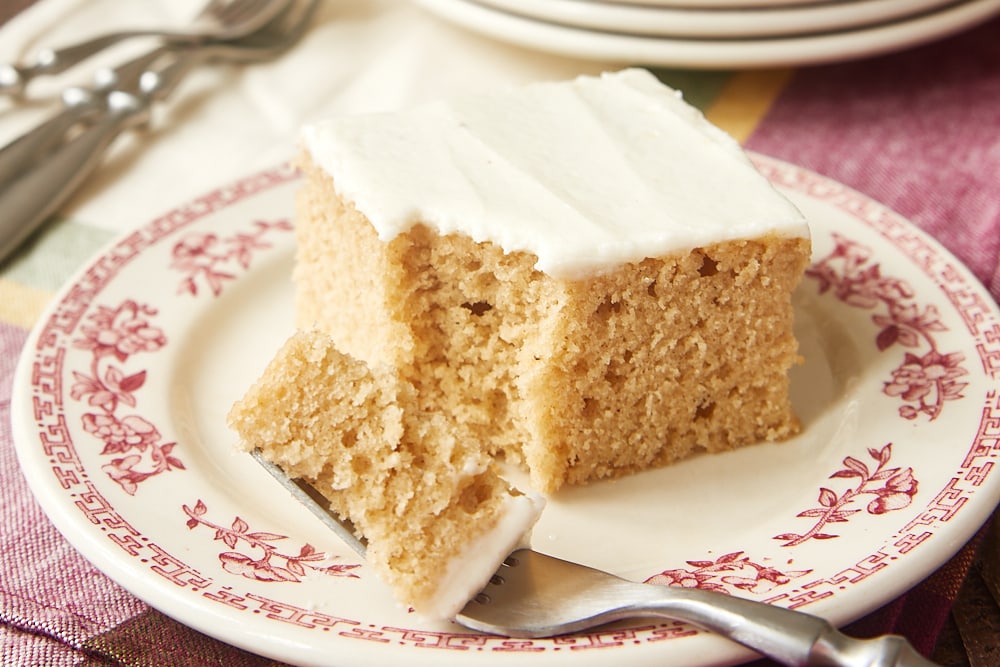 Find more cake recipes in the Recipe Index.
More Spice Cake Recipes