November 2, 2017
Spice Cake with Brown Butter Frosting
Spice Cake with Brown Butter Frosting a wonderful blend of spices and a sweet, rich frosting. It's a perfect dessert for your fall and winter celebrations!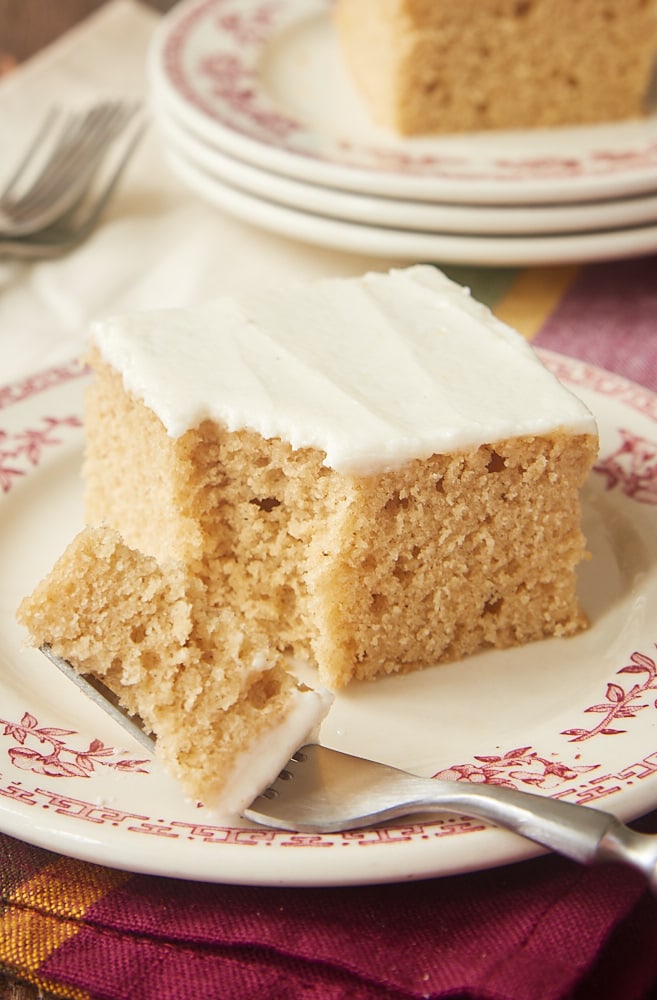 I love all kinds of cakes, but I have a bit of a weakness for spice cake. Its simplicity and big flavor never fail to please. Plus, it's comfort food in a big, big way. A recent and persistent craving led me to this Spice Cake with Brown Butter Frosting. And boy, am I glad it did!
It all begins with a simple yellow cake that's augmented with a bit of brown sugar and lots of spices. It's amazing how easily those simple additions transform everyday cake into such an irresistible dessert!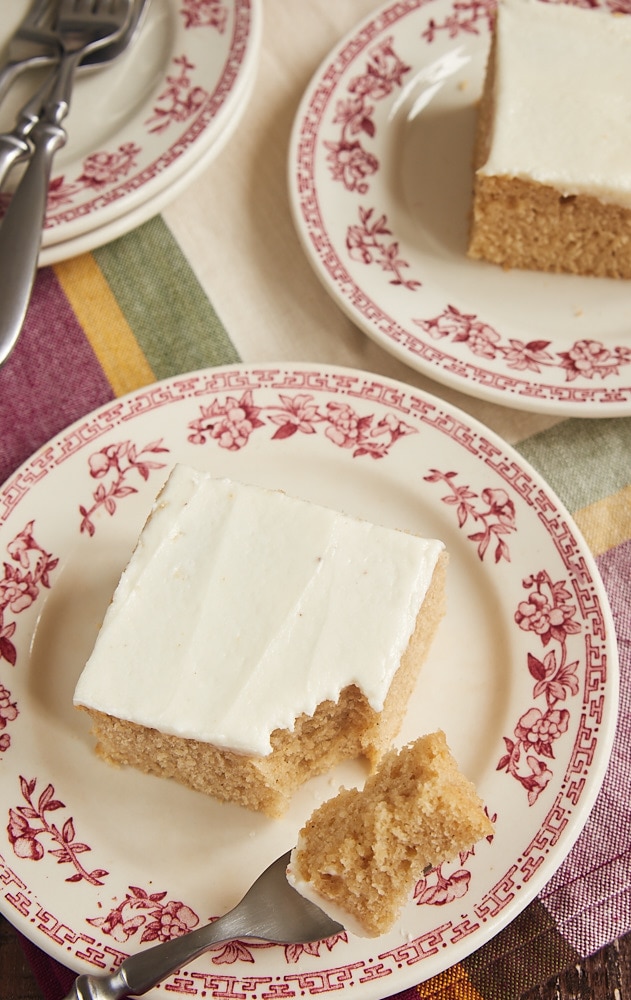 The cake is wonderfully soft and moist, with plenty of flavor from a blend of spices. It's really good all on its own, but what's cake without frosting? Many traditional spice cakes have cream cheese frostings. (If that's your preference, try the frosting in this recipe.) Don't get me wrong. I do love cream cheese frosting, but I wanted something a little different this time around.
This is a fairly standard frosting with one little change that makes it amazing. Brown butter! It gives it a richer, nutty taste that's such a fantastic complement to the spice of the cake. This is a sweeter frosting than I usually prefer, so I generally find that less is more. I prefer a thin layer of frosting for this cake, but you can always make more if you like by scaling the recipe.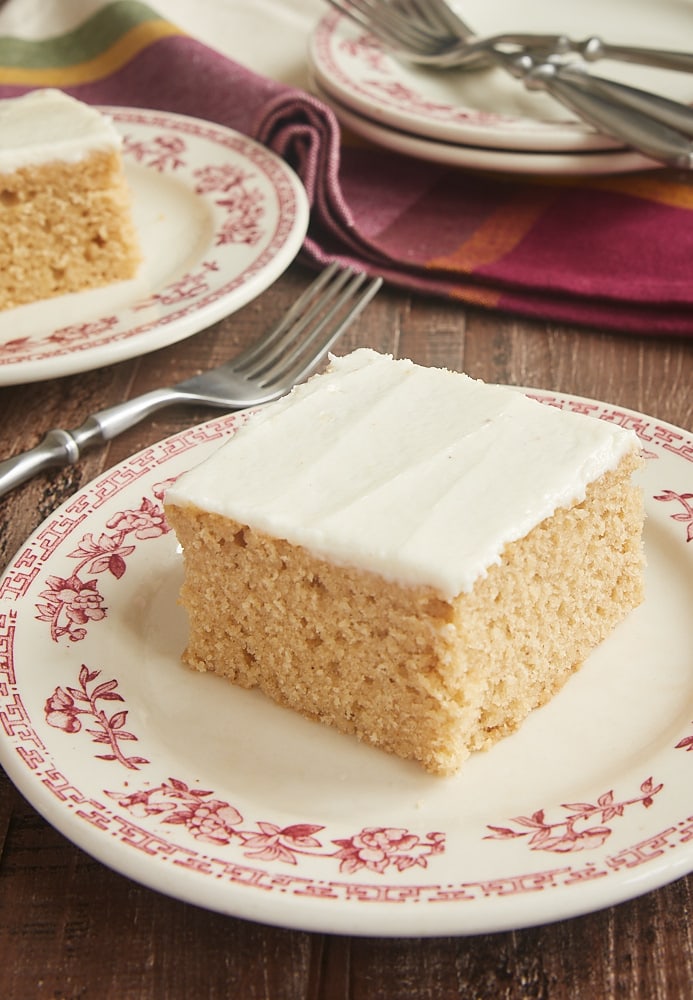 This is just the kind of cake that's a perfect ending to a meal with family and friends. And with just one layer, it's easy to transport and serve. I'll happily eat this cake year-round, but it's an especially good choice for Thanksgiving, Christmas, or most any fall or winter holiday or gathering. If you're a fan of spice cakes like I am, then I think you'll love this one!
Find more cake recipes in the Recipe Index.
More Spice Cake Recipes
Spice Cake with Brown Butter Frosting
Yield: 15 to 20 servings
Prep Time: 30 minutes
Cook Time: 45 minutes
A wonderful blend of spices and a sweet, rich frosting make this Spice Cake with Brown Butter Frosting absolutely irresistible!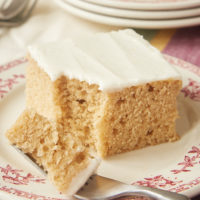 Ingredients:
For the cake:
3 cups (360g) all-purpose flour
2 teaspoons baking powder
1 & 1/2 teaspoons ground cinnamon
1/2 teaspoon salt
1/2 teaspoon ground ginger
1/4 teaspoon ground allspice
1/4 teaspoon ground cardamom
1/4 teaspoon ground nutmeg
1 cup (226g) unsalted butter, softened
1 cup (200g) granulated sugar
3/4 cup (150g) firmly packed light brown sugar
4 large eggs
1 & 1/2 teaspoons vanilla extract
1 cup (240ml) milk
For the frosting:
1/2 cup (113g) unsalted butter
2 & 1/2 cups (275g) confectioners' sugar, sifted
1/2 teaspoon vanilla extract
2 to 3 tablespoons milk
Directions:
To make the cake:
Preheat oven to 350°F. Grease a 9″x 13″x 2″ baking pan.
Whisk together the flour, baking powder, cinnamon, salt, ginger, allspice, cardamom, and nutmeg. Set aside.
Using an electric mixer on medium speed, beat the butter, sugar, and brown sugar until light and fluffy. Add the eggs, one at a time, mixing well after each addition. Mix in the vanilla.
Reduce mixer speed to low. Add the flour mixture in three portions, alternating with two portions of the milk. Mix just until combined.
Transfer the batter to the prepared pan and spread evenly. Bake 35 to 40 minutes or until a pick inserted into the center comes out clean.
Cool the cake completely in the pan on a wire rack.
To make the frosting:
Place the butter in a medium saucepan or skillet. Cook over medium heat until the butter melts and begins to foam.
Continue cooking until brown specks begin to form at the bottom of the pan and the butter has a nutty aroma.
Transfer the butter (including the browned bits) to a large mixing bowl. Allow the butter to cool for about an hour. (It will become somewhat solidified.)
Using an electric mixer on medium speed, beat the butter for about a minute. Gradually add the confectioners' sugar, mixing until thoroughly combined.
Add the vanilla and 2 tablespoons of milk. Mix until thoroughly combined and smooth. If necessary, add more milk, a small amount at a time, and continue mixing until the frosting is the desired consistency.
Spread the frosting over the cooled cake.