September 16, 2013
Frosted Caramel-Pecan Brownies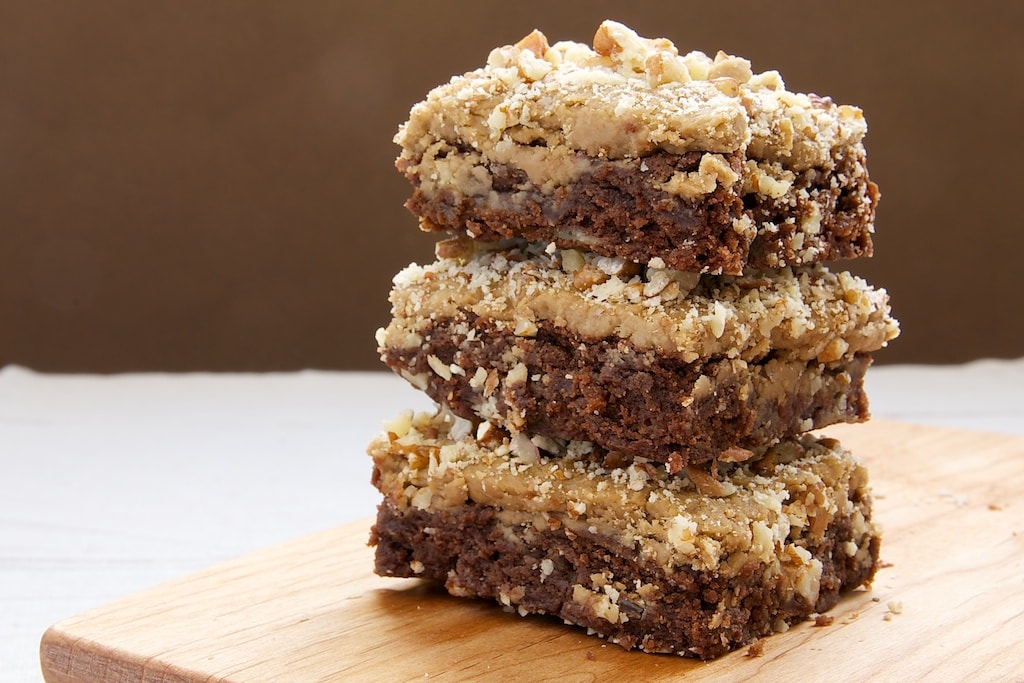 I love brownies under the most normal, everyday circumstances. They're often just the perfect thing for a little sweet treat. These brownies, however, are even more special than usual.
September is Childhood Cancer Awareness Month. As part of that, OXO is doing a very good thing with their Cookies for Kids' Cancer program. OXO has partnered with food bloggers to raise money for this great cause. For every blog post about their program this month, OXO is donating $100 to Cookies for Kids' Cancer!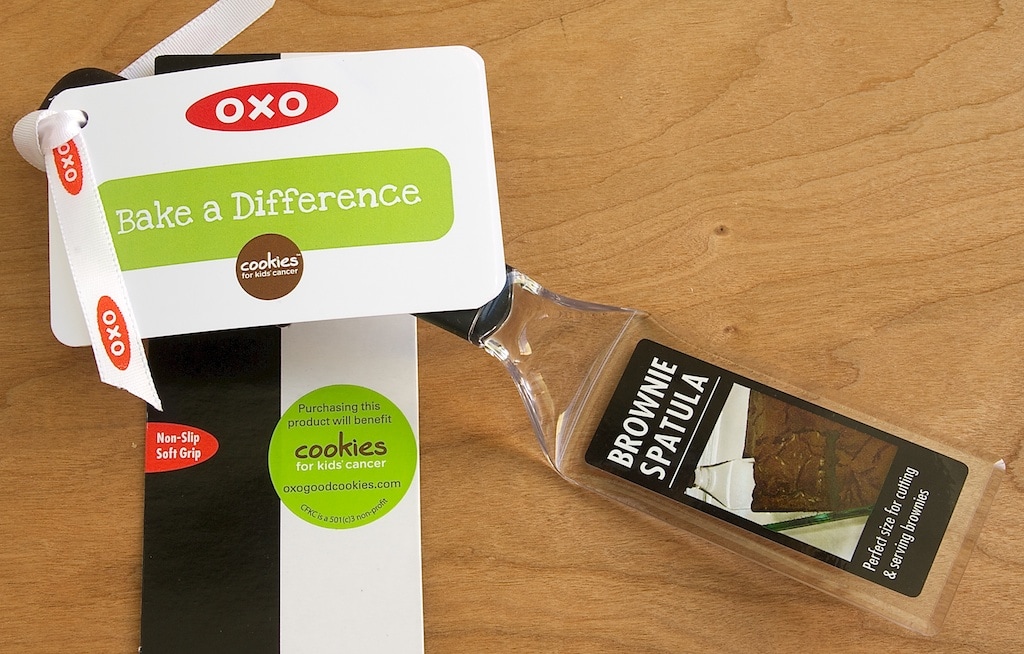 Each blogger was asked to choose cookies, brownies, or cupcakes to bake. I chose brownies and soon received a set of OXO brownie-baking tools to help me make those brownies. And now that I have, I'm so happy to share them with you and help Cookies for Kids' Cancer gain another $100.
Now, for all the brownie details. As many brownies as I've made over the years, very rarely have I frosted brownies. It always seemed a bit too fussy. Oh, but I have now seen the light.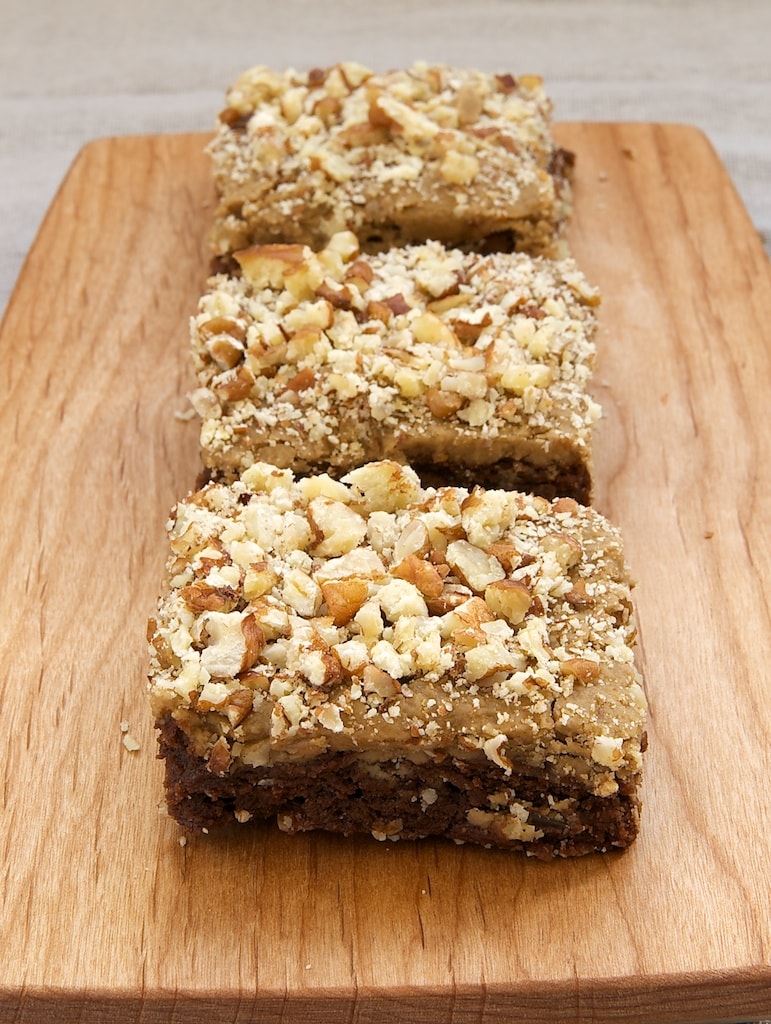 These brownies are topped with a wonderful caramel frosting that goes perfectly with all of that chocolate. Then, the frosting is covered with chopped pecans. If you know me at all, you know that these are pretty much perfect as far as I'm concerned.
I offer a couple of helpful hints for making these. Work quickly with the frosting to get it spread on the brownies before it sets. Then, sprinkle the pecans on top of the frosting immediately and lightly press into the warm frosting so that they'll stick to the frosting as it sets.
Be on the lookout this month for other posts from food bloggers for this great cause. In social media, look for #OXOGoodBrownie, #OXOGoodCookie, and #OXOGoodCupcake. You can see all the posts on OXO's Bake a Difference Pinterest board. And, when you buy OXO products with special Cookies for Kids' Cancer stickers, OXO will donate 25 cents per purchased special item to support pediatric cancer research.
Frosted Caramel-Pecan Brownies
Yield: 24 2-inch squares
Prep Time:25 minutes
Cook Time:40 minutes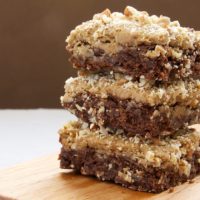 Ingredients:
For the brownies:
4 ounces unsweetened chocolate, roughly chopped
3/4 cup unsalted butter
1 cup granulated sugar
1 cup packed light brown sugar
4 large eggs
1 teaspoon vanilla extract
1 cup all-purpose flour
1/2 teaspoon salt
For the frosting and topping:
1 cup packed dark brown sugar
1/2 cup milk
2 tablespoons unsalted butter
1/4 teaspoon salt
1 & 1/2 cups confectioners' sugar
1/2 teaspoon vanilla extract
1 cup coarsely chopped pecans, toasted
Directions:
To make the brownies:
Preheat oven to 350°. Lightly grease a 9″ x 13″ baking pan. Line with parchment paper or aluminum foil so that the lining overhangs . Grease lining.
Place chocolate and butter in a microwave-safe bowl. Heat in microwave at half power in 30-second increments until butter has melted and chocolate melts when stirred. Set aside to cool slightly.
Whisk together sugar, brown sugar, eggs, and vanilla in a large bowl. Add chocolate/butter mixture and stir until well-blended. Stir in flour and salt.
Spread batter into prepared pan. Bake 25-30 minutes, or until a wooden pick inserted into the cener comes out with a few moist crumbs.
Allow brownies to cool in pan on wire rack for 1 hour.
To make the frosting:
Place brown sugar, milk, butter, and salt in a large saucepan, and stir to combine. Bring to a boil over medium-high heat, stirring frequently.
Reduce heat to medium-low. Allow mixture to simmer, stirring frequently, for 5 minutes or until slightly thickened. Remove from heat and let stand for 5 minutes.
Place confectioners' sugar in a large bowl. Add caramel and vanilla. Using an electric mixer on medium speed, beat until smooth. Immediately pour frosting over brownies and spread evenly. Sprinkle pecans over frosting and press gently into the frosting.
Allow to cool for 30 minutes. Then, use the overhanging lining to lift the bars out of the pan and onto a cutting board. Use a sharp knife to cut into bars.
I was provided with a set of brownie-baking tools by OXO. No other compensation was received. All opinions are my own.