Dulce de Leche Cheesecake Bars are rich, creamy, gooey, and absolutely delicious! Add a bit of salt on top for an additional burst of flavor.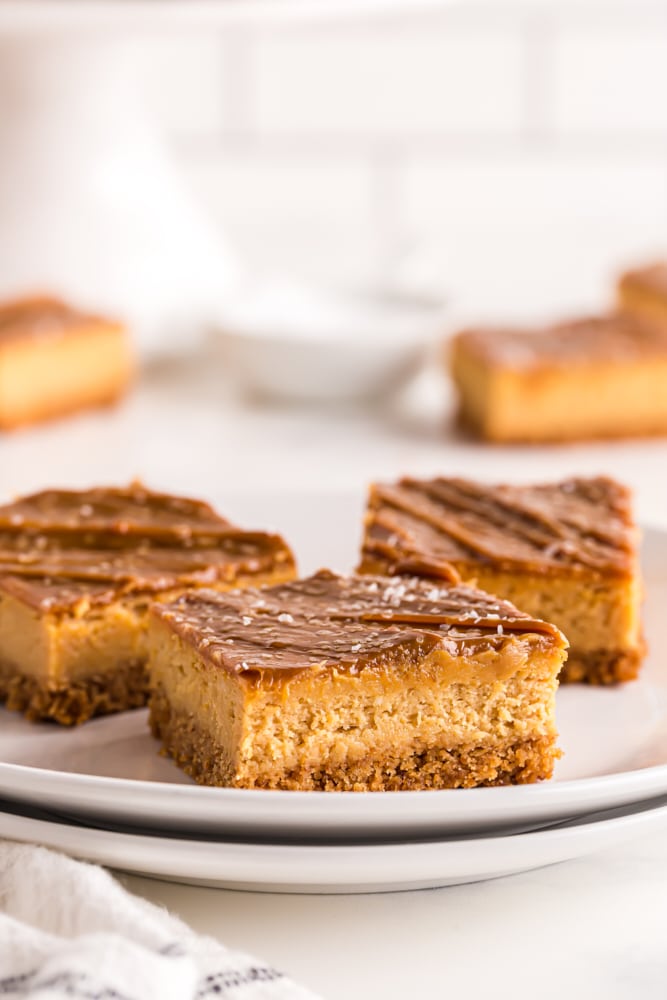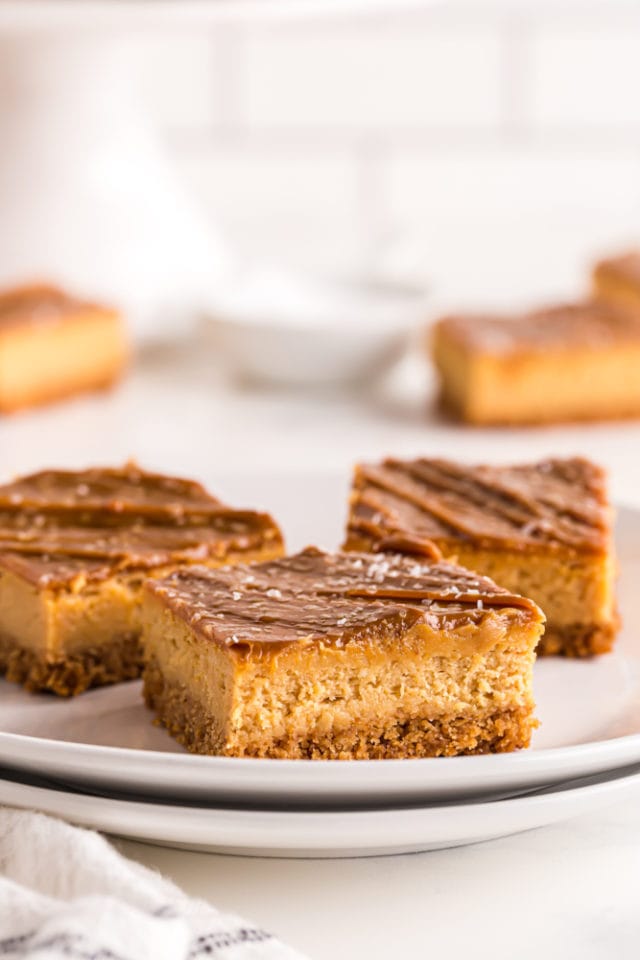 Rich, Creamy Dulce de Leche Cheesecake Bars
There are so many great flavors in baking that it's difficult to narrow down to a few favorites. But I can confidently say that dulce de leche ranks very highly for me. I find its rich, caramel-like flavor irresistible!
Add that wonderful flavor to cheesecake, and I'm 100% on board. And that's exactly the situation we have with these Dulce de Leche Cheesecake Bars.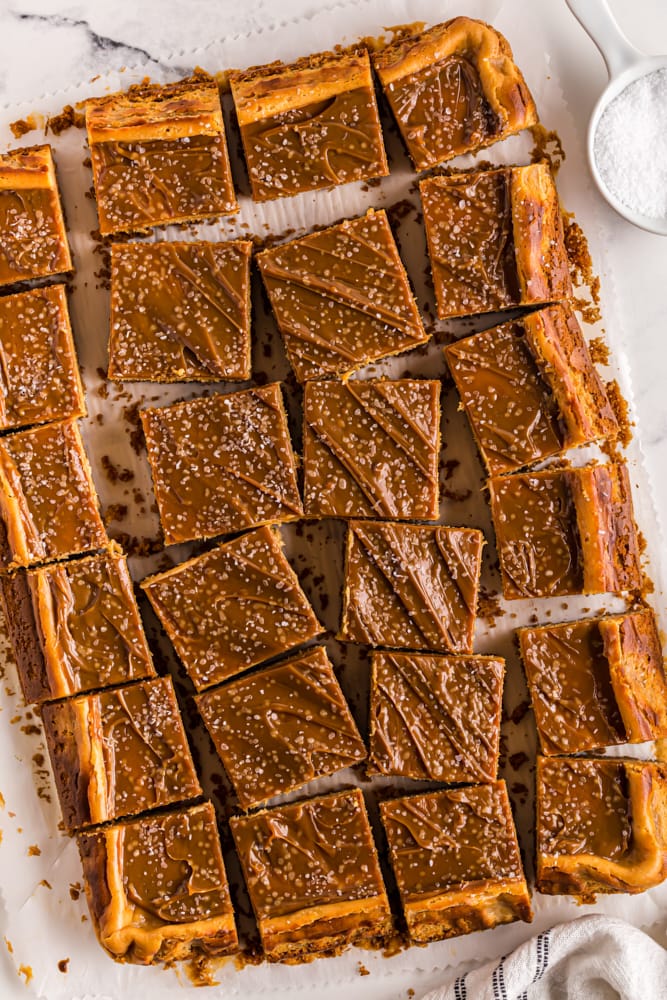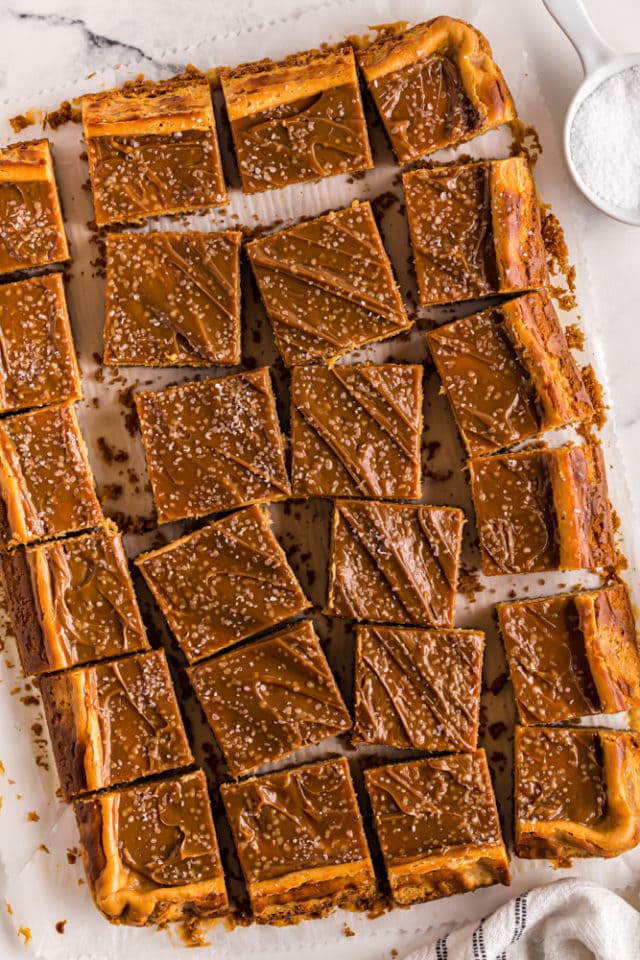 Not only does the cheesecake itself have a good dose of dulce de leche mixed into it, but there's a rich dulce de leche topping as well. Oh, it's good. Seriously good.
If you're a sweet and salty fan, don't skip the sprinkle of coarse salt on top of these bars. That little added saltiness turns these into something extra special.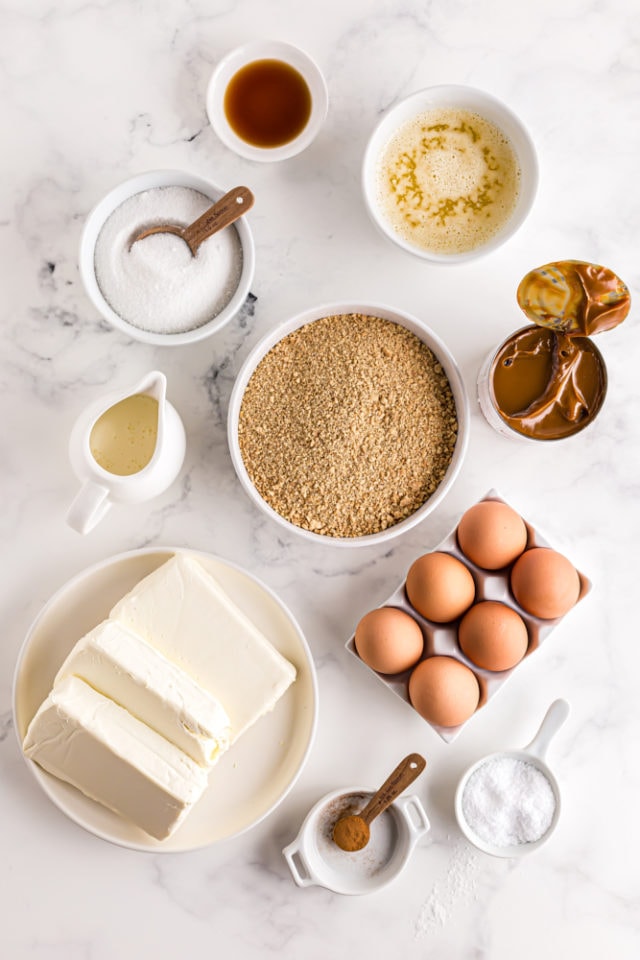 What You'll Need
You'll be making three components for these Dulce de Leche Cheesecake Bars: a crust, filling, and glaze.
For the Graham Cracker Crust:
Graham cracker crumbs: A food processor works well to make crumbs from graham crackers, but any method that makes fine crumbs is fine.
Sugar: For a hint of sweetness.
Ground cinnamon: A hint of cinnamon pairs very well with the dulce de leche in the filling and topping.
Unsalted butter: Melt the butter either on the stovetop or in the microwave.
For the Dulce de Leche Cheesecake Filling:
Cream cheese: Full-fat cream cheese works best. Be sure to bring it to room temperature for a smooth filling.
Sugar: For sweetness and texture.
Eggs: Use 3 large eggs for structure and flavor.
Dulce de leche: For big-time flavor! Look for it near the condensed milk, in the international foods section, or with the ice cream toppings.
Vanilla extract: For flavor.
For the Dulce de Leche Glaze:
Dulce de leche: This is why we're here, right?
Heavy cream: For a smooth, creamy texture.
Coarse salt (optional): I most often use sea salt, but any coarse salt is fine. A little goes a long way, so a few big pinches will probably do the trick. It adds a salty bite that's irresistible!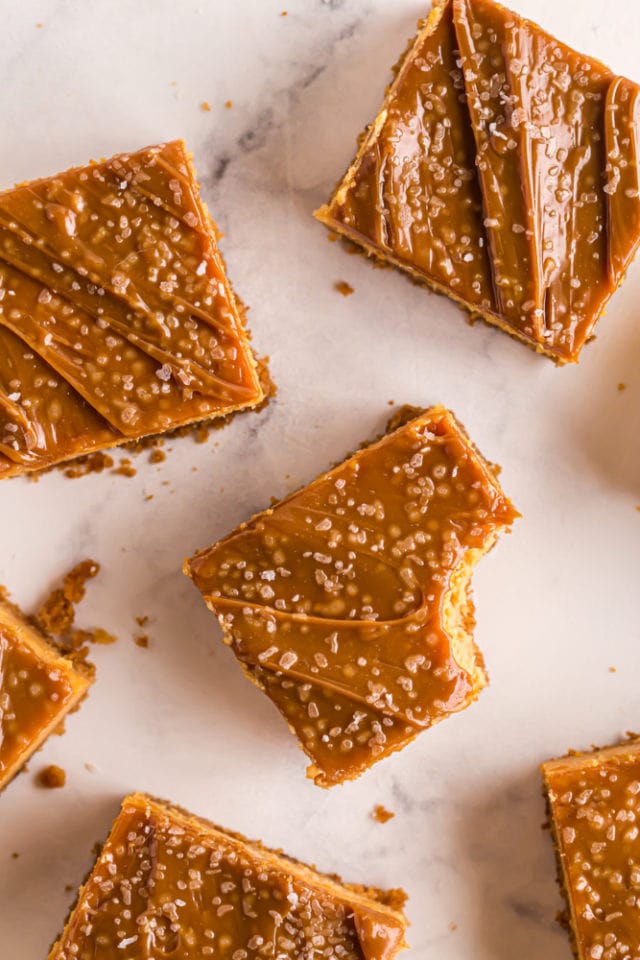 How to Make Dulce de Leche Cheesecake Bars
Despite making three separate components, these cheesecake bars come together easily. You'll need three mixing bowls, a stand or hand mixer, and mixing spoons to make each part.
Preheat the oven and prepare the pan. Heat the oven to 350°F. You'll need a 9″ x 13″ x 2″ baking pan for these cheesecake bars. Grease the pan your preferred way. If you like, you can line the pan with parchment paper and grease the lining. A lining makes it easy to remove the bars from the pan for slicing and serving.
Make the crust. Simply combine the ingredients and press into the prepared pan. Bake briefly, and then set the pan aside to cool while you make the filling.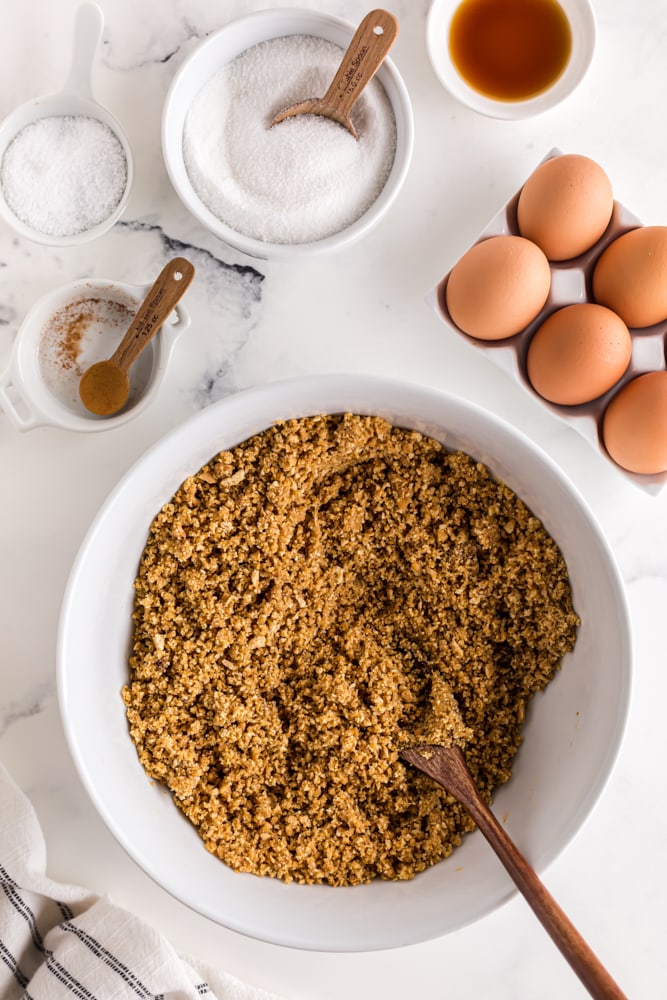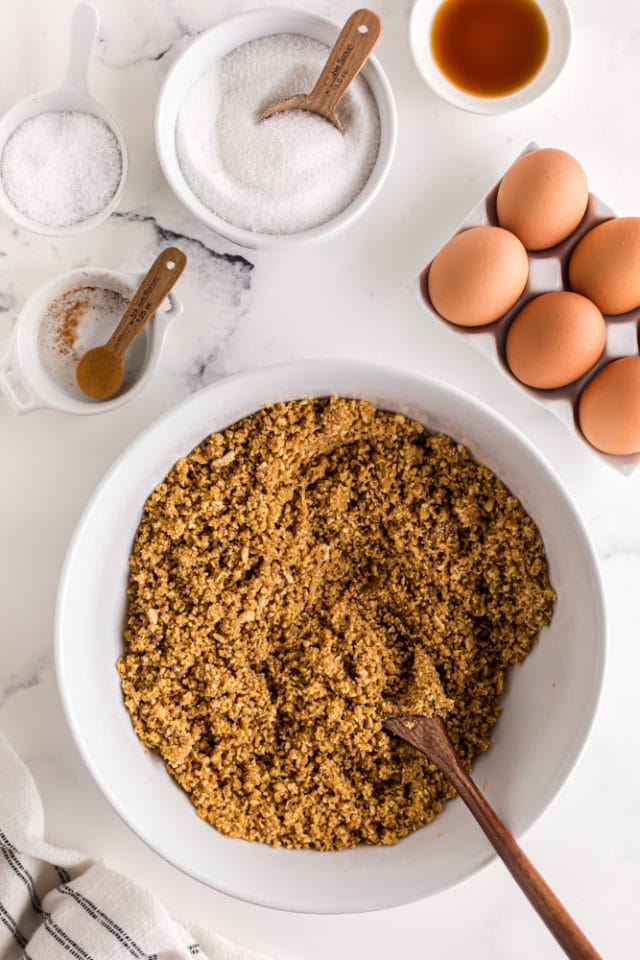 Make the filling. Cheesecake fillings are usually very easy to make, and this one is no exception. After mixing the cream cheese and sugar, mix in the eggs. Then add the dulce de leche and vanilla, and mix until smooth.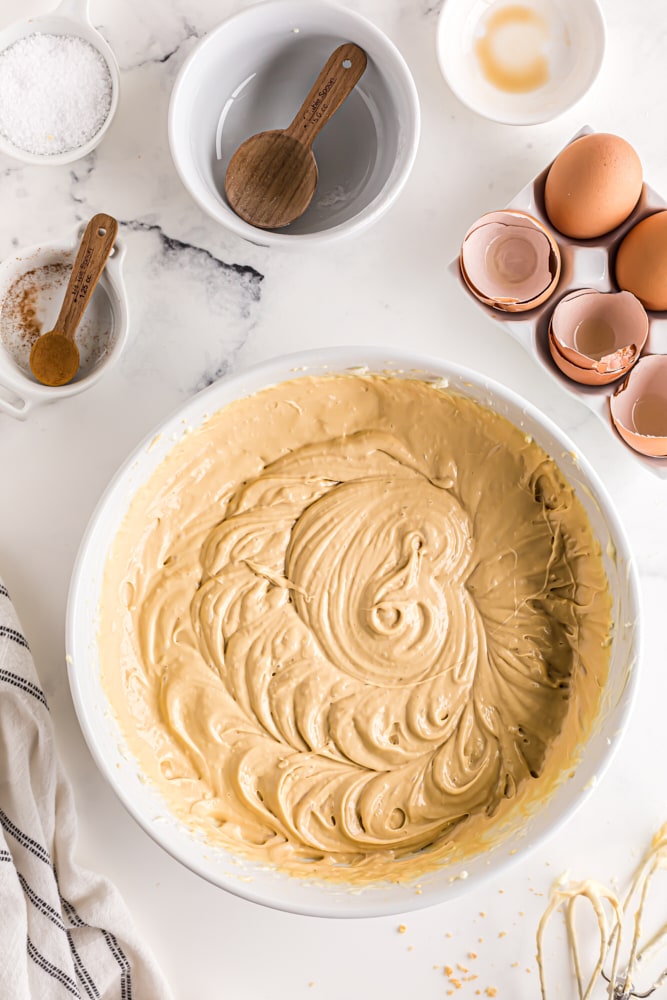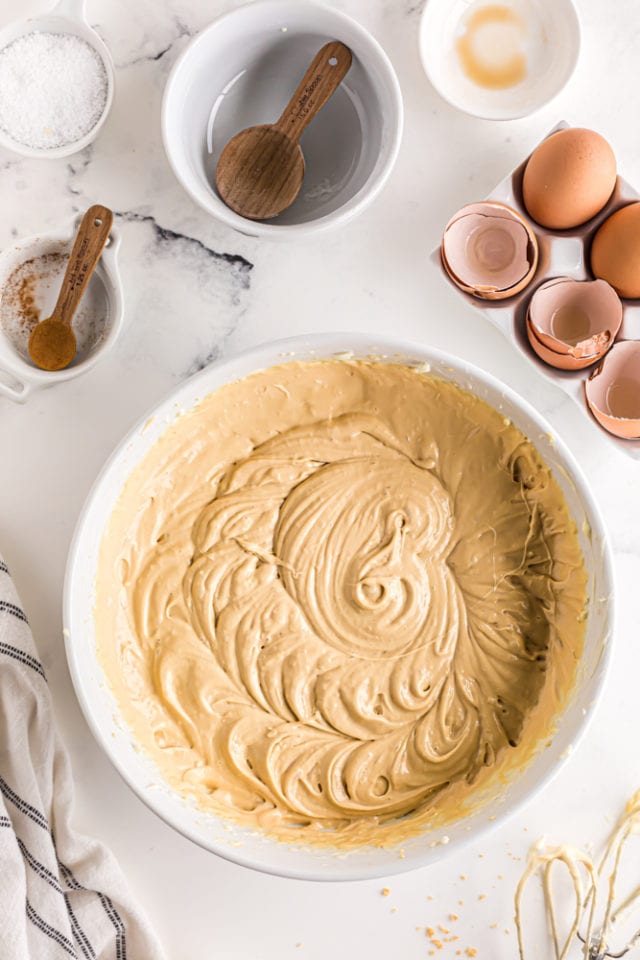 Bake the filling. After transferring the batter to the partially baked crust, spread it evenly. Then bake the cheesecake bars for 38-42 minutes. You'll know the bars are baked when the center is set (doesn't jiggle) and the edges are puffed and slightly cracked.
Make the glaze. The topping is a simple combination of dulce de leche and cream. Heat those ingredients in the microwave to get a smooth, spreadable mixture. After the cheesecake bars have cooled, pour the glaze over the cheesecake and spread it evenly.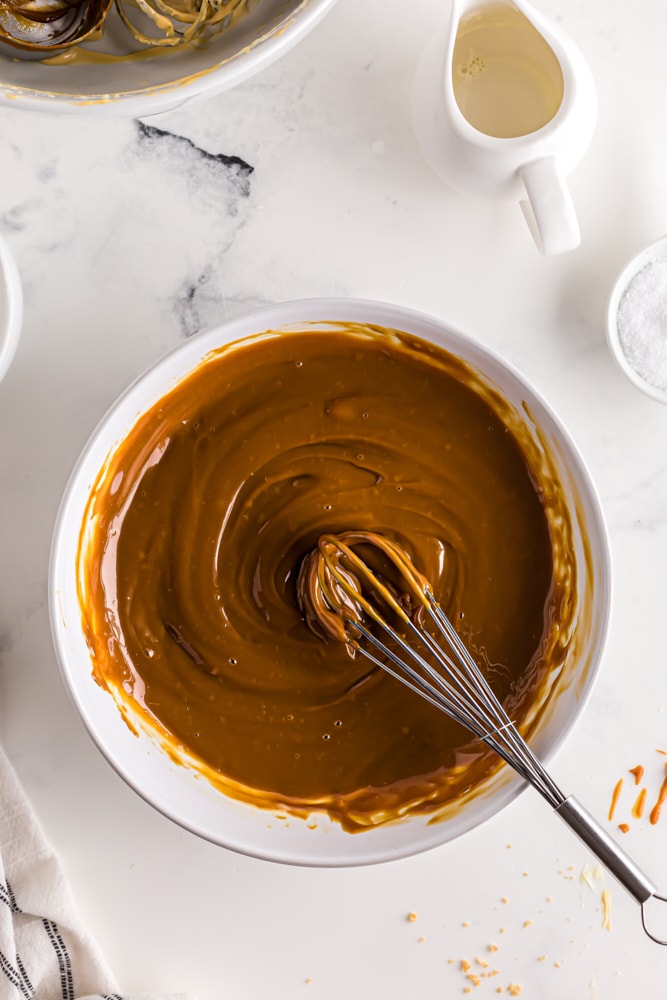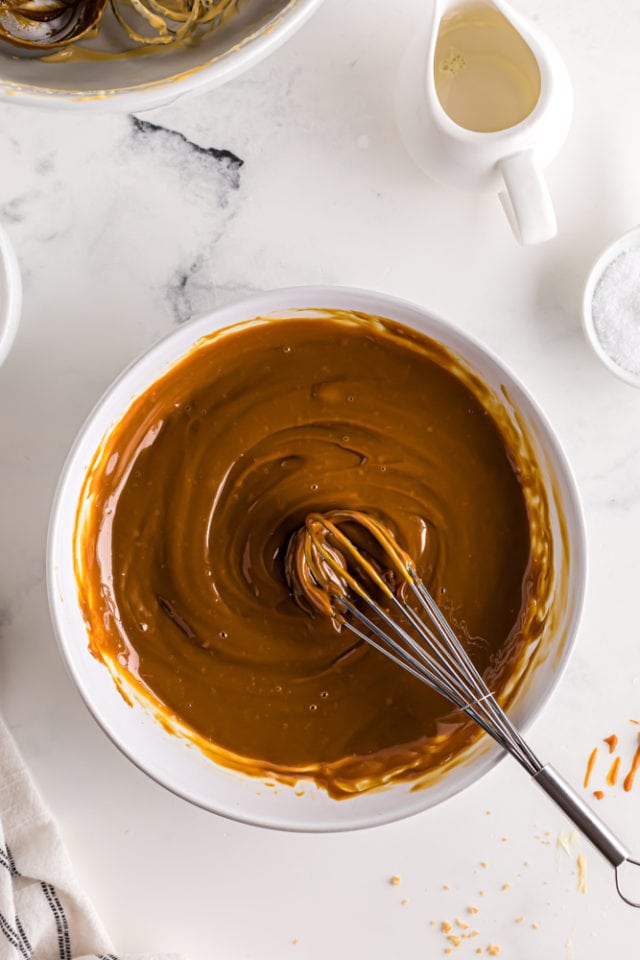 Add the salt. This is optional, but the addition of some coarse salt on top makes these bars a sweet and salty favorite!
Chill the cooled cheesecake. Cover the cheesecake and refrigerate for at least an hour before serving to give it time to set. Keep in mind that the glaze will not become firm.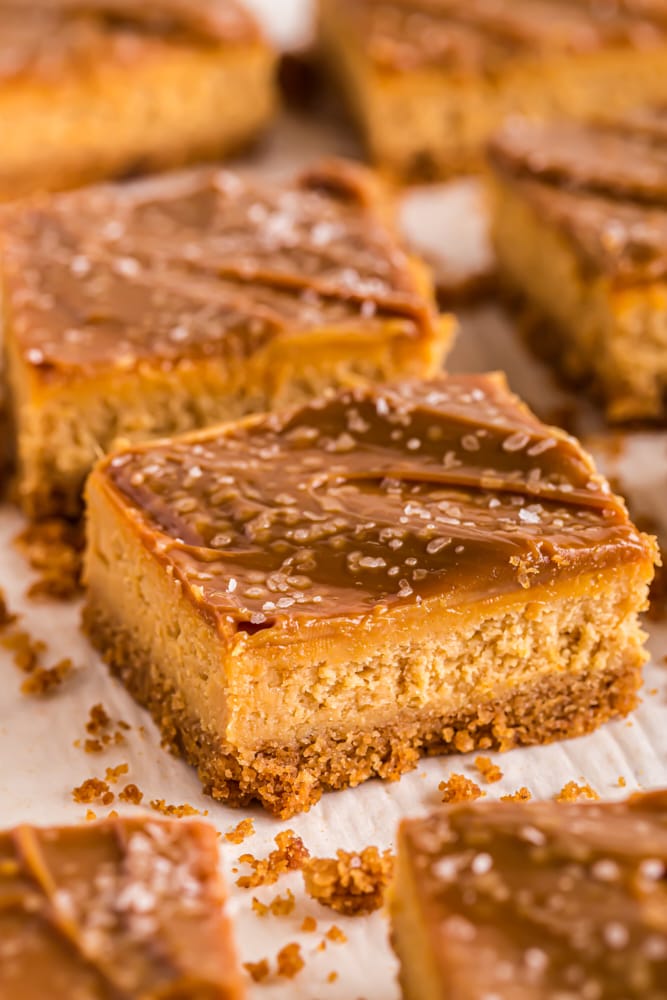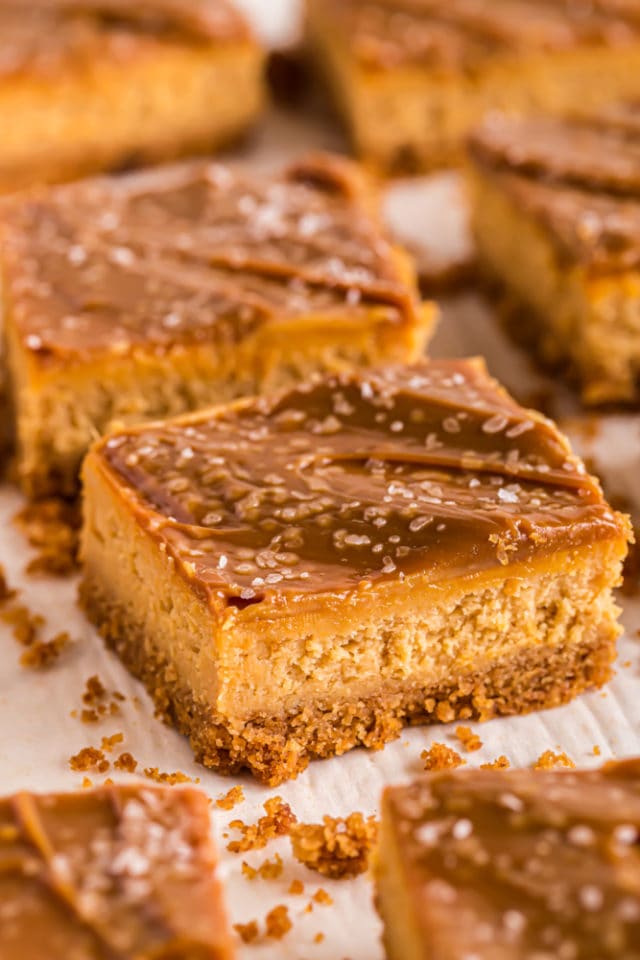 Tips for Success
Use a light-colored metal baking pan. The bars will bake more evenly and thoroughly with this type of pan.
Bring the cream cheese to room temperature. Properly softened cream cheese will make the smoothest filling.
Don't skip the chill time. That refrigerator time will help the bars set and turn them into a cool, creamy treat.
Use a thin, sharp knife for slicing. Cut straight down without a sawing motion. Wipe off the knife between cuts.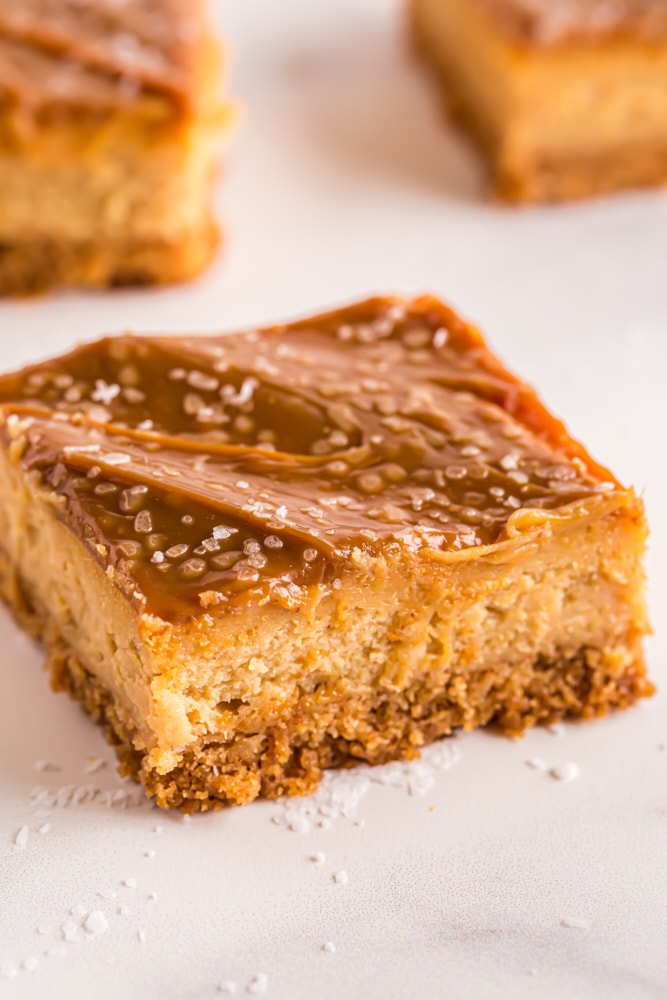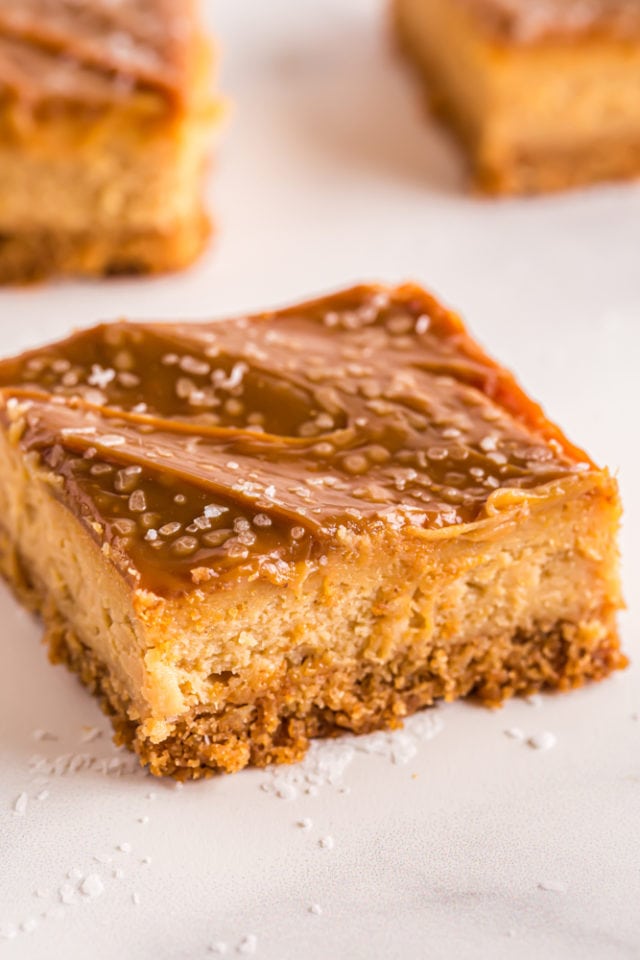 How to Store Leftovers
Keep these Dulce de Leche Cheesecake Bars covered and refrigerated. They should keep for about 3 days if stored this way.
If you're making these bars in advance, you may want to wait to add the salt until serving time. Otherwise, it can disappear into the glaze. The salty flavor will still be there, but you lose the visual appeal.
How to Freeze Cheesecake Bars
Wrap the cooled cheesecake bars in plastic wrap. Then add another layer of protection by wrapping in aluminum foil. I often place the slices in a freezer bag as well for ease of storage.
The bars should keep in the freezer for about two months. (Be sure to label them with the name and date!) When you're ready to enjoy your cheesecake bars, thaw them overnight in the refrigerator or for 2-3 hours at room temperature.
More Dulce de Leche Dessert Recipes