Banana pudding is a Southern classic everyone is familiar with, but Paula Deen's banana pudding is a unique and decadent spin on the original! Cream cheese makes this dessert extra special, and extra creamy, too!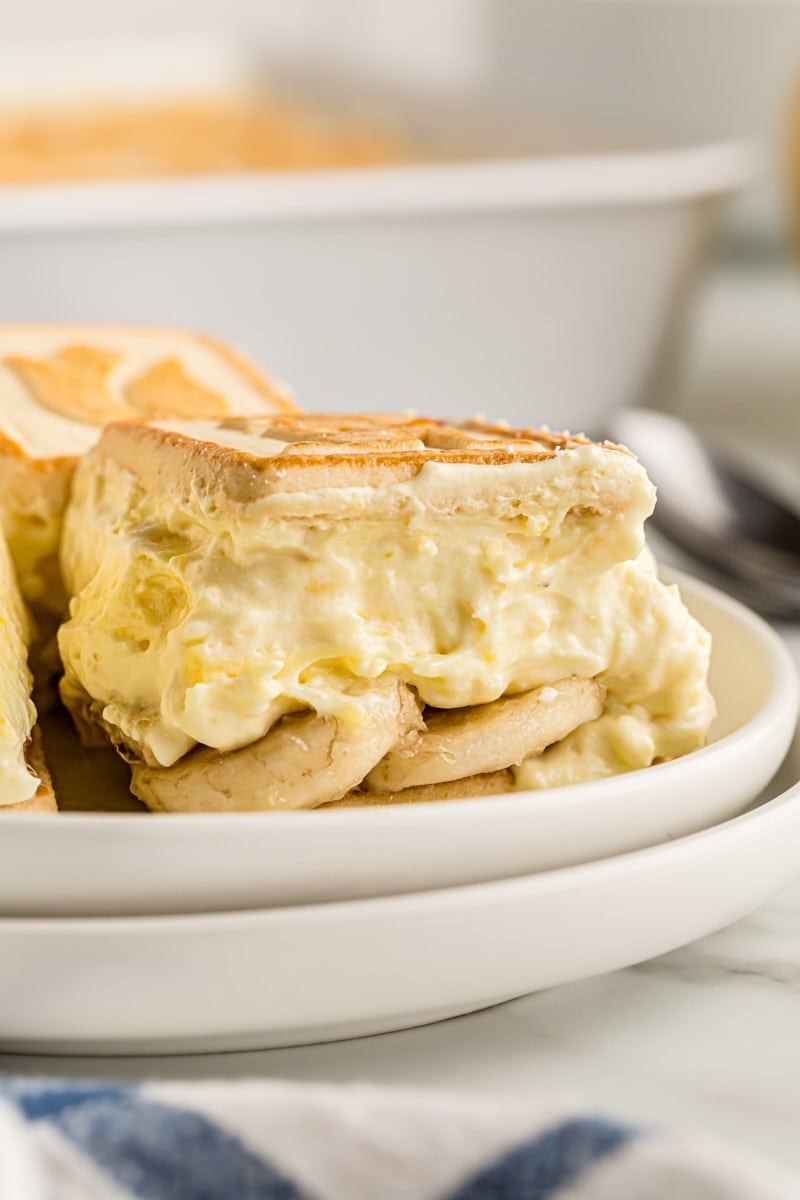 Paula Deen's Banana Pudding Recipe
Let me start by saying that I don't like banana pudding. I know that a good Southern girl should like it, but I just don't. (For the record, I don't like sweet tea or watermelon, either.)
This background information is important, because I love this banana pudding. This alone should be enough to convince you that it's something special. It tastes unlike any banana pudding you've ever eaten.
I figure that has a lot to do with the cream cheese. How can you go wrong with cream cheese? It transforms what can sometimes be a soupy pudding mixture into something rich, creamy, and delectable.
Even better, this banana pudding recipe is beyond simple. In fact, I feel a little guilty making it because the hardest thing I have to do is clean up the three or four bowls I manage to use in making it. It's really just a matter of assembly. The cookies are store-bought. The pudding comes from a mix. The whipped cream is frozen.
If you're looking for an effortless no-bake dessert, this is it.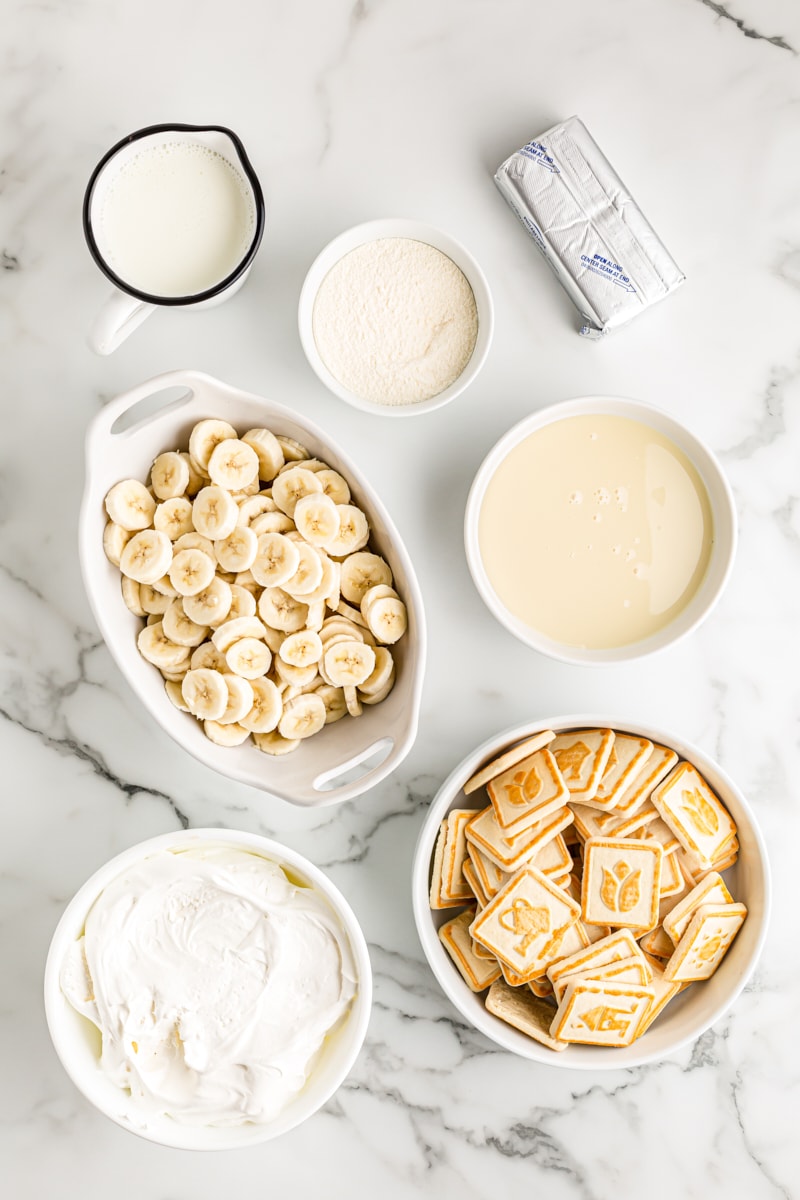 What You'll Need
Scroll down to the recipe card below this post for ingredient quantities and full instructions.
Pepperidge Farm Chessmen Cookies – You could go with the more traditional vanilla wafer, but Chessmen cookies add a special touch.
Bananas
Milk – Whole milk will yield the creamiest texture.
Instant French vanilla pudding
Cream cheese – Let the cream cheese soften so it's easy to beat into the pudding mixture.
Sweetened condensed milk
Frozen whipped topping – Also known as Cool Whip! You'll want to use whipped topping rather than whipped cream, as it has added stabilizers that will help your banana pudding last longer in the fridge.
What's a Good Substitute for Chessmen Cookies?
If you can't find Chessmen cookies, you can use Lorna Doone cookies, Trefoil Girl Scout cookies, or vanilla wafers. If you're feeling ambitious, you can use homemade vanilla wafers or butter cookies, too.
How Ripe Should Bananas Be for Banana Pudding?
As with banana bread, the riper the better! The outside of the banana should have a lot of brown spots, specks, and streaks; this means the fruit inside is soft, sweet, and full of banana flavor. If your bananas aren't ripe yet, here's how to ripen bananas.
How to Make Banana Pudding
If you've made other creamy no-bake chilled desserts in the past, this banana pudding is quite similar. Here's what you'll need to do.
Make the first layers. Line the bottom of a 13″x 9″x 2″ dish with one bag of Chessman cookies. Layer the sliced bananas on top of the cookies.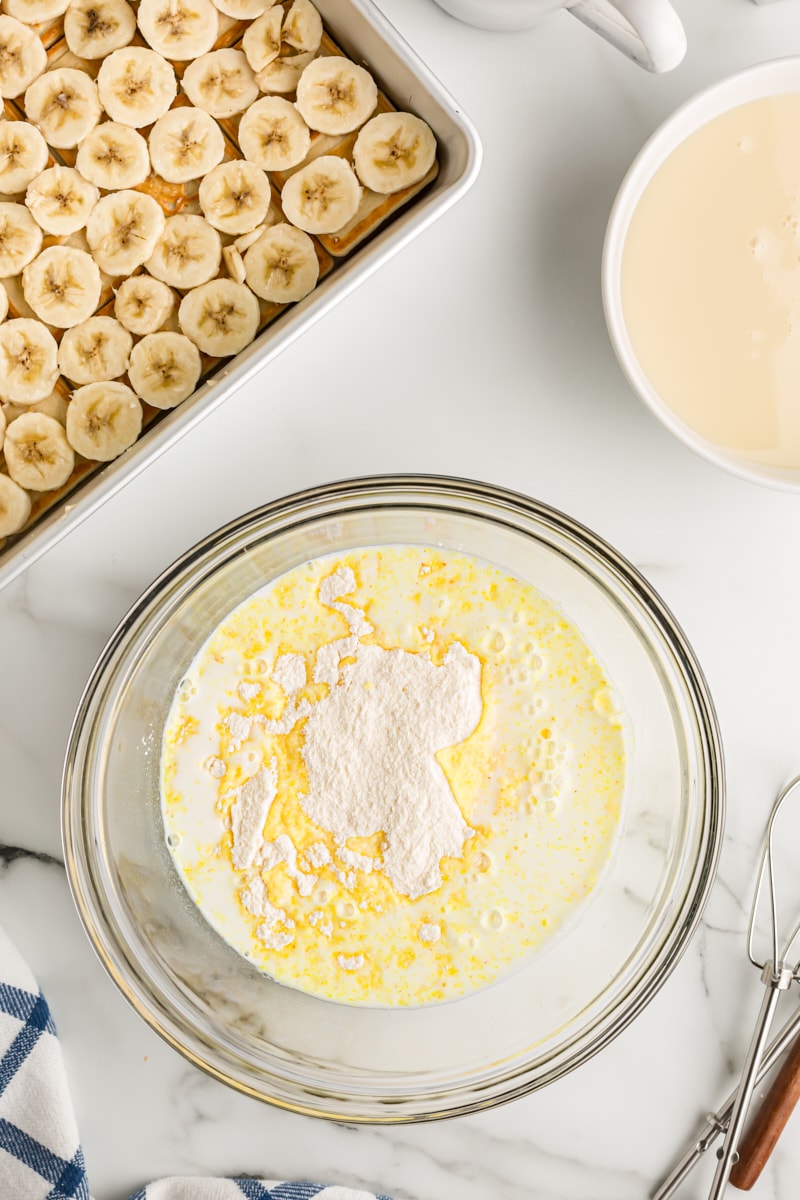 Make the pudding mixture. Beat the milk and pudding mix together. In a separate bowl, beat the cream cheese and condensed milk, then fold the whipped topping into the cream cheese mixture. Once the whipped topping is incorporated, add this mixture to the pudding and stir until well-blended.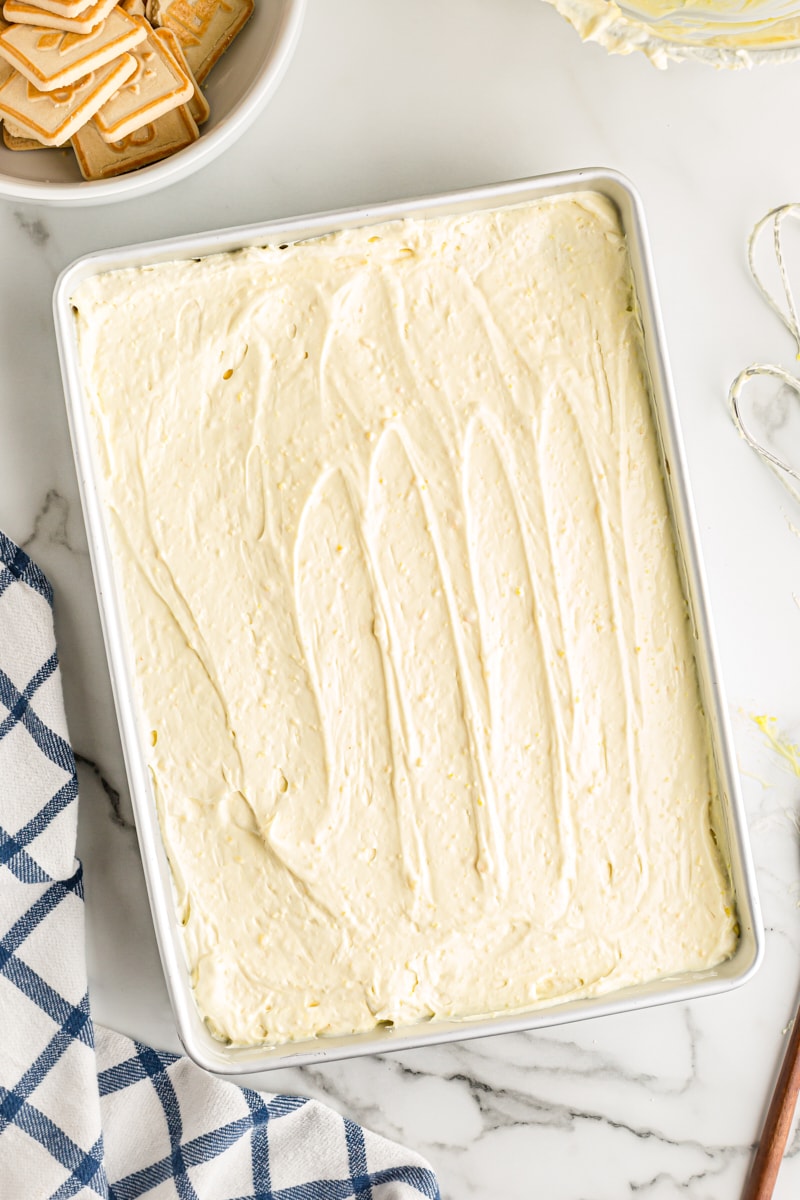 Finish assembling. Pour the pudding over the bananas, then top it with the remaining cookies. Place the assembled dessert in the refrigerator until you plan on serving it.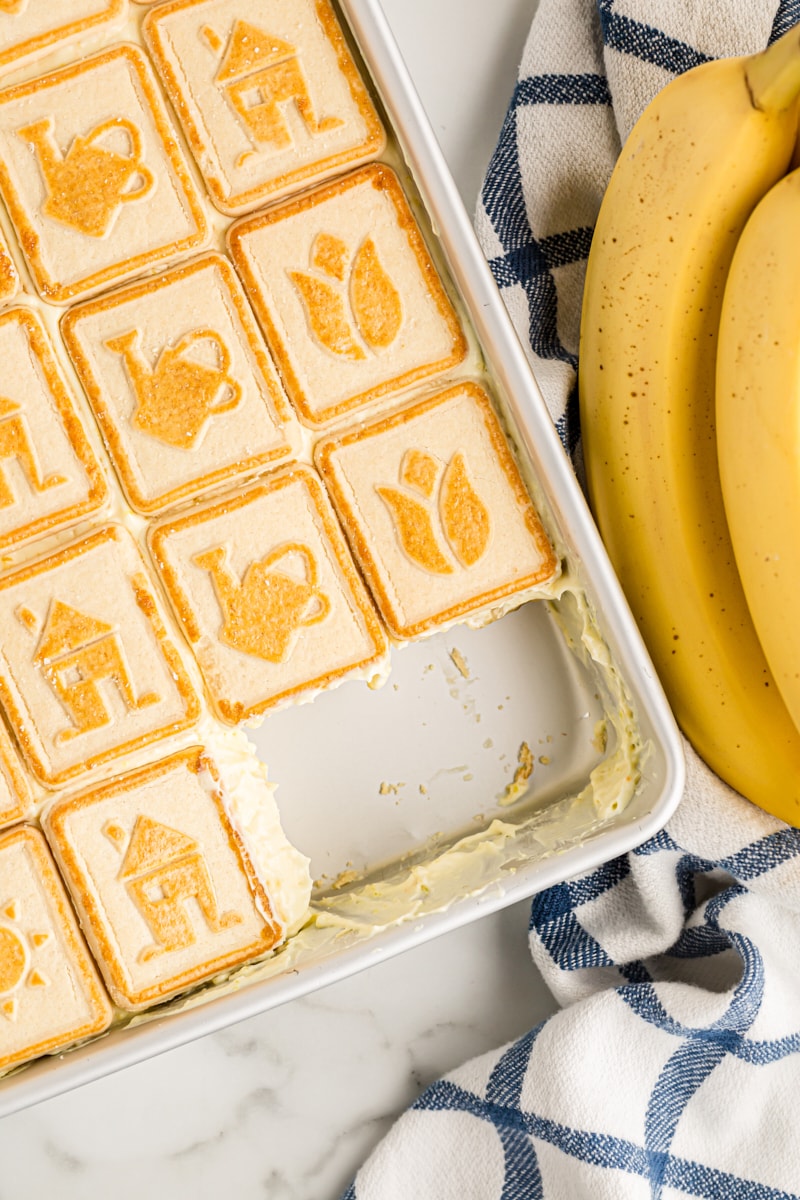 Tips for Success
These tips will help make sure your banana pudding turns out perfect—and help you make it your own!
Make sure it's set. I recommend chilling for at least an hour so the pudding layer has time to thicken before serving.
Use full-fat cream cheese. It has a better texture than reduced-fat versions, which means it will yield a creamier pudding.
Want more banana flavor? You can swap the French vanilla pudding for banana if you want your pudding extra banana-y.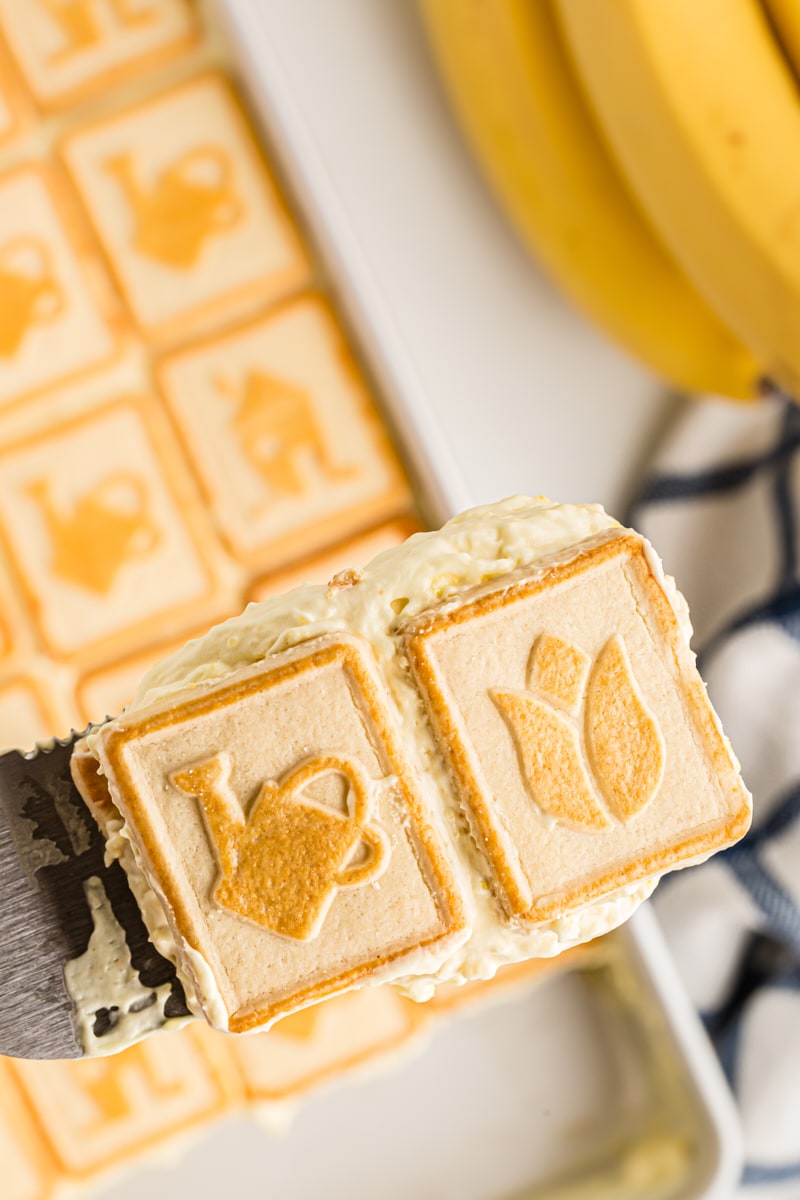 How to Store
Banana pudding will last for about 3 days in the refrigerator. Cover the dish with plastic wrap or foil or, if you have leftovers, transfer them to an airtight storage container.
Can This Recipe Be Frozen?
Don't attempt to freeze this pudding. Freezing and thawing will change the texture and result in a disappointing dessert. For a freezer-friendly dessert idea with bananas, try my Banana Oatmeal Crumb Cake.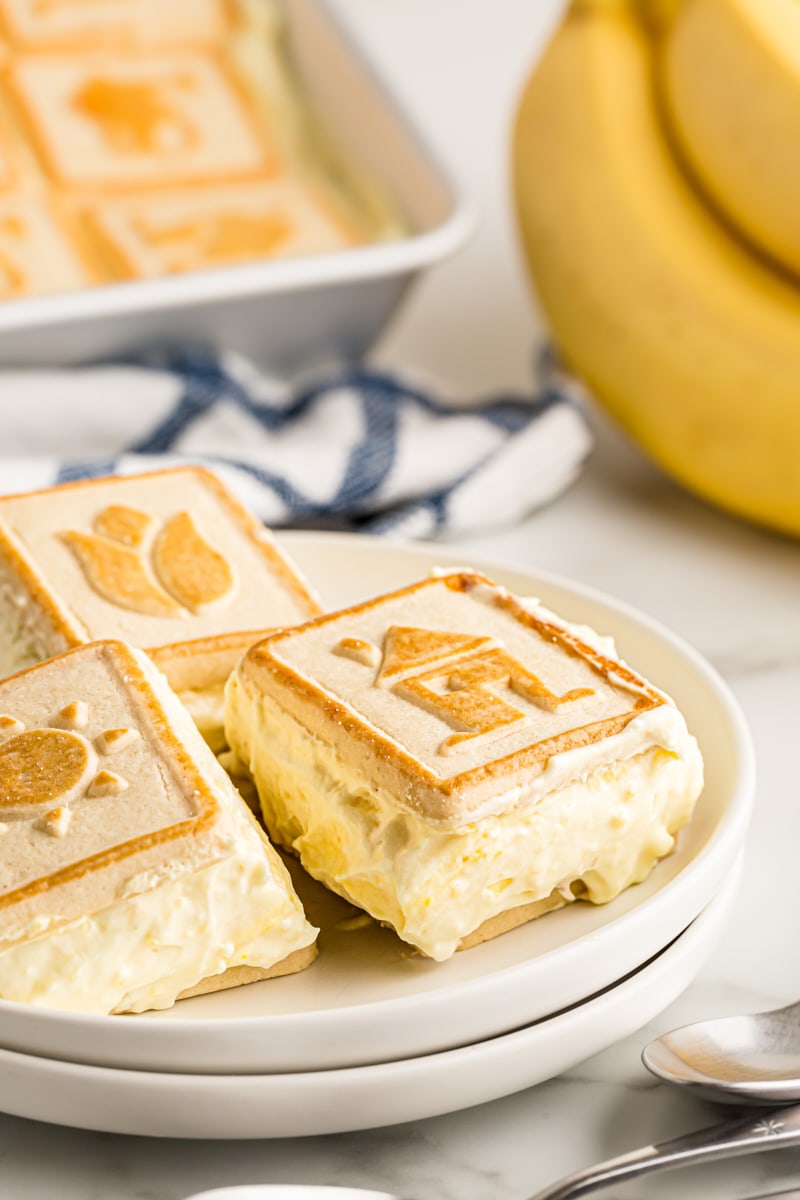 More Banana Desserts You'll Love