March 6, 2017
Easy Chocolate Torte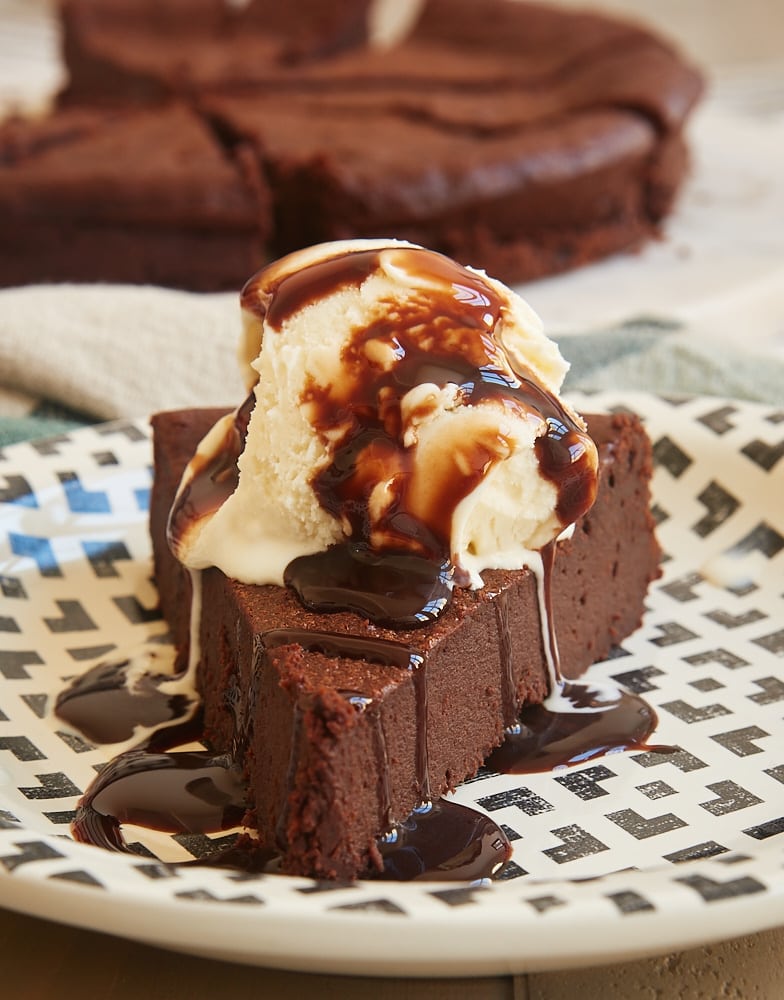 Every once in a while, I like to flip through my collection of my mother's old community cookbooks. I feel like those recipes are such tried and true favorites if they were deemed worthy of that kind of collection. I almost always find a little gem in those pages.
This wonderfully quick and easy Chocolate Torte is one of my favorite discoveries. It's not unlike other desserts I've made previously, but it was a good reminder to me that even the very simplest things can be amazingly delicious.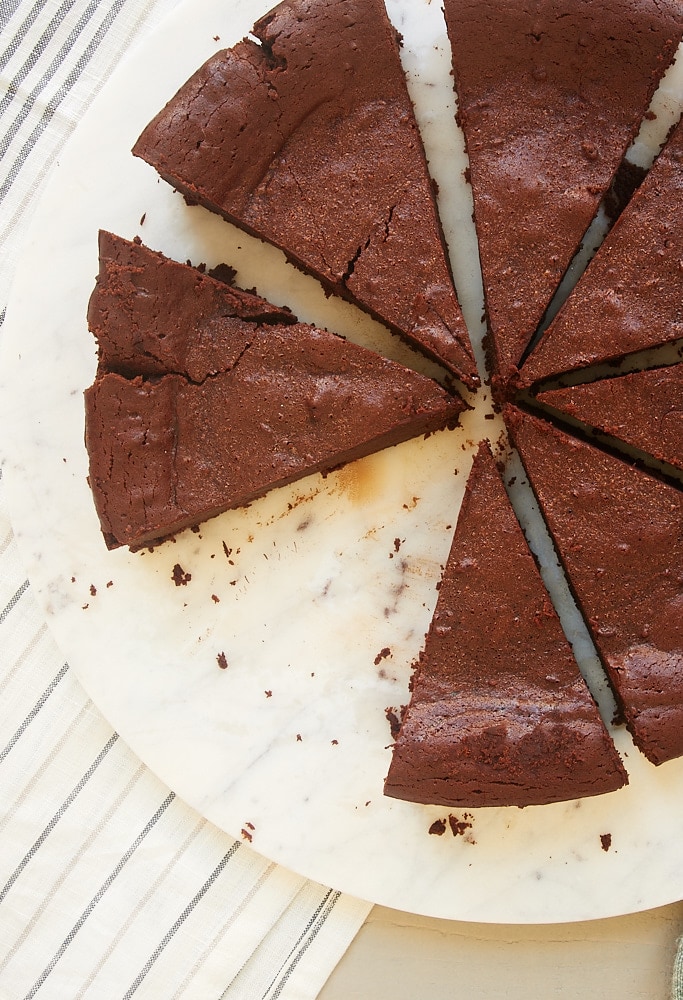 If you've ever had a flourless chocolate cake, then this one will feel familiar to you. Lots of chocolate. Lots of eggs. Lots and lots of big, bold, rich flavor. This version is not quite flourless, as there's just a bit of flour in the batter to help give the cake some structure. If you're looking for a flourless chocolate cake, try this traditional version or these individual cakes.
So, what makes this dessert so easy? Well, it's made with just a few ingredients that many of us have in our kitchens at any given time. It uses melted butter, so there's no waiting on butter to soften. And it bakes quickly. Flag this recipe as a go-to when you need a simple, crowd-pleasing dessert on short notice.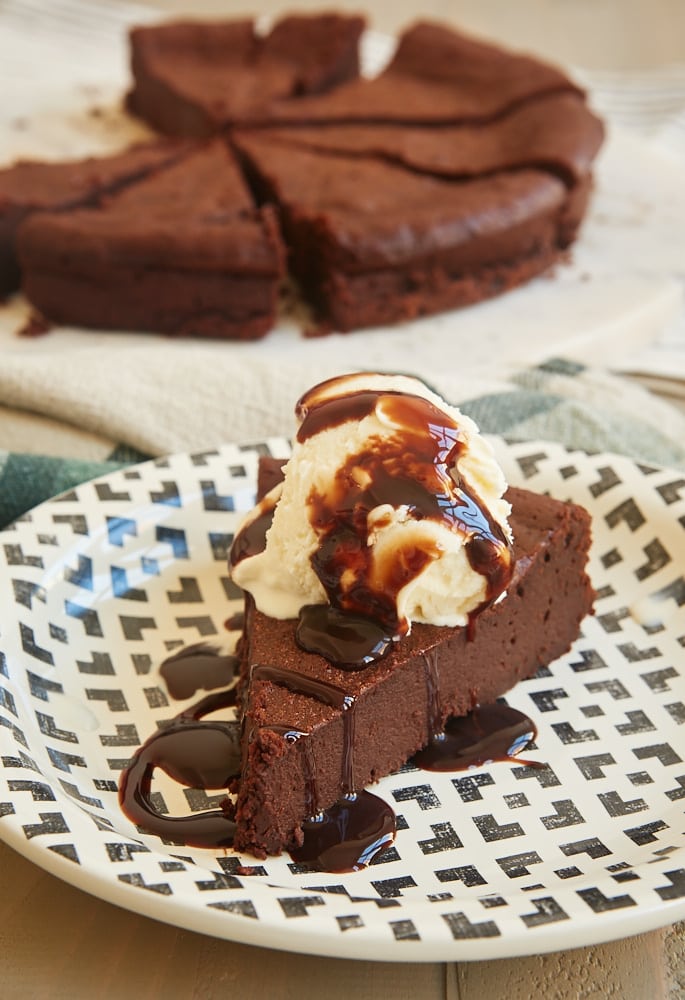 This cake can be a bit difficult to remove from the pan. You can use a cake pan or a springform pan. Either way, be sure to grease the pan well. A layer of parchment paper in the bottom will help, too. A springform pan is likely the simplest route, but I've used a cake pan as well. Either way, the cake will deflate as it cools. The top is very likely to crack a little bit as it's cooling, so don't be alarmed if that happens.
I made just a couple of adjustments to that old recipe I found, but it's still one of the quickest and easiest desserts you could ever hope to make. And the flavor is absolutely fantastic. If you're a big chocolate fan, then you will adore every rich, decadent bite.
Find more chocolate recipes in the Recipe Index.
This post contains affiliate links. If you make a purchase through one of the links, I'll receive a
small commission at no additional cost to you.
Easy Chocolate Torte
Yield: 8 to 10 servings
Prep Time: 10 minutes
Cook Time: 25 minutes
This Easy Chocolate Torte recipe is the perfect addition to the recipe boxes of all chocolate lovers. It is full of rich, fudgy, decadent, dark chocolate flavor!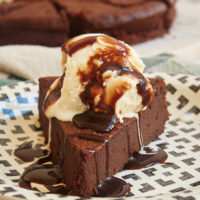 Ingredients:
8 ounces unsweetened chocolate, roughly chopped
1 cup unsalted butter
5 large eggs
1 cup granulated sugar
1 teaspoon vanilla extract
1 tablespoon all-purpose flour
1/4 teaspoon salt
ice cream and chocolate sauce, for serving
Directions:
Preheat oven to 400°F. Generously grease a 9-inch cake pan or springform pan.* Line the bottom of the pan with parchment paper.
Place chocolate and butter in a microwave-safe bowl. Heat in the microwave at half power in 30-second increments until the butter has melted and the chocolate melts when stirred. Stir until smooth. Set aside to cool slightly.
Using an electric mixer on medium speed, beat the sugar, eggs, and vanilla until thoroughly combined. Add the flour and salt, and mix until combined. Add the chocolate mixture, and mix until combined.
Transfer the batter to the prepared pan, and spread evenly.
Bake 20 to 25 minutes, or until a pick inserted into the center comes out with moist crumbs.
Cool completely before removing from the pan or serving. If using a springform pan, remove the sides of the pan after the cake has cooled. For either pan, flip the cooled cake onto a wire rack, remove the parchment paper, and then flip the cake again onto another rack or a serving plate.
If desired, serve cake slices with ice cream and chocolate sauce.
Notes:
*This cake can be a bit stubborn to remove from a cake pan. A springform pan will make serving easier.