Banana split cake is a creamy, cool no-bake dessert that tastes like everyone's favorite ice cream sundae! A graham cracker crust is layered with sweet whipped cream cheese, then finished with fluffy whipped cream, bananas, pineapple, and sundae toppings.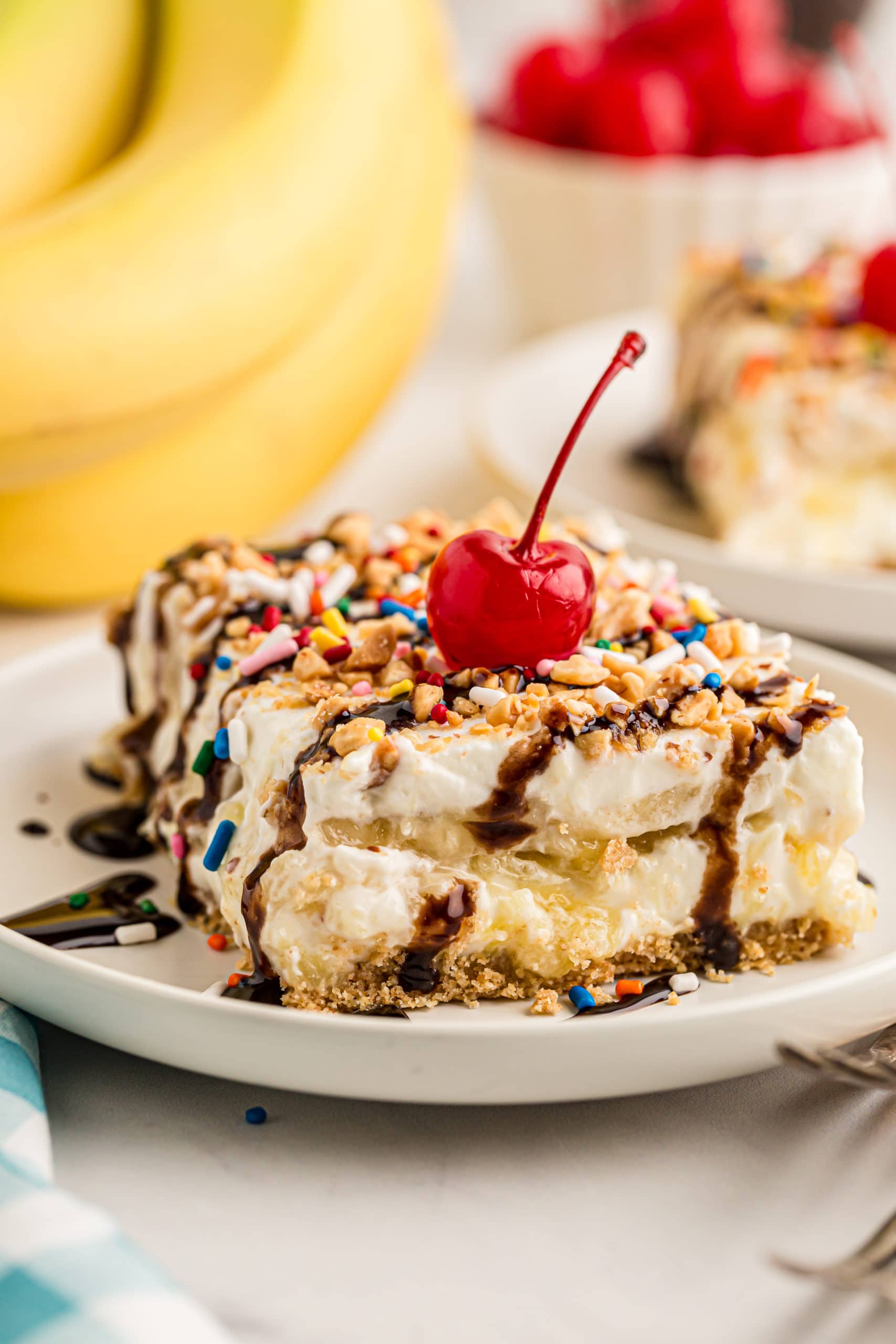 No-Bake Banana Split Cake
There are a lot of delicious things to bake in the summer—peach crumble bars made with sun-ripened fruit, moist blueberry bread studded with plump, juicy berries. But some of the best summer desserts aren't baked at all.
No, I'm not talking about ice cream. (Although my no-churn vanilla ice cream is a delight, too.) I'm talking about this no-bake banana split cake, which is an ode to a dessert my mother used to make. It's inspired by the classic summer treat, but it comes in a sliceable form perfect for serving a crowd.
This delicious banana split cake recipe starts with a layer of graham cracker crust—and you don't even need to bake that either. This is topped with a fluffy layer of whipped cream cheese, which is reminiscent of a no-bake cheesecake filling. Whipped cream and all your favorite banana split toppings finish things off.
It's the perfect dessert for a hot summer day because it doesn't require any baking and it's also served chilled. What could be better?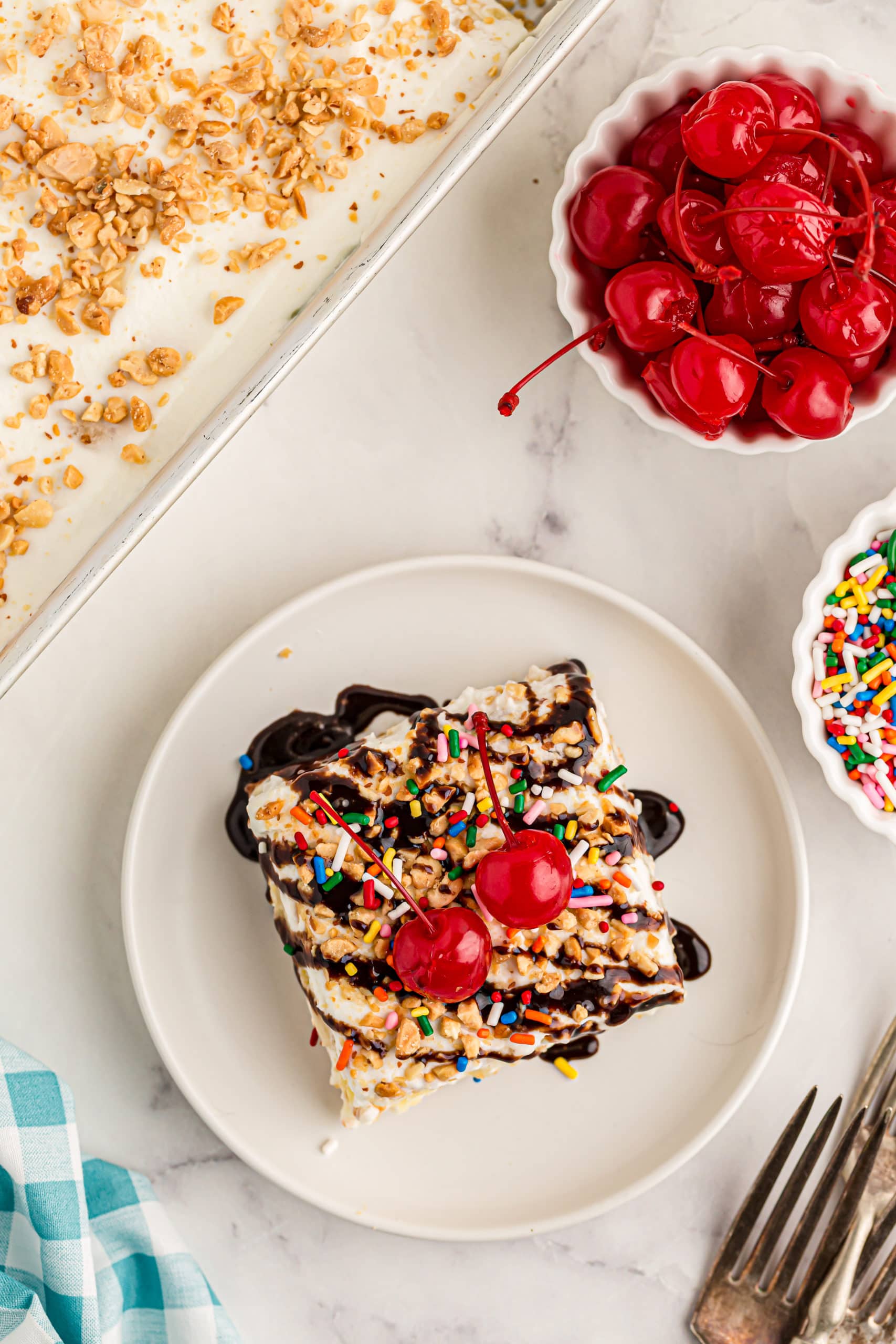 Why You'll Love This Banana Split Cake Recipe
Here's what makes this banana split cake a hit:
No-bake recipe. No need to turn on the oven! You don't even need to use the stovetop either. From start to finish, this is a no-bake dessert recipe.
Easy to make. Although there are 3 separate layers, each comes together with minimal effort.
A nostalgic flavor combination. Remember your first banana split? It's not something I order often as an adult, but it's impossible to eat this banana split cake without getting a hit of childhood nostalgia.
Great for any occasion. Banana split cake is always a winner for summer barbecues, potlucks, and family gatherings.
What You'll Need
Scroll down to the recipe card to find the ingredient quantities and recipe instructions.
Crust:
Filling:
Cream cheese – Don't use the whipped kind that comes in tubs; you'll need a block of cream cheese.
Vanilla extract – Store-bought or homemade vanilla extract.
Confectioners' sugar
Heavy cream
Topping:
Crushed pineapple – Drain this well to keep the topping from getting soggy.
Bananas – Make sure they're ripe, but not overly ripe. You don't want the bananas to be brown or mushy!
Heavy cream
Confectioners' sugar
Chopped nuts, maraschino cherries, etc. – All your favorite banana split toppings.
What Is the Best Way to Crush Graham Crackers into Crumbs?
The easiest way to crush graham crackers into crumbs is to place them in a plastic bag and use a rolling pin to crush them. Alternatively, you can grind the graham crackers in a food processor until they reach a fine consistency.
How to Make Banana Split Cake
Make sure you allow at least 4 hours for chilling before you serve your banana split cake.
Make the Crust: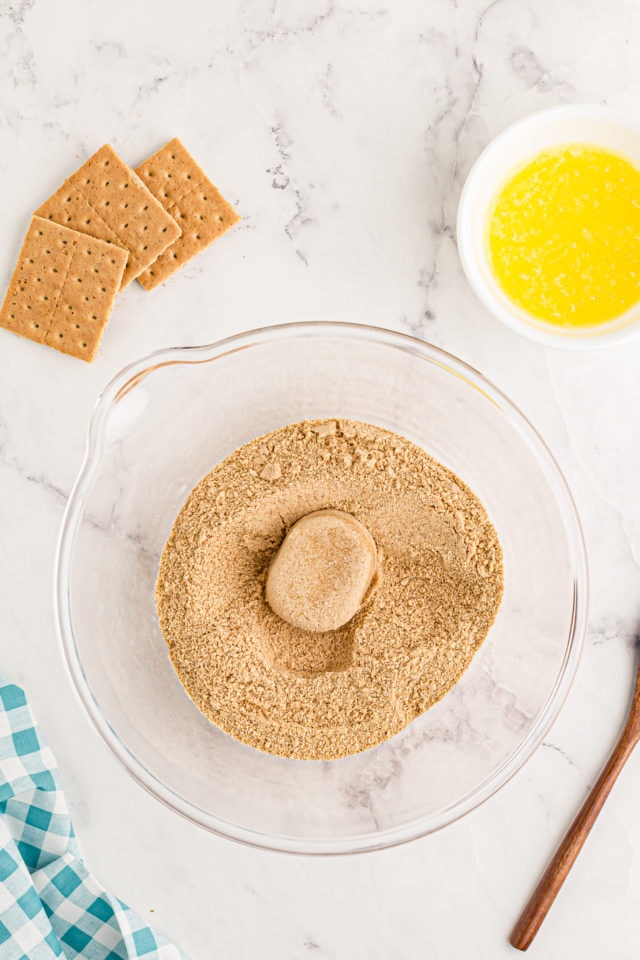 Combine the crust ingredients. Whisk together the graham cracker crumbs and sugar, then stir in the melted butter.
Form the crust. Press the crumb mixture into the bottom of a 9×13-inch pan and refrigerate the crust.
Make the Filling: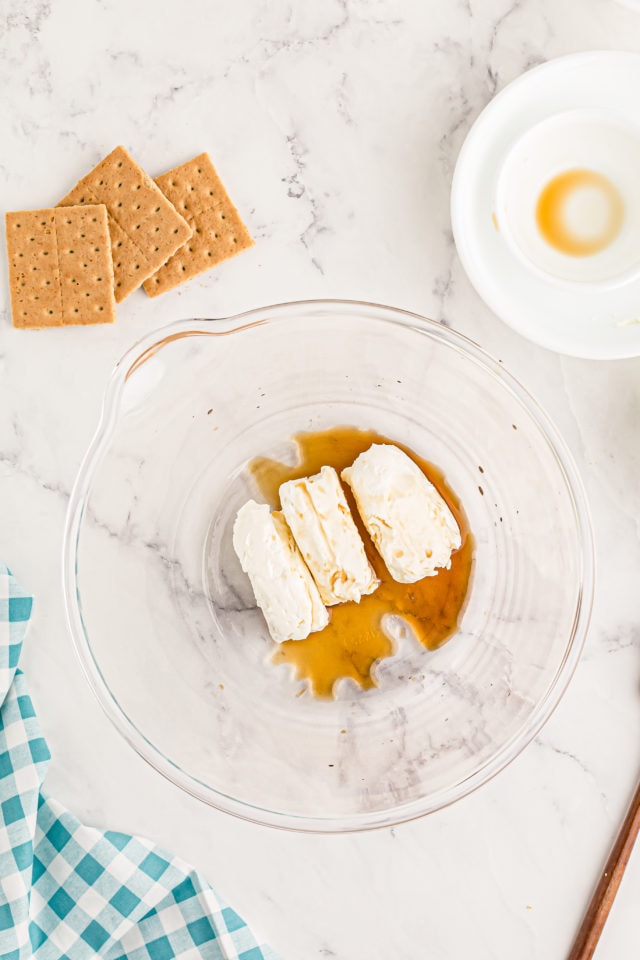 Beat the cream cheese. Use an electric hand mixer or stand mixer on medium speed to beat the cream cheese and vanilla, then beat in the confectioners' sugar.
Whip the cream. In a separate bowl, whip the cream until it forms firm peaks.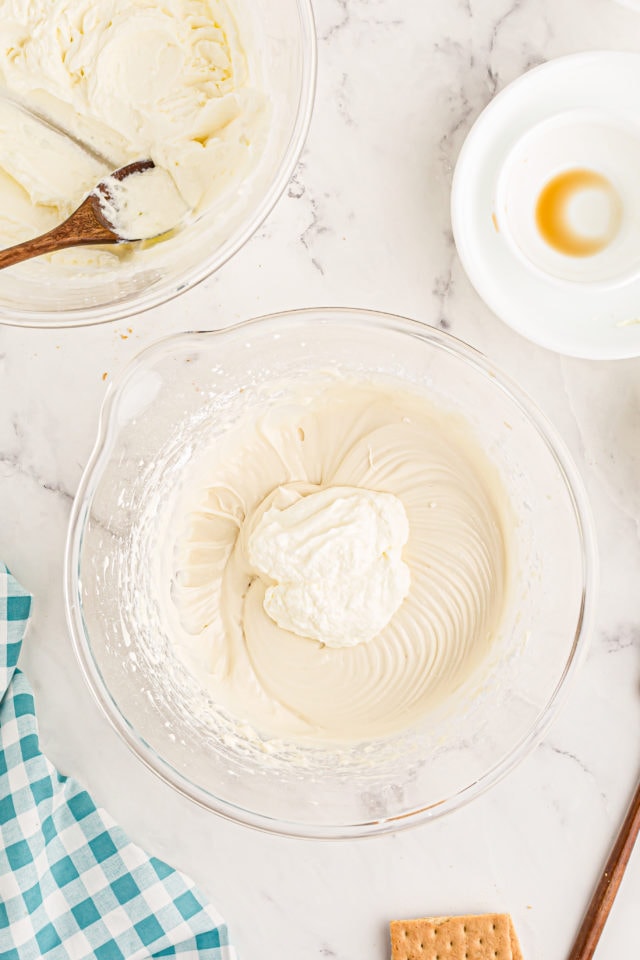 Combine. Spoon about a quarter of the whipped cream into the cream cheese mixture. Stir just until combined, then gently fold in the remaining whipped cream.
Layer. Spread the cream cheese filling over the crust in an even layer.
Make the Topping: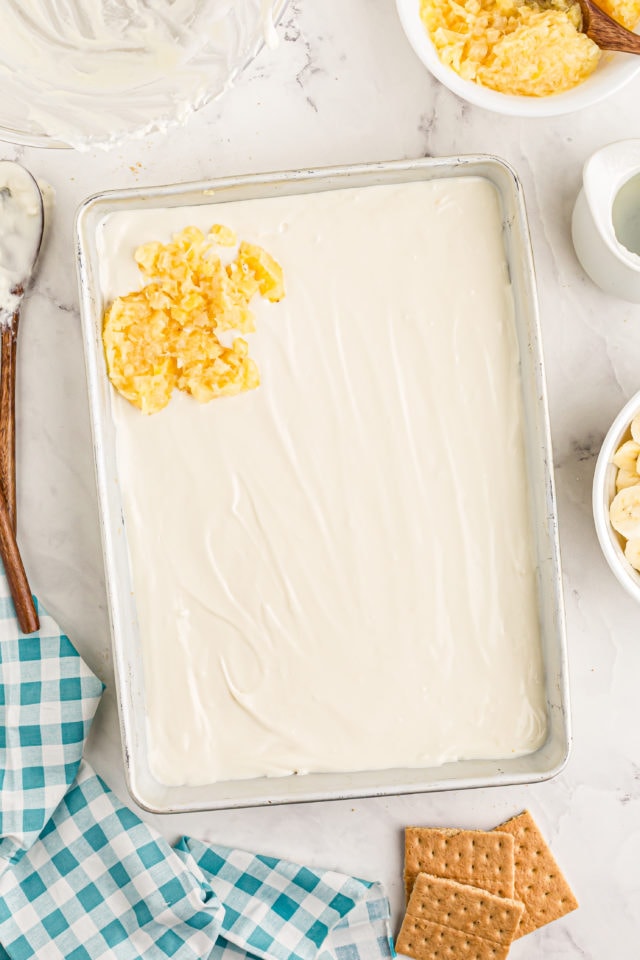 Add the fruit. Spread the crushed pineapple over the filling, then add the sliced bananas. Return the pan to the refrigerator.
Whip the cream. Use an electric mixer fitted with a whisk attachment to whip the cream. When it begins to thicken, sprinkle the confectioners' sugar over the cream, and continue whipping until firm peaks form.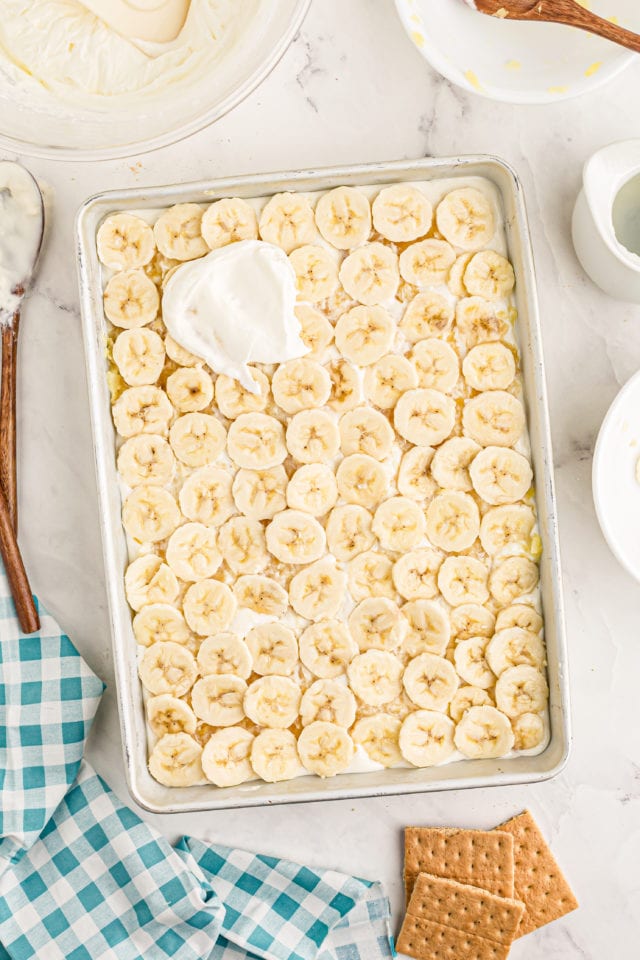 Layer. Spread the whipped cream over the fruit.
Chill. Refrigerate the banana split cake for at least 4 hours.
Finish. Garnish the cake with chopped nuts, maraschino cherries, and your favorite sundae toppings.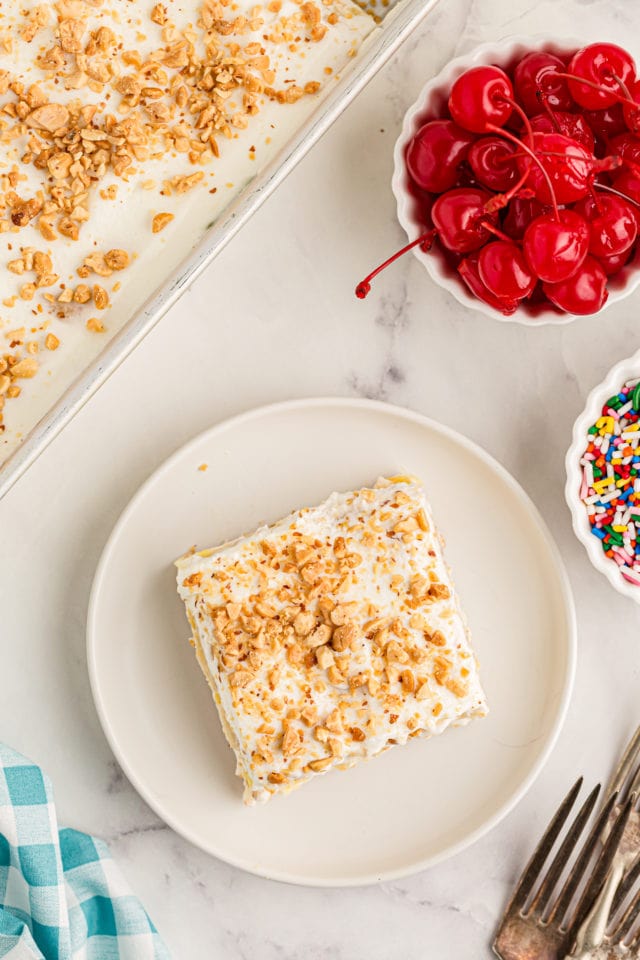 Tips for Success
These hints and tips will help make sure your banana split cake turns out perfect!
Soften the cream cheese. Without softening the cream cheese first, it won't mix evenly or smoothly into the filling. You don't want little lumps of unsweetened cream cheese in there!
Don't skip the chilling. Without enough time in the refrigerator, the cake won't slice and serve cleanly.
Garnish just before serving. Add the nuts, cherries, and other toppings right before you cut the cake, or let your guests garnish their own slices.
Looking for a shortcut? I highly recommend using homemade whipped cream, but you can use a store-bought whipped topping (like Cool Whip) if you like. When making that substitution, it's a good rule of thumb that cream essentially doubles in volume when whipped.
Variations
If you're looking to switch things up a bit, here are a few variations you can try:
Instead of a graham cracker crust, use chocolate wafers, Oreos, or vanilla wafers.
Swap the bananas for fresh sliced strawberries.
Drizzle chocolate, caramel, or strawberry sauce over the cake before serving.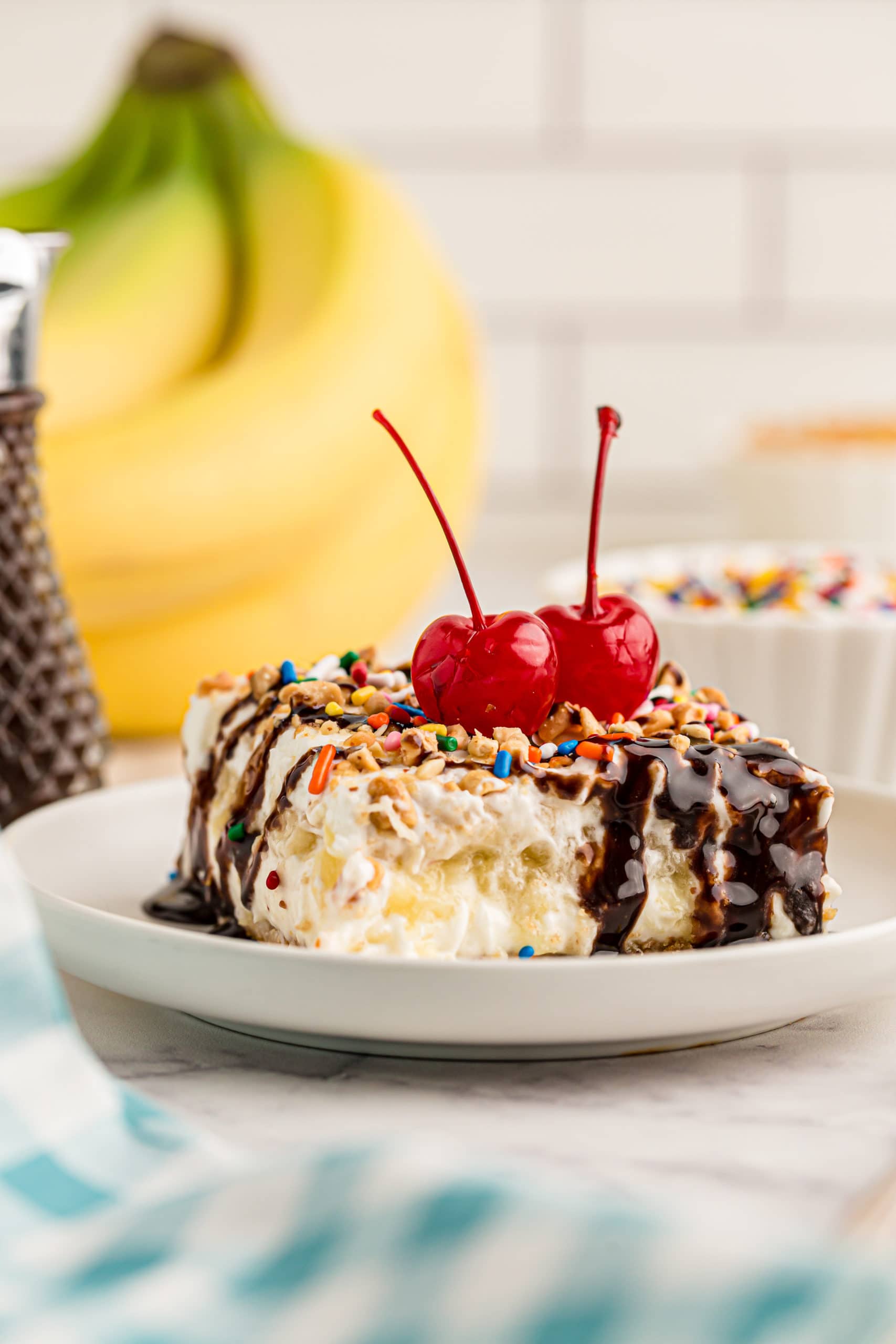 How to Store
Once your banana split cake is assembled and chilled, it can be stored in the refrigerator for up to 3 days, covered tightly. Store leftovers in an airtight container.
Can This Recipe Be Frozen?
Yes, banana split cake can be frozen. Simply wrap it tightly with plastic wrap and store in the freezer for up to 2 months. Let it thaw in the refrigerator before serving.
More No-Bake Dessert Ideas