January 19, 2017
Chocolate Hazelnut Oat Bars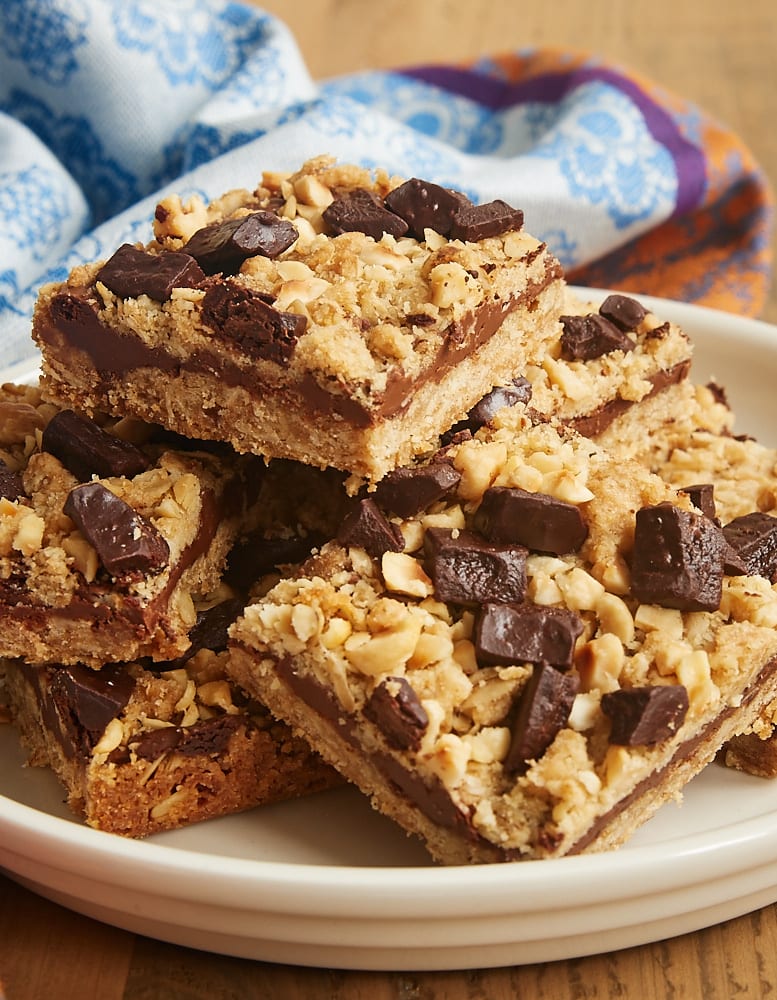 Layered bars are a great opportunity to bake something with lots of flavors that complement each other. These bars feature one of my favorite flavor pairs – chocolate and hazelnuts. Combine those with a simple oat crust, and these bars are absolutely delightful!
It all starts with an easy to make crust that's filled with plenty of oats. You won't need to get out your mixer for this recipe. You can use a fork or a pastry blender to mix the crust, but I usually just mix it with my fingers. It's all mixed in one bowl, too, making it even easier.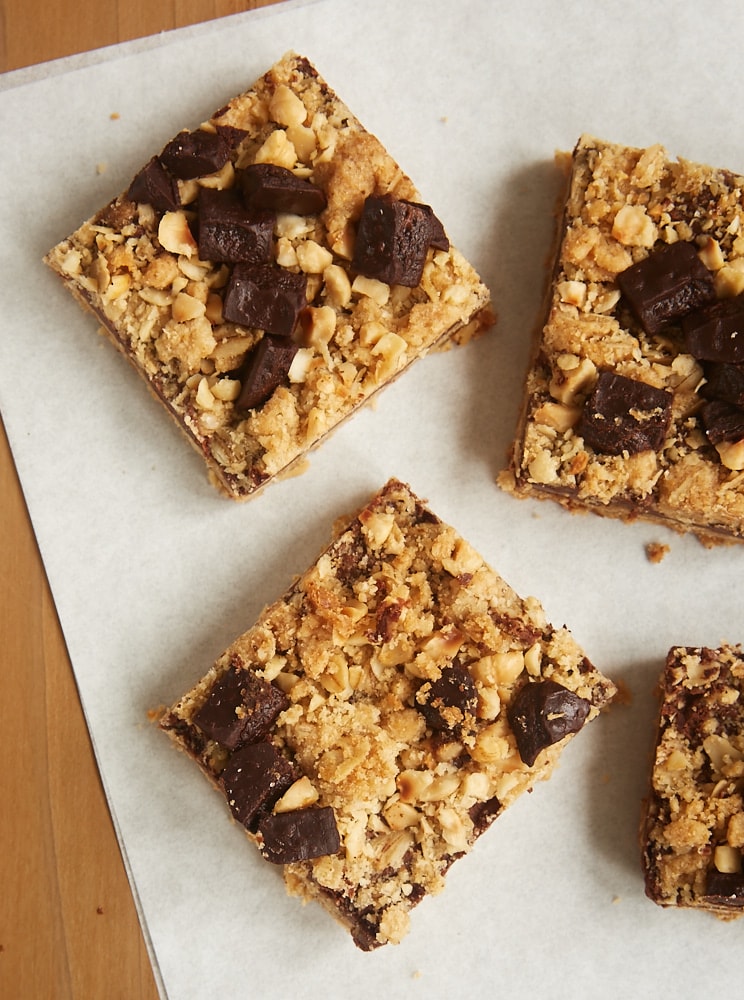 This type of crust is essentially a shortbread, so it will be pretty crumbly once it's mixed. If you pinch it together, it should hold together. If it doesn't, keep mixing for a few more minutes. You can add a little bit of water to help it hold together, but you shouldn't need to do that if you've mixed it sufficiently. Mixing with your fingers, even just for the last bit of mixing, will help. The warmth from your fingers will usually help get it to the finished stage.
After a quick stint in the oven, that crust is then covered in a layer of your favorite chocolate-hazelnut spread. If you like, you can heat the spread for about 10 seconds in the microwave to make it a bit more pourable. But, because it's spread on top of a freshly baked crust, it will probably warm up enough to make spreading it very easy.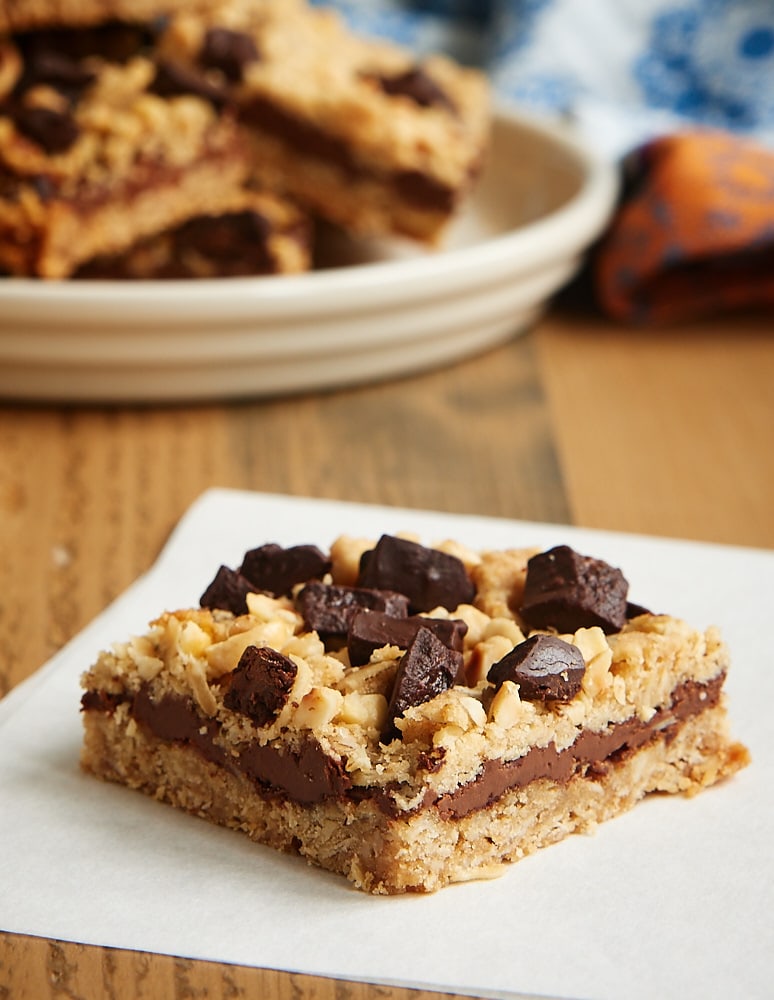 Next comes some of the reserved crust mixture to serve as a crumb topping. Then just sprinkle on some chocolate chips and chopped hazelnuts. A little more baking time, and you'll have lovely layered treat!
We simply adore these crispy, crunchy, flavor-packed bars! If you're a fan of chocolate and hazelnuts, then I think you'll love them, too.
Find more bar recipes in the Recipe Index.
This post contains affiliate links. If you make a purchase through one of the links, I'll receive a
small commission at no additional cost to you.
Chocolate Hazelnut Oat Bars
Yield: 24 2-inch bars
Prep Time:20 minutes
Cook Time:45 minutes
Chocolate and hazelnuts are a perfect pair in these crunchy, nutty, sweet Chocolate Hazelnut Oat Bars!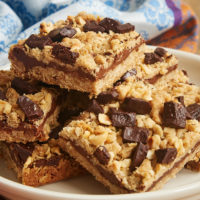 Ingredients:
2 cups all-purpose flour
1 & 1/2 cups old-fashioned rolled oats
1/2 cup granulated sugar
1/2 cup firmly packed light brown sugar
1/2 teaspoon baking powder
1/2 teaspoon salt
1 cup unsalted butter, cold and cut into 1/2-inch cubes
1 cup chocolate-hazelnut spread
1/2 cup semisweet chocolate chips
1/2 cup chopped hazelnuts
Directions:
Preheat oven to 350°F. Grease a 9″x 13″x 2″ baking pan.
Combine the flour, oats, sugar, brown sugar, baking powder, and salt. Add the butter, and mix with a pastry blender, a fork, or your fingers until thoroughly combined. The mixture will be crumbly but should hold together when pinched.
Reserve 1 cup of the oat mixture for the topping.
Press the remaining oat mixture into the bottom of the prepared pan.
Bake 15 minutes.
Top the partially baked crust with the chocolate-hazelnut spread. Spread evenly over the top of the crust.
Sprinkle the reserved oat mixture over the top of the chocolate-hazelnut spread.
Sprinkle the chocolate chips and hazelnuts over the top of the bars. Lightly press the toppings into the spread.
Bake 25 to 30 minutes, or until the edges are browned. Cool completely in the pan before cutting into bars.