June 18, 2015
Black and White Cookie Bars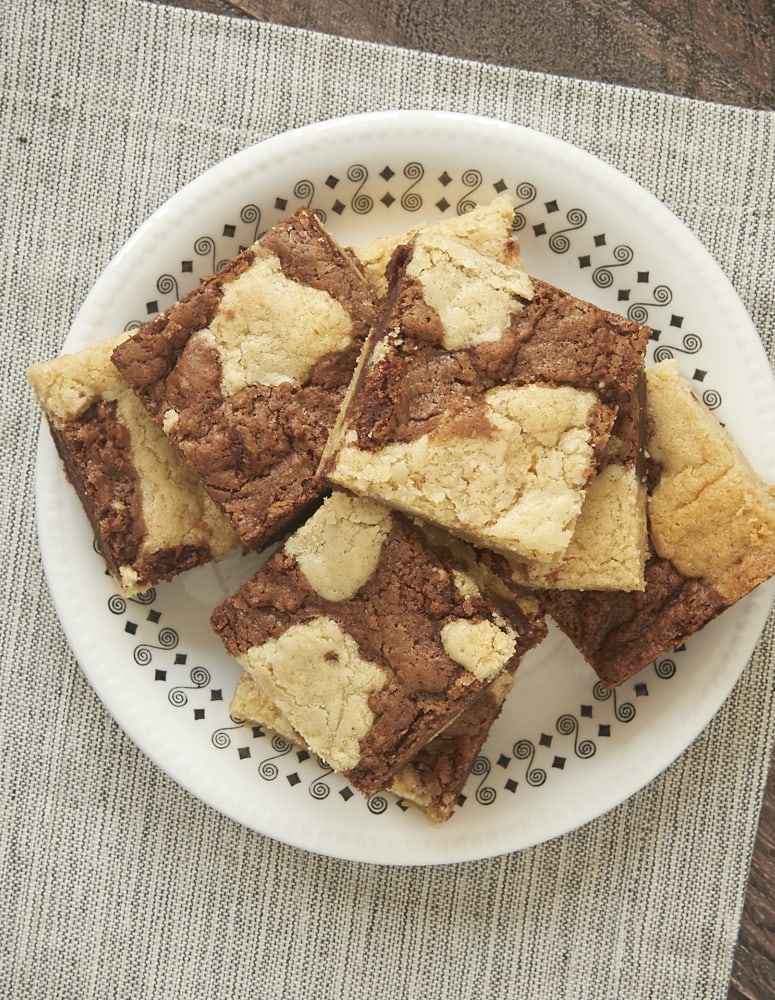 I bake a lot of cookies. One glance at BoB's recipe index will show you that pretty quickly. I bake so many, in fact, that I have a container in my kitchen dedicated solely to cookie scoops of various sizes. Occupational hazard, I suppose. But still… so many cookies.
I'm also a fan of simplicity. And I'm honest enough to admit that there are times when I want to bake cookies but really don't want to scoop them and then bake one pan after another. That's where these cookie bars come into the picture.
You will still get to enjoy freshly baked cookies, but you'll just need one pan. After they're baked, simply cut them into bars and enjoy. Think of them as lazy cookies, if you like. Or just pride yourself on your time-saving baking skills.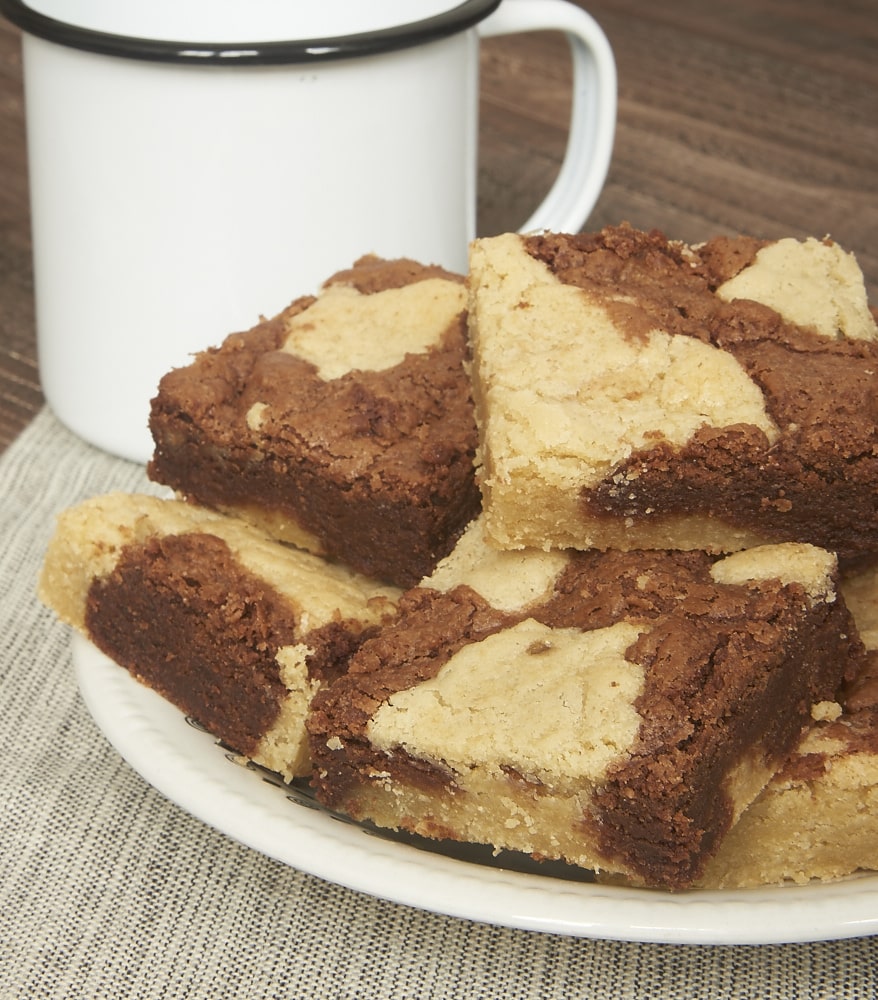 Now you may be looking at the two different colors in these bars and thinking that will complicate things. Oh, but it doesn't. Just mix up the vanilla dough and then drop about half of it into the baking pan. Add some chocolate to the remaining dough (in the same mixing bowl, even!) to transform it into chocolate cookie dough. Fill in the gaps in the pan with the chocolate dough, and there you go. Done.
You don't need to worry about spreading the dough smoothly on top. It will all spread and even out while it bakes. And if they have an uneven terrain when they're done, that just makes them all the more interesting.
Swirling is not my strong suit, but luckily these bars don't require any great swirling techniques. Instead, the two doughs are simply scooped into the baking pan. Make a repeating pattern if you like, or take my approach and just make a random pattern and see what happens. I like to use a random pattern so that some of the bars will be a bit more chocolate while others will be a bit more vanilla. Whatever pattern you make, I think you'll love this chocolate-vanilla flavor mash-up!
Black and White Cookie Bars
Yield: 24 2-inch bars
Prep Time:25 minutes
Cook Time:35 minutes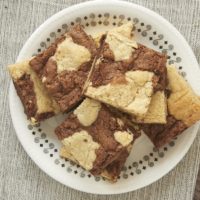 Ingredients:
3 cups all-purpose flour
1 teaspoon baking powder
1 teaspoon salt
1 & 1/4 cups unsalted butter, softened
1 & 1/2 cups granulated sugar
3/4 cup firmly packed light brown sugar
2 large eggs
2 teaspoons vanilla extract
4 ounces bittersweet chocolate, melted and slightly cooled
Directions:
Preheat oven to 350°. Grease a 9"x 13" baking pan.
Whisk together flour, baking powder, and salt. Set aside.
Using an electric mixer on medium speed, beat the butter, sugar, and brown sugar until light and fluffy. Add the eggs, one at a time, mixing well after each addition. Mix in the vanilla.
Reduce mixer speed to low. Gradually add the flour mixture, mixing just until combined.
Drop slightly more than half the batter by tablespoonfuls into the prepared pan, leaving gaps between the portions.
Add the cooled chocolate to the remaining dough, and mix just until combined. Drop the chocolate dough by tablespoonfuls in between the vanilla dough in the pan. The dough will spread as it bakes, but you can gently spread and smooth the doughs if you like.
Bake 30 to 35 minutes, or until the edges are browned and a pick inserted into the center comes out clean.
Cool in the pan for at least 15 minutes before cutting into bars.
This recipe was originally developed for Clabber Girl, where I am a paid contributor.