February 1, 2016
Lemon Pound Cake Bars
This easy lemon pound cake recipe keeps things simple by baking in a 9×13 pan. These Lemon Pound Cake Bars make preparation, serving, and transporting a breeze!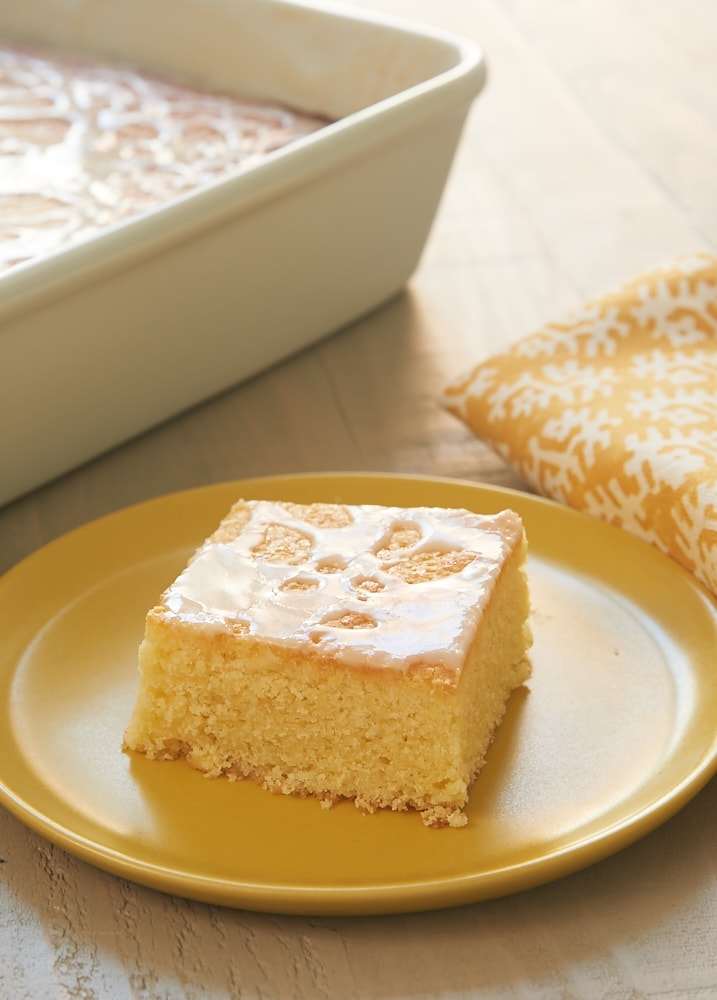 Lemon Pound Cake Bars may seem like a confusing title for a recipe, but I assure you it's accurate. They are, indeed, a little bit cake and a little bit bar. You can easily slice them up and serve on little plates for a lovely dessert. Or you can just grab one and eat it out of hand when you're craving a sweet snack.
The cake is a bit less dense than a traditional pound cake, yet it's still solid enough to work as a handheld treat. See? It's cake and bar at the same time. The best of both worlds!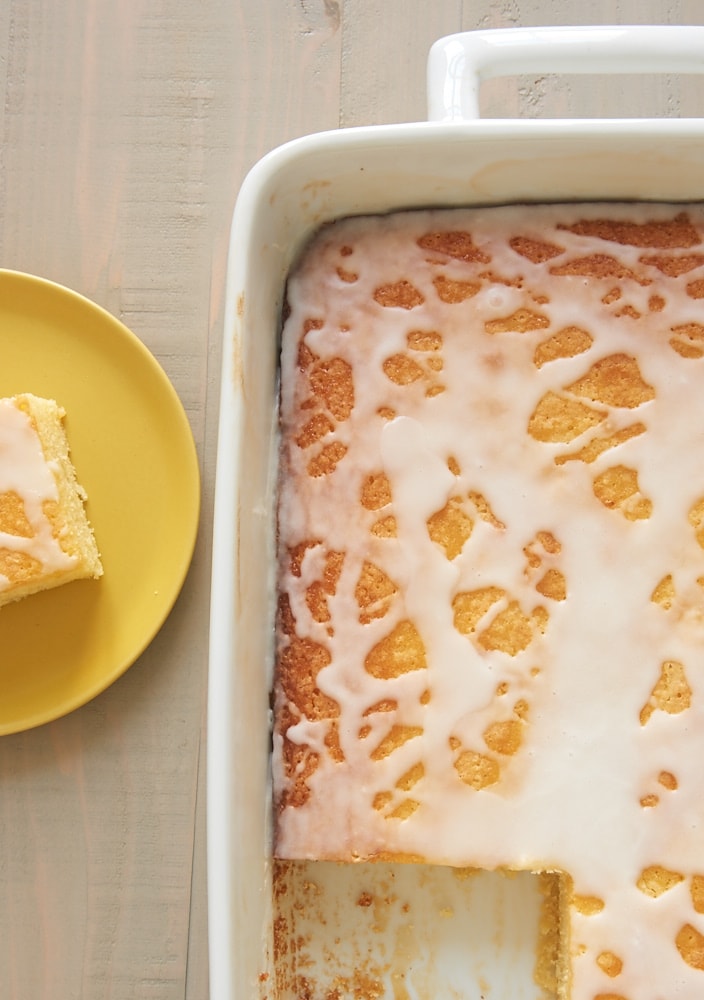 There is plenty of lemon flavor here, with the juice and zest of two lemons getting mixed into the batter. If you're a big, big fan of lemon, go ahead and use lemon juice instead of milk in the glaze. As much as I adore all things lemon, I prefer the simpler, non-lemon glaze. The sweetness of the glaze is a wonderful complement to the big lemon flavor of the cake.
Besides the lovely lemon flavor, I really love that these bars are so simple to make. You'll just need a saucepan and a little bit of stirring to get the cake ready to bake. Leave the electric mixer unplugged for this one. A mixing spoon is all you'll need. This one is officially on my list of quick-and-easy, last-minute desserts!
Find more cake recipes in the Recipe Index.
Why not bake another great pound cake recipe?
Bake or Break is a participant in the Amazon Services LLC Associates Program, an affiliate advertising program designed to provide a means for us to earn fees by linking to Amazon.com and affiliated sites.
Lemon Pound Cake Bars
Yield: 24 large or 48 small bars
Prep Time:25 minutes
Cook Time:45 minutes
Lemon Pound Cake Bars turn pound cake into an say-to-serve bar form. Such a great easy lemon pound cake recipe!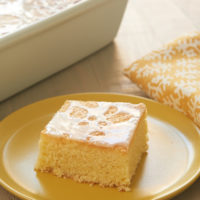 Ingredients:
For the bars
2 cups (240g) all-purpose flour
2 teaspoons baking powder
1/2 teaspoon salt
1 cup (226g) unsalted butter
2 cups (400g) granulated sugar
4 large eggs, lightly beaten
zest of 2 medium lemons (about 2 tablespoons)
juice of 2 medium lemons (about 1/3 cup)
For the glaze:
1 cup (110g) confectioners' sugar, sifted
2 to 3 tablespoons milk
Directions:
To make the bars:
Preheat oven to 375°F. Grease a 9″x 13″ baking pan.
Whisk together the flour, baking powder, and salt. Set aside.
Place the butter in a large saucepan.* Melt over medium heat. Remove from heat.
Stir in the sugar, followed by the eggs, mixing well after each addition. Then add the flour mixture, and finally the zest and juice, mixing just until combined.
Transfer the batter to the prepared pan, and spread it evenly.
Bake 35 to 45 minutes, or until the top is golden brown and a pick inserted into the center comes out clean. Cool in the pan on a wire rack.
To make the glaze:
In a small bowl, combine the confectioners' sugar and 2 tablespoons of milk until smooth. If necessary, add more milk (about a teaspoonful at at time) until the glaze is the desired consistency. Drizzle the glaze over the bars.
Allow the bars to cool completely before cutting into bars.
Notes:
*A 3-quart saucepan works well for the volume of the batter. I have this one.