Cookies and Cream Blondies combine Oreo cookies with a simple blondie for a crowd-pleasing treat!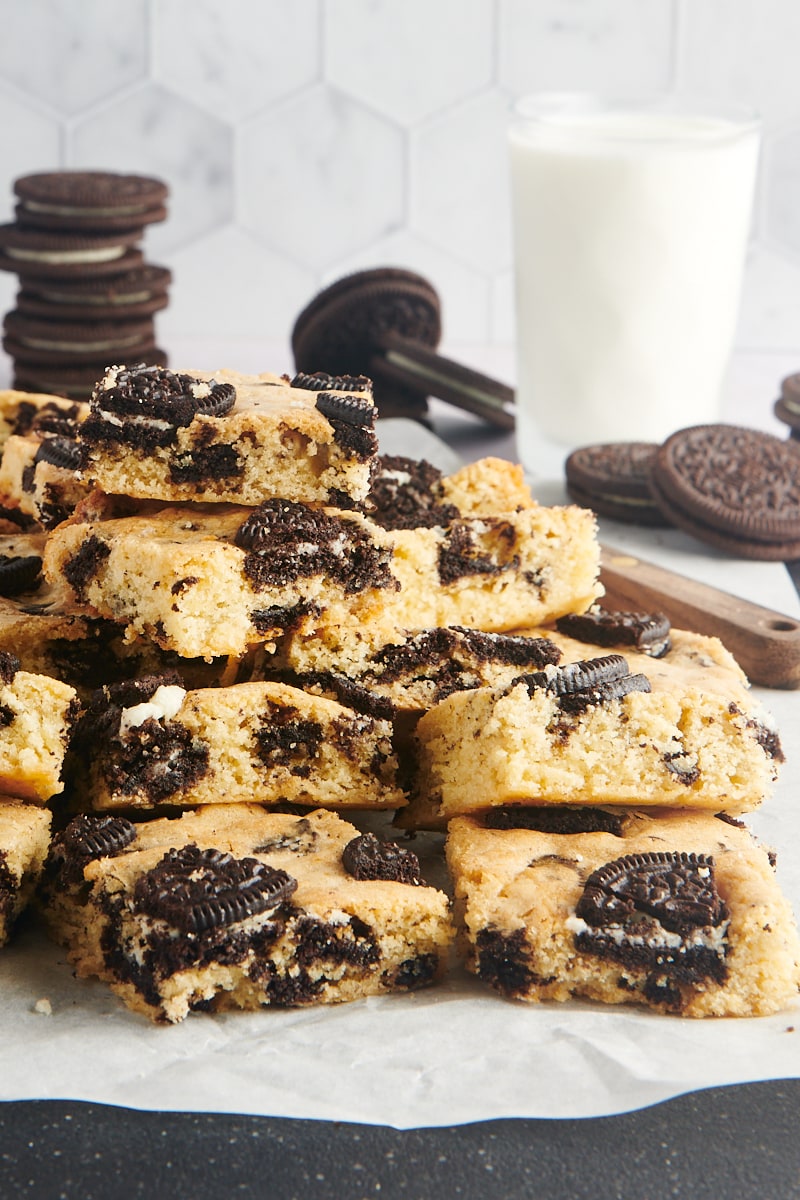 Cookies and Cream Oreo Blondies
As much as I love to bake from scratch, it's not surprising that I don't get very excited about store-bought baked goods. While that's definitely the case with me, I can't resist adding Oreo cookies to my baking!
There's something about the flavor and crunch of Oreos that makes them such a great addition to so many baking recipes. That can be as simple as an Oreo crust or something more elaborate with a bevy of cookies and cream desserts.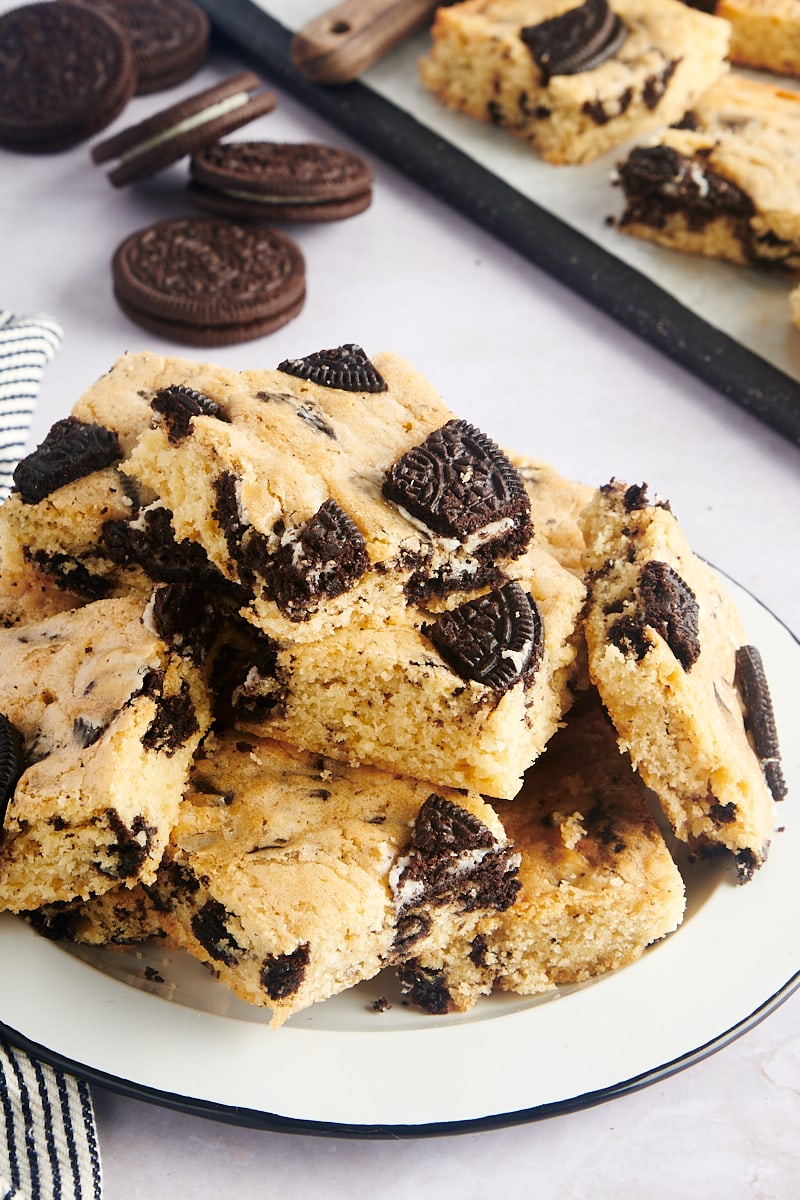 In the case of these Cookies and Cream Blondies, those cookies are added to a simple blondie to add little bursts of chocolate flavor and a nice crunch. The bars themselves are simple, brown sugar blondies with a subtle sweetness and a bit of chewiness. That makes the bits of cookie really stand out when you take a bite!
This is just the kind of easy recipe to whip up for sharing with family and friends. And you'll get a big pan full of these bars, so you'll have plenty while saving a few for yourself!
Can't get enough cookies and cream desserts? Try my Cookies and Cream Cheesecake Cookies, Fudgy Cookies and Cream Brownies, and Cookies and Cream Cheesecakes next!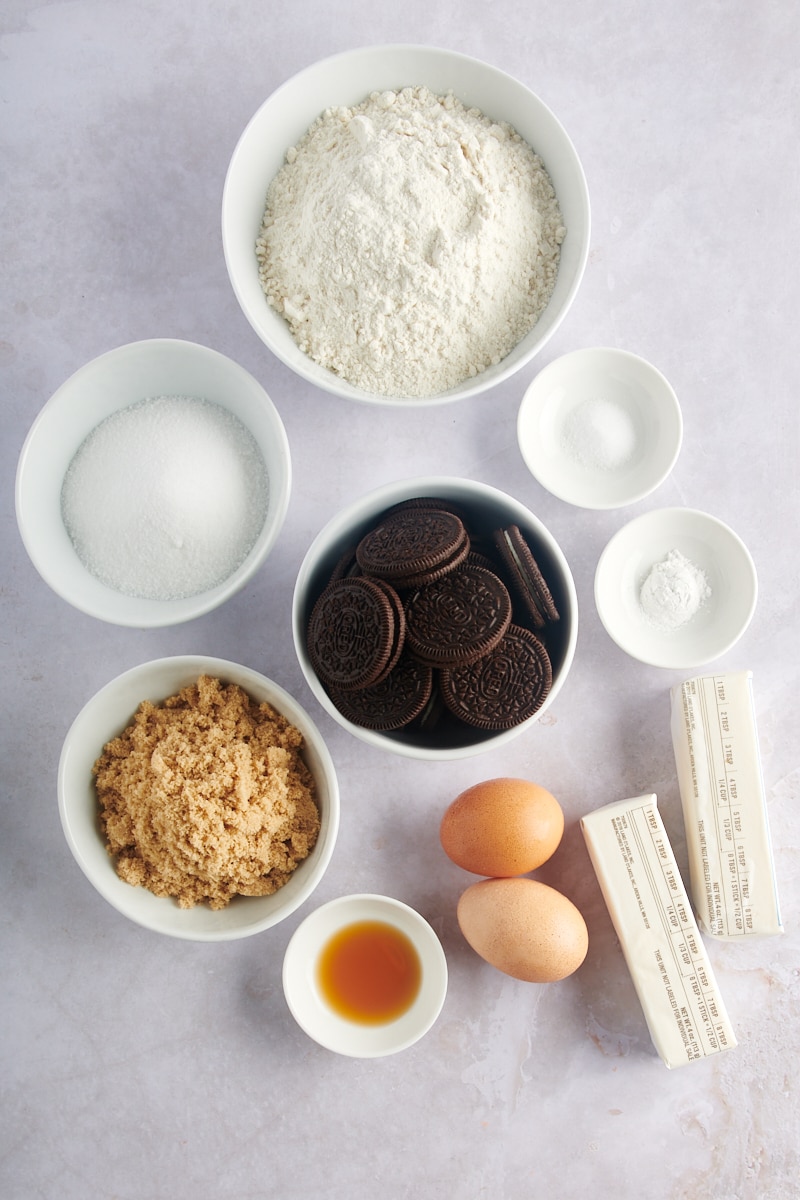 What You'll Need
If you've got a bag of Oreos in your pantry, then you've likely got everything else you need to make a batch of these blondies. Be sure to scroll down to the recipe card at the bottom of this post for ingredient quantities and the full instructions.
All-purpose flour – Measure by weight or use the spoon and sweep method. Learn more: How to Measure Flour
Baking powder
Salt
Unsalted butter
Brown sugar – You'll want to use light brown sugar here, as the stronger flavor of dark brown sugar is likely to overpower the Oreos.
Granulated sugar – I like using equal amounts of regular sugar and brown sugar here to make them a lighter color and also to make the Oreo flavor stand out more.
Eggs – Set the eggs out before you begin baking so they can come to room temperature. I recommend baking with large eggs.
Vanilla extract
Oreos – While this is the most common brand, another brand will work just fine. You'll need about 18 cookies total if you want to add some to the top before baking in addition to the ones stirred into the batter. Roughly chop the cookies, saving some larger pieces for the top.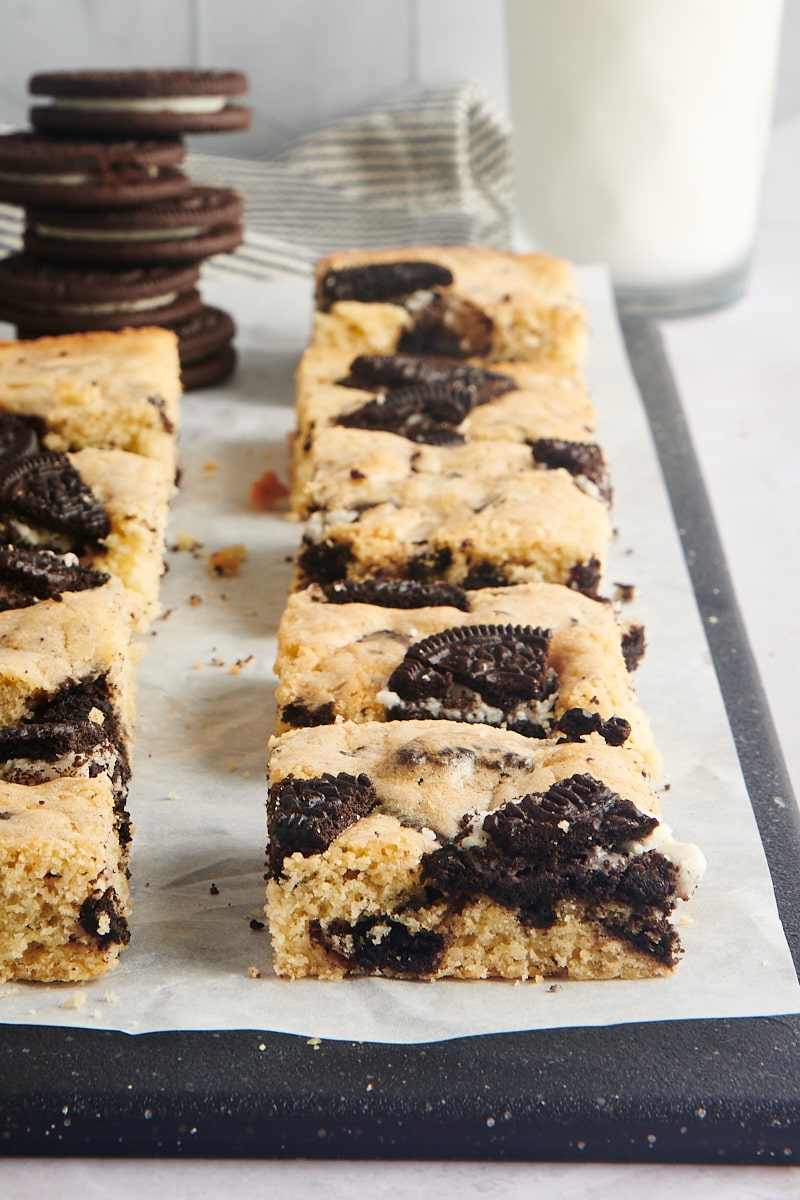 How to Make Cookies and Cream Blondies
Ready to make a batch of these tasty bars? Let's go!
Prepare for baking. Heat the oven to 350°F. Grease a 9- by 13-inch baking pan, line it with parchment paper, and grease the paper. (I recommend a cooking spray with flour, like Baker's Joy or Pam Baking.) You can skip the lining if you want, but it does make removing the bars from the pan much easier.
Combine the dry ingredients. Whisk together the flour, baking powder, and salt.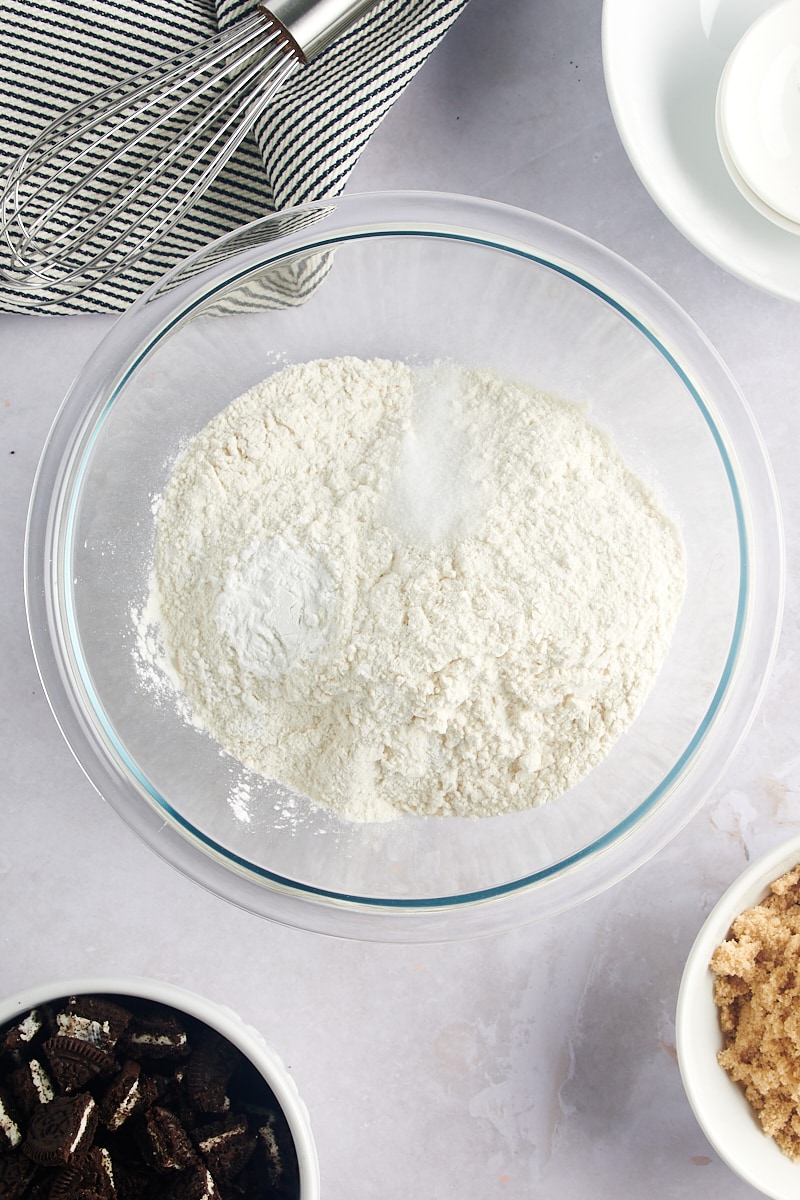 Combine the wet ingredients. In a large bowl, combine the melted butter, brown sugar, sugar, eggs, and vanilla until thoroughly combined. You can use an electric mixer or mix by hand.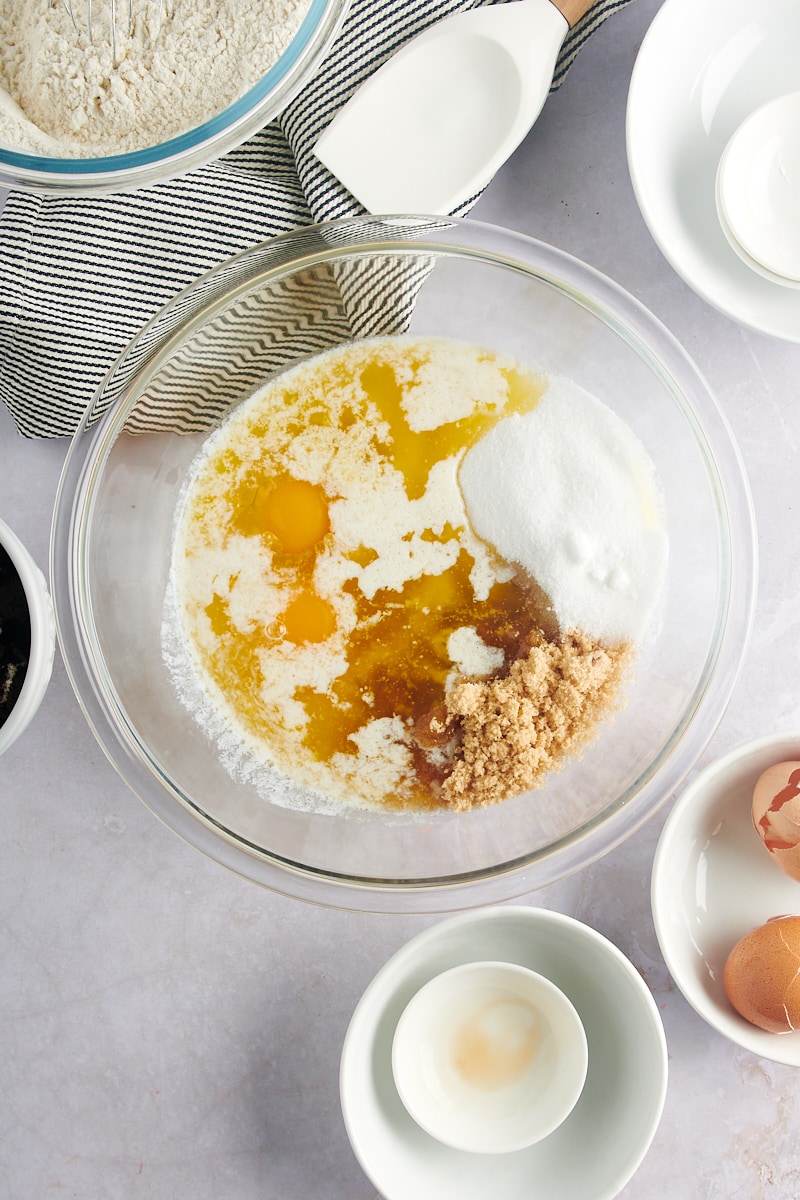 Add the dry ingredients to the wet ingredients. Gradually add the flour mixture to the butter mixture, mixing until a few streaks of flour remain. Fold in the cookie pieces.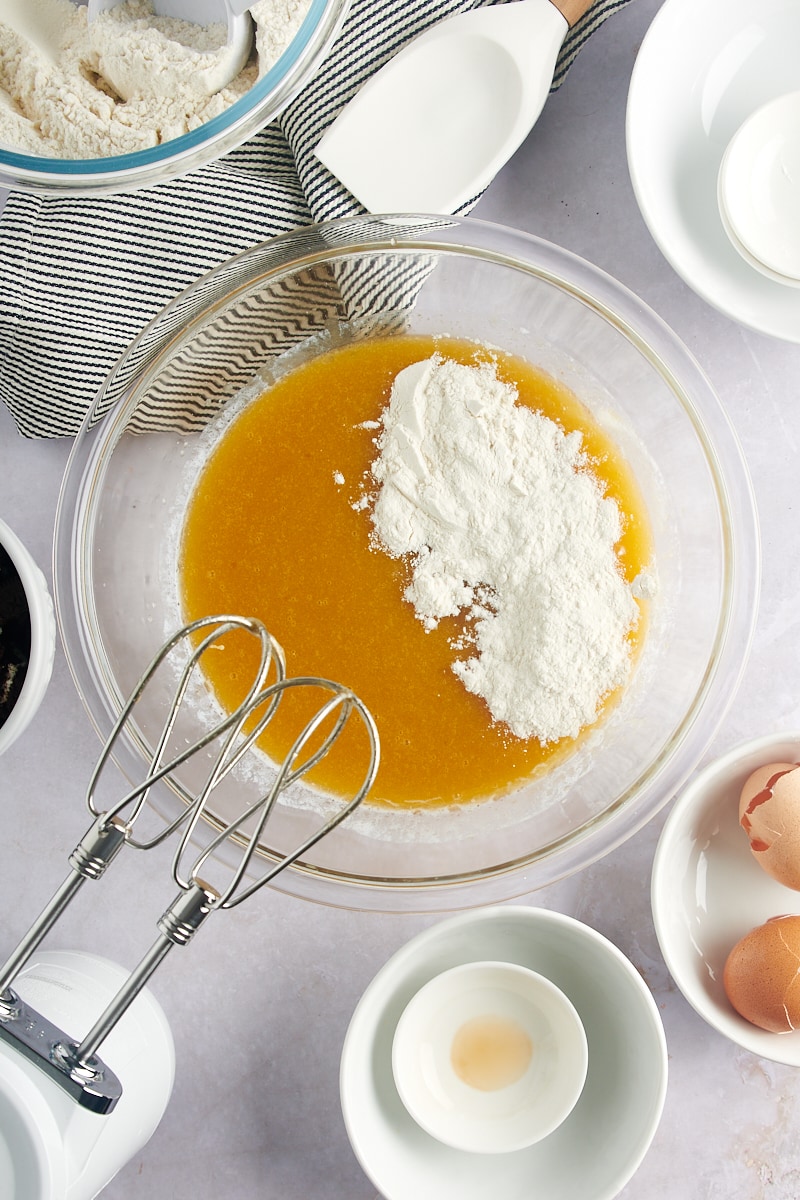 Spread the batter in the pan. Transfer the batter to the prepared pan, and spread it evenly. Sprinkle more cookie pieces on top if you like.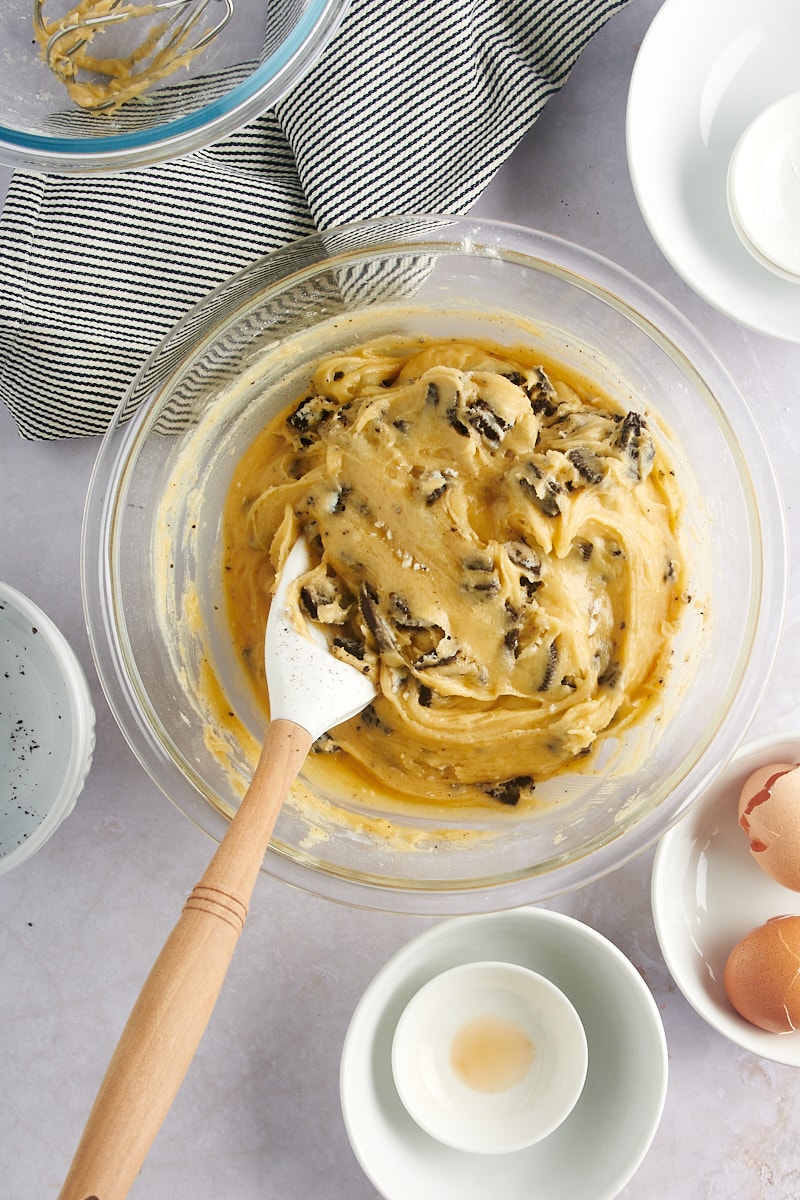 Bake. Place the pan in the heated oven, and bake 30 to 35 minutes. A pick inserted into the center should come out clean.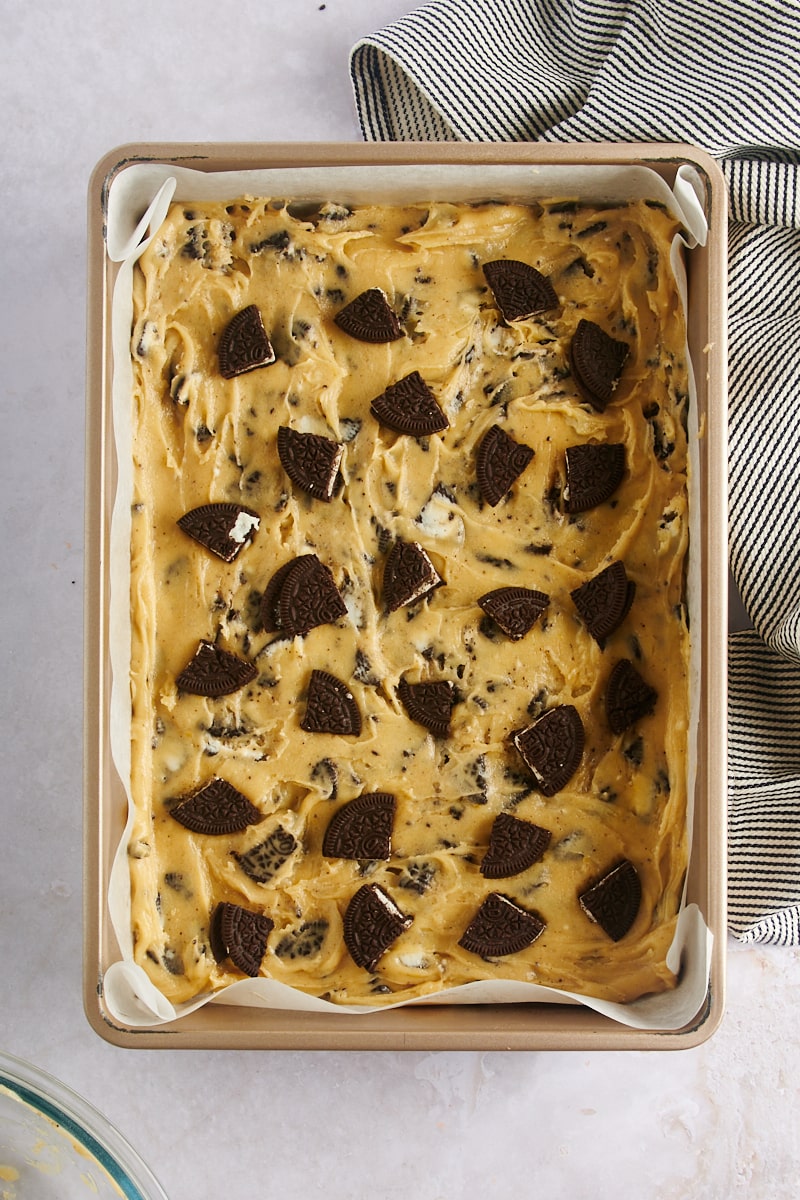 Cool. Place the pan on a wire rack and allow the bars to cool completely before cutting into bars.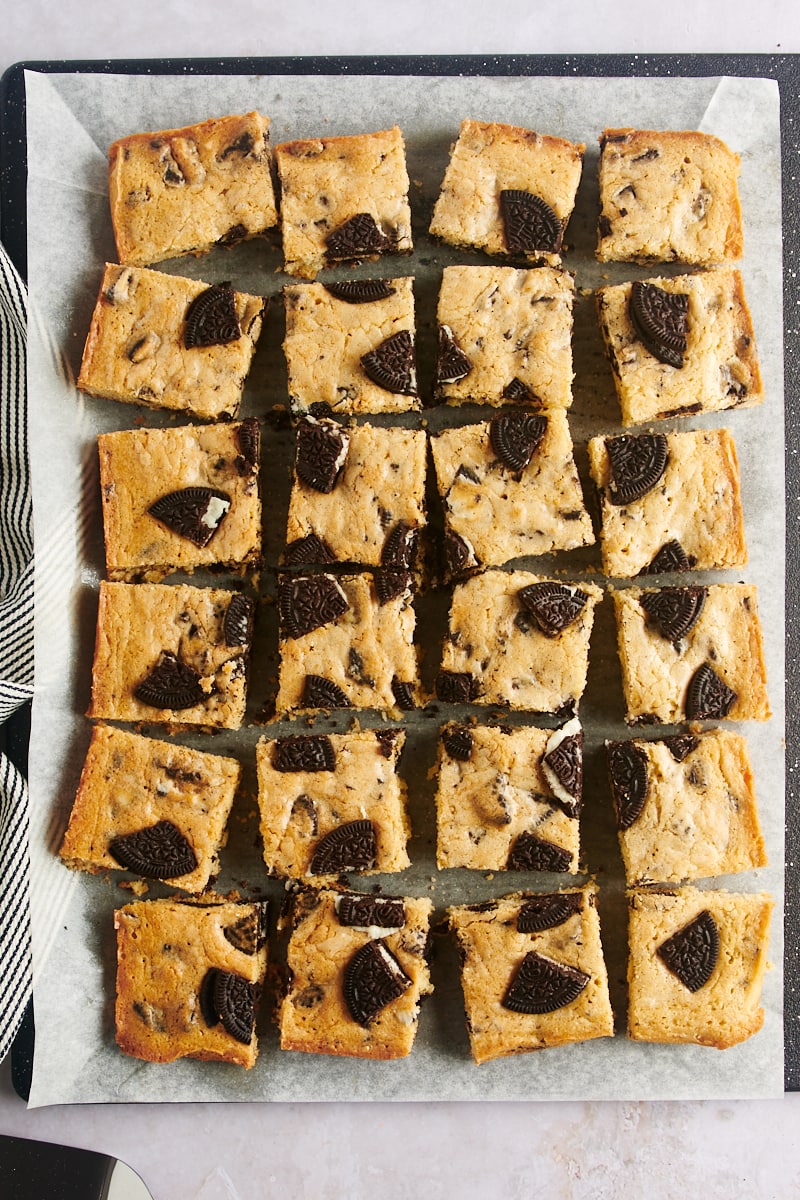 Tips for Success
Don't forget the crumbs! Chopping the Oreos will inevitably lead to lots of little pieces and crumbs. Be sure to add those to the batter along with the bigger chunks to get lots of the cookies' flavor in every bite.
Spread evenly. Take the time to spread the batter evenly in the pan. Not only will evenly sized bars look better, but they will also bake more thoroughly and evenly.
Cutting the bars. For good, clean cuts, cut the bars straight through without using a sawing motion. A thin, sharp knife or a pizza rocker works very well.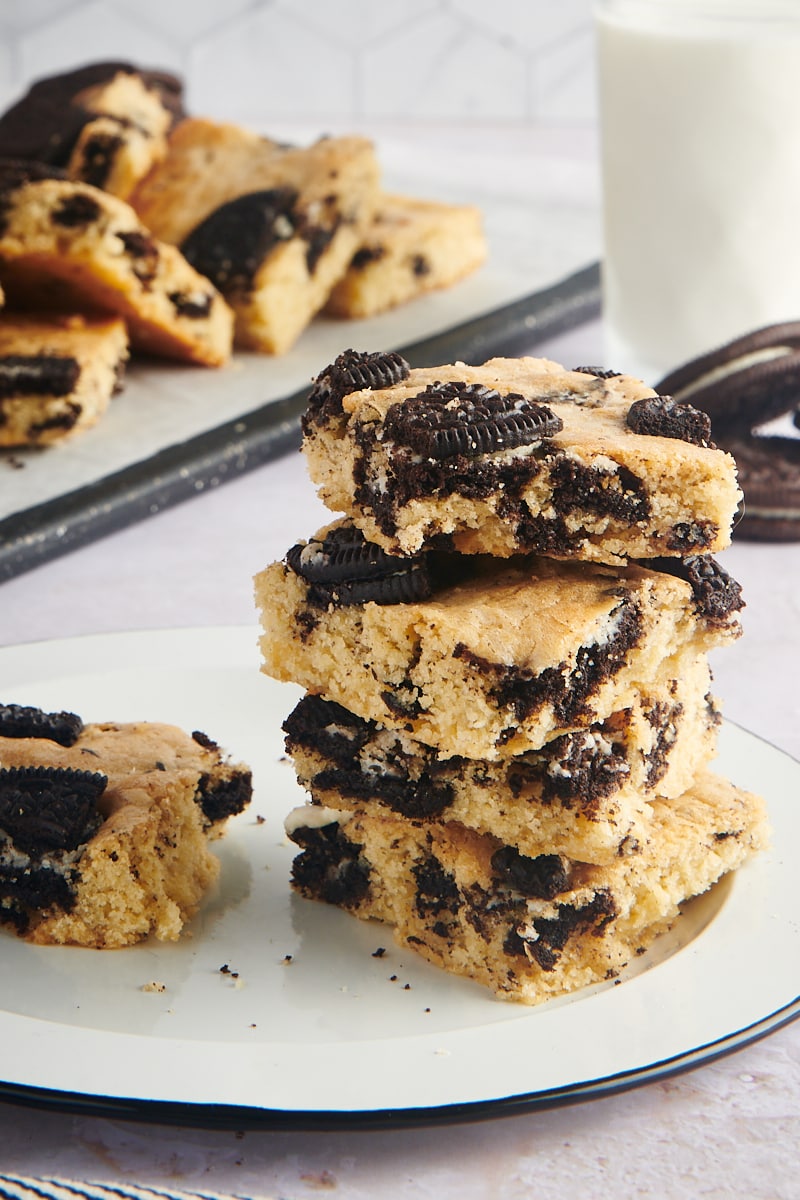 How to Store
Once the bars have cooled, they can be stored in an airtight container. They should keep up to 3 days at room temperature.
Can These Blondies Be Frozen?
Yes, these bars will freeze nicely. Place the cooled bars in an airtight, freezer-safe container or bag. Properly stored, they should keep up to 3 months in the freezer. Thaw the blondies for an hour or two at room temperature.