Peanut Butter Cheesecake Bars feature a peanut butter cookie crust and a creamy peanut butter cheesecake on top. A must for peanut butter lovers!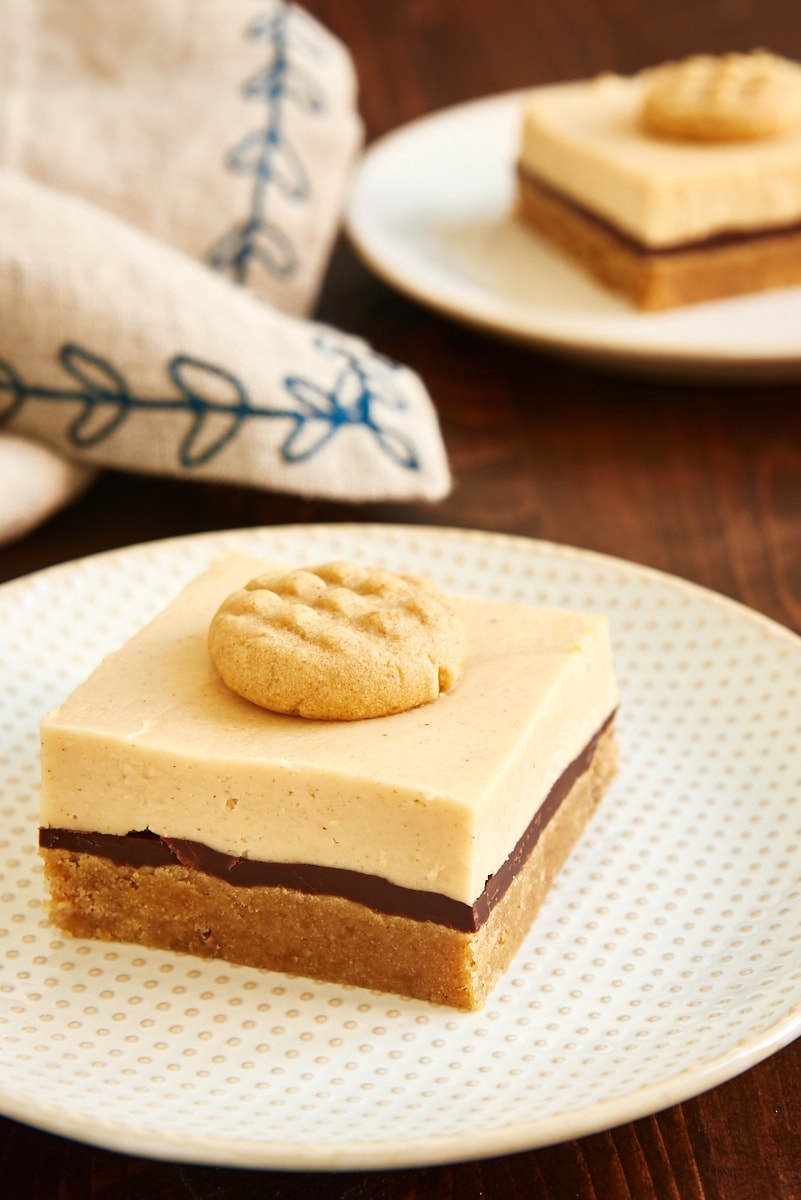 Peanut Butter Cheesecake Bars
I love to bake with all sorts of flavors, but there are a select few that are always at the top of my list. Peanut butter is definitely one of those. I've used it in all sorts of recipes, and I am pretty much always trying to think of ways to use it even more. Once I realized that I'd never shared peanut butter cheesecake bars with you, I knew I had to remedy that quickly.
The bottom layer of these bars is a variation of my go-to recipe for peanut butter cookies. Just spread the cookie dough in a pan and bake it. Simple as that!

Next, I added a layer of chocolate. I can rarely resist adding some chocolate when peanut butter is involved. They just go together so well that I can't help myself. But if you want to make an all-out peanut butter dessert, just omit the chocolate layer.
Topping off all of that is a simple, no-bake peanut butter cheesecake filling. It's so good that I could have just eaten a bowl of it all on its own, and happily called it dessert. It is quite possible that a spoonful might not have made its way into these bars. I like to refer to that as "quality control."
For a fun topping and to add to the peanut butter deliciousness going on here, I baked some mini peanut butter cookies and placed them on the cheesecake bars. I have to say that they're quite adorable. They're so tiny!
If you love chocolate and peanut butter like I do, then you'll love these bars. The cool, creamy texture of the cheesecake is the perfect match to the cookie crust. And, of course, a little chocolate always helps.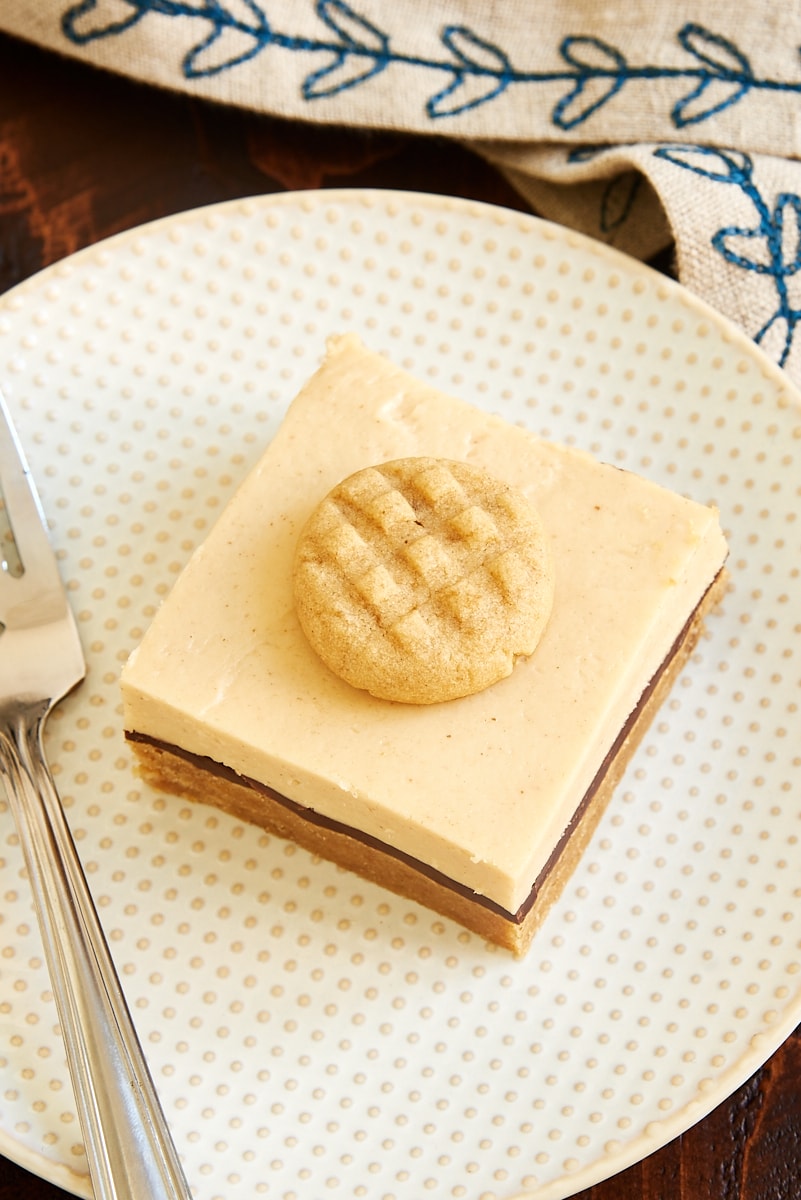 What You'll Need
Don't be put off by the long-ish ingredients list here. Many of these duplicate in the different layers, and there's nothing out of the ordinary here.
For the crust and cookie topping:
All-purpose flour – As always, measure by weight, or use the spoon and sweep method.
Baking powder
Salt
Peanut butter – I recommend regular peanut butter. There's a lot of variation among natural peanut butters, making it difficult to predict how they'll perform.
Unsalted butter – Set out the butter about half an hour before baking to allow it to soften properly.
Granulated sugar
Brown sugar – I like light brown sugar here, but dark is fine if you want a stronger molasses flavor.
Egg – Set out the egg along with the butter.
Vanilla
For the chocolate filling:
Semisweet chocolate – Roughly chop the chocolate so it will melt more easily.
Unsalted butter
For the cheesecake:
Cream cheese – Full-fat cream cheese works best. Bring it to room temperature so that it will mix easily and smoothly.
Peanut butter – Again, regular peanut butter will work most reliably.
Granulated sugar
Heavy cream – Look for either heavy cream or heavy whipping cream.
How to Make Peanut Butter Cheesecake Bars
You'll be making a few different components, but none of them are complicated. If you want to break up the preparation, you can make the crust and cookies one day and the cheesecake the next.
Make the crust and cookies:
Prepare for baking. Heat the oven to 350°F. Grease a 9″ x 13″ x 2″ baking pan. If you like, line the pan with parchment paper and also grease the paper. In addition, line a baking sheet with parchment paper or a silicone liner.
Mix the dry ingredients. Whisk together the flour, baking powder, and salt.
Mix the wet ingredients. Beat the peanut butter, butter, sugar, and brown sugar with an electric mixer on medium speed. Mix until lightened in color and fluffy. Mix the egg and vanilla into the mixture.
Add the dry ingredients to the wet ingredients. With the mixer on low speed, gradually add the flour mixture. Mix just until the dough is combined.
Portion and bake the cookies. Using a teaspoonful of dough at a time, roll the dough into 24 balls. Place them on the baking sheet, and use a fork to make a cross-hatch pattern on top of each cookie. Bake 6 to 8 minutes, or until lightly browned. Cool on the pan for 5 minutes; then transfer the cookies from the pan to a wire rack to cool completely.
Bake the cookie crust. Spread the remaining cookie dough in the bottom of the rectangular baking pan. Bake 18 to 22 minutes, or until lightly browned. Set aside to cool.
Make the chocolate filling:
Mix the chocolate and butter. Place the chocolate and butter in a microwave-safe bowl. Heat in the microwave at half-power in 30-second increments until the butter has melted and the chocolate melts when stirred. Stir until smooth.
Spread the chocolate filling over the crust. Use an offset spatula to spread the chocolate mixture over the baked crust. Place the pan in the refrigerator for about 30 minutes to allow the chocolate to set.
Make the cheesecake:
Combine the cream cheese, peanut butter, and sugar. Use an electric mixer on medium speed to mix these ingredients until thoroughly combined and smooth.
Whip the cream. Use your mixer's whisk attachment to whip the cream until soft peaks form.
Fold the whipped cream into the cream cheese mixture. Gently fold in the whipped cream using a rubber spatula. Be sure not to over-mix so that the filling will keep its light, fluffy texture.
Add the cheesecake layer. Spread the cheesecake mixture on top of the cooled chocolate layer.
Chill. Cover and refrigerate the cheesecake bars at least 4 hours before serving. Top each serving with a cookie.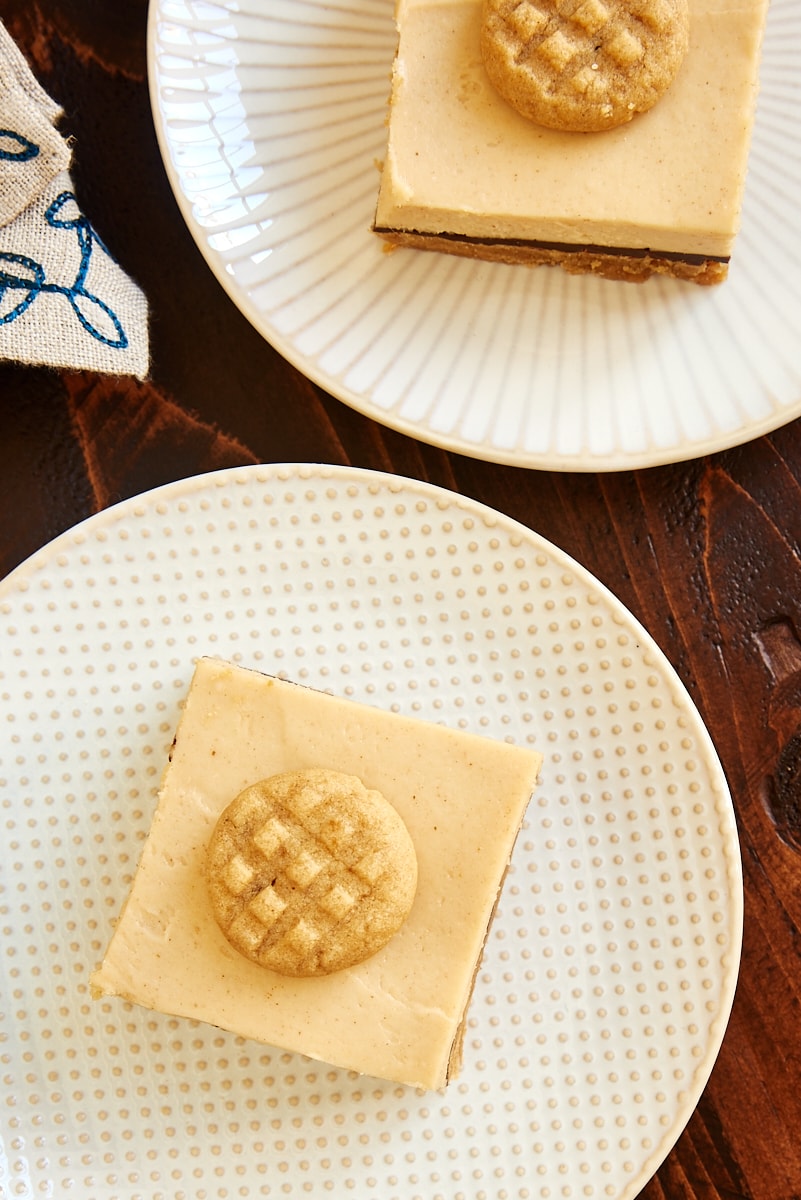 Tips for Success
Don't use cold cream cheese. For easier mixing and a smooth filling, bring the cream cheese to room temperature before mixing.
Don't over-mix. Too much mixing will wreck that soft, fluffy texture.
Don't skip the chill time. The cheesecake needs time to set, so be sure to factor that time into your plans. It needs at least 4 hours in the refrigerator, but I almost always chill it overnight.
How to Store Leftovers
Keep these cheesecake bars refrigerated. Tightly covered, the bars should keep up to 3 or 4 days, although they will be their best within a day or two.
You can also freeze no-bake cheesecake. After it has chilled in the refrigerator, wrap it in a couple of layers of plastic wrap. Add a layer of aluminum foil or place in an airtight, freezer-safe bag or container. Properly stored, it should keep up to 3 months. Thaw overnight in the refrigerator.