Frosted Sugar Cookie Bars are just the thing for when you want an easy-to-make dessert that's sure to please. Top with your favorite sprinkles for birthdays, holidays, and more!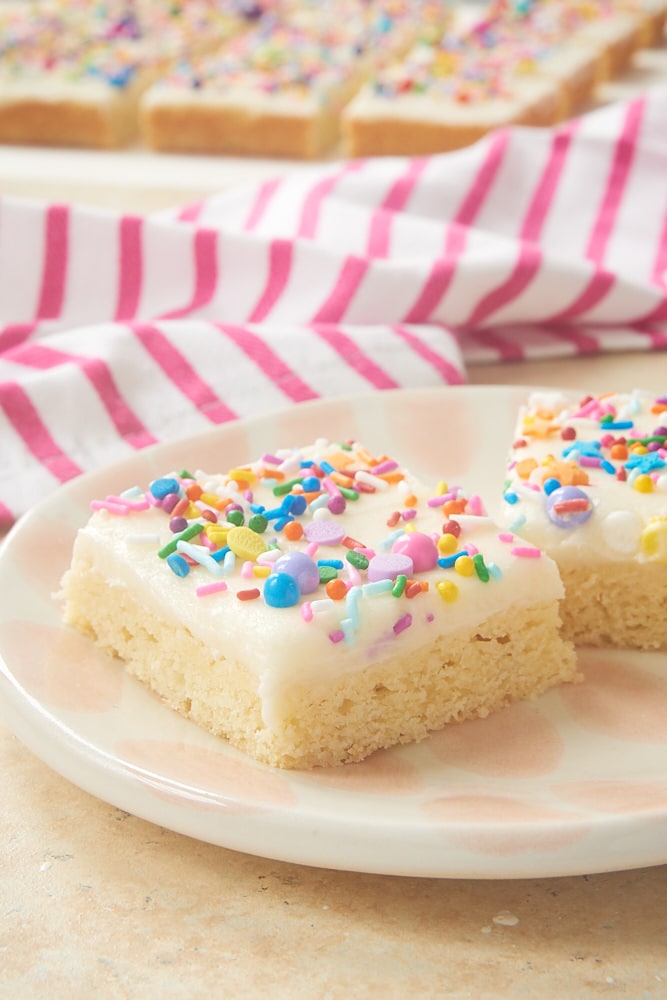 Frosted Sugar Cookie Bars
We all love sugar cookies, right? Their simplicity is what appeals to me. I love that a simple combination of ingredients can give you such a great dessert. That's baking science at its finest!
These Frosted Sugar Cookie Bars take that simplicity even further by changing them from cookies to bars. Instead of doling out individual cookies, the cookie dough is spread in a pan, baked, and then frosted with an equally simple buttercream frosting. You get to skip the cookie scooping in favor of a single pan of sugar cookie deliciousness.
You can bet that these bars are a major crowd favorite. They're just so tasty and so happy! This is a great recipe to keep in mind when you need an easy, crowd-pleasing dessert for a casual gathering.
(Looking for more easy sugar cookie recipes? Try browned butter salty sugar cookies, sugar and spice cookies, or drop sugar cookies!)
Why You'll Love This Sugar Cookie Bars Recipe
Sugar cookie bars with buttercream frosting will become a family favorite recipe in no time! Here's why:
Super chewy. These cookie bars are thick, ultra-soft, and perfectly chewy. Combine all that with some smooth vanilla buttercream frosting, and every bite is a dream!
Adaptable. You can make frosted sugar cookie bars any time of year. Just customize the sprinkles to the occasion!
Quick and simple. Sugar cookie bars can be prepped in 20 minutes and baked in 25 more. So easy!
Timesaver. No need to chill the dough or roll it out – all you have to do is bake the bars, frost them, and then slice them!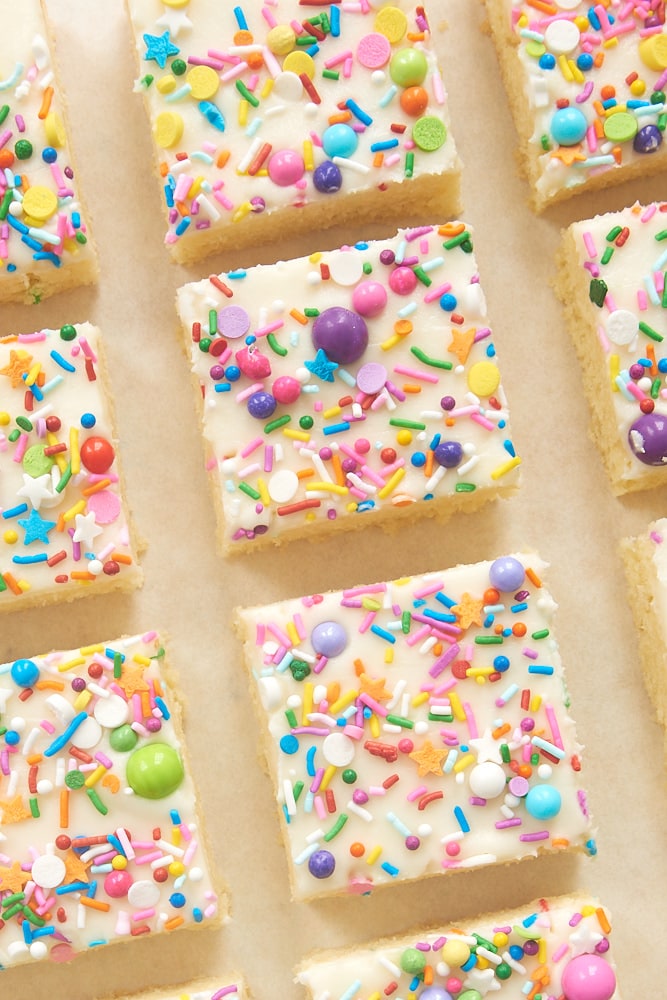 What You'll Need
You'll only need basic baking ingredients for these sugar cookie bars. Here are some notes about the ingredients, but be sure to see the recipe card below for measurements and the directions.
For the Cookie Bars
All-purpose flour – Measure this by weight for the best results. If you don't have a kitchen scale, be sure to use the spoon and sweep method. Too much flour can make your cookie bars dry.
Baking powder – To help the cookie bars rise as they bake.
Salt – To enhance the sweetness. Go ahead and use less if you decide to use salted butter.
Unsalted butter – Allow the butter to soften before mixing. It should be soft but still cool. Learn more by reading about how to soften butter.
Granulated sugar – For the most authentic results, use white granulated sugar.
Eggs – Bring these to room temperature for easier mixing.
Vanilla extract – For something different, try substituting almond extract.
For the Frosting
Confectioners' sugar – This is also called powdered sugar. Sift it for a smooth frosting.
Unsalted butter – Again, soften the butter before mixing.
Heavy cream – You can use whole milk instead of heavy cream if you like, but the consistency will be different.
Vanilla extract – Pure vanilla extract is the way to go.
Sprinkles! While you can certainly leave the frosted bars unadorned, I like to top them with sprinkles for a little fun. (The ones in these photos are Bright Skies from Sweetapolita.) Whether you're celebrating a birthday, Valentine's Day, Christmas, or just want a sweet treat, you can easily customize the sprinkles to suit the occasion.
How to Make Frosted Sugar Cookie Bars
These sugar cookie bars are a cinch to make with straightforward instructions. You'll have these baking in the oven in short order!
To Make the Cookie Bars
Prepare for baking. Heat the oven to 350°F. Grease a 9″ x 13″ x 2″ baking pan. If you like, line the pan with parchment paper and also grease the lining. I recommend a cooking spray with flour, like Baker's Joy or Pam Baking.
Combine the dry ingredients. Whisk together the flour, baking powder, and salt in a medium bowl.
Combine the wet ingredients. With an electric hand mixer or stand mixer, beat the butter and sugar on medium speed until the mixture is fluffy and lightened in color. Add the eggs one at a time, and mix well after adding each. Next, mix in the vanilla.
Add the dry ingredients to the wet ingredients. With the mixer on low speed, gradually add the flour mixture. Don't over-mix; mix just until combined.
Bake. Spread the batter evenly in the prepared baking pan. Place the pan in the heated oven, and bake for 20 to 25 minutes. The bars are done when the edges are browned and a pick inserted into the center comes out clean.
Cool. Place the pan on a wire rack, and allow the bars to cool completely before frosting them.
To Make the Frosting
Mix the ingredients. With an electric mixer on medium speed, beat the sugar and butter until thoroughly combined. Add 3 tablespoons of cream and the vanilla extract. Then, continue mixing, adding a small amount of cream at a time until the frosting is the consistency you like.
Frost the bars. Spread the frosting on top of the cooled bars. Garnish with sprinkles, if you like.
Can I Color This Frosting?
Yes! A buttercream frosting like this one is a great candidate for coloring. Just mix your preferred color(s) to the frosting. Paste and gel food colorings are more concentrated than liquid food coloring, so keep that in mind when adding it to your frosting. You can test them on a small amount of frosting before mixing the color into the whole batch.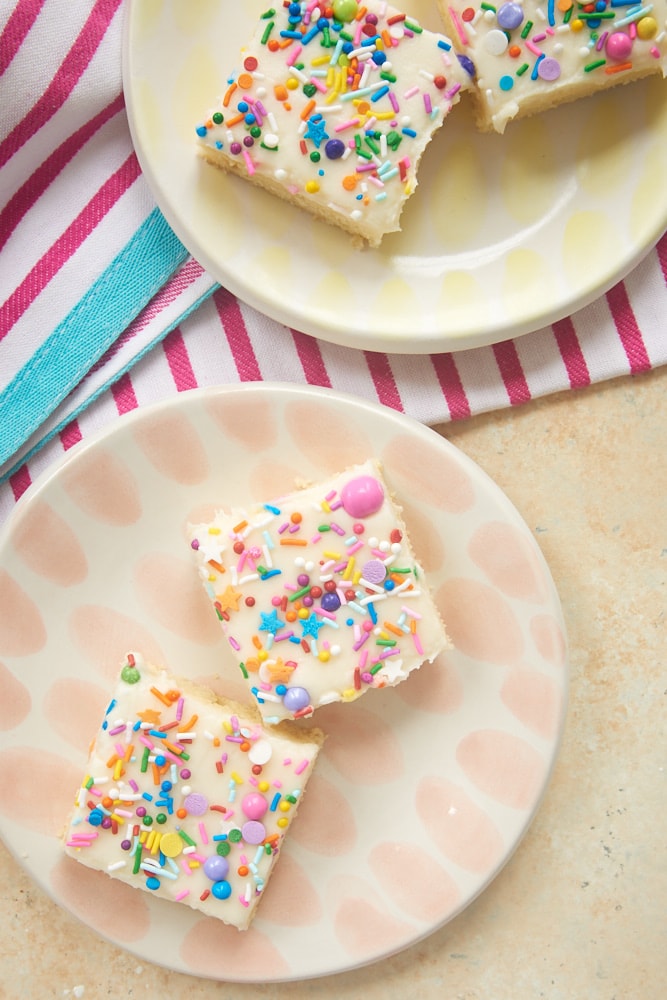 Tips for Success
Follow these quick tips and tricks in order to get the best results with this sugar cookie bars recipe!
Don't over-mix. Mix the cookie batter just until combined, or you may end up with hard, tough cookies.
Let the bars cool before frosting them. If they're still warm, the frosting will melt.
Shape up! You can cut these bars into squares, bars, or triangles. Make them bigger or smaller if you prefer.
Want more frosting? I prefer a thin layer of frosting. Otherwise, I find that they're a little too sweet for my liking. Feel free to scale the frosting recipe if you'd like a sweeter twist on them.
Topping Ideas
Sprinkles (of all kinds) are my go-to topping, but there are other decorating options!
Candy – Crushed Oreos would taste great on top of these cookie bars, or around the holidays, you could try crushed candy canes.
Chocolate chips – Mini chocolate chips work just like sprinkles here! Or you could try mini M&Ms for a splash of color…
Nuts – Your favorite chopped nuts (like cashews, walnuts, pecans, etc.) would be a welcome addition.
How to Store
Once cooled, place these cookie bars in an airtight container. They should keep at room temperature for up to 2 days. You can also refrigerate them to add a few more days to their shelf life, but just make extra sure the container is airtight. Bring the bars to room temperature before serving.
Can I Freeze These Sugar Cookie Bars?
Yes! You'll have the best results storing the cooled cookie bars unfrosted. Place them in a freezer-safe container or zip-top bag. Stored properly, they should keep in the freezer for up to 3 months. After thawing, frost the bars and serve.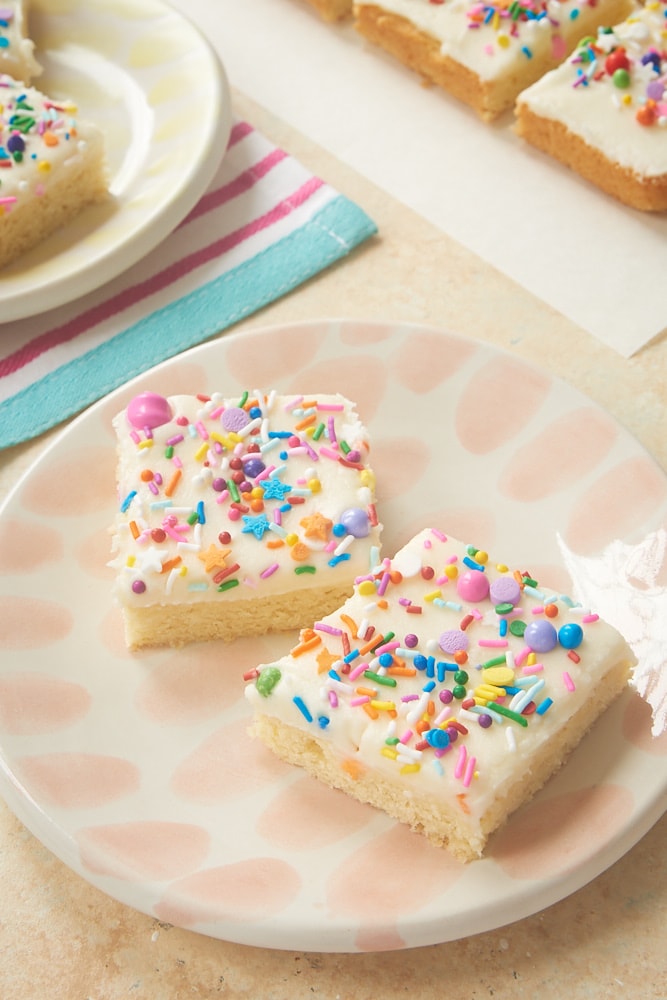 More Cookie Bar Recipes
If you loved this sugar cookie bar recipe, be sure to try these other easy cookie bar recipes too!