June 7, 2006
Chocolate Cream Cheese Brownies
Chocolate Cream Cheese Brownies feature layer upon layer of chocolate deliciousness. A must for big-time chocolate lovers!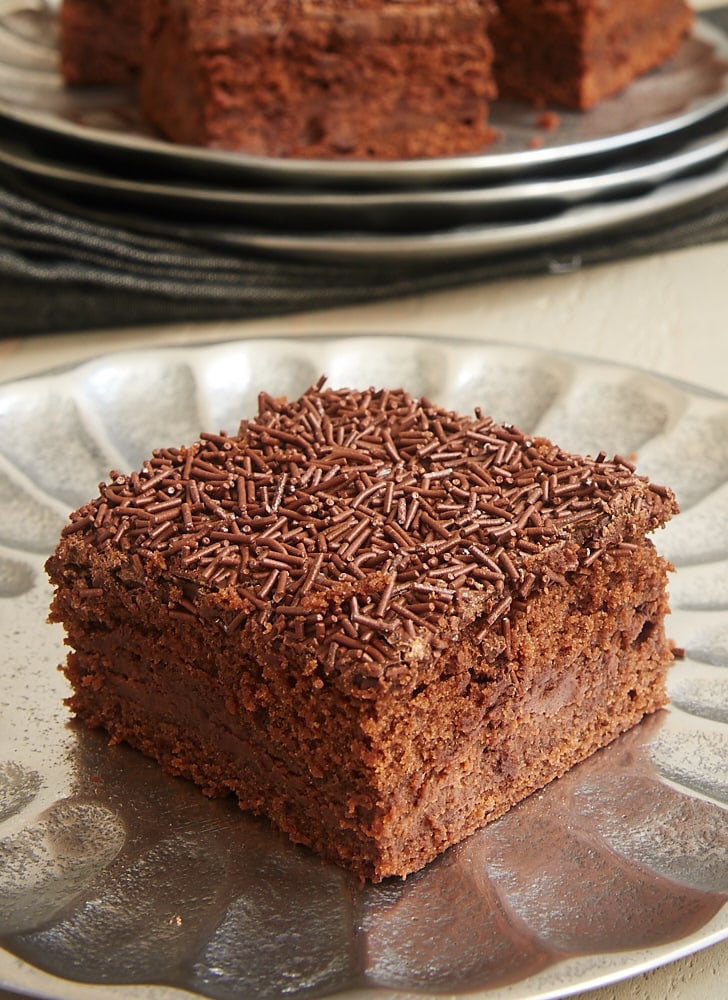 These Chocolate Cream Cheese Brownies are one thing I just cannot resist. All of those chocolate layers? Come on. Plus, it has two of my absolute favorite things: chocolate and cream cheese.
If you're a chocolate fan, then you're likely already a fan of brownies. But if you're a really big chocolate fan, then these brownies are just the thing to satisfy your major chocolate cravings.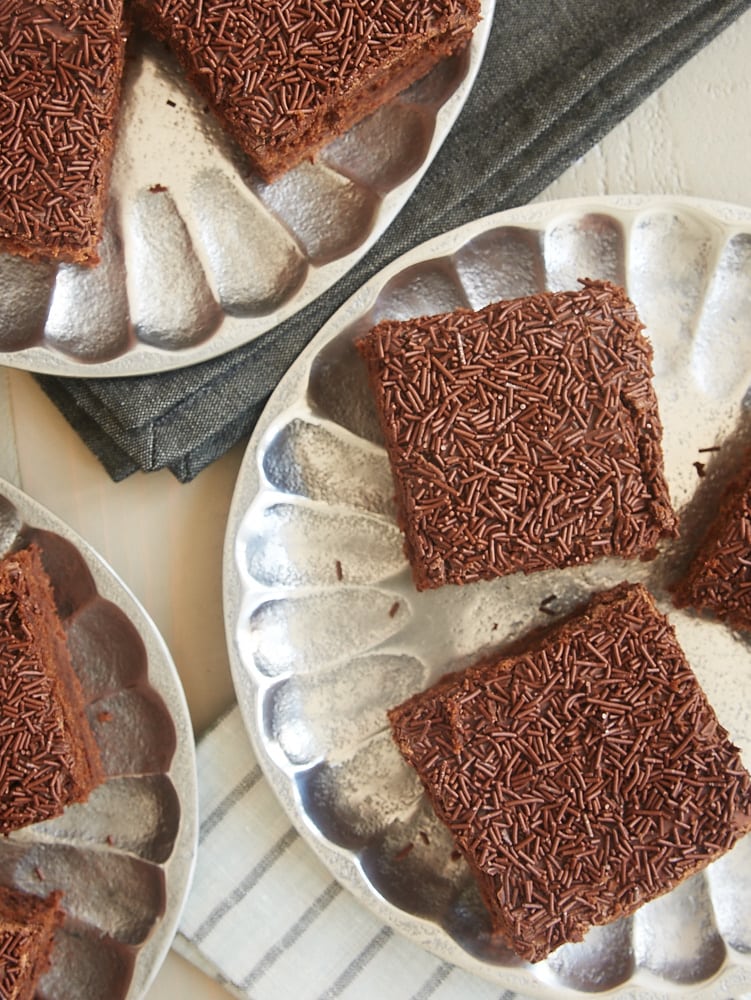 The brownies themselves get a big dose of chocolate from plenty of cocoa powder. These are definitely cake-like brownies. And while I usually prefer fudgy brownies, the texture works perfectly with the other layers.
Sandwiched between two layers of brownies is a rich chocolate cheesecake mixture. It starts with a simple ganache that is then combined with cream cheese. Using semisweet chocolate in the filling means that you don't need to add any sugar. It won't be overly sweet, which works as a great complement to the brownies and the topping.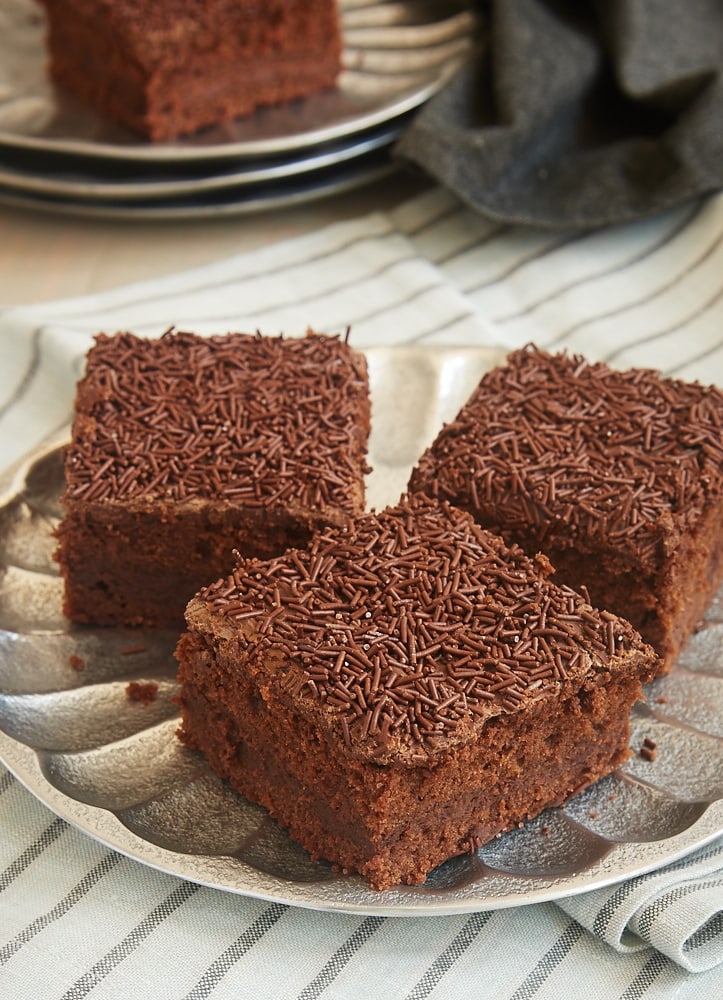 Speaking of the topping, it really couldn't be simpler. When the brownies are fresh out of the oven, just sprinkle semisweet chocolate over the top of the brownies, wait a few minutes, and just spread the melted chocolate. Add some sprinkles if you like, and that's it! That kind of topping can tend to break apart when you're cutting the brownies, so I highly recommend you use a sharp knife to make clean cuts.
The most important part, of course, is how they taste. They are so, so good and so, so rich. With all of that big chocolate flavor, you may want to cut them a little smaller than normal. They'll offer a giant dose of chocolate in a small bite. And if all of you chocolate lovers still crave another bite, then go right ahead!
Find more brownie recipes in the Recipe Index.
More Seriously Chocolate Brownies
Chocolate Cream Cheese Brownies
Yield: 24 2-inch brownies*
Prep Time: 25 minutes
Cook Time: 45 minutes
Chocolate Cream Cheese Brownies have SO many layers of chocolate. These are a must for big-time chocolate lovers!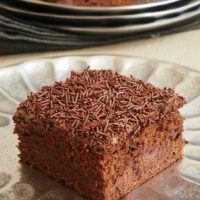 Ingredients:
For the filling:
6 ounces (1 cup) chopped semisweet chocolate, divided into two equal portions
1/4 cup heavy cream
8 ounces cream cheese, at room temperature
1 large egg
1/4 teaspoon vanilla extract
2 teaspoons all-purpose flour
For the brownies:
1 & 1/2 cups all-purpose flour
3/4 cup unsweetened cocoa powder
1/2 teaspoon salt
1/4 teaspoon baking powder
1 cup + 2 tablespoons unsalted butter, softened
1 cup granulated sugar
1/2 cup firmly packed light brown sugar
5 large eggs
1 teaspoon vanilla extract
For the topping:
12 ounces (2 cups) semisweet chocolate, finely chopped (or chocolate chips)
chocolate sprinkles
Directions:
To make the filling:
Place 3 ounces (1/2 cup) of the chocolate and all of the cream in a microwave-safe bowl. Heat at half power in 30-second increments until the chocolate melts when stirred. Set aside to cool.
Using an electric mixer on medium speed, beat the cream cheese, egg, and vanilla until fluffy and thoroughly mixed. Add the chocolate-cream mixture, mixing well.
Mix in the flour and the remaining 3 ounces (1/2 cup) of chocolate. Place the filling in the refrigerator while you make the brownies.
To make the brownies:
Preheat oven to 350°F. Grease a 9″x 13″x 2″ baking pan.
Whisk together the flour, cocoa powder, salt, and baking powder. Set aside.
Using an electric mixer on medium speed, beat the butter, sugar, and brown sugar until light and fluffy. Add the eggs, one at a time, mixing well after each addition. Mix in the vanilla.
Reduce mixer speed to low. Gradually add the flour mixture, mixing just until combined.
Spread half of the batter into the prepared pan. Spread the chilled filling evenly over the batter. Transfer the remaining batter on top of the filling, and spread evenly.
Bake 40-45 minutes, or until a pick inserted into the center comes out clean.
To make the topping:
After the brownies are finished baking and removed from the oven, sprinkle the chocolate over the top of the brownies. Let sit for about 5 minutes. Then, spread the chocolate evenly over the brownies.
Garnish with chocolate sprinkles.
Allow the topping to set before cutting into bars.
Notes:
*As these are fairly rich, you may want to cut them into small bars.