Gooey, chewy carmelitas are a decadent dessert bar that comes together with just a few minutes of prep work! Smooth caramel, crunchy nuts, and chocolate are sandwiched between two layers of buttery oatmeal crust for a decadent treat.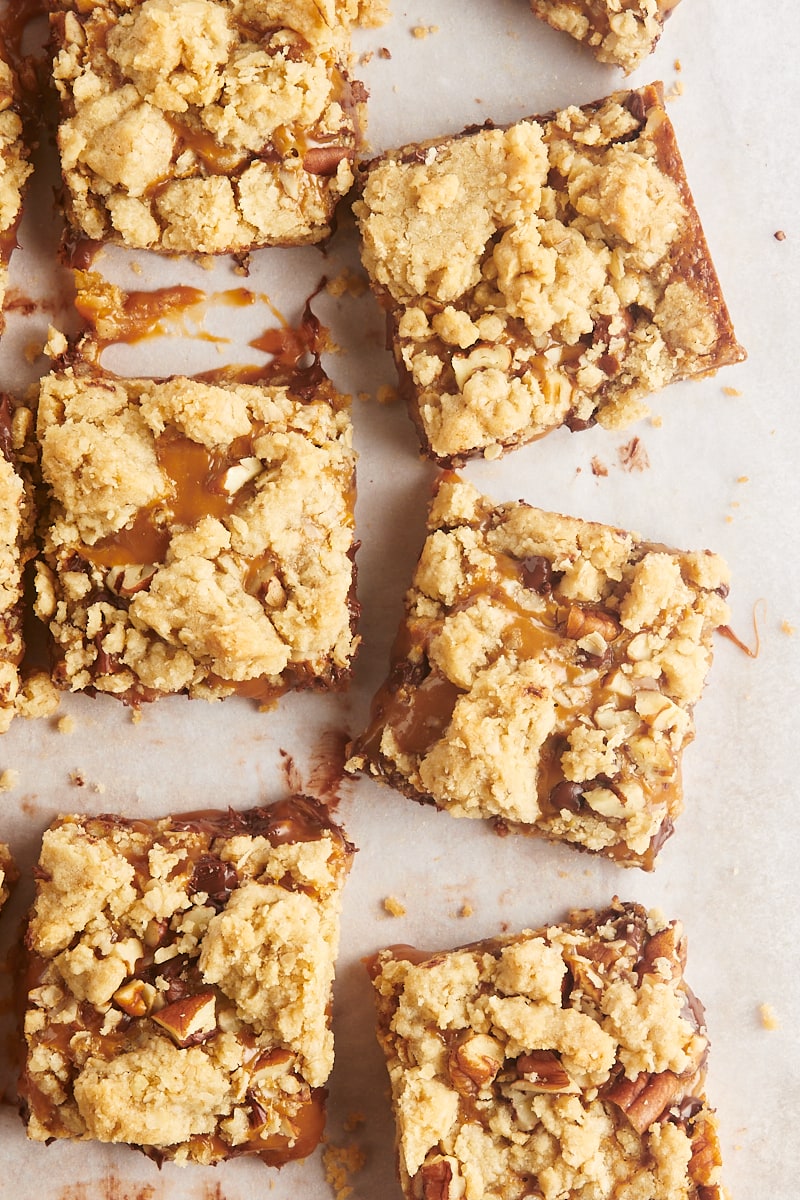 Easy Carmelita Bars
Caramel lovers, this is a dessert for you.
Carmelitas are a classic bar cookie beloved by many for its layers of buttery oat crust, gooey caramel, nuts, and chocolate. While caramel is definitely the star of the show, the two layers of oats bring a lot to the table, too—the base layer is delightfully chewy, while the top layer is baked to crispy perfection.
Not only do carmelitas taste great, but they're also incredibly easy to make. Most of the ingredients are pantry staples, and those that aren't—namely, the caramel candies—are easy to find at any grocery store.
The best part about carmelitas is that you can customize them however you like. If you're a tinkerer when it comes to baking recipes, this is a recipe you can tinker away with. (I share some of my favorite variations below, too.)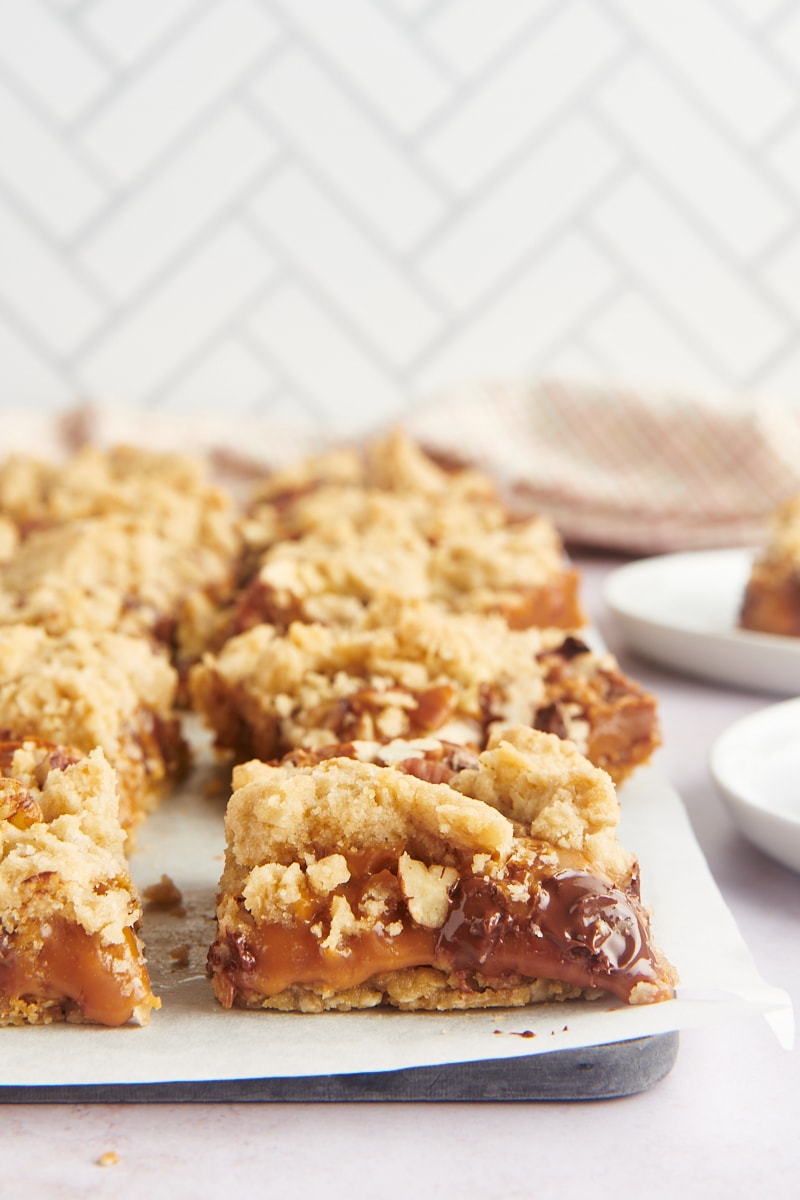 Why You'll Love this Carmelita Recipe
Here's what makes this recipe for carmelitas a winner:
Gooey caramel goodness. If you love ooey-gooey caramel, then you'll love the layer of smooth, sticky, buttery sweetness ribboned through the center of these carmelitas.
Sweet-and-salty combo. Crave desserts with a balance of sweet and salty flavors? Then you'll enjoy these carmelitas, which combine salty nuts with the sweetness of caramel and chocolate. (You'll also love my peanut butter crinkle cookies!)
Simple to make. This recipe is easy and straightforward—it takes just a few minutes to prepare, then you can sit back and let your oven do the work.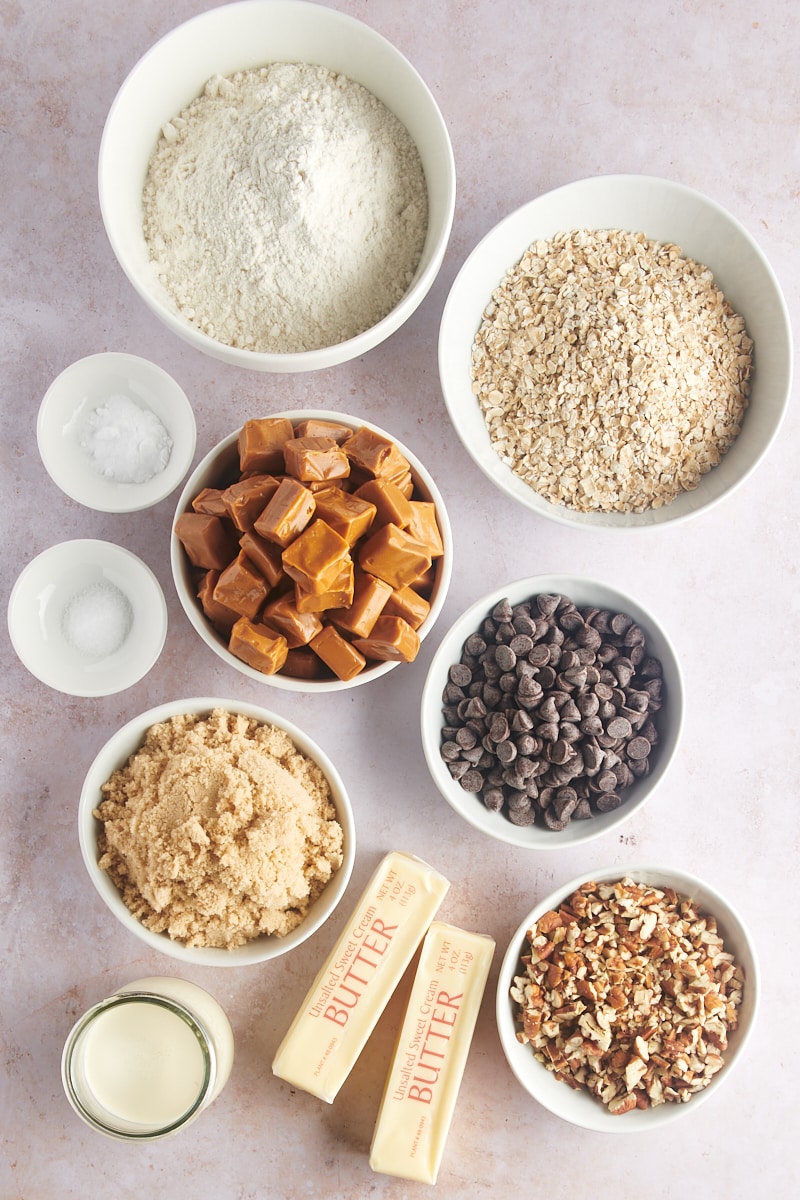 What You'll Need
Scroll down to the recipe card to find the ingredient quantities and recipe instructions.
What Are Quick-Cooking Oats?
Quick-cooking oats are pre-cooked oats that have been rolled and cut into smaller pieces. In some recipes, like oatmeal cookies, you want old-fashioned oats for texture and chewiness, but for these carmelitas, we want a smaller oat.
How to Make Carmelitas
As promised, making carmelitas is easy. Here's what you'll need to do.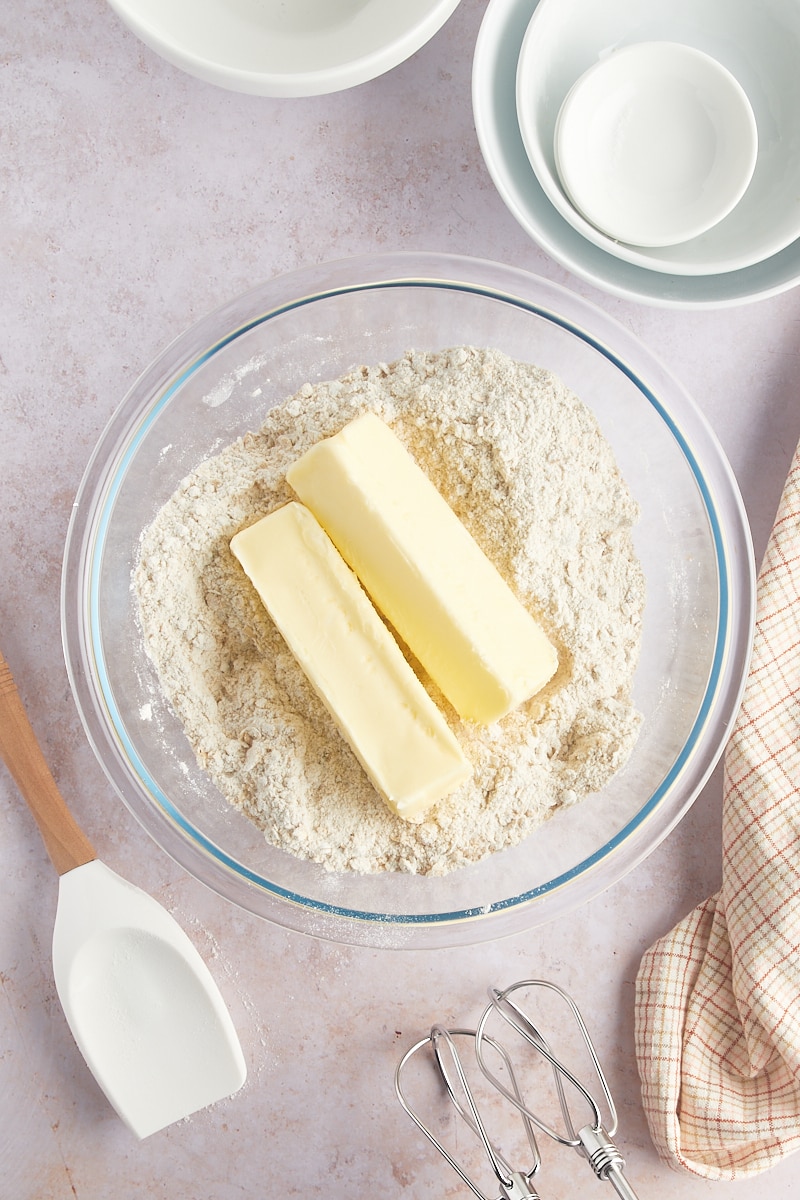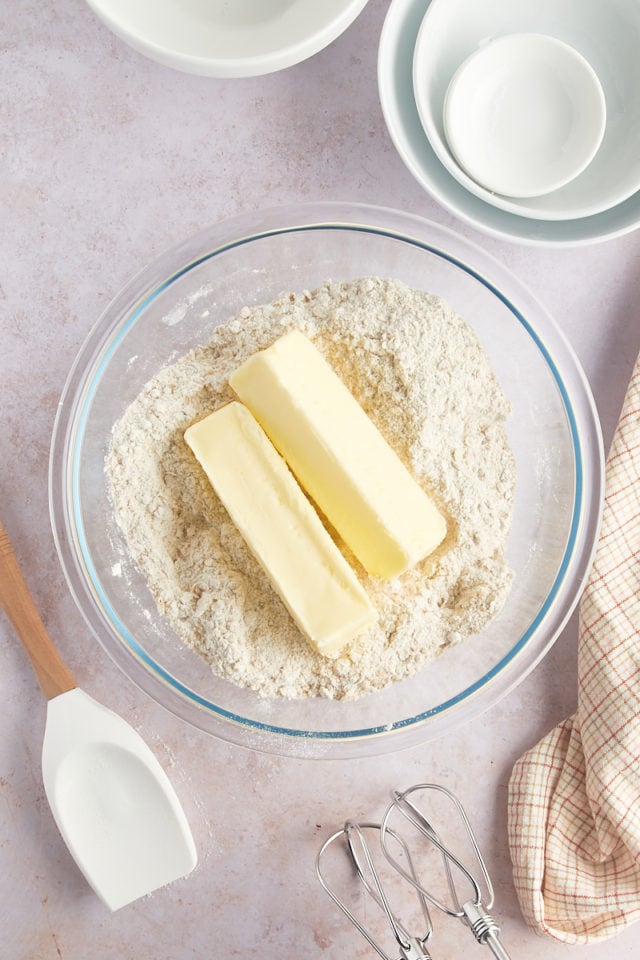 Prepare. Preheat your oven to 350°F and lightly grease a baking pan.
Make the crust mixture. Whisk together the flour, oats, brown sugar, baking soda, and salt in the bowl of a stand mixer or a large mixing bowl. Then, add the butter and mix on low speed until combined.
Bake the bottom crust. Press half of the crust mixture into the bottom of the prepared pan. Bake for 10 minutes.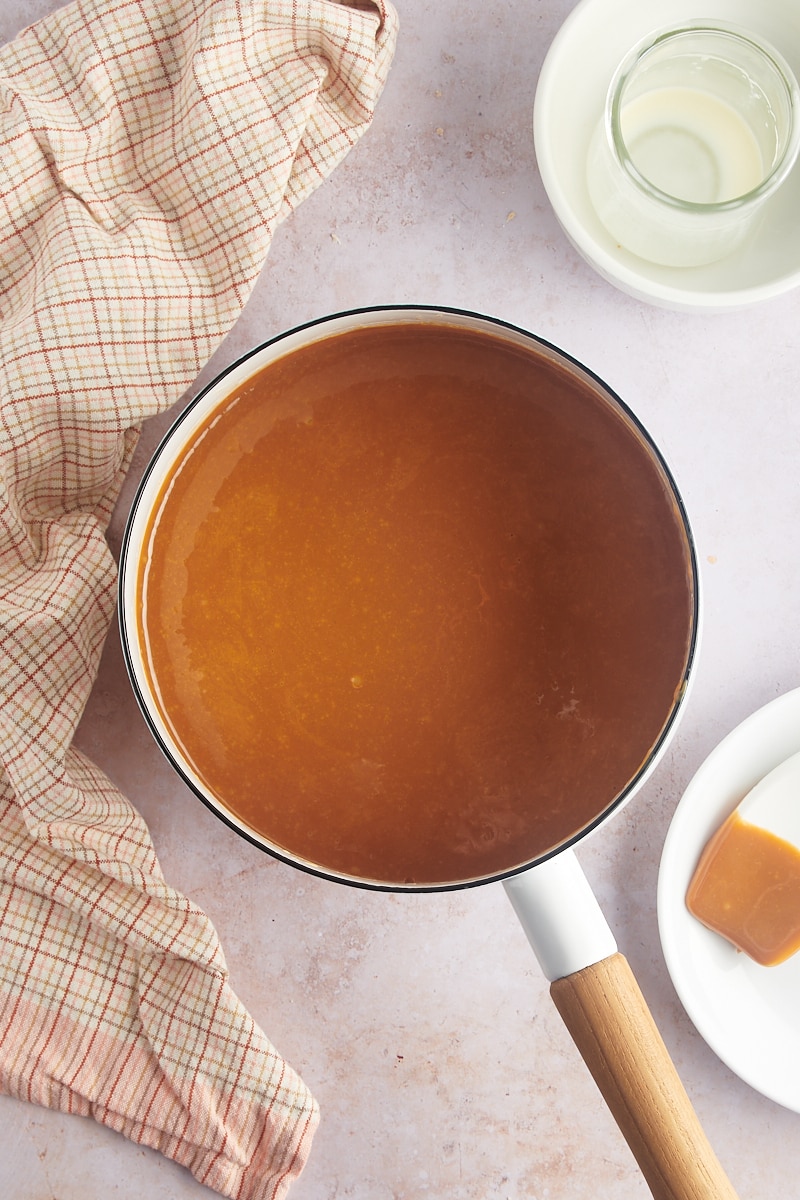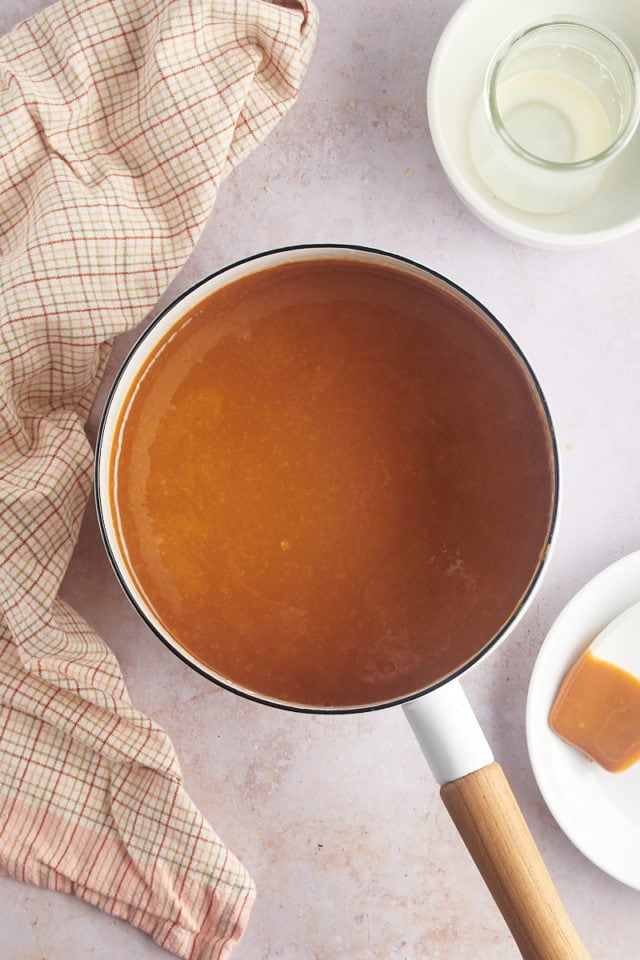 Make the caramel filling. Combine the caramels and cream in a heavy saucepan set over medium-low heat. Stir frequently and continue to cook until the caramels melt smoothly into the cream.
Assemble. Pour the caramel over the crust and spread it into an even layer. Let the caramel cool for about 5 to 10 minutes, then scatter the chocolate chips and nuts over the caramel. Sprinkle the remaining oat mixture over the top of the carmelitas.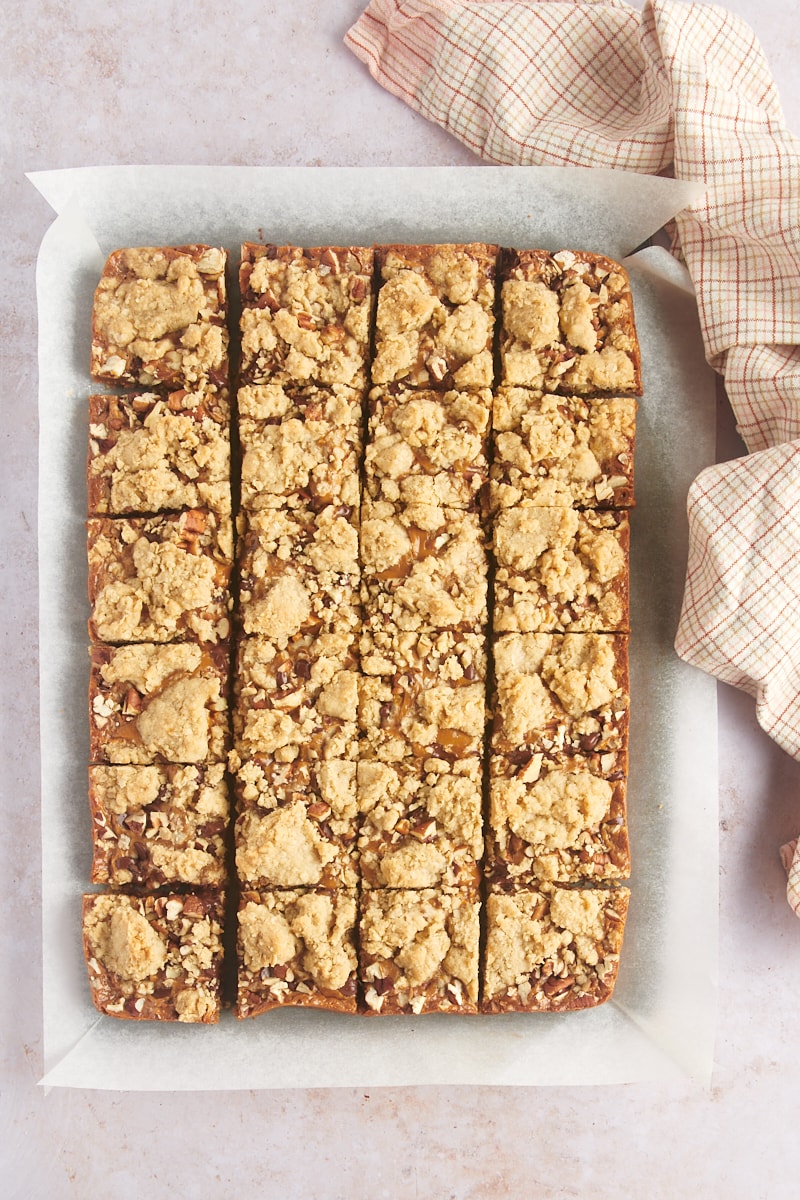 Bake. Place the pan in the oven and bake for 20 to 25 minutes, or until the top is golden brown.
Cool and serve. Let the carmelitas cool in the pan on a wire rack, then cut and serve or store. (Learn more: Why Every Baker Needs Wire Cooling Racks)
Tips for Success
Read over my baking tips for beginners, then follow these additional pointers.
Soften the butter. Softening the butter helps it to incorporate smoothly into the dry ingredients. It's also less likely to get stuck on your beaters!
Use parchment paper for easy removal. If you're making these bars for yourself and your family, you might just want to make them directly in the pan. For a special occasion, I recommend adding parchment paper to the bottom of the pan. You can then use this to lift the bars out and transfer them to a cutting board; doing this will help you make perfect cuts.
Let the carmelitas cool completely. This will ensure that they hold their shape and don't fall apart when you cut them into bars.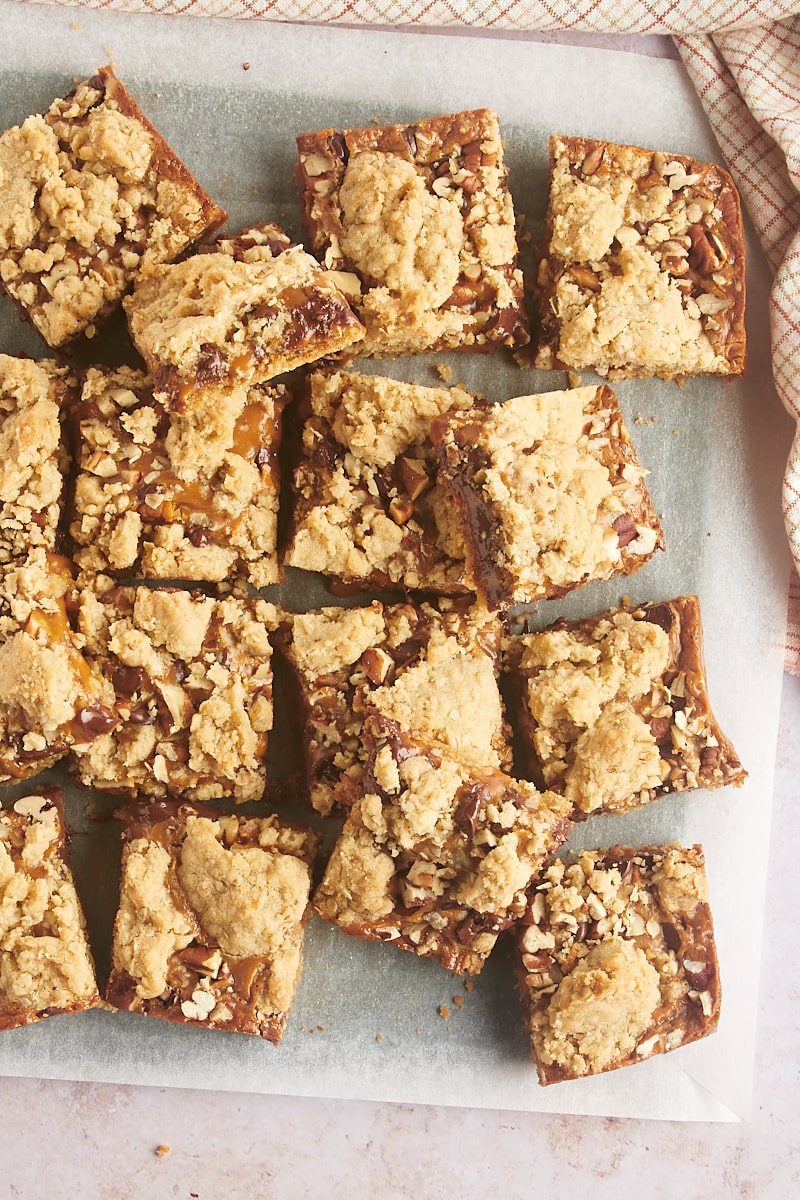 Variations
If you want to switch up the flavor of your carmelitas, try one (or more!) of these variations:
Substitute peanut butter, white, or milk chocolate chips for the semisweet chocolate chips.
Sprinkle a flaky sea salt like fleur de sel or Maldon salt over the tops of the bars for a little more salty flavor. Alternatively, you can add the salt to the caramel for salted caramel carmelitas.
Drizzle melted white chocolate over the cooled carmelitas for a pretty presentation.
Leave out the nuts if you're not a fan, or substitute pepitas for a nut-free alternative.
How to Store
Store carmelitas in an airtight container at room temperature for up to 4 days, or keep them tightly wrapped in the baking pan.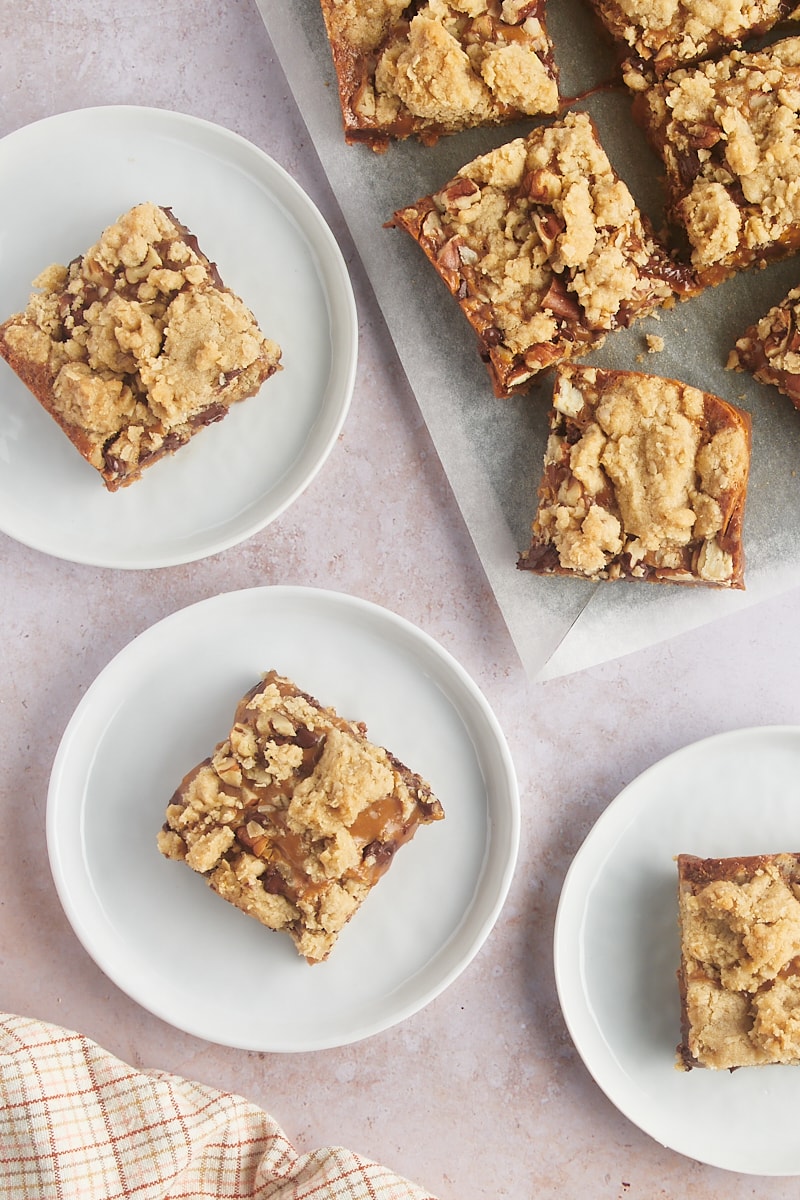 Can I Freeze This Recipe?
You can freeze the carmelitas in a tightly sealed container or zip-top freezer bag for up to 3 months. I like to wrap individual bars in plastic wrap before putting them in a freezer bag. That makes it easy to grab one or two at a time. Let them thaw at room temperature before serving, or warm them in the microwave.
More Dessert Bar Recipes