These Snickerdoodle Bars are soft and cinnamon-y just like the cookies, but brown sugar gives them more depth and a delightfully chewy texture!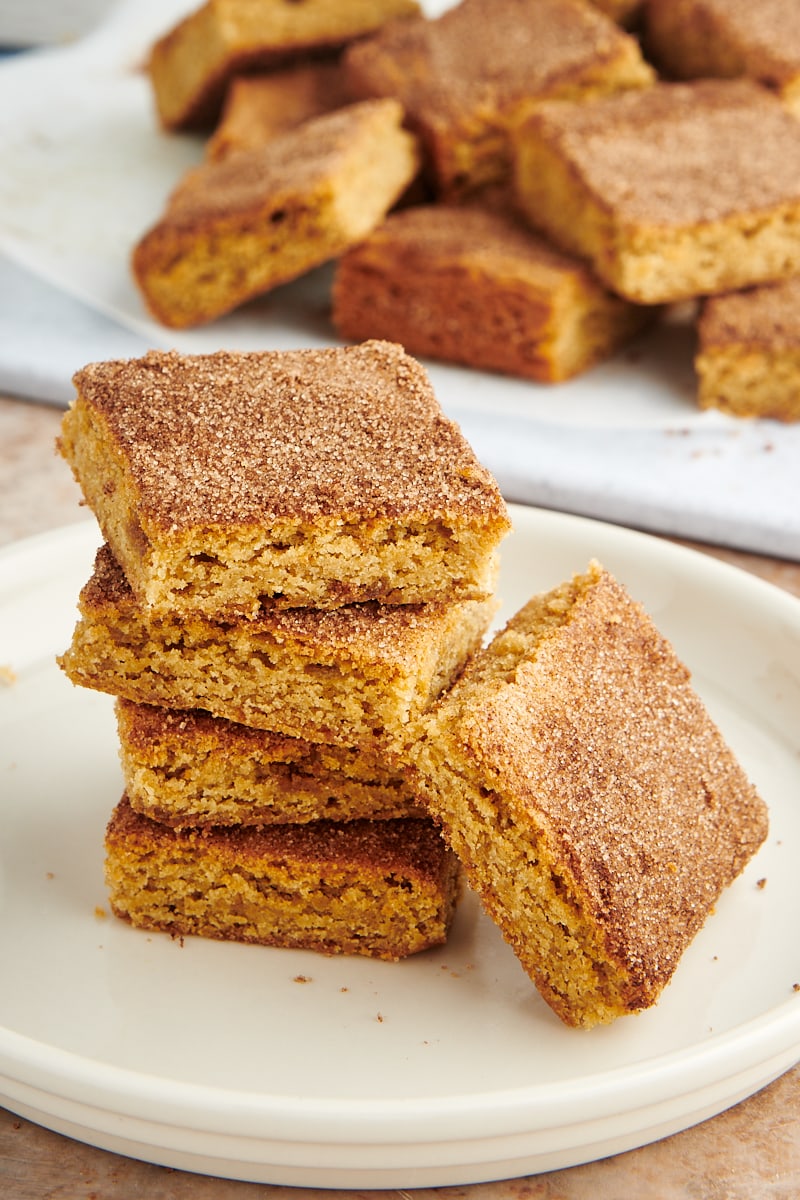 Soft, Chewy Snickerdoodle Cookie Bars
It's hard to improve upon the classic snickerdoodle recipe, with its soft, buttery cookie and irresistible cinnamon sugar coating, but this recipe transforms the cookie into a chewy dessert bar with delicious results!
If you are fan of snickerdoodles, then these snickerdoodle bars are a must-make recipe. Imagine the texture of a blondie, but with a generous dusting of cinnamon sugar on top. Even with the sugar topping, these bars aren't overly sweet, though—you'll find that they have the perfect balance of sugar, spice, and buttery flavor.
While the original recipe suggests using a teaspoon of cinnamon-sugar for dusting on top of the baked bars, I can't resist using a good bit more than that. It's a matter of taste, so use however much you want. If you're making your own cinnamon sugar, use sanding sugar for extra sparkle.
What makes bar cookies chewy?
A combination of butter and sugar gives these snickerdoodle bars a soft, chewy texture, but the fact that they're baked in a dish instead of formed into cookies helps contribute to their soft, chewy texture too. Because they don't have the opportunity to spread on a baking sheet, they're naturally going to be thicker and softer.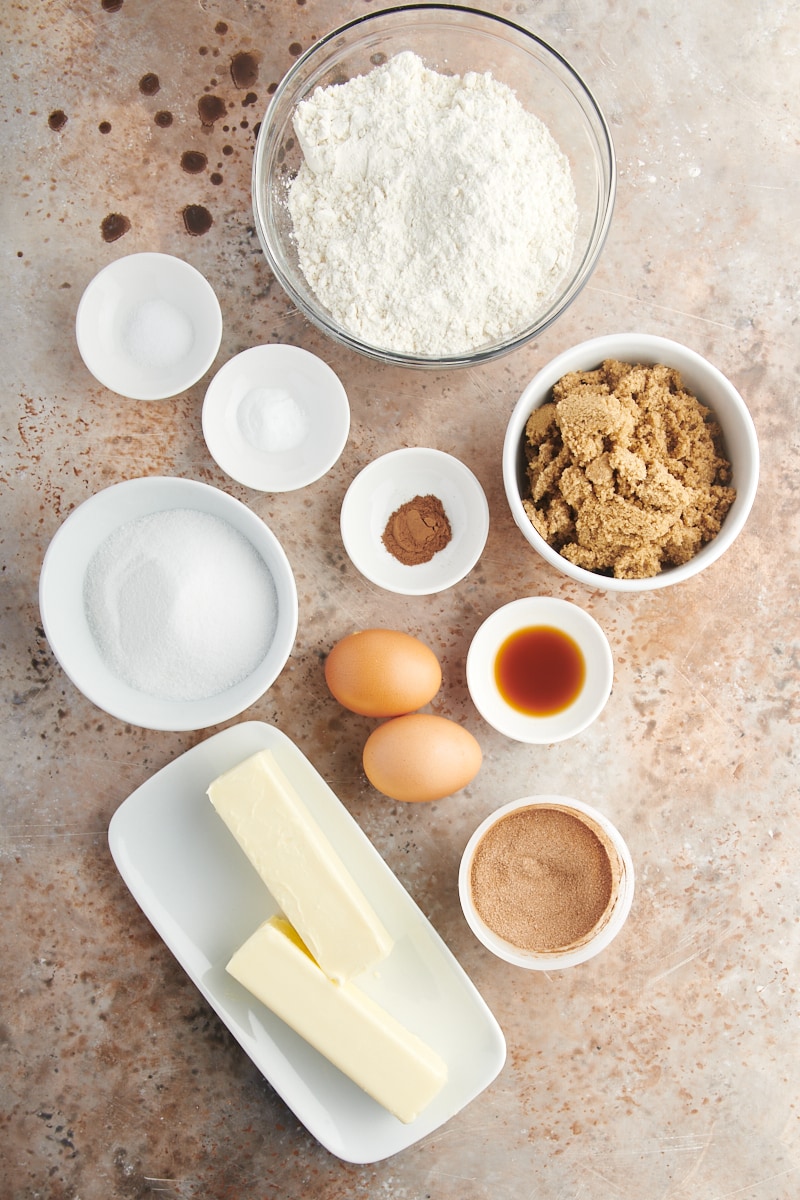 What You'll Need
Scroll down to the recipe card below this post for ingredient quantities and full instructions.
How to Make Snickerdoodle Bars
You probably have all the ingredients in your kitchen already, so all that's left to do is mix everything up!
Prepare. Preheat your oven to 350°F and grease a 9″x 13″ x 2″ baking pan with butter or cooking spray.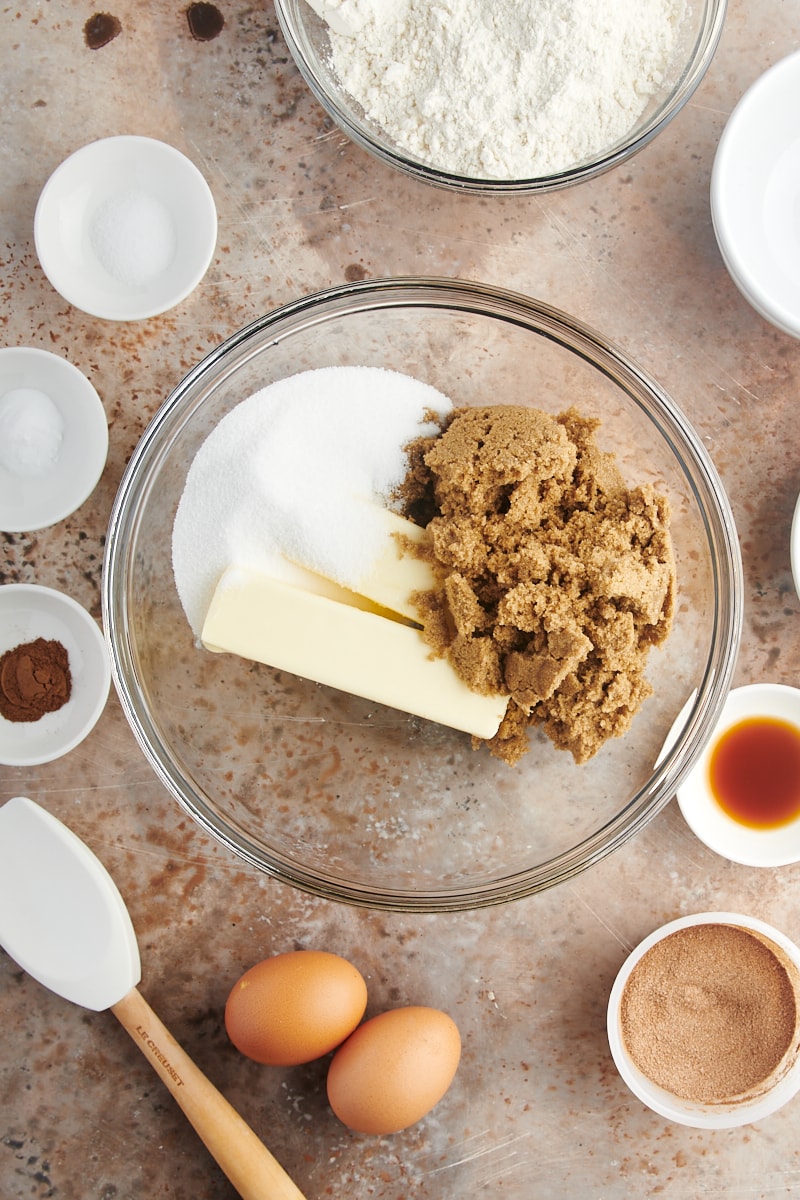 Make the dough. Use an electric mixer on medium speed to beat the butter, brown sugar, and granulated sugar until the mixture is fluffy. Beat in the baking soda, cinnamon, and salt, followed by the eggs and vanilla. Turn the mixer speed to low and add the flour, beating until just combined.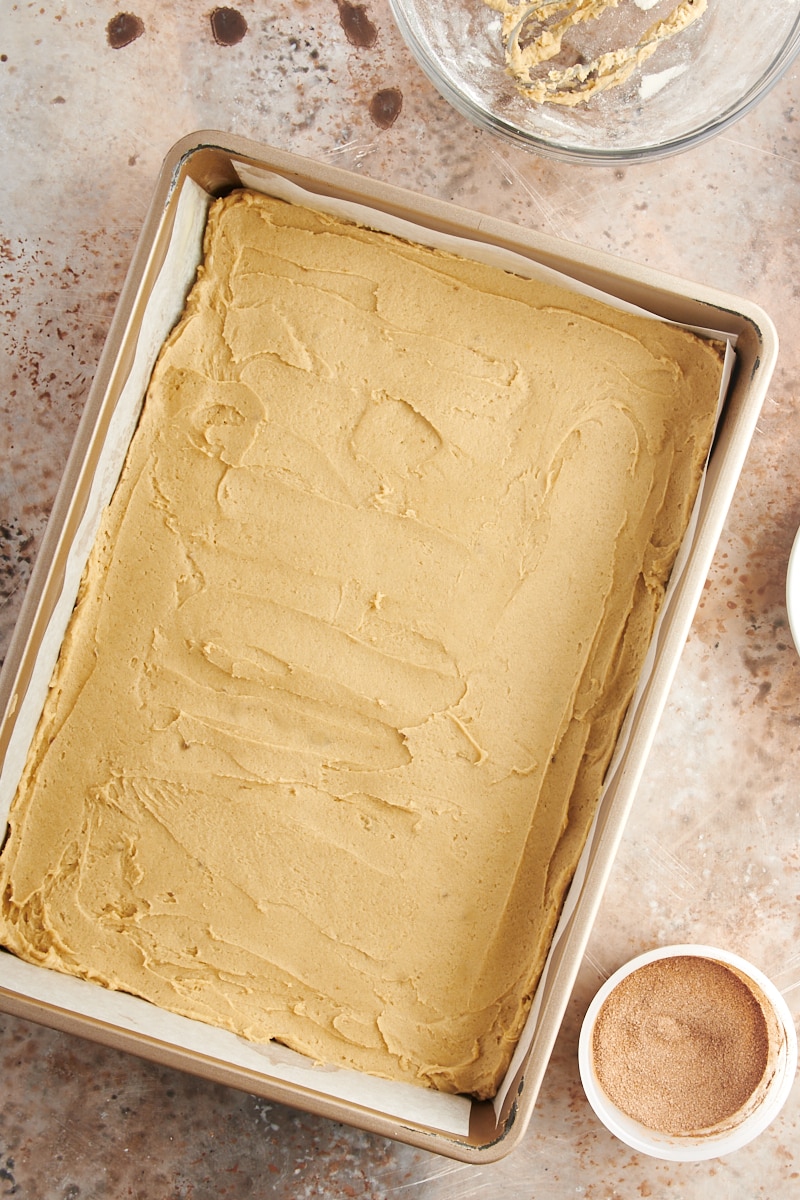 Bake. Scoop the dough into the prepared pan, spreading it evenly. Bake for about 30 minutes, or until the bars are set and lightly golden.
Cool and finish. Place the pan on a wire rack and sprinkle the bars with cinnamon sugar. Cool completely, then cut and serve.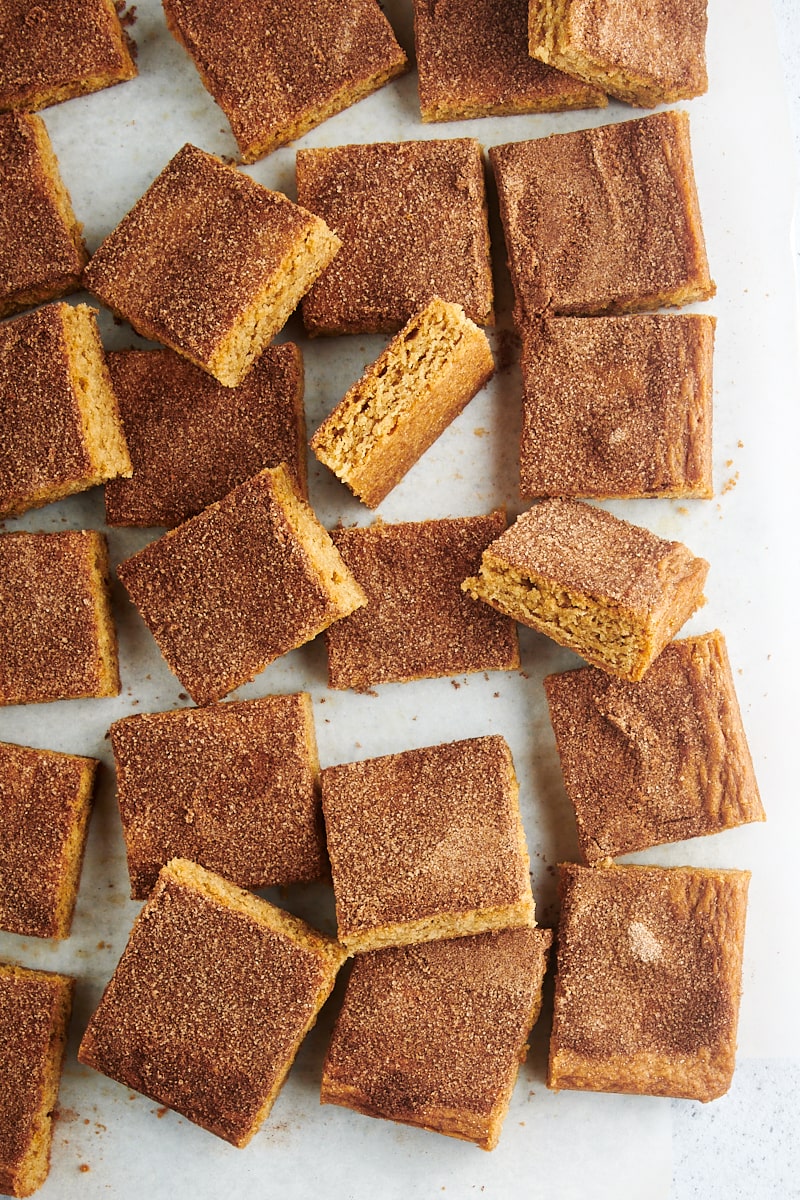 Tips for Success
Here are some simple tips for perfect snickerdoodle bars!
Let the butter and eggs come to room temperature. Set them on the counter for at least 30 minutes before you begin baking. The butter should be soft so it's easy to incorporate into the other ingredients. Remember that butter begins to melt at 68°F, so don't let it get all the way to room temperature.
Easy bar removal. If you're making these for a party or cookie tray, you can line the bottom of the pan with parchment paper so you can lift the bars out easily and cut them on a cutting board.
Make sure your cinnamon is fresh. Over time, spices lose their flavor. If you open your jar of cinnamon and it doesn't have a strong aroma, it might be time to replace it.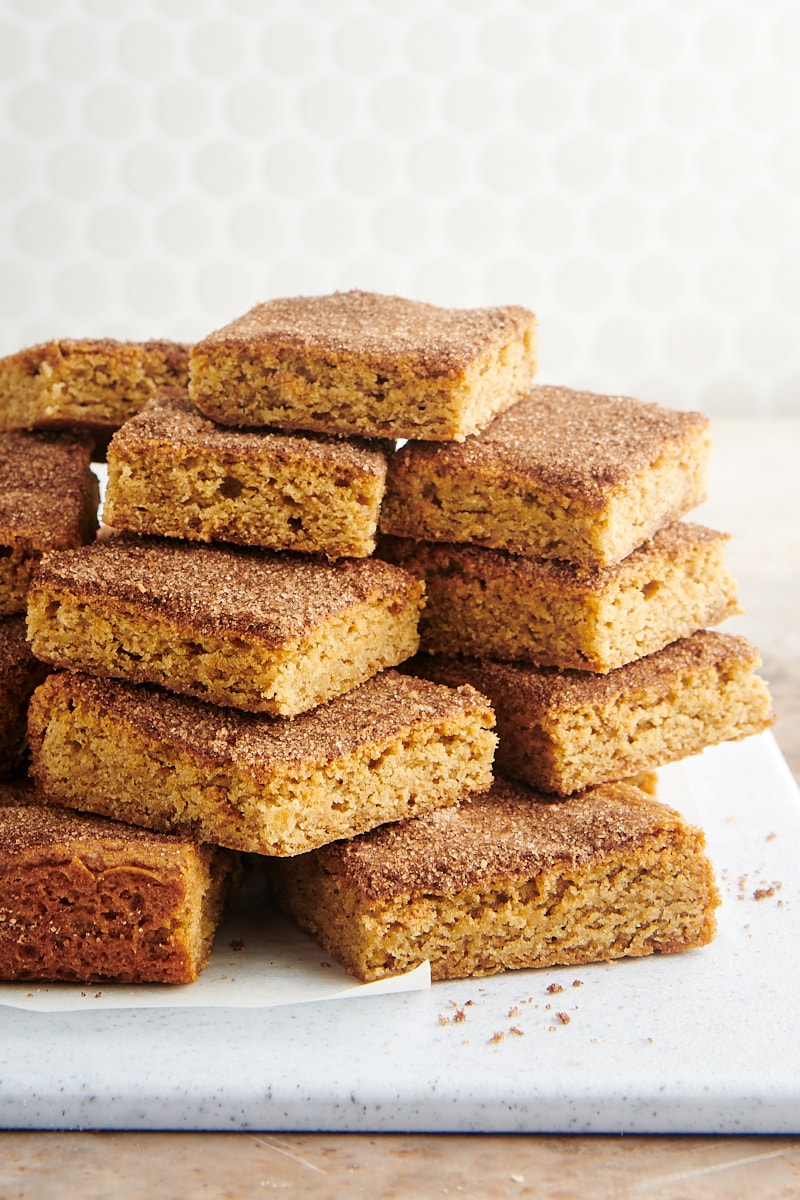 How do you cut perfect dessert squares?
I recommend getting out a ruler and measuring your bars, then deciding exactly where you want to make cuts for even squares. Then, use your knife to make small score marks where you plan on cutting. Once this is done, cut along the marks with firm, confident cuts, dragging the knife towards you.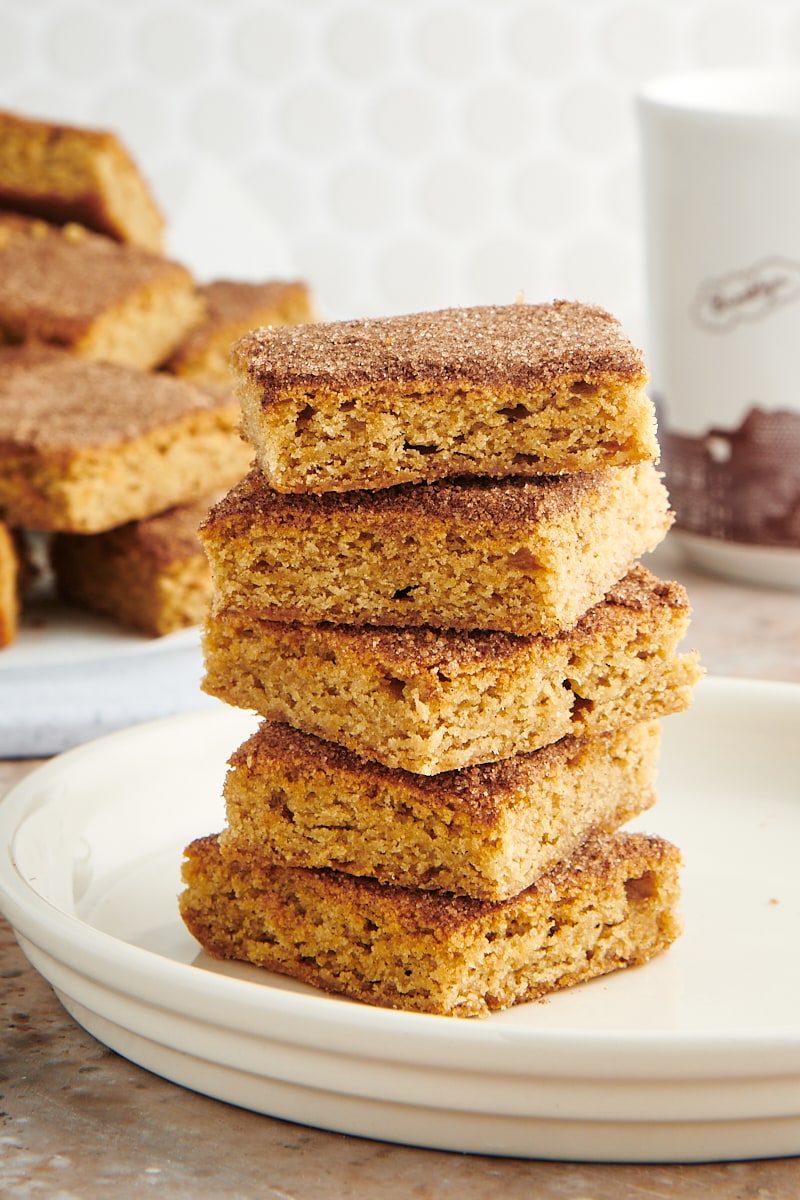 How to Store
You can store these Snickerdoodle Bars in an airtight container or wrapped in the pan at room temperature for 3 to 4 days.
Can This Recipe Be Frozen?
Yes, you can freeze this recipe for up to 3 months. Transfer the bars to an airtight container or freezer bag, using parchment paper to separate the layers if needed. The bars can be thawed at room temperature before you eat them.