July 29, 2013
Blackberry Peach Cobbler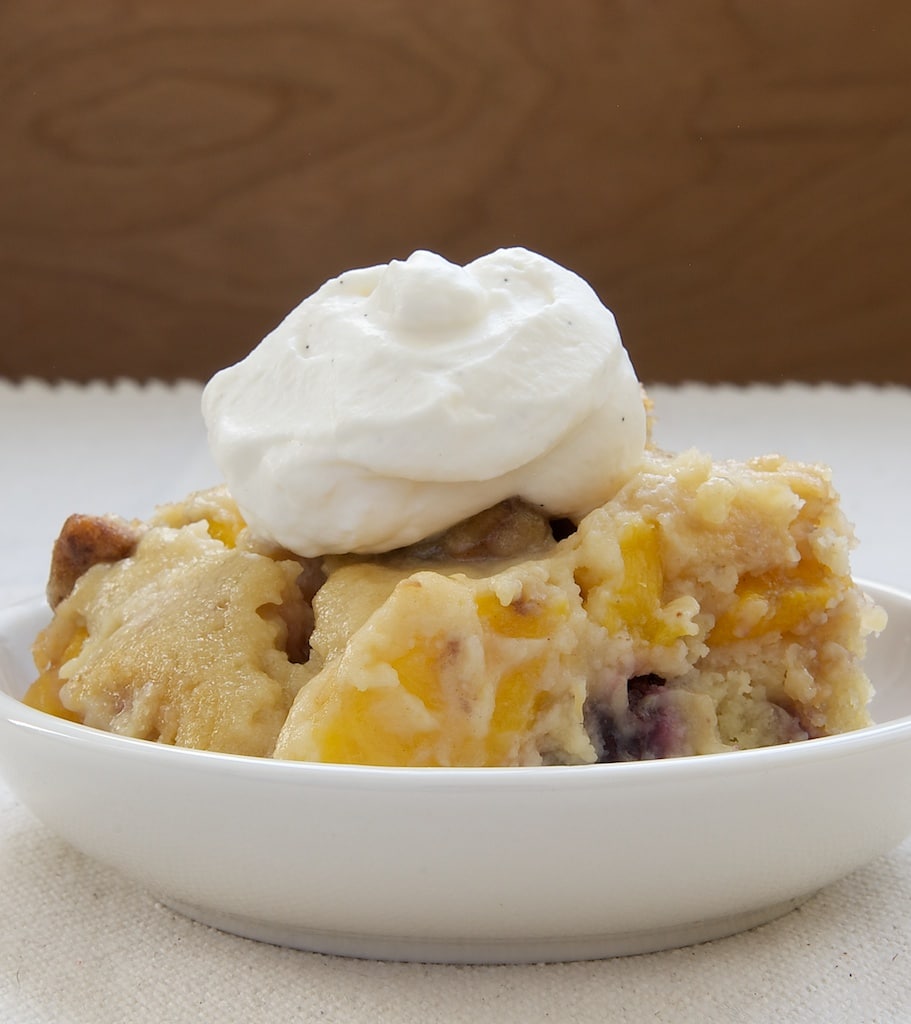 Peach cobbler has been around for ages. I've had many versions from those made with canned peaches and cake mix to far more elaborate ones with fresh peaches and homemade pastry. And, really, they're all good.
This version is a nice middle ground between easy and complicated. There's more effort involved than the cake mix cobbler versions, but it all comes together quickly.
The addition of blackberries is a fantastic variation. They add a bit of tartness that goes perfectly with the always super sweet peaches. A little bourbon mixed with the peaches gives them a smoky sweetness. Such amazing flavors!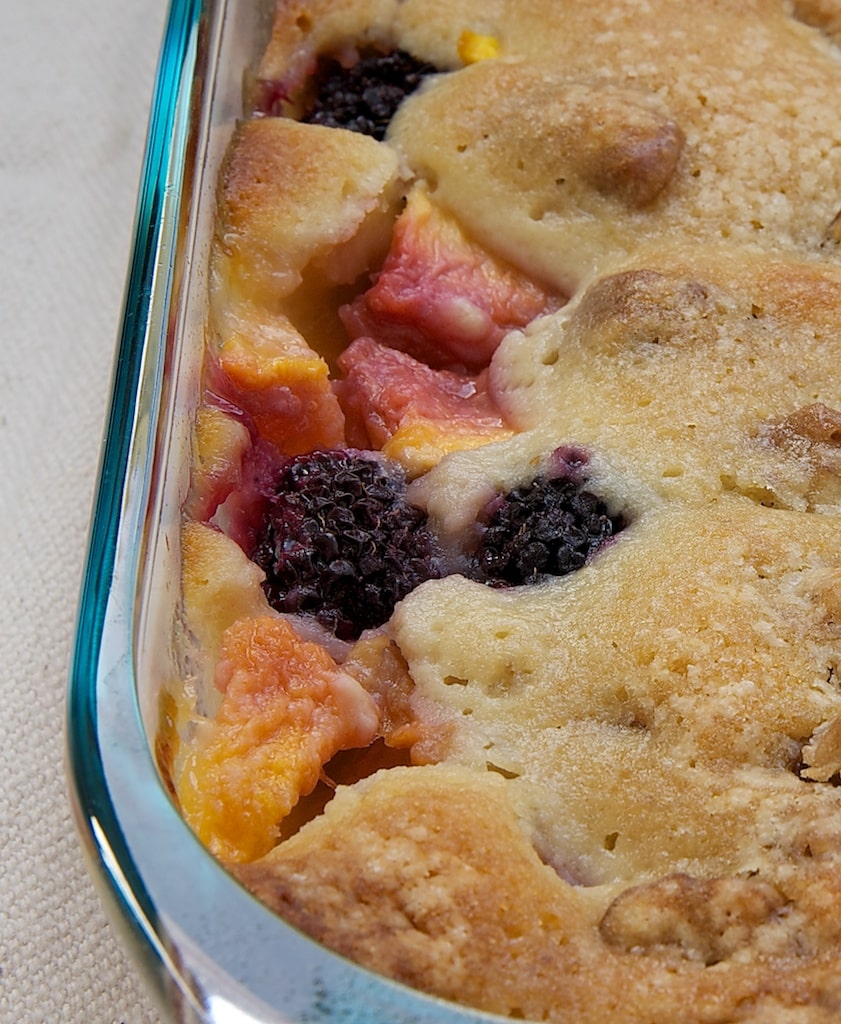 One of my favorite parts of this cobbler is the topping. Remember those Glazed Pecans I shared with you recently? Well, I am happy to tell you that they get mixed into the topping for a bit of sweet crunch. Apparently, you can buy glazed pecans, although I don't remember seeing them around here. In any case, they're quite simple to make yourself.
Even though you'll only need about a cup of pecans for the cobbler, go ahead and make the full batch. You can use some for garnish when you serve the cobbler. Or, you know, you could just eat them. That definitely works, too.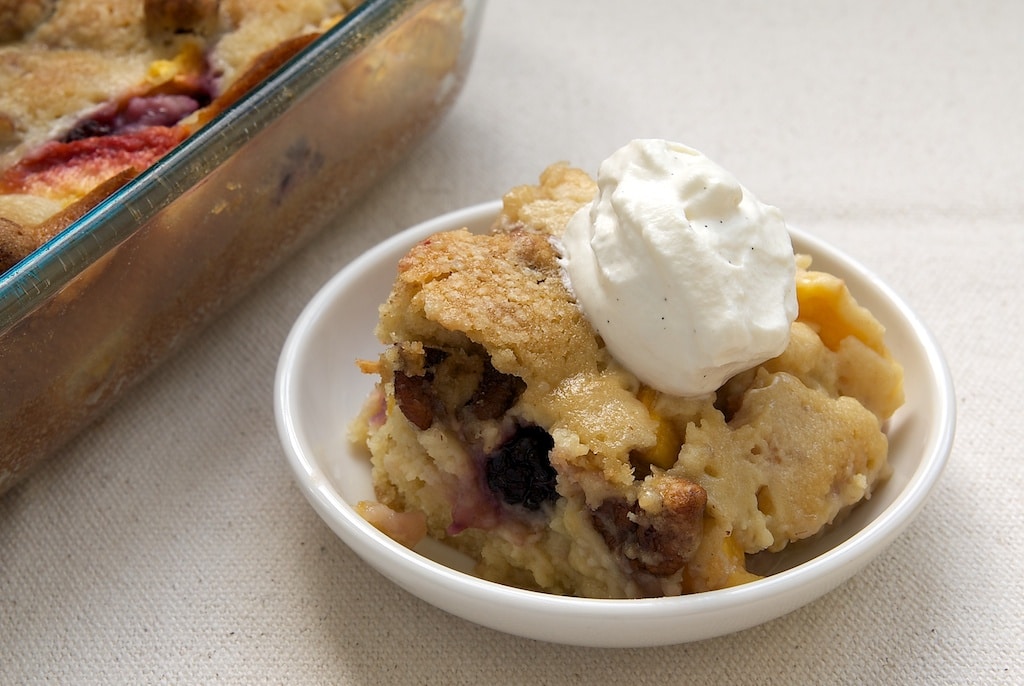 This cobbler is a bit thicker and, well, sturdier than most cobblers. You can easily cut it into squares instead of just scooping it. It's still nice and gooey, which is the whole point of a cobbler, right? Ice cream is a traditional cobbler topping, and you can't go wrong pairing it with this cobbler. But I highly recommend a dollop of vanilla bean whipped cream. So, so good.
For more summer dessert ideas, see my Summer Favorites!
Blackberry Peach Cobbler
Yield: 10 to 12 servings
Prep Time:25 minutes
Cook Time:1 hour
Blackberry Peach Cobbler is one of summer's perfect desserts. It's sweet, nutty, and delicious!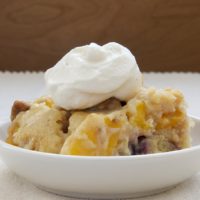 Ingredients:
3 & 1/4 cups all-purpose flour, divided
1 teaspoon baking powder
3/4 teaspoon salt
1 cup unsalted butter, softened
1 cup firmly packed light brown sugar
1 & 1/2 cups granulated sugar, divided
4 large eggs
1 tablespoon vanilla extract
4 cups fresh blackberries (about 18 ounces)
4 cups peeled and sliced fresh ripe peaches
3 tablespoons bourbon
1 cup Glazed Pecans, roughly chopped (plus more for garnish)
Vanilla Bean Whipped Cream, for garnish
Directions:
Preheat oven to 350°F. Grease and flour a 9″ x 13″ baking pan.
Whisk together 3 cups flour, baking powder, and salt. Set aside.
Using an electric mixer on medium speed, beat the butter, brown sugar, and 1 cup granulated sugar until creamy. Add the eggs, 1 at a time, mixing just until blended after each addition. Stir in the vanilla.
Reduce mixer speed to low and gradually add the flour mixture. Mix just until blended.
Spread about 3/4 of the batter into the prepared pan. Sprinkle with blackberries.
In a separate bowl, mix 1/2 cup granulated sugar and 1/4 cup flour. Add the peaches and bourbon, and stir until the peaches are coated. Spoon evenly over the blackberries.
Stir the pecans into the reserved batter. Dollop the batter over the peaches.
Bake for 1 hour, or until the topping is golden and the cobbler is bubbly. Cool completely on a wire rack before serving.
Garnish, if desired, with whipped cream and more glazed pecans.