August 6, 2015
Peanut Butter Caramel Pretzel Bars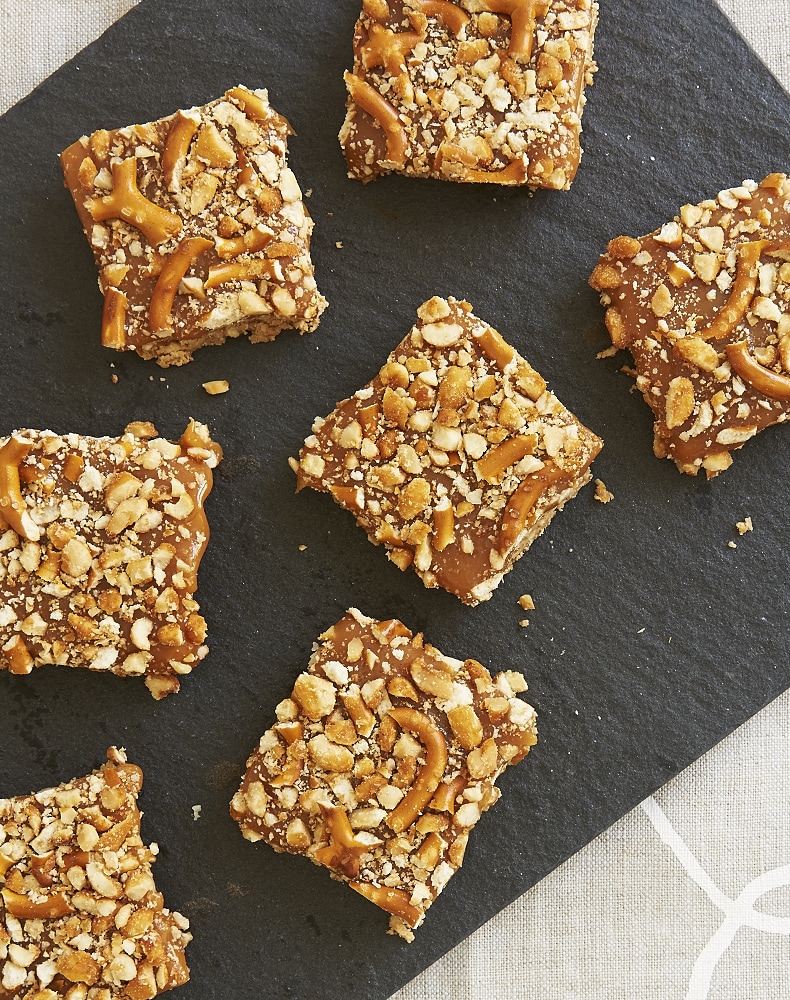 Baking with seasonal ingredients is always special because you know you can only use those ingredients during certain times of the year. But then there are the ingredients that know no season. Those aren't any less special in my book, as they're some of my favorite flavors.
These bars are certainly a year round treat. They're made with plenty of irresistible peanut butter, rich caramel, and crunchy pretzels and peanuts. Sweet and salty fans, I trust I have your attention now.
And did I mention that they're no-bake? You'll just need a little bit of stovetop time to melt the caramel. Then just assemble, stick the pan in the refrigerator, and let them chill for a bit before serving.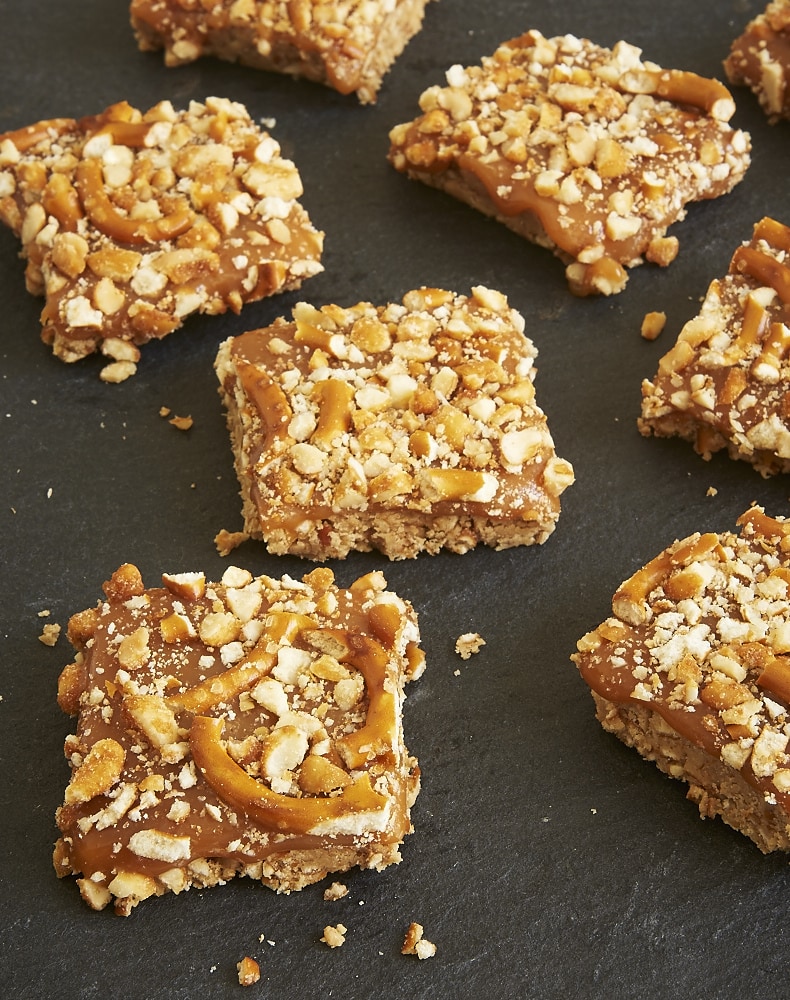 There's much to love about these bars. They're sweet, salty, gooey, crunchy… and a bit messy. Be sure to press the toppings into the caramel when you're assembling the bars. That will help them stay put and not make a big mess when you're serving them. I used the back of a cookie spatula to press the pretzels and peanuts into the caramel. A large spoon or a measuring cup would work, too.
The subtle saltiness of these bars is really quite perfect. But if you want to emphasize the salty in sweet and salty, add a sprinkling of coarse salt on top.
Find more no-bake recipes in the Recipe Index.
Peanut Butter Caramel Pretzel Bars
Yield: 24 to 36 bars
Prep Time:25 minutes
Peanut Butter Caramel Pretzel Bars are so deliciously sweet, salty, crunchy, and gooey!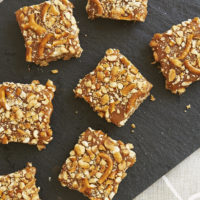 Ingredients:
For the crust:
1 & 1/2 cups confectioners' sugar
1 cup creamy peanut butter
6 tablespoons unsalted butter, melted
2 cups finely crushed pretzels
For the topping:
11 ounces soft caramels
1/4 cup heavy cream
1/2 cup coarsely crushed pretzels
1/2 cup coarsely chopped peanuts
Directions:
To make the crust:
Line a 9″x 13″x 2″ baking pan with aluminum foil or parchment paper so that the lining overhangs the short ends by a couple of inches. Lightly grease the lining.
Using an electric mixer on medium speed or just a large mixing spoon, combine the confectioners' sugar, peanut butter, and melted butter until thoroughly mixed. Stir in the crushed pretzels.
Press the mixture evenly into the bottom of the prepared pan.
To make the topping:
If wrapped, unwrap the caramels. Place them in a medium heavy saucepan. Add the cream, and cook over medium-low heat, stirring frequently, until the caramel has melted and the mixture is smooth.
Spread the caramel mixture over the crust. Sprinkle the pretzels and peanuts over the top of the caramel. Use a spatula or spoon to press gently down into the caramel.
Cover and refrigerate for at least 2 hours. Use the overhanging lining to lift the bars onto a cutting board before cutting into bars.
Keep refrigerated.