January 8, 2019
Dulce de Leche Magic Bars
Dulce de Leche Magic Bars are a rich, tasty twist on classic Magic Bars or 7-Layer Bars. With chocolate and nuts joining the party, these bars are irresistible!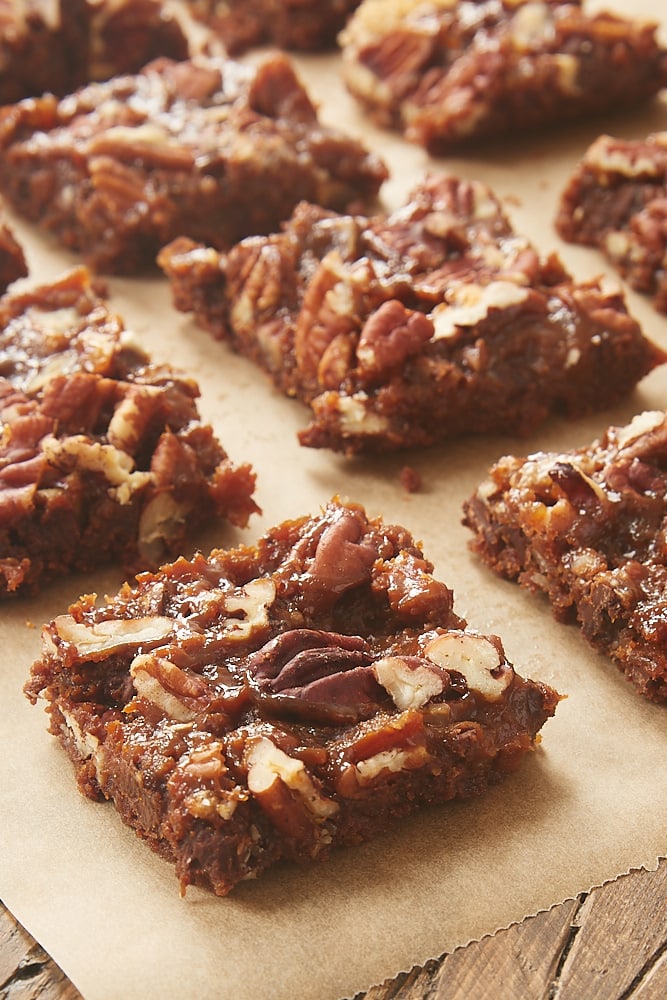 Magic Bars are one of the first things I remember baking by myself, and they've become a go-to when I need a quick and easy dessert. Some of you may know them as 7-Layer Bars, Hello Dolly Bars, or maybe Double Cookie Bars. No matter what you call them, they're one of those treats that's so amazingly good, especially considering how easy they are to make.
These Dulce de Leche Magic Bars are similar to classic Magic Bars but with dulce de leche instead of condensed milk. Dulce de leche is one of my favorite flavors. It's a bit like caramel but with a little different taste and texture. With these bars, that wonderful flavor combines with chocolate, nuts, and more for an amped up version of a classic.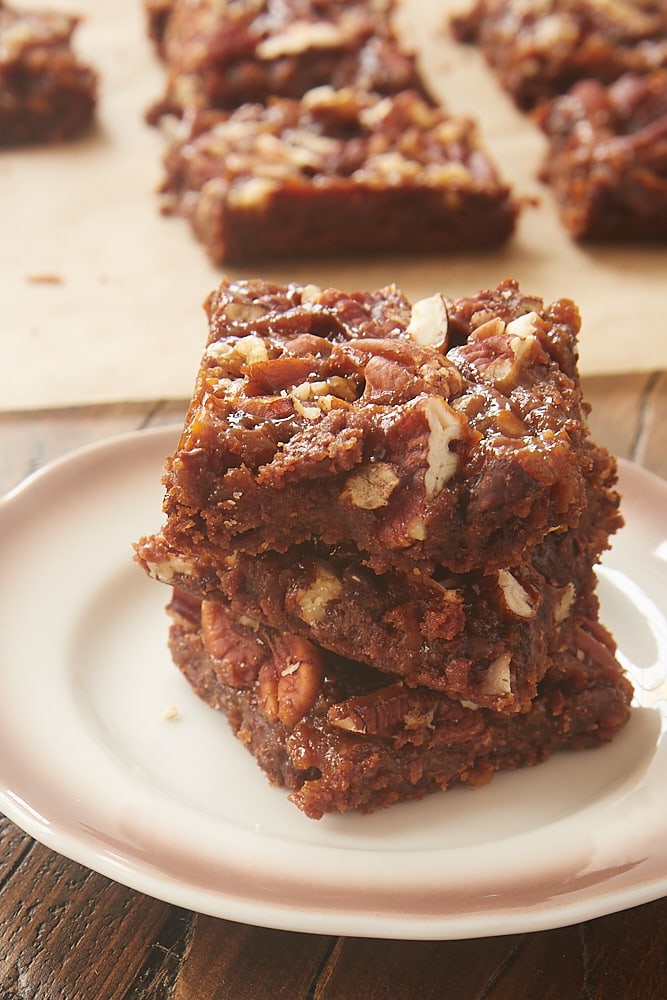 As these types of bars do, we start with a simple cookie crumb crust. Graham crackers are the usual choice, and these are no exception with chocolate graham cracker crumbs. Next comes chocolate chips and crisp rice cereal. I have to say that I'd never made Magic Bars with crisp rice cereal, but I really love the flavor and little bit of crunch that it adds.
Dulce de leche gets poured over all of that deliciousness, but first it needs to be made more pourable. A little bit of warm water added to it will do that easily so that you can pour it over the filling. Take your time and try to cover as much surface area as you can. If there are some bare spots, that's fine. Don't worry about trying to spread it evenly.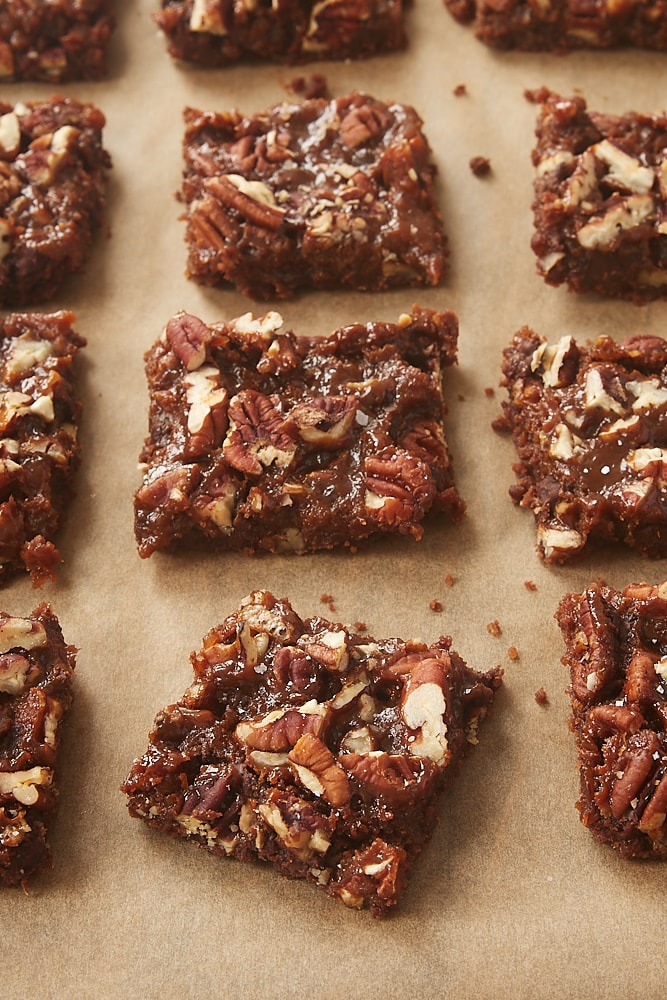 All of that gets topped with plenty of pecans. There are lots of flavors going on here, but all those pecans give these bars a flavor that's reminiscent of pecan pie. That was actually my first thought when I tried them, and some of my taste testers mentioned that as well. If you're a fan of pecan pie and all its myriad variations, then be sure to add these Dulce de Leche Magic Bars to your baking list.
As many variations of Magic Bars that I've made over the years, these Dulce de Leche Magic Bars shot up to the top of my favorites list. Like those other variations, you can easily change up the flavors to suit your tastes or to accommodate the ingredients you have on hand. If you're looking to change up your Magic Bars game, the addition of dulce de leche will certainly do that.
Find more bar recipes in the Recipe Index.
More Magic Bar Recipes
Dulce de Leche Magic Bars
Yield: 24 2-inch bars
Prep Time: 10 minutes
Cook Time: 35 minutes
Dulce de Leche Magic Bars add a sweet, rich dulce de leche twist to classic Magic Bars or 7-Layer Bars.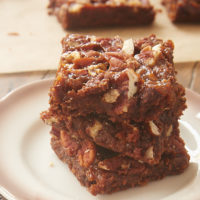 Ingredients:
1 & 3/4 cups (175g) chocolate graham cracker crumbs
1/2 cup (113g) unsalted butter, melted
1 & 1/2 cups (42g) crisp rice cereal
1 cup (170g) semisweet chocolate chips
1 & 1/4 cups (380g) dulce de leche*
6 tablespoons warm water (110° to 115°F)
1 & 1/2 cups (120g) coarsely chopped pecans
sea salt, optional
Directions:
Preheat oven to 350°F. Line a 9″x 13″x 2″ baking pan with parchment paper and lightly grease.
Combine the graham cracker crumbs and butter until thoroughly combined. Press into the bottom of the prepared pan.
Sprinkle the cereal and chocolate chips over the crust.
Combine the dulce de leche and water until smooth and pourable. Pour over the cereal and chocolate.
Sprinkle the pecans evenly over the top of the dulce de leche. Press down lightly.
Bake 30 to 35 minutes, or until the edges are set but the center is not quite set. Be sure not to overbake.
Sprinkle with sea salt if you like. Place the pan on a wire rack to cool completely before cutting into bars.**
Notes:
*Look for dulce de leche with the condensed milk products, in the international section, or with the ice cream toppings. The amount used in this recipe is equivalent to a 13.4 ounce can that is often available.
**My one caution for making these is to keep in mind that the filling is very gooey. Be sure to cool the bars completely before serving or else they may not hold together very well. You may want to refrigerate them after the initial cooling to let the filling set a bit faster.
Recipe adapted from Taste of Home.