December 31, 2012
Peanut Butter Cookie Bars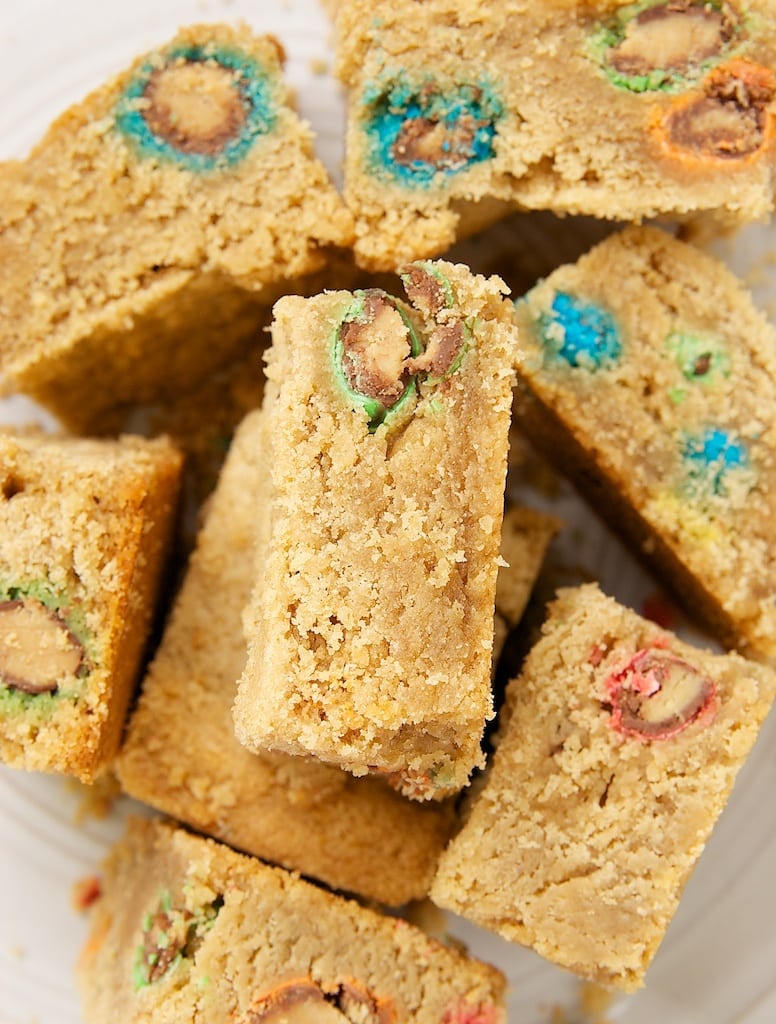 I didn't really plan on making these bars. But, they just kind of happened.
I made a huge mistake. The last time I ordered from Nuts.com, I somehow reasoned that it would be a great idea to order a bag of peanut butter M&Ms. Have you tried these? I'm generally just a peanut M&Ms kind of girl, but good heavens!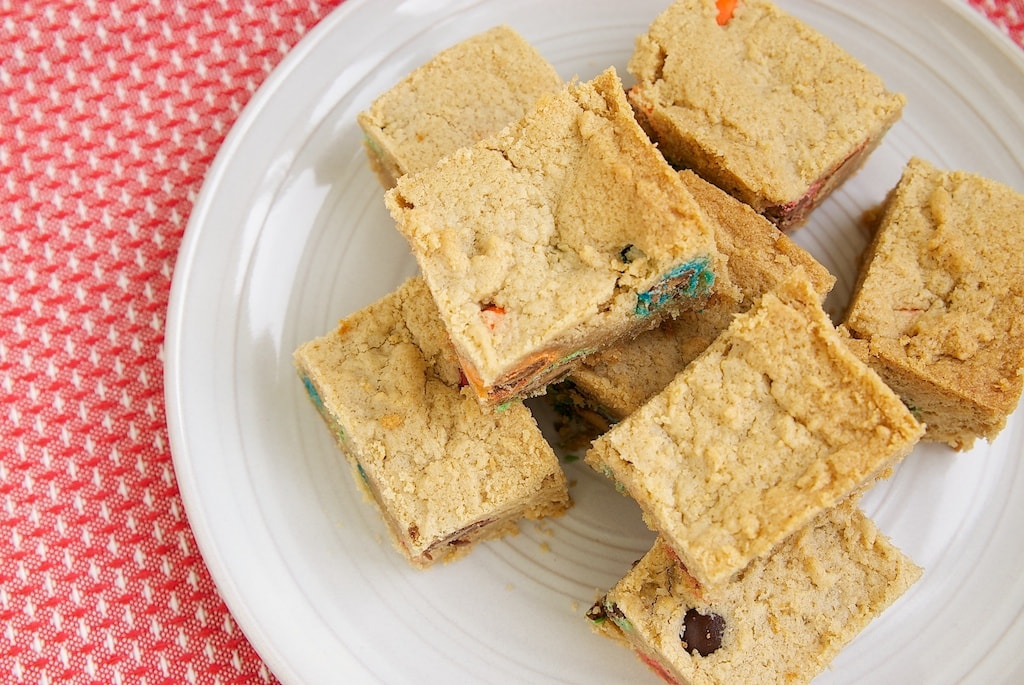 To save ourselves from just eating all of them directly from the bag, I decided to make cookies. Then, as a combination of the size of the M&Ms and my unwillingness to scoop cookies, they became cookie bars.
These bars are based on my go-to peanut butter cookie recipe (which you can see in action here and here). They'll certainly work as cookies, although you might make them a tad bigger to accommodate the size of the peanut butter M&Ms.
And, of course, you can substitute some other equally delicious thing for the M&Ms. Any variety will work, or just use chocolate chips or some other small or chopped candy bar.
Peanut Butter Cookie Bars
Yield: 16 2-inch bars
Prep Time:15 minutes
Cook Time:30 minutes
These Peanut Butter Cookie Bars are so simple and versatile. Just stir in your favorite add-ins!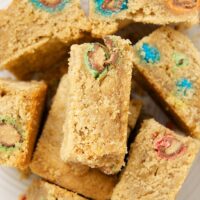 Ingredients:
1 & 1/4 cups all-purpose flour
1/2 teaspoon baking powder
1/2 teaspoon salt
1/2 cup unsalted butter, softened
1/2 cup granulated sugar
1/2 cup packed light brown sugar
1 cup peanut butter (creamy or crunchy)
1 large egg
1 teaspoon vanilla extract
3/4-1 cup Peanut Butter M&Ms
Directions:
Preheat oven to 350°F. Lightly grease an 8-inch square baking pan.
Whisk together the flour, baking powder, and salt. Set aside.
Using an electric mixer on medium speed, beat the butter, sugar, and brown sugar until light and fluffy. Add the peanut butter and mix well. Mix in the egg and vanilla.
Reduce mixer speed to low. Gradually add the flour mixture, mixing until almost blended. Stir in the M&Ms.
Transfer the batter to the prepared pan. Bake 25-30 minutes, or until the edges are lightly browned and a pick inserted into the center comes out with a few moist crumbs. Cool in the pan on a wire rack before cutting into bars.