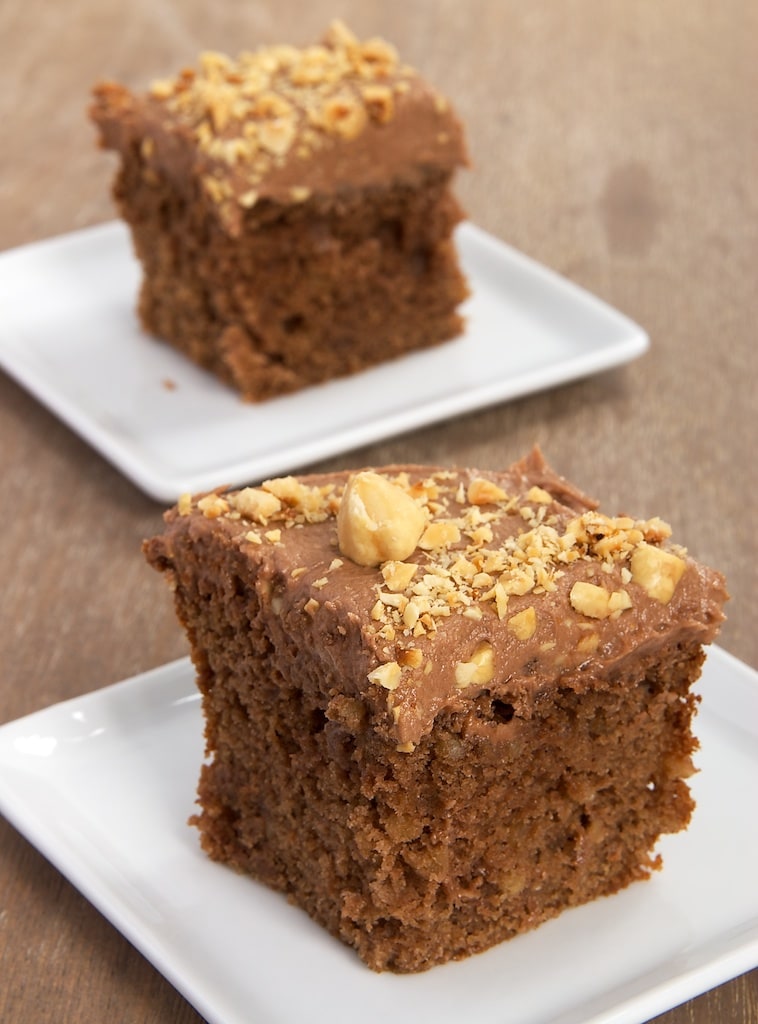 Yesterday was my birthday. I'm long past the age of big birthday celebrations, but there has to be cake. It's a requirement. Usually, Quinn very sweetly makes me a cake. But with the way both of our schedules were going, I took the reins and made my own cake this year.
I opted for my favorite kind of dessert – simple and delicious. I also went with one of my favorite flavor combinations – chocolate and hazelnut. I've long been a fan of Nutella and other chocolate-hazelnut spreads. All that big chocolate and hazelnut flavor is right up my alley. If you are a fan, too, then you'll adore this cake.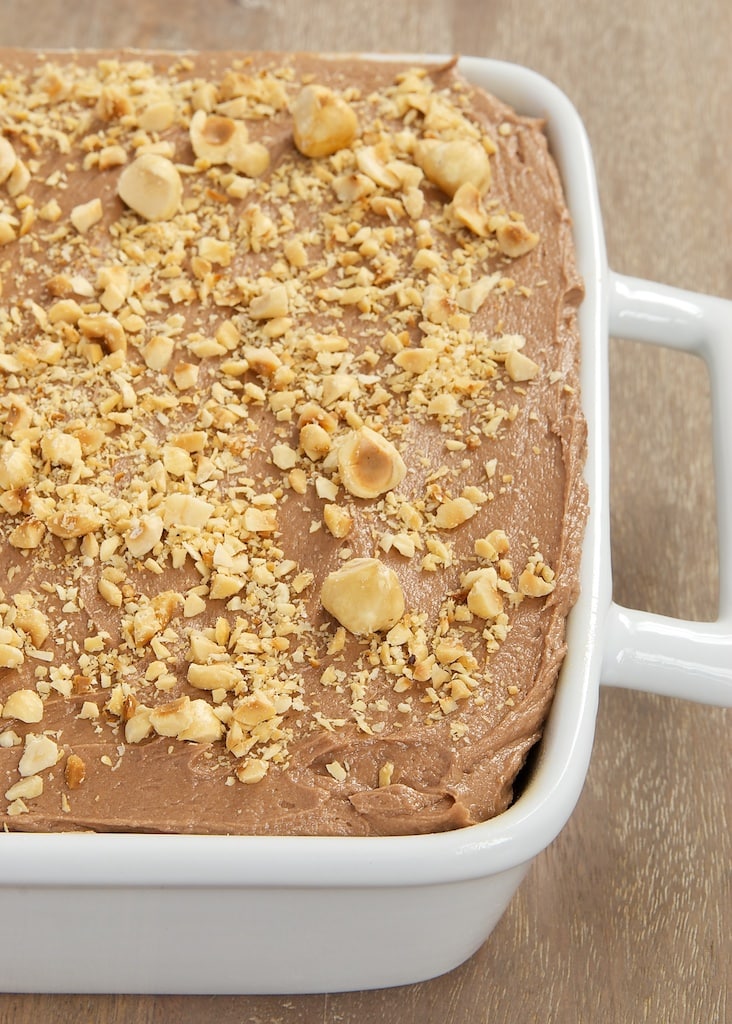 The cake has such a great chocolate flavor. And all that chocolate flavor comes from the spread. There's no other chocolate present, yet it makes for a lovely chocolate cake with a nice, soft texture.
Then there's the frosting. All of that big, thick frosting. Again, all the chocolate comes from chocolate-hazelnut spread. Add in some cream cheese, butter, and sugar, and you've got a lot of sweet, chocolate-y, fluffy frosting that's really just insanely good.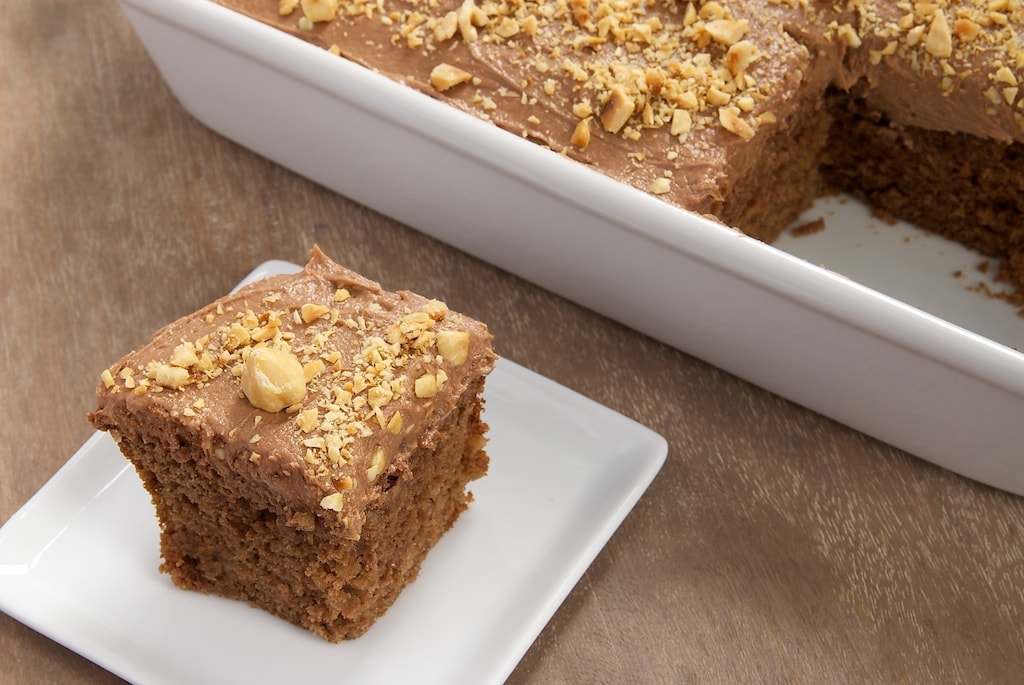 I wish I could have shared this cake with all of you to celebrate another birthday. BoB recently had a birthday, too, turning 8 just a couple of months ago. This simple yet delicious cake is such a great choice to celebrate in a sweet way!
Find more cake recipes in the Recipe Index.
Yield: 12 to 16 servings
Prep Time: 30 minutes
Cook Time: 30 minutes
If you love chocolate-hazelnut spreads like Nutella, you'll be instantly smitten with this Frosted Chocolate Hazelnut Cake.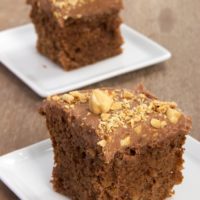 For the cake:
1/2 cup toasted hazelnuts – plus more for garnish*
2 & 1/2 cups all-purpose flour, divided
1 teaspoon baking powder
1 teaspoon baking soda
1/4 teaspoon salt
1/2 cup unsalted butter, softened
1/2 cup granulated sugar
1/2 cup packed dark brown sugar
1/2 cup chocolate-hazelnut spread (I used Nutella)
1 teaspoon vanilla extract
3 large eggs
1 cup sour cream
For the frosting:
1/2 cup unsalted butter, softened
8 ounces cream cheese, softened
3/4 cup chocolate-hazelnut spread (I used Nutella)
4 cups confectioners' sugar, sifted
Directions:
To make the cake:
Preheat oven to 350°F. Grease a 9″x 13″x 2″ baking pan.
Place the hazelnuts and 1/4 cup flour in the bowl of a food processor. Pulse until finely ground.
Whisk together the remaining 2 & 1/4 cups flour, baking powder, baking soda, salt, and hazelnut mixture. Set aside.
Using an electric mixer on medium speed, beat the butter, sugar, and brown sugar until light and fluffy. Add the chocolate-hazelnut spread and vanilla. Continue mixing until combined. Add the eggs, one at a time, mixing well after each addition.
Reduce mixer speed to low. Add the flour mixture in 3 portions, alternating with 2 portions of sour cream. Mix just until combined.
Transfer the batter to the prepared pan and spread evenly.
Bake 25 to 30 minutes, or until a pick inserted into the center comes out clean. Cool the cake completely in pan.
To make the frosting:
Using an electric mixer on medium speed, beat the butter, cream cheese, and chocolate-hazelnut spread until smooth.
Gradually add the confectioners' sugar, beating until smooth.
Spread the frosting on top of the cooled cake. Garnish with coarsely chopped toasted hazelnuts.
Notes:
*Be sure to let the hazelnuts cool after you've toasted them.