Combine two favorite desserts into one with these amazingly delicious Strawberry Shortcake Cheesecake Bars!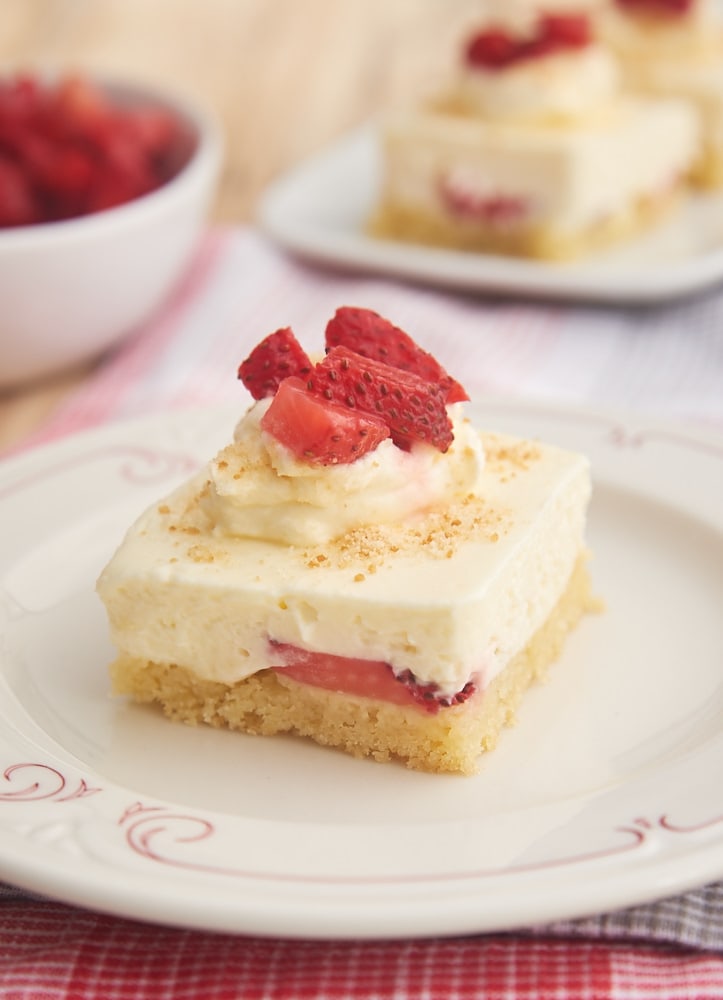 Strawberry Shortcake Cheesecake Bars
As much as I try to be organized, sometimes I have planning fails when it comes to baking. Recently, I thought I had everything I needed for a recipe, only to realize that I'd forgotten to get a key ingredient. That left me with lots of strawberries that I didn't want to go to waste. They ended up in these Strawberry Shortcake Cheesecake Bars, which are so amazingly good that my original recipe plans are now forgotten.
These bars combine two favorite desserts, strawberry shortcake and cheesecake bars, into one cool, creamy, sweet, so-very-summery treat. If you're looking for a crowd-pleasing summertime dessert, this is it!
It all starts with a simple, thin layer of pound cake. This is a fairly basic pound cake scaled down to be a perfect starting layer for these bars. It's a soft, tasty alternative to a traditional cheesecake crust. Next comes sliced strawberries. On top of that is an easy no-bake cheesecake with just a hint of fresh lemon juice added to brighten it up a bit.
Then, it's garnish time with a dollop of sweetened whipped cream, a sprinkle of vanilla cookie crumbs, and some sweetened strawberries. The finished product is impressive looking without being difficult to make. It's just the kind of dessert to share at a summertime gathering with friends and family.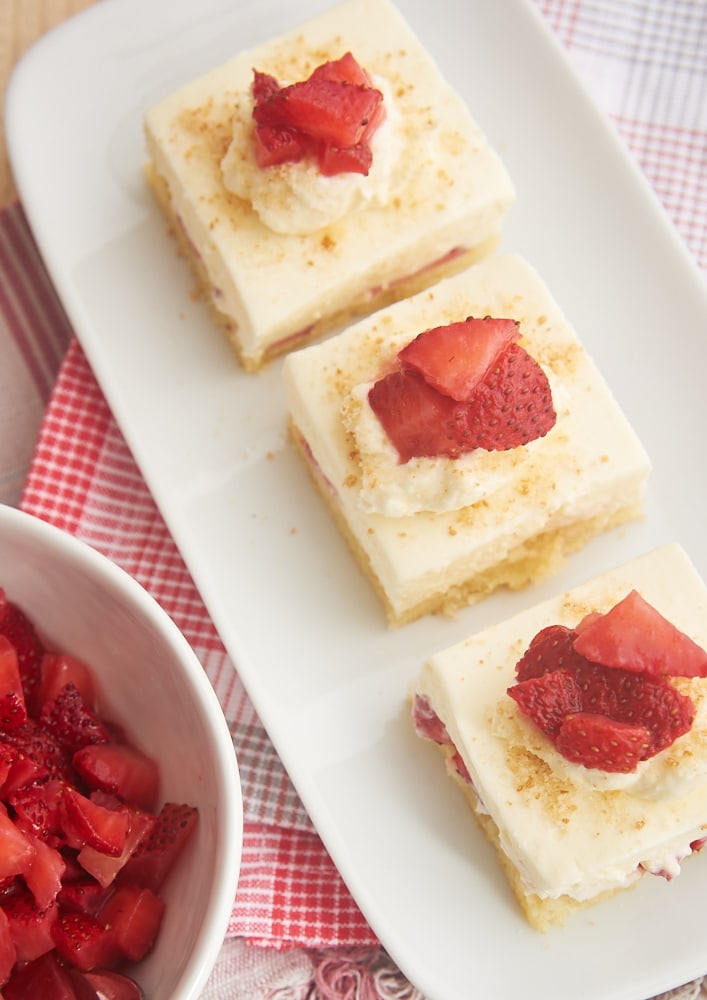 What You'll Need
Along with strawberries and lemon, you'll need some common baking ingredients to make these bars. Be sure to scroll down to the recipe card at the end of this post for ingredient quantities and full instructions.
For the cake:
All-purpose flour – Measure by weight or use the spoon and sweep method. Learn more: How to Measure Flour
Baking powder
Salt
Unsalted butter – Allow the butter to soften before mixing. That means it should be soft but not all the way to room temperature. Learn more: How to Soften Butter
Granulated sugar
Eggs – Allow the eggs to come to room temperature for easier mixing.
Vanilla extract – Almond extract works well, too. Or try a squeeze of lemon juice.
For the filling:
Strawberries – Cut the strawberries into 1/4-inch slices. I like to make these with a single layer of strawberries, but you can easily add more if you like.
Cream cheese – Let the cream cheese come to room temperature for a smooth filling. Full-fat, block-style cream cheese works best.
Granulated sugar
Lemon juice – The lemon is a nice contrast to the sweetness. If you prefer to use vanilla extract instead of lemon, I'd suggest using about 2 teaspoons.
Heavy cream
Topping Ideas
Sweetened whipped cream – Make a little extra whipped cream for serving.
More strawberries – Go all in with strawberries and top these bars with more strawberry slices.
Cookie crumbs – Try adding a sprinkling of vanilla wafer crumbs, graham cracker crumbs, or golden Oreos.
Can I Use Frozen Strawberries?
While fresh strawberries will work best, frozen berries can be used for the filling. You won't need to thaw them, but you may want to rinse and dry them well so the color doesn't bleed into the cake. Learn more: Fresh vs Frozen Fruits in Baking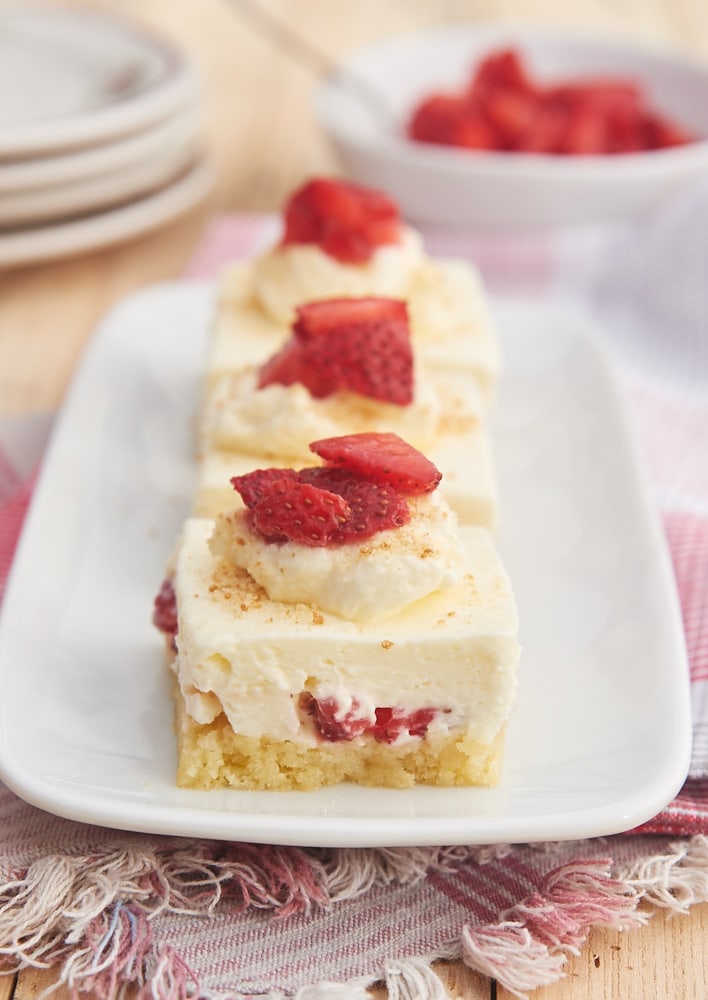 How to Make Strawberry Shortcake Cheesecake Bars
Ready to whip up this delicious dessert? No springform pan needed! Just grab your trusty 9×13! Here's what you'll need to do.
To make the cake
Prepare for baking. Heat the oven to 350°F. Grease a 9- by 13- inch baking pan. If you like, line the pan with parchment paper and grease the paper. I recommend a cooking spray with flour, like Baker's Joy or Pam Baking.
Combine the dry ingredients. Whisk together the flour, baking powder, and salt.
Combine the wet ingredients. With an electric hand mixer or stand mixer on medium speed, beat the butter and sugar until fluffy and lightened in color. Mix in the eggs one at a time, and then mix in the vanilla.
Add the dry ingredients to the wet ingredients. With the mixer on low speed, gradually add the flour mixture to the butter mixture. Mix just until combined.
Bake. Spread the batter evenly in the prepared pan. Bake for 18 to 22 minutes, or until the edges are browned and a pick inserted into the center comes out clean.
Cool. Set the pan on a wire rack and allow it to cool completely.
To make the filling
Add the strawberries. Arrange the sliced strawberries in an even layer on top of the cooled cake.
Start mixing the filling. With an electric hand mixer or stand mixer on medium speed, beat the cream cheese, sugar, and lemon juice. Mix until smooth.
Whip the cream. In a separate large bowl, use an electric mixer with a whisk attachment to whip the cream on high speed. Whip until soft to medium peaks form.
Finish the filling. Fold about a third of the whipped cream into the cream cheese mixture. Then, gently fold the remaining whipped cream into the mixture, taking care not to over-mix.
Assemble. Spread the cheesecake batter over the strawberries on top of the cake.
Chill. Refrigerate the bars for at least 4 hours before serving.
Tips for Success
Don't over-mix the filling. Fold the whipped cream gently into the cream cheese mixture so you don't deflate the whipped cream and lose that light, fluffy texture.
Use more strawberries if you like. The amount in the recipe will make a single layer of berries. If you want more strawberry flavor, you can simply add more. Don't overload it, but you could likely use a full pint of strawberries for the filling and topping combined.
Don't skip the chilling time. Before slicing and serving, these cheesecake bars need to chill to allow the filling to set.
How to Store
Keep these cheesecake bars covered and refrigerated. They should keep in the refrigerator up to 4 days, although it will be at its best within a day or so.
Can These Cheesecake Bars Be Frozen?
Yes, you can freeze these cheesecake bars, although the texture may be affected. Wrap well or place in an airtight, freezer-safe container. Properly stored, they should keep up to 2 months in the freezer. Thaw overnight in the refrigerator.