December 8, 2014
Cranberry Crumble Cheesecake Bars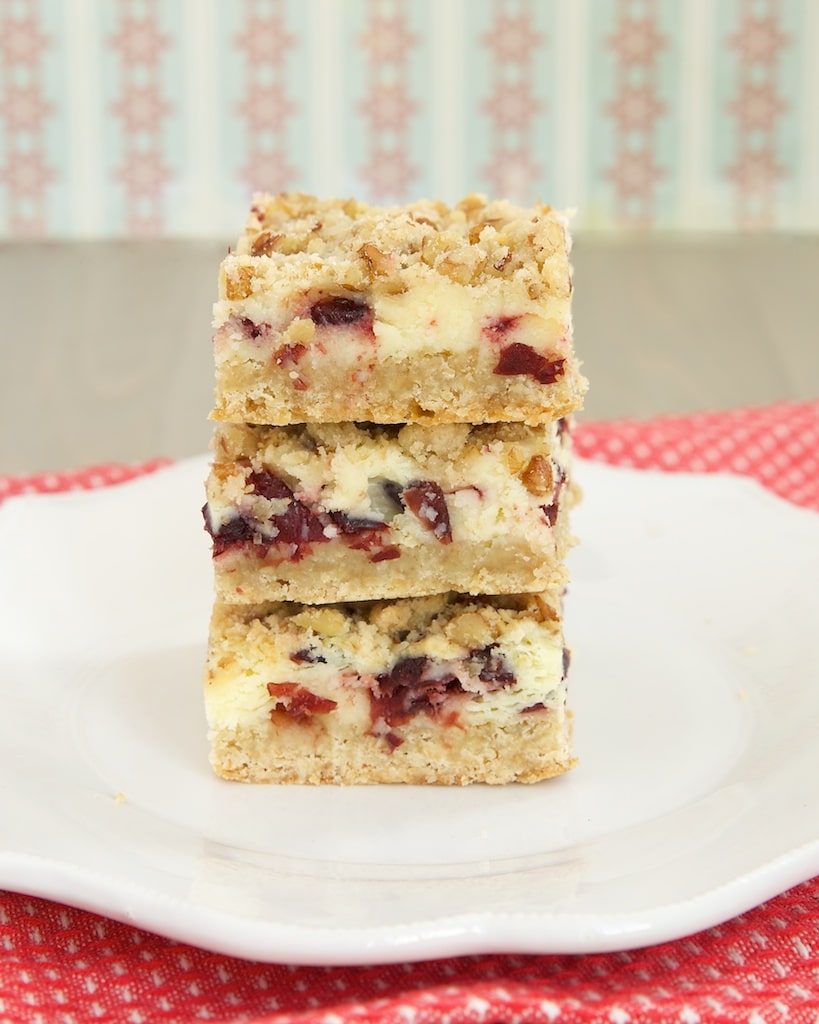 We covered a lot of cranberry territory last month, with a buckle, a Bundt, and a pie/cheesecake hybrid. I've got one more bit of cranberry goodness up my sleeve, though, with these beautiful Cranberry Crumble Cheesecake Bars!
These lovely bars combine a lot of good things into one delicious place. There's a sweet, buttery, nutty crust that also doubles as a crumb topping. And there's cheesecake filled with sweet/tart dried cranberries and flavored with a bit of lemon juice. They are, in a word, delectable!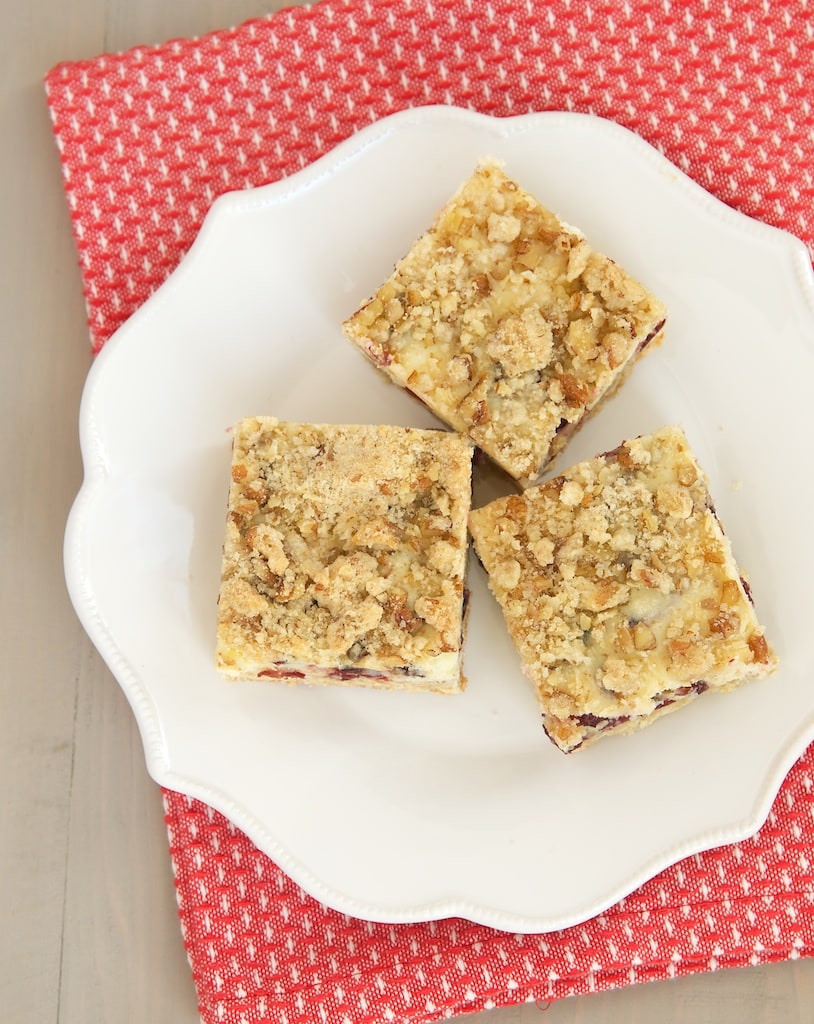 Cranberry season is so brief that it can be tough to get your hands on a fresh batch when you want them. I used dried cranberries for these bars so they can easily be made year-round. But if you prefer fresh, that will work as well.
These simple bars are a lovely addition to your holiday baking. The sweet and tart flavors complement each other wonderfully. Serve them to your guests, take them to a cookie swap, or mix them in among the other treats on your cookie trays this season.
Cranberry Crumble Cheesecake Bars
Yield: 24 2-inch bars
Prep Time:25 minutes
Cook Time:1 hour
Cranberries, rich cheesecake, and a nutty crumb topping combine in these layered bars for a lovely treat.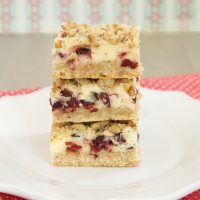 Ingredients:
For the crust and crumb topping:
2 cups all-purpose flour
1 & 1/2 cups old-fashioned rolled oats
1 cup unsalted butter, cold and cut into 1/2-inch cubes
1/2 cup granulated sugar
1/2 cup packed light brown sugar
1/2 teaspoon baking powder
1/2 teaspoon salt
1/2 cup chopped pecans
For the filling:
16 ounces cream cheese, softened
3/4 cup granulated sugar
2 large eggs
2 teaspoons lemon juice (from 1 medium lemon)
1 cup dried cranberries
Directions:
To make the crust and crumb topping:
Preheat oven to 350°F. Grease and flour a 9"x 13"x 2" baking pan.
Place the flour, oats, butter, sugar, brown sugar, baking powder, and salt in the bowl of a food processor. Pulse several times until the mixture is crumbly.
Remove 1 cup of the mixture and mix with the pecans, forming small clumps with your fingers. Refrigerate until needed.
Press the remaining crust mixture firmly and evenly into the bottom of the prepared pan. Bake 15 minutes. Then, set aside to cool slightly.
To make the filling:
Place the cream cheese, sugar, eggs, and lemon juice in a large mixing bowl. Using an electric mixer on medium speed, beat until combined and smooth. Stir in the dried cranberries.
Pour the filling mixture over partially cooled crust. Spread evenly.
Scatter the reserved crumb topping over the filling.
Bake 40 to 45 minutes, or until the edges are brown and the filling is set.
Cool in the pan on a wire rack for 20 minutes. Cover and chill for at least 2 hours before serving.
This recipe was originally developed for Clabber Girl, where I am a paid contributor.