This delicious, decadent Chocolate Sheet Cake is a great go-to recipe for a birthday, some other special occasion, or just because. It's soft, fluffy, and so flavorful!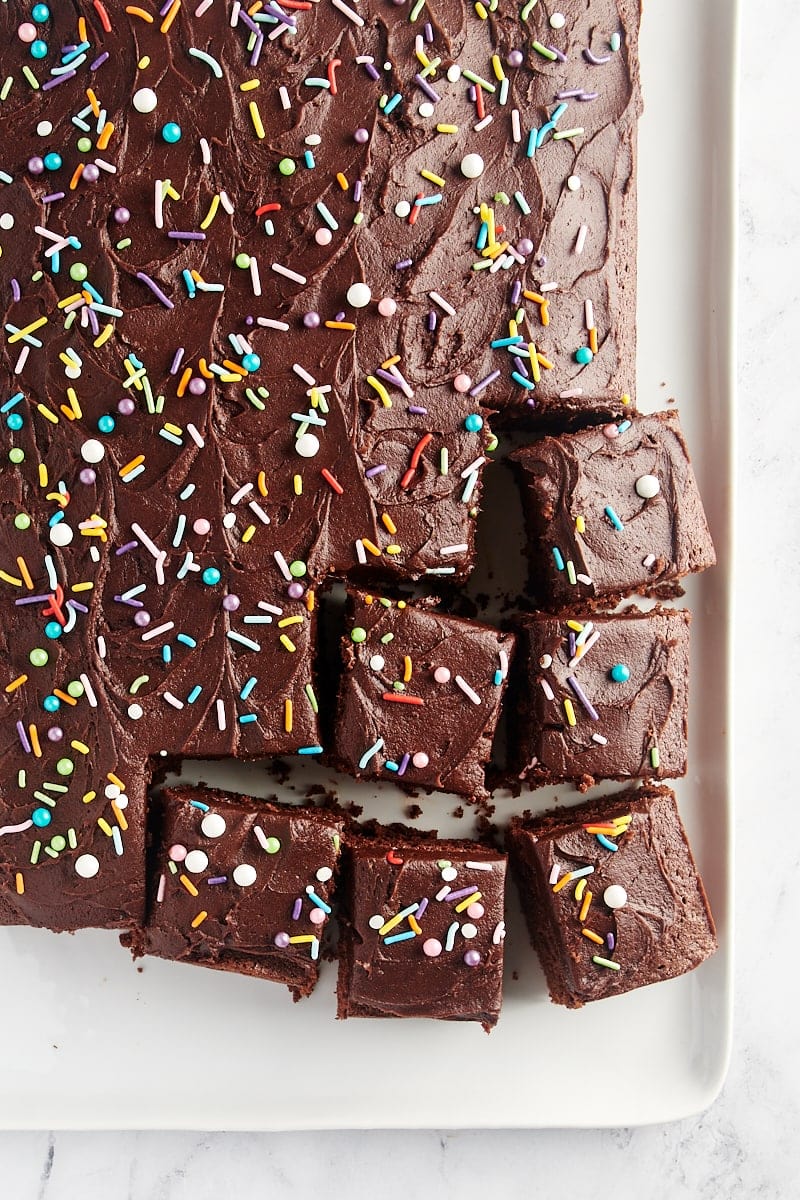 The Best Chocolate Sheet Cake
When I need a simple cake for a special occasion, this chocolate cake is just the thing. It has a lot going for it, and it's always, always a crowd-pleaser.
First of all, let's talk about flavor. This cake has such amazing flavor, thanks to a good dose of chocolate in the batter. Instead of cocoa powder, this recipe uses melted unsweetened chocolate. That creates a lovely chocolate flavor that is the perfect stage for some seriously rich frosting.
If you've made my chocolate cupcakes, then you'll recognize this chocolate buttercream that's gracing the top of this cake. It's so easy to make and makes a wonderfully rich, thick, significant frosting.
This cake also celebrates simplicity. While chocolate is not a simple flavor, it stands on its own smack dab in the middle of the flavor focus here. Add in buttermilk and sour cream to give this cake a soft, fluffy texture, and you've got a real winner among your chocolate-loving crowd.
This chocolate sheet cake is perfect for birthdays and other celebrations. Dress it up with some colorful sprinkles to add a splash of color to add to the celebration. But don't relegate this cake to birthdays only. It's also a pretty darn good idea for no reason at all!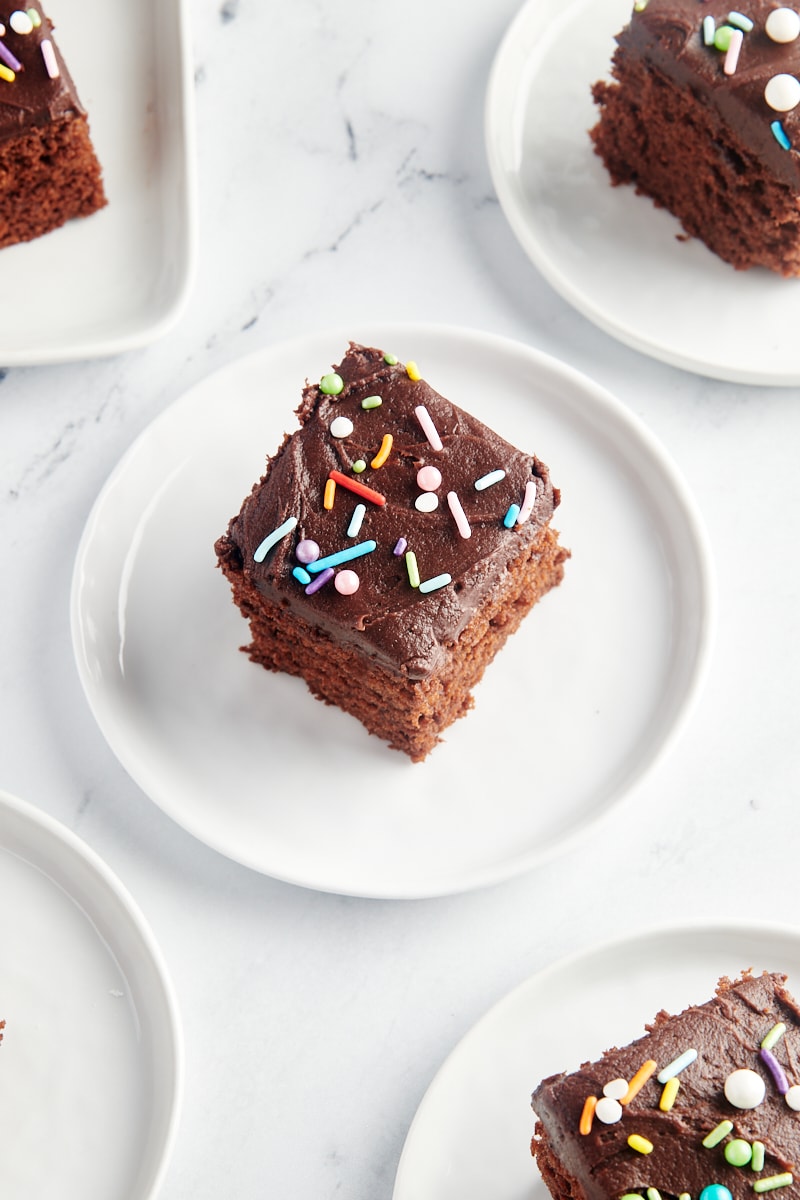 What is a Sheet Cake?
A sheet cake is a single layer cake baked in a rectangular pan. Most commonly, they're baked in a half sheet pan or a 9×13 pan. Usually, they're topped with frosting as a finishing touch.
One of the best things about sheet cakes is that they're easy to make and decorate. Without stacking layers and with a simple frosting treatment, sheet cakes are great for bakers of all skill levels. They're also easy to serve and transport.
For more sheet cake recipes made in 9×13 pans, try Vanilla Cake with Vanilla Frosting, Strawberry Sheet Cake, and Lemon Sheet Cake, too.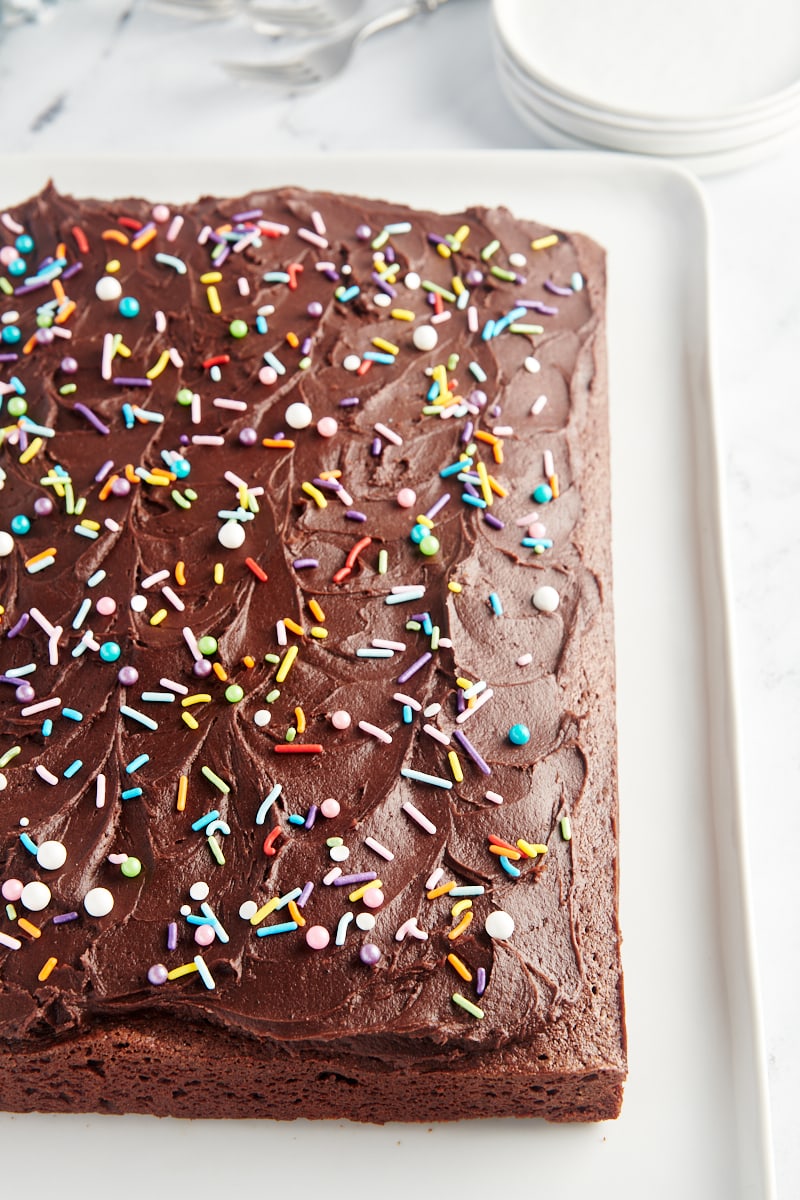 What You'll Need
See the recipe card at the bottom of this post for ingredient quantities and full instructions. Here are some notes about the ingredients you'll need to make this chocolate cake and frosting.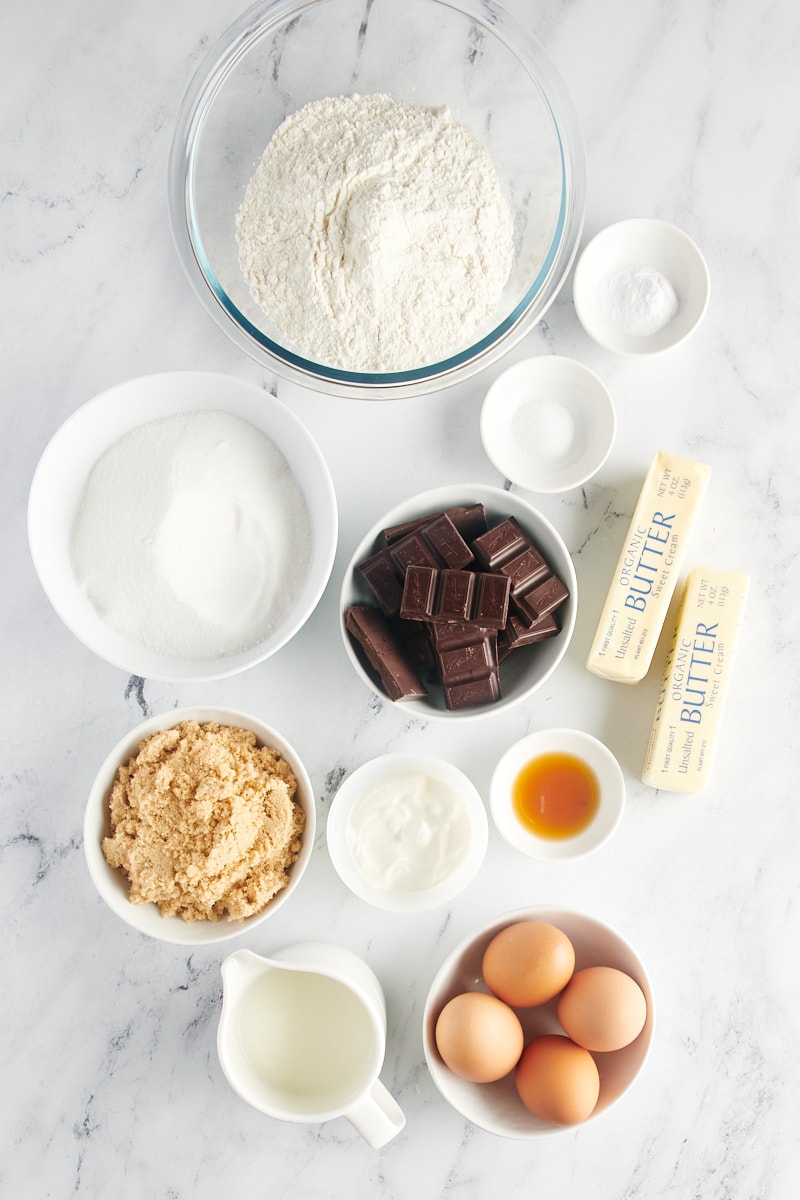 For the cake:
All-purpose flour – Measure by weight for best results. If you don't have a digital kitchen scale, use the spoon and sweep method to avoid over-measuring. Learn more: How to Measure Flour
Baking soda
Salt
Unsalted butter – Allow the butter to soften before mixing. Learn more: How to Soften Butter
Granulated sugar
Light brown sugar – Be sure to pack the brown sugar firmly into the measuring cup. Better yet, measure by weight.
Eggs – Let these come to room temperature so they'll mix more easily and make a fluffier cake.
Unsweetened chocolate – After melting the chocolate, let it cool slightly before adding it to the batter.
Buttermilk – Using store-bought buttermilk will give you the best results, but you can make a substitute if needed. Learn more: How to Make Buttermilk Substitutes
Vanilla extract
Sour cream – Use full-fat sour cream for the best results.
How to Melt Chocolate
There are a couple of options for melting the chocolate for this cake. You can use a double boiler, which consists of a heat-proof bowl set on top of a simmering pan of water so that the water doesn't touch the bottom of the pan. Place the chocolate in the top bowl, and heat and stir until melted.
You can also melt chocolate in the microwave. Place the chocolate in a microwave-safe bowl. Heat a half-power in 30-second increments, stirring after each heating, until the chocolate melts.
Either way you choose to melt your chocolate, you'll have the best results if you start with pieces of chocolate roughly the same size. Keep in mind that chocolate chips can be more difficult to melt, so you'll likely have better success with bars or discs.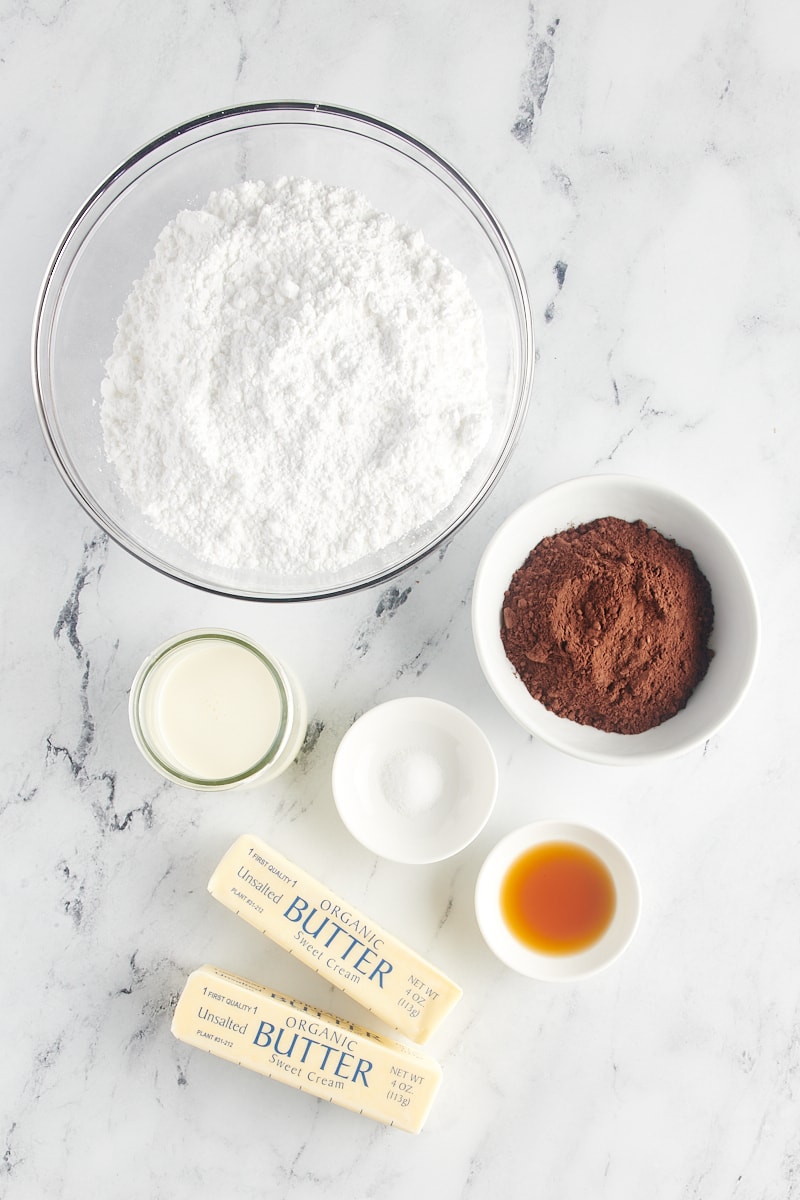 For the chocolate frosting:
Unsalted butter – Be sure to let this soften so it will mix more easily.
Confectioners sugar – This is also called powdered sugar. If you like, sift the sugar for the smoothest frosting.
Cocoa powder – You may prefer to sift this as well, especially if it seems lumpy.
Heavy cream
Vanilla extract
Salt
Sprinkles! – Of course, these are optional, but they add a pop of bright color for a celebration.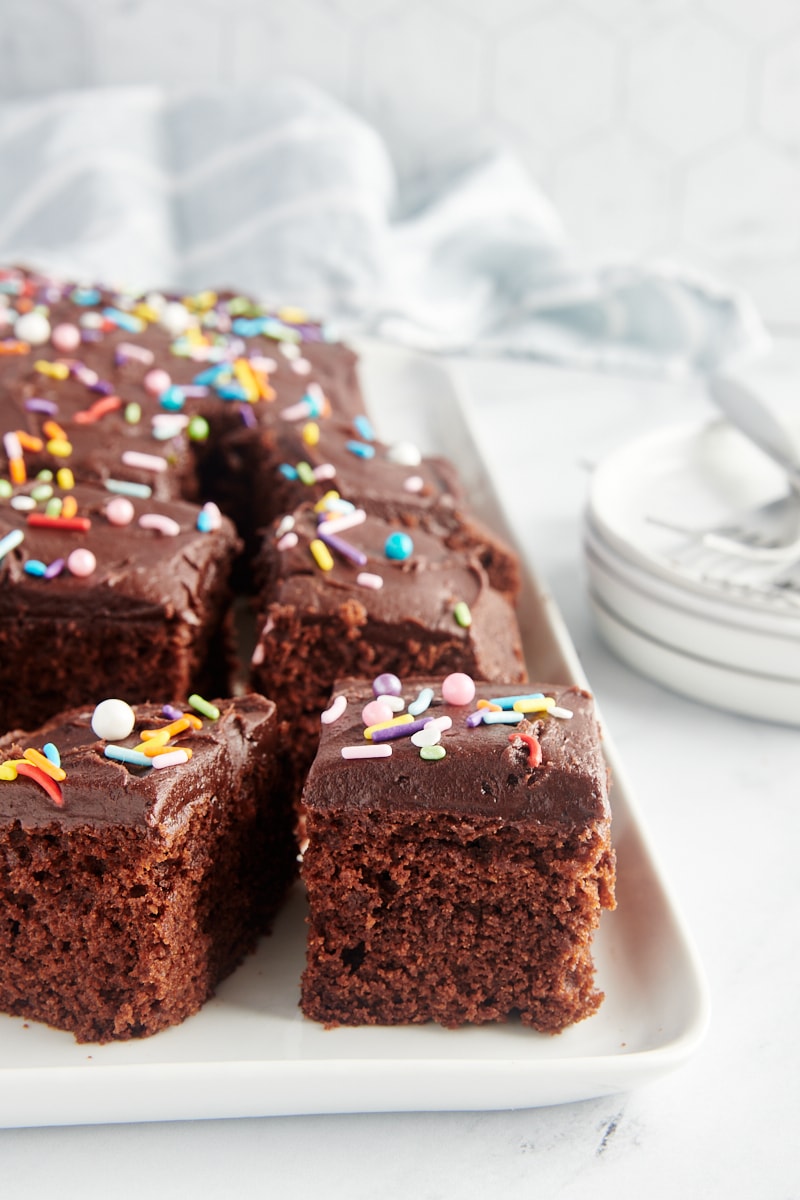 How to Make Chocolate Sheet Cake
This cake is simple and straightforward to make and is a great baking project for bakers of all skill levels.
To make the cake:
Prepare for baking. Heat the oven to 350°F. Grease a 9″ x 13″ x 2″ baking pan, line with parchment paper, and grease the paper. I recommend a cooking spray with flour, like Baker's Joy or Pam Baking. The lining isn't absolutely required, but it does make removing the cake from the pan far simpler. If you plan to serve from the pan, then it's not necessary.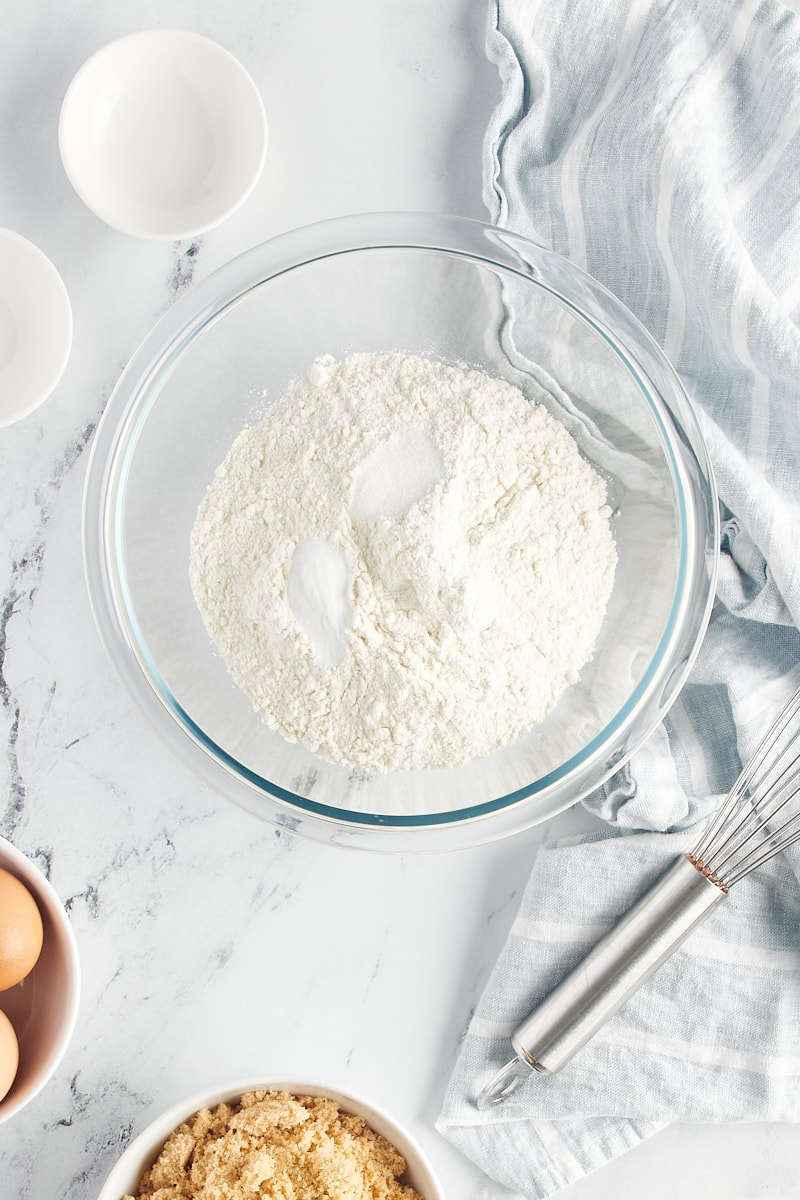 Combine the dry ingredients. Whisk together the flour, baking soda, and salt.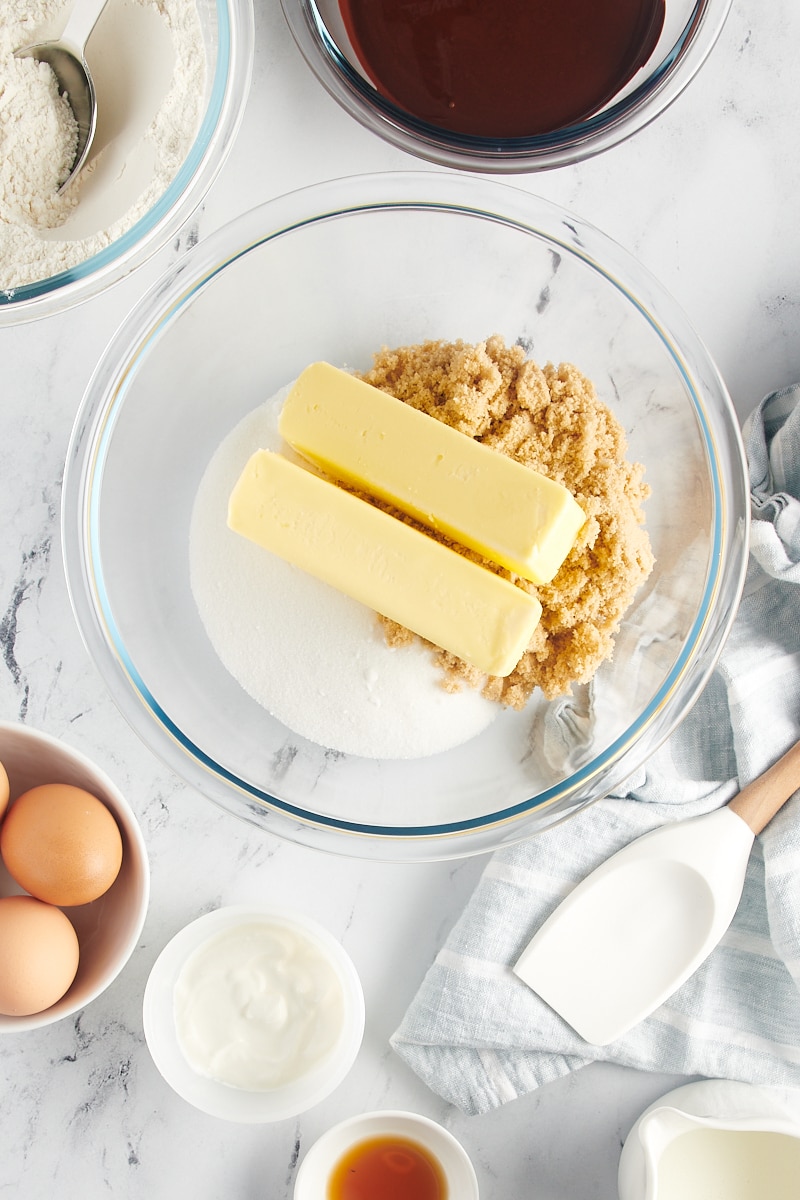 Begin mixing the wet ingredients. With an electric mixer on medium speed, beat the butter, sugar, and brown sugar until fluffy and lightened in color. Add the eggs one at a time, mixing well after each addition.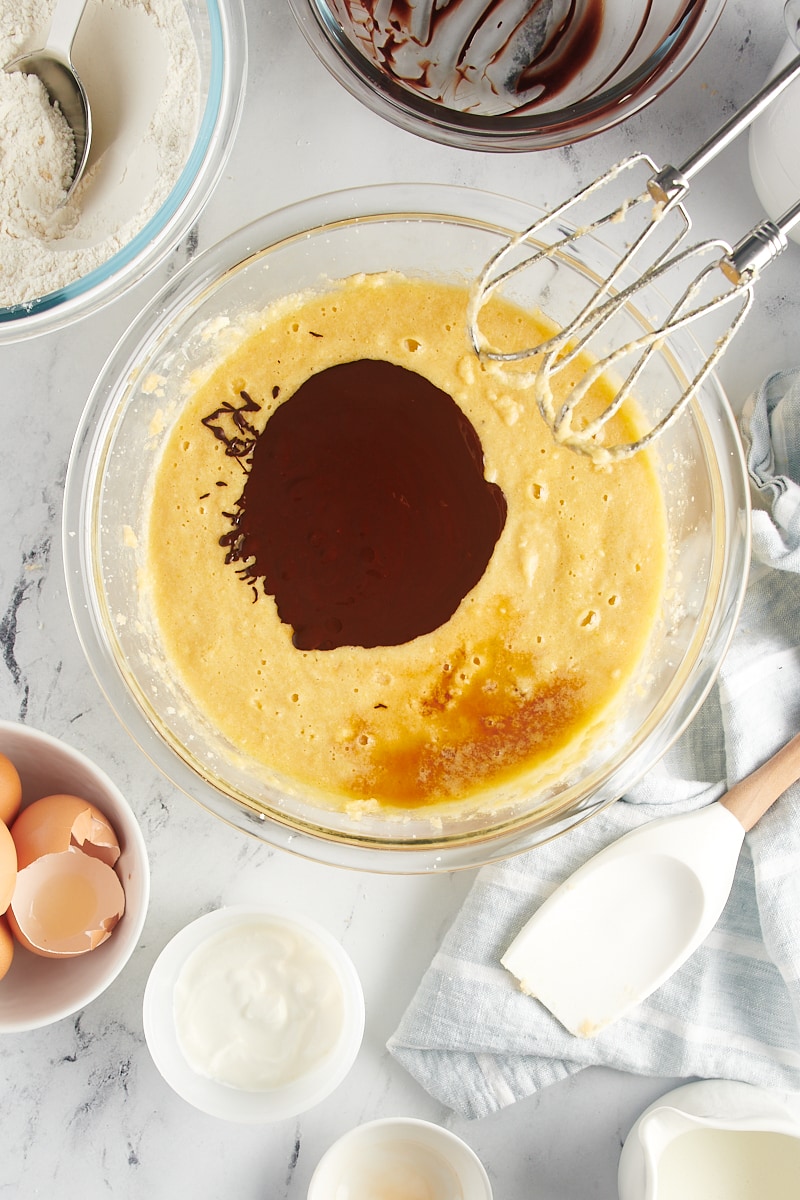 Mix in the chocolate and vanilla. Add the melted chocolate and vanilla, and mix until combined.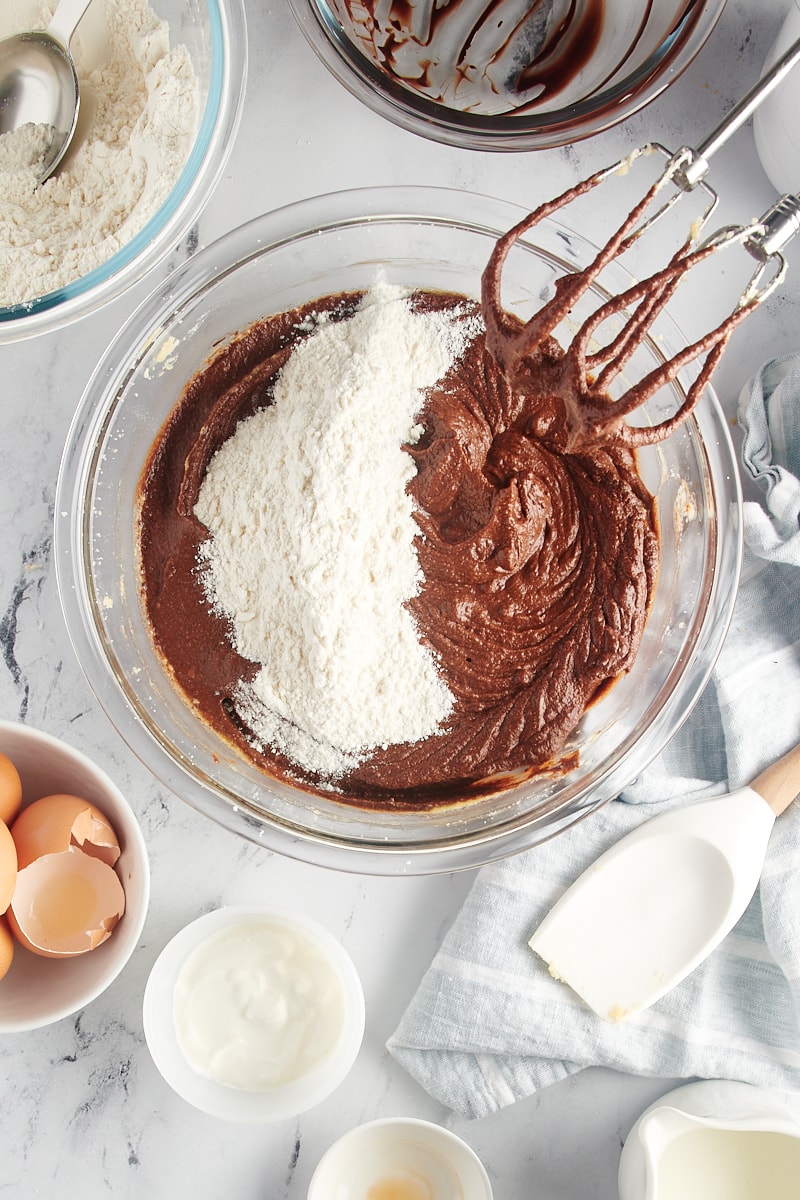 Add the flour mixture, buttermilk, and sour cream. With the mixer on low speed, gradually add the flour mixture in three portions, alternating with two portions of the buttermilk. Mix just until combined or a few small streaks of flour remain. Stir in the sour cream.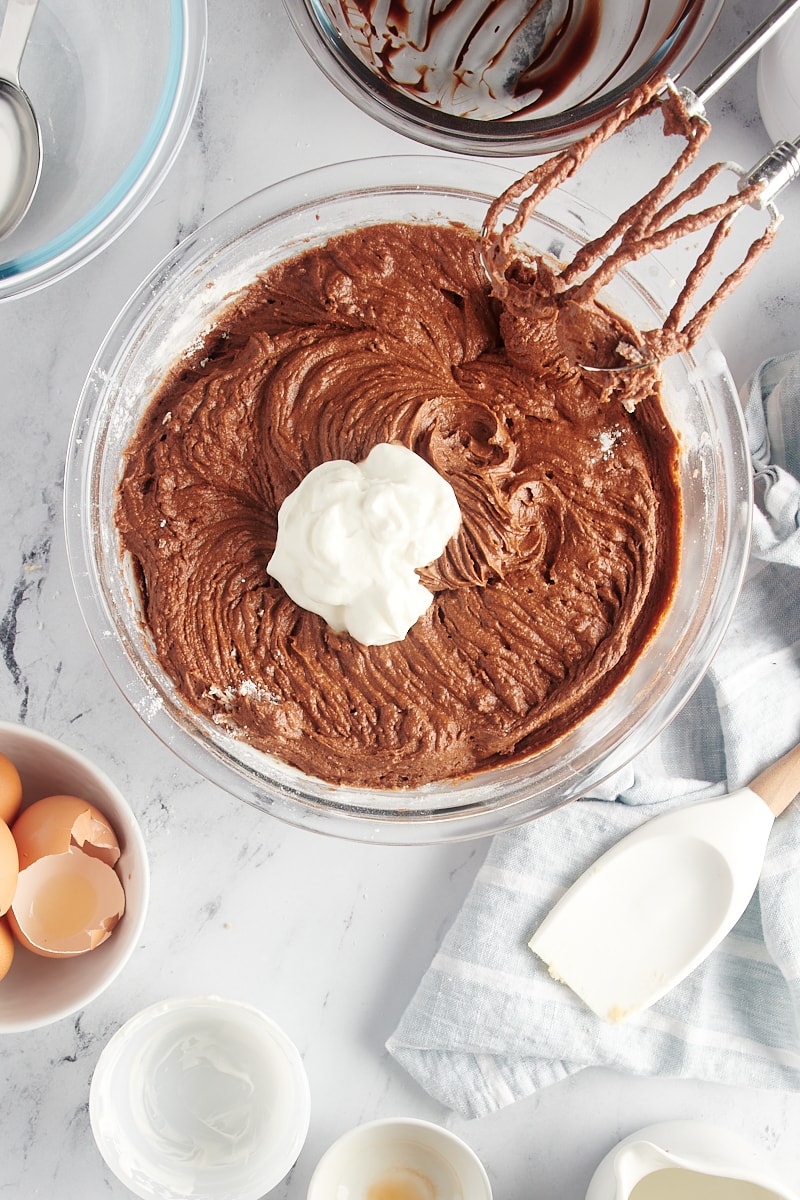 Bake. Transfer the batter to the prepared pan, and spread it evenly. Tap the pan gently on the countertop a few times to dislodge any air bubbles. Bake 35 to 40 minutes, or until a pick inserted into the center comes out clean.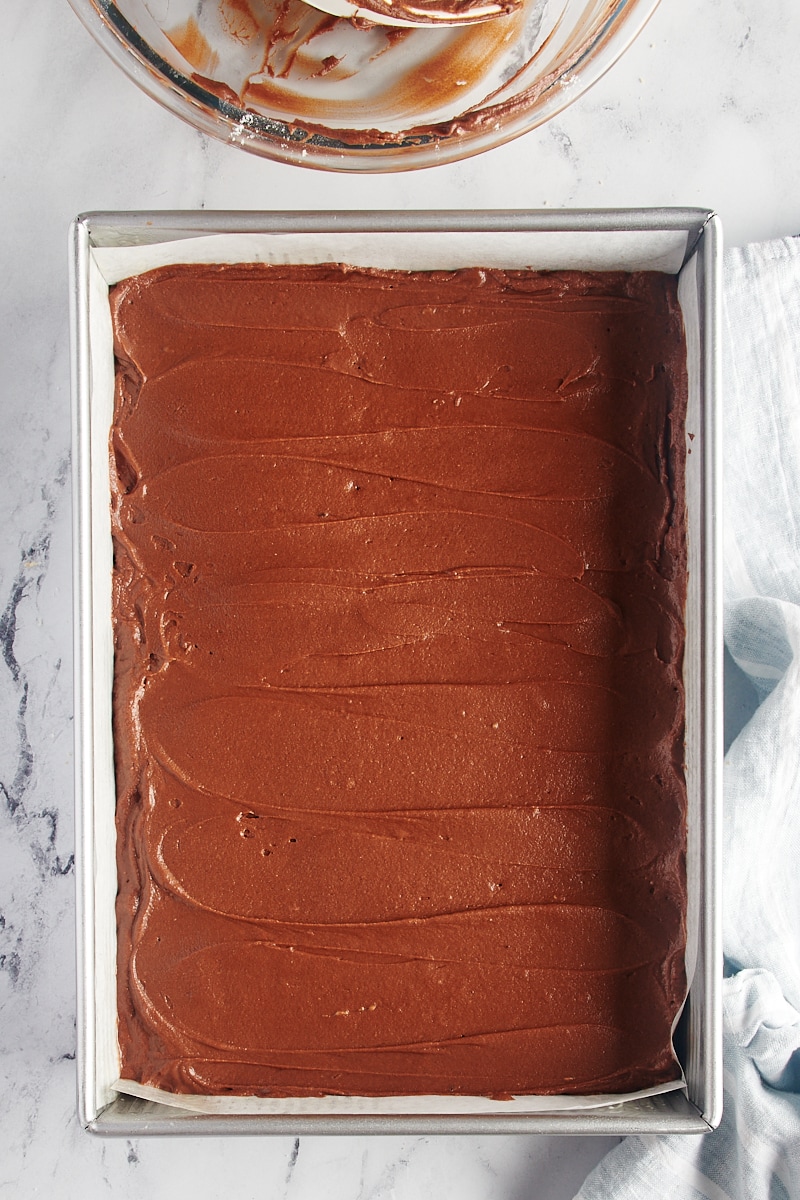 Cool. Place the pan on a wire rack, and allow the cake to cool completely before frosting.
To make the frosting:
Beat the butter. With an electric mixer on medium speed, beat the butter until light and fluffy.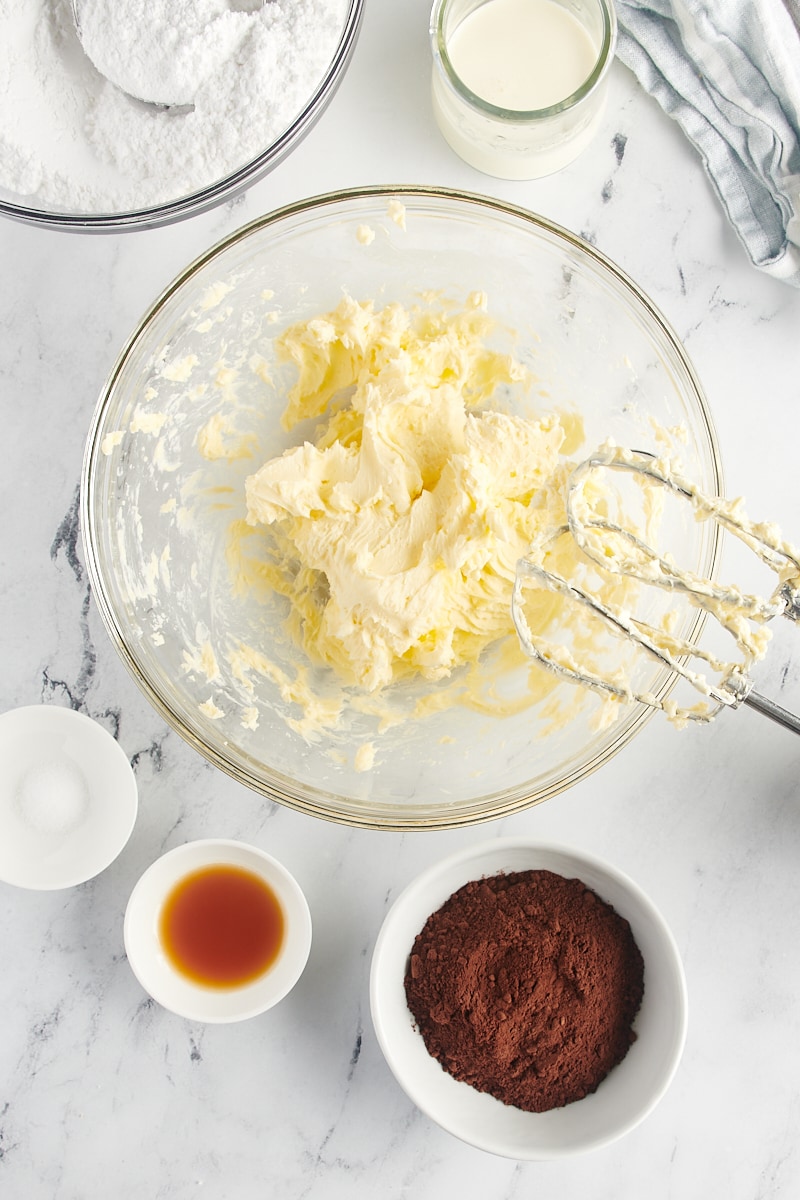 Add the remaining ingredients. With the mixer on low speed, gradually add the confectioners sugar, cocoa powder, cream, vanilla, and salt. Mix until thoroughly combined and fluffy.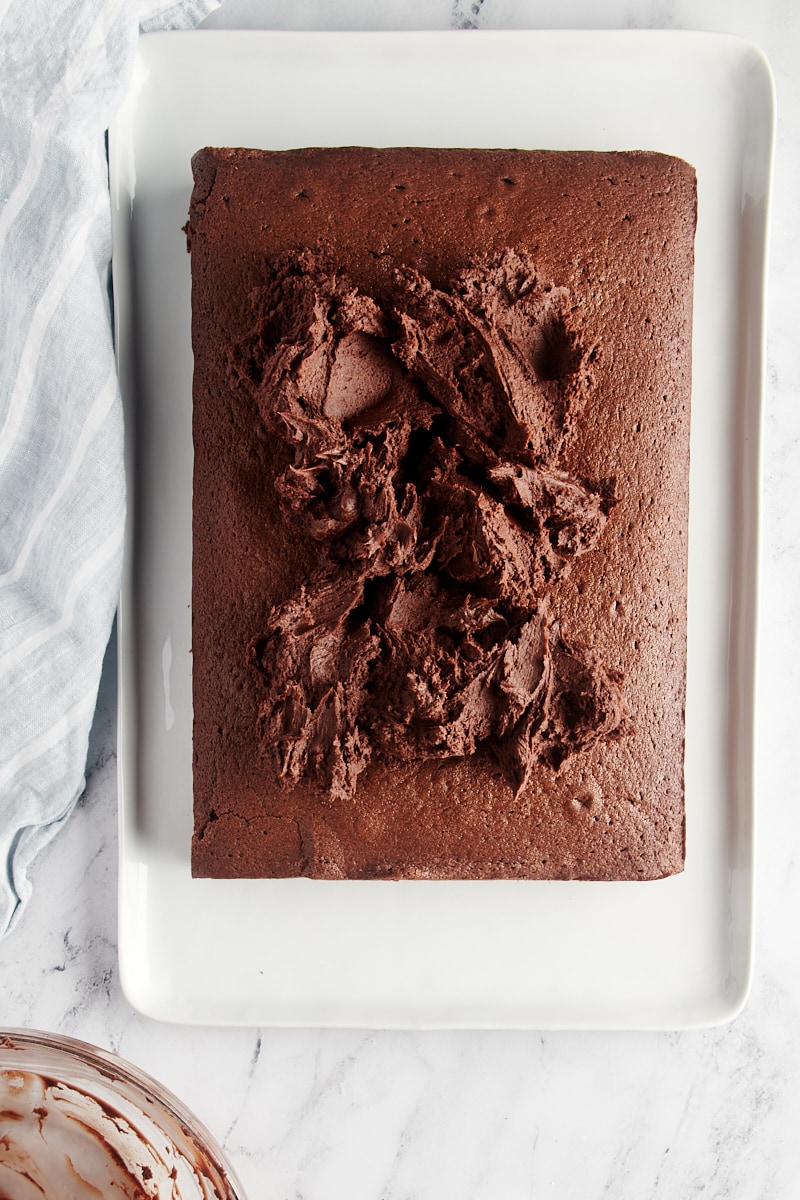 Frost the cake. If you like, remove the cake from the pan and place on a serving tray. Spread the frosting over the top of the cake. Decorate with sprinkles.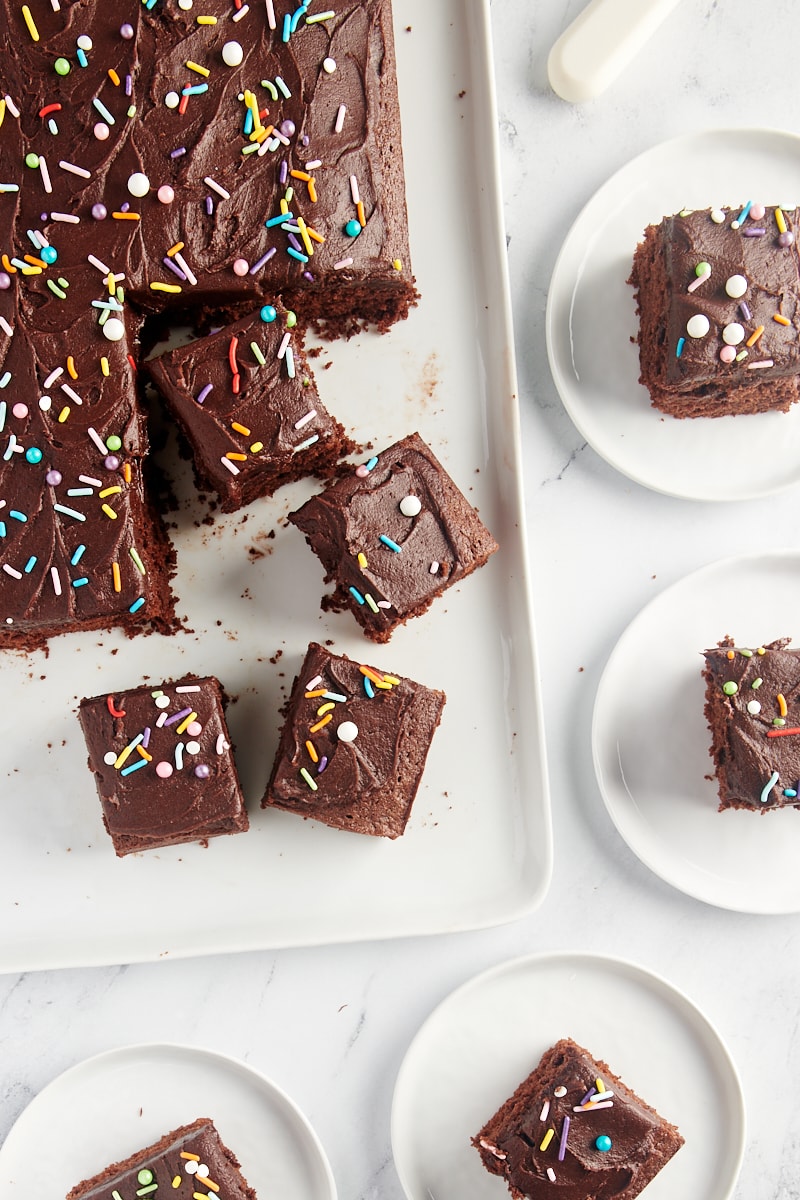 Tips for Success
Here are some of my best tips for making sure your chocolate cake turns out perfectly!
Use good quality chocolate. With the flavor focus squarely on chocolate, using good quality chocolate will give you the best results.
Don't over-mix the cake batter. Too much mixing will lead to a dense, tough cake. Mix just as much as needed to combine the ingredients.
Frosting not the right consistency? If it's too thick, add another tablespoon of cream, mix, and repeat if needed. If it's too thin, try adding a small amount of confectioners' sugar.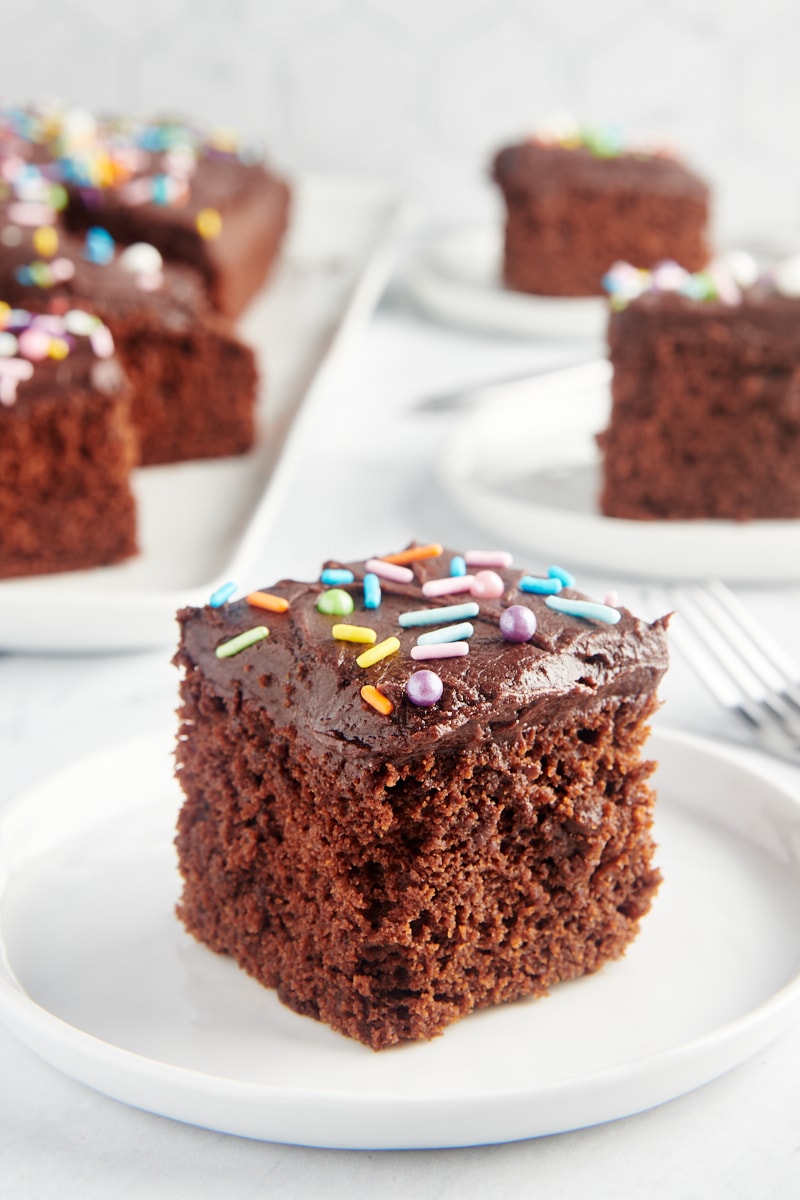 How to Store
Keep the cake in an airtight container. It should keep at room temperature up to 3 days. Refrigerating the cake will extend its shelf life by a couple of days, but it's likely to become dry.
Can This Chocolate Cake Be Frozen?
Yes, you can freeze this cake. The unfrosted cake can be wrapped well in plastic wrap and again in aluminum foil. To freeze the frosted cake, place the cake or individual slices on a rimmed baking sheet. Place in the freezer until the frosting has frozen solid. That will usually take 3 or 4 hours. Then, wrap the cake well in plastic wrap, and then wrap again in aluminum foil or place in a freezer-safe container that's airtight. Properly stored, the cake should last up to 3 months in the freezer. Thaw at room temperature.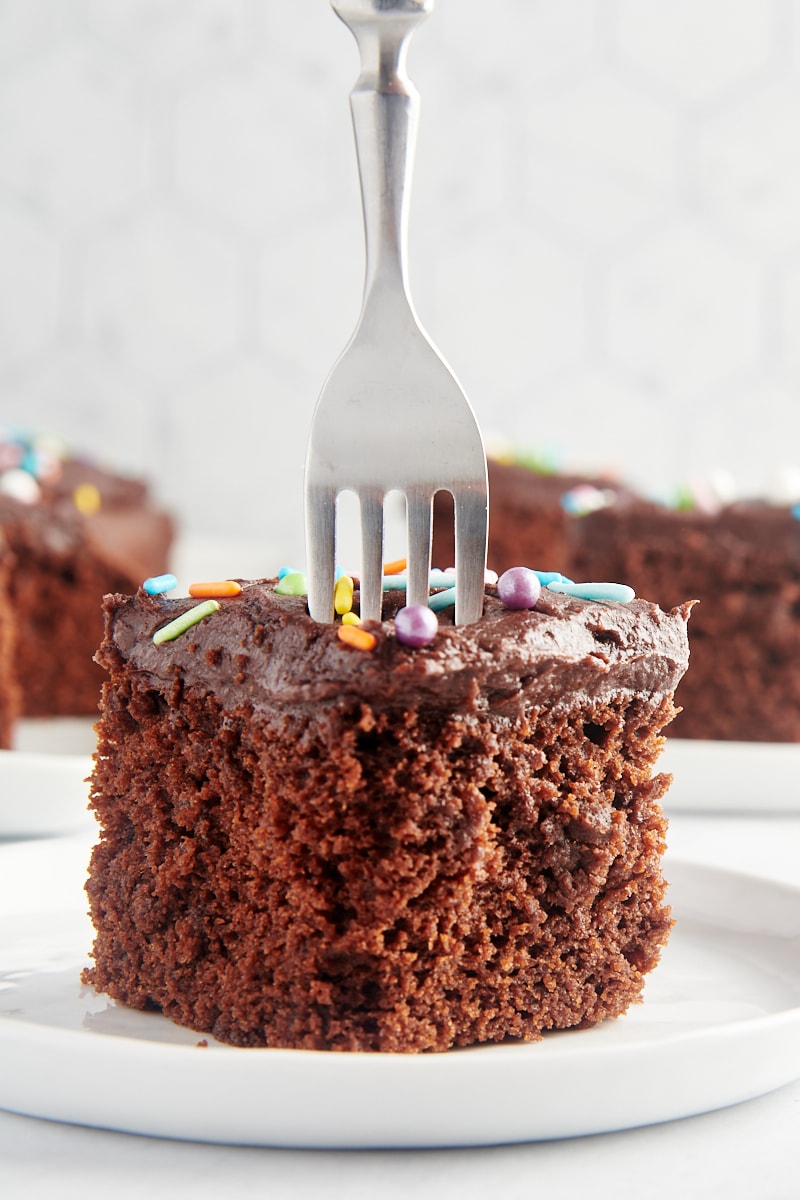 Video Tutorial: Chocolate Sheet Cake