Seven layer bars are the ultimate easy sweet treat! A buttery graham cracker base is layered with sweetened condensed milk, coconut, chocolate chips, butterscotch, and nuts for bars that are chewy, crunchy, and supremely decadent.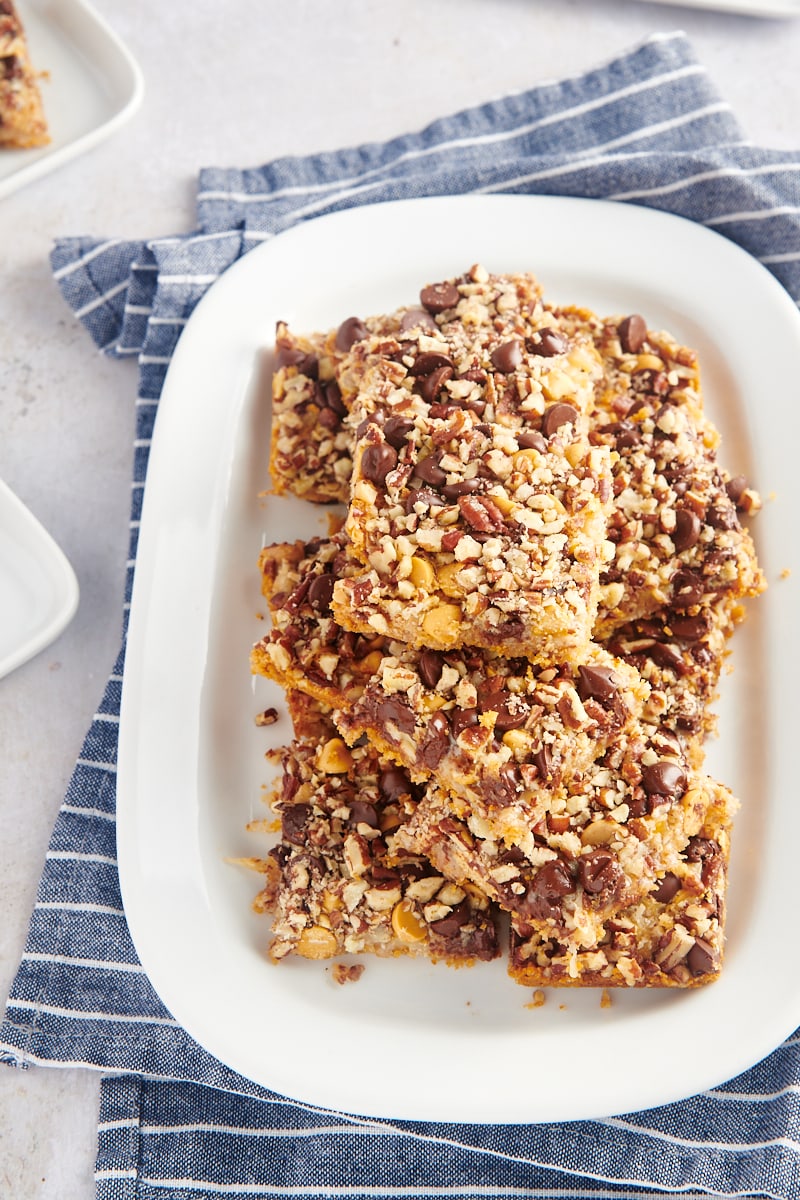 Seven Layer Magic Cookie Bars
Seven layer bars are a classic. Like peanut butter blossoms, fudge brownies, and M&M cookies, they seem to show up at every bake sale and everyone has their own go-to recipe—maybe some skip the coconut, others might use peanut butter chips instead of butterscotch, but they're all built around that same idea of layering a graham cracker crust with sweetened condensed milk and a variety of toppings.
Now, despite the name, there aren't seven layers in these bars—there are seven ingredients. The graham cracker base is a distinct layer, but everything else gets a little jumbled together in a single layer of deliciousness. The sweetened condensed milk bakes up thick and sticky, holding everything together.
It's easy to see why seven layer bars are such a beloved recipe. Each bite has different textures and flavors; smooth and crunchy, sweet and salty, decadent and, well, decadent. (Trust me when I tell you that one of these bars is quite enough. They're richer than they look!)
And did I mention that it all comes together in around 30 minutes? There's that, too!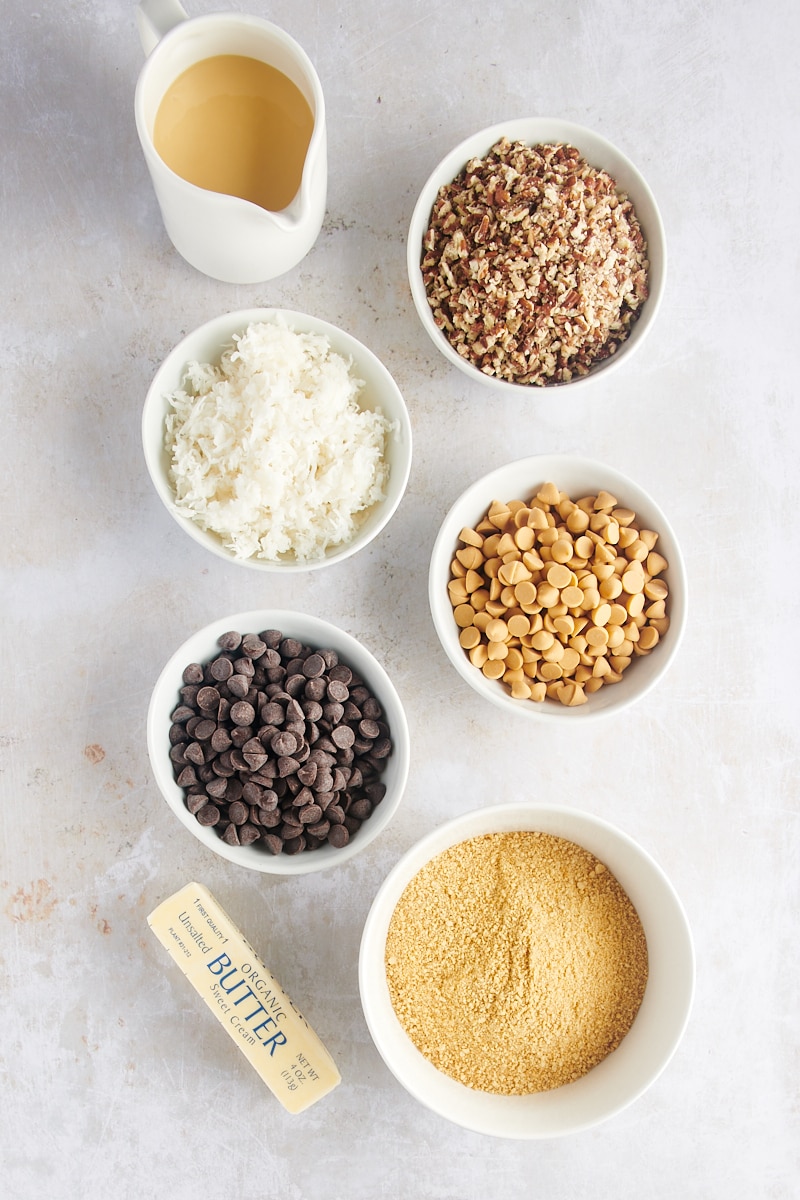 What You'll Need
Scroll down to the recipe card to find the ingredient quantities and recipe instructions.
Graham cracker crumbs – It's easiest to use store-bought graham crumbs, but you can also make your own by pulsing whole graham crackers in your food processor.
Unsalted butter – Learn more: Unsalted or Salted Butter: Which is Better for Baking?
Sweetened condensed milk – This is not the same as evaporated milk, which is unsweetened.
Sweetened shredded coconut
Semisweet chocolate chips
Butterscotch chips
Chopped nuts – Pecans and walnuts are popular choices.
Can I Substitute Unsweetened Coconut for Sweetened Coconut?
If you happen to have unsweetened coconut on hand, you can use that instead of sweetened coconut in this recipe. These bars are still plenty sweet, so you're unlikely to miss the added sweetness of the coconut.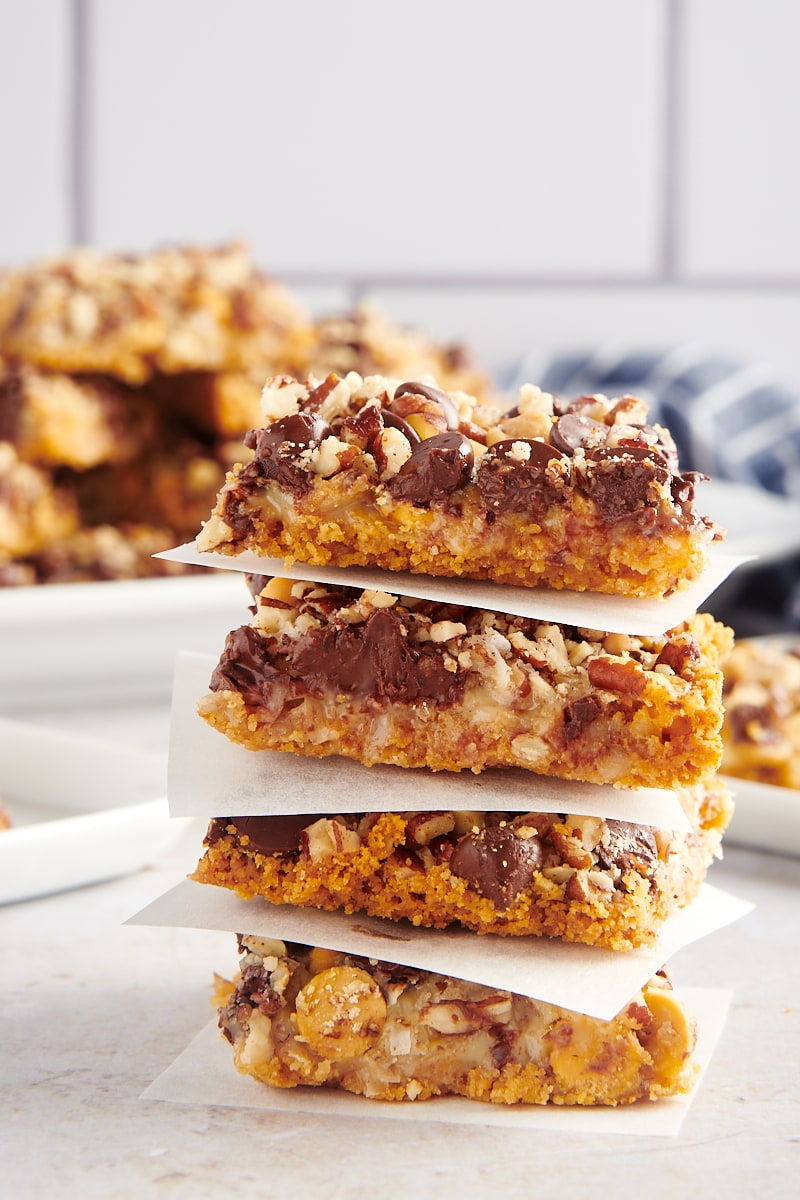 How to Make Seven Layer Bars
As mentioned above, seven layer bars come together quite easily and quickly. That must be why some people call them magic cookie bars!
Prepare. Preheat your oven to 350°F and lightly grease a 9″ x 13″ x 2″ baking pan. For easier bar removal, line the pan with parchment paper and then lightly grease the paper.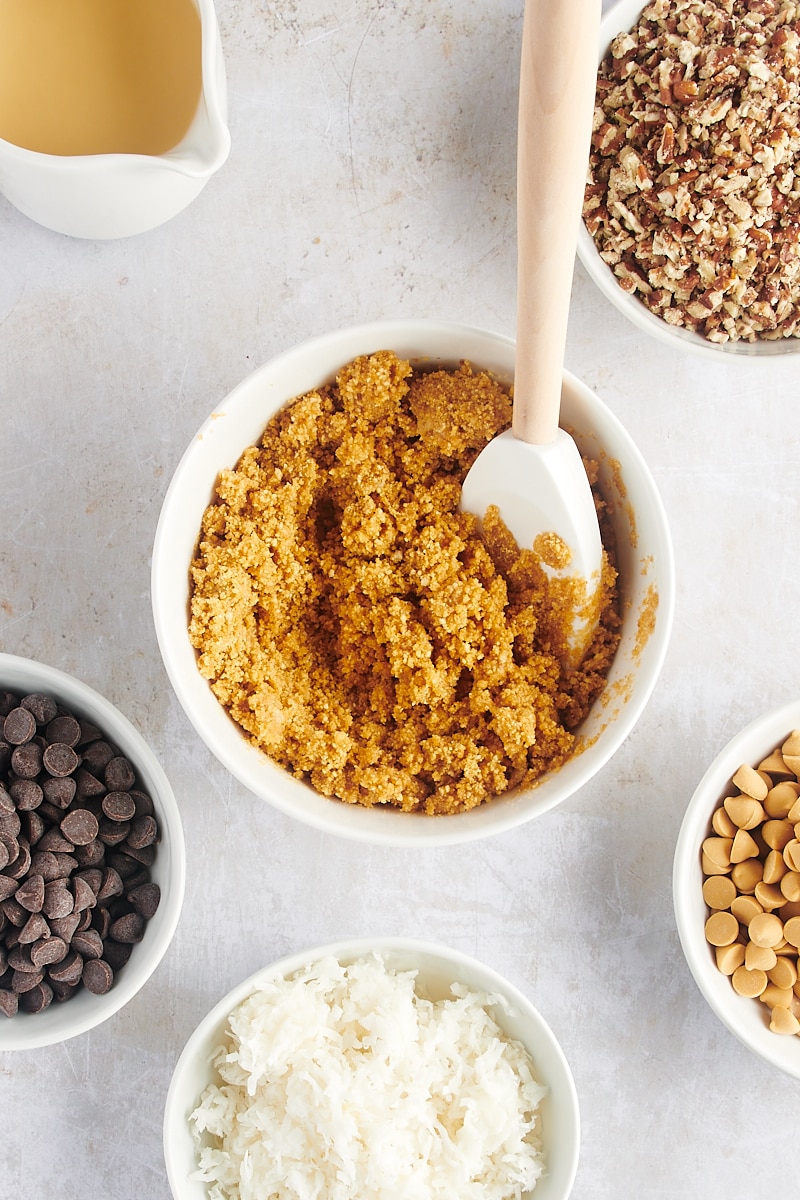 Make the graham cracker crust. In a medium bowl, stir together the graham cracker crumbs and melted butter until thoroughly combined. Press the mixture into the bottom of the prepared pan; make sure it's spread evenly so there aren't some areas that are thicker than others.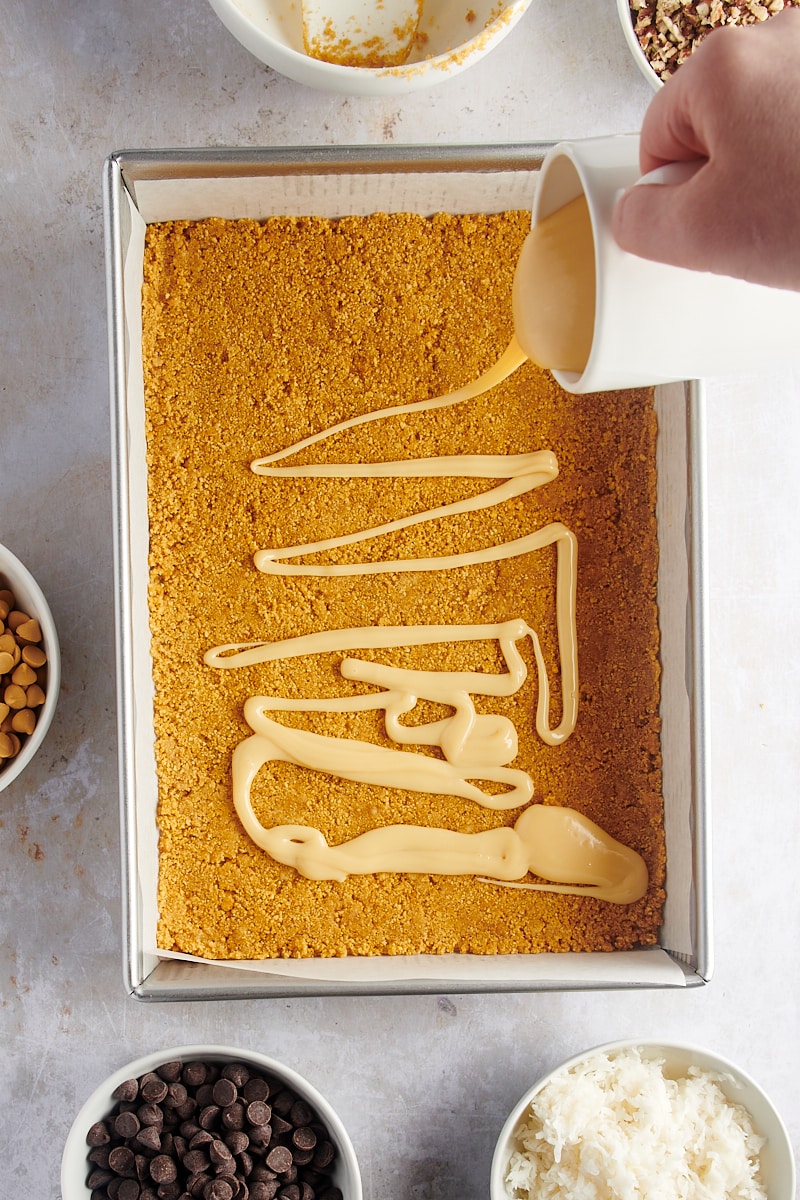 Add the condensed milk. Pour the sweetened condensed milk over the graham cracker crust, distributing it evenly.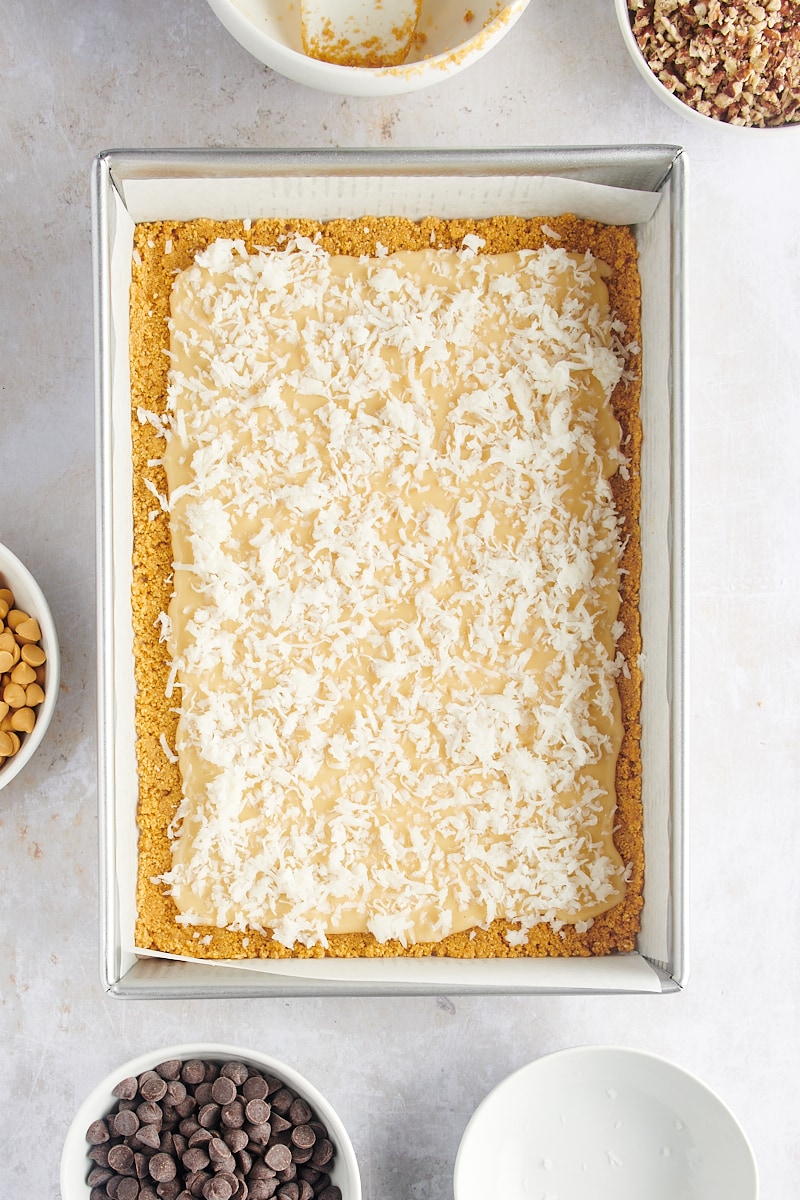 Finish the layers. Sprinkle the coconut over the top of the milk, followed by the chocolate chips, butterscotch chips, and nuts. Use clean hands to press down gently; this will help all the toppings stick.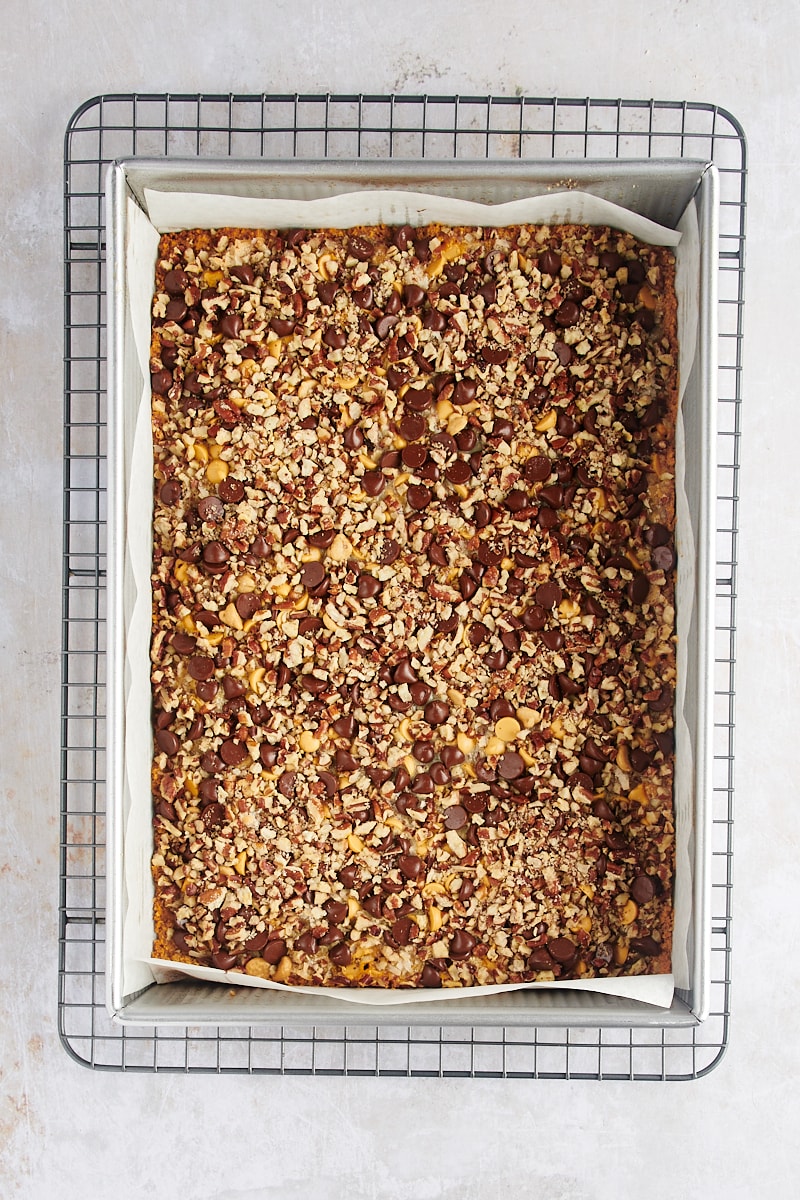 Bake. Place the pan in the oven and bake for 20 to 25 minutes, or until the bars are golden brown.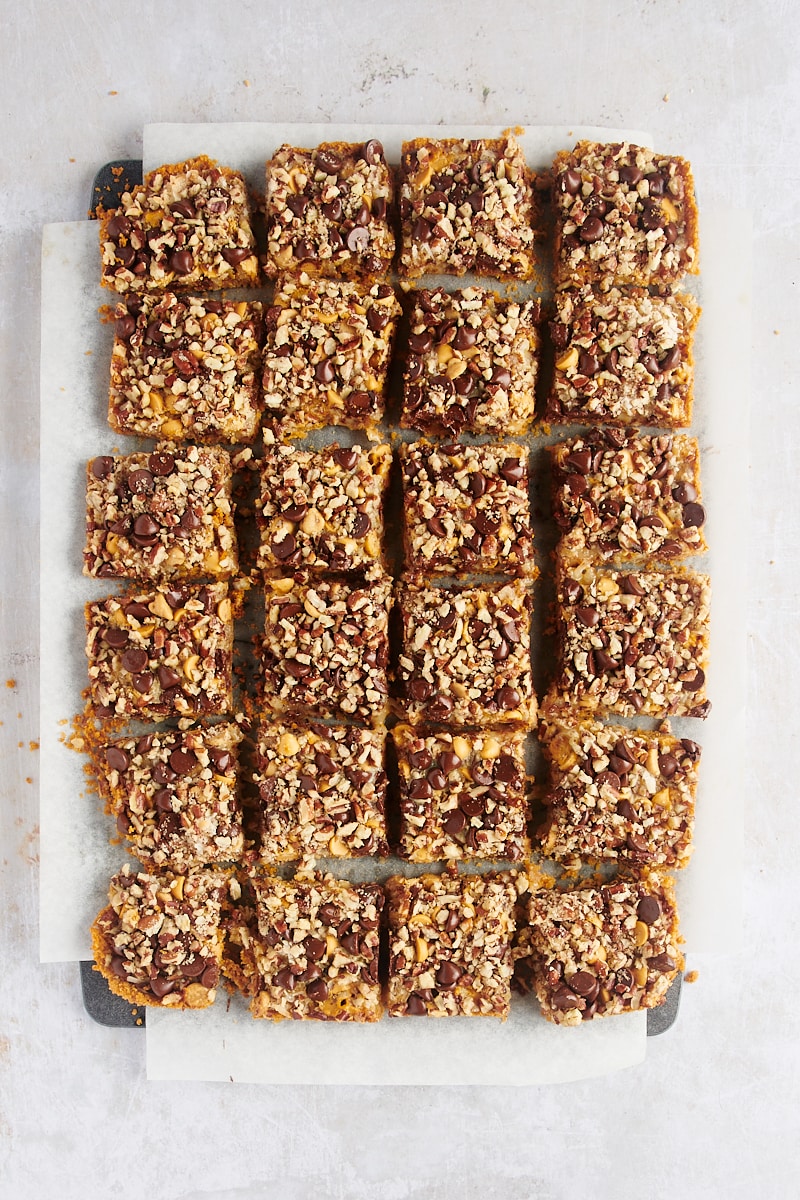 Cool, cut, and serve. Set the pan on a wire rack and allow the bars to cool completely. Use the lining to lift the bars out of the pan and place them on a cutting board. Use a sharp knife to cut them into squares.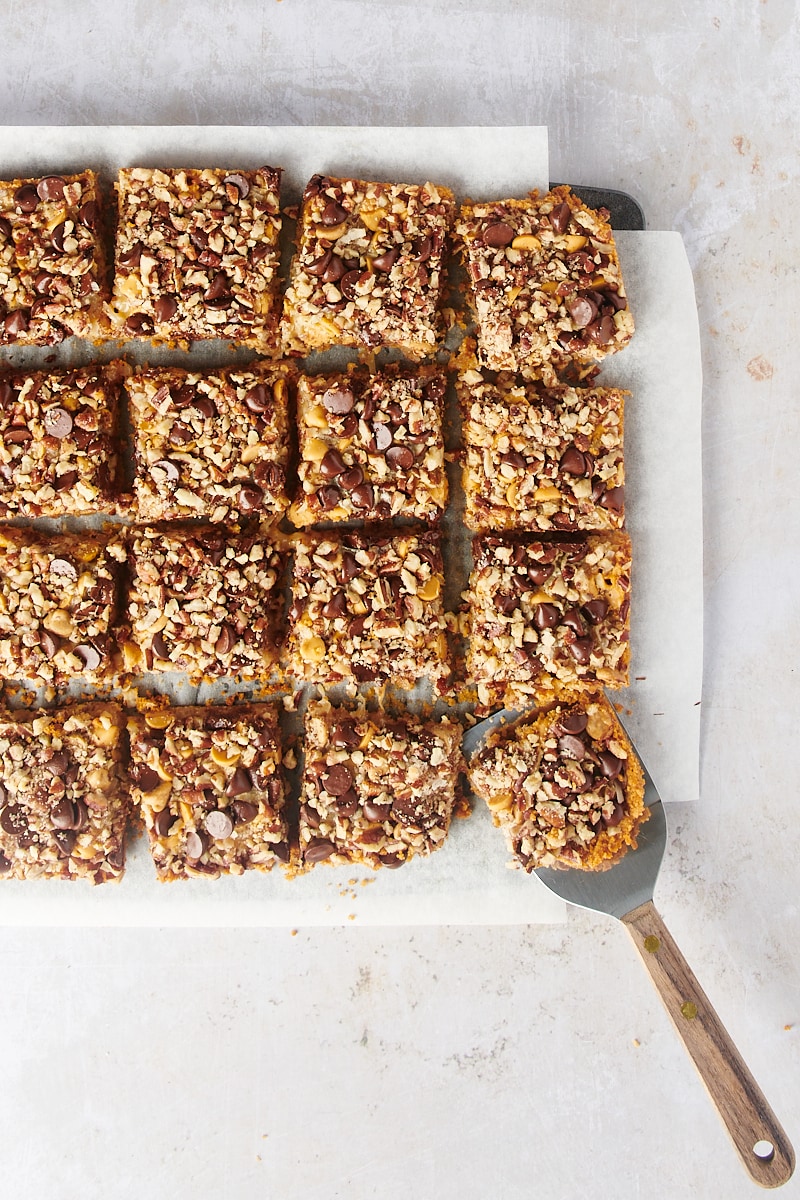 Tips for Success
Read over my baking tips for beginners if you're new to baking, then read over these additional tips for perfect seven layer bars:
Make sure everything is evenly distributed. This way, you'll get all those different textures and flavors in every bite. It's especially important to ensure that the condensed milk is spread over the whole crust since it's what holds the toppings in place.
Let the bars cool completely before cutting. It's hard to be patient when you're staring at a warm pan of seven layer bars, but the bars are likely to crumble and fall apart if they're cut too soon.
Get perfect clean cuts. The seven layer bar toppings will begin to stick to the knife as you cut; when you go to make your next cut, the crumbs and toppings will fall off onto the bars, which isn't the clean, crisp look you want. To keep this from happening, wipe your knife between cuts.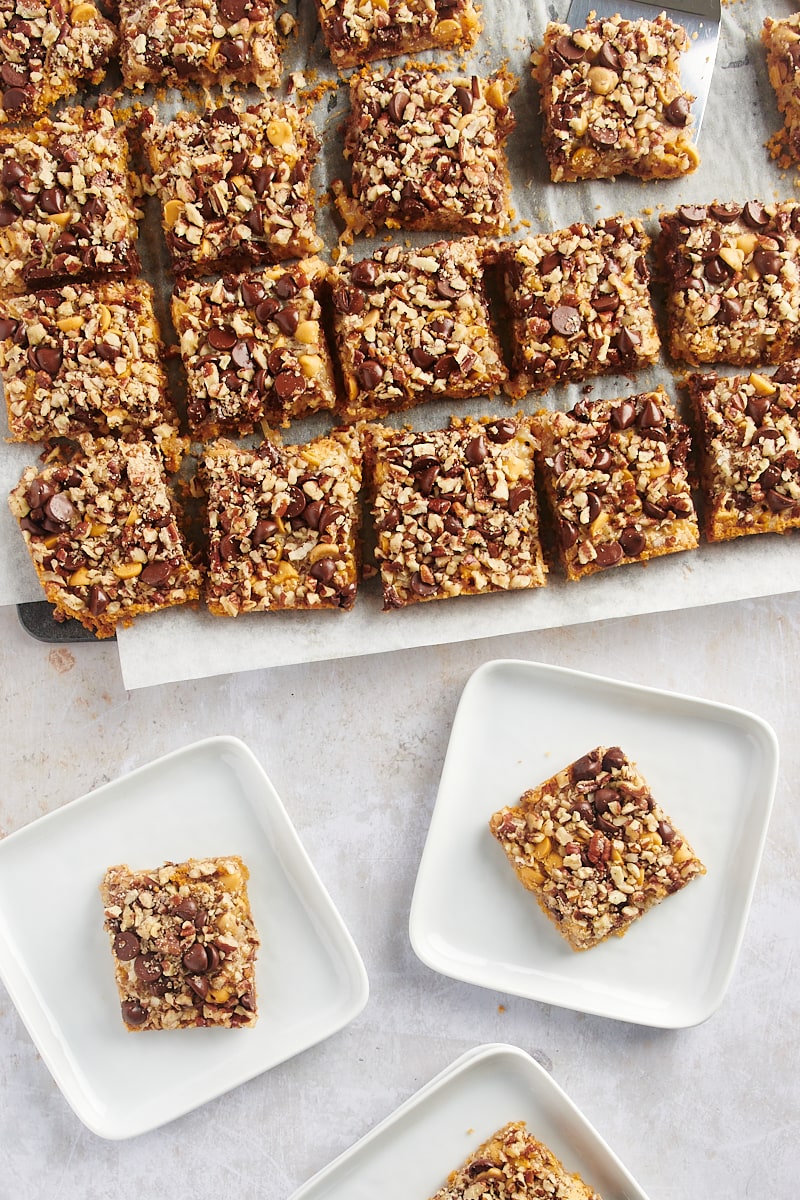 Variations
There are endless variations when it comes to seven layer bars. You can make them without coconut and use old-fashioned oats instead. Have a nut allergy? Omit the nuts or use sunflower seeds or broken pretzel pieces instead. Use chocolate crumbs instead of graham, toffee bits instead of butterscotch chips—basically, as long as you keep the original proportions the same, the world is your oyster.
How to Store
Store seven layer bars in an airtight container at room temperature for up to 5 days.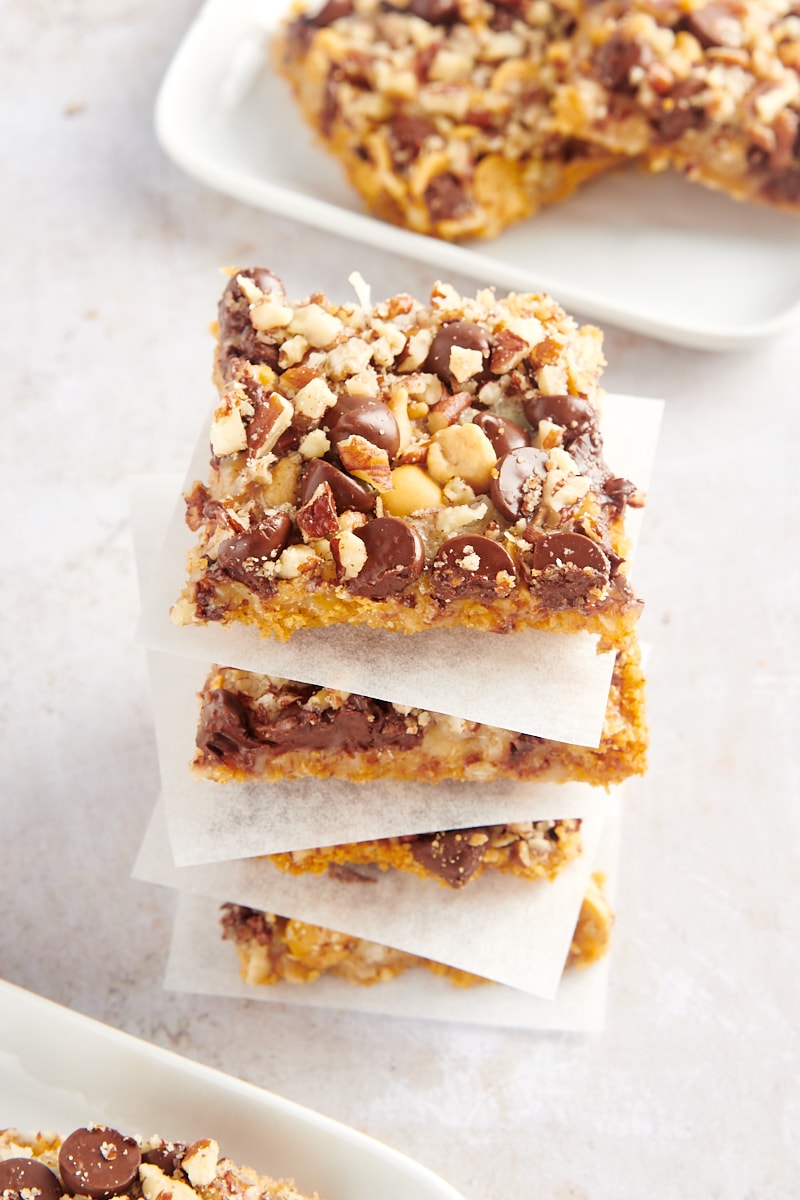 Can This Recipe Be Frozen?
Yes, seven layer bars can be frozen. Wrap them in plastic wrap and place them in an airtight container or freezer bag. Thaw the bars at room temperature before serving.
More Classic Bar Recipes