April 2, 2015
Peanut Butter-Chocolate Bread Pudding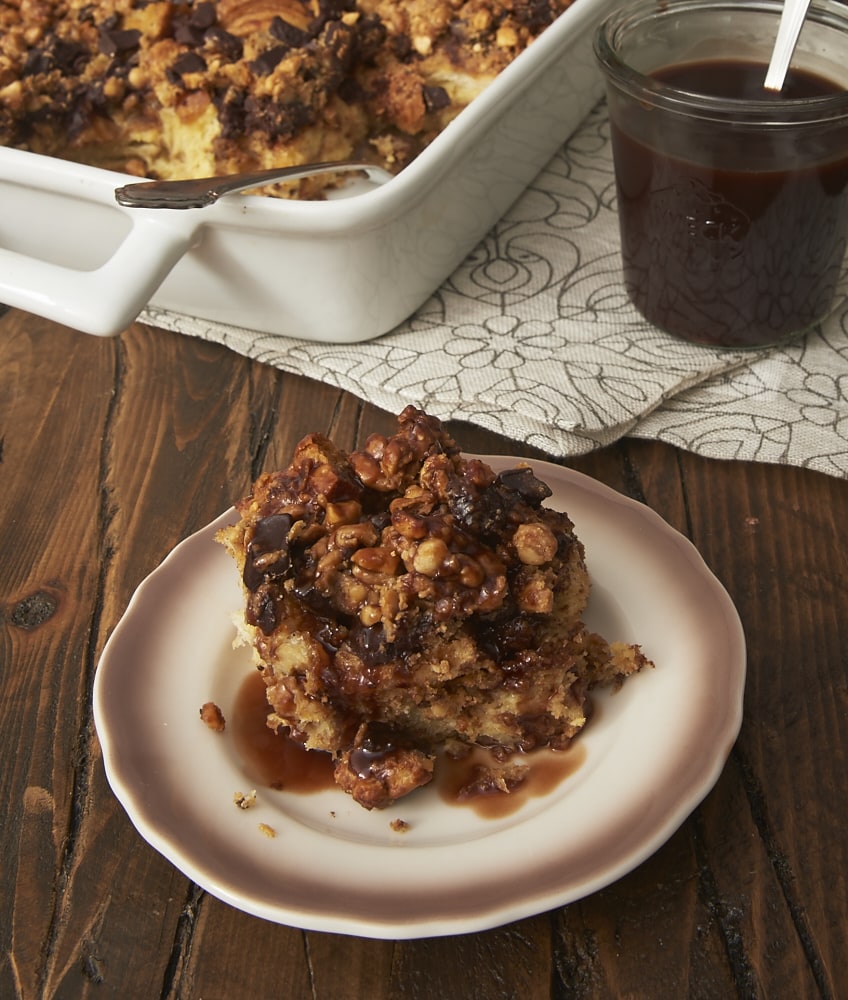 I would wager that the combination of chocolate and peanut butter is one of the top five favorite flavor pairings in the dessert world. I know that for me, it's way up the charts. There's just something about that sweet and nutty couple that is irresistible and so satisfying. And it really is at its best in this Peanut Butter-Chocolate Bread Pudding.
As is usually the case with bread puddings, this is also quite a simple dessert to put together. It all starts with croissants from your local bakery. Then just add a few ingredients, chill it for a bit, and then bake and enjoy!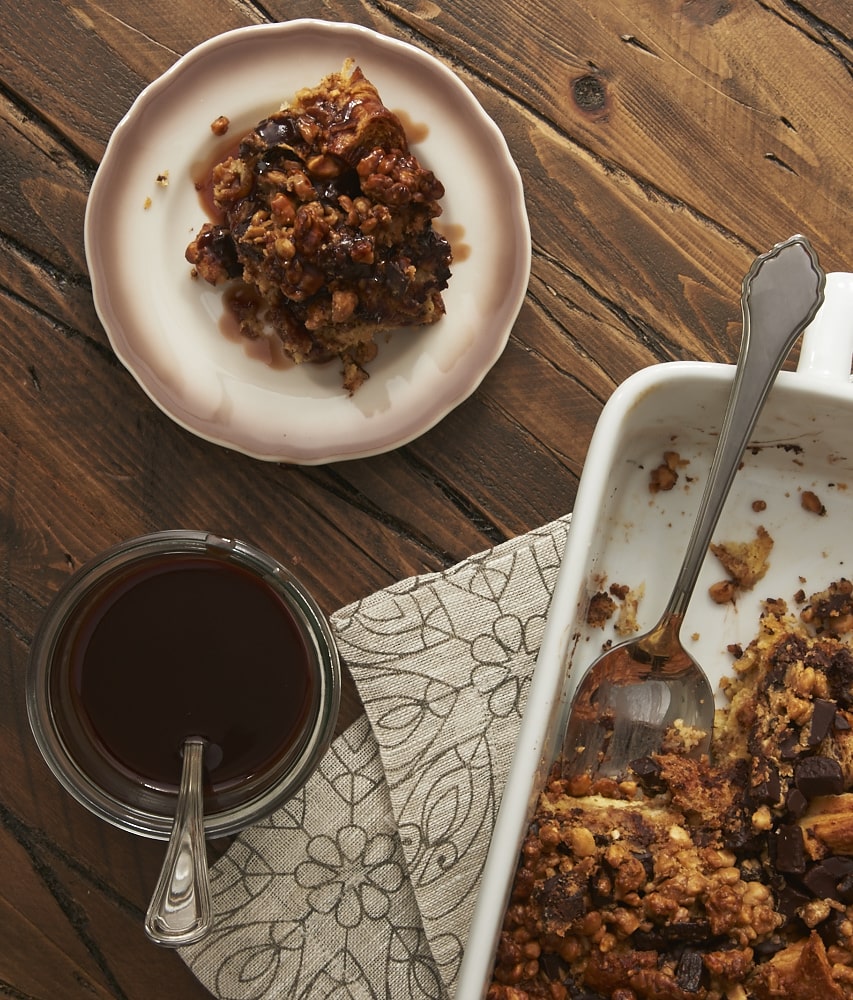 While this bread pudding is perfectly delicious just as is, I added a chocolate rum sauce to make it even more fabulous. That sauce would work well with another liquor (like bourbon) or even a liqueur (like Kahlua). Or if you prefer, just substitute about 1/2 teaspoon of vanilla extract.
I try to avoid making big, superlative proclamations about recipes. After all, how many "best ever" recipes can there be? But, I have to say that this bread pudding ranks very high among the things I've made. And judging by how quickly it was devoured by my taste testers, I'd say the consensus is that this is one seriously delicious dessert!
Find more bread pudding recipes in the Recipe Index.
Peanut Butter-Chocolate Bread Pudding
Yield: 10 to 12 servings
Prep Time:25 minutes
Cook Time:1 hour 15 minutes
Peanut Butter-Chocolate Bread Pudding is a dessert dream for fans of that classic flavor combination.
Ingredients:
For the bread pudding:
12 cups cubed croissants (about 9-10 large croissants)
2 cups semisweet chocolate chunks or chocolate chips
6 large eggs
2 cups milk
1 cup granulated sugar
1 cup creamy or crunchy peanut butter*
1 teaspoon vanilla extract
For the chocolate rum sauce:
1/2 cup granulated sugar
1 tablespoon unsweetened cocoa powder
1/8 to 1/4 teaspoon salt, depending on your tastes
1/2 cup water
2 & 1/2 teaspoons cornstarch
2 tablespoons unsalted butter
1 tablespoon rum
Directions:
To make the bread pudding:
Grease a 9″x 13″ baking pan. Place the cubed croissants in the pan. Sprinkle with chocolate chunks.
Whisk the eggs in a large bowl. Add the milk, sugar, peanut butter, and vanilla, and whisk until combined. Pour the mixture over the croissants. If necessary, press the croissants down into the egg mixture to coat. Refrigerate for at least an hour or overnight.
Remove the chilled bread pudding from the refrigerator and let sit at room temperature for about 30 minutes.
Preheat oven to 350°F.
Bake the bread pudding for 1 hour to 1 hour 10 minutes, or until a thin knife inserted into the center comes out clean. Serve warm.
To make the chocolate rum sauce:
Combine the sugar, cocoa powder, and salt in a small saucepan. Combine the water and cornstarch, and then whisk into the sugar mixture.
Bring the mixture to a boil over medium-high heat, whisking frequently. Allow to boil for 1-2 minutes, or until slightly thickened.
Remove from heat. Add the butter and rum, and stir until smooth.
Notes:
*Creamy peanut butter will be easier to whisk into the pudding mixture, but I like the crunch of the nuts from the crunchy peanut butter.