September 14, 2017
Apple Cinnamon Crumb Bars
Apple Cinnamon Crumb Bars are a simple celebration of some of fall's best flavors! The simple crust mixture also serves as the crumb topping, making these a quick and easy favorite.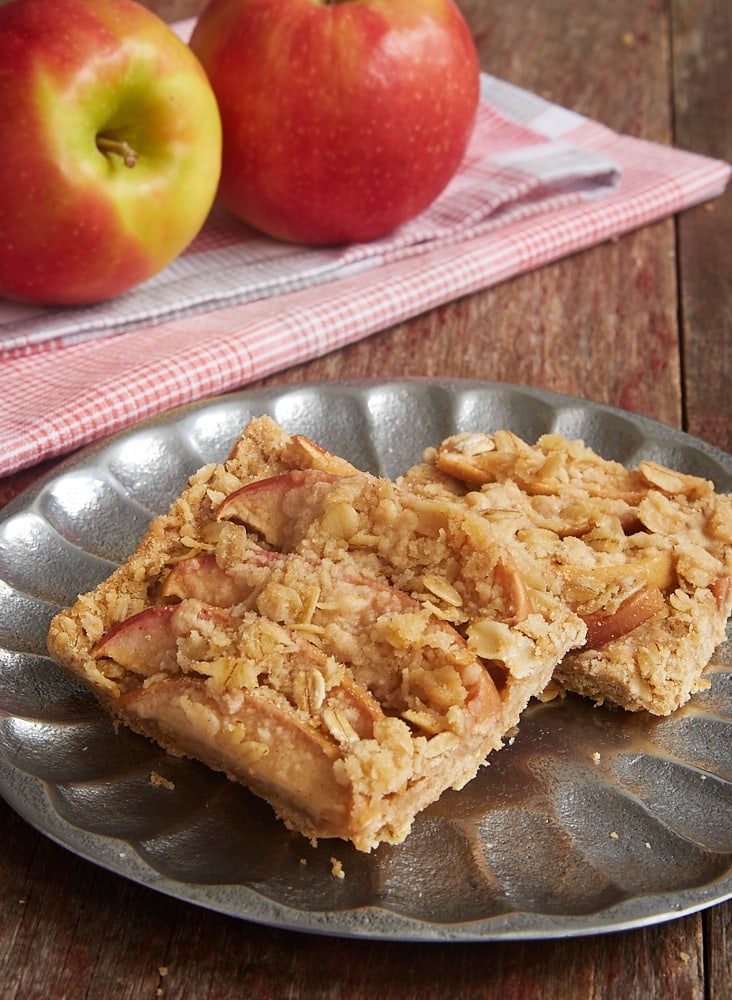 When I think fall desserts, apples and cinnamon are some of the first things that pop into my head. I don't feel like my fall baking has really started until those two come into play.
These Apple Cinnamon Crumb Bars feature those two great fall flavors in a delicious way. These sweet bars are super simple to make. They're a staple around here for satisfying an apple cinnamon craving.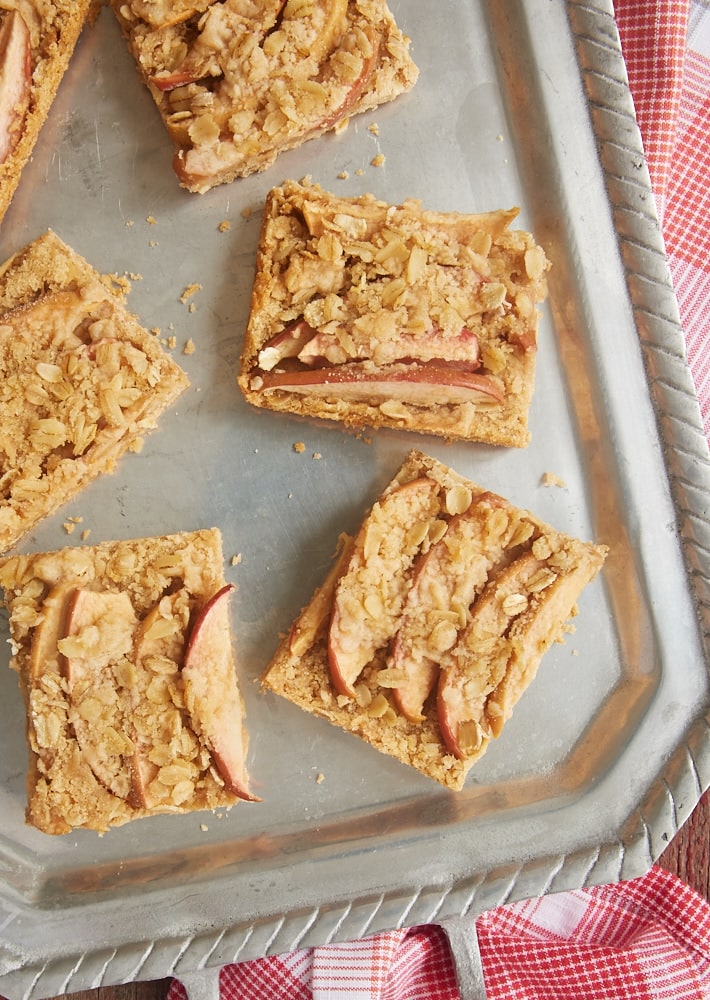 The crust, which is also the crumb topping, is a simple combination of baking pantry staples. As is usually the case with making shortbread, you'll have a loose mixture once it's combined, but it will hold together when you press it into the pan.
Thin slices of apples top off the crust, and that's all you need for the filling. I slice the apples about 1/4-inch thick and just arrange them over the crust in a single layer. I usually need about 3 apples to cover the crust well. If you like, you can instead chop the apples for the filling. Peeling is a matter of preference. I like to leave the peels for flavor and also for that bit of color they add.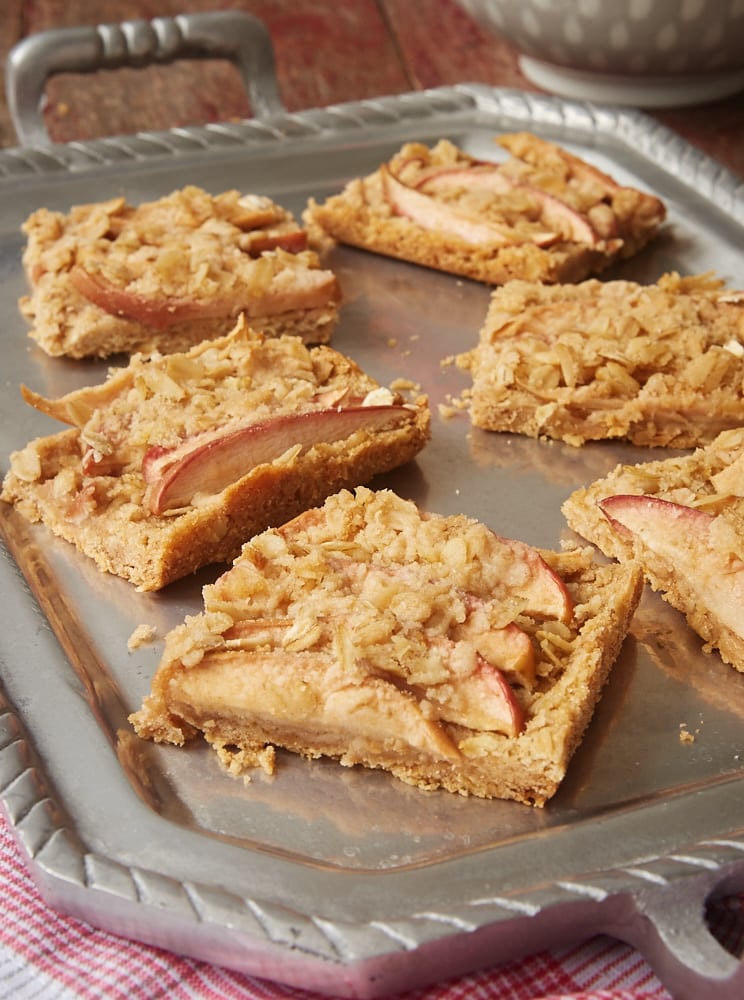 Not only is the flavor of these Apple Cinnamon Crumb Bars amazing, but they're quick and easy to make, too. The crust and crumb mixture is made in just one bowl with no mixer needed. Then just slice some apples and add the crumb topping.
The flavor of these bars checks all the boxes for a perfect dessert for Quinn. He adores all things apple cinnamon, so he's a great critic of these kinds of desserts. I am happy to tell you that these get the Quinn Seal of Approval for Apple Cinnamon Excellence! I hope you'll enjoy them, too!
Find more bar recipes in the Recipe Index.
More Apple Bars
We are a participant in the Amazon Services LLC Associates Program, an affiliate advertising program designed to provide a means for us to earn fees by linking to Amazon.com and affiliated sites.
Apple Cinnamon Crumb Bars
Yield: 24 2-inch bars
Prep Time: 15 minutes
Cook Time: 40 minutes
Apples and cinnamon are a match made in dessert heaven. Enjoy that delicious pair in these quick and easy Apple Cinnamon Crumb Bars!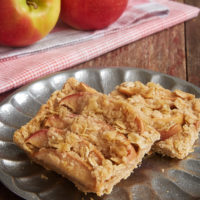 Ingredients:
2 cups (240g) all-purpose flour
1/2 cup (100g) granulated sugar
1/2 cup (100g) firmly packed light brown sugar
1 teaspoon ground cinnamon
1/2 teaspoon baking powder
1/4 teaspoon salt
3/4 cup (170g) unsalted butter, cold and cut into 1/4-inch cubes
1 & 1/2 cups (135g) old-fashioned rolled oats
3 to 4 medium apples, cut into 1/4-inch slices*
Directions:
Preheat oven to 350°F. Grease a 9″x 13″x 2″ baking pan.
Combine the flour, sugar, brown sugar, cinnamon, baking powder, and salt in a large bowl. Add the butter, and mix with a pastry blender, a fork, or your fingers until combined. The mixture will be crumbly but will hold together when pinched. Mix in the oats.
Set aside 1 cup of the mixture for the topping. Press the remaining crust mixture into the bottom of the prepared pan.
Top the crust with apple slices. Sprinkle the reserved crust mixture over the top of the apples.
Bake 35 to 40 minutes, or until golden brown.
Notes:
*Use as many as you like to cover the base layer of the bars. I like the look of slices, but you can certainly chop them into smaller pieces if you prefer.