Double Chocolate Chunk Blondies are wonderfully quick and easy with fantastic flavor. Great for a sweet snack, for sharing, or for no reason at all!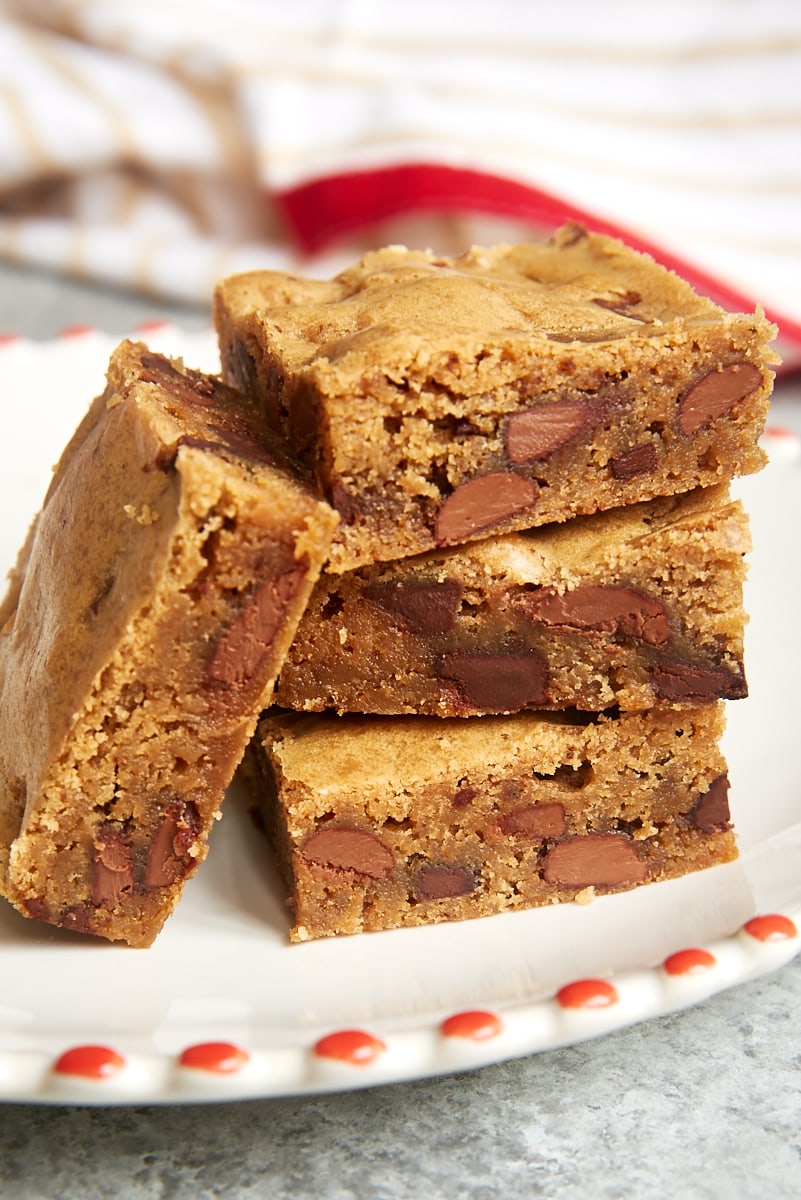 The Best Chocolate Chip Blondies
As much as I love a good brownie, there's something about blondies that I find equally as irresistible. If I had to guess, it's the abundance of brown sugar, which is one of my favorite baking ingredients and flavors. Also, they're a bit like a big, soft, dense chocolate chip cookie, but without the labor of scooping individual cookies.
I've made lots and lots of different blondies over the years with lots and lots of flavor combinations and delicious twists. (Hello, Brown Butter Chocolate Chip Hazelnut Blondies!) But sometimes I crave the simplicity of blondies loaded with favorite flavors like brown sugar and chocolate chips. These Double Chocolate Chunk Blondies deliver in spades!
Quinn generally prefers milk chocolate, while I tend to reach for dark chocolate. If yours is also a chocolate house divided, then these blondies offer a simple solution by having both dark and milk chocolate mixed into the batter. The contrasting chocolates make for a more interesting flavor, but you can certainly just pick one kind if you like.
Not only do these blondies taste amazing, they're also one of the quickest, easiest things you can bake. Whether you're new to baking or have years of experience, you can appreciate that, right? And if you have a reasonably stocked baking pantry, you'll likely have everything you need to whip up a pan of them whenever the craving strikes!
What You'll Need
Just the basics here! This is one of those wonderful recipes made with ingredients you're very likely to have in your kitchen at any time!
All-purpose flour – Measure by weight or spoon and sweep.
Baking powder
Ground cinnamon – I love the little extra flavor the cinnamon adds, but it's completely optional if you'd prefer to omit it.
Salt
Unsalted butter – The butter is melted and will need a few minutes to cool so it's warm but not hot.
Brown sugar – Light or dark brown sugar will work, depending on how bold you want the molasses flavor.
Eggs – Set these out before you begin baking so they can come to room temperature.
Vanilla extract
Chocolate chunks or chocolate chips – For the "double chocolate" of these blondies, use a combination of dark and milk chocolate chips. Alternatively, you can just use one kind if you prefer.
Other Add-In Ideas
In addition to the chocolate chips (or even instead!), you can use your favorite add-ins to customize these to your tastes. Just keep the total amount of add-ins at about 2 cups by volume. Get creative!
Chopped nuts – Pick just one or use a combination.
Other flavor baking chips – Peanut butter, white chocolate, cinnamon, butterscotch, or whatever you like!
Dried fruits
Toffee bits
Chopped candy bars
Chopped crisp cookies – Oreos, Nutter Butters, etc.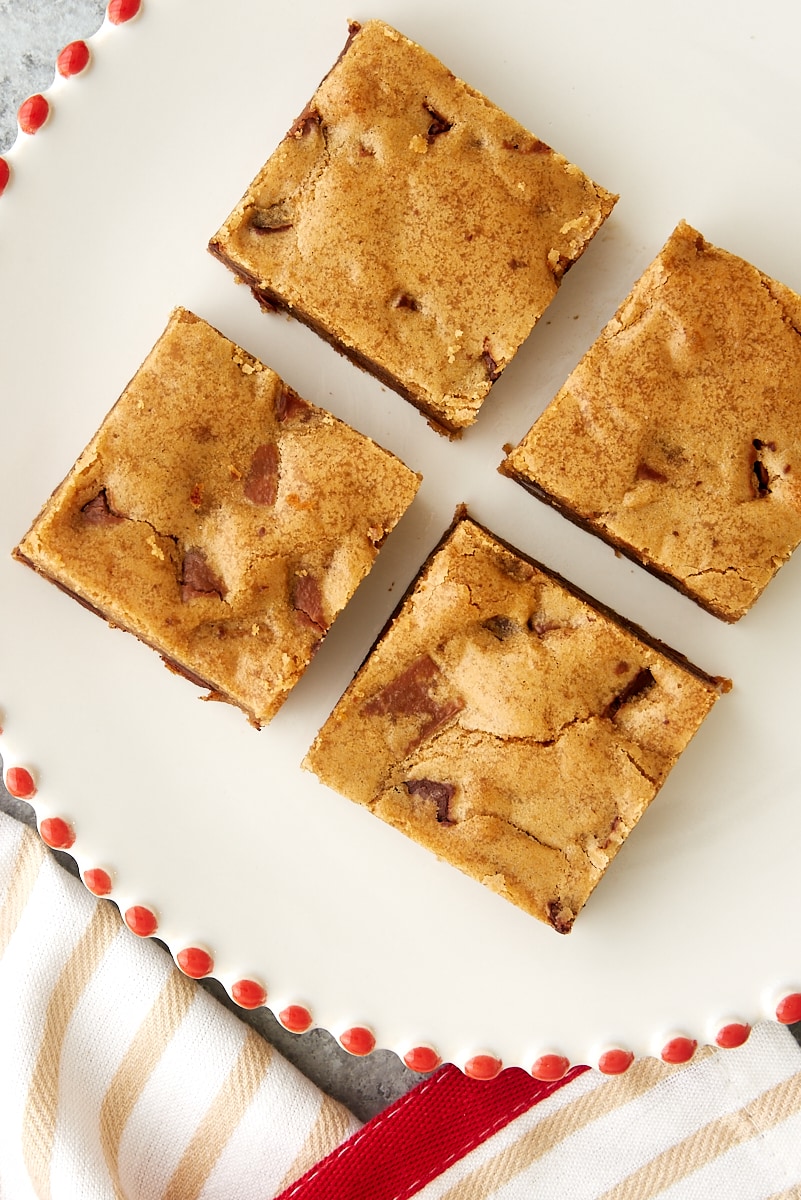 How to Make Chocolate Chunk Blondies
These chocolate chip blondies are easy to make with no special tools. You can even leave the mixer in the cabinet if you want! They're a great baking project for bakers of all skill levels.
Prepare for baking. Heat the oven to 350°F. Grease a 9″ x 13″ x 2″ baking pan. If you like, line the pan with parchment paper and grease the paper.
Combine the dry ingredients. Whisk together the flour, baking powder, cinnamon, and salt.
Combine the wet ingredients. In a large bowl, mix together the cooled butter, brown sugar, eggs, and vanilla until well-mixed.
Add the dry ingredients to the wet ingredients. Gradually add the flour mixture to the butter mixture. Mix just until combined or a few streaks of flour remain. Stir in the chocolate.
Bake. Spread the batter evenly in the pan. Bake 30 to 35 minutes, or until the blondies are golden brown and a pick inserted into the center comes out clean.
Cool. Place the pan on a wire rack and allow the blondies to cool before cutting into bars.
Tips for Success
Don't over-mix. Only mix just until combined, or your blondies may have a tough, dry texture. Unless you're skipping the add-ins altogether, then stop mixing when there are a few streaks of flour remaining. That last bit of flour will get mixed as you stir in the chocolate chips.
Use good quality ingredients. For a simple recipe with a short list of ingredients like this, the quality of the ingredients is important. I recommend skipping the store brands in most cases.
Don't over-bake. Too much oven time can make blondies tough and unappealing. Take them out of the oven when they're golden brown and a pick inserted into the center comes out clean. You can even err on the side of a few moist crumbs on the pick if you like them a little softer.
How to Store and Freeze Blondies
After the blondies have cooled completely, place them in an airtight container. They should keep at room temperature for up to 5 days.
Alternatively, they can be frozen. Wrap the blondies well in plastic wrap and place in a freezer-safe bag or container. Stored properly, they should last up to 3 months. Thaw for an hour or so at room temperature.
More Chocolate Chip Blondies Recipes