Lemon Sheet Cake is deliciously lemony! Don't miss this one if you love all things lemon!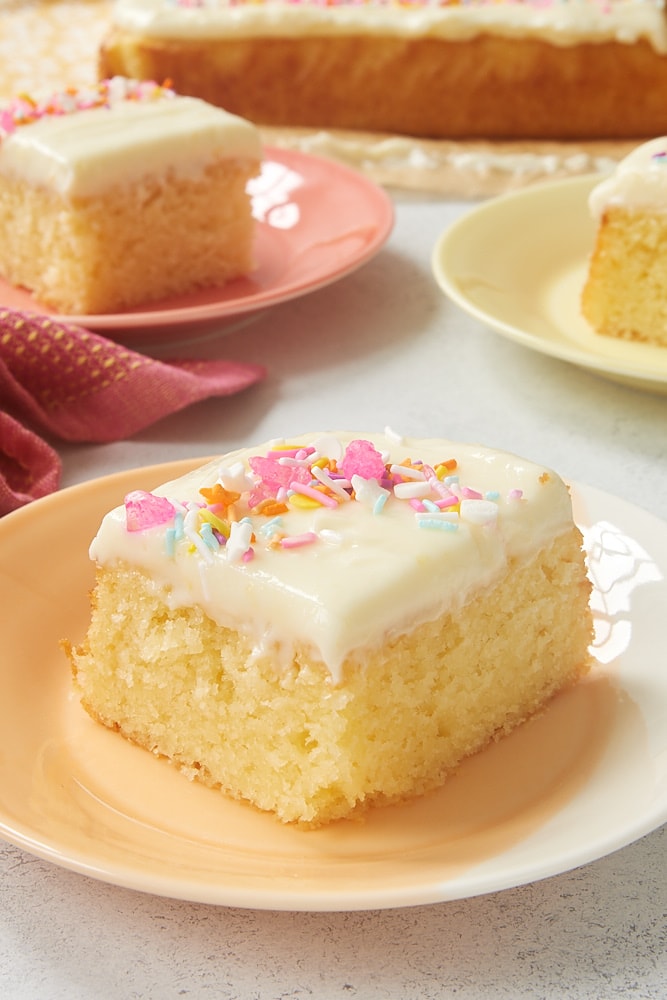 Lemon Sheet Cake
What is it about a lemon dessert that's so refreshing and just delightful? The bright citrus flavor? That little citrus tingle? There's just something about biting into a lemony treat that makes them irresistible.
This Lemon Sheet Cake is a simple one-layer cake that I think you'll be more than happy to add to your baking arsenal. There's no stacking multiple layers and perfecting your frosting skills. Just one simple cake that mixes quickly and easily and is brimming with loads of lemon flavor. What's not to love?
This is a tall cake, too, for a single layer cake. There's quite a lot of batter, so make sure your pan is not a shallow one. Most standard baking pans are 2 inches deep, and that will work just fine.
Once you've baked this amazing lemon cake, top it with a simple lemon cream cheese frosting that is truly among my all-time favorites. It is made with just 4 ingredients and has such amazing flavor from the combination of cream cheese and sour cream. Plus, the texture is smooth and silky and just lovely. The lemon flavor in the frosting comes from lemon zest, which also gives it an interesting look.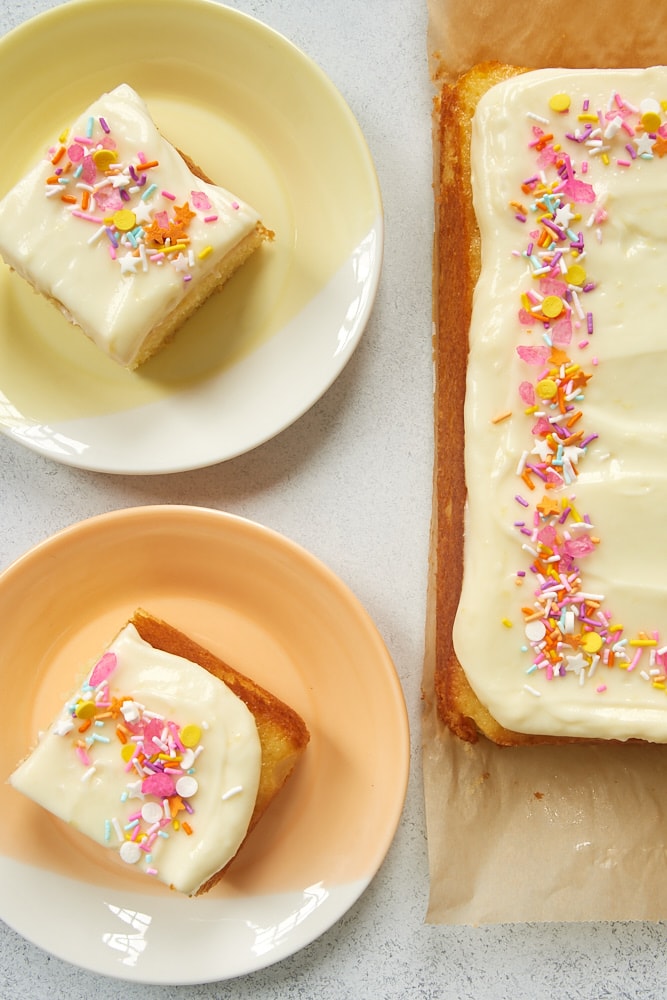 What You'll Need
Along with lemons, you'll need the basics for this Lemon Sheet Cake recipe. Scroll down to the recipe card at the bottom of this post for ingredient quantities and full directions.
For the cake:
Milk – Whole or 2% milk works best.
Lemons – You'll need both juice and zest for this recipe. Count on needing 3 or 4 medium lemons to get everything you'll need. Learn more: How to Juice and Zest Lemons
All-purpose flour – Measure by weight for best results. Otherwise, use the spoon and sweep method.
Baking powder
Baking soda
Salt
Unsalted butter – Allow the butter to soften before mixing.
Sugar
Eggs – Let the eggs come to room temperature for easier mixing and a fluffier cake. I recommend baking with large eggs.
For the frosting:
Cream cheese – Bring the cream cheese to room temperature for a smoother frosting. Full-fat cream cheese in blocks works best.
Confectioners' sugar – This is also called powdered sugar. Sifting it will make a smoother frosting.
Sour cream – Full-fat sour cream works best.
Lemon zest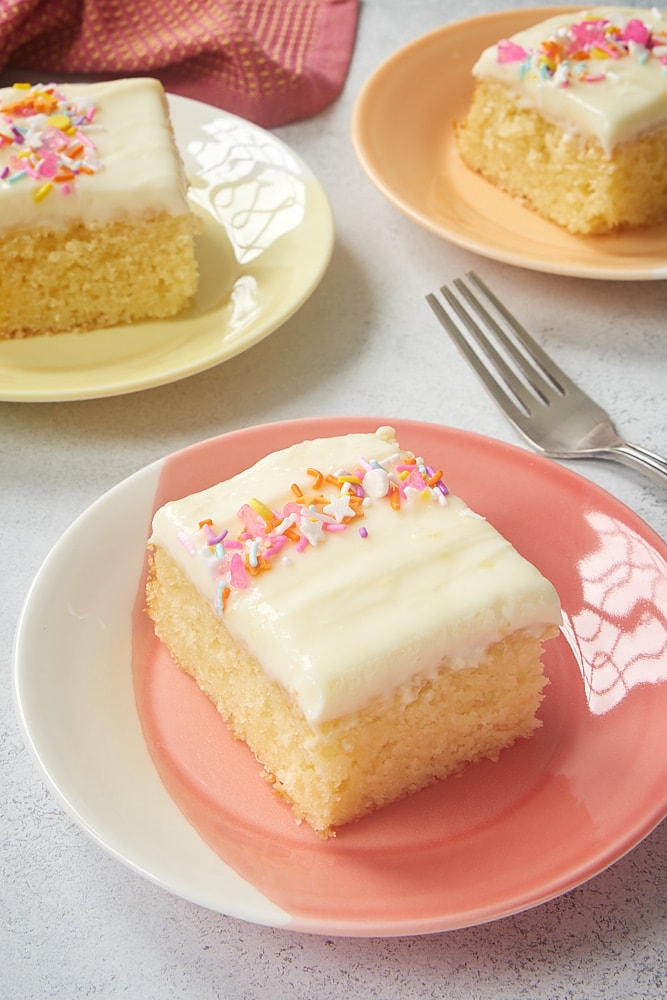 How to Make Lemon Sheet Cake
This cake is a cinch to make! You'll need a few mixing bowls, a hand mixer or stand mixer, and your trusty 9×13 pan.
Prepare for baking. Heat the oven to 350°F. Line a 9- by 13- by 2-inch baking pan with parchment paper. Grease the paper either with butter and flour or a non-stick spray with flour (like Baker's Joy or Pam Baking.)
Combine the milk and lemon juice. Stir to combine and set aside.
Combine the dry ingredients. Whisk together the flour, baking powder, baking soda, and salt in a medium bowl.
Combine the wet ingredients. With an electric mixer on medium speed, beat the butter, sugar, and lemon zest until the mixture is fluffy and lightened in color. Add the eggs one at a time, mixing well after adding each.
Add the dry ingredients to the wet ingredients. With the mixer on low speed, add the flour mixture in three portions, alternating with two portions of the milk mixture. Don't over-mix; mix just until combined.
Bake. Spread the cake batter evenly in the prepared pan, and tap the pan gently on the counter a few times to dissipate any large air pockets. Place the pan in the oven, and bake for 35 to 40 minutes. The cake is done when it is golden brown and a toothpick inserted into the center comes out clean.
Cool. Place the pan on a wire rack and allow the cake to cool completely before frosting.
Make the frosting. With an electric mixer on low speed, beat the cream cheese and confectioners' sugar until smooth. Mix in the sour cream and lemon zest.
Frost the cake. Spread the frosting over the cooled cake. If you like, decorate with sprinkles.
Topping Ideas
For a little fun, I like to add some sprinkles to an otherwise monochromatic cake. The ones I used in these photos are called Juice Box from Sweetapolita. I've also linked to a similar kind under the recipe. Any kind of sprinkles will do, of course, so just use your favorite!
For a full-on lemon experience, you could garnish servings with thin lemon slices or candied lemon peel.
Or add some fresh berries to bring some extra flavor to the party. Blueberries, raspberries, or strawberries would all be great choices.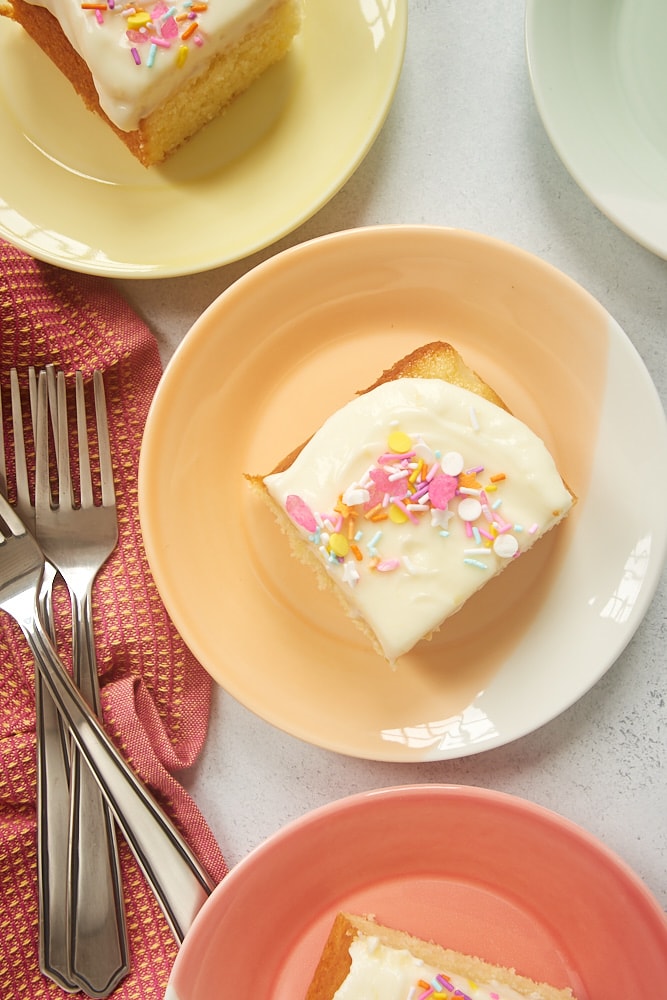 Tips for Success
Use room temperature ingredients. You'll get easier mixing and better rise in the cake and a smoother frosting. (This comes with an asterisk, as butter shouldn't be all the way to room temperature. Learn more: How to Soften Butter)
Don't over-mix. Too much mixing leads to a tough cake texture.
Use a light-colored metal pan. Your cake will bake more thoroughly and evenly.
Keep it cool! If your kitchen is warm, stick the cake in the refrigerator briefly to let the frosting set a bit before garnishing or cutting into slices.
How to Store Lemon Sheet Cake
Keep the cake tightly covered or transfer to an airtight container. Store in the refrigerator up to 4 or 5 days, although it will be its best within a day or two of making. Bring servings to room temperature.
Can This Cake Be Frozen?
Yes, you can freeze this cake. Place any remaining cake on a rimmed baking pan and freeze until the frosting has completely hardened. Then wrap the cake in two layers of plastic wrap and place in an airtight, freezer-safe container or bag. Properly stored, the cake should keep up to 3 months in the freezer. Thaw overnight in the refrigerator.
Find more single-layer cakes in the Recipe Index.
More Lemon Cake Recipes