January 18, 2011
Oatmeal Chocolate Chip Cake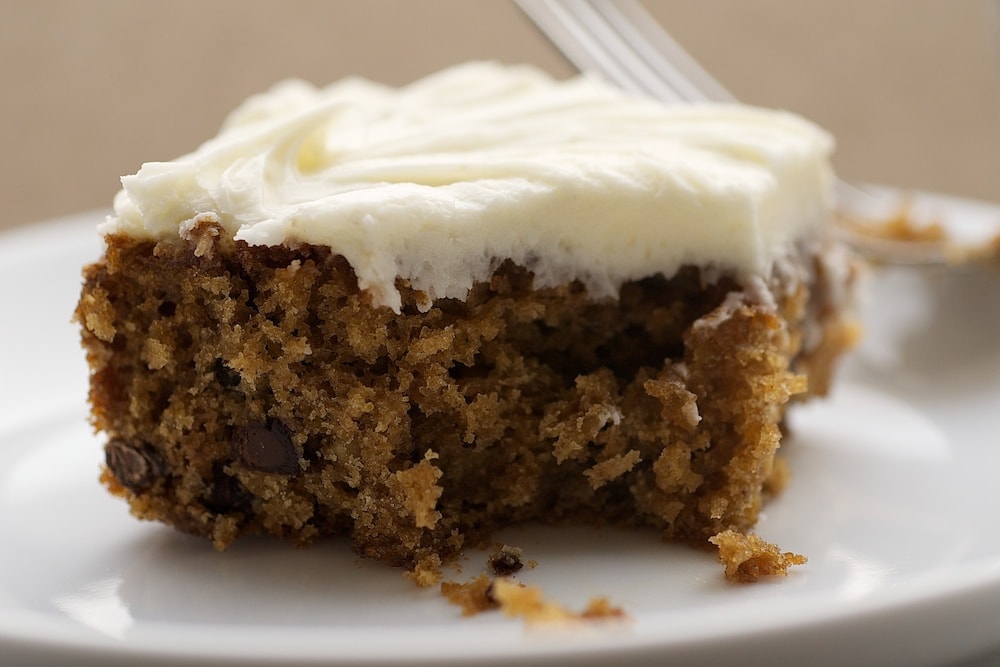 One of my favorite bakeries is one I've never visited. I dream of going to Baked, but I haven't made it there yet. Until I do, I console myself with making their recipes and mapping the best routes to Red Hook.
This recipe is from the Baked guys' latest cookbook, Baked Explorations: Classic American Desserts Reinvented. I like to flag recipes I want to try in my cookbooks, and this one is spilling over with post-its.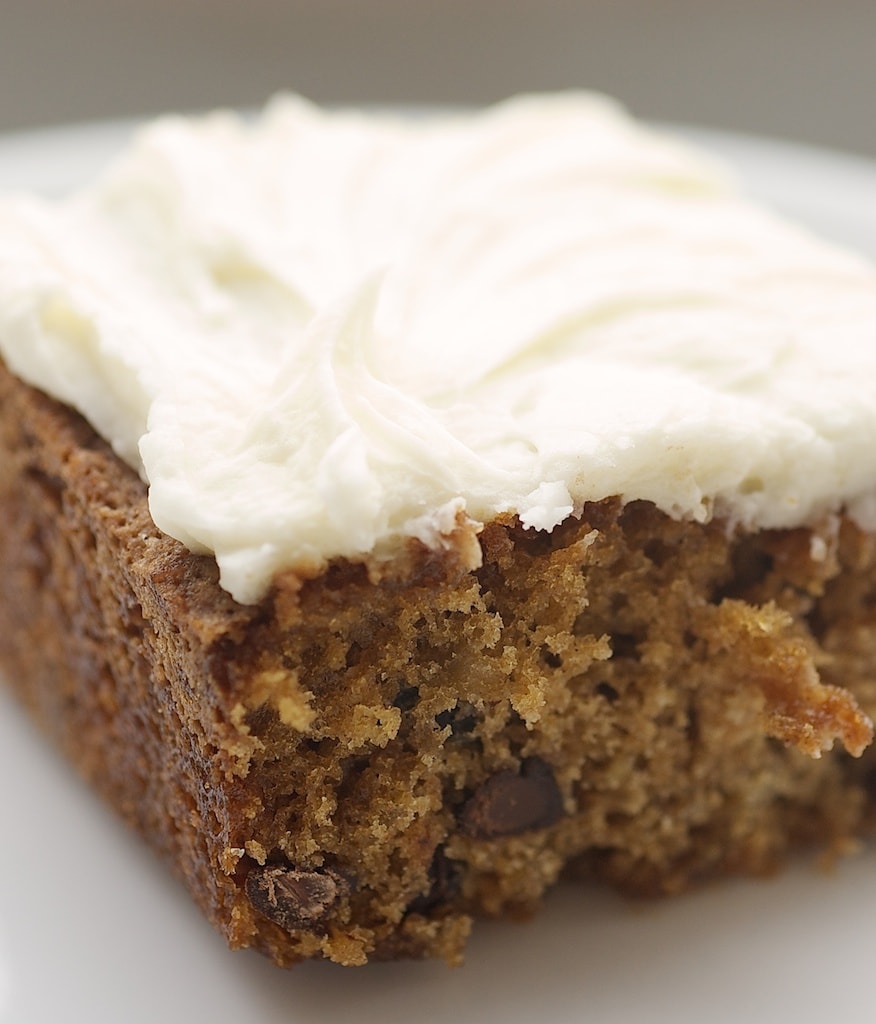 Somehow, I missed this particular recipe on my first few perusings of this book. It caught my eye one morning when I was looking for something to make for a breakfast treat. At that particular moment, this cake called to me. You aren't given many legitimate opportunities to have cream cheese frosting for breakfast, so you have to take them when you can.
This is definitely a new favorite recipe. The cake is a bit like coffee cake, but a bit more dense and sweet. The Baked guys describe it as, "coffee cake for the cookie enthusiast." With the oats and chocolate chips, I have to say that it is an apt description. They suggest that the cream cheese frosting isn't necessary for this cake, but I think I'd rather not find out if that's even possible.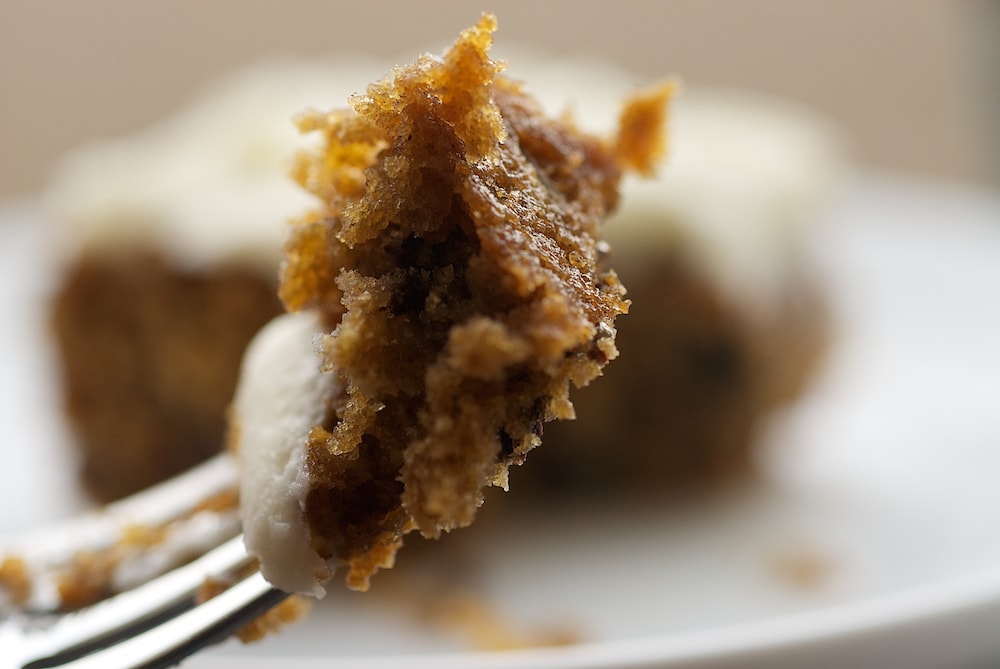 Oatmeal Chocolate Chip Cake
Prep Time: 40 minutes
Cook Time: 45 minutes
Total Time: 2 hours 50 minutes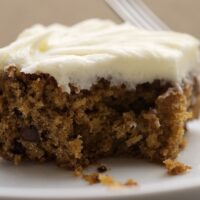 Ingredients:
For the cake:
8 ounces chocolate chips
1/2 teaspoon liquor, such as bourbon or Scotch*
1 & 1/2 cups + 2 Tablespoons all-purpose flour
1 cup rolled oats
1/2 cup unsalted butter, cut into small cubes, at room temperature
2 eggs, slightly beaten
3/4 cup granulated sugar
1 & 1/4 cups firmly packed dark brown sugar
1/2 teaspoon salt
1 teaspoon baking soda
1 teaspoon baking powder
1 & 1/2 teaspoons cinnamon
For the frosting:
5 tablespoons unsalted butter, softened
5 & 1/2 ounces cream cheese, softened
2 cups confectioners' sugar, sifted
3/4 teaspoon vanilla extract
Directions:
To make the cake:
Preheat oven to 375°. Butter the sides and bottom of a 9″x13″ baking pan.
Toss chocolate chips with liquor in a small bowl. Sprinkle 2 tablespoons of flour over the chips and toss until coated. Set aside.
Heat 1 & 1/4 cups water to boiling. Place the oats and butter in a large bowl. Pour boiling water over oat mixture. Wait 30 seconds, then stir to moisten oats and melt the butter. Set aside for 25-30 minutes.
Whisk eggs, sugars, salt, baking soda, baking powder, and cinnamon. Fold in oatmeal, stirring until well combined. Fold in remaining flour, and then stir in chocolate chips. Pour batter into prepared pan.
Bake 40-45 minutes until a toothpick inserted in the center of the cake comes out clean. Cool on wire rack for 30 minutes.
To make the frosting:
Beat butter until smooth. Add cream cheese and beat until combined. Beat in confectioners' sugar and vanilla extract until smooth (about 1 minute). Cover bowl and refrigerate for at least 30 minutes.
Spread a thin layer of frosting over cake. Chill for 15 minutes before serving.
Store covered cake in refrigerator for up to 3 days.
Notes:
*At the time of baking, my only liquor choices in my kitchen were Kahlua and Frangelico. I went with Frangelico and was extremely pleased.