July 14, 2016
Berry Vanilla Cake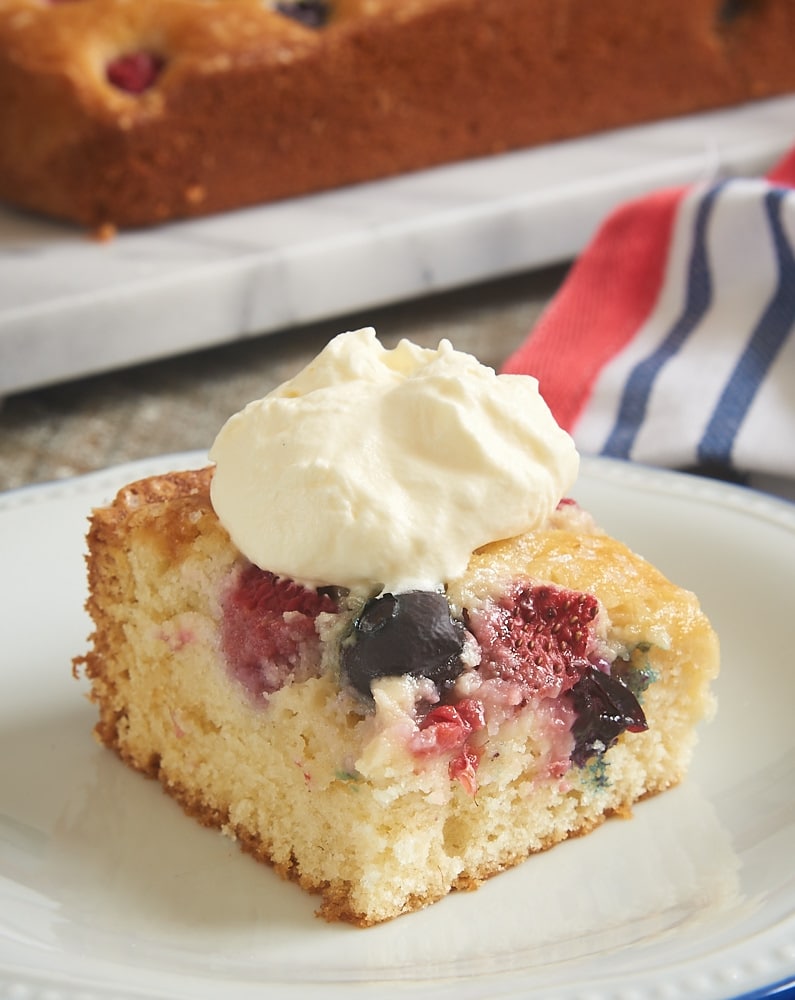 It's been more years than I like to admit since I was in school looking forward to summer break, yet I still find myself wanting to take a long break and fill my days with all the fun things I've been tabling in favor of getting more work done.
But the reality is that isn't happening, so I find ways to simplify instead and make a little extra time for myself. If you're in favor of that plan, too, then you're going to love this cake. It's a simple way to enjoy fresh berries with a good dose of vanilla. And it's so pretty that it doesn't need a frosting or a glaze. Just add a little whipped cream!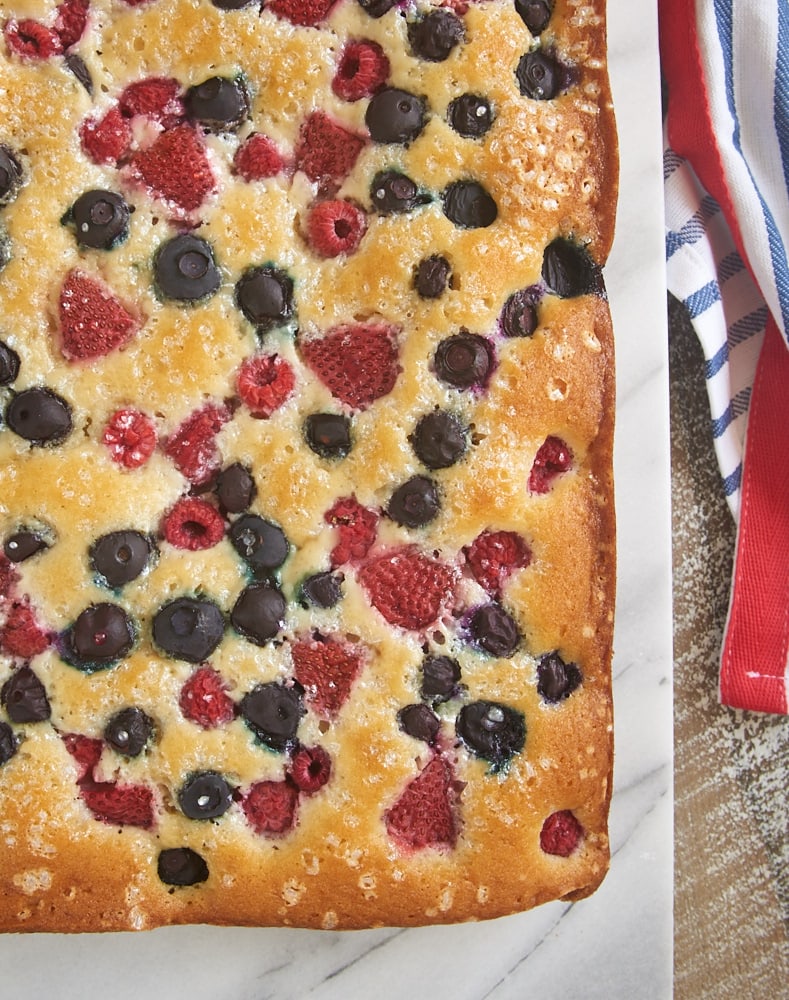 While this cake doesn't need a topping, I just can't resist adding a sprinkle of sanding sugar to the top of it before baking. It's such an easy way to add a little bit of sparkle and an extra sweet bite. It's completely optional, but frequent BoB readers will know that it's one of my favorite extra touches.
The cake itself is a version of a traditional white cake. It uses egg whites instead of whole eggs for a lighter color. And I like to whip the egg whites and fold them into the batter for a little fluffier texture.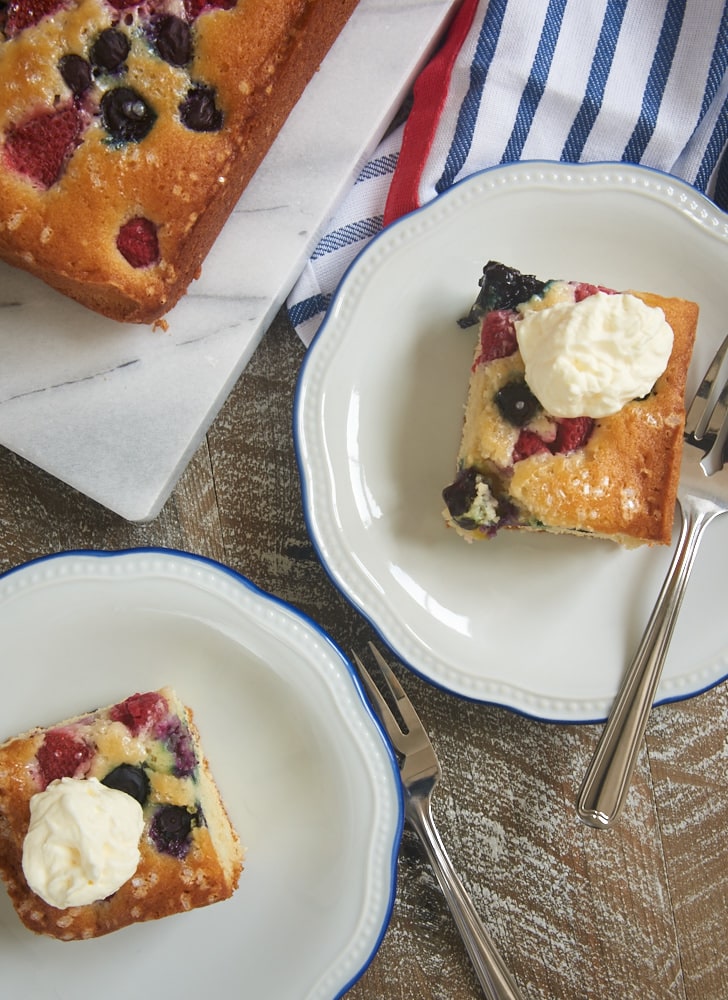 You can, of course, use your favorite mix of berries or just use one kind. You can let the flavors change as the season progresses and other berries become available. If you use larger berries like strawberries, I recommend quartering them so that they're about the size of smaller berries like raspberries.
This lovely cake is just the dessert for celebrating berry season. It's full of such amazing flavor and beautiful color! And it's simple enough to whip up that you may find that it becomes a staple dessert of the season.
Find more cake recipes in the Recipe Index.
Berry Vanilla Cake
Yield: 18 servings
Prep Time:25 minutes
Cook Time:45 minutes
Celebrate berry season with this simple, delicious, and delightful Berry Vanilla Cake.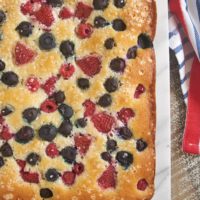 Ingredients:
3 cups all-purpose flour
2 teaspoons baking powder
1 teaspoon baking soda
1/2 teaspoon salt
1/2 cup unsalted butter, softened
1 & 3/4 cups granulated sugar
1 tablespoon vanilla extract
1 cup milk
3 large egg whites
2 cups assorted berries*
sanding sugar, optional
sweetened whipped cream, for serving
Directions:
Preheat oven to 350°F. Grease a 9″x 13″x 2″ baking pan.**
Whisk together the flour, baking powder, baking soda, and salt. Set aside.
Using an electric mixer on medium speed, beat the butter, sugar, and vanilla until light and fluffy.
Reduce the mixer speed to low. Add the flour in 3 portions, alternating with 2 portions of milk. Mix just until combined.
In a separate bowl, whip the egg whites to stiff peaks. Gently fold into the cake batter.
Transfer the batter to the prepared pan, spreading evenly. Scatter the berries over the top of the batter. If you like, sprinkle sanding sugar over the top of the cake and berries.
Bake 40 to 45 minutes, or until the cake has browned and a pick inserted into the center comes out clean. Cool in the pan before serving.
Notes:
*Cut larger berries like strawberries into quarters.
**If you'd like to remove the entire cake from the pan instead of serving from the pan, line the pan with parchment paper so that the paper hangs over the short ends by a couple of inches. Grease the pan and parchment paper. Once the cake has cooled, use the overhanging paper to lift the cake out of the pan.