This Berry Vanilla Cake proves just how delicious a simple dessert can be! Light vanilla cake is dotted with juicy fresh berries, then dusted with sparkling sugar for a delightful bit of crunch.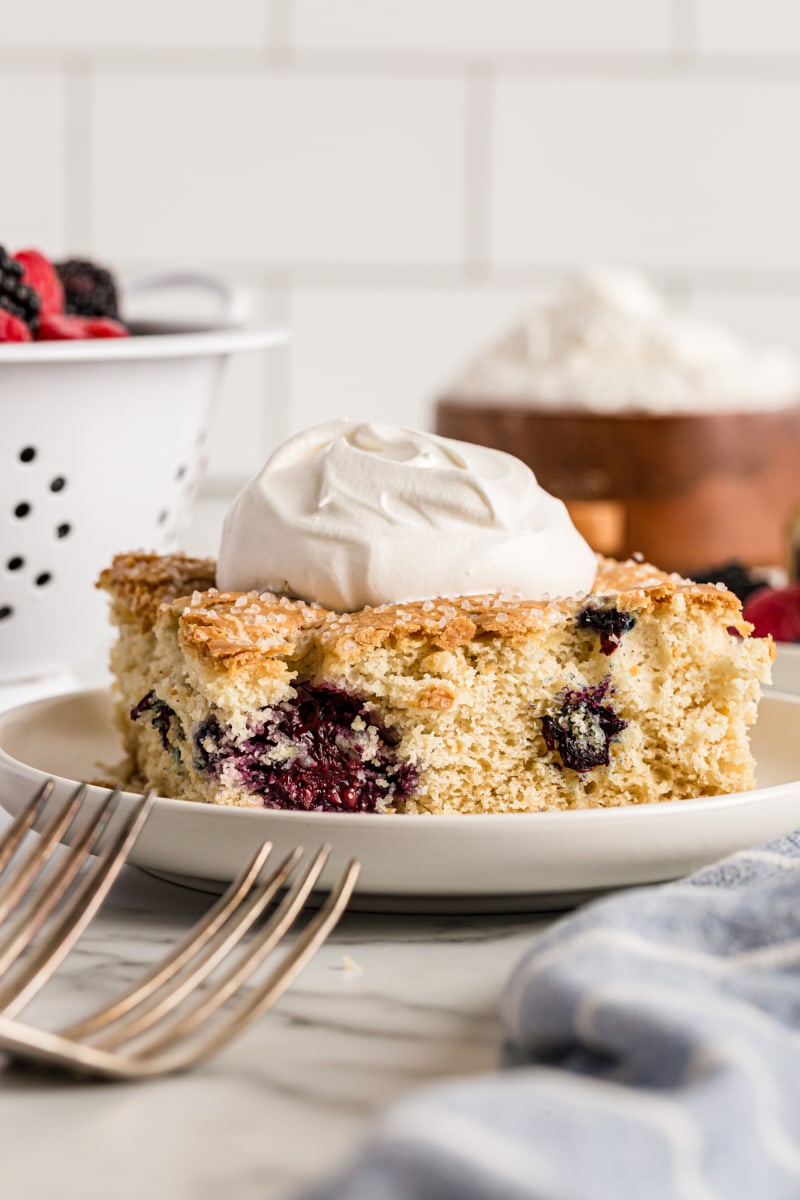 Light Berry Cake—Perfect for Summer!
When the weather starts warming up in late spring, there's a lot to get excited about, and if you love to bake, fresh local berries definitely rank at the top of that list. Is there anything better than the aroma of sun-ripened strawberries? Or mulberries picked fresh from the tree in your backyard? Blackberries that are so juicy, they stain your fingers?
This Berry Vanilla Cake is a simple way to enjoy all those fresh berries with a good dose of vanilla flavor. And it's so pretty that it doesn't even need a frosting or a glaze. Just add a little whipped cream! Along with my Mixed Berry Cream Cheese Crisp and Fresh Berry Tart, it's one of my favorite ways to use an assortment of summer berries.
The cake itself is a version of a traditional white cake. It uses egg whites instead of whole eggs for a lighter color, and by whipping the egg whites and folding them into the batter, you'll get a fluffier texture. It's substantive enough to pair with juicy berries, but light enough to set it apart from a standard cake recipe.
A dusting of sanding sugar is the perfect finishing touch to add some sparkle and crunch!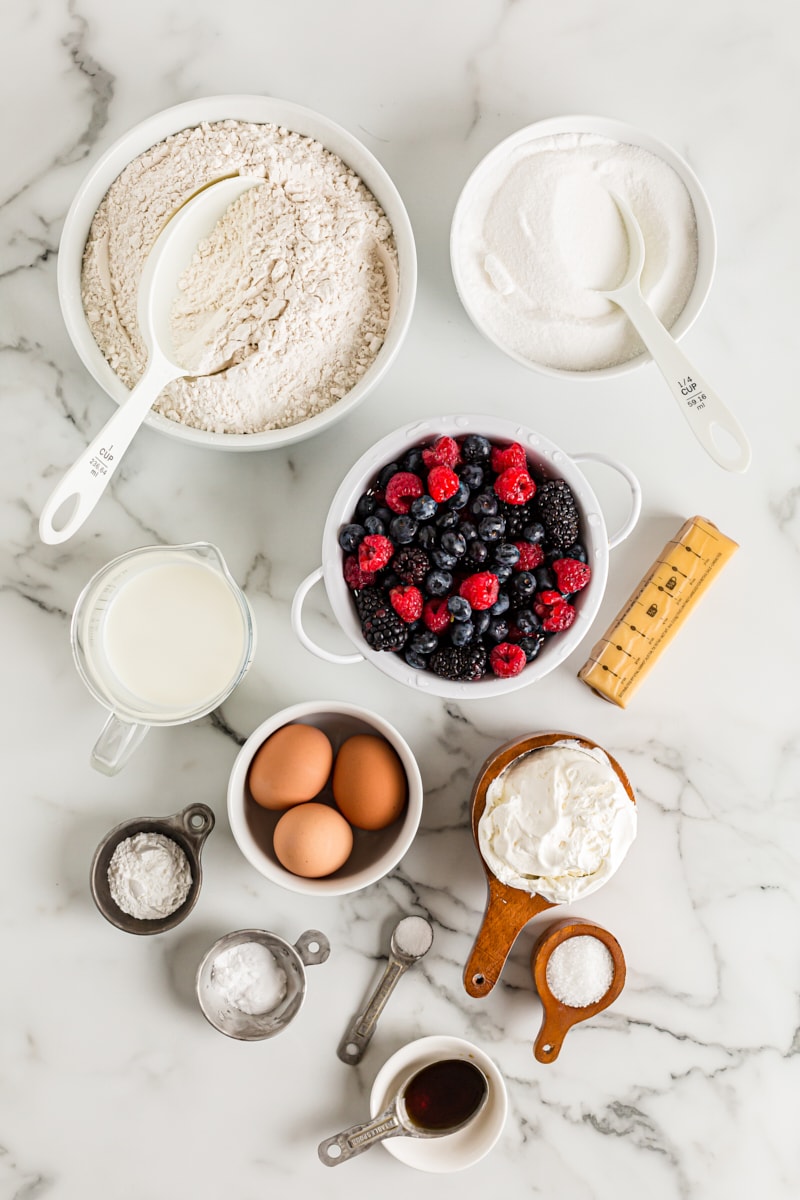 What You'll Need
Scroll down to the recipe card below this post for ingredient quantities and full instructions.
All-purpose flour – Learn more: How to Measure Flour
Baking powder
Baking soda
Salt
Unsalted butter – Learn more: Unsalted or Salted Butter: Which is Better for Baking?
Granulated sugar
Vanilla extract
Milk – Whole milk is best in this recipe!
Egg whites
Assorted berries – Use a combination of berries, or just one variety. Large strawberries should be quartered.
Sanding sugar – Demerara sugar will work, too, although the crystals are a bit bigger.
Sweetened whipped cream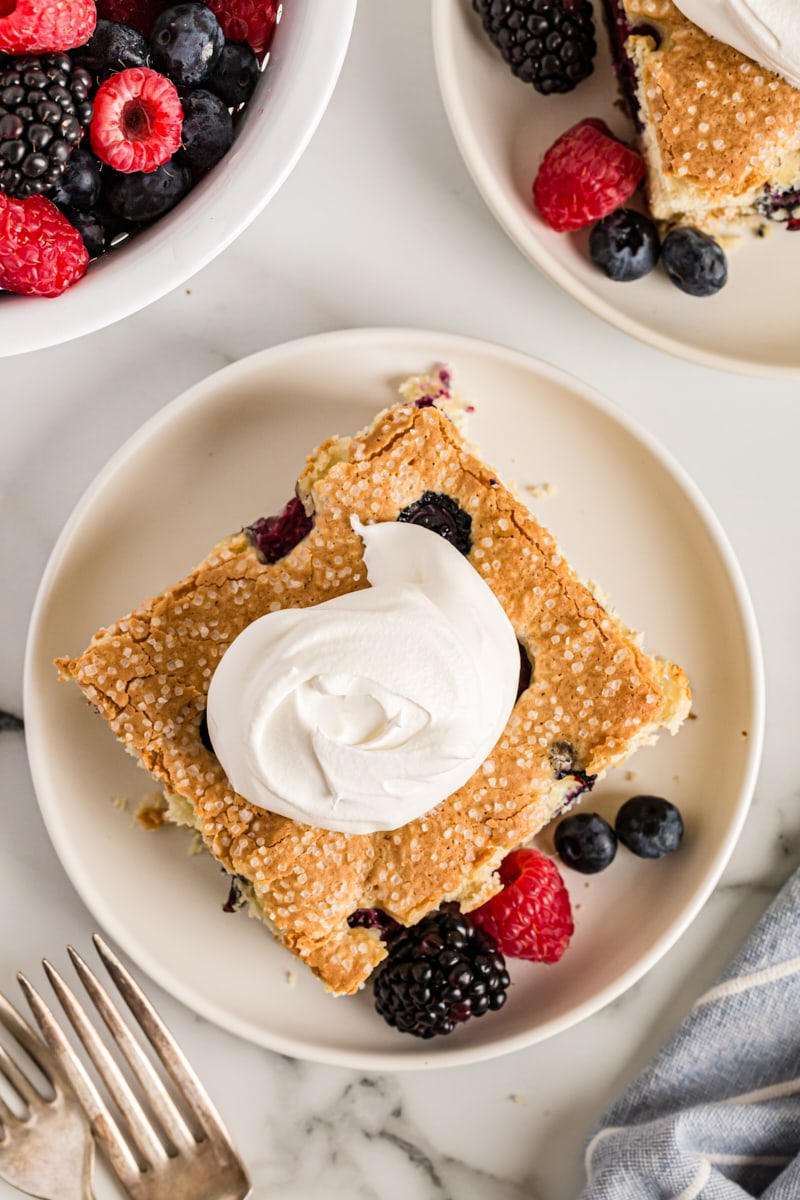 How to Make Berry Vanilla Cake
This lovely cake is just the dessert for celebrating berry season. Here's how to make it!
Prepare. Preheat your oven to 350°F. Grease a 9″x 13″x 2″ baking pan, or line it with parchment paper and grease the paper.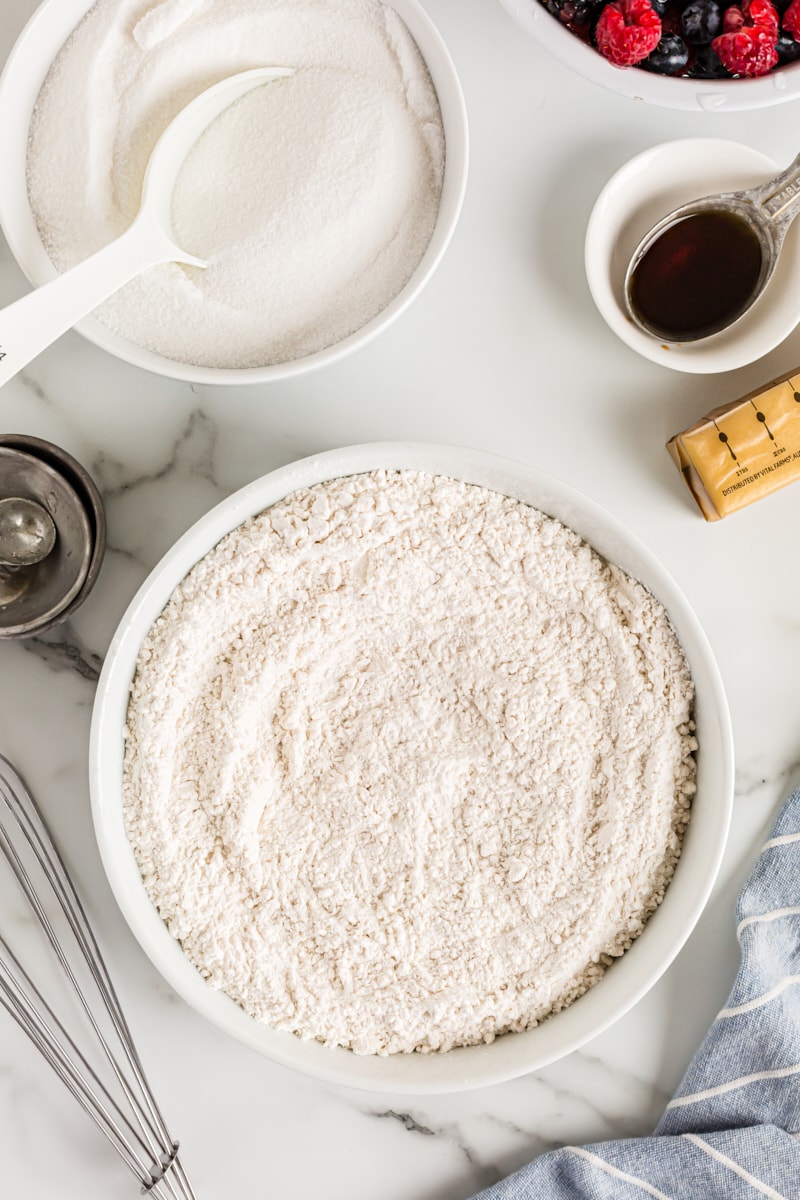 Mix the dry ingredients. In a large, bowl, whisk the flour, baking powder, baking soda, and salt.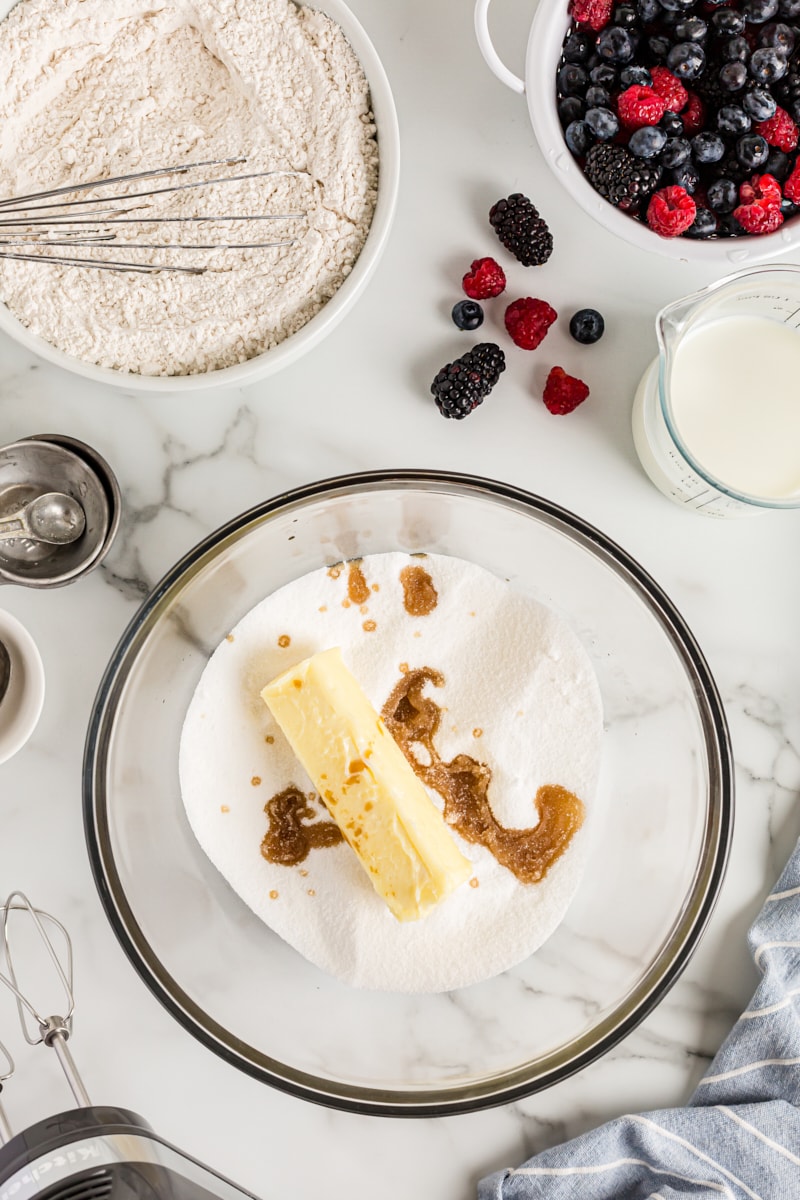 Cream the butter and sugar. Use an electric mixer on medium speed to beat the butter, sugar, and vanilla until they're light and fluffy.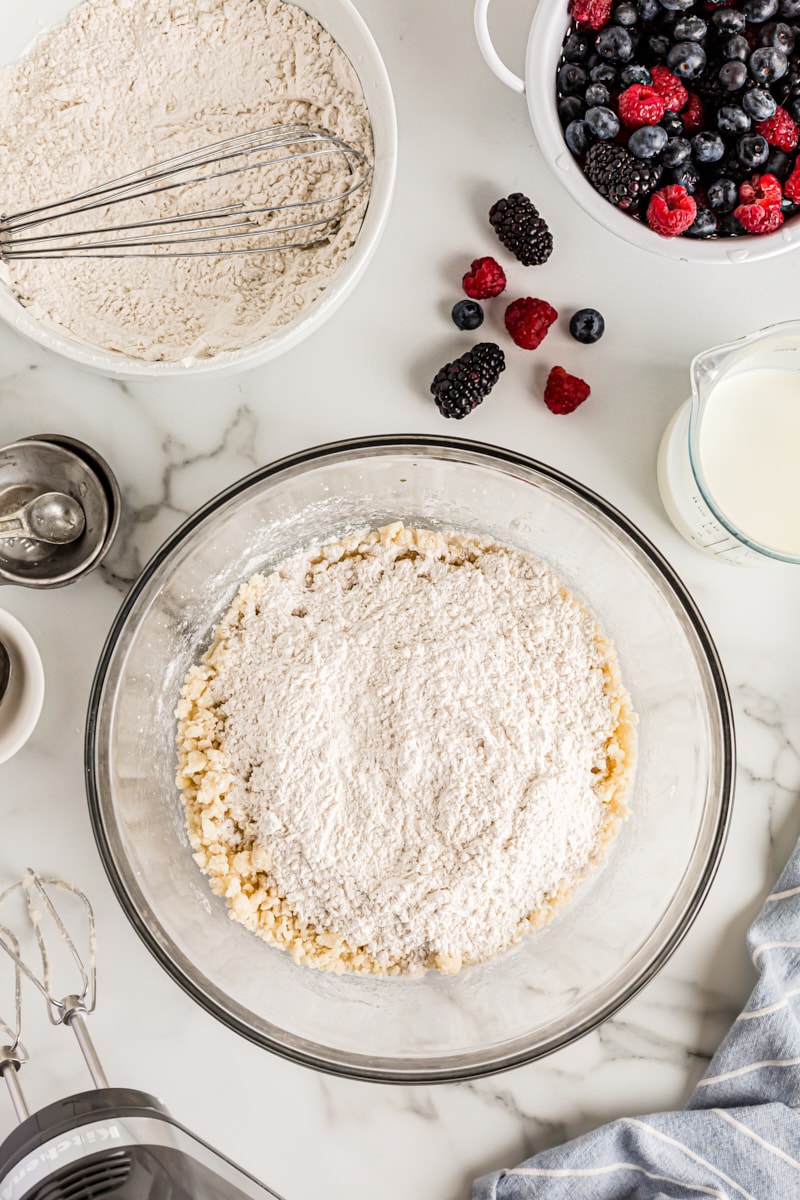 Add the dry ingredients and milk to the butter mixture. Reduce the mixer speed to low. Add the dry ingredients to the butter mixture in 3 portions, alternating with 2 portions of milk. Beat until just combined.
Finish the batter. In another mixing bowl, whip the egg whites until stiff peaks form. Gently fold the whipped egg whites into the cake batter.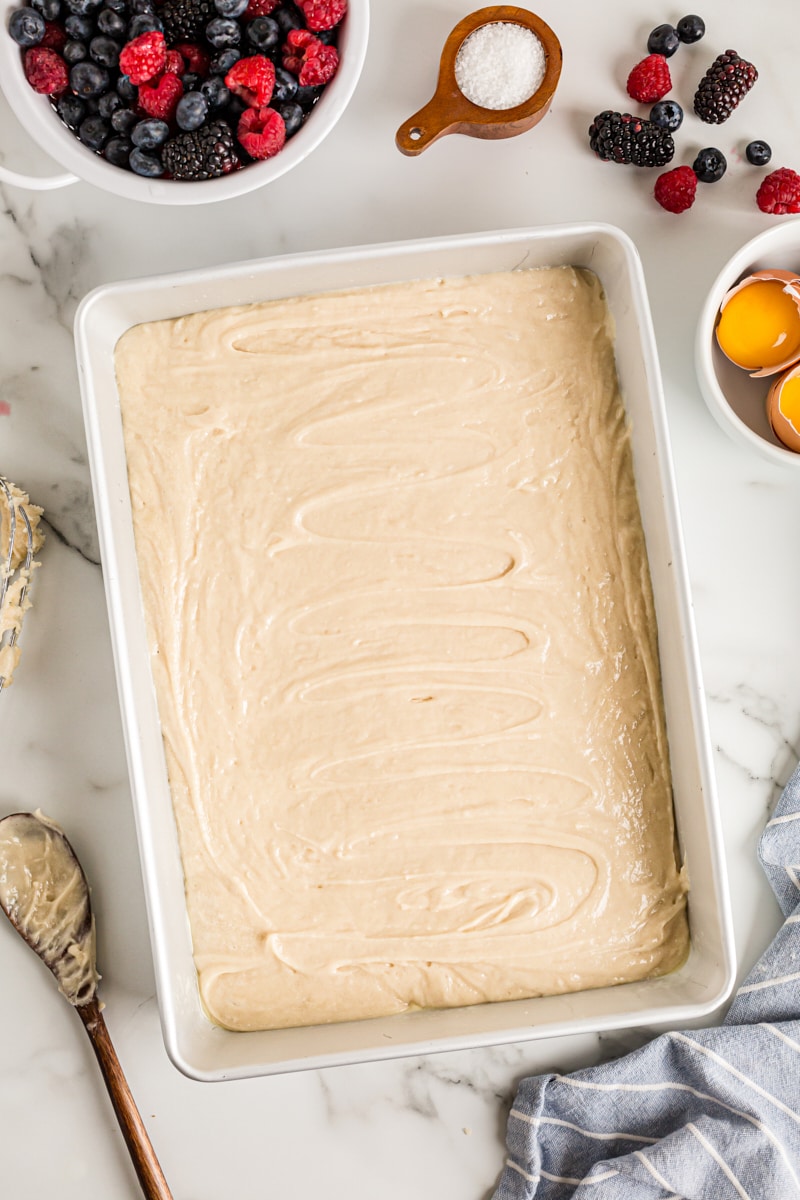 Assemble. Pour the batter into the prepared pan and use a spatula to spread it evenly. Scatter the berries over the top of the batter, then sprinkle the sanding sugar on top, if you're using it.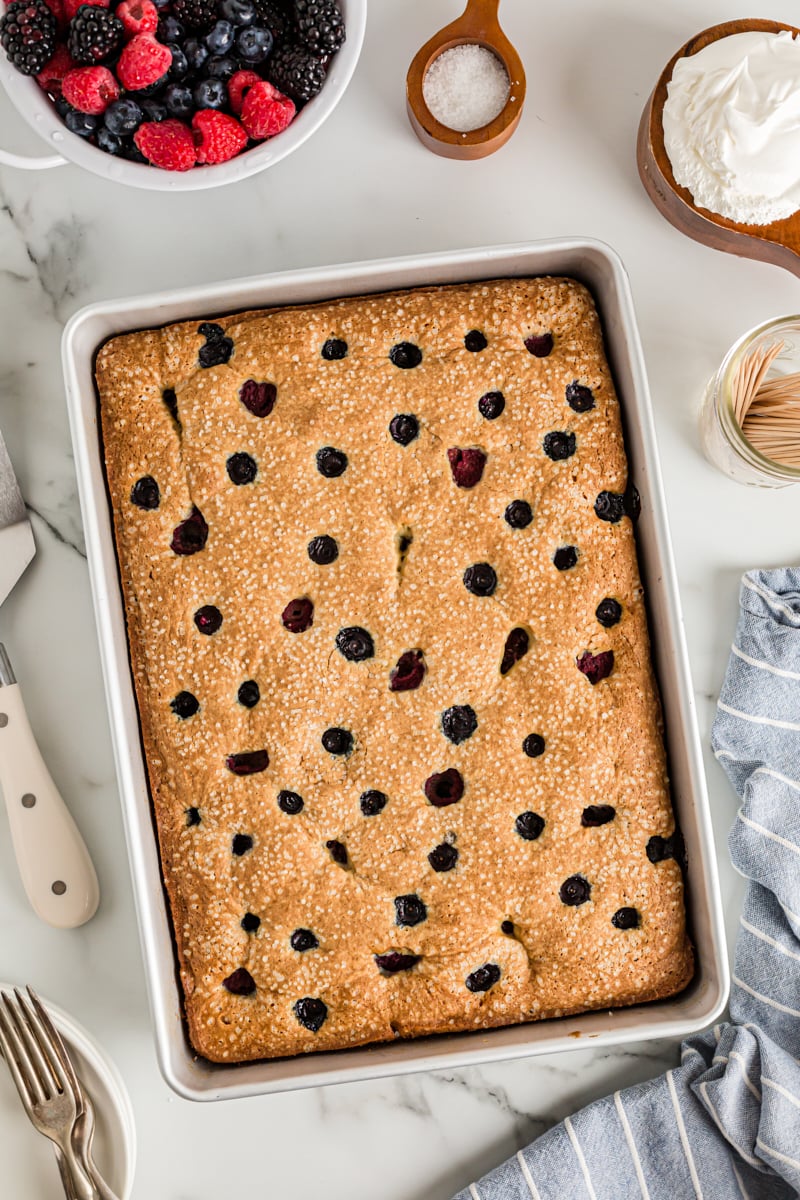 Bake. Place the pan in the oven and bake for 40 to 45 minutes, or until the cake has browned and a toothpick inserted into the center comes out clean. Cool the cake in the pan, then serve.
How Long Should It Take to Get Stiff Peaks?
It takes about 5 minutes to get stiff peaks when using an electric hand mixer. Start with the mixer on medium speed; once soft peaks form, increase the speed to high and continue beating until you get stiff peaks that are glossy and stand straight when you lift the beaters.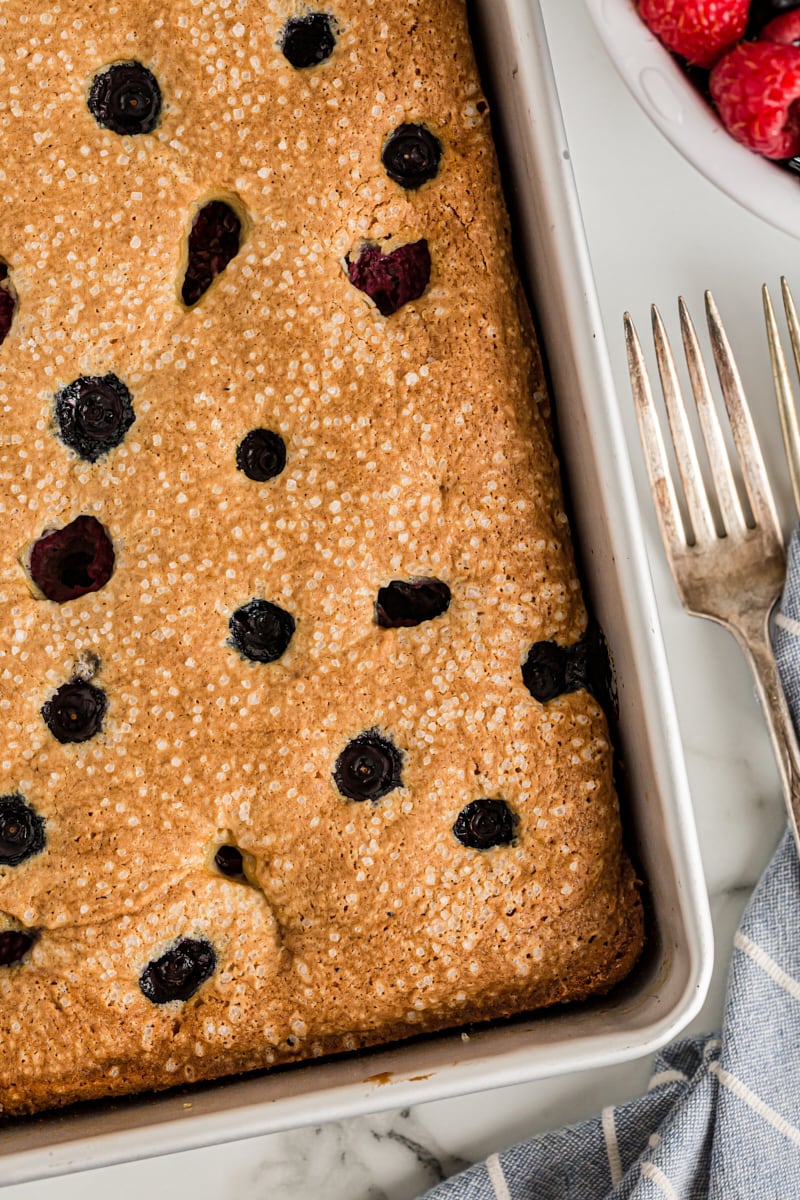 Tips for Success
Here are some hints and tips to help you make the perfect Berry Vanilla Cake!
Want to remove the cake from the pan before serving? Line the pan with parchment paper so that the paper hangs over the short ends by a couple of inches. Grease the pan and parchment paper. Once the cake has cooled, use the overhanging paper to lift the cake out of the pan.
Using frozen berries. This cake is best with fresh berries, but if you need to use frozen, make sure they're still frozen when you add them to the cake batter. If they've thawed when you add them, they'll bleed into the cake.
Don't over-mix. Stirring too vigorously can make your cake tough, and it can also deflate the egg whites.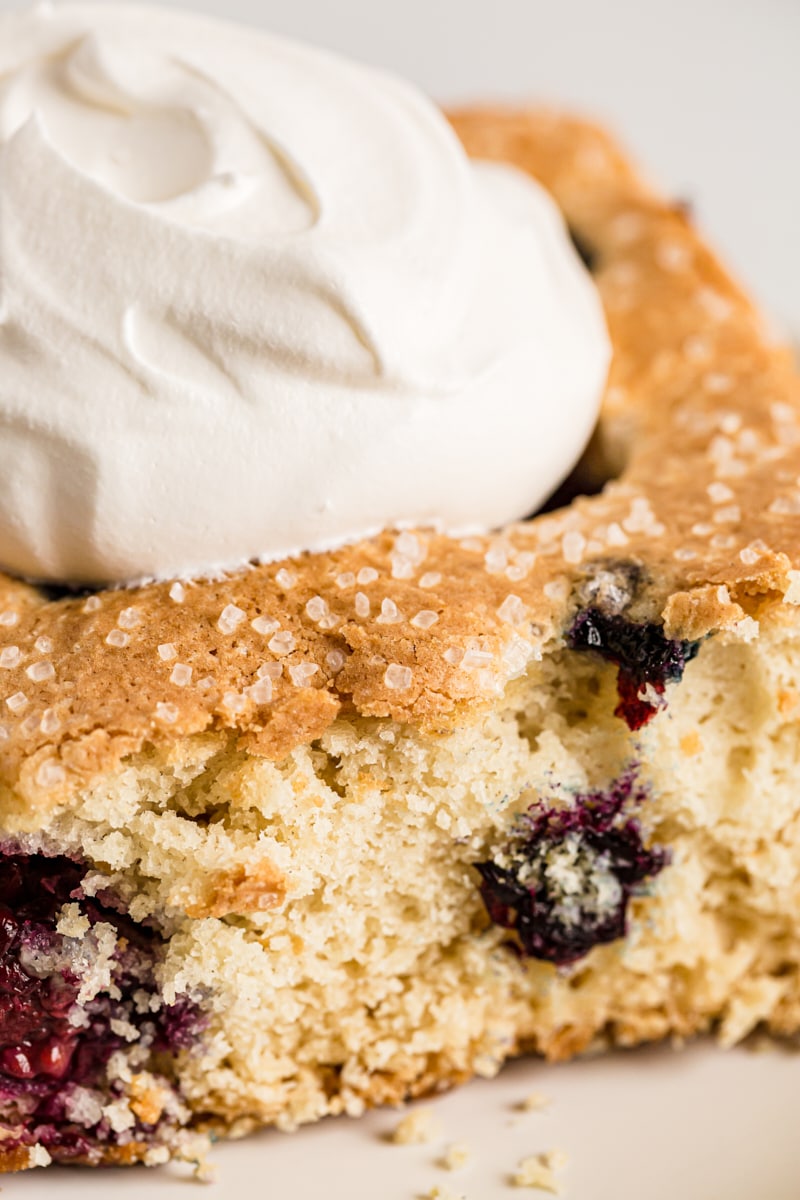 Serving Suggestions
In addition to serving this cake with whipped cream, you can dress it up with:
A sprig of fresh mint leaves
Vanilla bean ice cream
Creme anglaise
More fresh berries!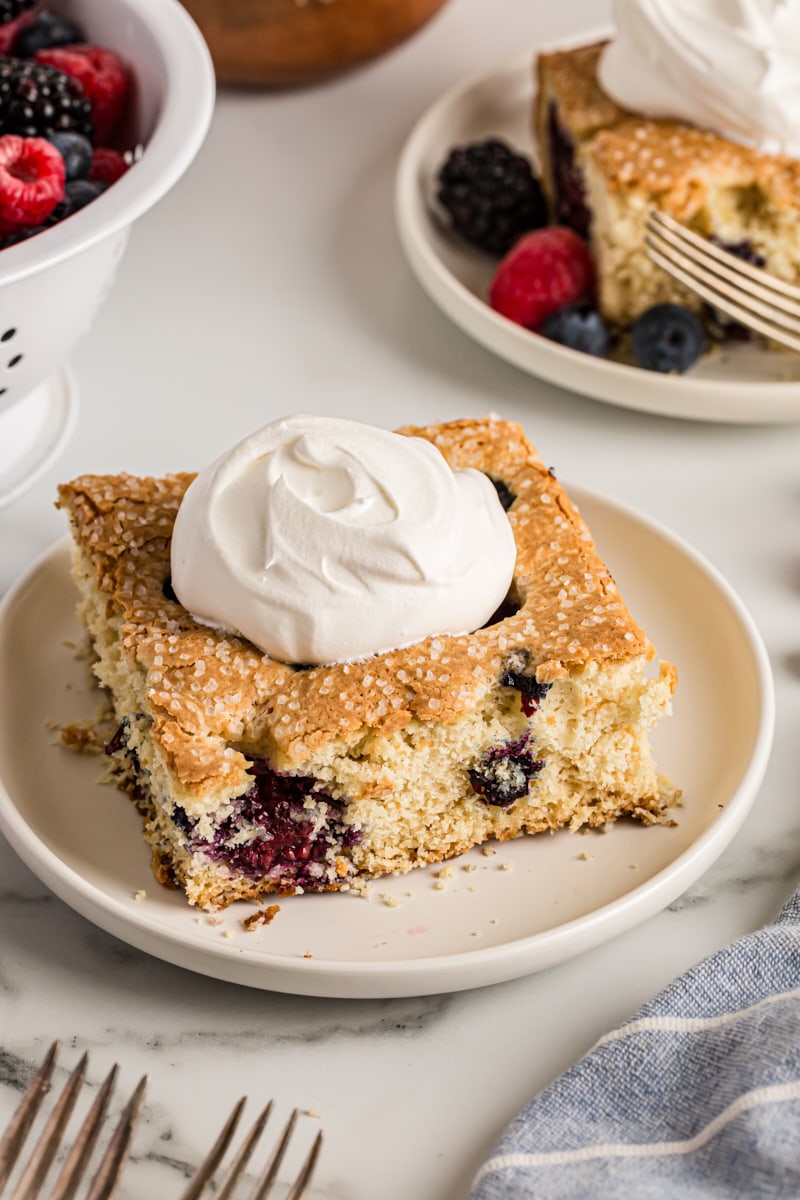 How to Store
This cake can be stored at room temperature for 3 to 4 days. Wrap it well or store smaller amounts of leftovers in an airtight storage container.
Can This Cake Be Frozen?
Yes, you can freeze Berry Vanilla Cake for up to 3 months. Wrap it well or store it in an airtight container. It can be thawed at room temperature or warmed up in the microwave in 15-second increments.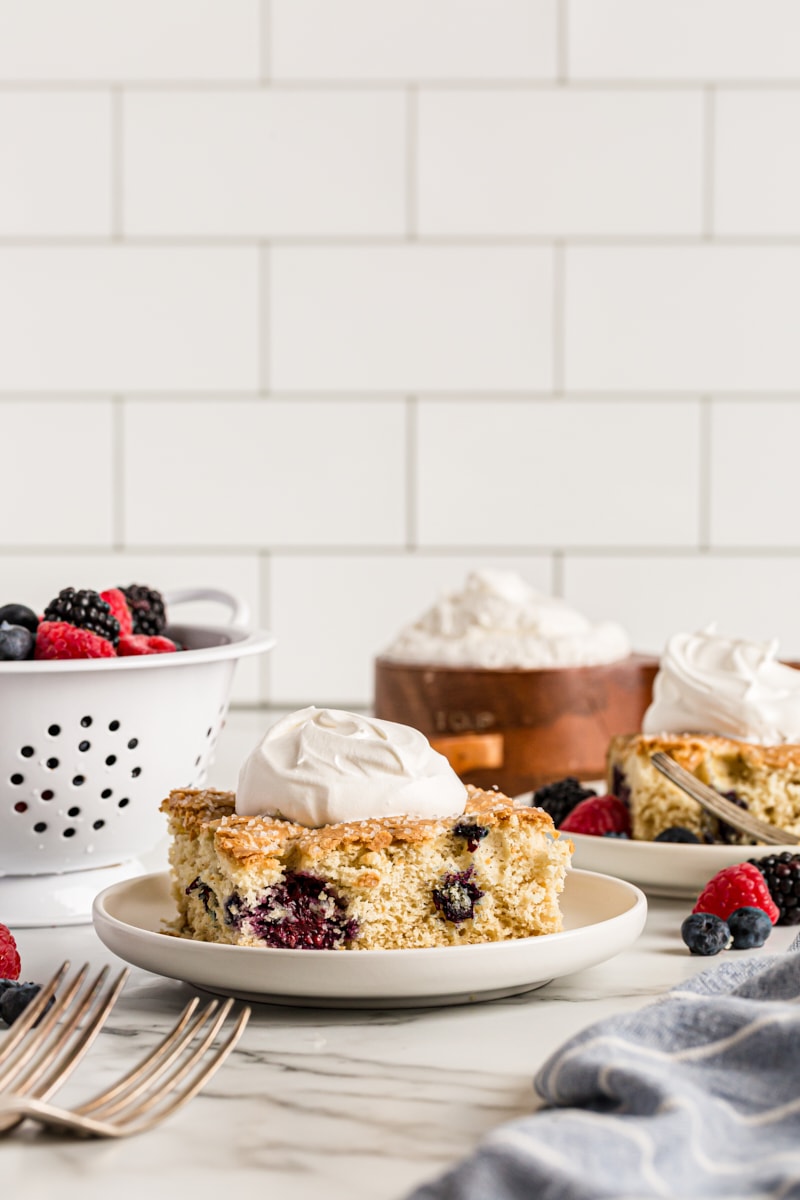 More Berry Desserts
Video Tutorial: Berry Vanilla Cake