November 26, 2007
Chocolate Bread Pudding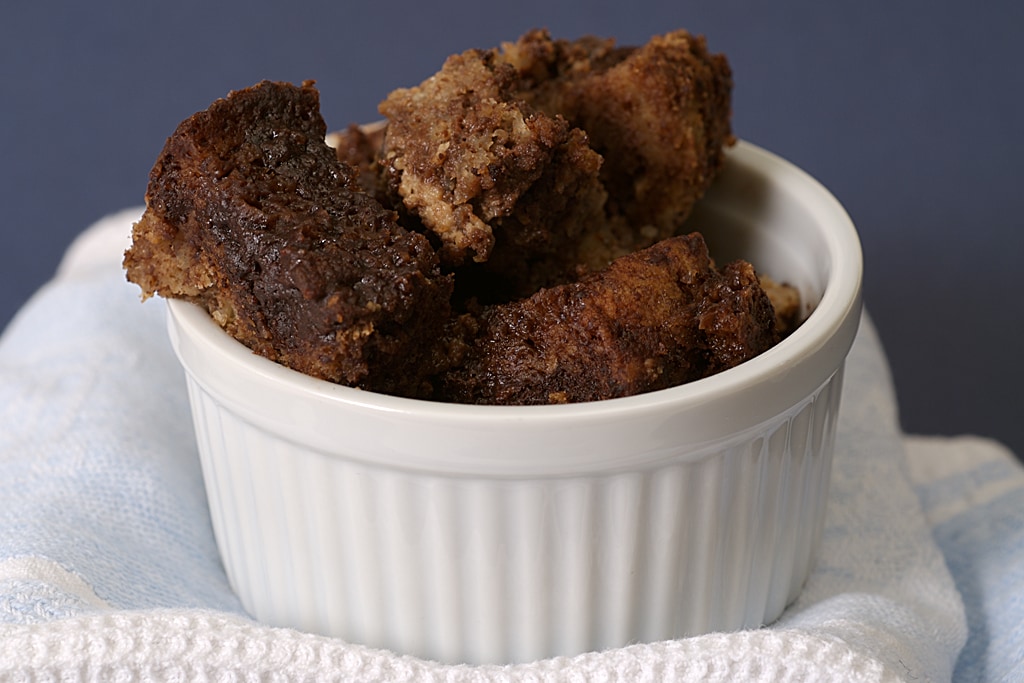 I really wanted to make something chocolate-y for Thanksgiving, but I had a hard time figuring out what to make. I had thought about a chocolate cake, but that just seemed boring. The day before Thanksgiving, I remembered seeing this recipe at Food Network. I looked it over and decided it was perfect. It sounded delicious, with the added bonus that I had all the ingredients on hand. No way was I going back to the grocery store the day before Thanksgiving.

Now, when I say that I had all the ingredients, that is a slight exaggeration. I didn't have any bread for the bread pudding. But remember my new bread machine? Four little ingredients and a few hours later, I had bread.
My only change to the recipe was the liqueur. The original recipe uses coffee-flavored liqueur, like Kahlua. I decided (with some encouragement from Quinn) to use Frangelico, which is a hazelnut-flavored liqueur. After discovering it last year, Frangelico has risen to the top of my list of liqueurs.
This is a really simple yet impressive dessert. My only complaint was grating all that chocolate. That was exhausting. Other than that, it was quick and easy. I do think it got a bit lost in the Thanksgiving dessert spread, especially with that cheesecake. I think it would have performed much better on its own. Maybe I'll just have to make the sacrifice and make it again.
Chocolate Bread Pudding
Yield: 10 to 12 servings
Prep Time:20 minutes
Cook Time:1 hour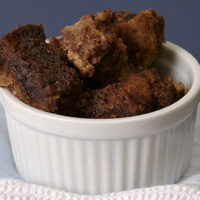 Ingredients:
1 1-pound loaf French or Italian bread, cubed
3 cups milk
1/2 cup Frangelico
1/4 cup heavy cream
1 cup granulated sugar
1 cup packed light brown sugar
1/4 cup unsweetened cocoa powder
6 large eggs
1 tablespoon vanilla extract
2 teaspoons almond extract
1 & 1/2 teaspoons ground cinnamon
8 ounces semisweet chocolate, grated
sweetened whipped cream, for garnish
Directions:
Lightly grease a 9″x 13″ baking pan. Place the cubed bread into the prepared pan. Set aside.
Whisk milk, Frangelico, and cream in a large bowl.
In a separate bowl, combine sugar, brown sugar, and cocoa powder. Add to the milk mixture and mix well.
Place eggs in a small bowl and beat lightly. Add vanilla, almond extract, and cinnamon to eggs and stir to combine.
Add the egg mixture to the milk mixture. Mix well.
Stir in the grated chocolate. Then, pour the mixture over the bread. Allow to stand, stirring occasionally, for 20 minutes, or until the bread absorbs the majority of the milk.
Preheat oven to 325°. Bake for 1 hour or until a knife inserted into the center comes out clean.
Serve warm or chilled with sweetened whipped cream.