This Chocolate Bread Pudding is a more decadent spin on the traditional version, made with cocoa powder, chocolate, and liqueur. Who knew stale bread could be transformed into such a delectable dessert?!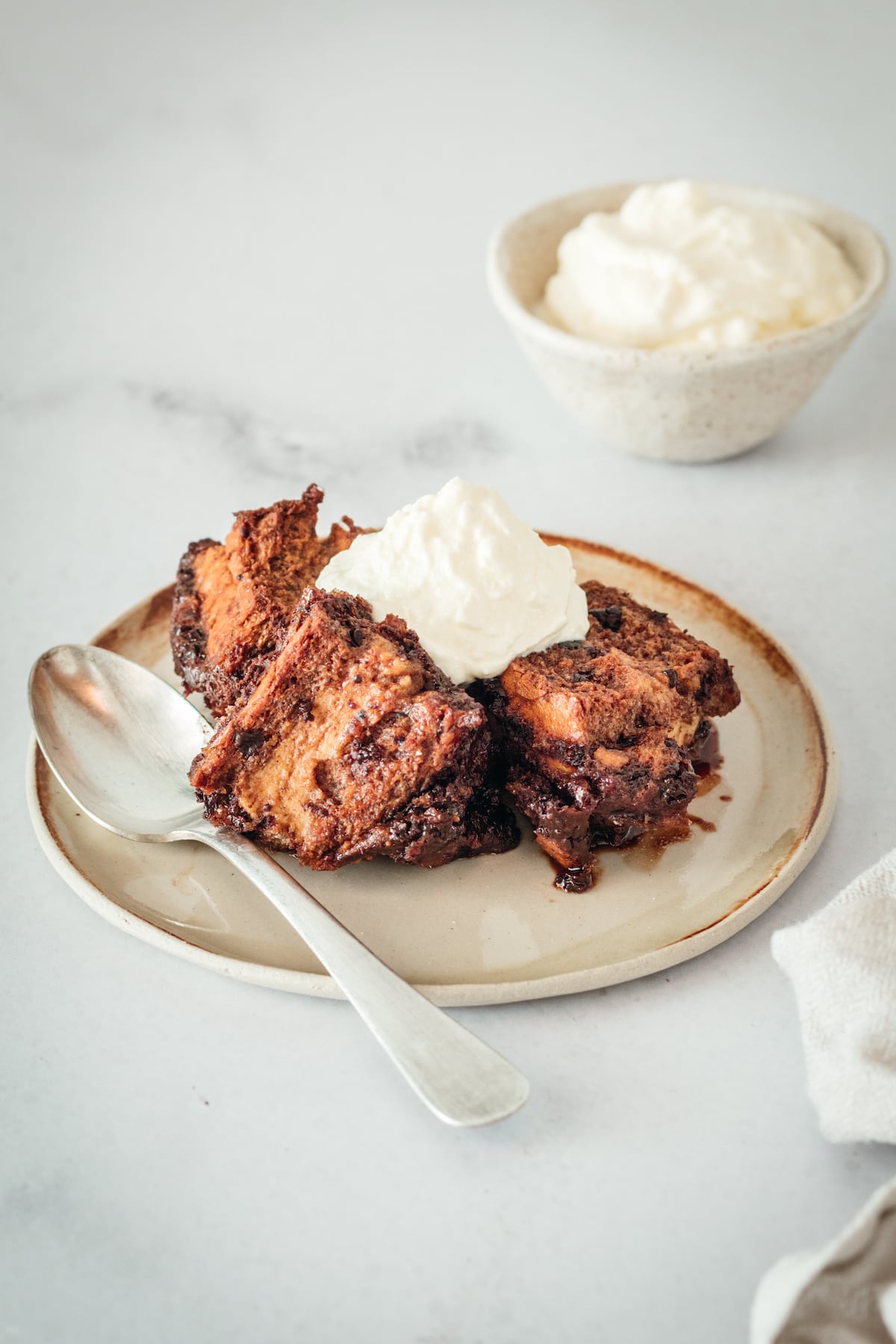 Easy Chocolate Bread Pudding Recipe
The first time I made this Chocolate Bread Pudding, it was for Thanksgiving. If you're a traditionalist and prefer pumpkin pie, might I suggest bread pudding for Christmas or another special occasion? This recipe will be the sleeper hit of any holiday dessert table—it's got everything you love about bread pudding (hello, carbs and custard!), with the addition of rich chocolate.
Oh, and Frangelico. We can't forget that!
This is a really simple yet impressive dessert, and other than grating the chocolate, it's practically effortless to put together. When you're entertaining a crowd, Chocolate Bread Pudding is the perfect recipe to whip up because it's not very demanding, so you can spend time on your other dishes and still have an incredible dessert to serve your guests.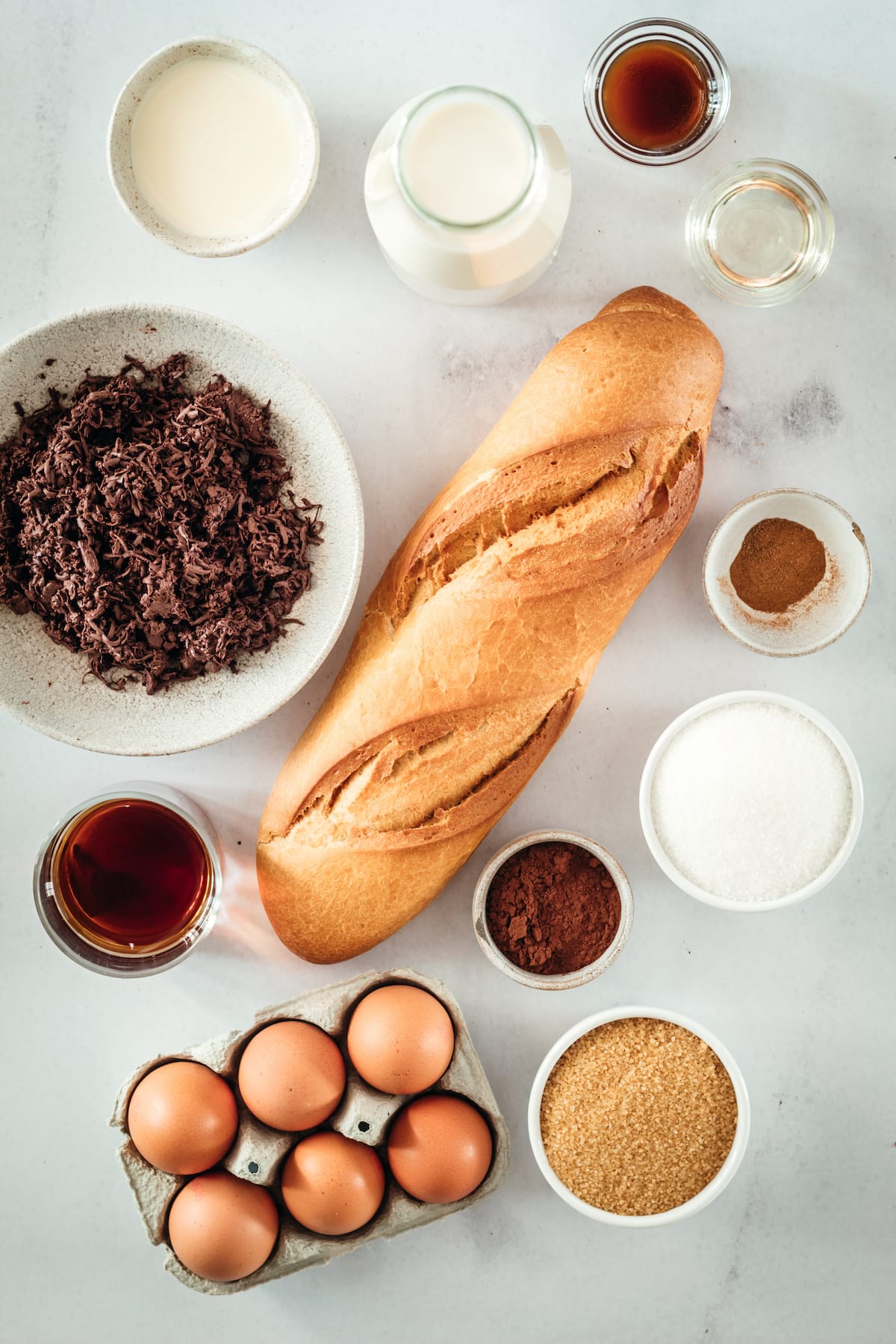 What You'll Need
Here's everything you'll need to make this rich Chocolate Bread Pudding recipe:
French or Italian bread – Stale is best, but I have used fresh and the recipe turned out fine.
Milk – I recommend whole milk or reduced-fat, not skim.
Frangelico, Kahlua, or other liqueur
Heavy cream
Granulated sugar
Light brown sugar
Unsweetened cocoa powder – This isn't the same as hot cocoa mix!
Eggs
Vanilla extract
Almond extract – Almond extract is the unsung hero of many fancy dessert recipes. Don't skip it!
Ground cinnamon
Semisweet chocolate – Use a good quality chocolate for the best flavor.
Sweetened whipped cream – Whipped cream is my favorite garnish for this recipe, but you can also pair it with a scoop of vanilla bean ice cream or creme anglaise.
Add-In Ideas
Raisins are a classic addition to bread pudding, but this Chocolate Bread Pudding recipe can be customized in a number of different ways. Add a generous handful of any of these:
Dried cherries
Chopped hazelnuts
Fresh raspberries
Sliced bananas
Fresh strawberry slices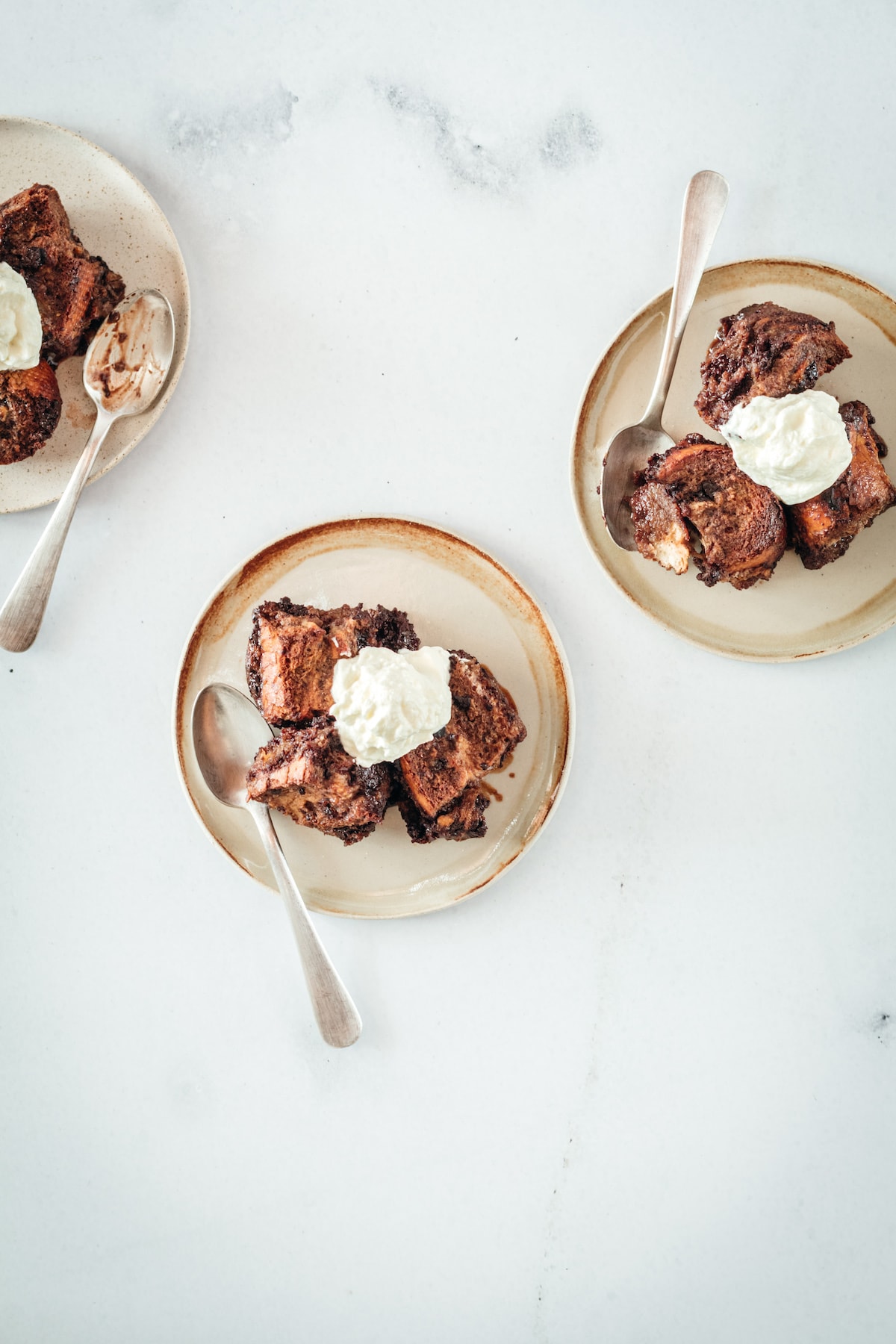 How to Make Chocolate Bread Pudding
You won't believe how easy it is to make this recipe. So easy! Here's what you'll need to do: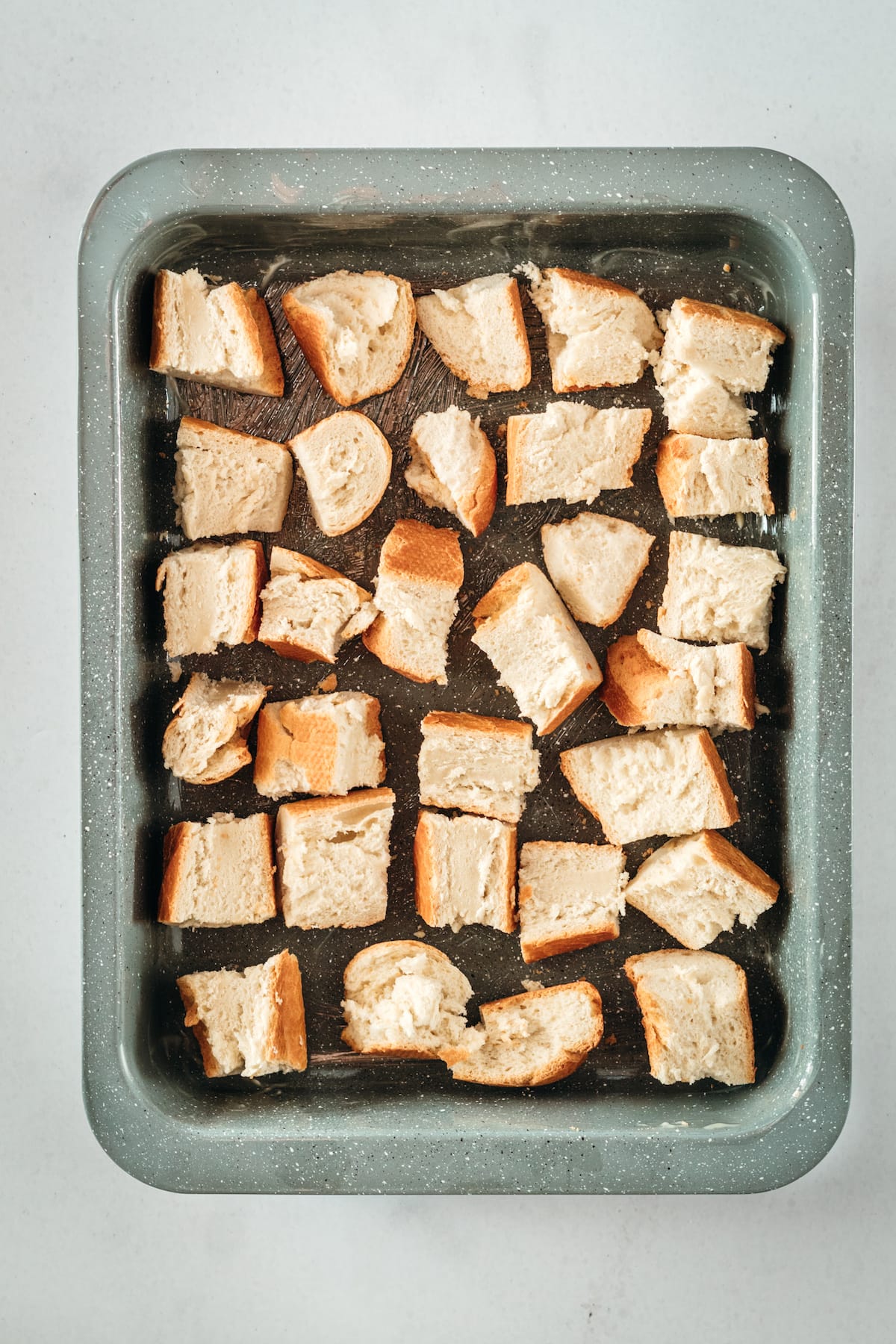 Prepare. Grease a 9×13-inch baking pan and place the bread cubes inside.
Make the custard. Combine the milk, liqueur, and cream in a large bowl, then in another bowl, whisk the sugar, brown sugar, and cocoa powder; pour the dry mixture into the wet mixture. Crack the eggs in the bowl where you had the dry ingredients (this saves you from cleaning a third bowl!) and beat them with the extracts and cinnamon, then whisk the egg mixture into the rest of the custard ingredients.
Let the custard absorb. Stir in the grated chocolate, then pour the custard over the bread and let the mixture sit on the countertop for about 20 minutes, or until the bread absorbs the liquid. Near the end of this time, preheat the oven to 325ºF.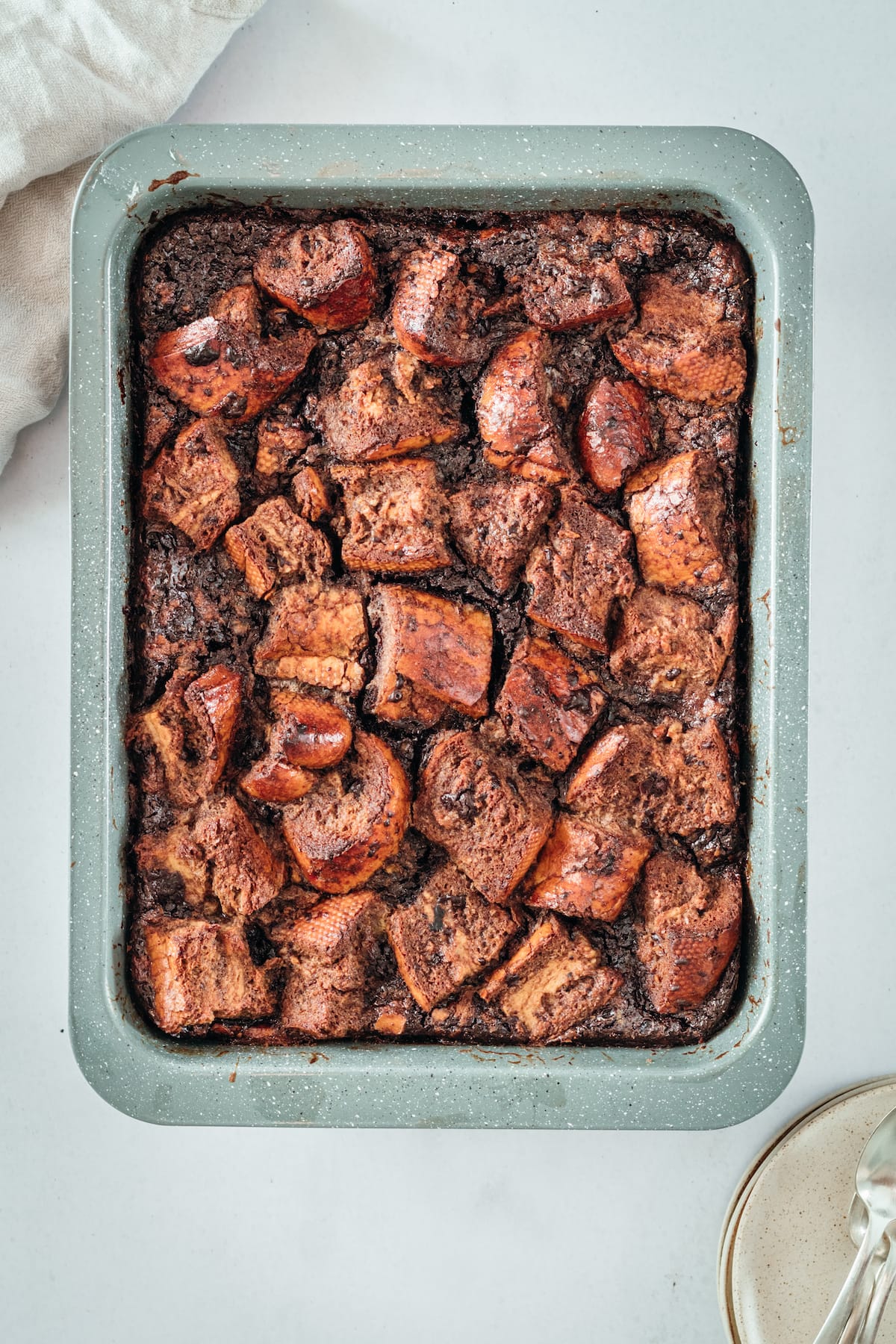 Bake the Chocolate Bread Pudding. Place the baking dish in the oven and bake the bread pudding for about an hour, or until a knife inserted into the center comes out clean.
Serve. Divide the bread pudding onto plates and serve with a dollop of whipped cream.
Tips for Success
There's not much to this recipe, making it great for hesitant bakers. Still, I have a few tips to make sure your Chocolate Bread Pudding is perfect!
So, about the bread! Traditionally, bread pudding uses stale bread, but if you don't happen to have an old baguette sitting around in your kitchen (what kind of monster doesn't eat a baguette immediately?!), you can pick up some bread at the store and the recipe will still work out just fine.
Don't use sliced bread. Another bread tip! Don't use pre-sliced bread. You want to be able to cut the bread into hefty cubes, otherwise it will get mushy in the custard.
Making ahead. Like any other bread pudding recipe, this one is well-suited for making ahead. Assemble and cover it with plastic wrap for up to a day. Let it sit on the counter to warm up a bit while you preheat the oven.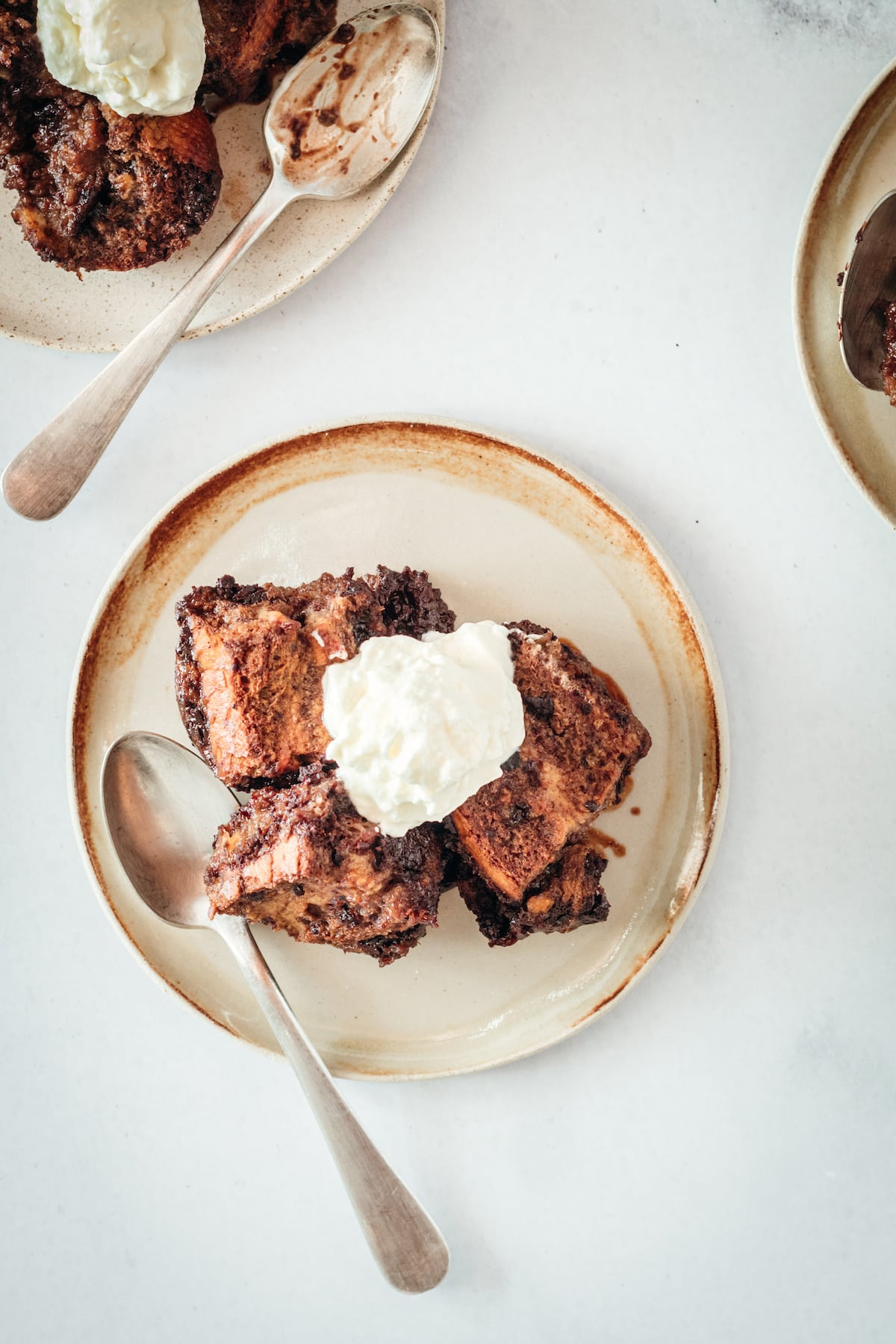 How to Store and Reheat Leftovers
Store Chocolate Bread Pudding covered in the baking dish or transfer it to an airtight storage container. It will keep for up to 4 days in the fridge. You can reheat it in the microwave; the oven will work too, but it's more likely to dry out. If you do want to go the oven route, cover the baking dish with foil to keep steam from escaping and heat it at 350ºF until it's warmed through.
Can I Freeze Leftover Bread Pudding?
You can freeze bread pudding as long as it doesn't have whipped cream or any other sauces added to it. Wrap it tightly in 2 layers of plastic wrap and freeze it for up to 2 months. Let it thaw in the fridge, then warm it up in the microwave.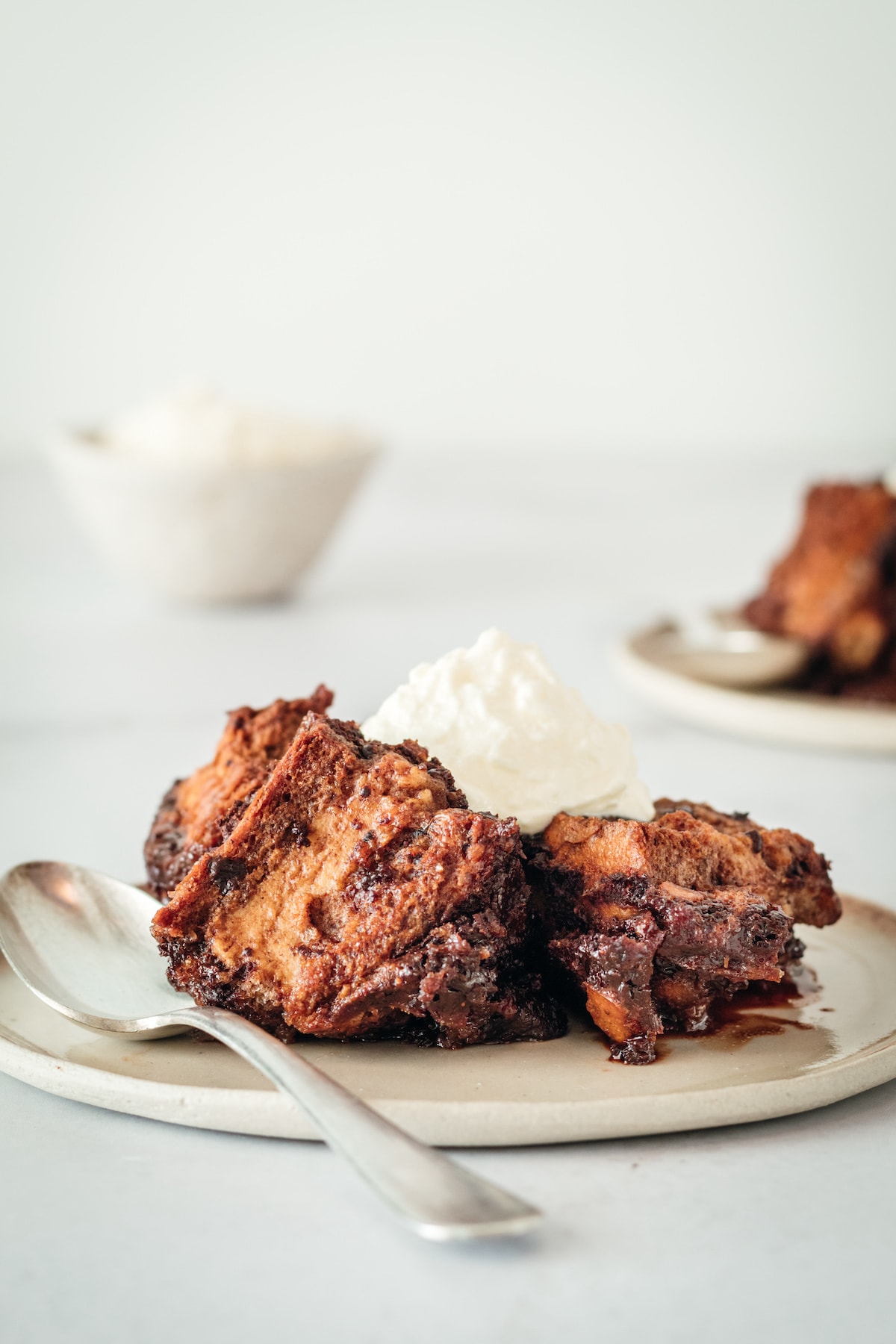 More Bread Pudding Recipes