Old-Fashioned Chocolate Cake is an all-out chocolate experience! This rich and decadent sheet cake has a tender crumb and is topped with an easy chocolate frosting.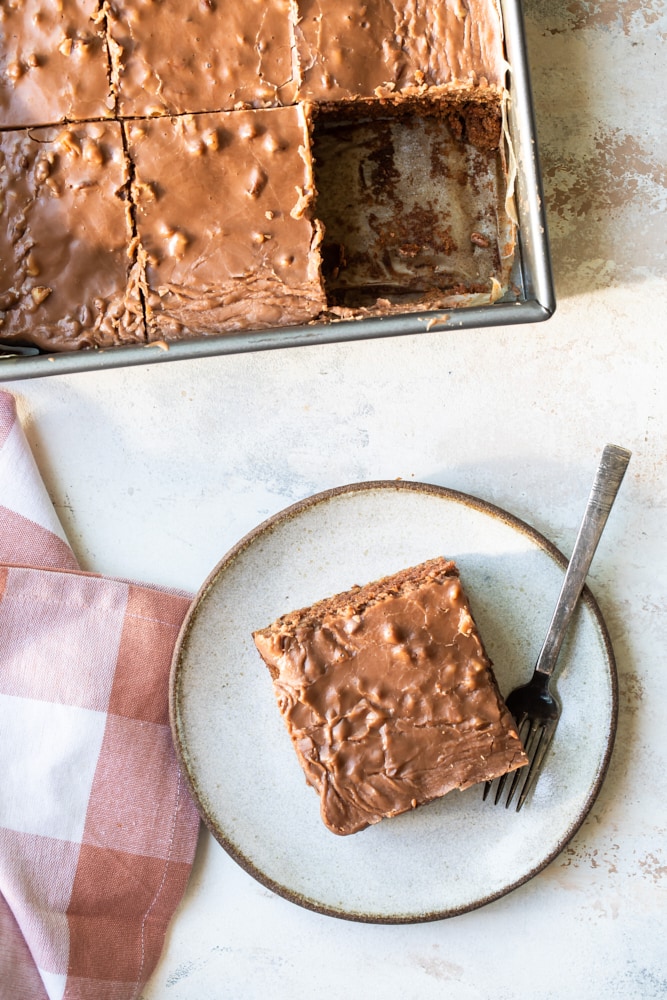 Easy Old-Fashioned Chocolate Cake
This Old-Fashioned Chocolate Cake is ALL about the chocolate. Both the cake and the icing are wonderfully rich and delicious. If you have a chocolate craving let me tell you – this cake is your FIX.
This is also a wonderfully easy made-from-scratch cake. All you need is a bowl and a spoon (plus the ingredients!). Leave your stand mixer unplugged for this one and just enjoy the simplicity of mixing with a big spoon. We're making cake old fashioned style today! If you've ever baked a Texas Sheet Cake, then I think you'll find that this recipe is similar but made in a 9×13 pan versus a half sheet pan.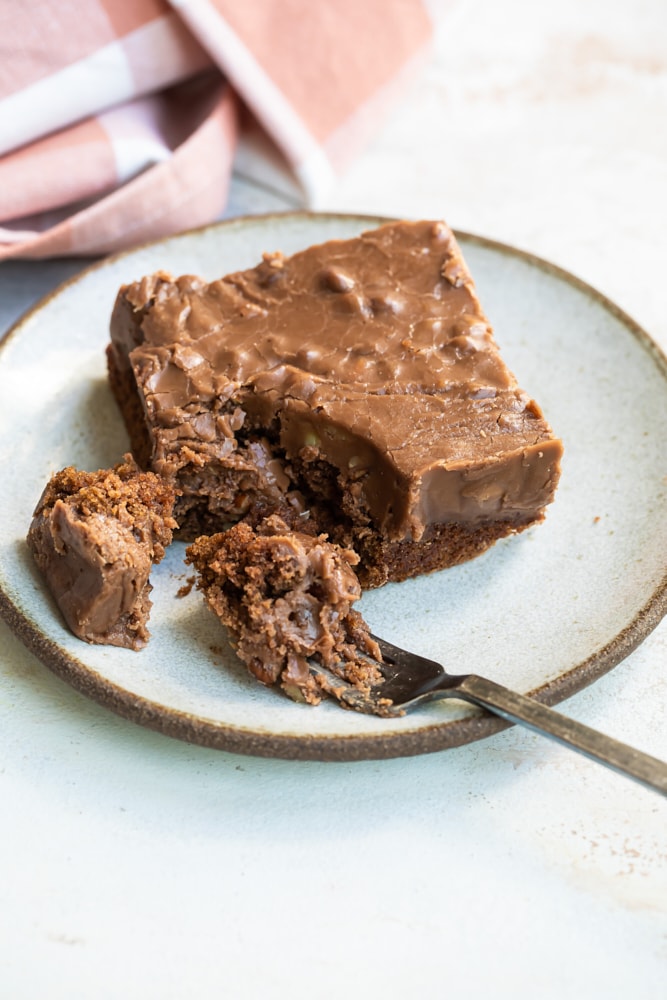 Recipe Ingredients
Here is a quick recap of what you'll need to make this chocolate sheet cake with chocolate frosting. Be sure to scroll down to the recipe card for specific amounts.
For the Cake
Unsalted butter
Water
Unsweetened cocoa powder
Buttermilk – Adds a tanginess to both the cake and the icing.
Baking soda
Eggs
Vanilla extract
All-purpose flour
Granulated sugar
Ground cinnamon – Adds a little extra flavor that really differentiates this cake from most chocolate cakes.
Salt
For the Frosting
Unsalted butter
Unsweetened cocoa powder
Buttermilk – I know this is unusual in a frosting, but as I mentioned above the buttermilk adds a tang that's quite delicious!
Confectioners' sugar
Vanilla extract
Chopped pecans – You can leave these out if you are not a nut fan, or use a different kind of nuts like walnuts.
Salt
How to Make this Chocolate Cake
One of the best thing about old fashioned recipes is how simple they are to make! Here's how to do it:
Make the Sheet Cake
Prep your tools. Preheat oven to 350°F. Grease and flour a 9″x 13″x 2″ baking pan.
Combine butter and cocoa. In a large saucepan over medium heat, melt the butter. Mix in the water and cocoa powder. Remove from heat. Set aside.
Mix wet ingredients. In a separate bowl, dissolve the baking soda in the buttermilk. Stir in the eggs and vanilla. Add the cooled cocoa mixture and mix well.
Combine dry ingredients. In a large mixing bowl, whisk together the flour, sugar, cinnamon, and salt.
Mix batter. Make a well in the center and add the cocoa mixture, stirring just until combined.
Bake. Pour the batter into the prepared pan. Bake 30 minutes, or until a pick inserted into the center comes out clean.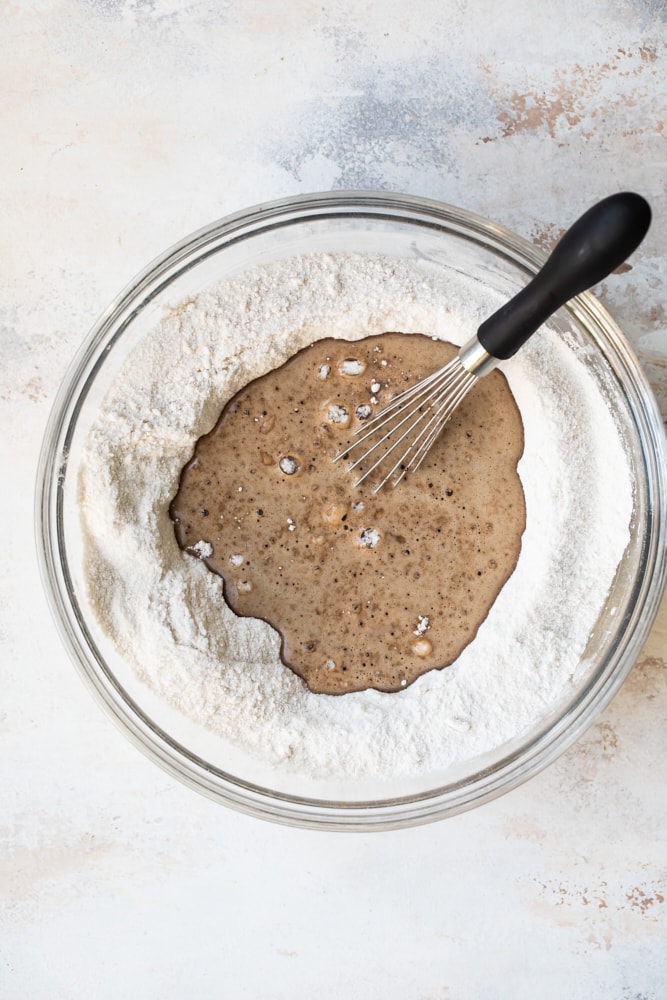 Make the Frosting
Melt butter and cocoa. In a large saucepan over medium heat, melt the butter with the cocoa powder.
Add buttermilk. Stir in the buttermilk, and continue cooking until the mixture is almost boiling.
Add remaining ingredients. Stir in the sugar, vanilla, pecans, and salt, mixing thoroughly.
Remove from heat. Pour the icing immediately over the warm cake. Allow the frosting to set before serving.
Tips for Success
Measure accurately. Using a kitchen scale will give you the most accurate measurements. Otherwise, spoon and sweep!
Use a light-colored, non-reflective metal pan. Dark pans tend to over-bake the outside, potentially leaving the inner parts under-baked. Glass pans conduct heat differently than metal pans, so they will not bake the cake in the same way.
Use a large saucepan. Make sure your saucepan has plenty of room to allow mixing the cake mixture and the icing. Remember the icing will get a bit bubbly before it's done. A large saucepan usually has about a 4-quart capacity. A medium (2-quart) saucepan may work, but it will definitely be a bit crowded.
Measure ingredients before beginning. As you'll be adding a lot of the ingredients while actively cooking on the stovetop, you'll want to work quickly. Having your ingredients measured and ready will make things go smoother and more quickly.
Sift the cocoa powder. Sifting will result in a smoother icing.
Don't have buttermilk? Try one of the substitutes: Buttermilk Substitutes in Baking.
Allow the icing to set. The icing will be pourable when it's cooked, but it will set as it cools. Be sure to allow it to cool and set completely for less mess when serving.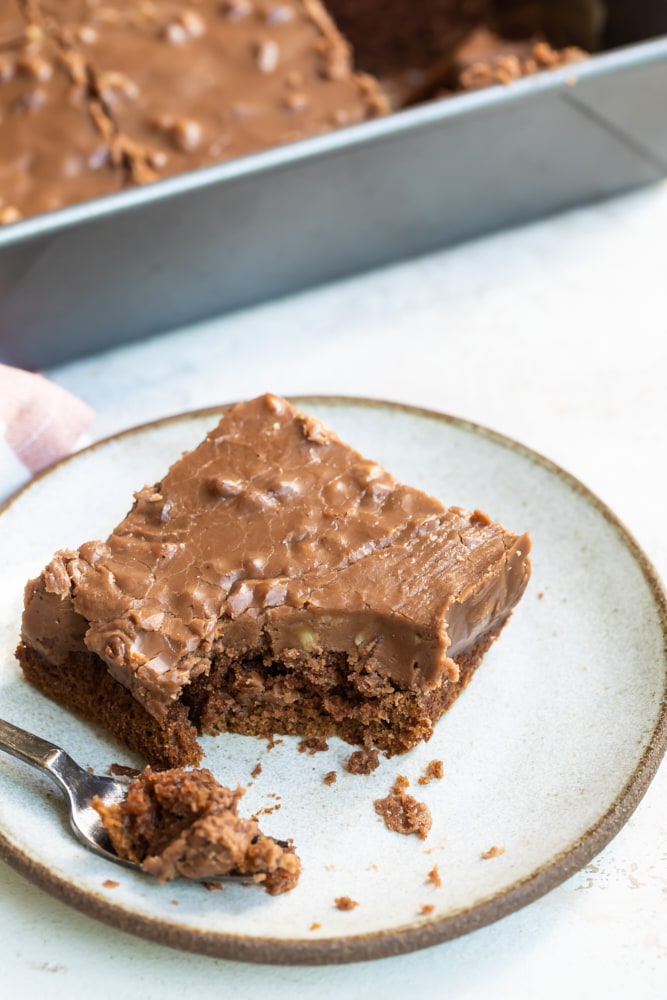 How to Store
Once the frosting has set, cover your cake with plastic wrap. You can store it on the counter for 3-4 days or in the refrigerator for 5-6 days.
Every time I've made this cake, it's gotten rave reviews. Combine that with how easy it is to make, and this one has a permanent spot in my recipe box.
Find more cake recipes in the Recipe Index.
More Chocolate Cakes to Try