These Loaded Chocolate Chip Cookie Bars are one of my favorite treats! An easy cookie bars recipe perfect for afternoon snacks or just having a bite of something sweet without needing to spend too long in the kitchen.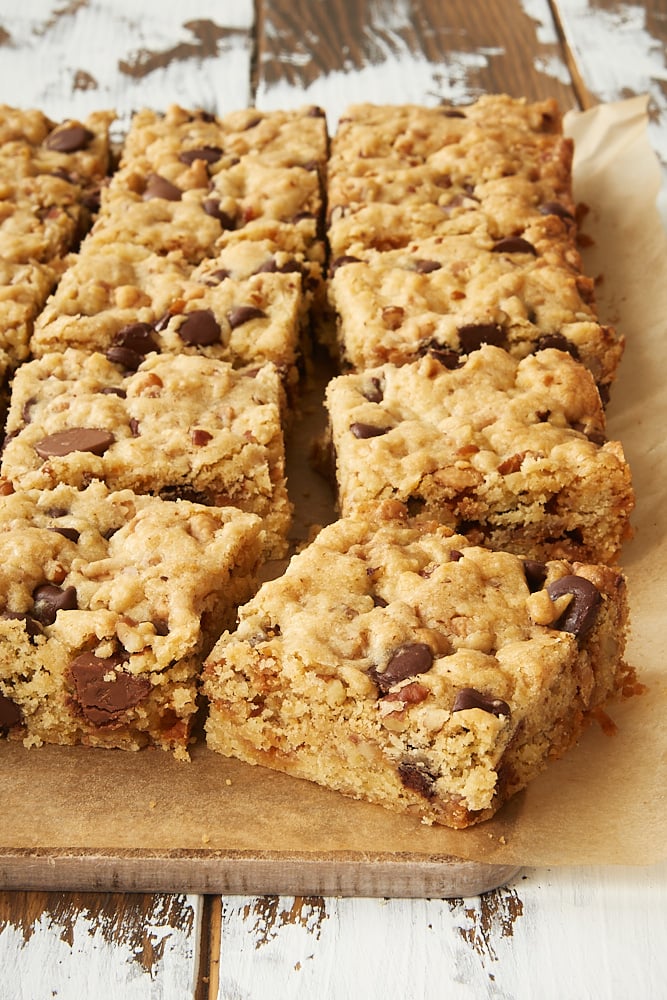 Easy Chocolate Chip Cookie Bars
I'm sure we've all baked and eaten our share of chocolate chip cookie bars. I usually like them, but I find often want something a little different than just a cookie recipe spread into a pan. That's how these Loaded Chocolate Chip Cookie Bars came to be!
I started with a few of my chocolate chip cookie recipes and then started tweaking. I wanted these bars to be soft and gooey, yet dense and, well, significant. And I'm happy to tell you that these bars are all of that and more!
To make them even better, I packed them with not only two kinds of chocolate chips, but also nuts, peanut butter chips, and toffee. If you love cookies loaded will all kinds of goodness, then you are going to love these cookie bars!
As much as I bake and as many different things as I bake, I tend to enjoy them and then move on to the next thing. But I usually find myself missing these cookie bars after they're gone. That puts them firmly on my go-to list of repeat recipes. I hope you'll give them a try soon and add them to your favorites, too!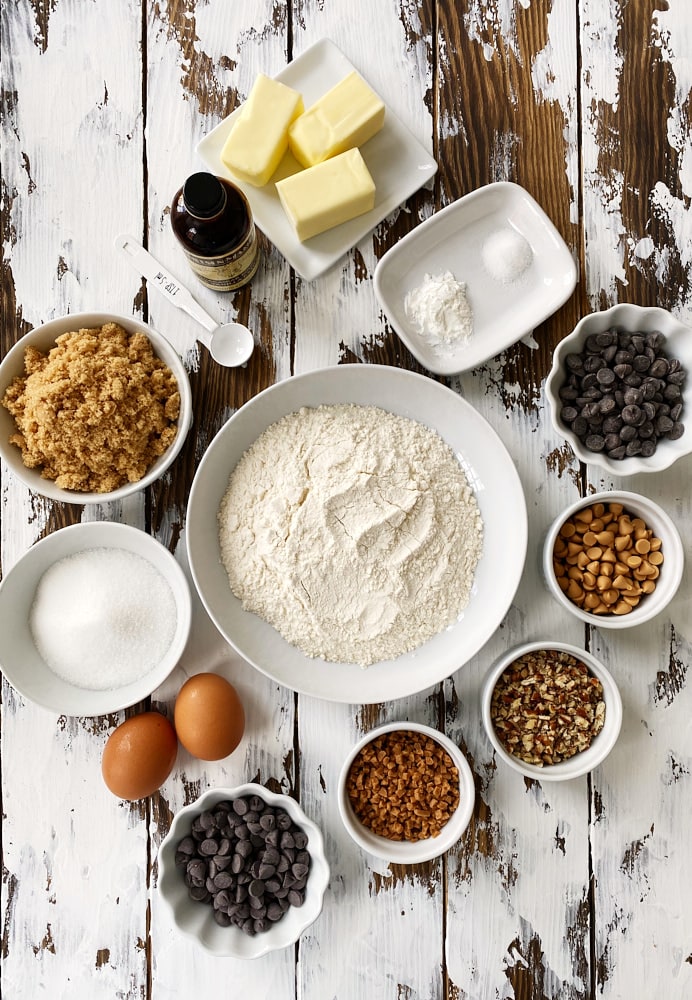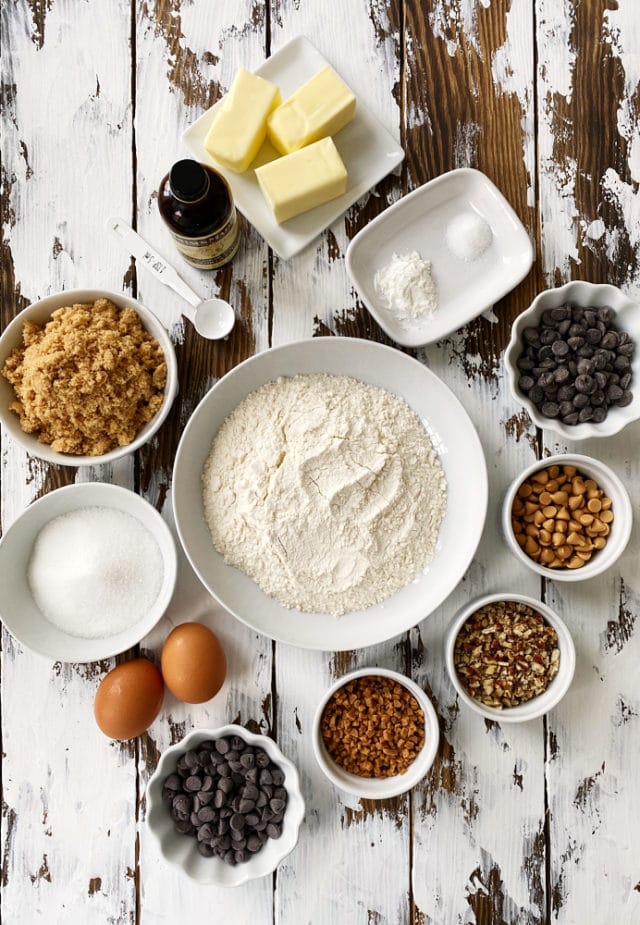 What You'll Need
Here's a quick run-down of what you'll need to make these cookie bars. Be sure to scroll down to the recipe card for specific amounts.
Dry ingredients: all-purpose flour, baking powder, and salt.
Wet ingredients: melted unsalted butter, light brown sugar, granulated sugar, eggs, and vanilla extract.
Chocolate: semisweet chocolate chips and milk chocolate chips
Peanut butter chips
Chopped nuts: You can use your favorite kind of nuts here. My first choice is usually pecans, but try walnuts, almonds, hazelnuts, or a combination!
Toffee bits
Variation Ideas
One of the best things about loaded cookies is how easy they are to customize with your preferred mix-ins. If you want to play around with the ingredients I listed above here are some suggestions:
Coconut flakes
White chocolate chips
Dried fruit: Whatever you like! I think dried cranberries or cherries would be tasty.
Butterscotch chips
Caramel bits
Sea salt: Add a sprinkling of coarse salt on top for a sweet and salty twist.
Fewer mix-ins: You can, of course, go the simpler route with just lots of chocolate chips and you'll still be quite pleased.
There are so many other great flavors you could add to these bars! Just keep the total volume amount of add-ins roughly the same as in the recipe.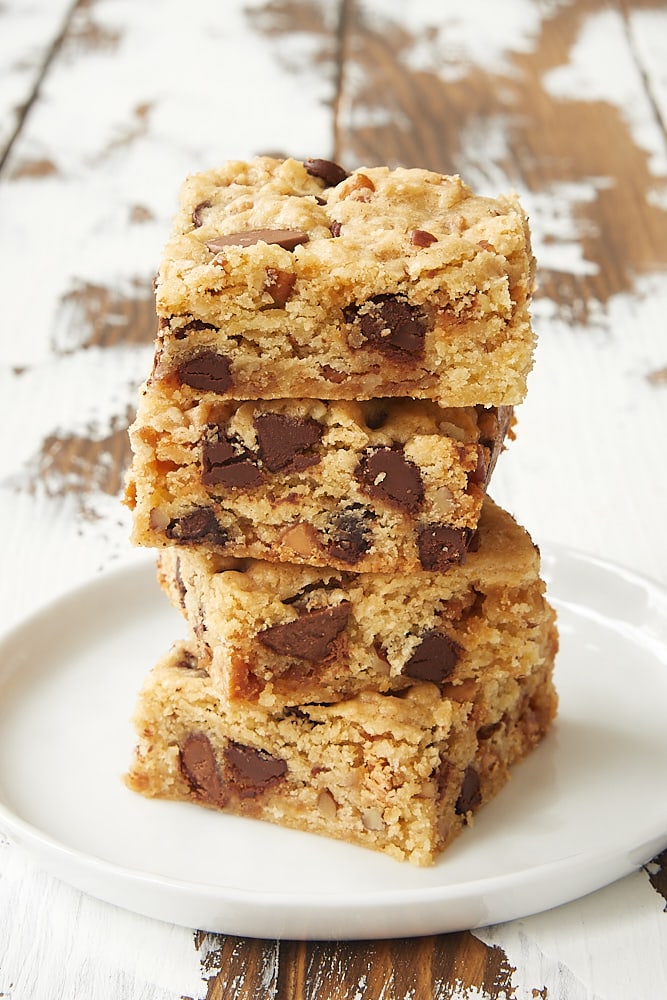 Tips for the Best Cookie Bars
A note about the dough batter: As you're making these bars, you'll notice that the dough isn't quite what you're accustomed to seeing with cookies. It's a bit gooier than you would usually expect from a cookie dough. But that difference is what gives them their fantastic texture and flavor!
Measure accurately. Use a kitchen scale to measure by weight if possible.
Use a light-colored, metal pan. That will give you cookie bars that are thoroughly baked.
Line the pan with parchment paper. While this isn't absolutely necessary, it does make removing from the pan much simpler.
Even Better the Day After!
If you can bear to wait, these cookie bars are actually better the day after they're baked. I usually can't resist a little sample after they've cooled initially, but then I do my best to wait until the next day to serve myself a large slice. The fact that they get better after a day makes them a perfect choice for making dessert in advance!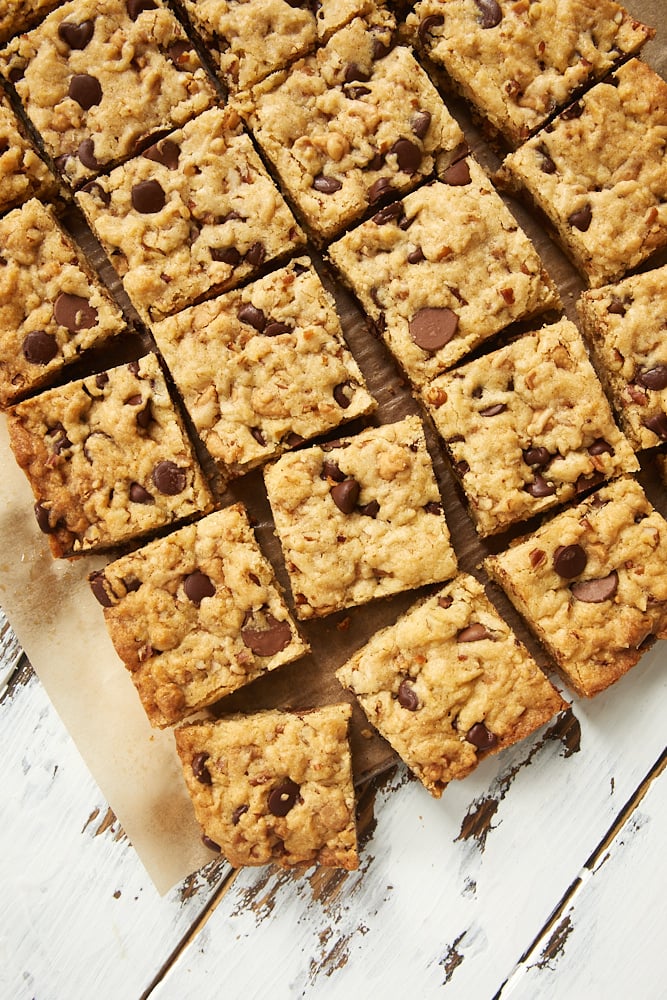 How to Store Cookie Bars
Let your cookie bars cool a bit before removing them from the baking tray, then cut them into squares and let them cool completely. Transfer them to an airtight container. You can store them on the counter for 3-4 days, in the fridge for 5-6 days, and in the freezer for up to 3 months.
If freezing these cookie bars I recommend wrapping each serving in saran wrap before placing them in a freezer-safe container to prevent freezer burn. Defrost overnight in the fridge or on the counter for a few hours when you are ready to eat a cookie bar.
Video Tutorial: Loaded Chocolate Chip Cookie Bars
More Cookie Bar Recipes