With two kinds of chocolate and plenty of other great flavors, these Loaded Chocolate Chip Cookie Bars will quickly earn a spot on your favorite sweet treats list!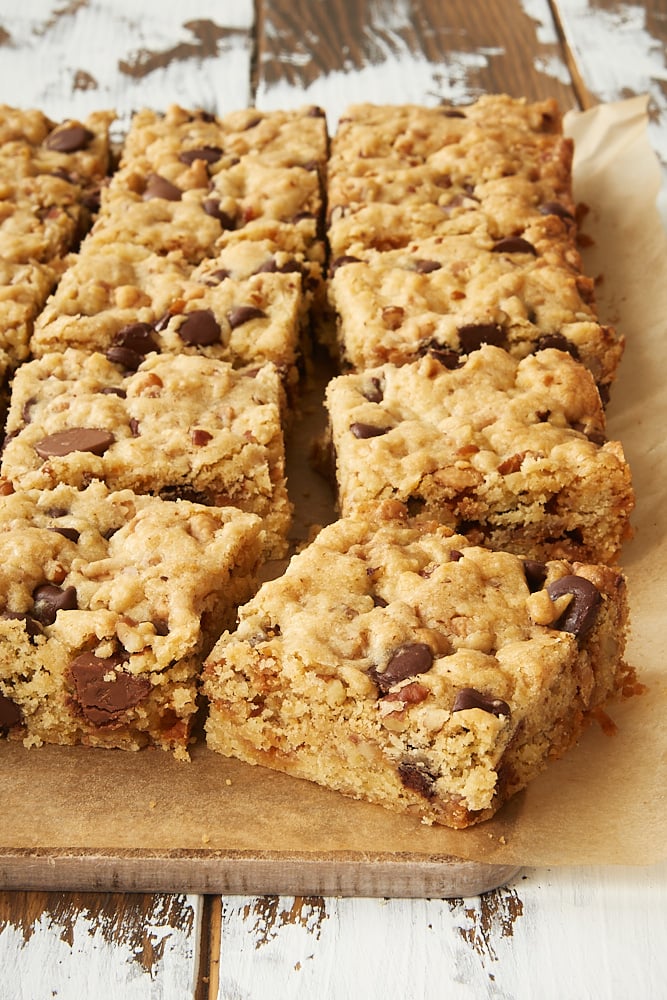 Chocolate Chip Cookie Bars
I'm sure we've all baked and eaten our share of chocolate chip cookie bars. I usually like them, but I find often want something a little different than just a cookie recipe spread into a pan. That's how these Loaded Chocolate Chip Cookie Bars came to be!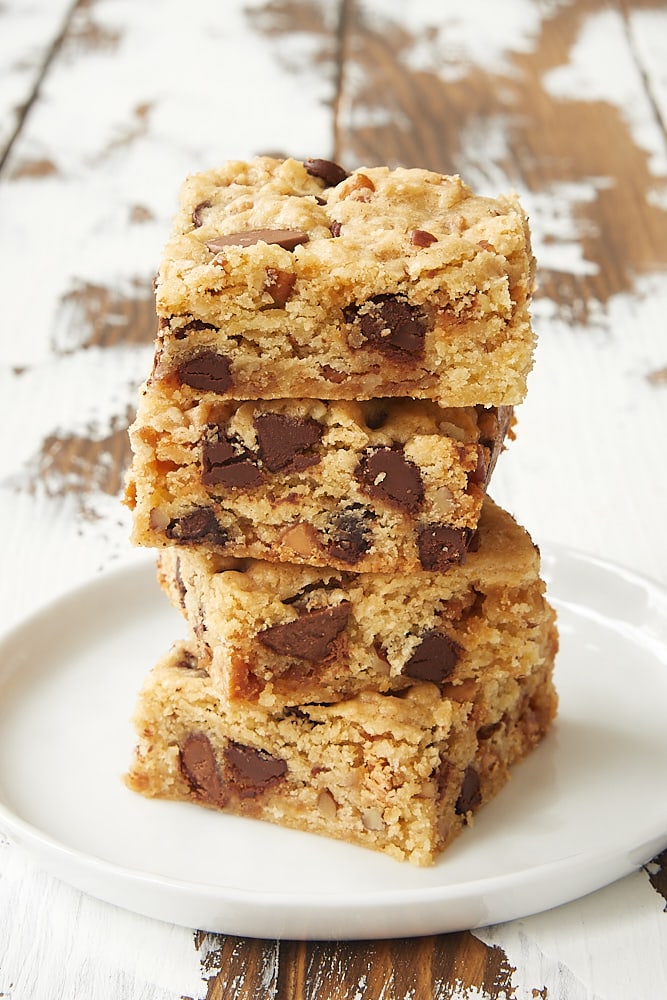 I started with a few of my chocolate chip cookie recipes and then started tweaking. I wanted these bars to be soft and gooey, yet dense and, well, significant. And I'm happy to tell you that these bars are all of that and more!
To make them even better, I packed them with not only two kinds of chocolate chips, but also nuts, peanut butter chips, and toffee. But don't stop there! There are so many other great flavors you could add to these bars. Coconut, white chocolate, dried fruit… whatever you like! Add a sprinkling of coarse salt on top for a sweet and salty twist. You can, of course, go the simpler route with just lots of chocolate chips and you'll still be quite pleased.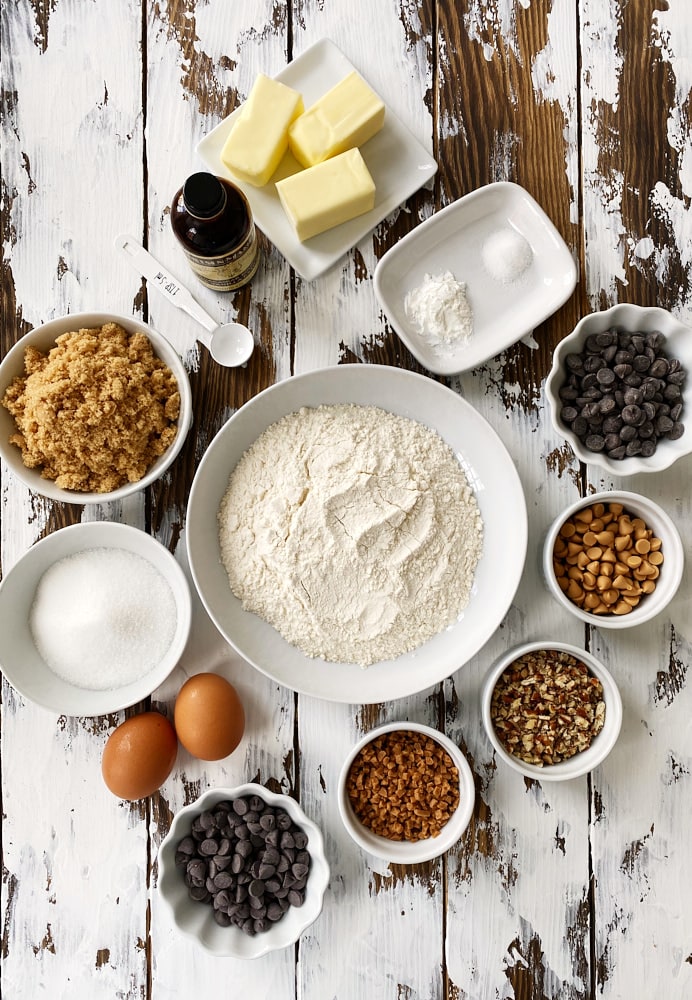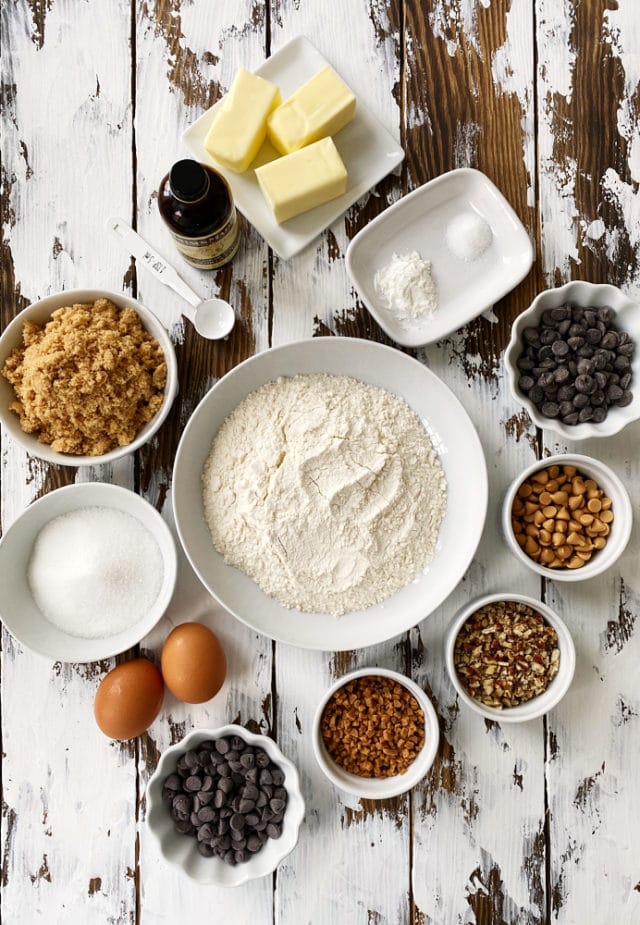 As you're making these bars, you'll notice that the dough isn't quite what you're accustomed to seeing with cookies. It's a bit gooier than you would usually expect from a cookie dough. But that difference is what gives them their fantastic texture and flavor!
Tips for Success
Measure accurately. Use a kitchen scale to measure by weight if possible.
Use a light-colored, metal pan. That will give you cookie bars that are thoroughly baked.
Line the pan with parchment paper. While this isn't absolutely necessary, it does make removing from the pan much simpler.
Change the add-ins. You can add most anything you like to these to suit your tastes. Or keep them simple with just chocolate chips. Just keep the total amount of add-ins roughly the same as in the recipe.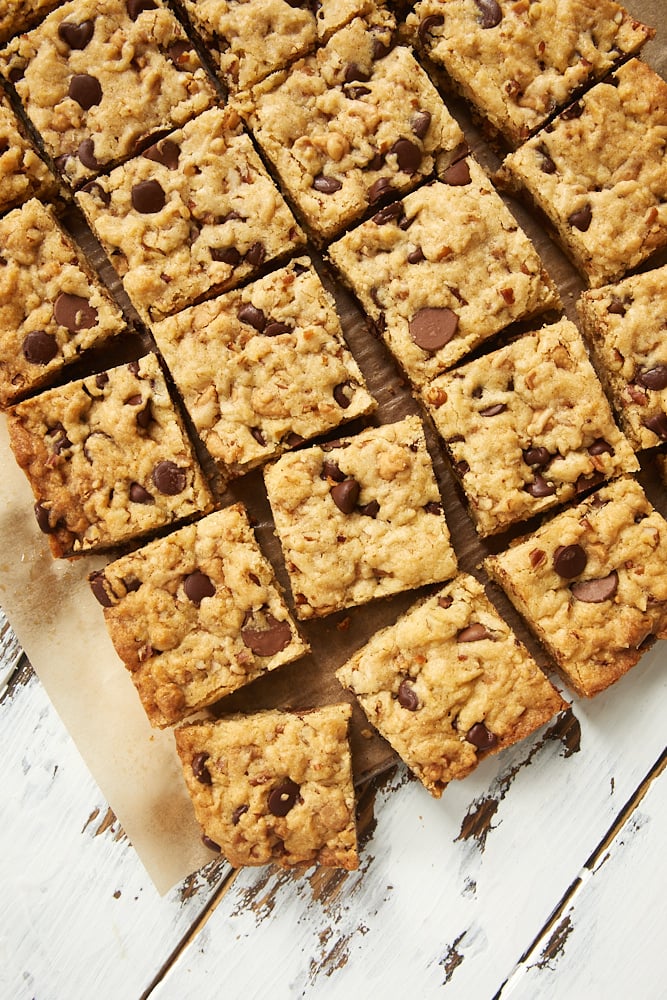 If you can bear to wait, these cookie bars are actually better the day after they're baked. I usually can't resist a little sample after they've cooled initially, but then I do my best to wait until the next day to serve myself a large slice. The fact that they get better after a day makes them a perfect choice for making dessert in advance!
As much as I bake and as many different things as I bake, I tend to enjoy them and then move on to the next thing. But I usually find myself missing these cookie bars after they're gone. That puts them firmly on my go-to list of repeat recipes. I hope you'll give them a try soon and add them to your favorites, too!
Find more cookie recipes in the Recipe Index.
Video Tutorial: Loaded Chocolate Chip Cookie Bars
More Cookie Bar Recipes