January 7, 2014
Caramel Cream Cheese Bars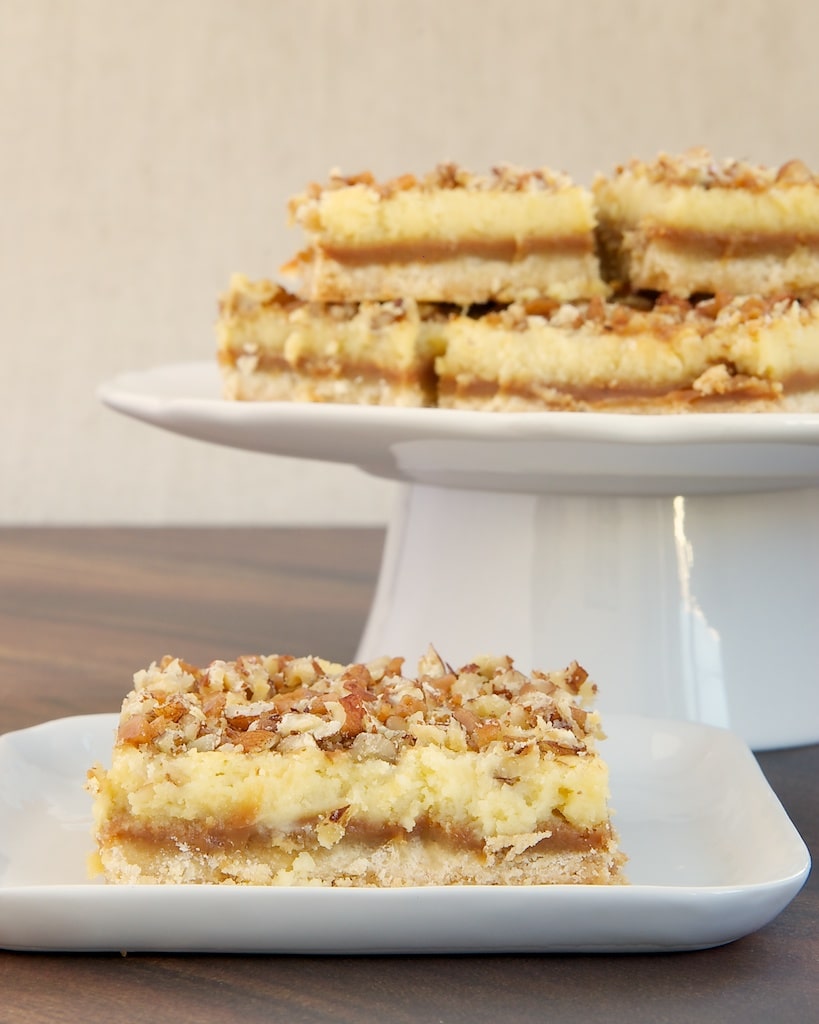 I've been floundering a bit in the kitchen the last few weeks. I want to bake, but I don't have any real plan. I think I spent so much time during the holidays planning what to bake that my brain is shunning that kind of activity.
These bars went through quite an identity crisis before I got to the finished product. I made the shortbread crust with the intention of an entirely different topping. But, once I got the crust in the oven, I kept changing my mind about what should go on top.
After a lot of wavering, I added a thin layer of caramel, a sweet cream cheese mixture, and topped it all with some pecans and toffee bits. I have to say that worked out quite well.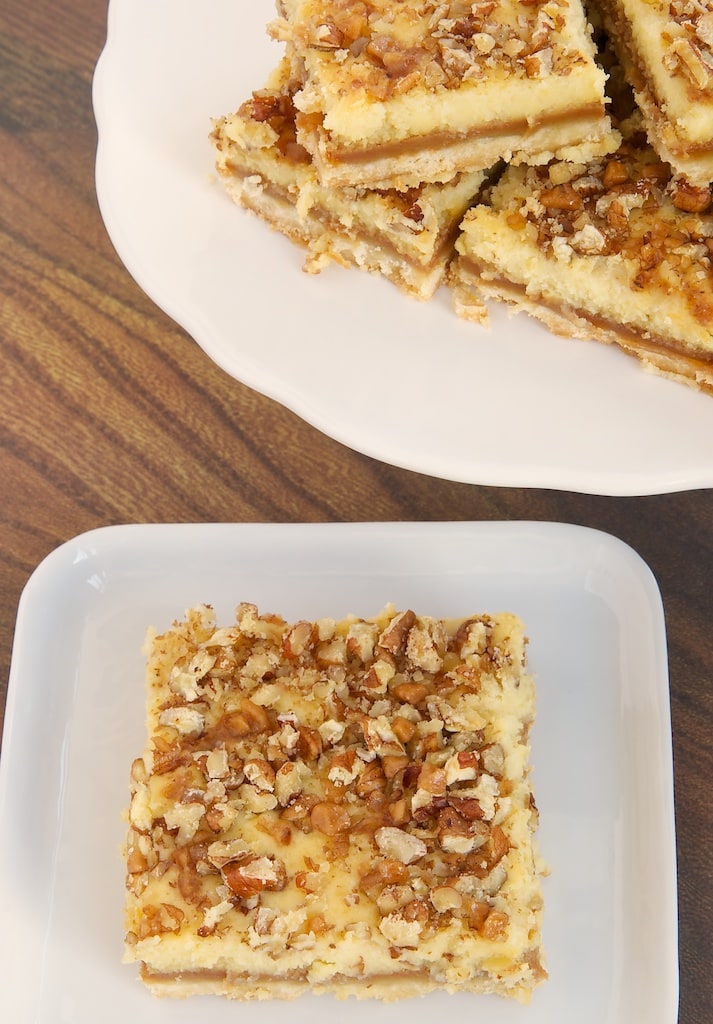 Bars have long been one of my favorite things to bake. Add in layers, and I'm positively giddy. Pecans and toffee? Cream cheese, too? I was immediately smitten.
These bars are so adaptable, too. They would be just lovely with chocolate crust, too. If you want to go that route, I might suggest doubling the crust from this recipe. If you prefer a different kind of nut on top, you can easily make that change. Or, leave off the nuts altogether. Maybe drizzle each serving with a little chocolate sauce. It's hard to go wrong!
Caramel Cream Cheese Bars
Yield: 24 2-inch bars
Prep Time:30 minutes
Cook Time:1 hour 5 minutes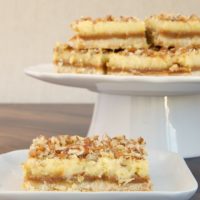 Ingredients:
For the crust:
2 cups all-purpose flour
1 cup unsalted butter, cold and cut into 1/2-inch cubes
1/2 cup granulated sugar
For the caramel:
9 ounces soft caramels*
1/4 cup heavy cream
For the cream cheese filling:
16 ounces cream cheese, softened
3/4 cup granulated sugar
2 large eggs
1 & 1/2 teaspoons vanilla extract
3/4 cup chopped pecans
1/4 cup toffee bits
Directions:
To make the crust:
Preheat oven to 325°. Grease a 9″x13″ baking pan.
Place flour, butter, and sugar in the bowl of a food processor. Pulse until combined and a dough forms.
Press dough evenly into bottom of prepared pan.
Bake 25 minutes, or until the crust is beginning to brown. Set aside to cool completely.
To make the caramel layer:
Unwrap caramels and place in a microwave-safe bowl along with the cream. Heat in 30-second intervals, stirring in between, until caramels are melted. Stir until smooth.
Spread caramel evenly over cooled crust, leaving a small border around the edges (1/4 to 1/2 inch). Set aside until caramel has cooled and is firm. Or, place in the refrigerator for about 20 minutes to chill and set.
To make the cream cheese filling:
Preheat oven to 350°.
Using an electric mixer on medium speed, beat cream cheese and sugar until smooth and creamy. Add eggs, one at a time, mixing well after each addition. Mix in vanilla.
Spread cream cheese mixture evenly over caramel.
Sprinkle with pecans and toffee bits.
Bake 35 to 40 minutes, or until set. Cool completely before cutting into bars.