April 16, 2013
Cream Cheese Brownies with Toffee and Pecans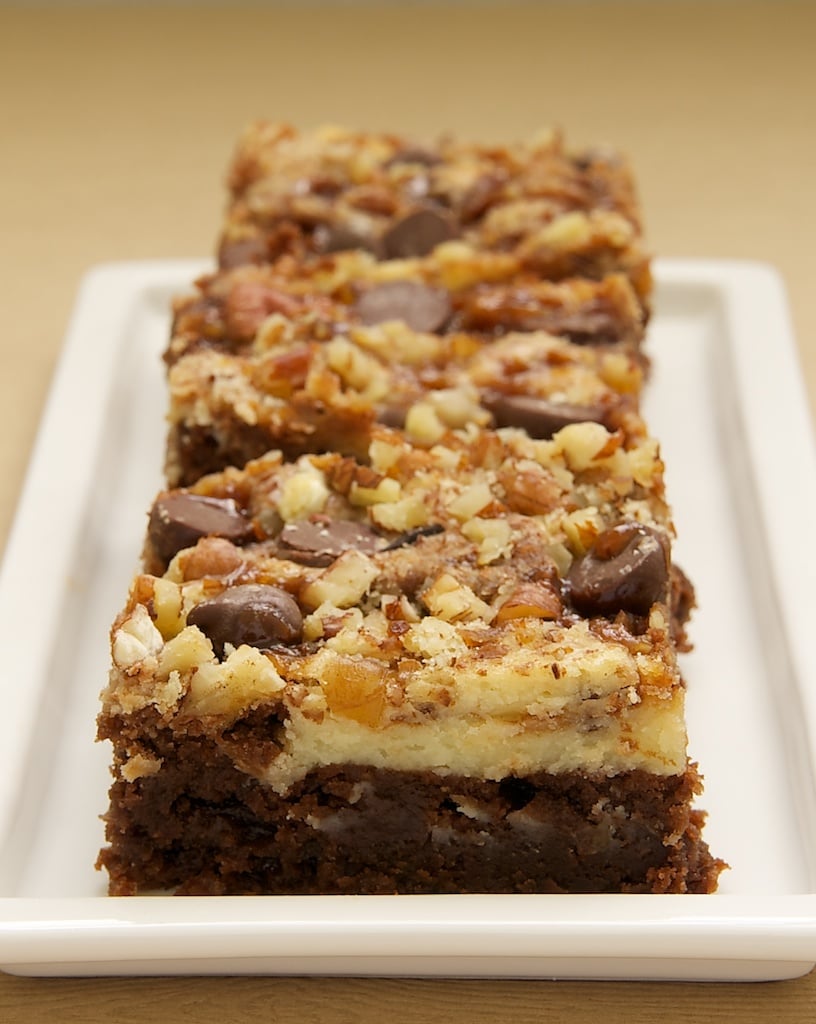 These days, my brownie love runs the gamut from the all-chocolate varieties to the kitchen-sink varieties. Essentially, I haven't met many brownies I haven't liked. These flavor-packed brownies are no exception.
The first question usually asked about brownies is whether they are cakey or fudgy. The original recipe describes them as not too much of either one. To me, they're cakey. That works very well with the cream cheese topping to make them not seem so heavy.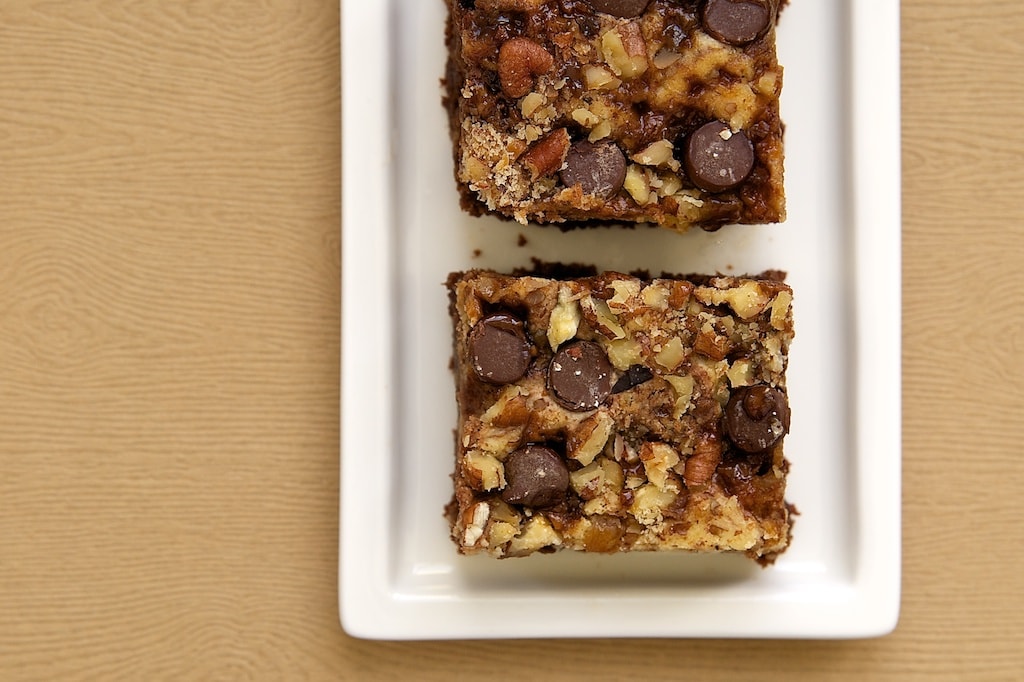 Added to both the brownie batter and the top of the brownies is a generous helping of pecans, toffee chips, and chocolate chips. It's a lovely flavor combination, with no one component seeming to overpower.
This is another great adaptable recipe for using what you have on-hand in your pantry. You can easily change the type of nuts, or leave them out. Different flavor chips would be equally as delicious. In fact, I'm already imagining a peanut butter chip version.
Cream Cheese Brownies with Toffee and Pecans
Yield: 24 2-inch brownies
Prep Time: 30 minutes
Cook Time: 55 minutes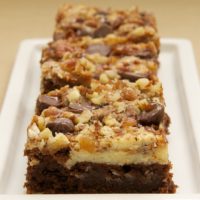 Ingredients:
For the cream cheese filling:
8 ounces cream cheese
1/3 cup granulated sugar
1 large egg, room temperature
2 tablespoons all-purpose flour
For the brownies:
1 & 1/4 cups all-purpose flour
1 teaspoon baking powder
1/4 teaspoon salt
3/4 cup unsalted butter
4 ounces unsweetened chocolate
2 cups granulated sugar
3 large eggs, room temperature
2 tablespoons milk
1 & 1/2 teaspoons vanilla extract
3/4 cup coarsely chopped pecans, toasted
1/2 cup toffee bits
1/2 cup semisweet chocolate chips
Directions:
To make the filling:
Using an electric mixer on medium speed, beat cream cheese and sugar until smooth.
Add egg and flour, and continue mixing until well-combined. Set aside.
To make the brownies:
Place butter and chocolate in a microwave-safe bowl. Microwave at half power in 30-second increments until butter has melted and chocolate melts when stirred. Transfer to a large mixing bowl and allow to cool slightly.
Preheat oven to 325°. Grease and flour a 9″x 13″x 2″ baking pan.
Whisk together flour, baking powder, and salt. Set aside.
Add sugar to butter/chocolate mixture. Stir until blended. Add eggs, milk, and vanilla. Beat well, either by hand or with an electric mixer. Add flour mixture in 3 or 4 portions, mixing until blended.
Stir in half of the pecans, half of the toffee, and half of the chocolate chips. Reserve about 1/2 cup of brownie mixture.
Spread remaining brownie mixture evenly into bottom of prepared pan. Drop cream cheese mixture by tablespoonfuls over the top of the batter. Drop reserved brownie mixture by teaspoonfuls between the dollops of cream cheese mixture. Use a knife to swirl together the cream cheese mixture and brownie mixture.
Sprinkle the remaining pecans, toffee, and chocolate chips over the batters. Gently press the toppings into the batter.
Bake 45-55 minutes, or until a pick inserted into the center comes out with moist crumbs attached. Do not overbake.
Cool completely in pan before cutting into bars.