September 19, 2016
Chocolate Hazelnut Marble Cake
This easy Chocolate Hazelnut Marble Cake combines vanilla, chocolate, and a bit of chocolate-hazelnut spread for a beautiful, delicious dessert!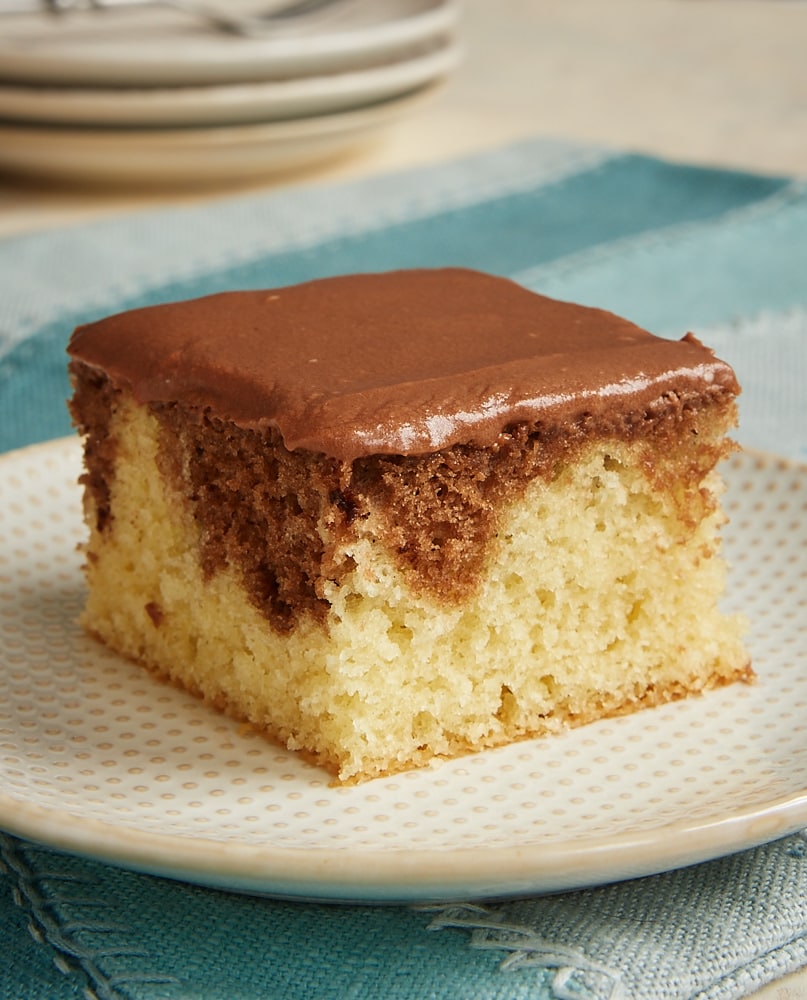 You all know that beautifully decorated cakes are not my thing. I do think they're beautiful and impressive, but I usually prefer to spend my baking time making simpler things. Skipping all the cake decorations doesn't mean that you can't have pretty cakes, though.
Marble cakes are a great way to get a beautiful cake without a lot of fuss. Chocolate and vanilla are the most commonly used flavors in marble cakes, but I thought to take the chocolate part a bit further by incorporating some chocolate-hazelnut spread into the chocolate batter. And the result is pretty magical.

It's really simple to create the marble effect. You only need an extra mixing bowl and a couple of extra minutes. Once the cake batter is mixed, simply divide the batter and mix the chocolate-hazelnut spread into one portion. Spread the yellow cake batter in the pan, and then just dollop the chocolate batter on top and give it a swirl. That's it!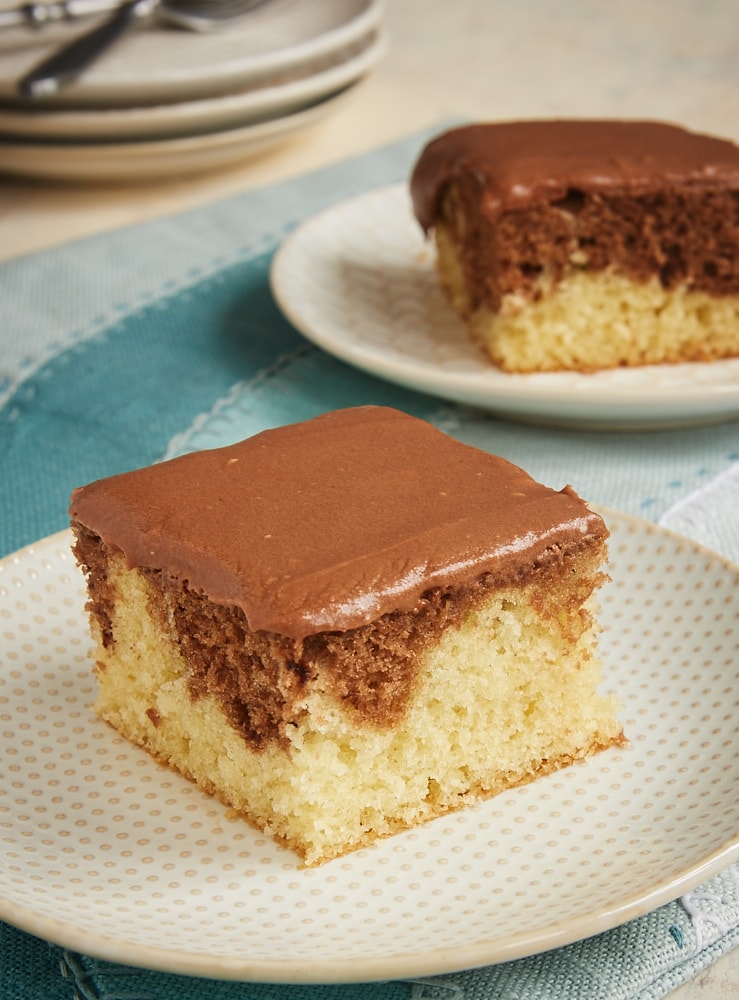 To play up the chocolate-hazelnut pairing, I added a bit of hazelnut liqueur to the simple chocolate frosting. And I have to say that this frosting is my new favorite. It's just so good. It has a wonderful chocolate flavor without being overwhelming. And the liqueur just makes it even better.
There are so many things to love about this cake. It's simple to make. It's full of amazing flavor. And it's pretty, too. Remember this one when you want a lovely dessert without a lot of fuss. It's proven to be a crowd-pleaser for me!
Find more cake recipes in the Recipe Index.
More Marble Dessert Recipes
Chocolate Hazelnut Marble Cake
Yield: 15 to 20 servings
Prep Time:30 minutes
Cook Time:35 minutes
Chocolate Hazelnut Marble Cake combines a delicious yellow cake with a rich chocolate-hazelnut cake for a beautiful, irresistible dessert.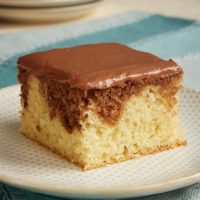 Ingredients:
For the cake:
3 cups (360g) all-purpose flour
1 & 1/2 teaspoons baking powder
1/2 teaspoon baking soda
1/2 teaspoon salt
1/2 cup unsalted butter (113g), softened
1 & 1/2 cups (300g) granulated sugar
3 large eggs
1 teaspoon vanilla extract
1 cup milk
1/4 cup (70g) chocolate-hazelnut spread (such as Nutella)
For the frosting:
1/2 cup (113g) unsalted butter, softened
1/4 cup (21g) unsweetened cocoa powder, sifted
3 tablespoons hazelnut liqueur (such as Frangelico)*
1/2 teaspoon vanilla extract
1/4 cup milk (plus more if necessary)
3 cups (330g) confectioners' sugar, sifted
Directions:
To make the cake:
Preheat oven to 350°F. Grease a 9″x 13″x 2″ baking pan.
Whisk together the flour, baking powder, baking soda, and salt. Set aside.
Using an electric mixer on medium speed, beat the butter and sugar until light and fluffy. Add the eggs, one at a time, mixing well after each addition. Mix in the vanilla.
Reduce mixer speed to low. Add the flour mixture in three portions, alternating with 2 portions of the milk. Mix just until combined.
Transfer about 2 cups of the cake batter to a separate bowl. Add the chocolate-hazelnut spread to the 2-cup portion, and mix just until combined.
Spread the yellow cake batter evenly in the prepared pan. Drop the chocolate batter over the yellow batter. Use a thin knife to swirl the batters.
Bake 30 to 35 minutes, or until a pick inserted into the center comes out clean. Cool completely in the pan on a wire rack.
To make the frosting:
Using an electric mixer on medium speed, beat the butter, about half of the cocoa powder, the liqueur, and the vanilla until light and fluffy. Gradually add 1/4 cup milk, and mix well. Add the remaining cocoa powder, and mix well.
Gradually add the confectioners' sugar and continue mixing until thoroughly combined.
If necessary, add a bit more milk (about a teaspoonful at a time) until the frosting is the desired consistency for spreading onto the cake.
Spread the frosting over the cooled cake.
Notes:
*If you're feeding an under-21 crowd, you can omit the liqueur. Just keep in mind that you might need to add a bit more milk to get the consistency right.