Strawberry Sheet Cake has plenty of fresh strawberries in the cake and the frosting. This pretty cake is a crowd-pleaser all spring and summer long!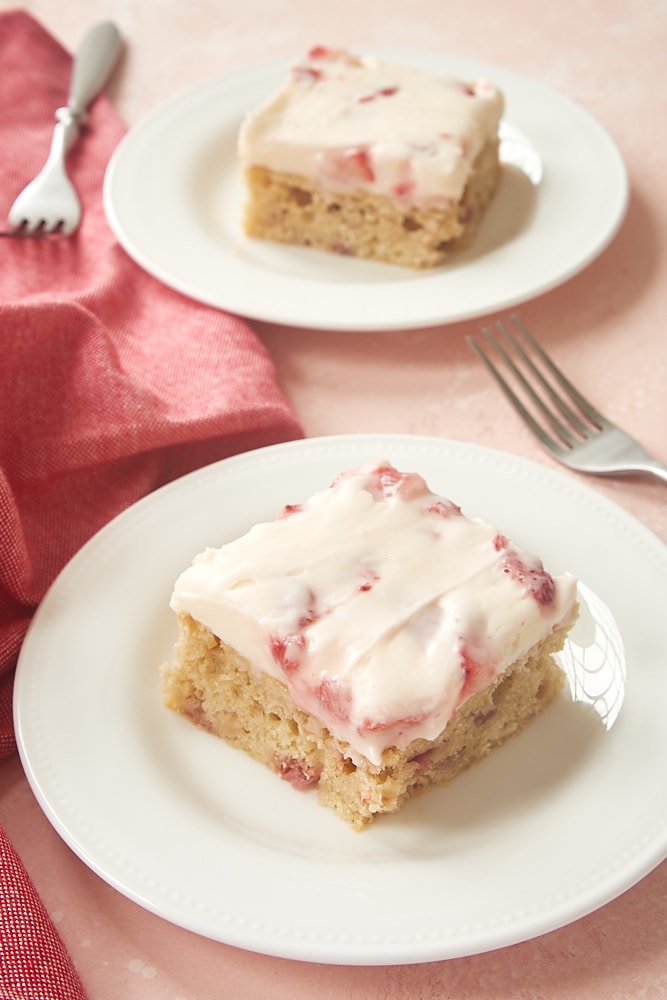 If you love strawberries, then this Strawberry Sheet Cake is for you! This beauty is jam-packed with strawberries in both the cake and the frosting. The whole package is an easy-to-make dessert that's sure to become a favorite for berry season.
I just love strawberry desserts, and I also love the simplicity of one-layer cakes. This cake has both of those things going for it. Plus, it's just as delicious as it is gorgeous!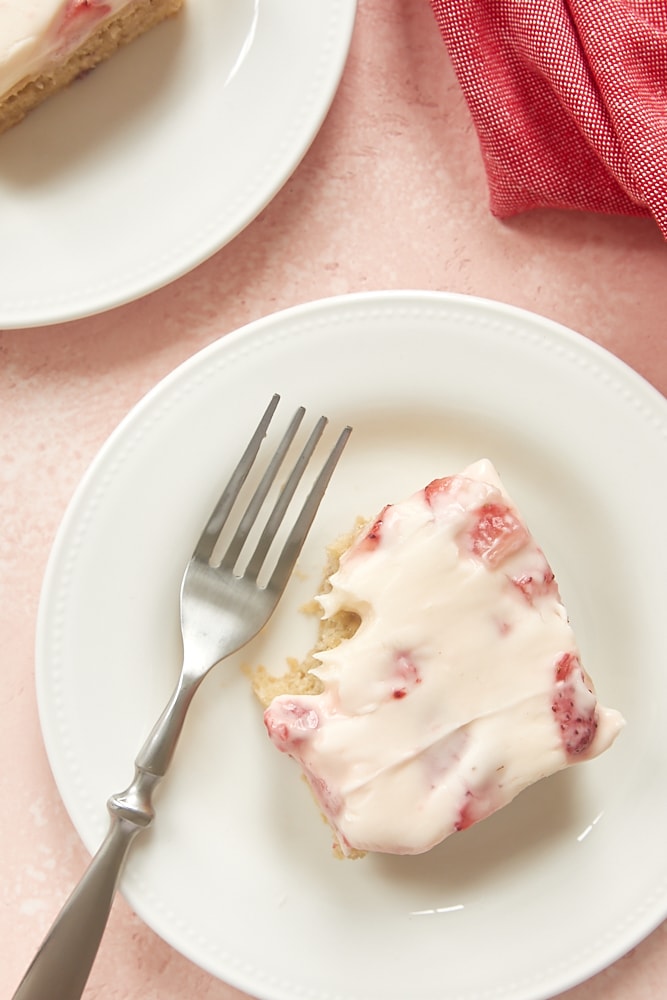 Tips for Success
Measure accurately. Use a kitchen scale to measure by weight if possible. Otherwise, spoon and sweep to avoid over-measuring.
Use a light-colored metal pan. That will give you the most evenly baked cake. Dark pans will bake the outside edges and the bottom faster, potentially leaving the center under-baked.
Pay attention to the mixing method. You may recognize this method of mixing as the muffin method. This method of mixing is often used when there's less sugar in a recipe. With all the strawberries in the batter, you can make this cake with less sugar than a more traditional cake. Mixing the batter this way will mix everything well while still giving a soft crumb.
Use fresh strawberries if possible. I will almost always use fresh fruits in baking if possible. The flavor and texture is just so lovely. If you must use frozen, be sure to rinse and dry them very well.
Don't skip the buttermilk. It helps make give this cake its wonderful texture and flavor. If you need a substitute in a pinch, try one of these buttermilk substitutes.
Adjust the sweetness of the frosting to your tastes. With all those sweet strawberries in there, I prefer to dial back the sugar for a little less sweet frosting. If you'd prefer your frosting a little sweeter, you can add up to another 3/4 cup of sugar to suit your tastes.
Refrigerate any leftovers. Cream cheese frostings generally don't hold up very well at room temperature. Tightly covered, this cake should keep in the refrigerator for up to a week. For longer storage, wrap tightly and freeze it. Thaw slices overnight in the refrigerator. Bring the refrigerated cake to room temperature before serving.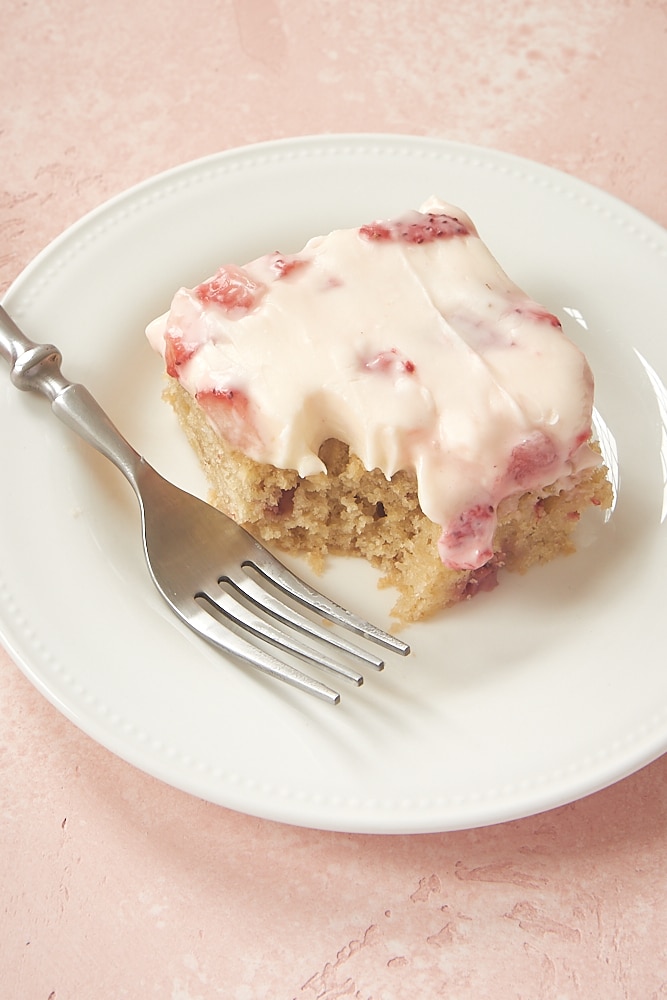 This is such a pretty cake with its strawberry-filled frosting. It's sure to be an eye-catcher! You can top it with even more fresh strawberries, but I usually keep it simple with no extra garnish. The frosting is so pretty that I hate to cover it!
Keep this cake in mind for your spring and summer celebrations. From Mother's Day and Memorial Day all the way until Labor Day, do yourself a favor and make this Strawberry Sheet Cake every chance you get!
Find more one-layer cakes in the Recipe Index.
More Strawberry Cake Recipes