May 9, 2019
Strawberry Sheet Cake
Strawberry Sheet Cake has plenty of fresh strawberries in the cake and the frosting. This pretty cake is a crowd-pleaser all spring and summer long!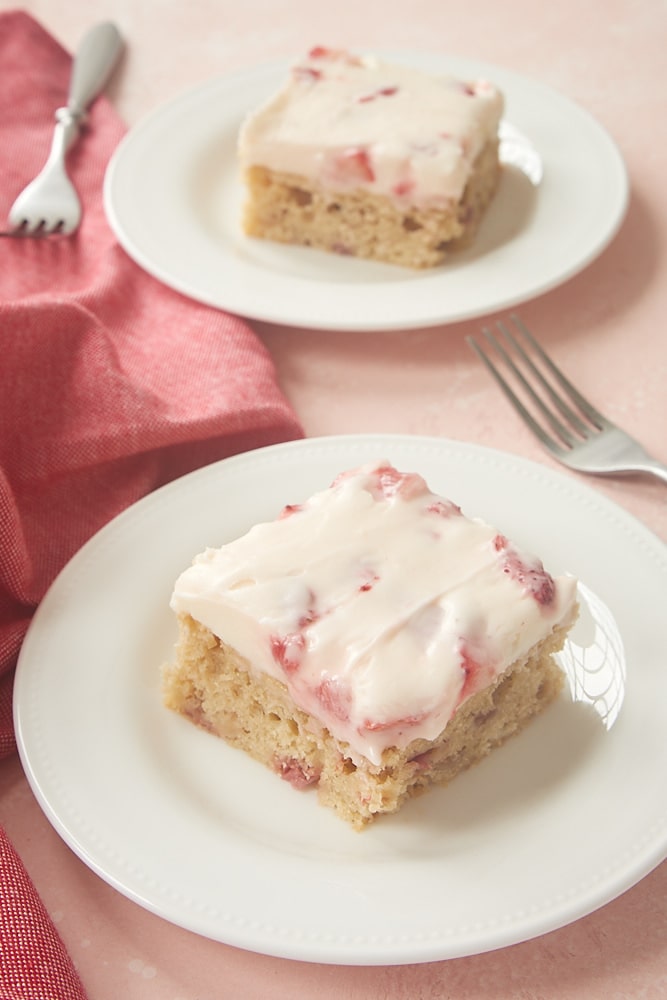 If you love strawberries, then this Strawberry Sheet Cake is for you! This beauty is jam-packed with strawberries in both the cake and the frosting. The whole package is an easy-to-make dessert that's sure to become a favorite for berry season.

I just love strawberry desserts, and I also love the simplicity of one-layer cakes. This cake has both of those things going for it. Plus, it's just as delicious as it is gorgeous!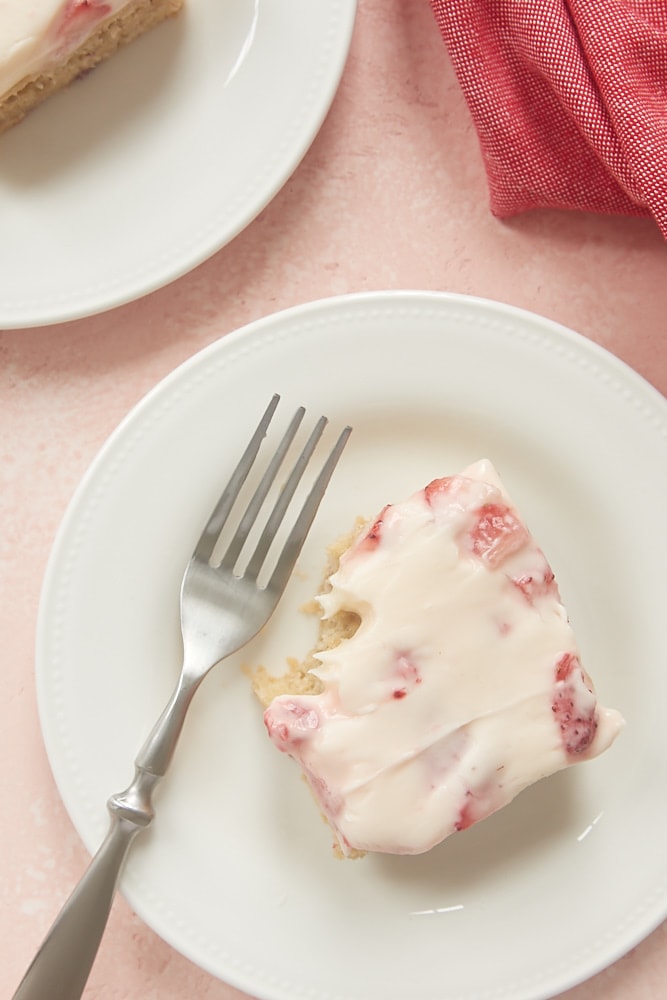 The original recipe for this cake comes from Bake from Scratch. I make just a few changes from the original with the biggest being with the amount of sugar in the frosting. With all those sweet strawberries in there, I dialed back the sugar for a little less sweet frosting. If you'd prefer your frosting a little sweeter, you can add up to another 3/4 cup of sugar to suit your tastes.
If you've got some baking experience under your apron belt, then you may recognize this method of mixing as the muffin method. This method of mixing is often used when there's less sugar in a recipe. With all the strawberries in the batter, you can make this cake with less sugar than a more traditional cake. Mixing the batter this way will mix everything well while still giving a soft crumb.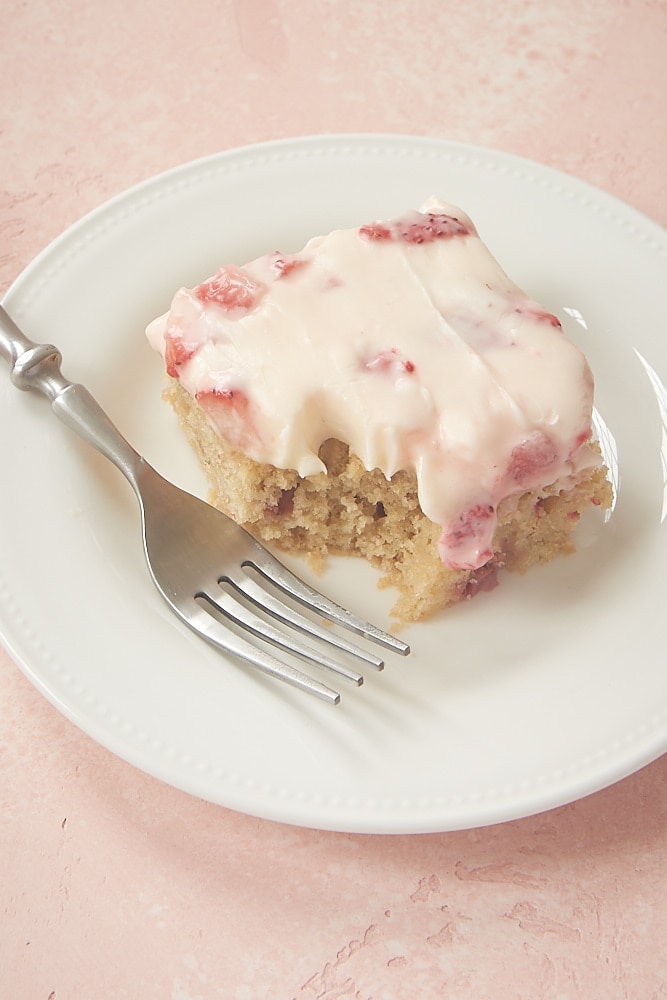 This is such a pretty cake with its strawberry-filled frosting. It's sure to be an eye-catcher! You can top it with even more fresh strawberries, but I usually keep it simple with no extra garnish. The frosting is so pretty that I hate to cover it!
Keep this cake in mind for your spring and summer celebrations. From Mother's Day and Memorial Day all the way until Labor Day, do yourself a favor and make this Strawberry Sheet Cake every chance you get!
Find more one-layer cakes in the Recipe Index.
More Strawberry Cake Recipes
Strawberry Sheet Cake
Yield: 12 to 18 servings
Prep Time: 25 minutes
Cook Time: 30 minutes
This pretty Strawberry Sheet Cake will satisfy all your strawberry cravings!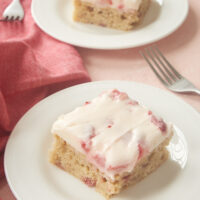 Ingredients:
For the cake:
2 & 1/4 cups (270g) all-purpose flour
2/3 cup (133g) granulated sugar
1 tablespoon baking powder
1/2 teaspoon salt
2/3 cup buttermilk
1/2 cup strawberry preserves
1/2 cup (113g) unsalted butter, melted and slightly cooled
3 large eggs
1 teaspoon vanilla extract
2/3 cup (113g) chopped fresh strawberries
For the frosting:
8 ounces (226g) cream cheese, at room temperature
1/2 cup (113g) unsalted butter, softened
3 & 3/4 cups (454g) confectioners' sugar, sifted*
1 cup (170g) chopped fresh strawberries
Directions:
To make the cake:
Preheat oven to 350°F. Grease a 9″x 13″x 2″ baking pan.
Whisk together the flour, sugar, baking powder, and salt. Make a well in the center.
In a separate bowl, whisk together the buttermilk, preserves, butter, eggs, and vanilla. Pour into the well in the flour mixture, and stir to combine. Stir in strawberries.
Pour batter into prepared pan. Bake 25 to 30 minutes, or until a pick inserted into the center comes out clean. Cool the cake completely on a wire rack.
To make the frosting:
Using an electric mixer on medium speed, beat the cream cheese and butter until thoroughly mixed and smooth. Gradually add the confectioners' sugar, mixing until combined. Stir in the strawberries.
Spread the frosting on top of the cooled cake. Refrigerate for at least 1 hour before serving. Refrigerate any leftovers.
Notes:
*Add up to another 3/4 cup confectioners' sugar if you want a sweeter frosting.