These Nutella Swirl Cheesecake Bars start with a perfect graham cracker crust, and finish with a rich, creamy layer of Nutella-marbled cheesecake. What a treat!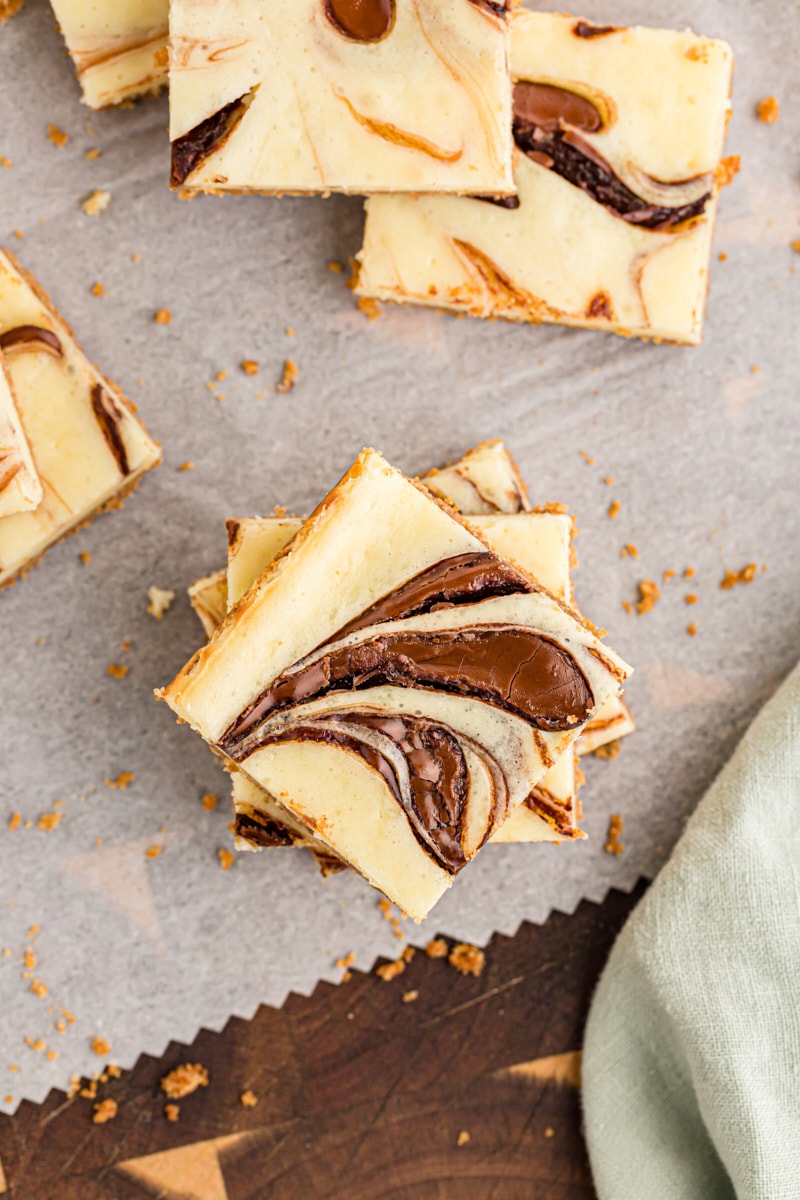 Easy Marble Cheesecake Bars
Of all the things I've made with Nutella—Nutella Banana Bread, Nutella Pie, and even Nutella Oatmeal Skillet Cookies—I've somehow never combined it with another of my true loves, cheesecake. The fact that I have allowed that to happen is a terrible mistake on my part. However, I feel that I have properly atoned with these cheesecake bars.
I pieced together this recipe for Nutella Swirl Cheesecake Bars from a few different recipes from The King Arthur Flour Cookie Companion, which is a must-have for all of you cookie and bar bakers out there.
The combination of Nutella and cheesecake is one I wish I'd tried long before now, although if you're in that small population of people who don't like Nutella, you can always swirl some fruit preserves into the cheesecake instead. (I suppose you can do that even if you do like Nutella.)
But, if you're like me, you just don't pass up a chance to have a little of that fabulous chocolate-hazelnut spread—especially when it's swirled with rich, creamy cheesecake.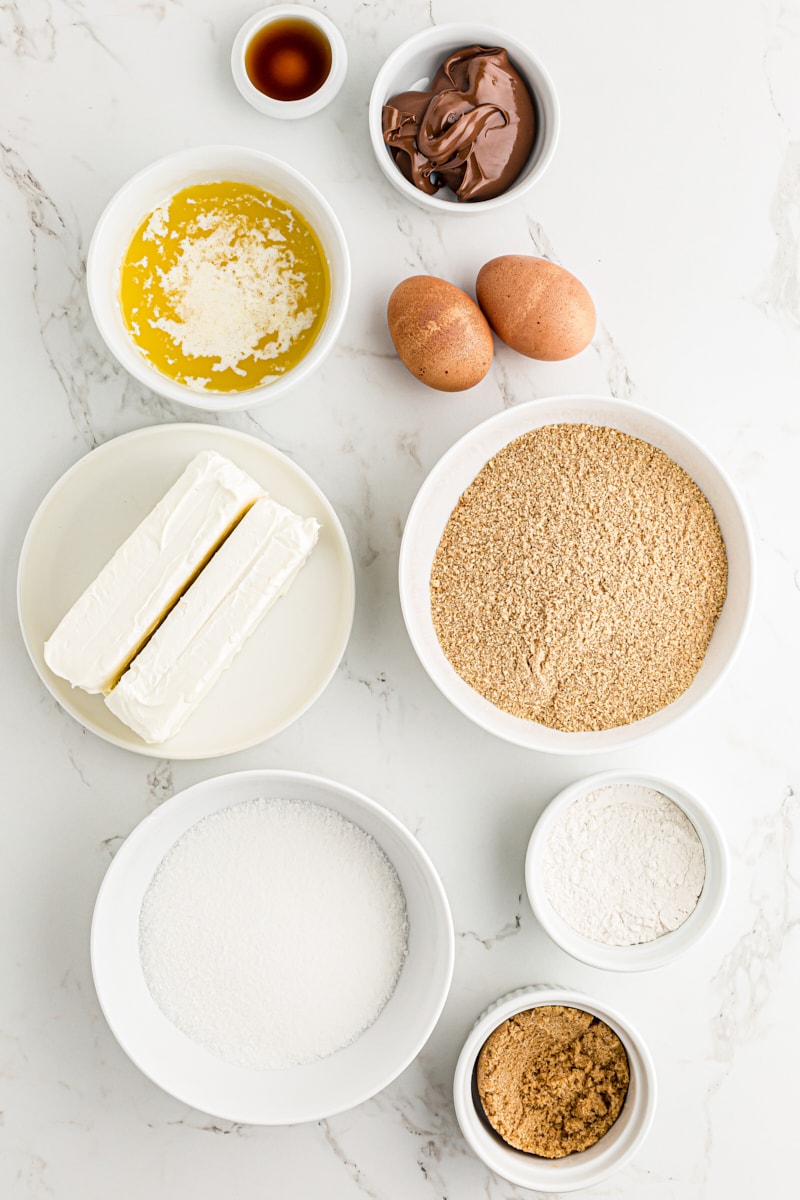 What You'll Need
Scroll down to the recipe card to find the ingredient quantities and recipe instructions.
For the Crust:
Graham cracker crumbs – Pulse whole graham crackers in your food processor to make crumbs, or simply buy a package of crumbs from the baking section of the grocery store.
Unsalted butter – Learn more: Unsalted or Salted Butter: Which is Better for Baking?
All-purpose flour – Learn more: How to Measure Flour
Brown sugar – This is a recipe where both light or dark brown sugar will work, so use whichever you have on hand or prefer.
For the Filling:
Cream cheese – It's important to use blocks of full-fat cream cheese, not the kind that comes in tubs.
Granulated sugar
Eggs
Vanilla extract – Use store-bought or homemade vanilla extract.
Nutella – Or another brand of chocolate-hazelnut spread.
Can I Substitute Chocolate for Nutella?
Not in this recipe; solid chocolate won't give you marbling and melted chocolate won't marble as well as Nutella. You can substitute another brand of chocolate hazelnut spread, or if you have a nut allergy, a seed butter made with chocolate. Other options include fruit preserves or cookie butter.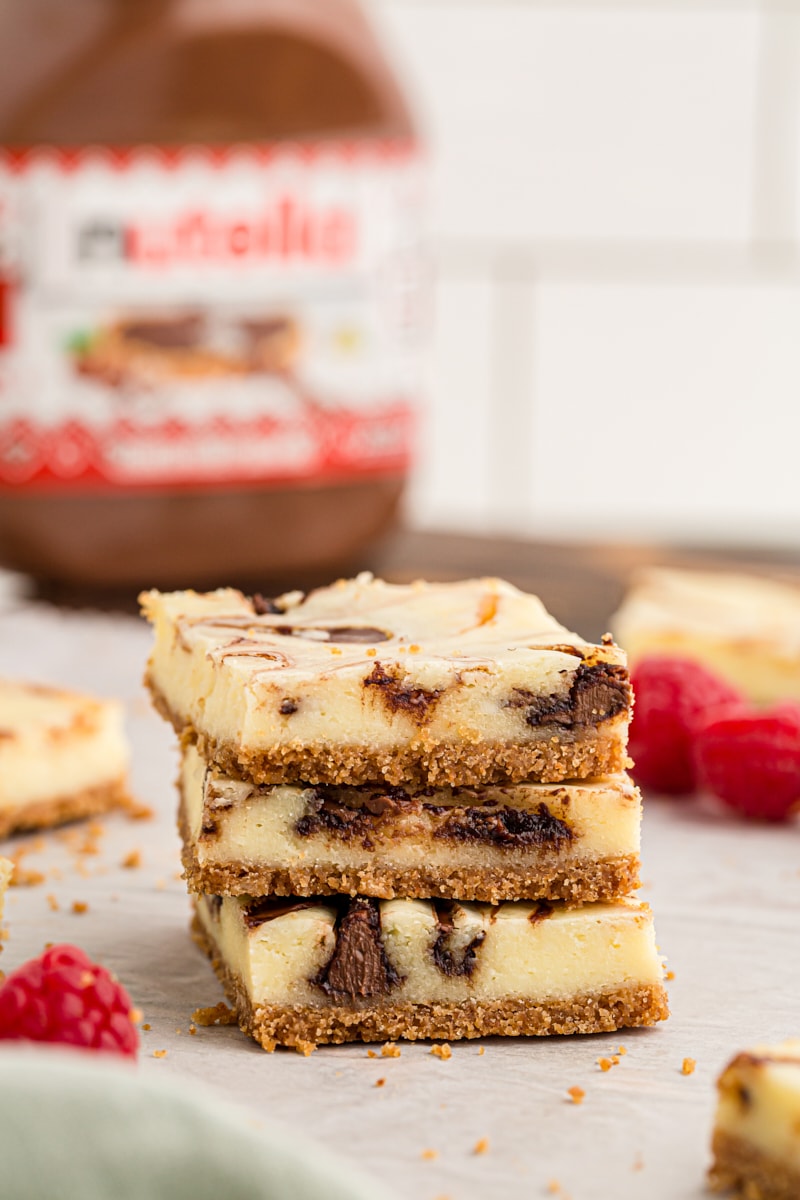 How to Make Nutella Swirl Cheesecake Bars
These Nutella Swirl Cheesecake bars are much easier than your typical cheesecake recipe. There's no water bath required, nor do you have to leave the cheesecake in the oven for a period of time after turning it off.
Prepare. Preheat your oven to 350°F and grease a 9″x 13″x 2″ baking pan with butter or cooking spray, or line it with parchment paper for easy bar removal.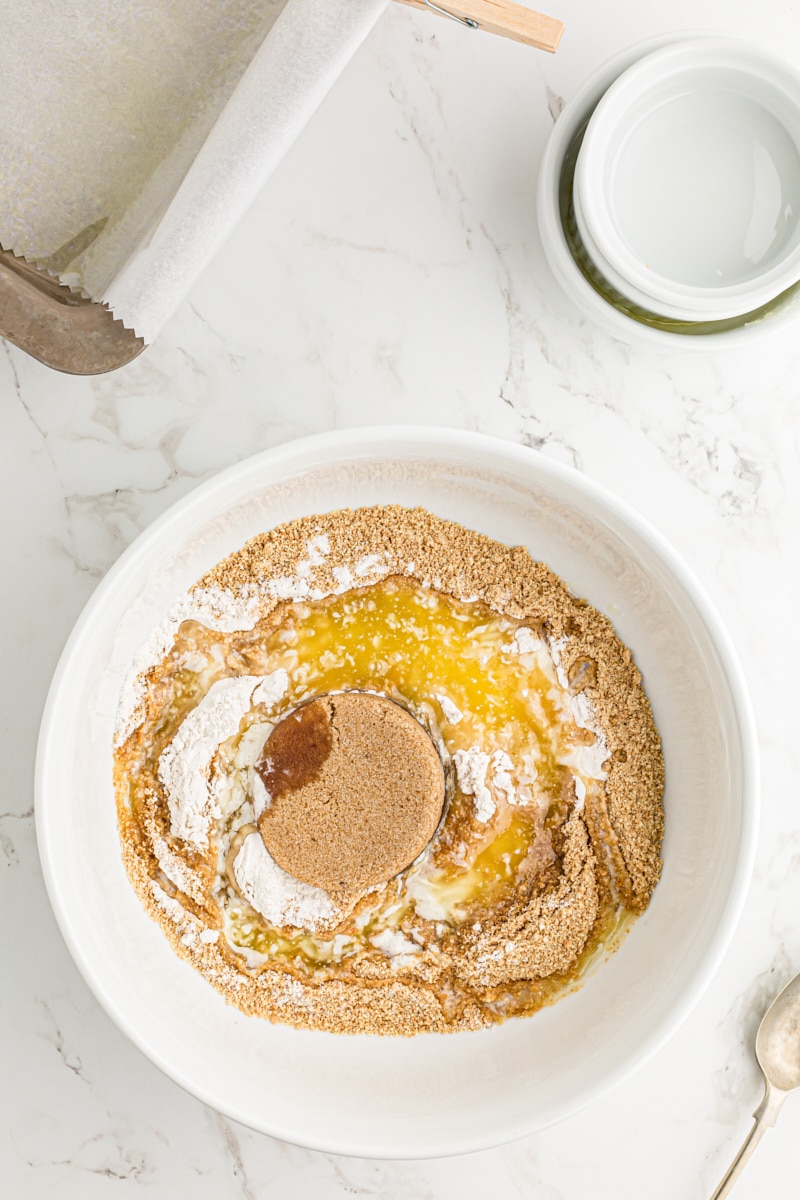 Make the crust mixture. Stir together the graham cracker crumbs, butter, flour, and brown sugar in a medium bowl until combined. Press the crust mixture into the bottom of the pan.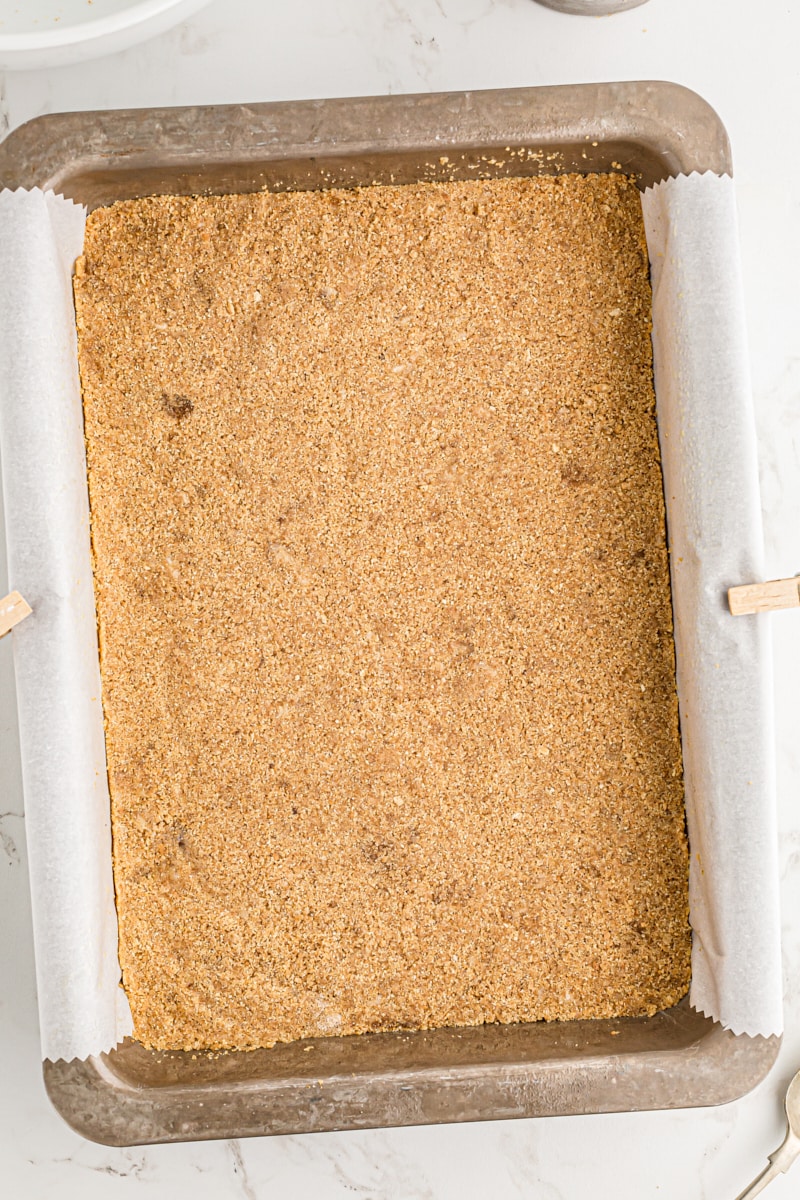 Bake the crust. Place the pan in the oven and bake for 10 minutes, or until the crust is set and golden brown.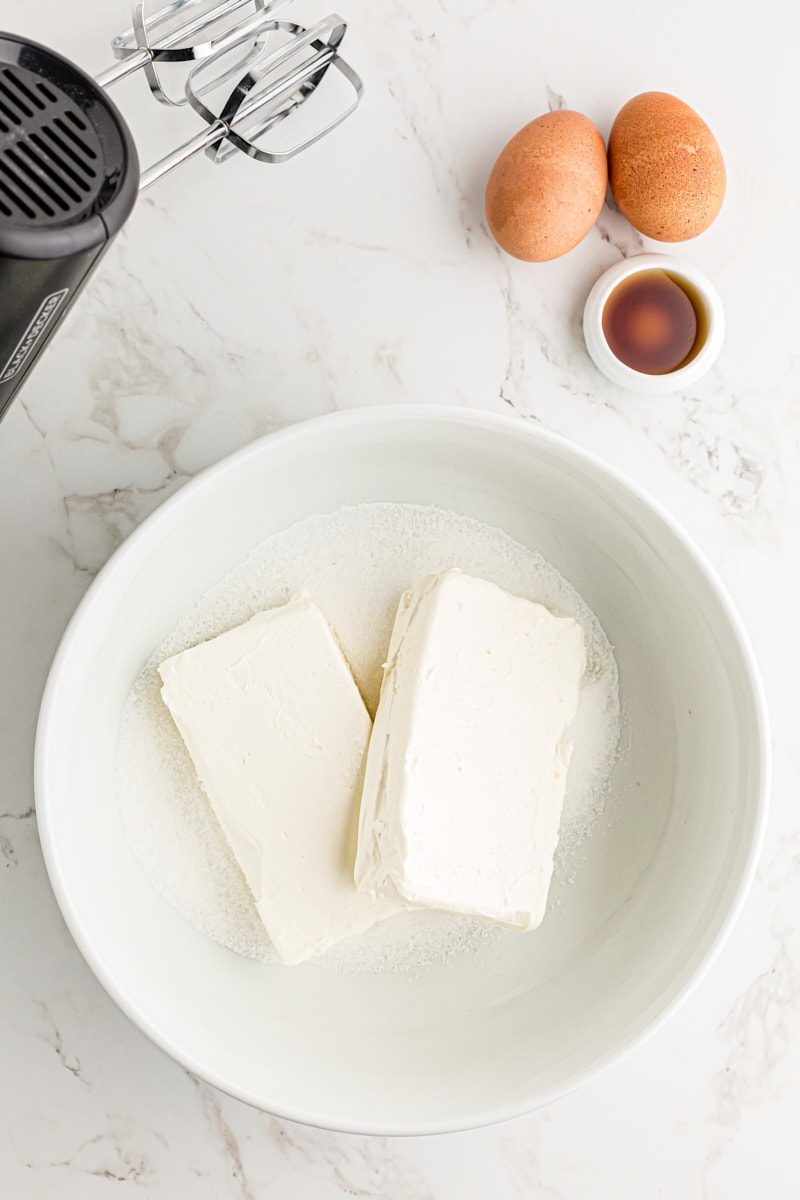 Make the cheesecake mixture. Use an electric mixer on medium speed to beat the cream cheese and sugar in a mixing bowl until they're smooth. Beat in the eggs and vanilla.
Assemble. Spread the filling over the crust, then drop spoonfuls of Nutella over the top of the filling. Use a butter knife to marble the Nutella into the cheesecake.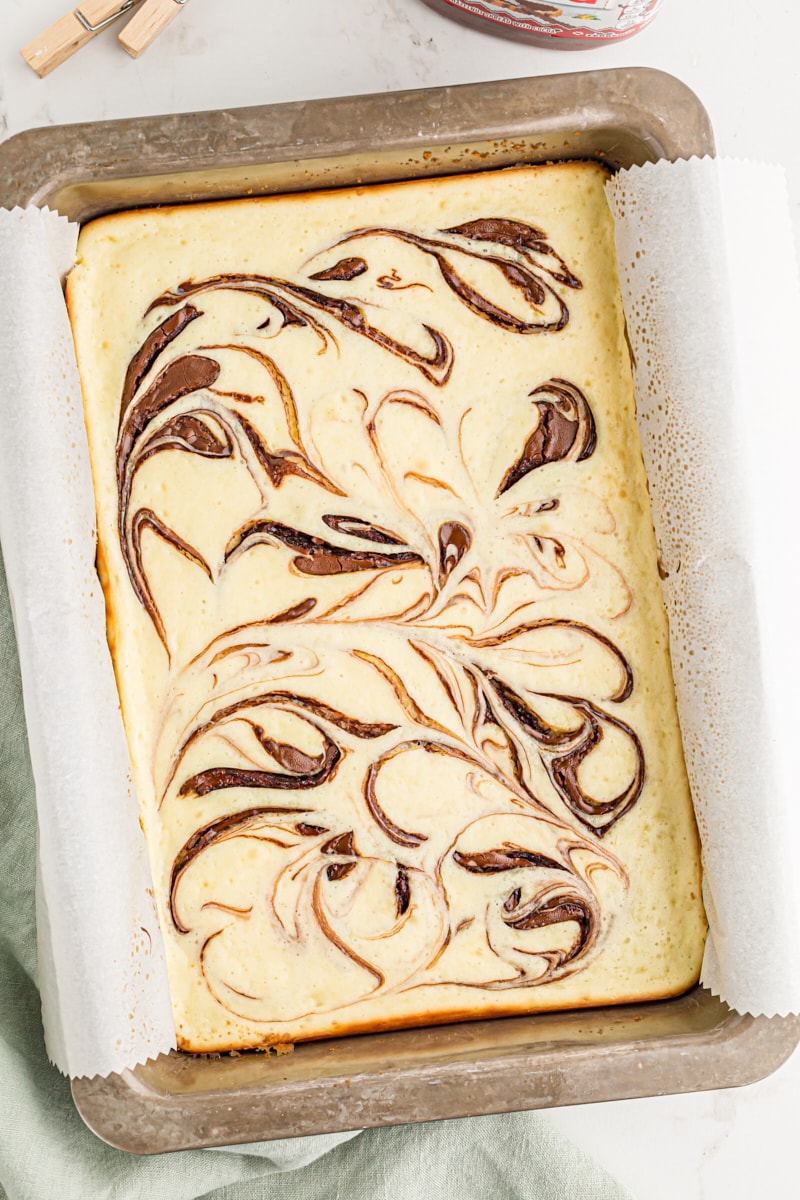 Bake. Return the pan to the oven and bake for 20 to 22 minutes, or until the filling is just set.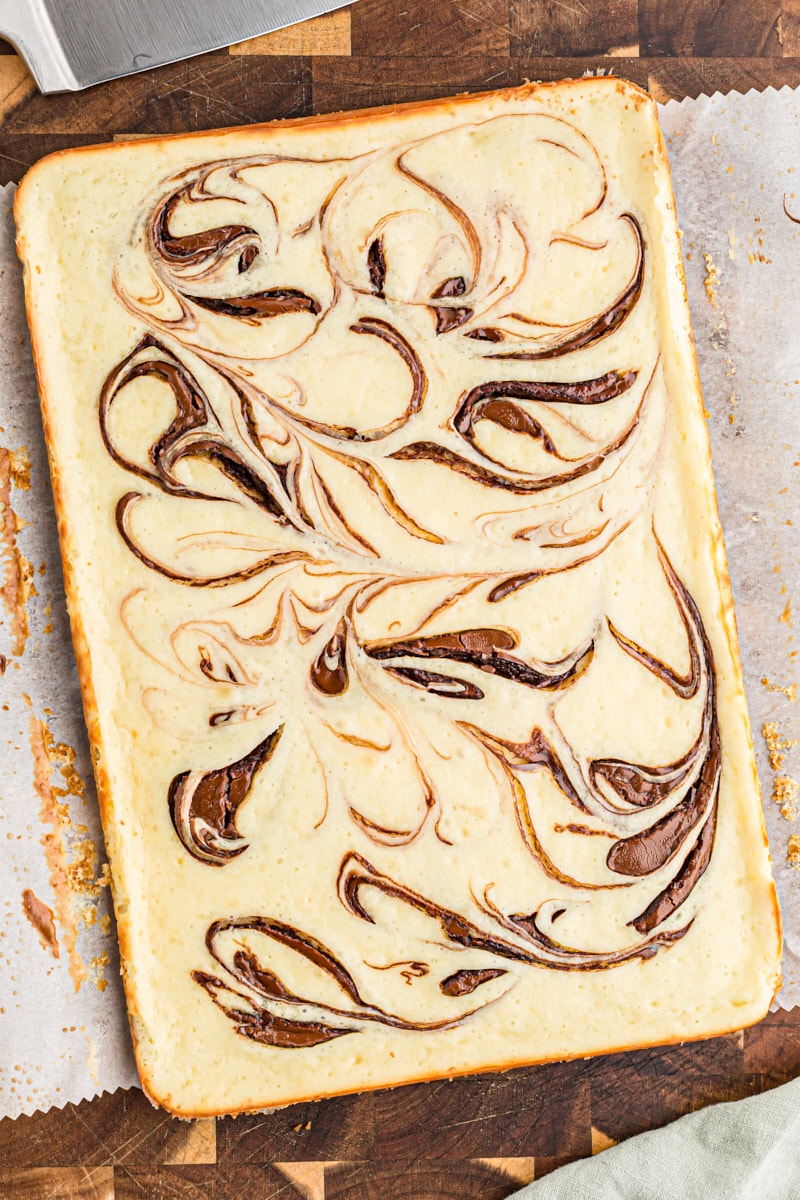 Cool and chill. Let the bars cool for about an hour, then refrigerate them until they're completely chilled and firm before cutting and serving.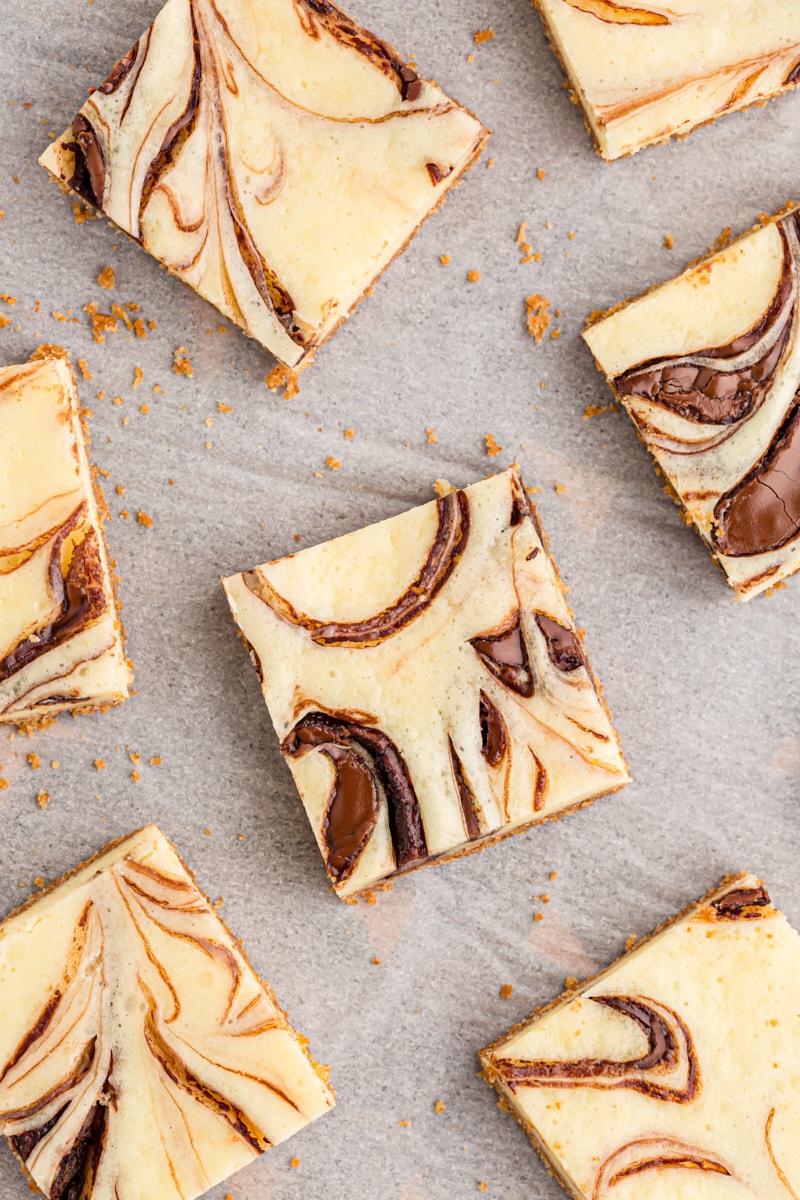 Tips for Success
If you're a newer baker, I recommend reading over my baking tips for beginners. Here are a few additional tips for these Nutella Swirl Cheesecake Bars:
Don't overmix the cheesecake. Overmixing will incorporate too much air into the cheesecake mixture, which has the potential to cause cracks after baking.
Don't overmix the Nutella, either! If you're a little overzealous when you swirl the Nutella into the cheesecake, you'll simply turn the cheesecake brown instead of making a marble pattern.
Plan for chilling. Be sure to plan your baking so that you'll have time for the bars to chill in the refrigerator for at least 2 hours. While cookies and muffins are delicious warm, cheesecake doesn't have the same appeal fresh out of the oven!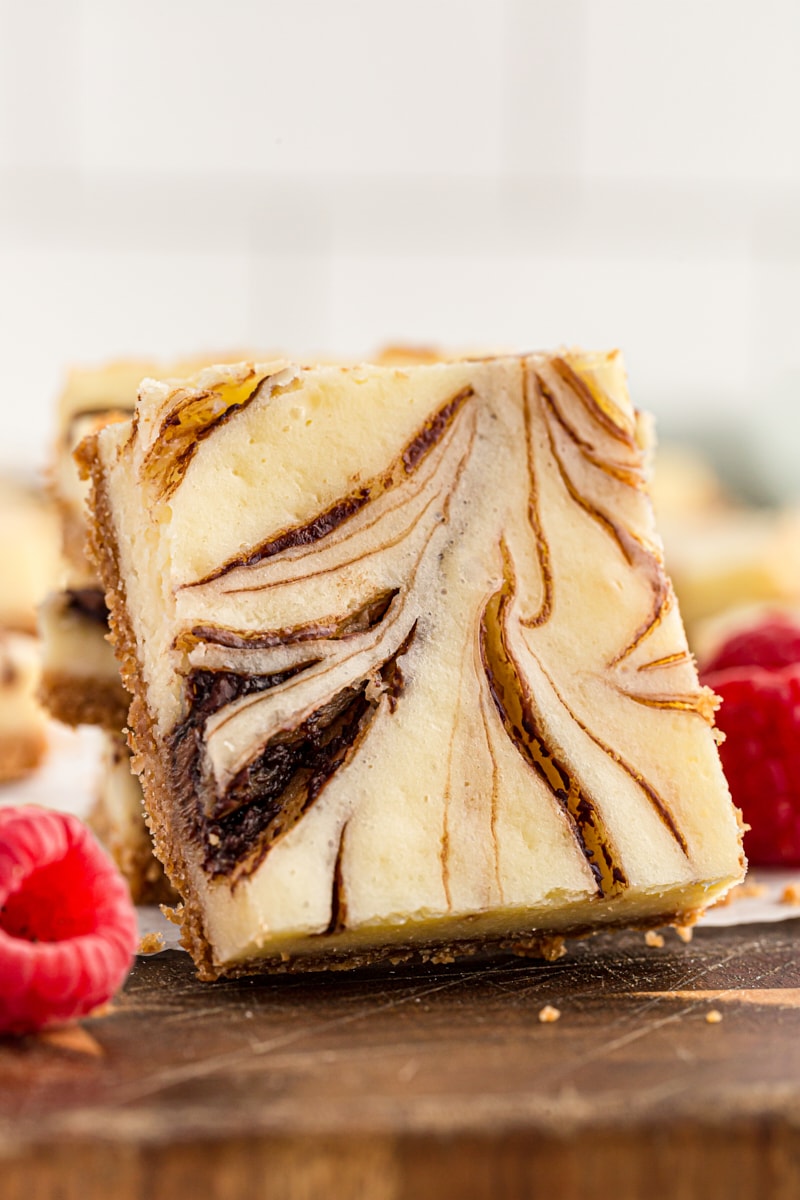 Variations
You can use Oreos, vanilla wafers, or chocolate wafers to make crumbs for the crust instead of graham crackers. Although these Nutella Swirl Cheesecake Bars are delicious as-is, you can serve them garnished with whipped cream, fresh berries, or your favorite hazelnut chocolates.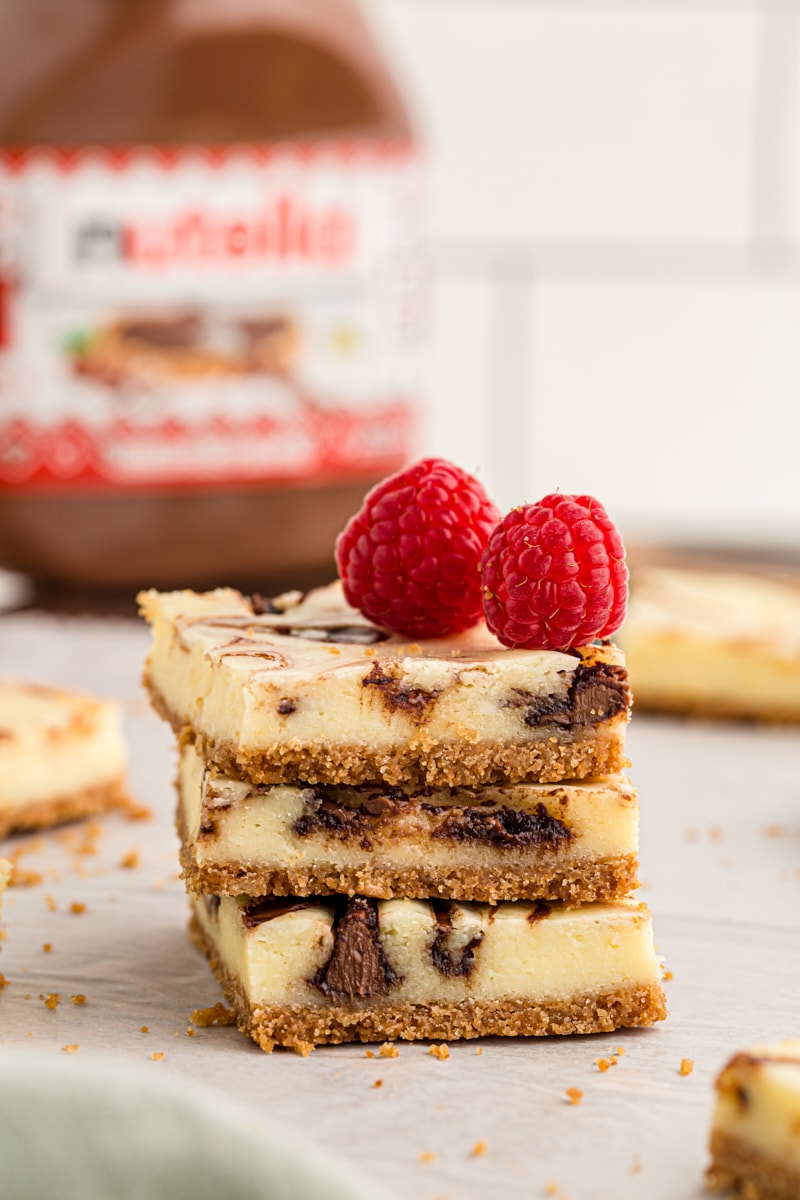 How to Store
These Nutella Swirl Cheesecake Bars should be stored in an airtight container in the refrigerator, where they'll keep for up to 5 days.
Can This Recipe Be Frozen?
You can freeze Nutella Swirl Cheesecake Bars for up to 3 months. Store them in an airtight container or wrap them individually. Let them thaw in the refrigerator before serving.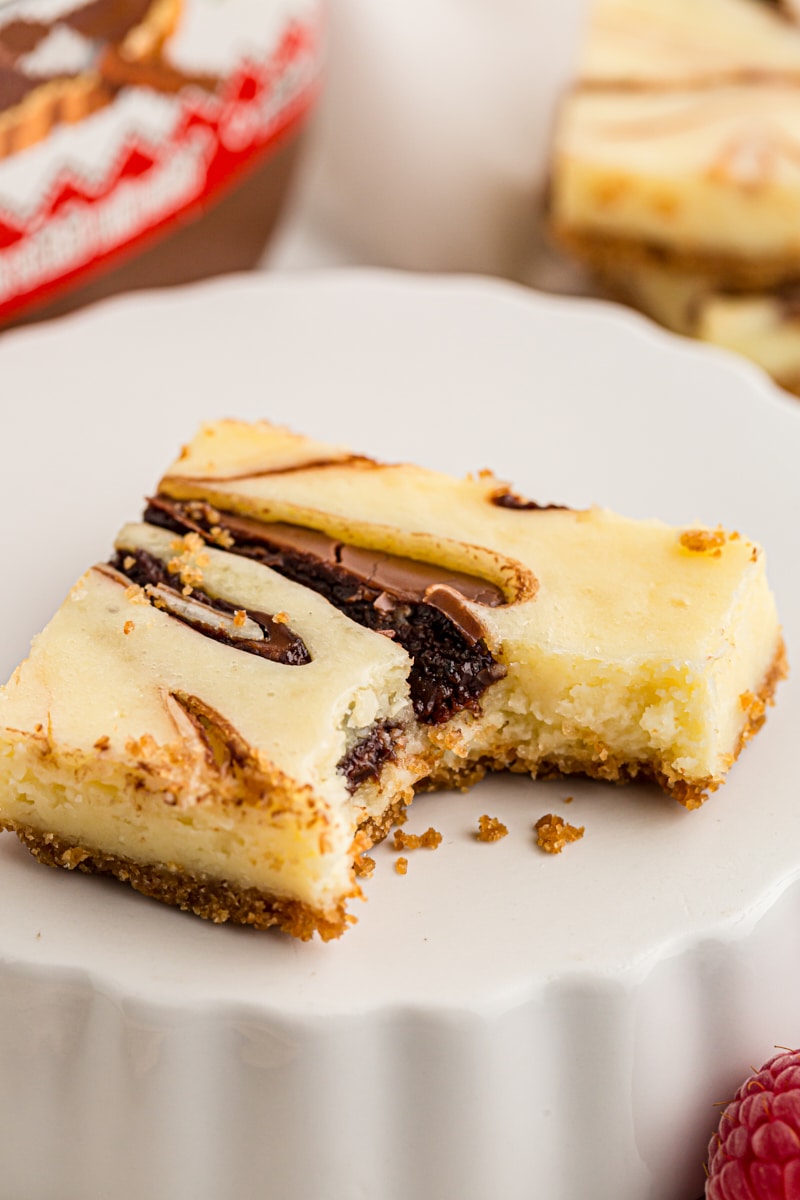 More Crowd-Pleasing Cheesecake Bars