If you need a great dessert without a lot of fuss, I've got you covered with these quick and easy dessert recipes!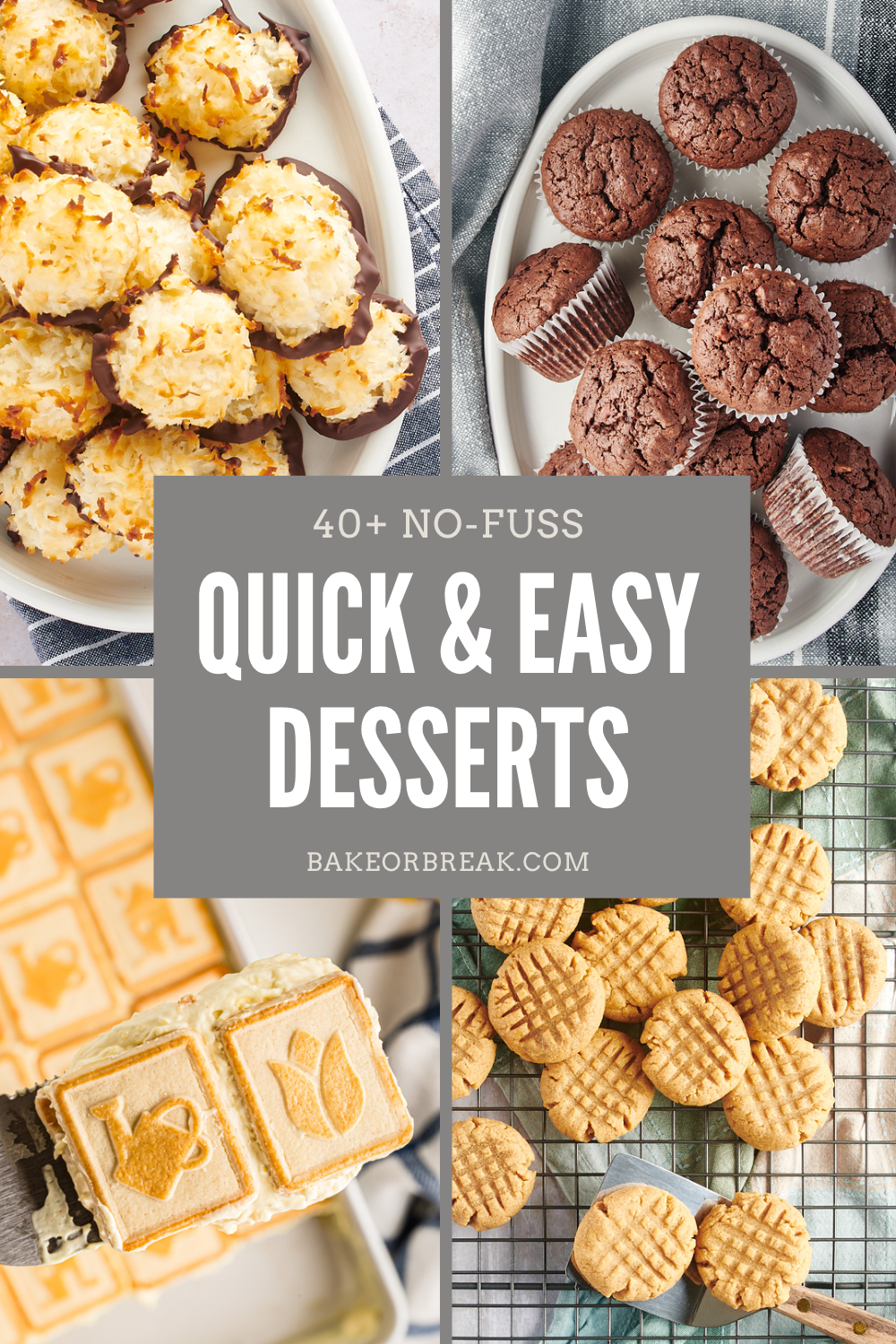 Quick and Easy Dessert Recipes
Any fellow procrastinators out there? I've always been really, really good at putting things off until the proverbial last minute. I wish I weren't, but sadly it's true.
If any of you find yourself in that position and need a quick and easy dessert, I've got you covered with these recipes. Even if you're not a procrastinator, I think you'll find this collection helpful. These recipes are great for unexpected company, an impromptu dinner, or a forgotten get-together. Or maybe you just have a craving for homemade baked goods without a lot of fuss!
I generally aim to share recipes with you that are uncomplicated. But these are particularly simple to make. Most of these are entirely from scratch, which is my favorite way to bake. But there are also a few shortcut ingredients to make things easy when you most need them to be. Perfect for those times you need dessert in a hurry or you just don't want to invest a lot of time in the kitchen!
Tips for Quick, Efficient Baking
Generally speaking, baking itself can't be rushed. But there are things you can do to streamline your prep time and make sure your baking goes as efficiently as possible.
Read through the recipe. Don't dive into baking without knowing what's involved in the recipe. It takes a few minutes on the front end, but it will save you time (and stress!) in the end.
Gather your ingredients. This will not only make your mixing quicker and more efficient, but it will also ensure that you have everything you need for the recipe.
Pay attention to inactive time. It's not uncommon for a baking recipe to need some hands-off time like chilling. Make sure you know how much total time is required.
Don't make substitutions. Tweaking recipes can be a lot of fun, but it's less fun when the end result isn't great because you made a substitution that didn't quite work.
Plan for storing. Know how you'll store what you're baking once it's done. That can be for serving from your own kitchen, packaging for sharing, or storing for easy transport.
More Easy Recipes
If you bake frequently and stay well-stocked with baking ingredients, you can bake all sorts of treats with just what you have on hand. See my collection of more than 40 Pantry Staples Baking Recipes for some tasty ideas.
And if you share my love of baking from scratch but don't want a long ingredient list, try some of these great Dessert Recipes with 8 or Fewer Ingredients. There are more than 50 to tempt you to get baking!
Get the Recipe:
Quick and Easy Desserts
These homemade desserts are a cinch to make. Keep this collection in mind for those times you need a delicious dessert in a hurry and without a lot of fuss!
Share this: